Avocado fries are the appetizer you never you knew you needed! Here I'll show you exactly how to get Crispy Baked Avocado Fries which are bursting with flavour!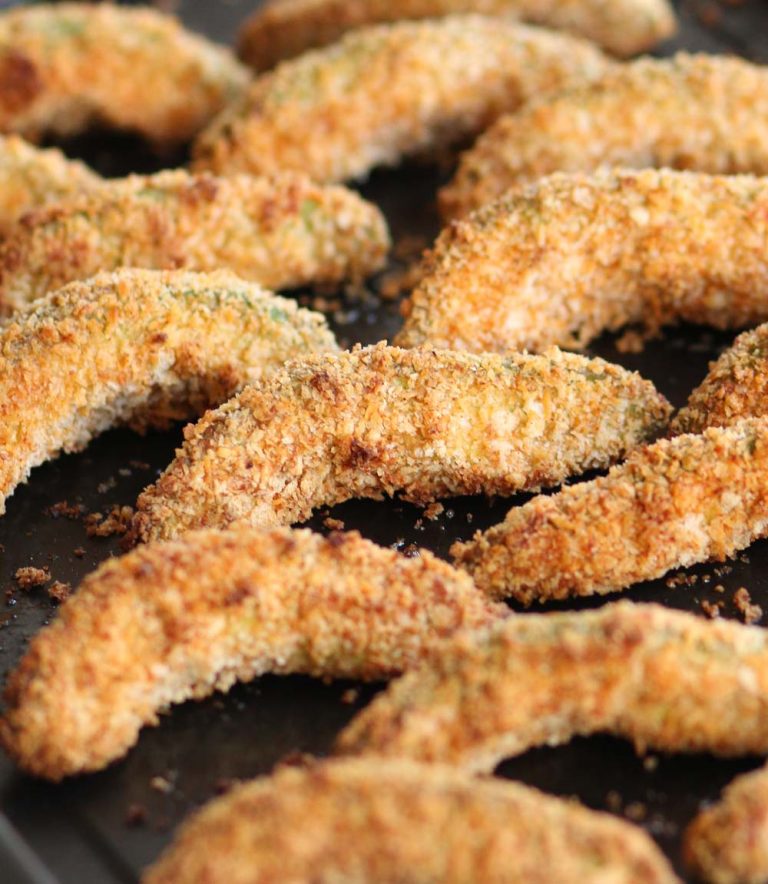 Perfect Avocado Fries
I know, it's a bit of a weird concept, but stick with me here. When I first heard about these I was kinda sceptical too, but after a lot of testing and a little tweaking I'm really excited to share this recipe with you!
First things first, let's talk avocado.
Best Avocado to make Avocado Fries
As the avocado is obviously the star of the show in this recipe, it's really important to pick the right one. You want to find 3 small perfectly ripe Hass avocados. Don't be tempted to get an underripe avocado just because it's more firm (and therefore easier to work with), they will come out really bitter and gross. With the same token, you don't want to use overripe avocados, because they'll just go mushy when you're preparing them.
How to Slice Avocado Fries
Get your slightly soft avocado, half it, destone it, slice each half into thirds, then peel. So in hindsight you actually end up with avocado wedges, but we're too far deep into this recipe for me to change to avocado wedges nows 🤣
To the fries!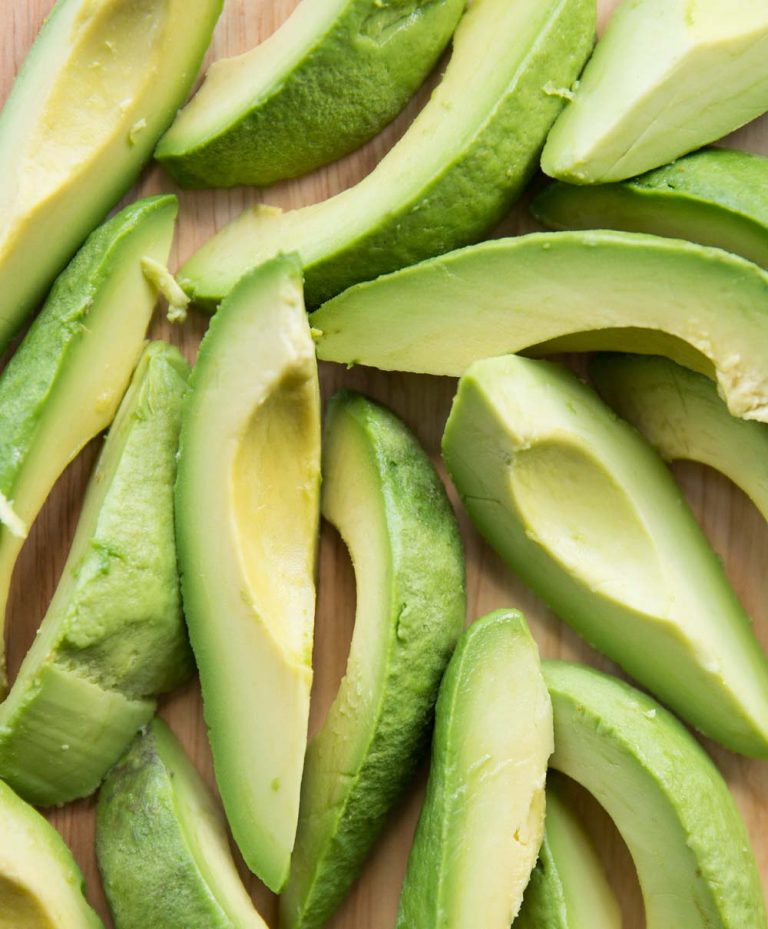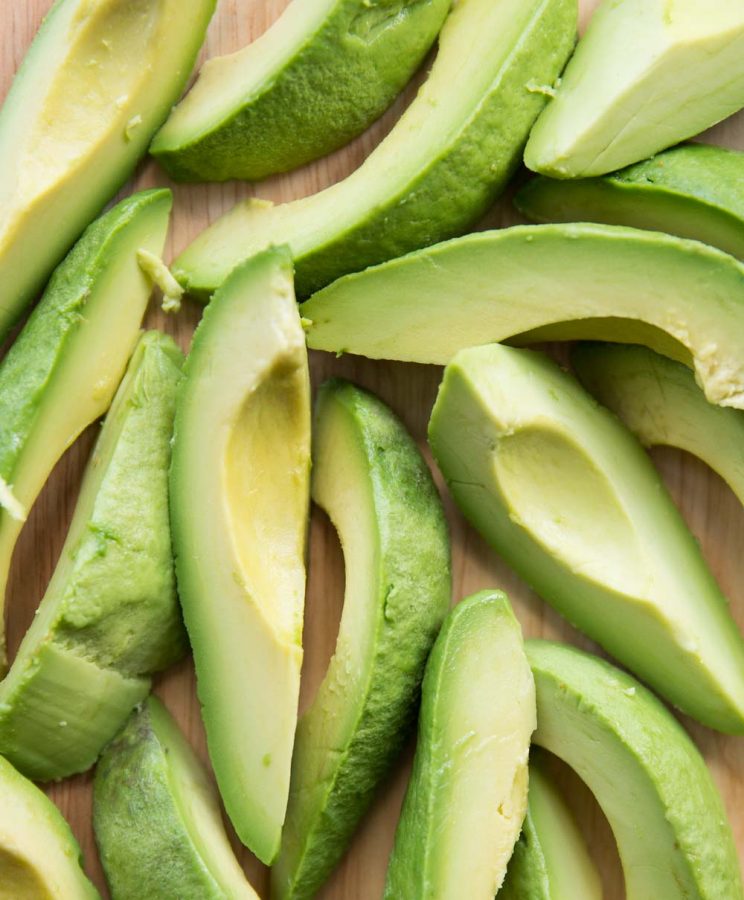 Oven Baked Avocado Fries
I know what you're thinking – 'is it OK to bake avocado'? The answer is yes, but only in certain circumstances. I wouldn't just blind bake avocado, because it gives it a brownish skin, which doesn't taste overly pleasant. But because these are coated in a crispy crumb, you get nice crispy fries with a smooth and buttery avocado in the centre.
Actually, the great thing about these fries is that they're baked, not fried. BUT they're just as crispy as if they were fried!
Tips for getting truly Crispy Avocado Fries
Dry Breadcrumbs – Although it may sound silly, you want to coat them with something that's already crispy i.e dry breadcrumbs. I find lightly crushed panko breadcrumbs work best for this recipe.
Parmesan – This is going to bring you even more crispiness AND some gorgeous flavour too.
High heat – You don't really want to cook the avocado too much else it will go mushy, so a fairly high temp will help crisp these up without the avo going to mush!
When it comes to coating the avocado, my biggest tip is to just handle it carefully so it doesn't break/go mushy when dredging. I also recommend really making sure you completely coat each fry, especially in the breadcrumbs.
How to make Avocado Fries (quick summary)
Coat avocado slice in flour.
Coat in egg + milk.
Coat in breadcrumbs and parmesan.
Really make sure you cover every sight of avocado.
Spread out on a tray, spray with oil and bake.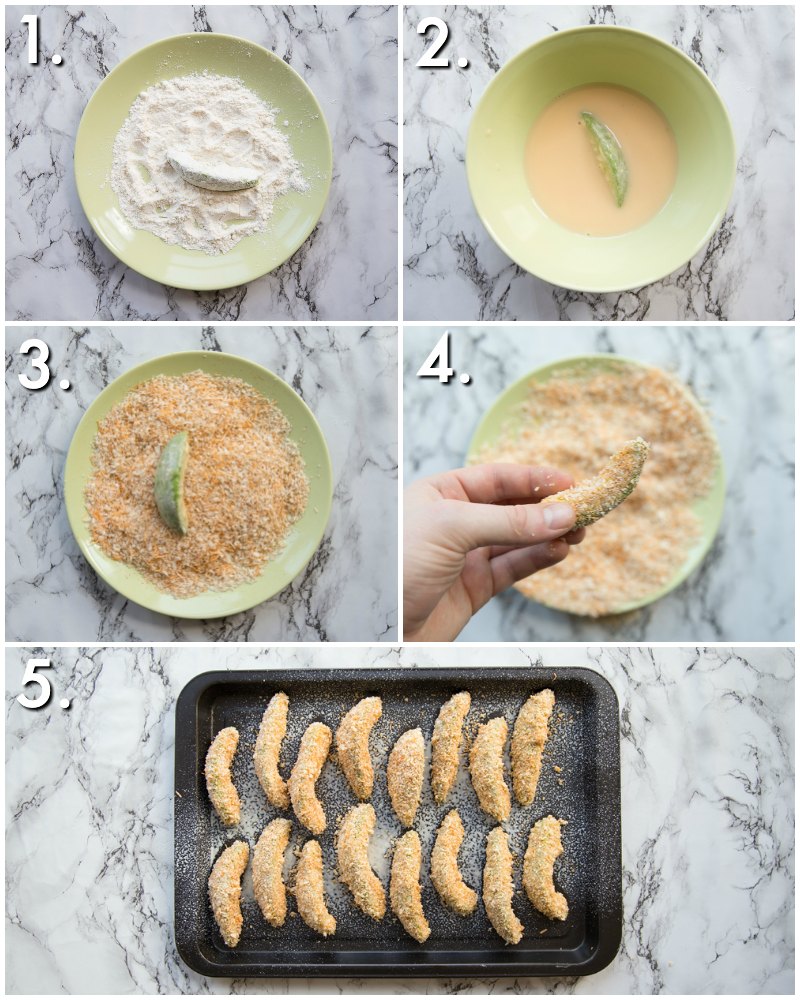 Avocado Fry Seasoning
I've seen a few different recipes for avocado fries and not many use seasoning other than salt and pepper. I've tested that out and personally feel they come out a little bland. As such, I add garlic powder in with the flour and smoked paprika and cayenne pepper in with the breadcrumbs. This, alongside the parmesan, works absolute wonders.
Avocado Fries Dip
If you ignore everything I've said so far, please don't ignore this. Serve these with a dip! The difference is huge.
Dips for Avocado Fries
The BEST Avocado Fries!
And there we have it! Delicious avocado fries ready and waiting. Just to summarise before we tuck into the full recipe, ensure you use perfectly ripe avocados, use a combo of parmesan and breadcrumbs to coat, coat thoroughly, lots of oil spray to bake and flip half way!
If you like the look of these crispy baked avocado fries, I know you'll love my Crispy Baked Jalapeño Poppers and Crispy Baked Chicken Tenders! Also check out my similar recipes:
Fun Avocado Recipes
Funky Fries Recipes
Okay, let's tuck into the full avocado fries recipe shall we?!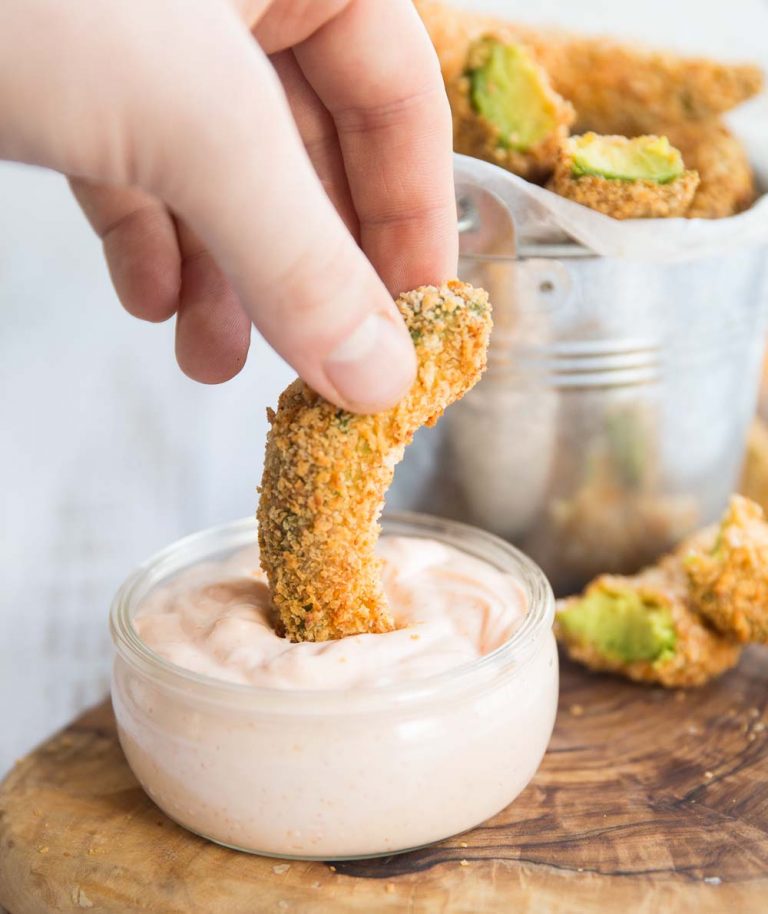 How to make Avocado Fries (Full Recipe and Video)
Crispy Baked Avocado Fries
Avocado fries are the appetizer you never you knew you needed! Here I'll show you exactly how to get crispy baked avocado fries which are bursting with flavour!
Print
Pin
Rate
Share by Text
Servings (click & slide):
18
Fries
Calories per serving:
80
kcal
Cost per serving:
£3 / $4
Equipment:
3 Bowls

Sharp Knife & Chopping Board

Baking Tray

Fine Cheese Grater
Ingredients (check list):
3

small

Perfectly Ripe Avocados (see notes)

3/4 cup / 45g

Panko Breadcrumbs

1/4 cup / 20g

Parmesan, finely grated

2

tbsp

Plain Flour

2

tbsp

Milk

1

Egg, beaten

1/2

tsp

Salt

1/4

tsp each:

Garlic Powder, Smoked Paprika, Cayenne Pepper (or less for milder spice)
Oil Spray, as needed
Instructions:
Half your avocados, remove the stone then slice each half into thirds. Carefully remove the peel.

Set up 4 stations: 1st with your Flour, Garlic Powder and 1/4 tsp salt, second with your Egg and Milk, third with your Breadcrumbs, Parmesan, Smoked Paprika, Cayenne Pepper and 1/4 tsp Salt, 4th with a suitably sized oven tray.


Dunk the avocado first into the flour, then into the egg, (I find this easiest with a fork to save your fingers getting gloopy) and finally into the breadcrumbs. Although tedious, make sure you completely cover the avocado at each stage, especially the breadcrumbs. Place on your oven tray and give them all a good spray of oil.


Bake in the oven at 200C/390F for 10mins, then take out and flip (give an extra spray if needed) and pop back in for another 8-10mins or until golden brown. Timings will vary and these go from golden to burnt pretty quick, so be really vigilant.


Allow to cool for a couple mins, give an extra sprinkle of salt if needed then serve with your favourite dip!

Notes:
a) Perfect Avocado - Don't be tempted to get underripe avocados just because they're firmer and easier the work with. They will come out bitter. If anything you want them on the slightly softer side, just not so soft they fall apart when dredging.
b) Dry Breadcrumbs - If you don't have any dried breadcrumbs on hand, you can make them by pulsing fresh bread and either toasting under the grill or in a pan (with a little butter!).
c) Dip - Absolutely serve these with a dip no matter what! I always use Sriracha Mayo.
d) Calories - Per Avocado Fry
Your Private Notes:
Nutrition:
Nutrition Facts
Crispy Baked Avocado Fries
Amount Per Serving (1 avocado fry)
Calories 80
Calories from Fat 54
% Daily Value*
Fat 5.99g9%
Polyunsaturated Fat 0.733g
Monounsaturated Fat 3.66g
Cholesterol 36mg12%
Sodium 115mg5%
Potassium 182mg5%
Carbohydrates 5.53g2%
Protein 2.01g4%
Vitamin A 200IU4%
Vitamin C 4.1mg5%
Calcium 30mg3%
Iron 0.5mg3%
* Percent Daily Values are based on a 2000 calorie diet.
Nutrition is based on the absence of salt unless stated as a measurement in the ingredients. Cost is worked out based on ingredients bought from UK supermarkets, then divided by the number of servings. In both instances these values are just for guidance. Please check out my FAQ Page for more info.
---
If you loved this Avocado Fries Recipe then be sure to Pin it for later! Already made it or got a burning question? Give me a shout in the comments below and pick up your free ecookbook along the way!