Moussaka is a Greek classic, and here I'll show you how to make it in the most delicious way possible!
Moussaka is a labour of love, there's no two ways about it. There's a fair few steps, but once you get in the swing of things it truly couldn't be easier to make. There's also a fair few different ways to make Moussaka, but today I'll show you what I deem to be the most delicious way! Follow me…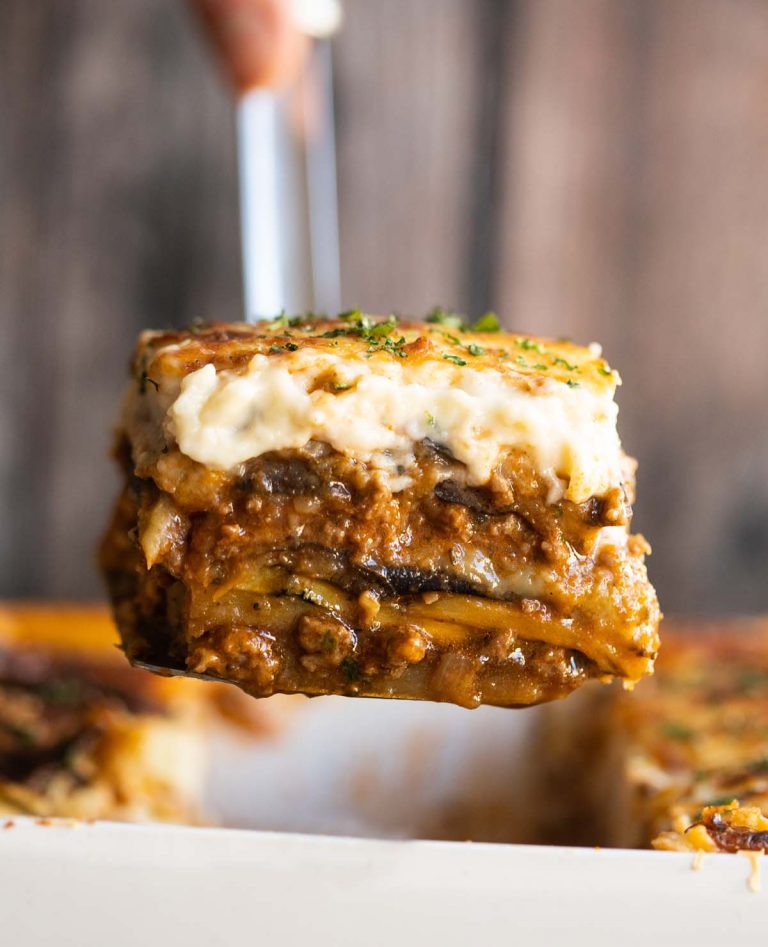 Meat Sauce for Moussaka
Beef vs Lamb
There's a lot of dispute over what's the traditional meat to use in Moussaka. Most commonly you'd see lamb or beef being used, but I've even read pork or veal has traditional roots! I've personally tried this recipe using beef and lamb, and have settled with beef. In my opinion it takes on the flavour profile of a Moussaka better, but you can use lamb if you wanted.
Thick Consistency
The meat sauce for a Moussaka is somewhat similar to a classic ragu/bolognese. One of the main differences is the consistency. Moussaka is known for having distinctive layers, and ensuring your meat sauce has reduced down properly will help create those layers.
Cinnamon
Another distinctive part of a Moussaka's meat sauce is the use of cinnamon. It's quite subtle, but it really gives that classic Moussaka flavour. You can use a cinnamon stick, or use ground cinnamon as I've done here!
Process shots: fry onion and garlic (photo 1), fry ground beef (photo 2), add tomato paste (photo 3), fry then add red wine (photo 4), pour in stock and passata then add thyme, parsley,  bay leaves, cinnamon and seasoning (photo 5), simmer until thick consistency (photo 6).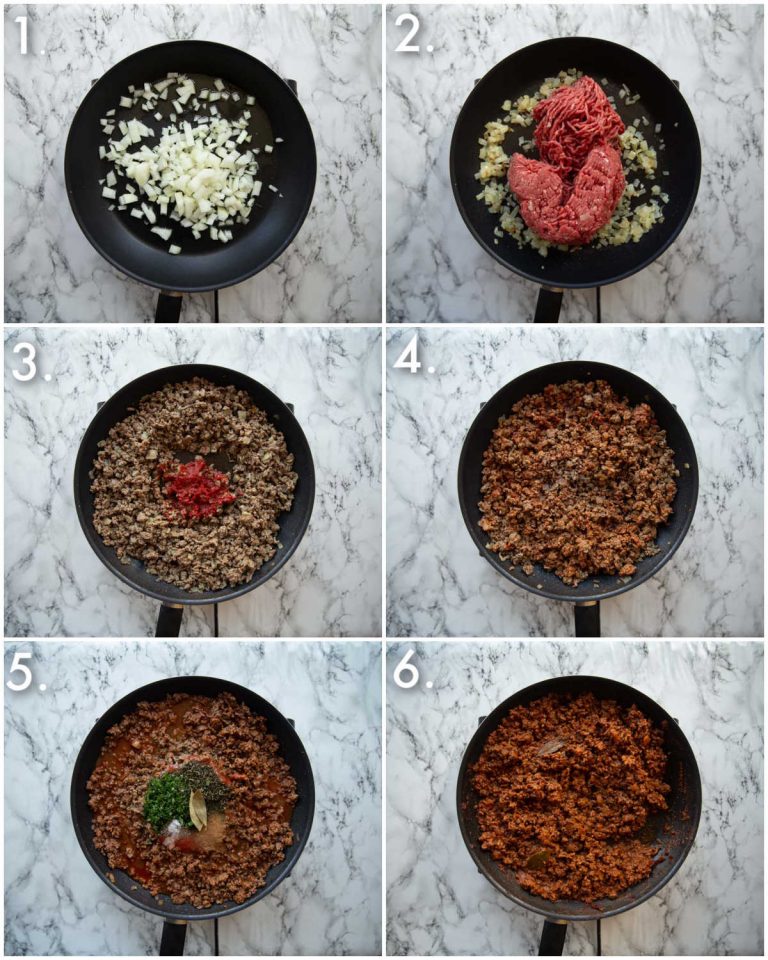 Vegetables in Moussaka
Eggplant/Aubergine
Eggplant in Moussaka is essential. To prepare it you'll need to slice then sprinkle with salt and leave to rest. This will not only draw out unwanted moisture, but will also remove the bitter taste from the eggplant.
Potato
You could probably get away with just layering with eggplant and still call it a Moussaka, but potato is very widely used. And of course, me being me and this blog being this blog, I highly recommend adding potato. After you've sliced the spuds I recommend patting dry to remove unwanted moisture.
Zucchini/Courgette
Not as widely used, but still an authentic addition. Same as above, just pat the slices dry to remove moisture.
You could pat the veg dry with tea towels, but I like to stack them between sheets of paper towel. That way you can soak them all at once and just leave them until needed.
Baking vs Frying
Traditionally you'd fry the veg, but as times have moved on so has the cooking method. As such nowadays it's just as common to bake the veg. Me? You know I'm not shy of oil around here 😂
I fry the veg mainly because I've always got some leftover pot of oil that needs recycling. That and you do get more of a deeper golden 'crust', which offers slightly more flavour.
The obvious downside is the absorption of oil, namely in the eggplant (which is like a sponge!). As such just make sure you thoroughly pat it all dry with paper towels before you stack the Moussaka.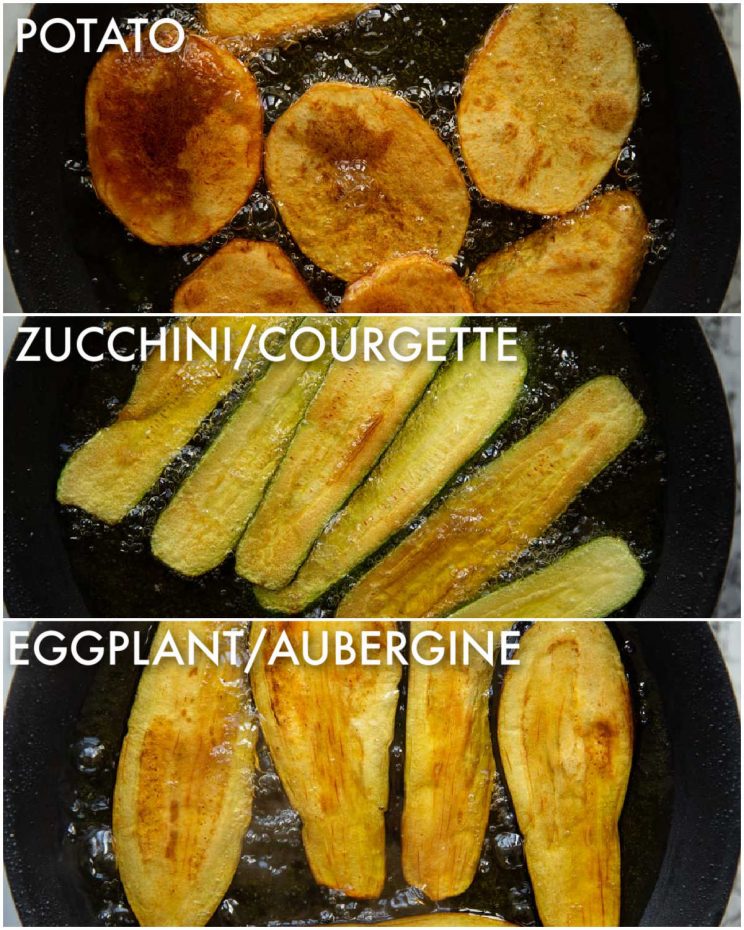 B

é

chamel Sauce for Moussaka
Meat Sauce layer ✅
Veg layer ✅
The third and final main layer is the béchamel sauce. Again, this is similar to a classic béchamel you'd use in an Italian lasagne, just with a few differences:
Consistency – Just like the meat sauce, this béchamel is MUCH thicker than the classic. Again, just to ensure it creates a defiant layer that doesn't seep into the meat sauce.
Egg Yolk – These help thicken the sauce, but also add a gentle rich flavour.
Seasoning – nutmeg and white pepper are a must! The béchamel sauce makes up quite a thick layer so it's important it's properly seasoned.
What Cheese to use?
Traditionally you'd use Kefalotyri, but realistically most hard cheeses work well. Here I use Pecorino, but Parmesan works nicely.
Process shots: melt butter (photo 1), stir in flour (photo 2), whisk in milk (photo 3), add seasoning (photo 4), add cheese (photo 5), stir in egg yolks (photo 6).
Moussaka Layers
You can stack a Moussaka in various different ways, but you really want to ensure the potatoes are at the bottom, just to create a sturdy base. Then you finish with a nice thick layer of the béchamel. This also ends up going beautifully golden and crispy as it bakes 😛. Here's how I stack mine:
How to layer a Moussaka
Potatoes – Sprinkled with cheese, parsley, salt & pepper.
Zucchini/Courgette – Stacked in the opposite direction to the potatoes. Sprinkled with cheese, parsley, salt & pepper.
Eggplant/Aubergine – Only use half, sprinkled with salt & pepper.
Meat Sauce – Ensure this is nice and level/flat.
Eggplant/Aubergine – Second half stacked in opposite direction to the first layer, seasoned with salt & pepper.
Béchamel Sauce – Topped with more cheese.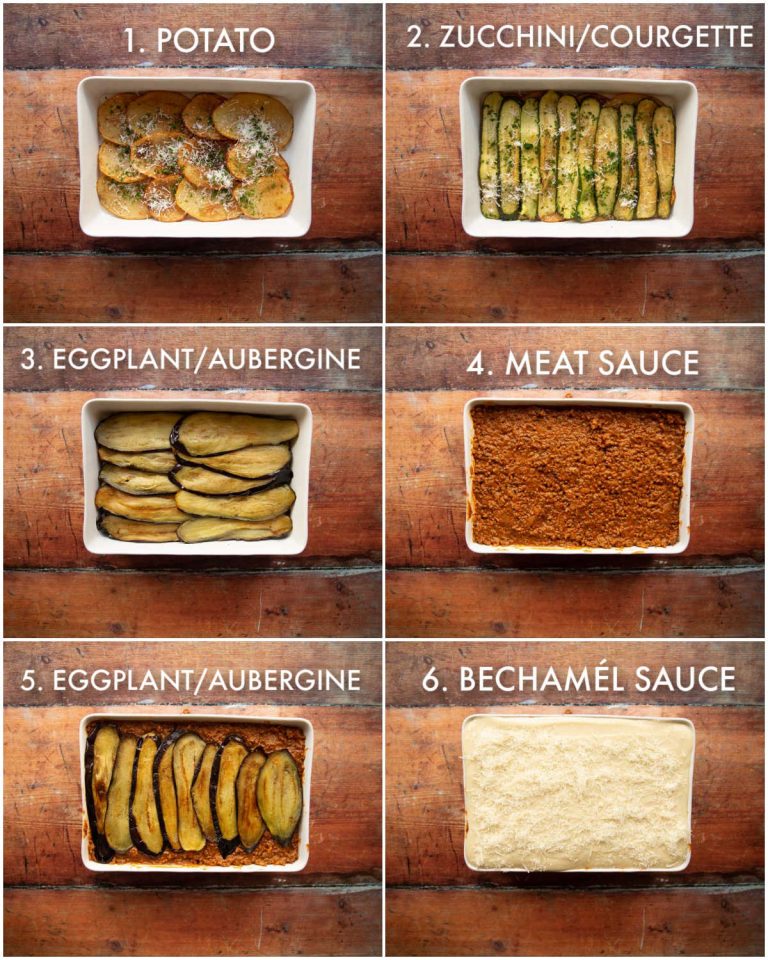 Moussaka FAQ
Can you assemble moussaka ahead of time?
Yep! You can then rest in the fridge until ready to bake. Just make sure you bring it to room temp before you bake to take the chill out of the centre.
Does moussaka freeze well?
It sure does. You can do this baked or unbaked. Just thaw in the fridge then bake as needed.
What to serve with Moussaka?
You can serve by itself, just garnished with a good pinch of fresh parsley. It's also nice with a small side salad or even a chunky of crusty bread! Check out my Sides for more inspo.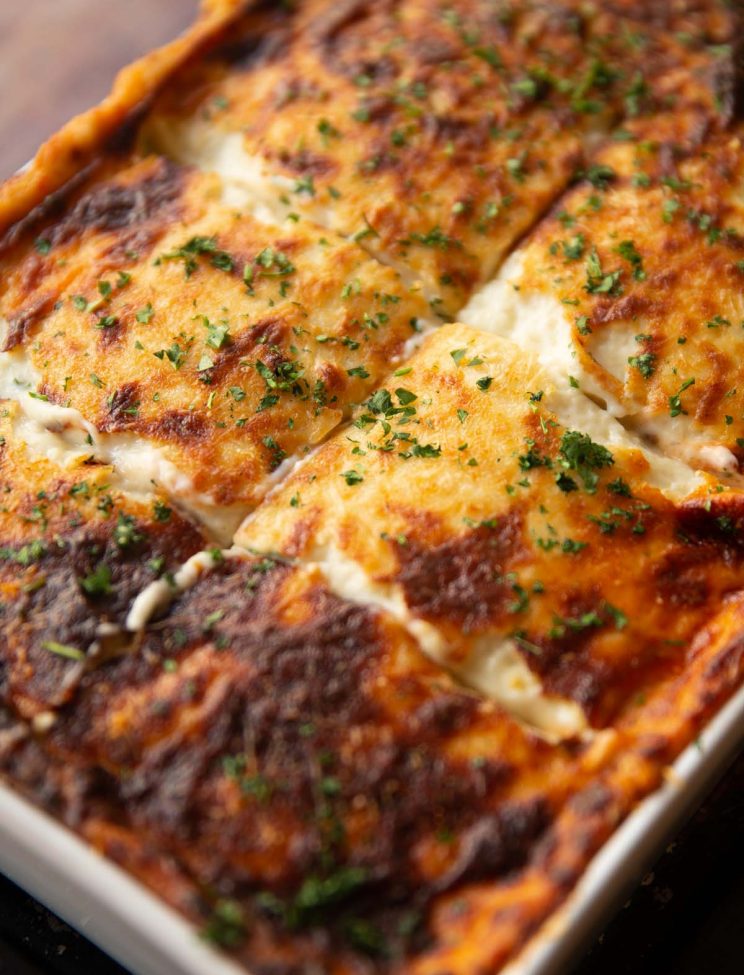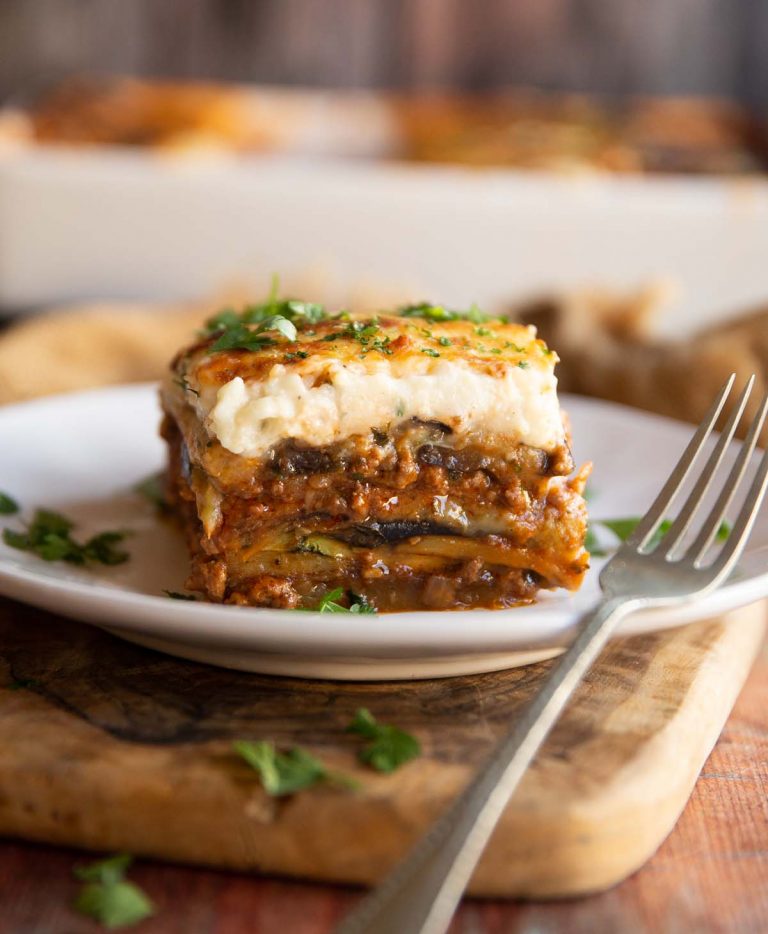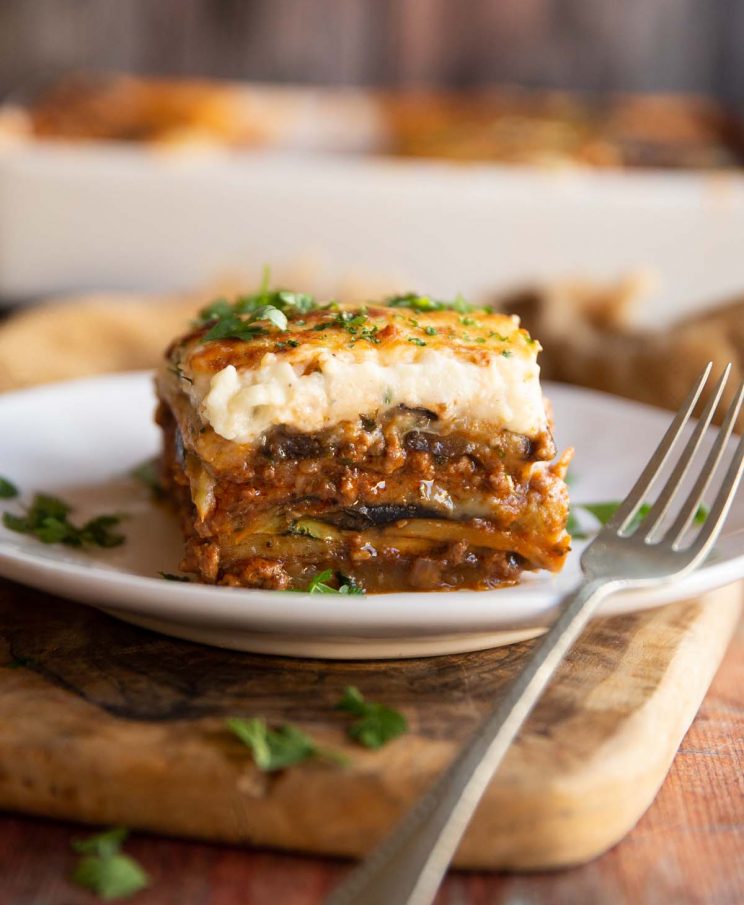 For more comfort food classics check out these beauties:
Hearty Ground Beef Dinners
How to make Moussaka

 (Full Recipe & Video)
Outrageously Delicious Greek Moussaka
Moussaka is a Greek classic, and here I'll show you how to make it in the most delicious way possible! (SEE VIDEO BELOW & CHECK NOTES FOR GUIDANCE)
Print
Pin
Rate
Share by Text
Servings (click & slide):
8
Calories per serving:
571
kcal
Cost per serving:
£3 / $4
Equipment:
Large Pot or Pan & Wooden Spoon (for beef)

Large Pot or Pan & Tongs (suitable for shallow/deep frying veg)

Medium/Large Pot & Whisk (for bechamel sauce)

Sharp Knife & Chopping Board

8" x 12" Baking Dish (or similar size)

Kitchen Papers Towel (lots of it!)

Serving Spatula/Spoon

Fine Cheese Grater

Jug (for milk)

Kitchen Thermometer (for frying)
Ingredients (check list):
Beef Layer
1.6lb / 750g

Ground Beef (preferably fairly lean)

1 cup / 240ml

Tomato Passata (pureed/strained tomatoes in US)

1 cup / 240ml

Beef Stock

1/2 cup / 120ml

Dry Red Wine (can sub more beef stock)

1/4 cup

finely diced

Fresh Parsley, plus extra to serve

2

heaped tbsp

Tomato Paste (Tomato Puree in UK)

1

tbsp finely diced

Fresh Thyme Leaves

1

large

White Onion, finely diced

2

cloves of

Garlic, finely diced

2 small or 1 large

Bay Leaf

3/4

tsp

Salt, or to taste

1/2

tsp

Sugar (any)

1/2

tsp

Cinnamon

1/4

tsp

Black Pepper, or to taste

1

tbsp

Olive Oil
Béchamel Sauce
4oz / 120g

Unsalted Butter

4oz / 120g

Plain Flour

4 cups / 1litre

Milk, at room temp

1 cup / 80g

freshly grated

Pecorino Romano, plus extra to serve (Kefalotiri Cheese is traditional, can also sub parmesan)

2

Egg Yolks

1/2

tsp

Salt, or to taste

1/2

small

Nutmeg, grated (or 1/4 tsp ground nutmeg)

1/4

tsp

White Pepper
Veg Layers (see notes for baking version)
2lb / 1kg (approx 4 smallish)

Eggplants/Aubergine, sliced around 1/3" thickness (I do lengthways but you can make more smaller rounds if you wish)

1.6lb / 750g (approx 2 large)

Baking Potatoes, peeled & sliced around 1/4"

1lb / 500g (approx 2 medium)

Zucchini/Courgettes, sliced into approx 1/3" strips (I do lengthways)

2 cups / 500ml

Vegetable or Olive Oil, or enough to cover veg in the pan

few pinches of

Parsley & Pecorino (to sprinkle in between layers)
Salt & Pepper, as needed
Instructions:
Beef Layer: Heat 1 tbsp olive oil in a large pan or pot over medium heat. Add onion and fry until it begins to soften/brown, then add in garlic and fry for 1-2mins longer. Add in beef and break up with a wooden spoon until fully browned. Stir in tomato paste and fry for a couple of mins, then pour in wine. Deglaze the pan if needed, then pour in passata and beef stock. Add in parsley, thyme, cinnamon, salt, sugar, pepper & bay leaf and give it a good stir. Keep on a gentle simmer for around 30mins, stirring occasionally until nice and thick. Meanwhile...

PREP Veg Layer: Rest few sheets of paper towel on a flat surface and lay on your eggplant slices. Rub a pinch of salt over both sides, then add two layers of paper towels on top. On top of that add the zucchini slices, followed by another layer of paper towel, followed by potato slices and finished with another layer of paper towel. Gently press down to soak up the moisture. Can use tea towels instead if you wish.

COOK Veg Layer: Heat up enough oil to cover the veg in a suitably sized pot/pan until it gently sizzles (you're aiming for around 150C/300F). Carefully start sliding in your potato slices and fry both sides until lightly golden with the potato fork tender. Remove, shake off oil and place on fresh paper towel. Increase oil temp slightly to around 170C/340F and fry the zucchini slices until softened & lightly browned, then finish with the eggplant slices. Leave everything to drain on paper towels. You can use two pans to speed things up or bake one or two of the veg (see notes).

Béchamel Sauce: In a suitably sized pot over medium heat melt butter. Stir in flour to create a paste then gradually begin whisking in your milk. Once you've poured in all the milk and the sauce is thick, stir in salt, white pepper and nutmeg. Take the pot off heat and stir in pecorino until the sauce is lump free, then quickly whisk in the egg yolks. Take 1/2 cup of the sauce and stir it into the beef.

Stack Moussaka: Add a layer of potato to the baking dish (overlapping as needed) and sprinkle over a hefty pinch of parsley, pecorino, salt & pepper. Follow with zucchini and parsley/pecorino/salt/pepper, then half the eggplant with a pinch of salt and pepper. Try and close all the gaps and make it all nice and compact. Spread over beef layer, top with the rest of your eggplant then top with the Béchamel sauce.

Cook & Serve Moussaka: Finish with a sprinkling of pecorino then place in the oven at 180C/350F for 35-45mins, or until golden on top. I highly recommend leaving it to sit for at least 15mins, just to help it keep shape. Serve up and enjoy!
Quick 1 min demo!
Notes:
a) Baked Veg - You can bake the eggplant, zucchini and potato instead of frying if you wish. You can also bake some of it (i.e. the potatoes) as you fry the eggplant/zucchini to save time. Here's what I recommend if you bake:
- Still salt the eggplant and pat everything dry with paper towels first.
- Coat everything in olive oil, salt and pepper, then space out on baking trays.
- I recommend baking at 200C/390F. Potatoes will take the longest (around 30mins), then eggplant (around 20mins) then zucchini (around 10-15mins). This is all depending on thickness though so just be vigilant. Just bake until everything is lightly golden and fork tender.
b) Prep Ahead - You can definitely prep the beef part ahead of time, just cool and tightly store in the fridge over night (or freeze up to a month), then allow to come back to room temp before stirring through

Béchamel

and stacking. If you want to prep the whole thing ahead of time just make up until baking then tightly cover in the fridge overnight, then bring to room temp and bake as needed. Can also freeze just thaw and bake as needed.
c) Make Ahead - Allow to completely cool then store in the fridge for 3-4days (can also freeze for a month). Thaw then bring to room temp before baking for around 30mins, or until piping hot again through the centre. You could bake straight from the fridge but I find it's sometimes difficult to cook it right through the centre without the outside burning.
d) Frying/Oil - Because you don't fry at a super high temp you can use olive oil. This will add a good punch of flavour, almost like a gentle zing of spice. Vegetable oil will give you much more of a neutral flavour. I usually go for olive oil if I've not got much oil (i.e. shallow frying), but use vegetable if I've got a much bigger pot and deep fry with bigger batches. 
e) Calories - assuming 5% beef, 1/4cup olive oil soaked up by veg and divided by 8 people. Calories for 1 portion:
Your Private Notes:
Nutrition:
Nutrition Facts
Outrageously Delicious Greek Moussaka
Amount Per Serving
Calories 571
Calories from Fat 263
% Daily Value*
Fat 29.22g45%
Polyunsaturated Fat 2.158g
Monounsaturated Fat 12.653g
Cholesterol 141mg47%
Sodium 746mg31%
Potassium 1358mg39%
Carbohydrates 42.95g14%
Protein 34.11g68%
Vitamin A 1157IU23%
Vitamin C 23.6mg29%
Calcium 327mg33%
Iron 4.8mg27%
* Percent Daily Values are based on a 2000 calorie diet.
Nutrition is based on the absence of salt unless stated as a measurement in the ingredients. Cost is worked out based on ingredients bought from UK supermarkets, then divided by the number of servings. In both instances these values are just for guidance. Please check out my FAQ Page for more info.
---
If you loved this Moussaka Recipe then be sure to Pin it for later! Already made it or got a question? Give me a shout in the comments and pick up your free ecookbook along the way!