Is there a more delicious combo than cheese, onion and potato? Absolutely not when it's pouring out of puff pastry that's for sure!
This is hands down my all time favourite pasty. For my UK readers, this is like the cheese and onion pasty you get from Greggs, but so much better. Am I allowed to say that? Who knows. Who cares. It's true 😋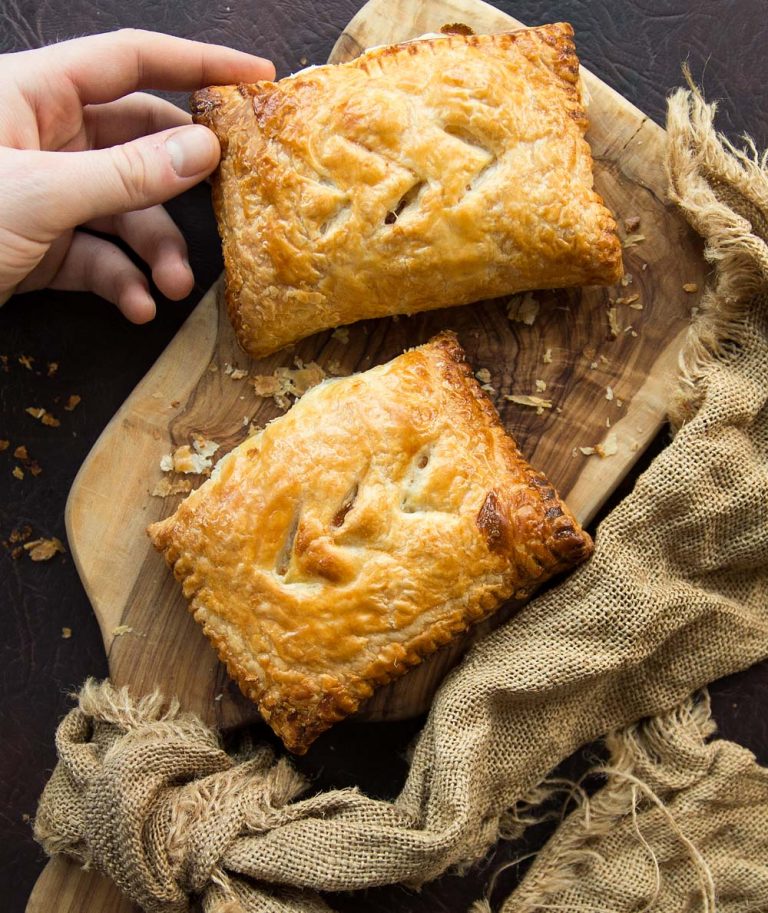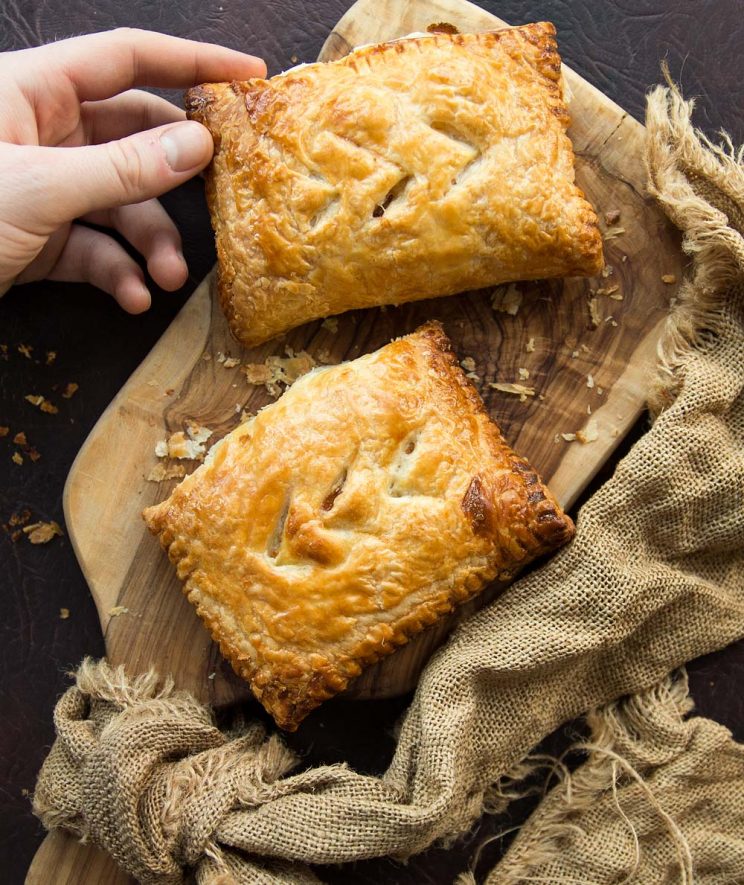 Cheese and Onion Pasty Filling
First things first, I am aware this is by no means a traditional pasty. Cheese and onion 'bake' or 'slice' is probably more appropriate. However, I've been making this recipe for years and for whatever reason I always termed them 'pasties' (I swear they used to be cheese and onion pasties at Greggs?!). Anywho, linguistics aside, let's talk filling.
Cheese, onion and potato
Do Greggs cheese and onion pasties contain potato? No. At least not as a prominent ingredient anyway. But does potato take this pasty to the next level? Hell yes. Think about it…
Cheese and onion – yes.
Cheese and potato – gimme.
Potato and onion – faceplant.
But all 3!? I don't know why I'm trying to convince you here, we all know it makes sense.
Alongside the potato, cheese and onion, we're also going to add mustard for an extra punch of flavour, some cream to help keep the filling moist and some fresh parsley to bring everything together.
Why fry the potatoes?
Most similar recipes to this actually boil the potato before mixing it with the cheese and onion, but in my opinion, it's such a wasted opportunity for added flavour and texture. Frying the potato adds heaps more flavour and it also allows the potato to better hold its shape. Plus, you need to fry off the onions anyway, so why waste time boiling up your tatties when you can fry 'em? 😁
Process shots: melt butter (photo 1), add diced potato (photo 2), fry and season (photo 3), melt butter and fry grated onion (photo 4), leave to cool then add to bowl with mustard, cream, parsley and salt & pepper (photo 5), stir to combine (photo 6).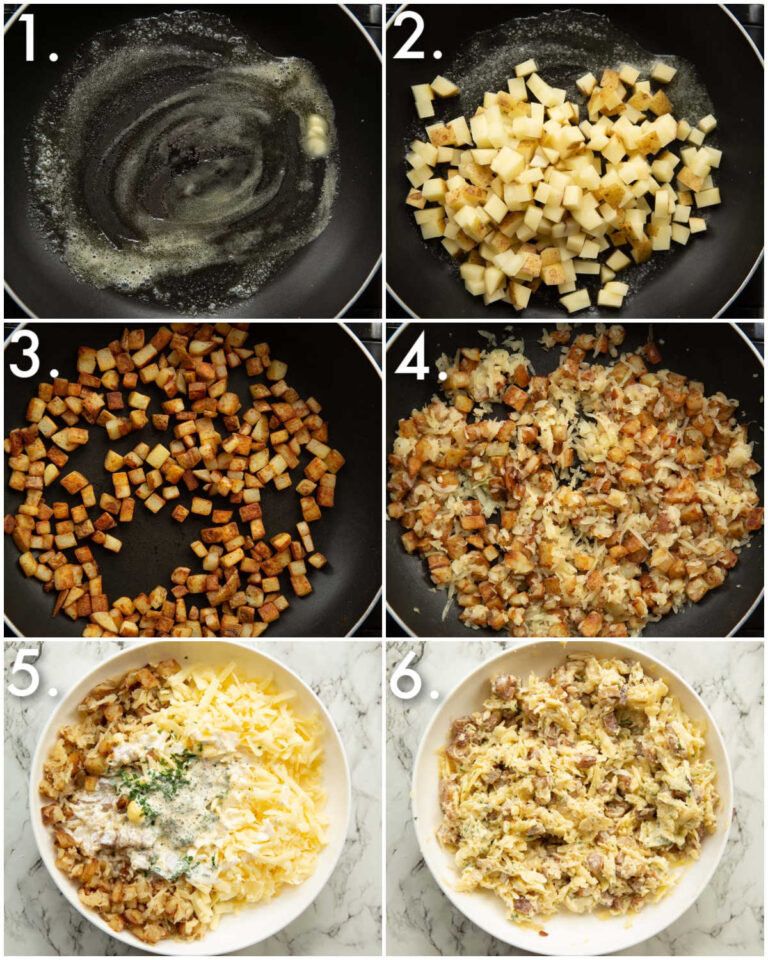 Making Cheese and Onion Pasties
When it comes to making the pasties, it's a fairly straightforward process.
Refrigerated Puff Pastry
I recommend keeping the pastry in the fridge until it's needed. The warmer the pastry gets, the more difficult it is to work with. Plus cold pastry tends to puff up a little better!
Egg Wash
This is a key component in getting that gloriously golden pastry. I also use a little to help 'glue' the pastry shut.
Process shots: slice pastry (photo 1), add filling and brush edges with egg wash (photo 2), fold pastry shut (photo 3), crimp edges with a fork and clean up with a knife (photo 4), add to greaseproof baking tray (photo 5), bake until golden (photo 6).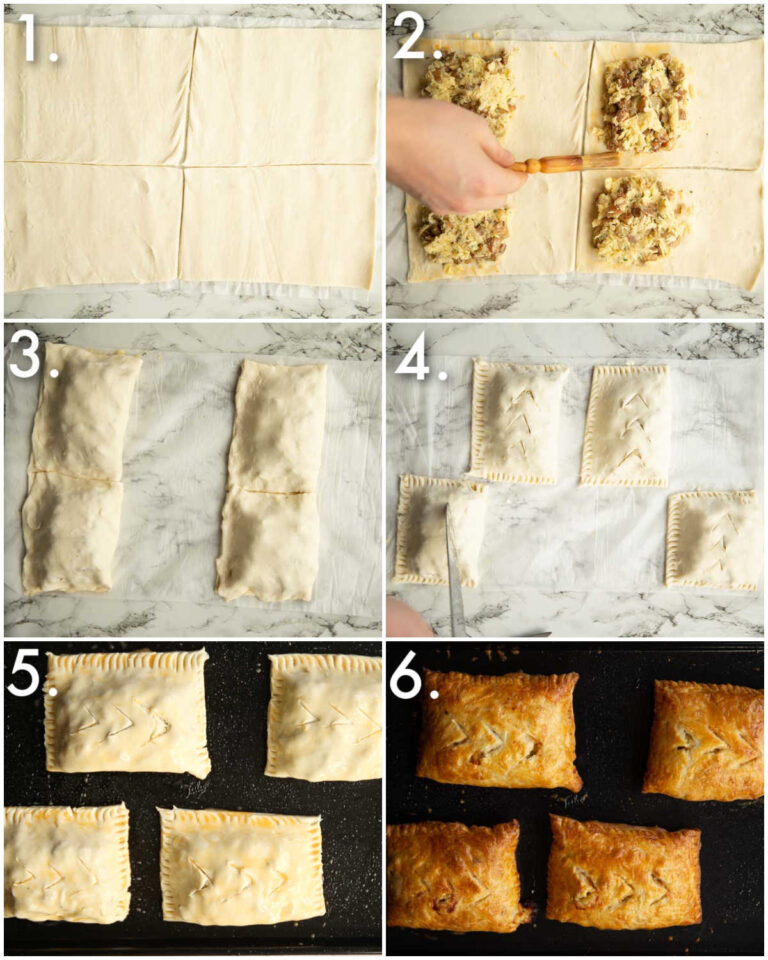 Cheese and Onion Pasty FAQ
What pastry to use?
For me, it's gotta be puff pastry every time. In theory, you could use shortcrust pastry, but I find it all ends up a bit 'heavy'. Puff pastry keeps the whole thing light and allows the fillings to be the star of the show.
What cheese to use?
A nice sharp/mature cheddar will do the trick. I'd steer away from flavoured cheeses such as pepper jack or smoked cheese because it becomes too distracting. I've also tried mozzarella in the past too but just doesn't quite cut the mustard – figuratively and literally.
The fancy pattern on top, any need?
These are actually steam holes, used to stop the pastry from going soggy from the inside. I usually just stick with the 3 arrow shape slices, but that's about as far as my artistic ability goes, so feel free to dress them up as you desire!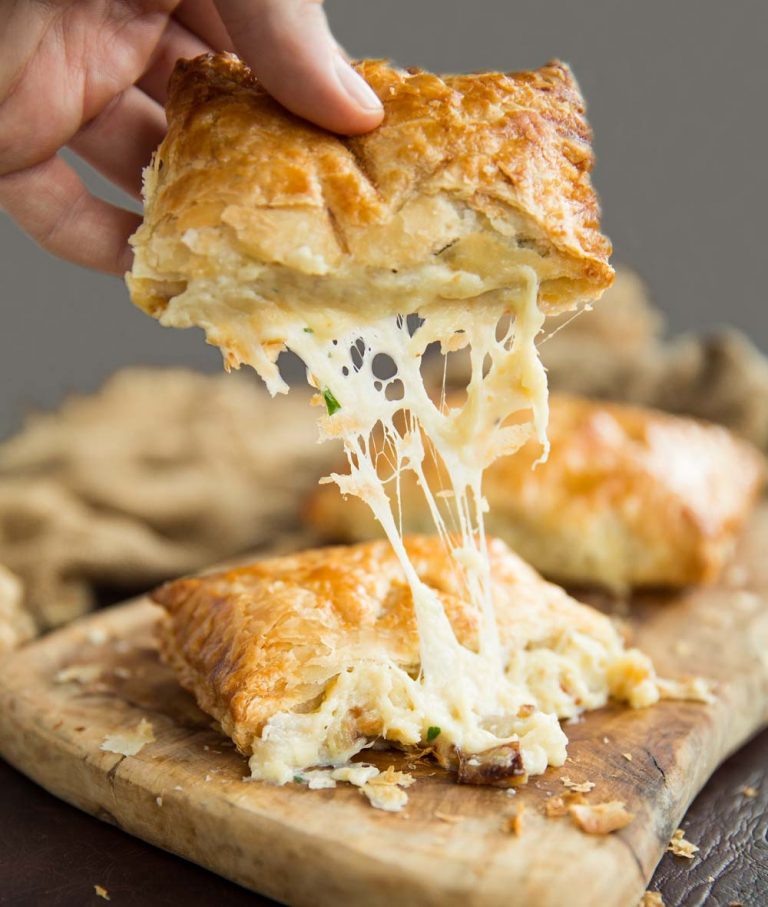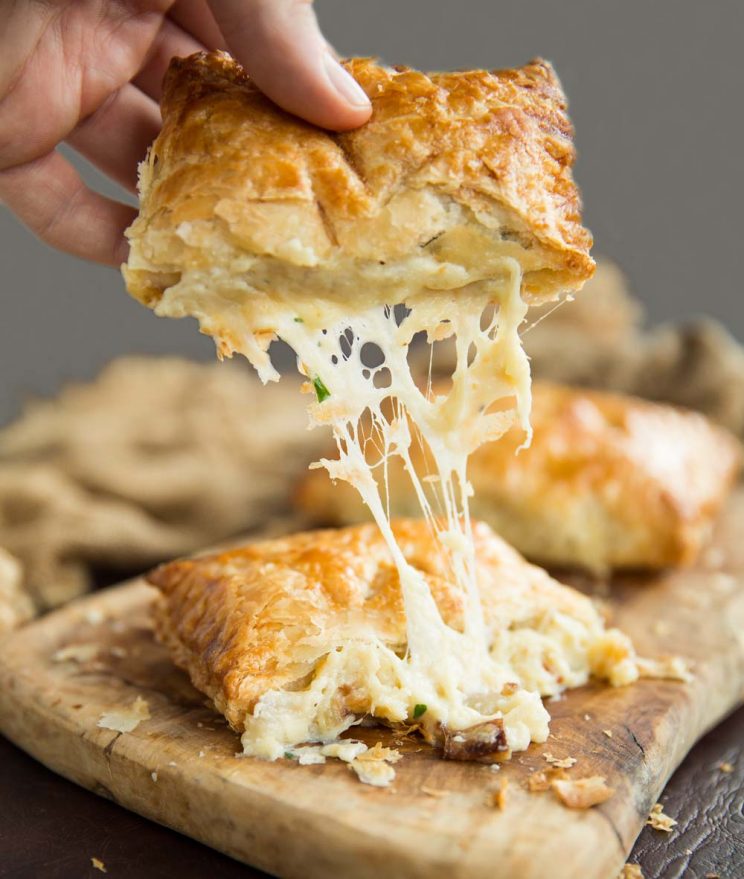 Serving Cheese and Onion Pasties
Can I make these ahead of time?
I find they're best made fresh, but you can either prep or fully make them ahead of time. More on this in the recipe card notes below.
Can these be frozen?
I find these best frozen after they're made, just to avoid the cream curdling/cheese going grainy. I recommend freezing in-between parchment paper and then transferring to a ziplock bag, just to avoid them sticking together.
Looking for more Greggs inspired recipes? Check out my Cheese and Bacon Turners, Steak Bakes and Sausage, Bean and Cheese Melts!
Alrighty, let's tuck into the full recipe for these cheese and onion pasties shall we?!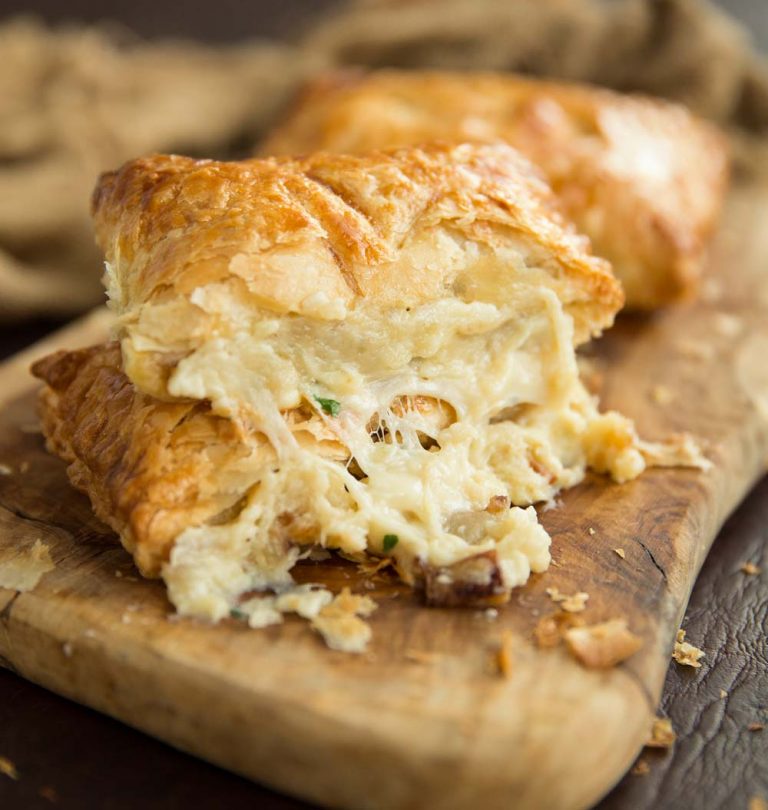 How to make Potato, Cheese and Onion Pasties

(Full Recipe & Video)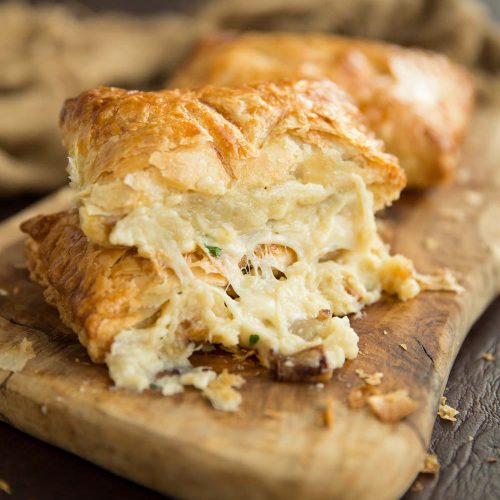 Potato, Cheese and Onion Pasties
Is there a more delicious combo than cheese, onion and potato? Absolutely not when it's pouring out of puff pastry that's for sure!
Print
Pin
Rate
Servings (click & slide):
4
pasties
Calories per serving:
753
kcal
Cost per serving:
£2 / $2.50
Equipment:
Large Greaseproof Baking Tray

Small Pot & Brush (for egg wash)

Large Frying Pan & Wooden Spoon

Medium Sized Mixing Bowl

Sharp Knife & Chopping Board

Box Grater
Ingredients (check list):
1x 320g/11.3oz

sheet of

Puff Pastry (see notes)

150g/5oz

Sharp/Mature Cheddar Cheese, grated

1/4 cup / 60ml

Heavy/Double Cream

1

large

White Potato, diced into small cubes (approx 300g/10.5oz)

1

large

Onion, grated on a box grater (approx 150g/5oz once grated)

1

tbsp

Butter

1

tsp

Dijon Mustard (can sub English if you prefer that flavour)

1

tsp finely diced

Fresh Parsley, (not a deal-breaker if you don't have this)

1

Egg, beaten for wash
Salt & Pepper, to taste
Butter or Oil, for frying potatoes
Instructions:
In a large pan over medium heat, fry the potatoes in a drizzle of oil or knob of butter until crisp on the outside and soft right through the centre (15-20mins depending on size of potato chunks). Season with a good pinch of salt & pepper, then melt in 1 tbsp butter. Add grated onion and fry for 1 min until it softens slightly. Pop everything in a bowl and allow to cool for a few mins.

To the bowl add cheese, mustard, parsley, cream and a couple of hefty pinches of salt & pepper. Give it a good stir and leave it to one side.

Slice the pastry into 4 equal rectangles. Split your filling into 4 and place to one side of each rectangle. Brush around the edges with egg wash then fold over and push down with your fingers to secure. Using a fork, press down around the outside of each pasty, then clean up with a knife. Slice a few steam holes on the top of each pasty.

Add to a greaseproof baking tray (or use parchment paper) and give them a good brush with more egg wash. Place in the oven at 200C/390F for 15-20mins or until deep golden brown and visibly flaky/crisp. Timings will vary so just be vigilant, puff pastry can go from golden to burnt fairly quickly!
Quick 1 min demo!
Notes:
a) Puff Pastry - The size of the pastry I use (before dividing) is 14"x9" (35.5cmx22cm). The weight is 320g/11.3oz, so if you are buying puff pastry that is not pre rolled (i.e a slab of pastry) make sure you are using that much weight and roll out to the dimensions above. In all cases, I recommend keeping the pastry in the fridge until a few mins before needed, otherwise, it can become tacky and hard to handle (just make sure it's not too firm or it'll crack). b) Can I prep these ahead of time? - Because of the cream I don't usually prep these ahead of time, just to avoid it soaking into the pastry. But it's not a deal-breaker. If you want to prep ahead just make up until putting on the egg wash then tightly cover in the fridge (2-3days). Preferably bring to room temperature before baking or add a few minutes onto the baking time. c) Can I fully make these ahead of time/storage & reheating - Allow them to completely cool then tightly cover in the fridge (2-3days, longer at your discretion). Reheat in the oven at 180C/356F until crispy & piping hot through the centre. d) Freezing - You can freeze these once they're made, then thaw them in the fridge and reheat them as above. Because of the cream/milk freezing before they're baked may cause slight curdling, but I've done this in the past and once they're baked they turn out fine. I recommend freezing between parchment paper for a few hours, then transferring to a zip lock bag. This will help stop them from sticking together. e) Calories - per pasty using heavy cream.
Your Private Notes:
Nutrition:
Nutrition Facts
Potato, Cheese and Onion Pasties
Amount Per Serving (1 Pasty)
Calories 753
Calories from Fat 457
% Daily Value*
Fat 50.8g78%
Polyunsaturated Fat 18.875g
Monounsaturated Fat 12.554g
Cholesterol 236mg79%
Sodium 515mg21%
Potassium 501mg14%
Carbohydrates 54.53g18%
Protein 20.14g40%
Vitamin A 1450IU29%
Vitamin C 19.8mg24%
Calcium 320mg32%
Iron 3.8mg21%
* Percent Daily Values are based on a 2000 calorie diet.
Nutrition is based on the absence of salt unless stated as a measurement in the ingredients. Cost is worked out based on ingredients bought from UK supermarkets, then divided by the number of servings. In both instances these values are just for guidance. Please check out my FAQ Page for more info.
---
If you loved this potato, cheese and onion pasty recipe then be sure to Pin it for later! Already made it or got a burning question? Give me a shout in the comments below and pick up your free ecookbook along the way!