Juicy jalapeño on bottom, with a loaded centre and a parmesan crunch on top, once you try this way of baking jalapeño poppers you'll never look back. These Crispy Baked Jalapeño Poppers are an absolute must. Plus, they're PERFECT for game day!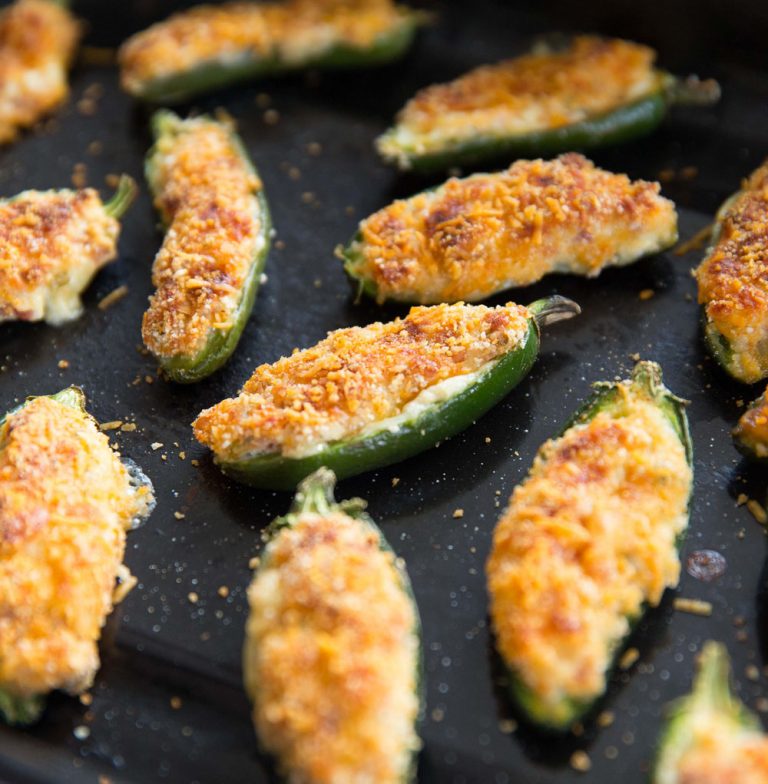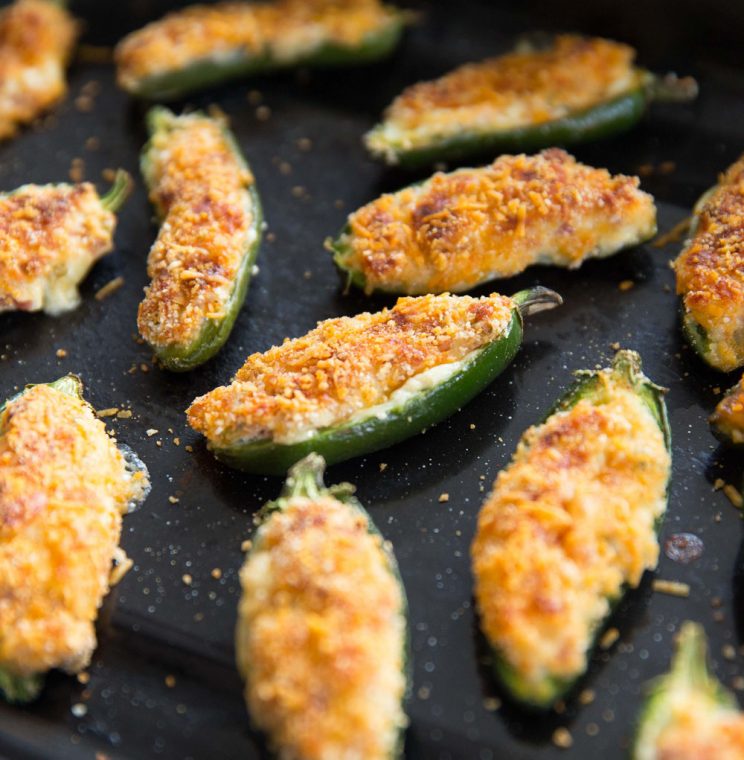 Baked Jalapeño Poppers
Sure, deep fried jalapeño poppers are tasty, but think about it. What do we love so much about them? For me, it's because they're crispy, yet cheesy and gooey. What if I told you that you can get those exact things but with half the hassle and probably half the calories? WITH the addition of bacon!? Follow me…
Classic Baked Jalapeño Poppers
For a long time when making jalapeño poppers I'd do the whole cream cheese stuffed jalapeños, topped with cheddar cheese then wrap with bacon. Which don't get me wrong tastes bloomin' divine, but recently I've mixed things up, which has led to one of the most incredible jalapeño popper combos I've ever tasted.
MY Baked Jalapeño Poppers
What I've come up with here is essentially jalapeño 'boats' which are loaded with a cream cheese filling and baked with a crispy top. Here's what you'll need for the cream cheese filling:
Jalapeño Popper Filling
Cream Cheese
Cheddar Cheese
Green/Spring Onion
Bacon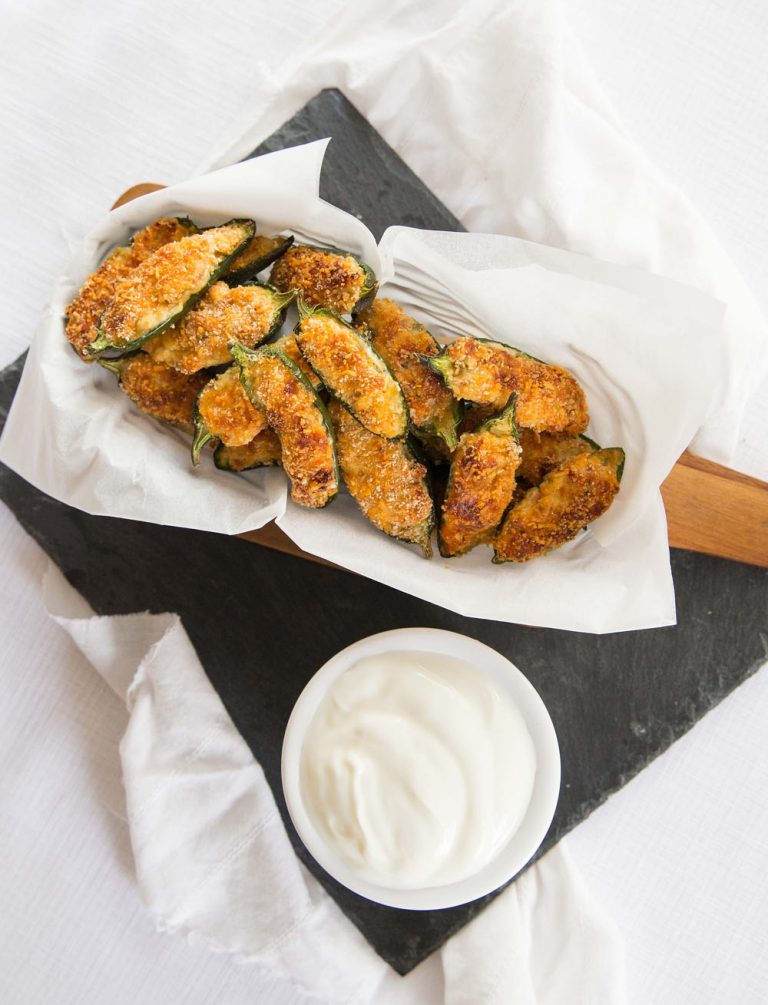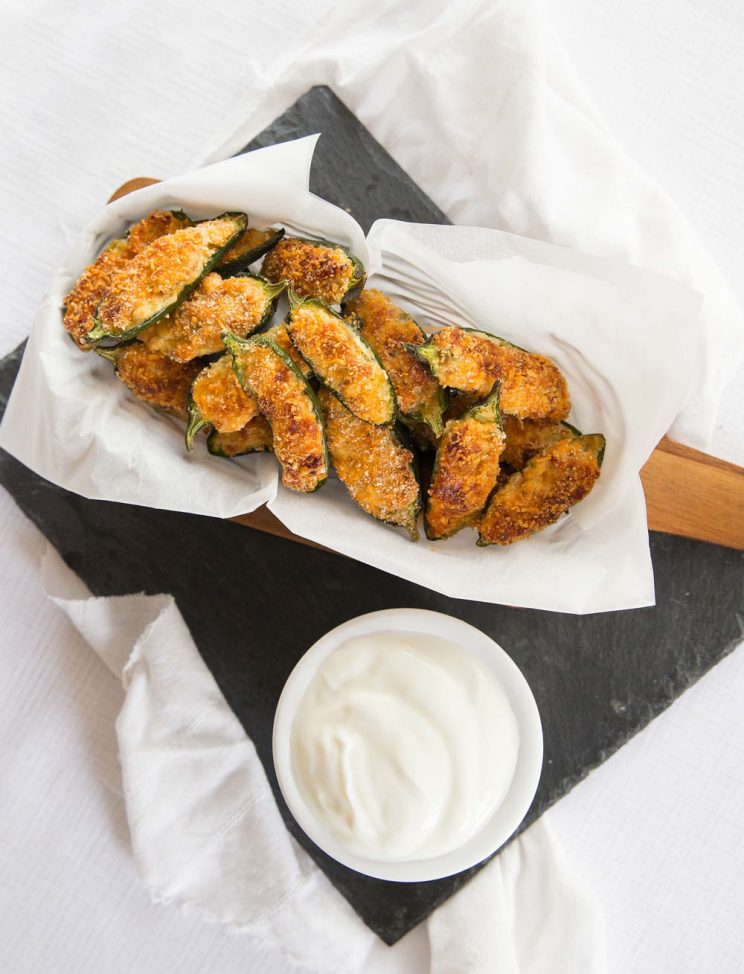 PreparingJalapeño Poppers
First thing you want to do is grab yourself some nice juicy fresh jalapeños. Those chillies lurking about in the back of your fridge are no good, they simply won't hold up in the oven. And nobody likes it when jalapeños spill out in the oven 😩 From there all you'll need is a chopping board, a sharp knife and some gloves if you fancy. Using disposable gloves are always a good idea if you're concerned about spreading spice.
How to stuff Jalapeños (quick summary)
Admire them – Grab yourself the biggest and freshest jalapeños you can find and spread them on a chopping board.
Cut them – Evenly slice them vertically down the centre.
Gut them – Scrape out every last seed you can find, easiest done with a tsp. Be careful not scrape too vigorously, else one of those seeds is gonna pop into your eye! (trust me, been there).
Stuff them – About 1 tbsp of filling should do the trick. You want the filling to be just raised above the edges of the jalapeño.
Top Tip – Try and get your jalapeños as uniform in size as possible. Whilst there is some discrepancy here, it's not so much that'll cook at uneven rates.
CRISPY Baked Jalapeño Poppers
Now comes the fun part that takes these baked jalapeño poppers through the roof. We've got the 'boats' filled, now time to add the crispy, crunchiness that everybody loves. Here's what you'll need:
Baked Jalapeño Crispy Layer
Breadcrumbs
Parmesan
Smoked Paprika
Now, if you've been a reader for a while you've heard me harp on about smoked paprika in literally every recipe. A personal preference of mine? Maybe. But here it's a definite must. It's give that gorgeous smokey twang to these baked jalapeño poppers and enhances all the lively flavours they offer.
How to Bake Jalapeño Poppers (quick summary)
In a bowl, add smoked paprika, breadcrumbs and parmesan.
Combine with a pinch of salt and pepper.
Place your jalapeños cheese side down onto the mixture and press down so it picks up as much as possible.
Bake in the oven until they just begin to bubble, then switch on the grill and broil until crispy.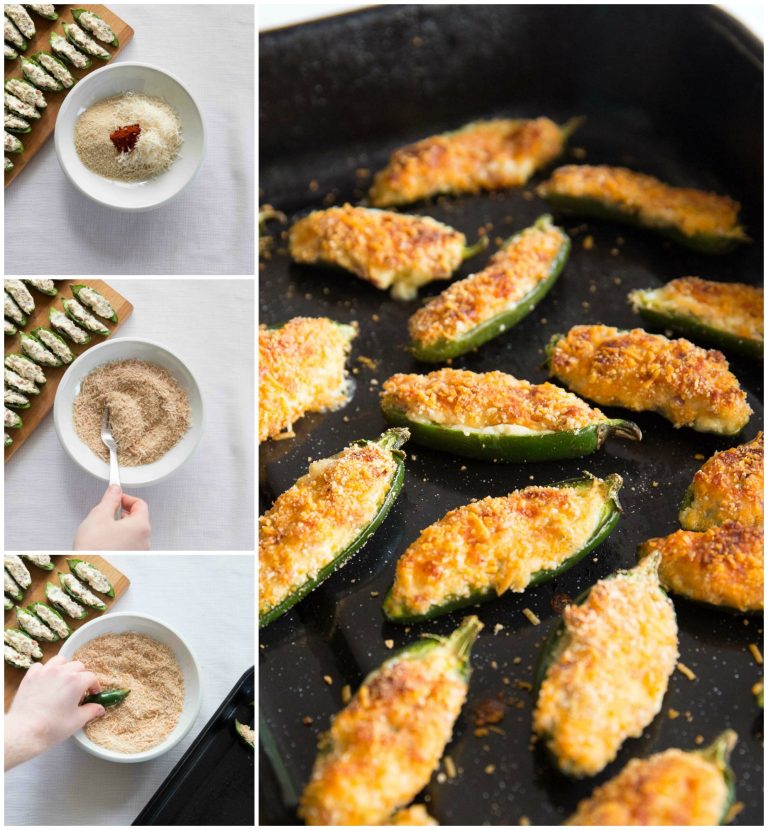 Tips for the best Baked Jalapeño Poppers
1. Don't over bake
You want to initially bake them until they're just cooked through, usually until they start bubbling. It's such a sad sight to see a sloppy jalapeño popper. An ever so slightly firm jalapeño is actually a good thing as it keeps it's shape nicely.
2.Uniformed Size
Try and pick similar sized jalapeños so they all cook at an even rate. With the same token, try and slice symmetrically so both sides are the same depth, just for the same reason.
3. Jalapeño Poppers Dip
These are great by themselves but even better with a dip. For me I usually go with a simple sour cream to sooth out the kick of spice. However these go amazingly too:
Dips for Jalapeño Poppers
How spicy are these Jalapeño Poppers?
In general, contrary to popular belief jalapeño poppers aren't that spicy. On the Scoville scale, the jalapeño is merely mild to moderate. Having said that, some are spicier than others. If you're at all concerned about them being too spicy, I recommend soaking the jalapeño boats in cold water. This will take away some of the kick. Just thoroughly dry with paper towels before stuffing.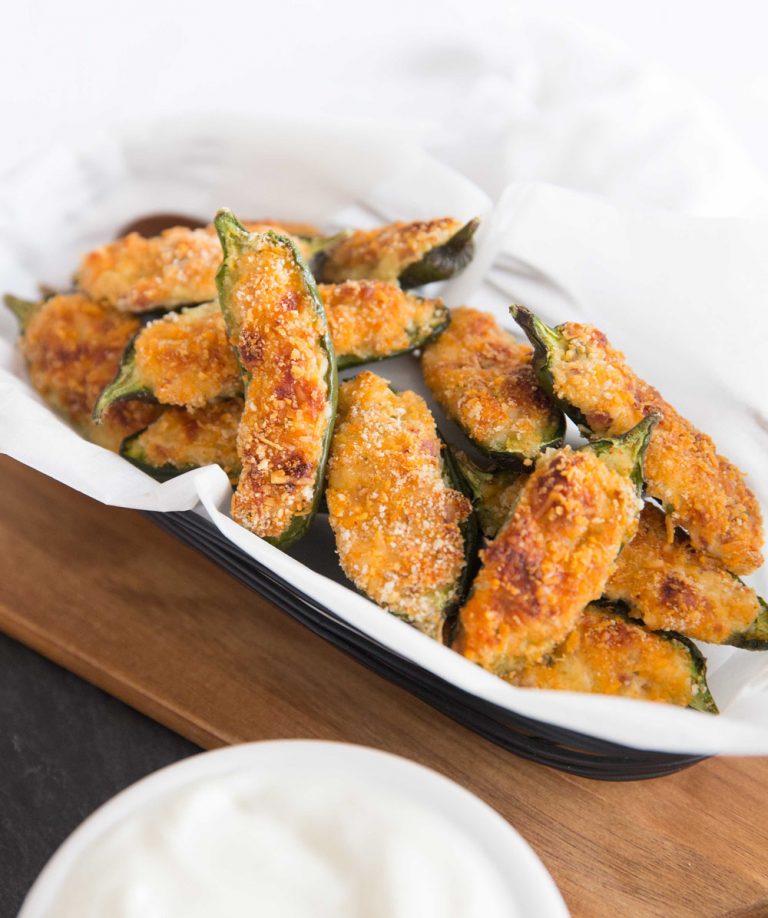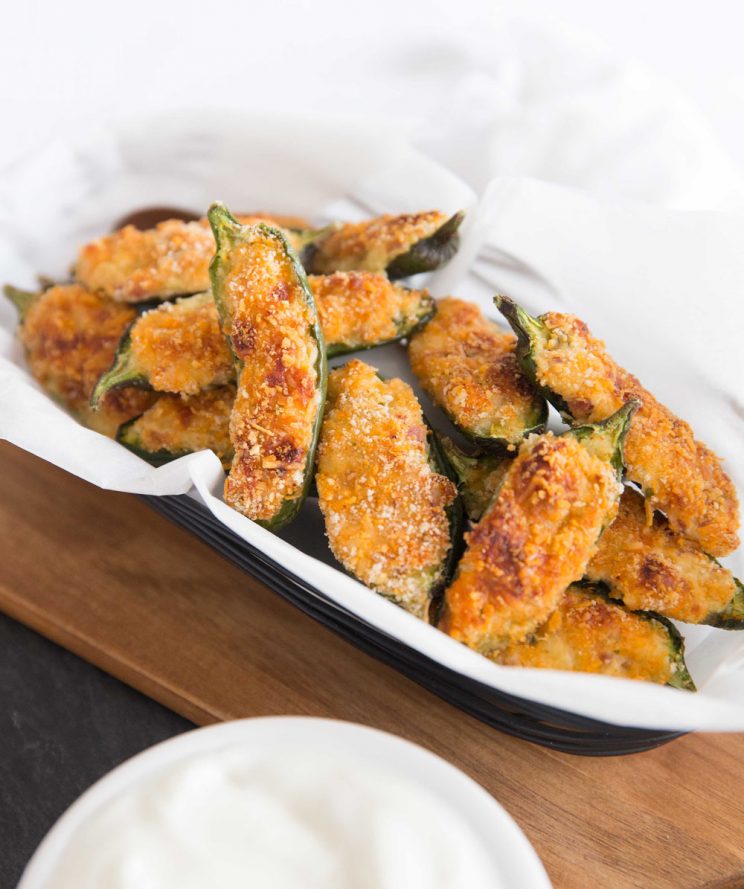 And there we have it! My jalapeño popper brain has officially leaked, and the info is yours for the taking 🤣 If you're looking for game day finger foods then definitely check out my other recipes:
Baked Finger Food
Fried Finger Food
Alrighty, let's tuck into these baked jalapeño poppers shall we?!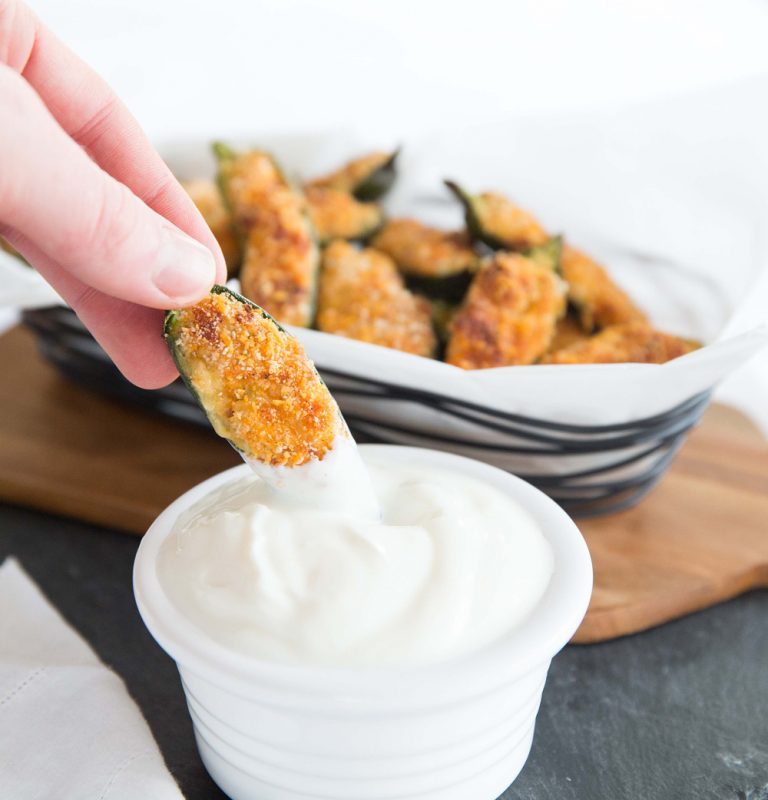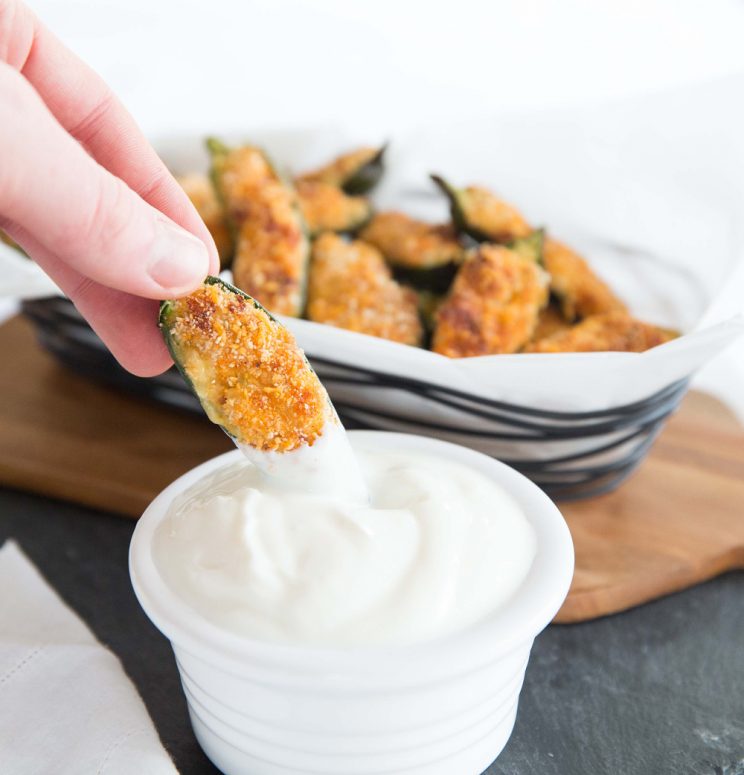 How to make Baked J

alapeño

Poppers (Full Recipe & Video)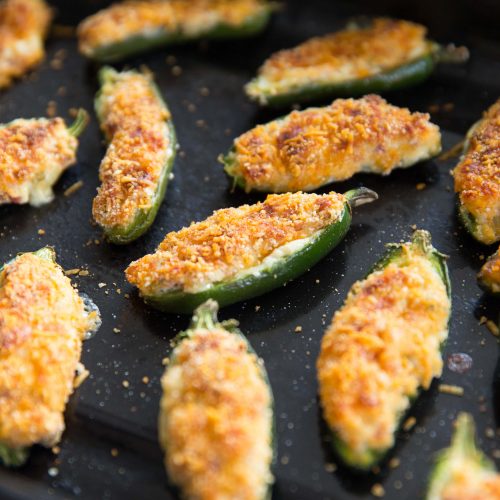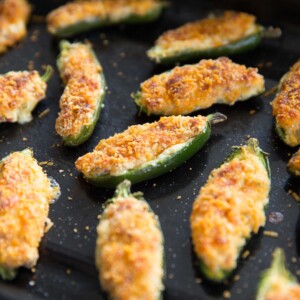 Crispy Baked Jalapeño Poppers
Juicy jalapeño on bottom, with a loaded centre and a parmesan crunch on top, once you try this way of baking jalapeño poppers you'll never look back. These Crispy Baked Jalapeño Poppers are an absolute must!
Print
Pin
Rate
Share by Text
Servings (click & slide):
20
Jalapeño Poppers
Calories per serving:
112
kcal
Cost per serving:
£2 / $2.50
Equipment:
Sharp Knife & Chopping Board

Gloves (optional - for slicing jalapeños)

Baking Tray

Medium Bowl (for cream cheese mix)

Medium Bowl (for breadcrumbs mix)
Ingredients (check list):
10

Jalapeños

9oz / 250g

Cream Cheese

5oz / 150g

Streaky Bacon, finely diced (or bacon of choice)

1 cup / 100g

Cheddar Cheese, finely grated

1

Green/Spring Onion, finely diced

4

tbsp

Dry Breadcrumbs (can use Panko!)

2

tbsp

Parmesan, finely grated

1

tsp

Smoked Paprika
Salt & Black Pepper, to taste
Olive Oil, as needed
Sour Cream, to serve
Instructions:
In a medium sized bowl, combine 4 tbsp breadcrumbs, 2 tbsp parmesan, 1 tsp smoked paprika and a pinch of salt & pepper (to taste). Place to one side.

Next, fry 5oz/150g diced bacon in a pan over medium heat (use oil as needed) until nice and crispy. When cool enough to handle, combine in a separate bowl with 9oz/250g cream cheese, diced green/spring onion and 1cup/100g grated cheddar cheese. Place to one side.

Grab your jalapeños and slice them vertically, forming two boat-like shapes. Deseed with a teaspoon and begin filling with your cream cheese mixture. You want them filled to just above level height, around 1 tbsp per 'boat' should be fine, depending on jalapeño size. Use gloves if concerned about spreading spice.

Flip each boat upside down in to your breadcrumb mixture and gently press so the crumbs attach, forming the crispy layer.

Evenly space out on a baking tray and bake for around 8-10 mins at 200C/390F just to heat through the centre, just until they start to bubble. Then switch to the grill and broil for around 5 mins or until golden and crispy on top (see notes). Allow to cool for a few minutes and tuck in!
Notes:
a) Reducing Spice - After slicing and gutting the jalapeños, soak them in a bowl of cold water. This should take away some of the spice to make them more bearable for those who don't like too much heat! Just make sure you pat them thoroughly dry with paper towels before stuffing. b) Gloves - It's sometimes a good idea to wear gloves whilst prepping these, just to avoid accidental contact with unwanted areas i.e eyes etc. c) Baking Times -  These guidelines are based on medium sized jalapeños, oven timings may differ so just be vigilant throughout. You want them to JUST be cooked in the first instance, any longer and they will wilt and the cheese will slide off. An ever so slightly firm jalapeño is a good thing to help keep shape. If after cooking you find them to be too firm, just pop them back in the oven at a low temp until tender enough for your liking. d) Leftovers Cheese Mix -  You may end up with leftover cream cheese mixture, but just pop in the fridge and use as a dip with crackers or stuff in your next jalapeño craving. e) Freezing Leftover Jalapeño Poppers - If you have any leftover whole jalapeño poppers, you can freeze them. Just reheat them in the oven for a few minutes more than the recipe states. f) Make Ahead Jalapeño Poppers - If you want to make ahead then I recommend making up until the coating of the breadcrumbs. Reason being is the breadcrumbs tend to soften if they're sat on top of the cheese for a long period of time before baking. That, or you could completely cook, then cover and store in the fridge. Bake at the same temp until just heated through. They won't be quite as crispy as if you made them fresh, but still delicious! g) Calories - per jalapeño with no dip.
Your Private Notes:
Nutrition:
Nutrition Facts
Crispy Baked Jalapeño Poppers
Amount Per Serving
Calories 112
Calories from Fat 80
% Daily Value*
Fat 8.88g14%
Polyunsaturated Fat 0.641g
Monounsaturated Fat 3.047g
Cholesterol 24mg8%
Sodium 265mg11%
Potassium 110mg3%
Carbohydrates 2.79g1%
Protein 5.3g11%
Vitamin A 900IU18%
Vitamin C 24.8mg30%
Calcium 50mg5%
Iron 0.4mg2%
* Percent Daily Values are based on a 2000 calorie diet.
Nutrition is based on the absence of salt unless stated as a measurement in the ingredients. Cost is worked out based on ingredients bought from UK supermarkets, then divided by the number of servings. In both instances these values are just for guidance. Please check out my FAQ Page for more info.
---
If you loved these Baked Jalapeño Poppers be sure to pin the recipe for later! Already made them or have a question? Give me a shout in the comments and pick up your free ecookbook on the way!