'Juicy jalapeno on bottom, with a loaded center oozing out and a parmesan crunch on top. These Crispy Baked Jalapeno Poppers are an absolute must' – Hungry now?  Jump to Recipe
Strange things are happening in the DGBMH household today and Crispy Baked Jalapeno Poppers are the sole reason why. I'd been planning on making a batch of these for a while now, like 'this Friday, I'm going to make some Jalapeno Poppers and everything's gonna be great'. Okay.. Made them, stared at them, devoured them, and then signed up to run 5km at 7am tomorrow morning.
Like what the heck!? I don't even know how it happened! It was almost as if I was possessed by the Jalapeno Poppers, I swear.
*sighs*
Well, either way it'll erase some of the guilt from eating nearly a whole batch of these to myself, so I guess it's all good. I mean look how pretty they are though!
For a long time when making Jalapeno Poppers I'd do the whole cream cheese stuffed jalapenos topped with cheddar cheese then wrap with bacon. Which don't get me wrong, is bloomin' divine, but this time round I thought I'd mix things up.
I wanted the same kinda flavours but just in a different structure.
I did have a nose around after I finished just to, you know, check out the competition as such, and most baked breaded jalapeno poppers I found were fully coated and/or deep fried. The reason I think these worked so well was simply because the crispy layer was only on top.
As you bite you've got the juicy jalapeno on bottom, with the loaded center oozing out and then a nice parmesan crumbed crunch on top. I think sometimes if you coat the entire thing the jalapeno get's a little lost. I wanted it to be the main event, as it should be.
With every cream cheese jalapeno poppers recipe there has to be bacon. Like I said, traditionally wrapped around the Jalapeno, but here it's crumbled inside. It offers a nice little surprise when you bite in and gives you the traditional vibe of a jalapeno popper without being all up in your face.
Not that I have a problem with bacon being all up in my face but you know.
Anywho, I best be on my way but do have a read and let me know how ya'll get on with this super easy jalapeno poppers recipe. How do you like your Jpoppers? What's your favourite dip? Will I survive the morning 5km jog??? See you on the next post guys!
---
Crispy Baked Jalapeno Poppers
Juicy jalapeno on bottom, with a loaded center oozing out and a parmesan crunch on top. These Crispy Baked Jalapeño Poppers are a must.
Cuisine:
American, Mexican
Ingredients
10

Jalapenos

8

oz

(250g) Cream Cheese

5.2

oz

(150g) Streaky Bacon, finely diced

1

cup

(100g) cup Cheddar Cheese, finely grated

1

Green Onion

finely diced

4

tbsp

Breadcrumbs

2

tbsp

Parmesan

finely grated

1

tsp

Smoked Paprika

Salt & Black Pepper

to taste

Olive Oil
Method
Begin by mixing your Breadcrumbs, Parmesan, Smoked Paprika and Salt & Pepper in a bowl and place to one side.

Next, fry your Bacon bits over medium/high heat until nice and crispy. Pat dry with a paper towel when cool enough to handle and combine in a separate bowl with your Cream Cheese, Green Onion and Cheddar Cheese until a smooth like texture.

Grab your Jalapeños and slice them horizontally, forming two boat-like shapes. Deseed and begin filling with your Cream Cheese mixture. You want them filled to just above level height, around 1 tbsp per 'boat' should be fine, depending on Jalapeño size.

Flip each boat upside down in to your breadcrumb mixture and gently press so the crumbs attach, forming the crispy layer.

After, place evenly spaced on a baking tray (lined with tin foil), drizzle a little oil and bake for around 10-12mins on 200c (390f) just to heat through the center, until they start to bubble. Then switch to the grill and broil for around 5 mins or until golden and crispy on top. Allow to cool for a few minutes and tuck in with your favourite dip and beer!
Recipe Notes
a) These guidelines are based on medium sized Jalapeños. Measurements and timing will be dependent on size, just be vigilant throughout.

b) You may end up with leftover cream cheese mixture, but just pop in the fridge and use as a dip with crackers or stuff in your next Jalapeno craving.
---
Why not check out the perfect accompaniment to these poppers – my Roasted Sweet Potato and Black Bean Quesadillas!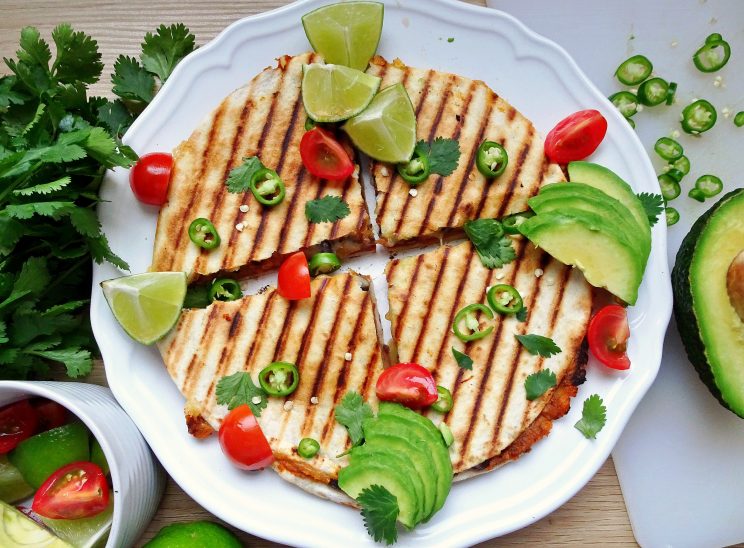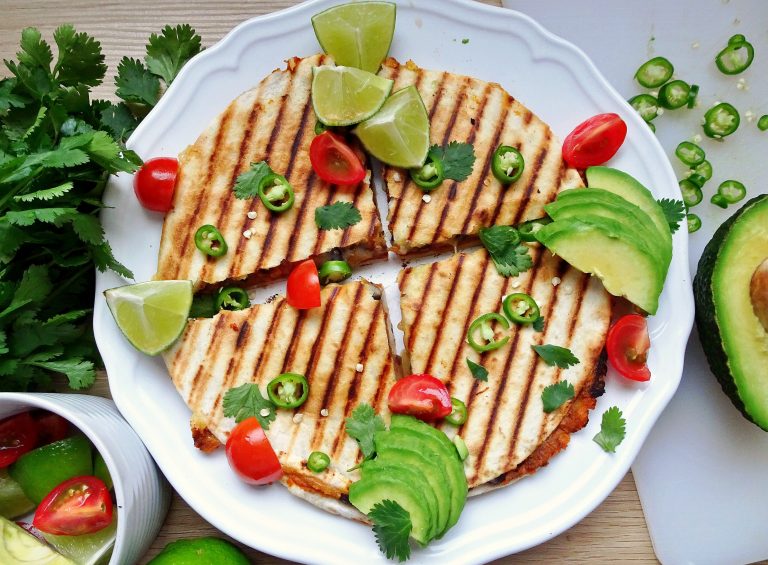 ---

---
Cheers guys, this has been ' Crispy Baked Jalapeno Poppers '. Comment, share, do whatever you fancy but for crying out loud don't go bacon my heart. See you next time 🙂