These homemade halloumi fries are double dipped in panko breadcrumbs for an extra crispy finish. Just be warned – these Crispy Halloumi Fries are crazy addictive!!
Isn't halloumi just the absolute greatest? Like for real, it's the god of all cheeses. No competition. But when you take halloumi, and turn it into golden, crispy fries? UGH. Gimme.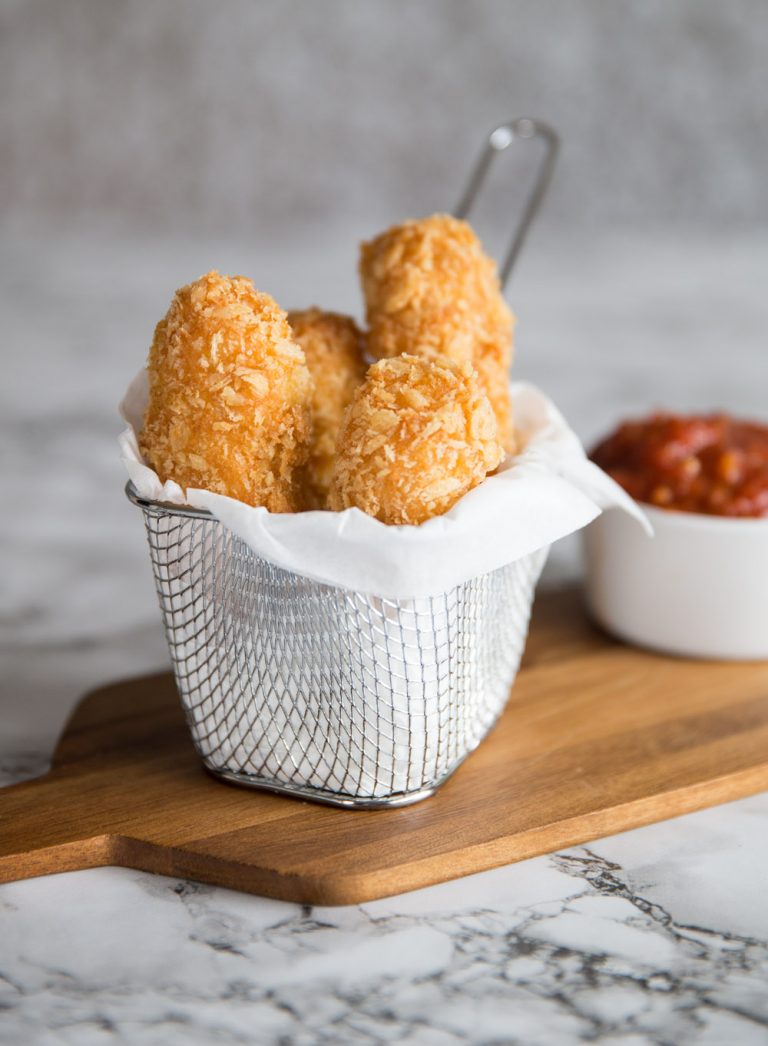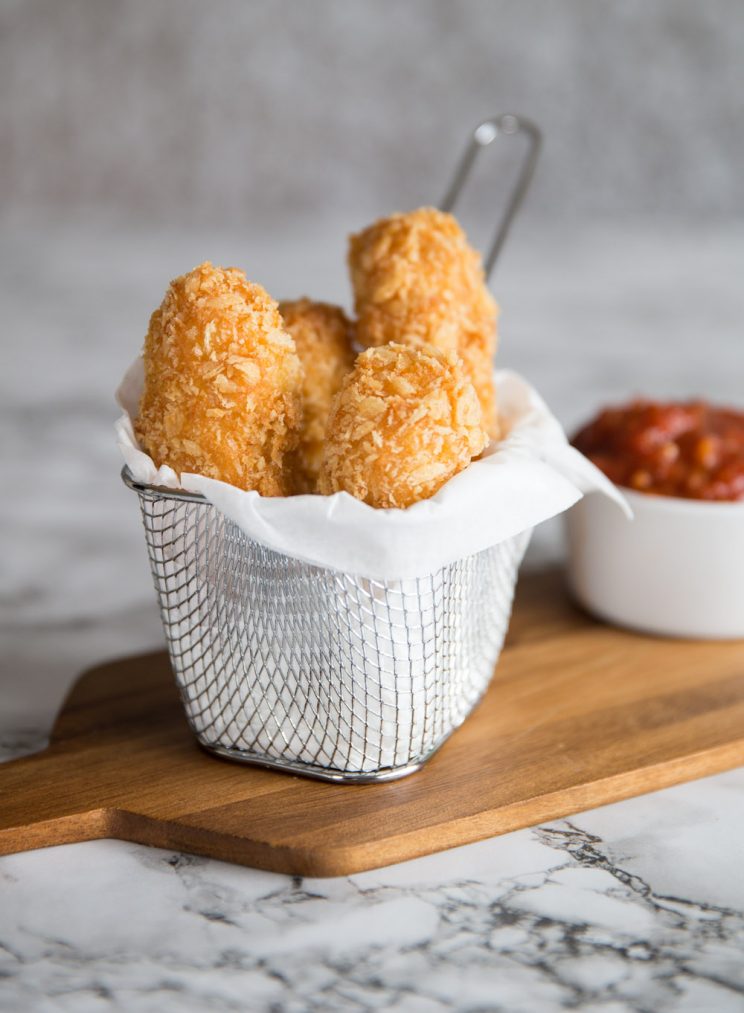 I've eaten enough halloumi fries in my time to feed a small army and let me tell you, it never gets old.
So, what is halloumi and why does it make the best cheesy fries?
Good question.
Halloumi is semi-hard cheese made from a mixture of goat and sheeps milk. It is usually brined, so has a fairly salty flavour. It's texture, when eaten raw or pan fried, has quite a 'squeeky' texture.
Halloumi has a high melting point, which means it can take a lot of heat before it turns to gloop. This makes it perfect for making fries because it turns nice and soft, but also keeps it's shape.
Just look at that cheesy goodness.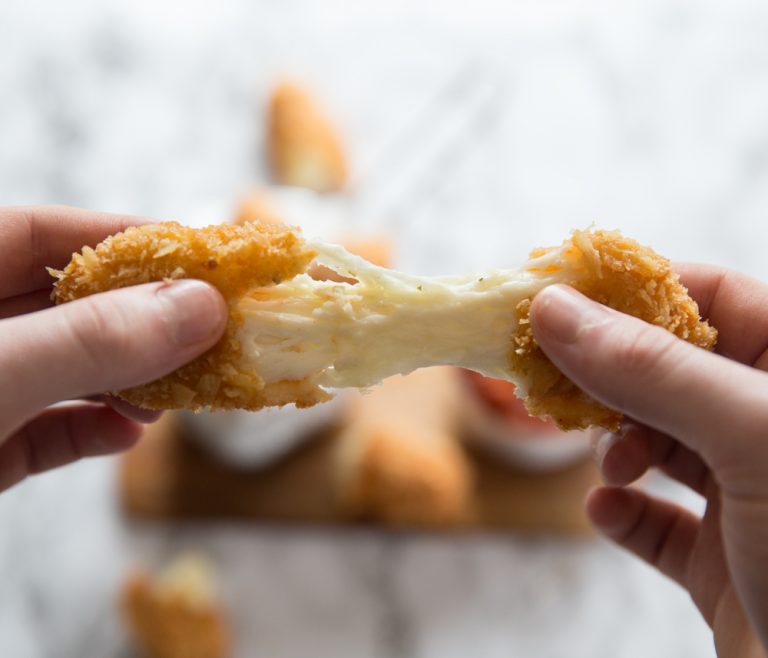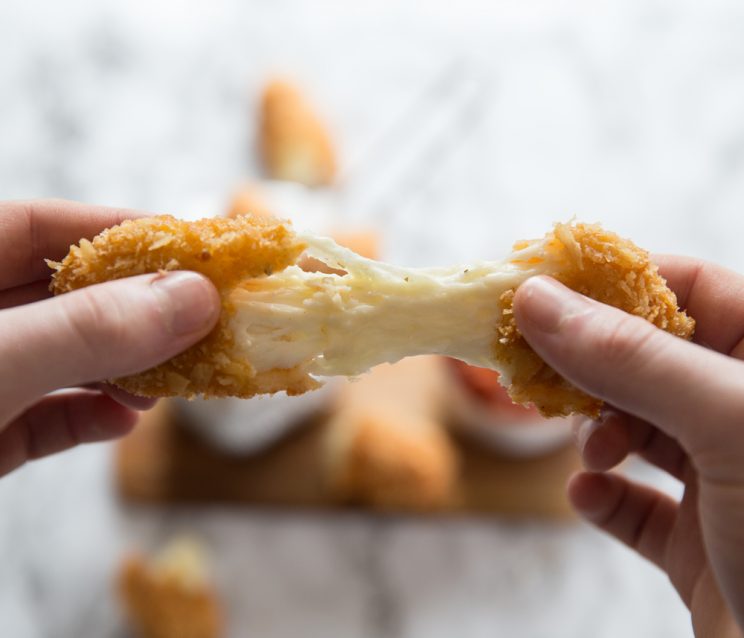 'So, EXTRA crispy halloumi fries you say?'
Yep, teeth shatteringly crispy. Well, not quite. But still pretty damn crispy. And that's all thanks to our good friend 'Panko breadcrumbs'.
Panko is a Japanese-style breadcrumb, which tends to be much larger, lighter and more 'airy' than regular breadcrumbs. Because the flakes are larger, they tend to offer a crispier finish than regular breadcrumbs and because they absorb less grease, they stay crispier for longer. Perfect for deep fried cheese right?
I mean yes, you can make halloumi fries without breadcrumbs, but where's the fun in that? You can also make halloumi fries without deep frying them as well, but again, no fun.
And if you're going to breadcrumb and deep fry the buggers, then why not double coat them for extra crispiness?
Yeah who knows, there's just no justifying this one 😂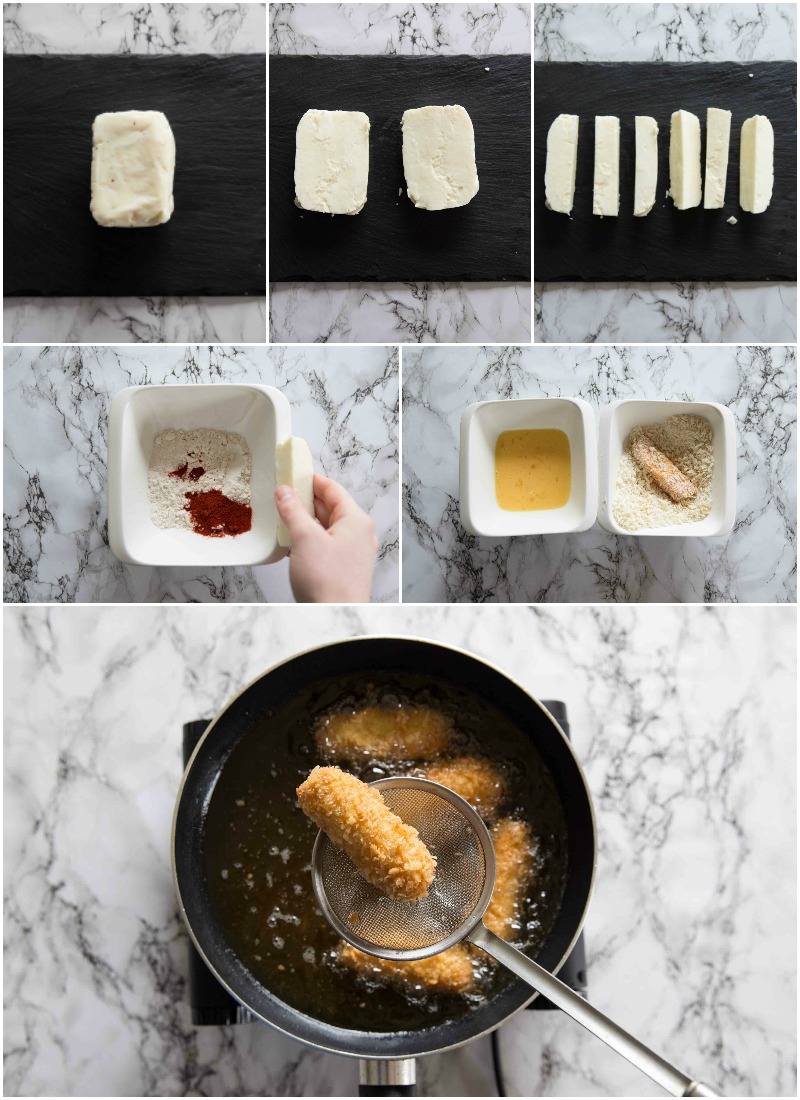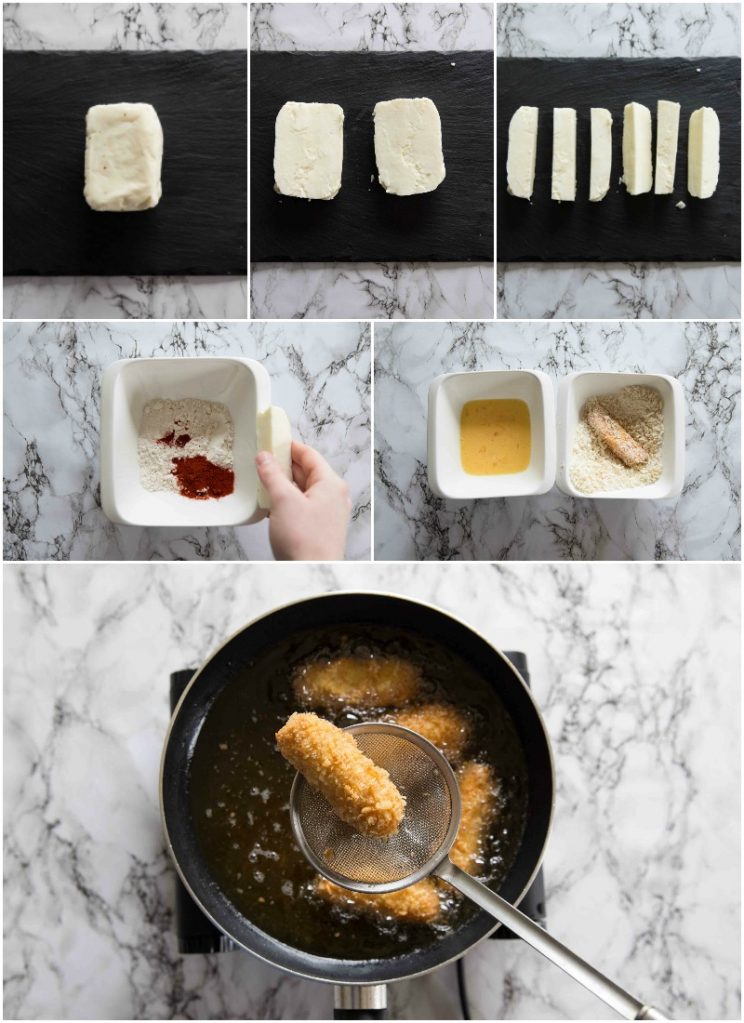 How to deep fry Halloumi Fries
Cut your halloumi into equal sized fries.
Coat in a combination of flour + smoked paprika, then dunk into beaten eggs, straight into the Panko breadcrumbs, BACK into the eggs, then finish back in the breadcrumbs.
Heat up vegetable/canola/sunflower oil in a suitably sized pot until and pinch of batter begins to sizzle, then deep fry your fries in batches until golden. The halloumi should just begin to leak.
And that's it!
Oh, and have a dip at the ready.
Homemade Marinara Dipping Sauce anybody?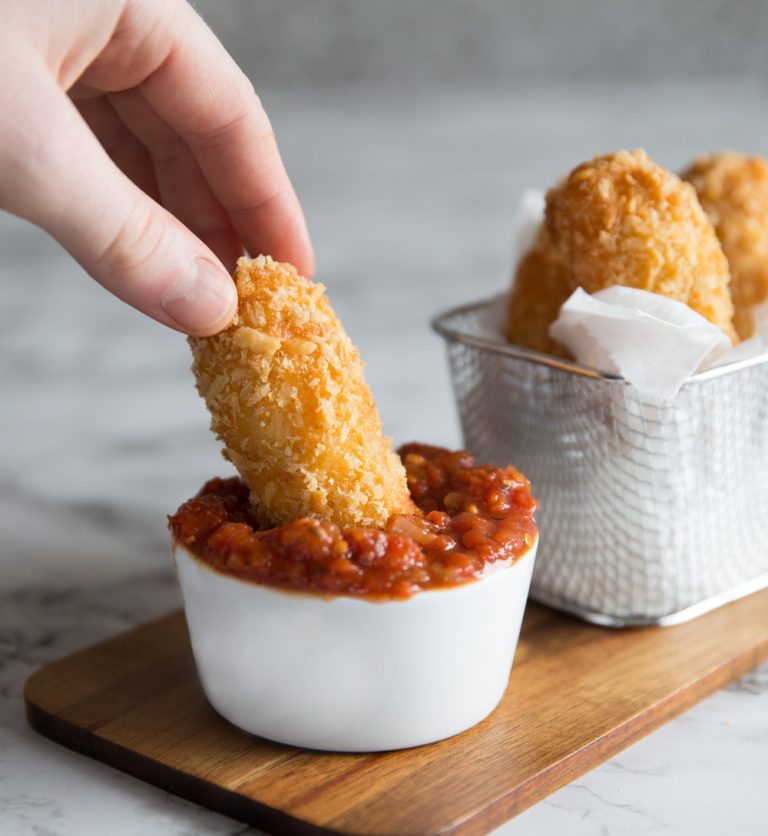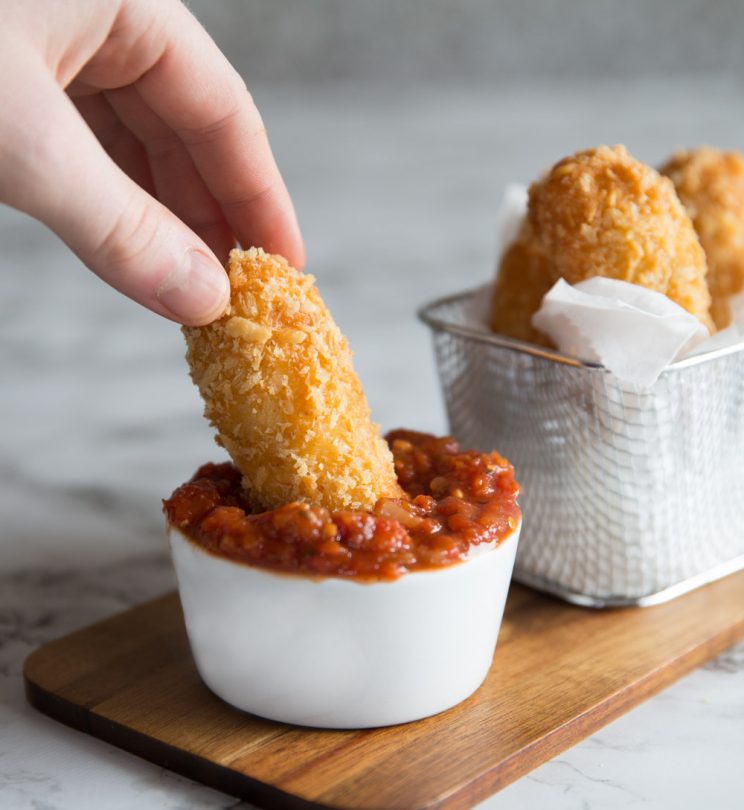 These extra crispy halloumi fries are incredibly quick and easy to make, yet even more delicious to eat. Forget boring old pan fried halloumi fries and say hello to these double Panko coated deep fried halloumi fries!
And when I say these are crazy addictive, I truly mean it.
Gorgeously crispy on the outside, soft and salty on the inside, who can resist that!? Taking these photos was genuinely a nightmare, all I wanted to do was eat the darn things, not photograph them 😩
#storyofmylife
p.s. not my hand, I got sunburn on the 1 day a year that the UK gets hot, didn't picture well!
Anywho, let's tuck into the recipe shall we?
Join the foodie family! – Get awesome recipes sent straight to your inbox by signing up to my Weekly Mailing List (where you'll receive your FREE ECOOKBOOK) and stay in touch on Instagram, Facebook and Pinterest! 🧡
How to make EXTRA Crispy Halloumi Fries

(Full Recipe & Video)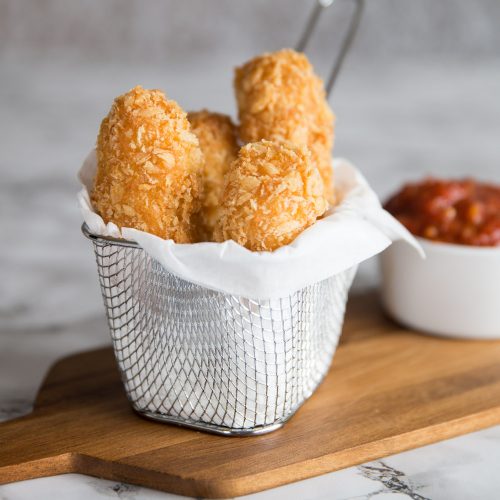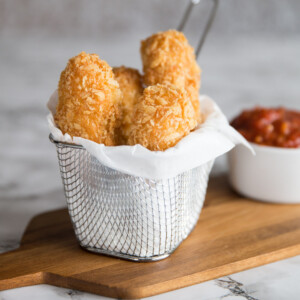 Extra Crispy Halloumi Fries
These homemade halloumi fries are double dipped in panko breadcrumbs for an extra crispy finish. Just be warned - these Crispy Halloumi Fries are crazy addictive!!
Print
Pin
Rate
Servings (click & slide):
4
Ingredients (check list):
2 blocks (225g/10oz each)

Halloumi

2-3 cups / (500-750ml)

Vegetable/Sunflower/Canola Oil

2

cups

Panko Breadcrumbs

2

large

Eggs, beaten

2

heaped tbsp

Plain Flour

1

tsp

Smoked Paprika
Instructions:
Slice your blocks of halloumi into 6 equal chunks. (12 in total)

Line up 3 bowls: first one is your flour and smoked paprika, second is your beaten eggs and lastly is your breadcrumbs. Coat your fries with the flour/smoked paprika, then the egg, then the breadcrumbs, back into the egg, and finish in the breadcrumbs again. Repeat for all fries.

Heat up your oil in a suitably sized pot and drop a piece of batter in. If it begins to sizzle, you're good to go. If it sinks to the bottom, heat for a couple more minutes.

Deep fry in batches for a few minutes until golden and/or the cheese just begins to leak.

Lay on a paper towel before serving!
Quick 1 min demo!
Notes:
a) Salt - As you can see, I've left salt out of the recipe. Halloumi tends to be fairly salty, so personally I feel they don't need any added salt. However, if you think you want to add more, I'd wait until they're fried, taste test, then add more as necessary. 
b) Panko Breadcrumbs - You will find these at most regular grocery stores, but certainly at an Asian grocery store. You can sub regular breadcrumbs, but you're fries won't end up quite as crispy and crunchy.
c) Deep Frying - You don't want the oil smoking hot (literally) because the outside will cook in seconds and the centre will still be solid. Like I mentioned in the method, just hot enough for the cheese to cause rapid bubbles. 
Nutrition:
Nutrition Facts
Extra Crispy Halloumi Fries
Amount Per Serving
Calories 419
Calories from Fat 216
% Daily Value*
Fat 23.95g37%
Polyunsaturated Fat 2.658g
Monounsaturated Fat 8.506g
Cholesterol 141mg47%
Sodium 1216mg51%
Potassium 196mg6%
Carbohydrates 27.97g9%
Protein 22.6g45%
Vitamin A 2050IU41%
Calcium 540mg54%
Iron 2.2mg12%
* Percent Daily Values are based on a 2000 calorie diet.
Nutrition is based on the absence of salt unless stated as a measurement in the ingredients. Cost is worked out based on ingredients bought from UK supermarkets, then divided by the number of servings. In both instances these values are just for guidance. Please check out my FAQ Page for more info.
---
For more deep fried cheese before sure to check out my Fried Cheese Balls!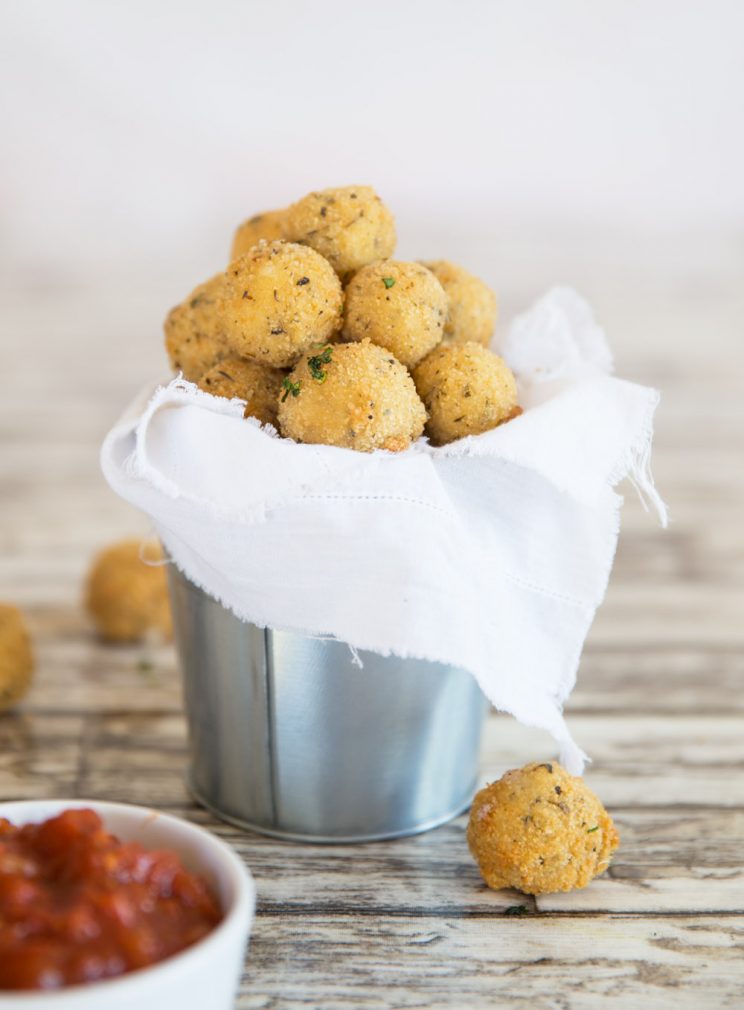 If you loved this Halloumi Fries recipe then be sure to Pin it for later! Already made them or got a question? Give me a shout in the comments below and pick up your free ecookbook on the way!