These homemade halloumi fries are double dipped in Panko breadcrumbs for an extra crispy finish. Just be warned – they are crazy addictive!!
Homemade Halloumi Fries
I've eaten enough halloumi fries in my time to feed a small army and let me tell you, it never gets old. Sure, Halloumi is great, but halloumi fries are even better.
First things first, just to clear out the cobwebs –
What is Halloumi 🤔- Halloumi is semi-hard cheese made from a mixture of goat and sheeps milk. It is usually brined, so has a fairly salty flavour. It's texture, when eaten raw or pan fried, has quite a 'squeeky' texture.
So, why does it make the best cheesy fries?
Halloumi has a high melting point, which means it can take a lot of heat before it turns to gloop. This makes it perfect for making fries because it turns nice and soft, but also keeps it's shape.
What makes THESE the best halloumi fries?
Regular halloumi fries are either just grilled, or deep fried as they are. Here I coat them in breadcrumbs and deep fry, which results in a gorgeous crunchy casing with a heavenly soft slice of halloumi waiting inside.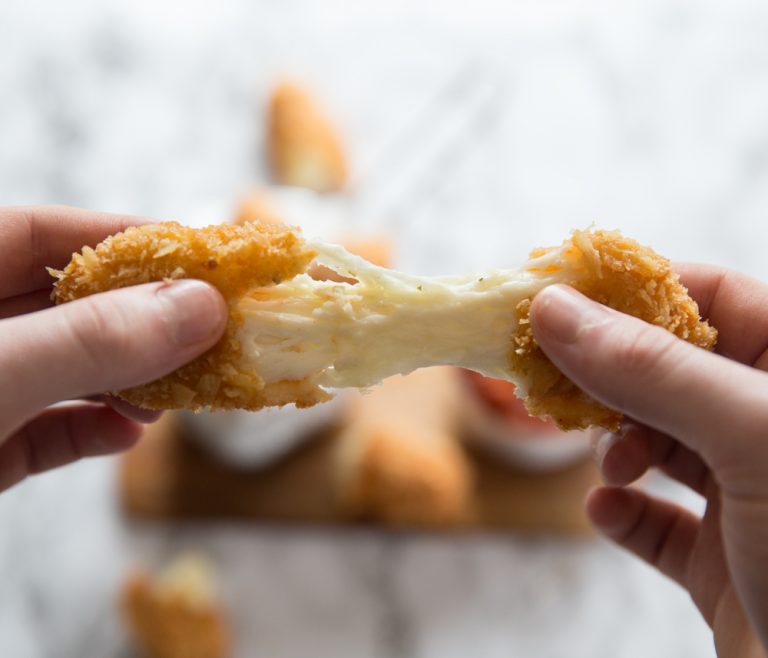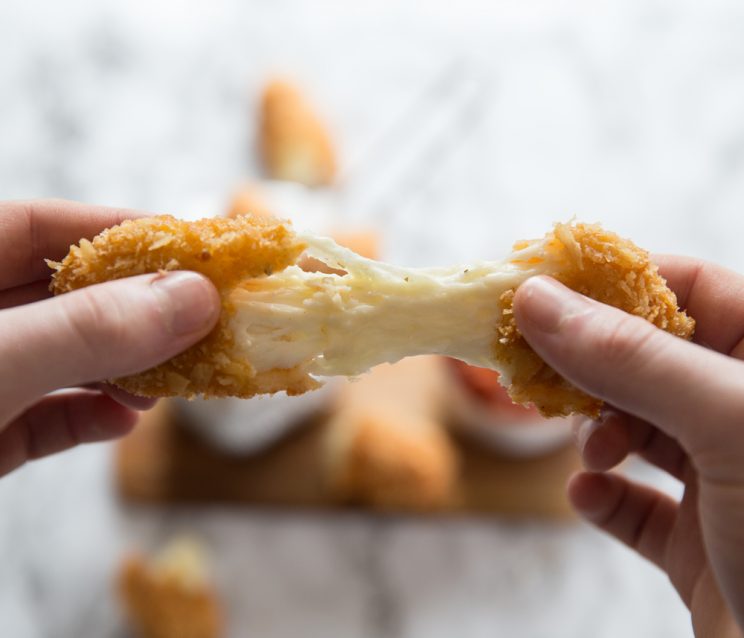 Making Halloumi Fries
Making halloumi fries is dangerously easy. It's as easy as slicing the halloumi into fries, coating in flour, egg, then breadcrumbs and deep frying.
Panko Breadcrumbs
Panko is a Japanese-style breadcrumb, which tends to be much larger, lighter and more 'airy' than regular breadcrumbs. Because the flakes are larger, they tend to offer a crispier finish than regular breadcrumbs and because they absorb less grease, they stay crispier for longer. Perfect for deep fried cheese right?
Halloumi Fries WITHOUT Breadcrumbs
Because halloumi has such a high melting point you can actually just deep fry without breadcrumbs. But, I highly recommend using breadcrumbs for extra crispiness. They create a nice textural contrast against the soft halloumi
Double Dunking
Here I double dunk the fries in egg, then breadcrumbs, then back in the egg and finish in the breadcrumbs again. This builds up a nice crunchy casing to the fries. You can however just do one layer!
How to make halloumi fries (quick summary)
Lay halloumi on chopping board.
Dice in half.
Dice into even wedges.
Coat in smoked paprika and flour.
Double dunk in egg/Panko.
Deep fry.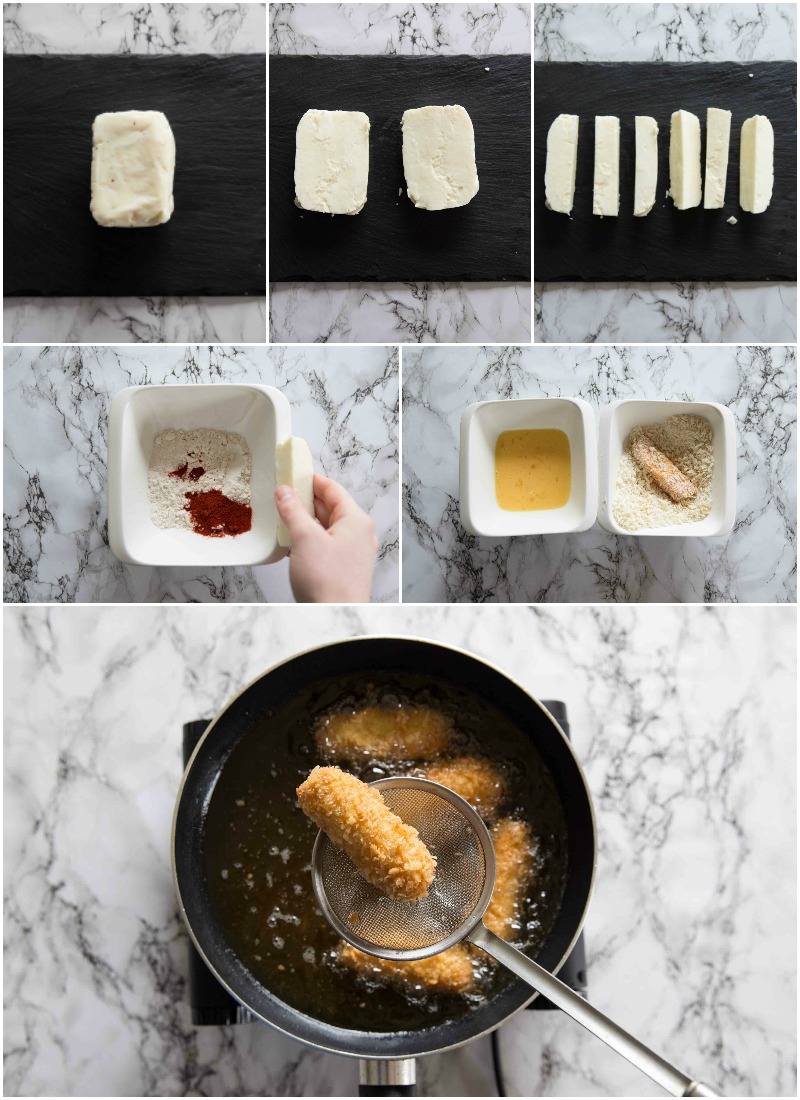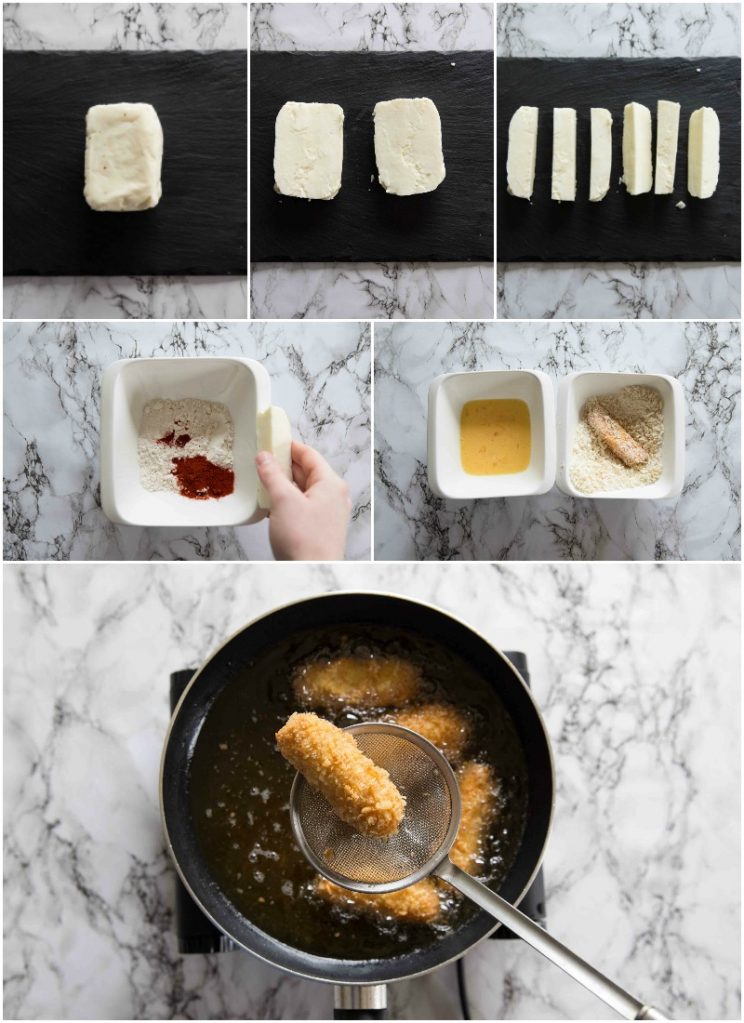 Deep Fried Halloumi
Deep frying in this case will give you the best result with regards to how crispy /crunchy they're going to be. These are also the perfect introduction to deep frying if you're not fully confident (no raw meat etc).
You'll need to use an oil with a high smoking point, such as vegetable, sunflower or rapeseed oil. Olive oil is not suitable.
Can I shallow fry these?
Some recipes do suggest shallow frying, but in my opinion you simply don't get the same results. Deep frying ensures a uniformed crispiness and reduces the risk of soggy fries.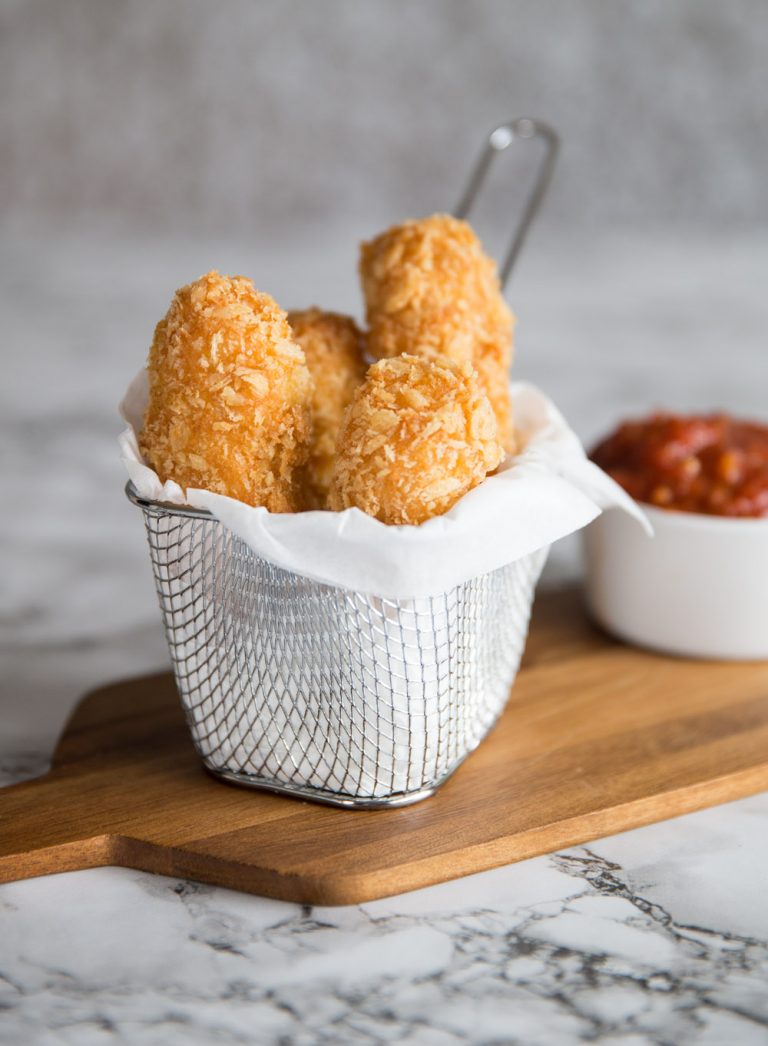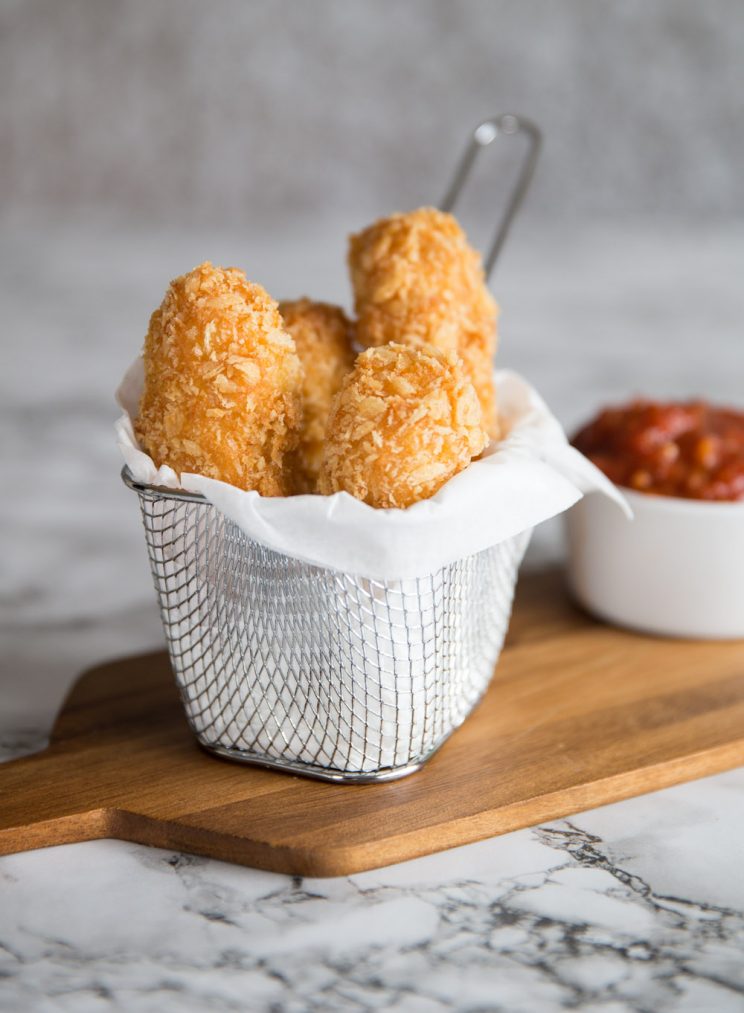 Serving Halloumi Fries
When it comes to what to serve with halloumi fries, I usually plate them up alongside a marinara dip. They also go great with a tomato salsa, but feel free to serve with another other dip you fancy!
If you're looking for another dangerously delicious halloumi recipe then check out my Ultimate Halloumi Sandwich!
For similar recipes be sure to give these a ganders too:
Deep Fried Finger Food
Alrighty, let's tuck into the full halloumi fries recipe shall we?!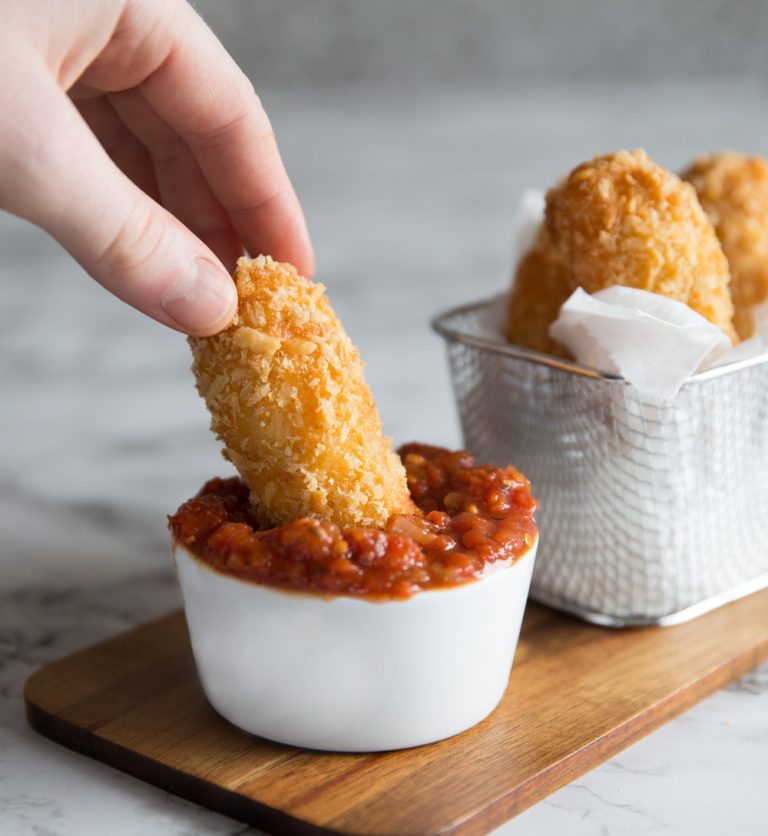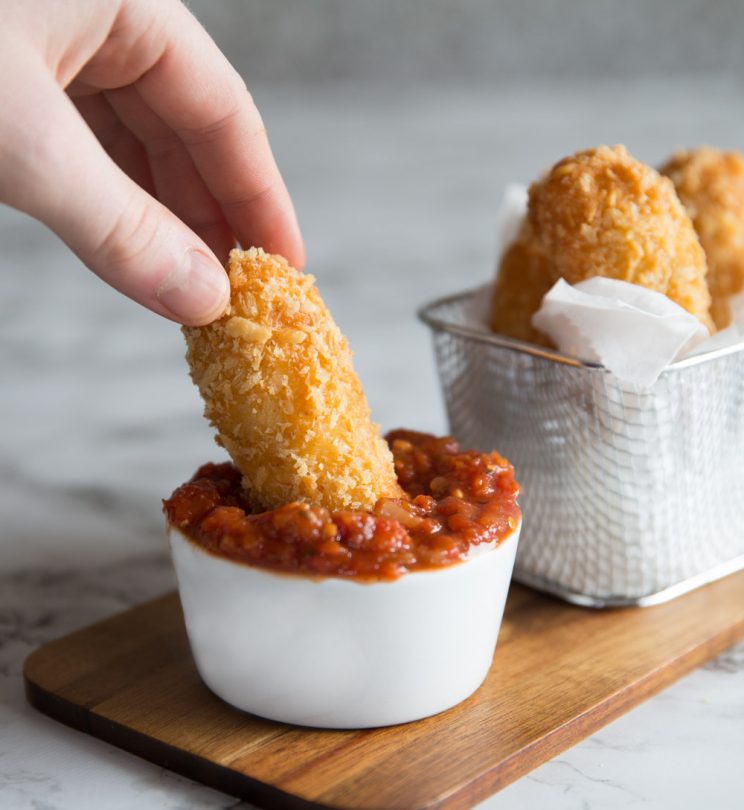 How to make EXTRA Crispy Halloumi Fries

(Full Recipe & Video)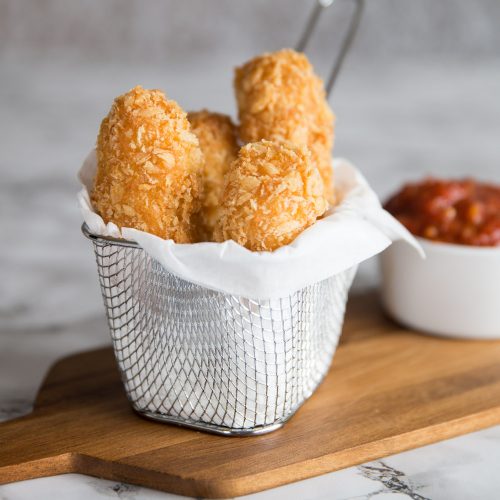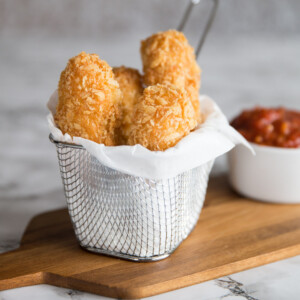 Extra Crispy Halloumi Fries
These homemade halloumi fries are double dipped in panko breadcrumbs for an extra crispy finish. Just be warned - they are crazy addictive!!
Print
Pin
Rate
Share by Text
Servings (click & slide):
12
Halloumi Fries
Calories per serving:
419
kcal
Cost per serving:
£2 / $2.50
Equipment:
Large Deep Pot or Pan (for deep frying)

Sharp Knife & Chopping Board

3 Medium Bowls (for dredging)

Slotted Spoon

Wire Rack

Paper Towels

Kitchen Thermometer
Ingredients (check list):
2 blocks (225g/10oz each)

Halloumi

3-4 cups / (750ml-1litre)

Vegetable/Sunflower/Canola Oil

2

cups

Panko Breadcrumbs, see notes

2

large

Eggs, beaten

2

heaped tbsp

Plain Flour, or as needed

1

tsp

Smoked Paprika

dash of

Milk
Instructions:
Slice your blocks of halloumi into 6 equal chunks (12 in total). Pat dry with paper towel to remove moisture.

Line up 3 bowls: first one is your flour and smoked paprika, second is your beaten eggs & dash of milk and lastly is your breadcrumbs. Coat your fries with the flour, then the egg, then the breadcrumbs, back into the egg, and finish in the breadcrumbs again. Repeat for all fries (refer to notes).

Heat up oil in a large pot/pan to 180C/356F. Carefully lower 3-4 fries (or as many can comfortably fit without sticking) into the oil and deep fry until golden. The temp will drop slightly, which is fine, but try and get it back up to 180C/356F after each batch. The fries are done when they're a deep golden colour, with the halloumi nice and soft in the centre (extra points is the halloumi just starts to leak out!).

Remove fries with a slotted spoon and place on a wire rack with paper towel UNDERNEATH (don't place directly on paper towel or they risk turning soggy).
Notes:
a) Salt - As you can see, I've left salt out of the recipe. Halloumi tends to be fairly salty, so personally I feel they don't need any added salt. However, if you think you want to add more, I'd wait until they're fried, taste test, then add more as necessary.  b) Panko Breadcrumbs - These are Japanese breadcrumbs. They work great because they're big and airy (so extra crispy). You will find these at most regular grocery stores, but certainly at an Asian grocery store. You can sub regular breadcrumbs, but you're fries won't end up quite as crispy and crunchy. c) Double Dunking - This builds up a nice crust to the fries. You can do one layer if you wish and they still come out crispy! To reduce mess I recommend assigning a 'wet' hand and a 'dry' hand otherwise it gets a bit hectic. d) Deep Frying - You don't want the oil smoking hot (literally) because the outside will cook in seconds and the centre will still be solid. You want it just hot enough for the cheese to cause rapid bubbles. If you're not confident with deep frying just start with one first time round!
Your Private Notes:
Nutrition:
Nutrition Facts
Extra Crispy Halloumi Fries
Amount Per Serving
Calories 419
Calories from Fat 216
% Daily Value*
Fat 23.95g37%
Polyunsaturated Fat 2.658g
Monounsaturated Fat 8.506g
Cholesterol 141mg47%
Sodium 1216mg51%
Potassium 196mg6%
Carbohydrates 27.97g9%
Protein 22.6g45%
Vitamin A 2050IU41%
Calcium 540mg54%
Iron 2.2mg12%
* Percent Daily Values are based on a 2000 calorie diet.
Nutrition is based on the absence of salt unless stated as a measurement in the ingredients. Cost is worked out based on ingredients bought from UK supermarkets, then divided by the number of servings. In both instances these values are just for guidance. Please check out my FAQ Page for more info.
---
If you loved this Halloumi Fries recipe then be sure to Pin it for later! Already made them or got a question? Give me a shout in the comments below and pick up your free ecookbook on the way!