Whether you call it Chili, Chilli or Chilli Con Carne, this version captures those rich and spicy flavours we all know and love & takes them to new heights! This truly is THE best Chilli Con Carne recipe.
As one of my most loved and most popular recipes, I had to include this in my Debut Cookbook 'Comfy'!
The BEST Chilli Con Carne
First things first, whatever we call it, wherever we believe its origins lie, can we all just agree that this dish is the ultimate comfort food? Okay good. Its warm and spicy flavours just act as a soul-hugging bowl of goodness and quite frankly it never gets old.
Alright, I'm gonna have to do some explaining here before you think I'm blowing my own trumpet for no reason. Here's why you're gonna love this chilli:
Game Changers – A couple of game changing ingredients really turn this chilli up a notch. A glass of red wine adds a gorgeous depth of flavour, whilst a few tbsp of Worcestershire sauce adds a tangy background flavour!
Easy – It's so EASY to make! A no fuss, no nonsense recipe even for even the most beginner of cook to master. All in one pot too!
Rich and Flavoursome – The perfect combo of seasoning and spices give this chilli a real punch of flavour!
In terms of making a chilli con carne, I promise it couldn't be easier.
Making Chilli Con Carne
Top Tip #1 – My number one piece of advice for making the best chilli con carne is to allow it to simmer, with a heavy lid on, for at least 90mins. The difference is crazy. It allows the flavours to intensify and marry together, whilst reducing the liquid and tenderizing the beef.
Chilli Con Carne Consistency
Because you're simmering for quite some time, it's important to use a pot with a heavy lid. This will ensure all the steam doesn't escape as it simmers. If you left the lid off, the chilli is going to reduce down way too quickly; you need the steam to keep the chilli saucy as it simmers. You can then remove the lid and reduce it down to preference. As written, this recipe will give you quite a thick chilli, which I think is much more classic/preferable than the watery, soupy kind.
Homemade Chilli Con Carne Spice Mix
When it comes to chilli con carne seasoning, I of course highly recommend ditching the pre-made stuff and making your own. You don't need any special ingredients, and hopefully, these seasonings should be familiar in your cupboards. If not, they're all easily accessed at pretty much all supermarkets!  Here's what you'll need:
Paprika
Cumin
Chilli Powder
Oregano
Ground Coriander
Sugar
Salt & Black Pepper
Process shots: brown onion, red pepper and garlic (photo 1), add ground beef (photo 2),  break up with wooden spoon and brown (photo 3), stir in tomato puree, then pour in red wine and simmer, (photo 4), add chopped tomatoes, kidney beans and Worcestershire sauce (photo 5), add homemade spice mix and beef stock cubes (photo 6), give it a good stir (photo 7),  pop lid on and simmer (photo 8).

Chilli Con Carne FAQ
How spicy is this recipe?
Chilli, as the name suggests, should be quite spicy. I'd say this recipe gives you a medium spice. There's definitely a kick, but it's certainly not overbearing. Having said that the spice level is completely in your control. If at all wary I recommend starting with a small amount of chilli powder and adjusting towards the end. Much easier to add more than take it out!
Do I have to add the red wine?
The wine adds a gorgeous depth of flavour and compliments the beef really nicely. Most, if not all of the alcohol will burn off, but if you don't want to use it you can just sub the same quantity of beef stock.
Can I make this ahead of time?
You can certainly make this ahead of time! In fact, I think it actually tastes better after some time relaxing. It gives the flavours a chance to snuggle with each other. Just cook as instructed, allow to cool then cover and pop in the fridge. Reheat on the hob (may need to add a dash of water to loosen up).
Can I freeze Chilli Con Carne?
Sure can! Just allow to cool, then store in an airtight container and pop in the freezer for up to 6months. To reheat just bring to room temp, then either microwave or heat on the hob. Just ensure it's piping hot throughout.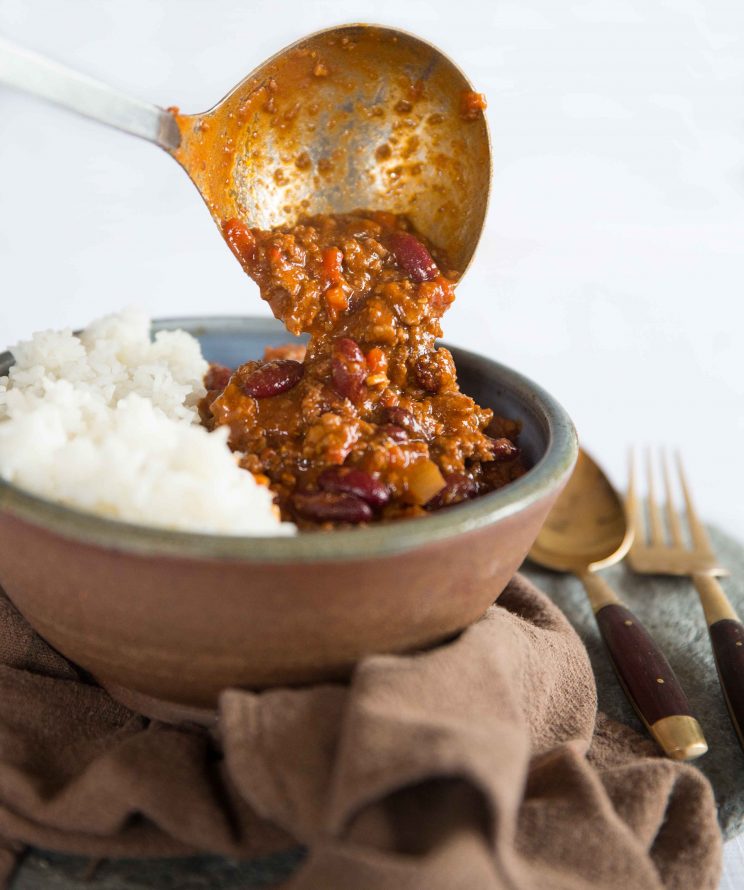 Serving Chilli Con Carne
What can I serve with Chilli Con Carne?
Rice or Cornbread
Sour Cream
Coriander/Cilantro
Cheese
Lime
What can I do with leftover Chilli?
Perfect plonked on a Baked Potato or you could whip up some Leftover Chilli Dough Balls!
After more chilli recipes? Check out my Vegetable Chilli, Chili Mac, Chilli Hotpot and Slow Cooker Turkey Chilli!
Alrighty, let's tuck into the full recipe for this Chilli Con Carne recipe shall we?!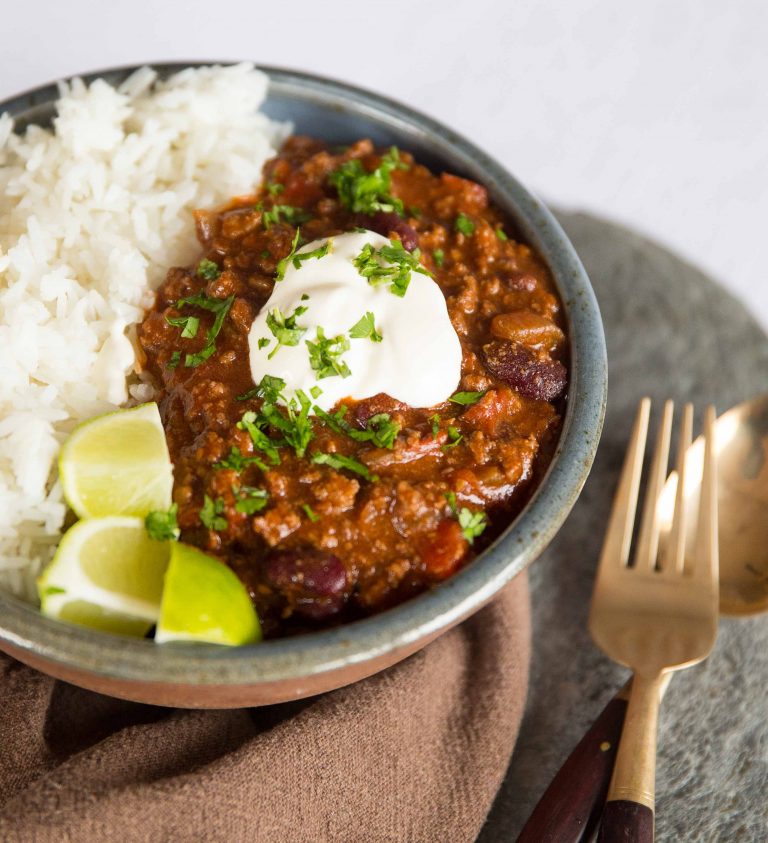 How to make the best Chilli Con Carne in the world

 (Full Recipe & Video)
The BEST Chilli Con Carne
Whether you call it Chili, Chilli or Chilli Con Carne, this version captures those rich and spicy flavours we all know and love & takes them to new heights! This truly is THE best Chilli Con Carne recipe. I recommend giving the notes section a quick read before getting started for best results.
Print
Pin
Rate
Servings (click & slide):
6
Calories per serving:
545
kcal
Cost per serving:
£2 / $2.50
Equipment:
Large Pot with Lid & Wooden Spoon

Chopping Board & Sharp Knife

Sieve/Colander (to drain beans)

Ladle (for serving)
Ingredients (check list):
Chilli Con Carne
2lbs / 1kg

Ground/Minced Beef (see notes)

2x

14oz/400g cans

Kidney Beans, drained

2x

14oz/400g cans

Chopped Tomatoes

1 cup / 250ml

Red Wine, or sub beef stock

3

tbsp

Worcestershire Sauce

3

large cloves of

Garlic, finely diced

2

Beef Stock Cubes (Beef Bouillon)

2

heaped tbsp

Tomato Puree (Tomato Paste in US)

1

large

White Onion, finely diced

1

large

Red Pepper (Capsicum/Bell Pepper) finely diced

2

tbsp EACH:

Paprika, Cumin, Chilli Powder (see notes)

1

tsp EACH:

Oregano, Ground Coriander, Sugar, Salt (or to taste)

1/2

tsp

Black Pepper
Olive Oil, as needed
Extras 'n' Optionals to serve:
Rice
Grated Cheddar Cheese
Lime Wedges
Sour Cream
Fresh Coriander (Cilantro)
Instructions:
Add a splash of oil to a large pot over medium heat. Add the onion, red pepper & garlic and fry until they begin to soften and take on a tinge of golden colour.

Add in the beef, break it up with your wooden spoon and continue to fry over medium heat until there is no sign of pink in the meat. If you've got fatty mince, drain away some of the fat here as needed. Stir in 2 heaped tbsp tomato puree then deglaze with red wine. Allow to simmer for a few mins to allow the meat to soak in the wine.

Add the canned chopped tomatoes. Fill each can half way up with water, swill, then add that in too. Add in the drained kidney beans, 2 beef stock cubes, 3 tbsp Worcestershire sauce, 2 tbsp cumin, paprika, chilli powder, 1 tsp oregano, ground coriander, salt & sugar, and 1/2 tsp black pepper.

Give it a good stir as you bring to a simmer, making sure everything is well blended. Once simmering pop on the lid, turn down the heat to low and allow it to bubble away for 1 hour 30mins, stirring occasionally. I know it seems a long time but it truly makes a difference.

Take off lid and allow to simmer until the sauce thickens to your desired consistency (5-10mins or so). Adjust seasoning/spice with chilli powder, salt, sugar and black pepper if needed.

Serve over rice with cheese a dollop of sour cream, a sprinkle of fresh coriander and a squeeze of lime juice!
Quick 1 min demo!
Notes:
a) Beef - I typically use 10% fat. That way you get a little bit of the fatty flavour, but it doesn't end up too oily. You can use fattier beef, just drain away excess fat after it's fried if you need to.
b) Spice - The beauty of this dish is you can taste and tweak it as you go. A chilli con carne, as the name suggests, should be quite spicy. However, If you're wary of spice you can opt for a mild chilli powder (I use hot) or even a mix of both. In all cases, I recommend starting off on the side of caution because it's always easier to ramp it up than it is to tone it down.
c) Beef Stock Cubes - As mentioned in the recipe, it's only the cubes you want i.e NOT diluted in water. The juice from tomatoes will dilute the stock. Just make sure you crumble them in or if you're using jelly stock then make sure they're thoroughly mixed in.
d) Time - Allowing the chilli to simmer on low heat for a long period of time is crucial in both the consistency and flavour of this dish. If the sauce isn't properly reduced, it will have a watery consistency and the flavours won't have developed properly. As I said, you're looking at around an hour and a half, if not longer.
e) Consistency - I like my chilli quite thick, and this recipe will provide that. If you want it saucier, you can add more water when you swill out the cans. In all cases, it's important to use a heavy lid otherwise too much steam will escape and the chilli will over-thicken. If it's too watery after you've simmered with the lid on, just keep simmering with the lid off until your desired texture. If you find it starts to over-thicken as it simmers with the lid on just add a splash of water to loosen it up.
f) Serving - Traditionally I'll always serve with rice, but serve with whatever you fancy! Baked potato and cornbread work great.
g) Leftovers - This dish also lends itself to the perfect leftover lunch. Pop in the fridge (or freezer for long term), thoroughly reheat and plonk on a jacket potato for the perfect lunch the next day. Or use them for Leftover Chilli Garlic Dough Balls!
h) Updated - This recipe was updated on 21/10/19 with extra spices and longer cooking time. 
i) Calories - Based on a sharing between 6 people, using 1 tbsp of olive oil and 10% fat beef mince. This calculation is without rice or any additional toppings.
Your Private Notes:
Nutrition:
Nutrition Facts
The BEST Chilli Con Carne
Amount Per Serving
Calories 545
Calories from Fat 205
% Daily Value*
Fat 22.81g35%
Polyunsaturated Fat 1.318g
Monounsaturated Fat 10.093g
Cholesterol 146.67mg49%
Sodium 254.67mg11%
Potassium 1217.33mg35%
Carbohydrates 26.52g9%
Protein 50.5g101%
Vitamin A 3733.33IU75%
Vitamin C 52.8mg64%
Calcium 106.67mg11%
Iron 7.867mg44%
* Percent Daily Values are based on a 2000 calorie diet.
Nutrition is based on the absence of salt unless stated as a measurement in the ingredients. Cost is worked out based on ingredients bought from UK supermarkets, then divided by the number of servings. In both instances these values are just for guidance. Please check out my FAQ Page for more info.
---
Hey, whilst you're here why not check out my other recipes?
Hearty Ground Beef Dinner Recipes
---
If you loved this Chilli Con Carne recipe be sure to pin it for later! Already made it or got a burning question? Give me a shout in the comments and pick up your free ecookbook along the way!