Whether you call it Chili, Chilli or Chilli Con Carne, this version captures those rich and spicy flavours we all know and love & turns them into something insanely delicious. Because let's face it, Dad's Chilli Con Carne is always the BEST Chilli Con Carne!
First things first, whatever we call it, wherever we believe it's origins lie, can we all just agree that this dish is the ultimate comfort food? Okay good. It's warm and spicy flavours just act as a soul-hugging bowl of goodness and quite frankly it never gets old.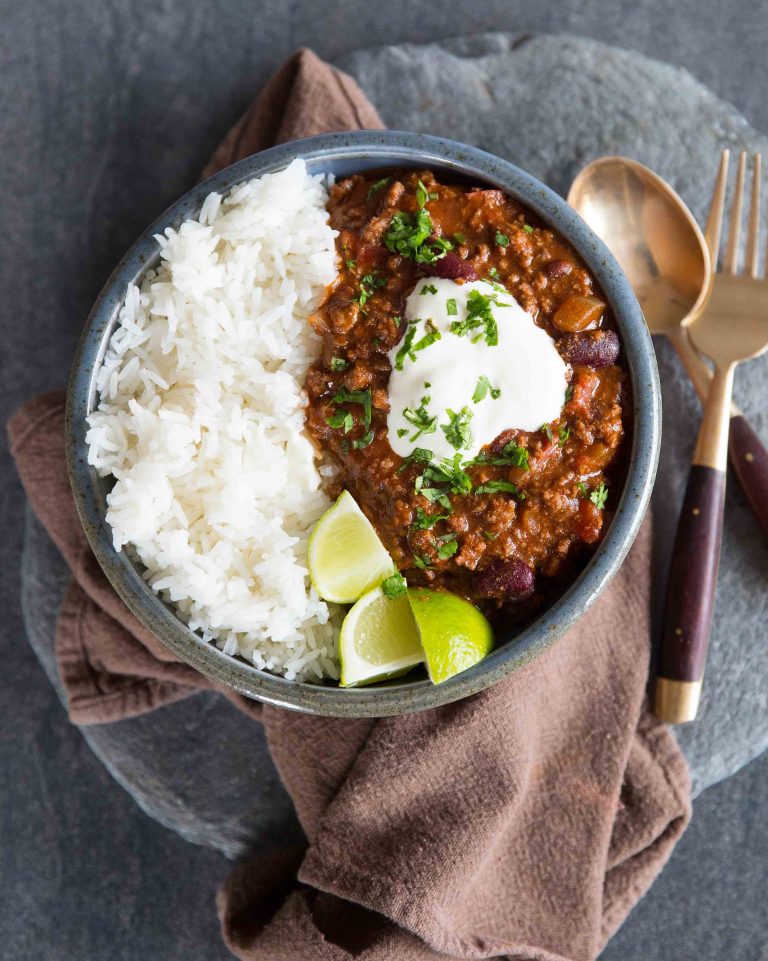 'So what makes your dad's chilli con carne so famous?' I hear you cry.
Well firstly let's address the reason why one of his recipes is on my blog in the first place. Besides the fact he got jealous of Mum's 15 minutes of fame with her Traditional Cottage Pie, a chilli con carne recipe is my dad's claim to fame. The poor bugger can barely cook a boiled egg but strangely enough his easy chilli con carne is one of the most delicious things i've ever tasted. It's seriously stood the test of time too.
So in answer to your first question, it's simply famous in our family because for somebody who has fairly questionable cooking skills, it's mind blowing how well the man can knock up a 10/10 chilli.
And trust me, I've dissected this dang recipe to the moon and back and seriously can't fault it. It really is the best chilli con carne recipe. As much as I feel 'Chris' Chilli Con Carne' has more of a ring to it, Dad's it shall remain.
*swallows pride*
Anywho, I think he's had enough airtime now, let's see what all the fuss is about.

Ingredients for the best Chilli Con Carne
Ground Beef
Beef Stock
Chopped Tomatoes
Kidney Beans
Red Wine
Tomato Puree
Worcestershire Sauce
Cumin
Paprika
Chilli Powder
Onion
Garlic
Red Pepper
How to make the best Chilli Con Carne
Fry up your onions, garlic and red pepper until browned, then add your beef a fry until cooked through.
Add your wine and simmer out some of the alcohol, then stir in your beef stock and chopped tomatoes.
Add all of your other ingredients and check for seasoning. Leave on a simmer for 45-60mins until thickened.
Simple right!?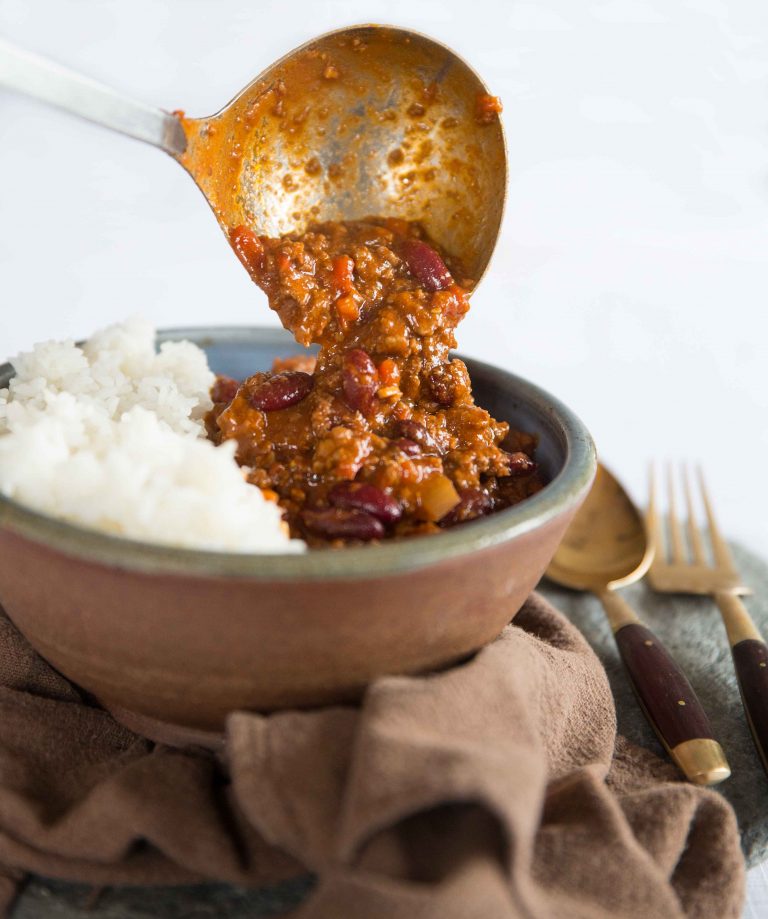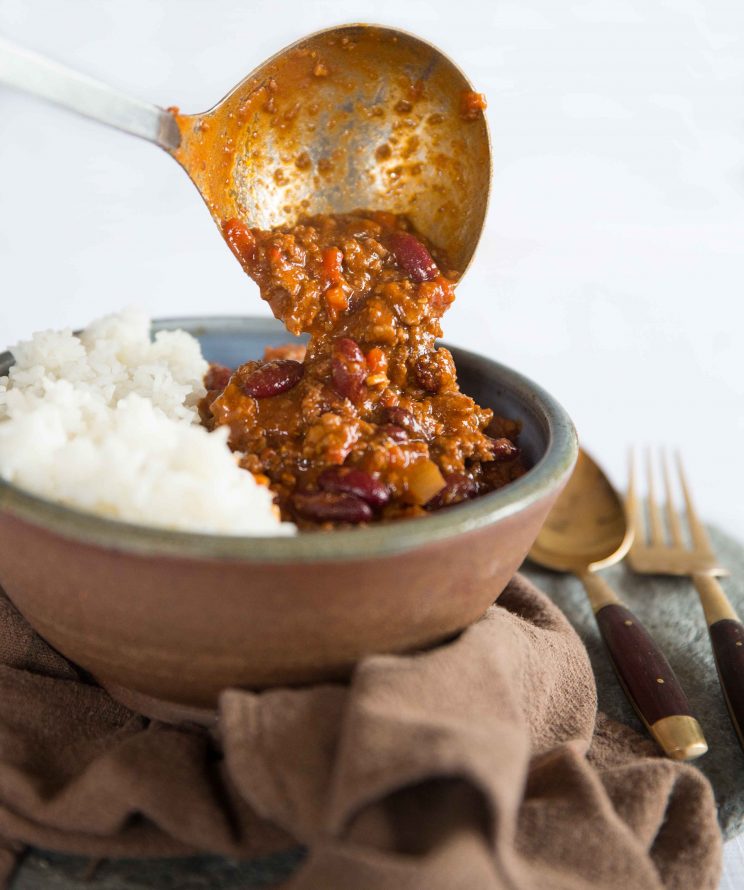 Dad's 3 Top tips in making the best Chilli Con Carne
Simplicity – One of the reasons I think this recipe offers the best chilli con carne is it's simplicity. Sure, there's a fair few ingredients in it, but everything there is bringing something to the table. I've seen recipes suggest ingredients from chocolate and gravy granules, to sugar and sun dried tomatoes. For me it's just extra fuss. This recipe offers a gorgeously rich depth of flavour with the classic chilli flavours we all know and love, using only the necessary ingredients to do so.
Time – The other thing that sets this chilli con carne recipe apart from many is the fact it takes time.As soon as I see a recipe called 'quick chilli con carne' I want to cry. Allowing the chilli to simmer on low for at least an hour not only tenderises the meat, but also allows it to soak up all those gorgeous flavours. It also allows the chilli to naturally thicken. Ever served a chilli over rice or even a bolognese over pasta and there ends up being a pool of tomato juice on the surface of your plate? Yep, too quick. The length of time is totally worth it too! Especially when a chilli con carne lends itself so neatly to leftovers in the fridge/freezer.
Rice – So since uploading this recipe it seems a lot of the world don't eat their chilli con carne with rice? Maybe it's just a UK thing but either way, rice. Always rice.
So for a deliciously easy and family approved chilli con carne recipe look no further!
(p.s. I let my dad choose the music for this video and it's literally the most dad music you could imagine.)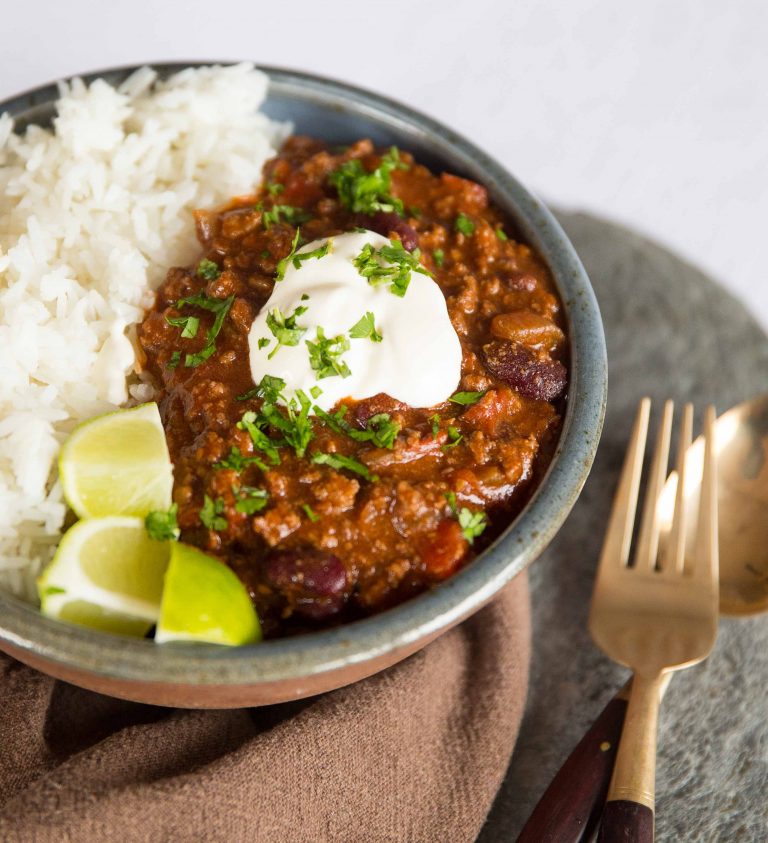 Join the foodie family! – Get awesome recipes sent straight to your inbox by signing up to my Weekly Mailing List (where you'll receive your FREE ECOOKBOOK) and stay in touch on Instagram, Facebook and Pinterest! 🧡
How to make the best Chilli Con Carne

(Full Recipe & Video)
The BEST Chilli Con Carne
Whether you call it Chili, Chilli or Chilli Con Carne, this version captures those rich and spicy flavours we all know and love & take them to new heights! This truly is THE best Chilli Con Carne recipe.
Print
Pin
Rate
Cook Time:
1
hour
45
minutes
Total Time:
1
hour
55
minutes
Cost per serving:
£2 / $2.50
Equipment
Large heavy top pot & Wooden Spoon

Chopping Board & Sharp Knife
Ingredients
2.2lbs / 1kg

Ground Beef (preferably lean)

2x 14oz/400g

cans

Kidney Beans, drained

2x 14oz/400g

cans

Chopped Tomatoes

1 cup / 250ml

Red Wine

3

tbsp

Worcestershire Sauce

3

cloves

Garlic, minced

2

Beef Stock Cubes (Beef Bouillon)

2

heaped tbsp

Tomato Puree (Tomato Paste in US)

1

large

White Onion, finely diced

1

large

Red Pepper (Capsicum/Bell Pepper) finely diced

2

tbsp each:

Paprika, Cumin, Chilli Powder (or to preferred spice level)

1

tsp each:

Oregano, Ground Coriander, Sugar, Salt (or to taste)

1/2

tsp

Black Pepper

Olive Oil
Extras 'n' Optionals to serve:
Lime Wedges

Grated Cheddar Cheese

Sour Cream

Fresh Coriander (Cilantro)
Instructions
Add a splash of oil over medium heat. Add your Onion, Red Pepper and Garlic and fry until they begin to soften and start to brown.

Add your beef, break it up into small pieces and continue to fry over medium until there is no sign of pink in the meat. If you've got fatty mince, drain away some of the fat here. Stir in 2 heaped tbsp tomato puree then deglaze with 1cup/250ml red wine. Allow to simmer for around 5 mins to burn off some of the alcohol.

Add 2 cans chopped tomatoes, 2 cans drained kidney beans, 2 beef stock cubes, 3 tbsp Worcestershire sauce, 2 tbsp Cumin, Paprika, Chilli Powder (or to spice preference), 1 tsp oregano, ground coriander, salt & sugar (or to taste) and 1/2 tsp black pepper. If you're not sure with spice just start off with 1 tbsp chilli powder and adjust at the end.

Give it a good stir then pop on the lid, turn down heat to low and allow to simmer for 1 hour 30mins, stirring occasionally. I know it seems a long time but it truly makes the difference.

Take off lid and allow to simmer until the sauce thickens (10 or so mins). Adjust seasoning with chilli powder, salt, sugar and black pepper.

Serve over rice with a dollop of sour cream, a sprinkle of fresh coriander (cilantro) and a squeeze of lime juice. 
Notes
a) Chilli Powder - In the UK/AUS this is just pure ground chilli, which is want you want. However from my understanding in the US 'chilli powder' means a concoction of various different spices, which is not what you want. If you can't get your hands on plain ground chilli powder, sub in Cayenne Pepper.
b) Flavour Adjusting - The beauty of this dish is you can taste and tweak as you go. A chilli con carne, as the name suggests, should be quite spicy. If you're not too great with heat just start out with a small amount of chilli powder and adjust accordingly. For more of that iconic and powerful 'chilli con carne taste', ramp up the amount of cumin. 
c) Beef Stock Cubes - As mentioned in the recipe, it's only the cubes you want i.e NOT diluted in water. The juice from tomatoes will dilute the stock. Just make sure you crumble them in or if you're using jelly stock then make sure they're thoroughly mixed in.
d) Time - Allowing the chilli to simmer on a low heat for a long period of time is crucial in both the consistency and flavour of this dish. If the sauce isn't properly reduced, not only will it have a watery consistency, but the flavours won't have developed properly. Like I said, you're looking at around an hour, if not longer.
e) Serving - Traditionally I'll always serve with rice, but serve with whatever you fancy! Baked potato and cornbread work great.
f) Leftovers - This dish also lends itself to the perfect leftover lunch. Pop in the fridge (or freezer for long term), thoroughly reheat and plonk on a jack potato for the perfect lunch the next day. Or use them for Leftover Chilli Garlic Dough Balls!
g) Updated - This recipe was updated on 21/10/19 with extra spices and longer cooking time. 
h) Calories - Based on a sharing between 8 people, using 1 tbsp of olive oil and 10% fat beef mince. This calculation is without rice or any additional toppings.
Nutrition
Nutrition Facts
The BEST Chilli Con Carne
Amount Per Serving
Calories 409
Calories from Fat 154
% Daily Value*
Fat 17.11g26%
Polyunsaturated Fat 0.989g
Monounsaturated Fat 7.57g
Cholesterol 110mg37%
Sodium 191mg8%
Potassium 913mg26%
Carbohydrates 19.89g7%
Protein 37.88g76%
Vitamin A 2800IU56%
Vitamin C 39.6mg48%
Calcium 80mg8%
Iron 5.9mg33%
* Percent Daily Values are based on a 2000 calorie diet.
Nutrition is based on the absence of salt unless stated as a measurement in the ingredients. Cost is worked out based on ingredients bought from UK supermarkets, then divided by the number of servings. In both instances these values are just for guidance. Please check out my FAQ Page for more info.
---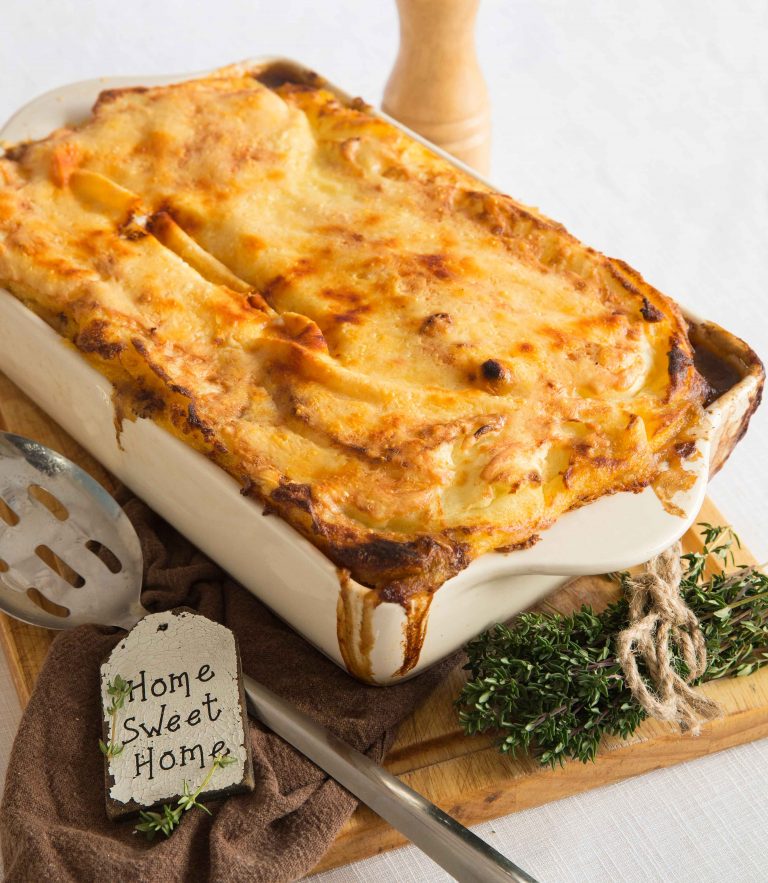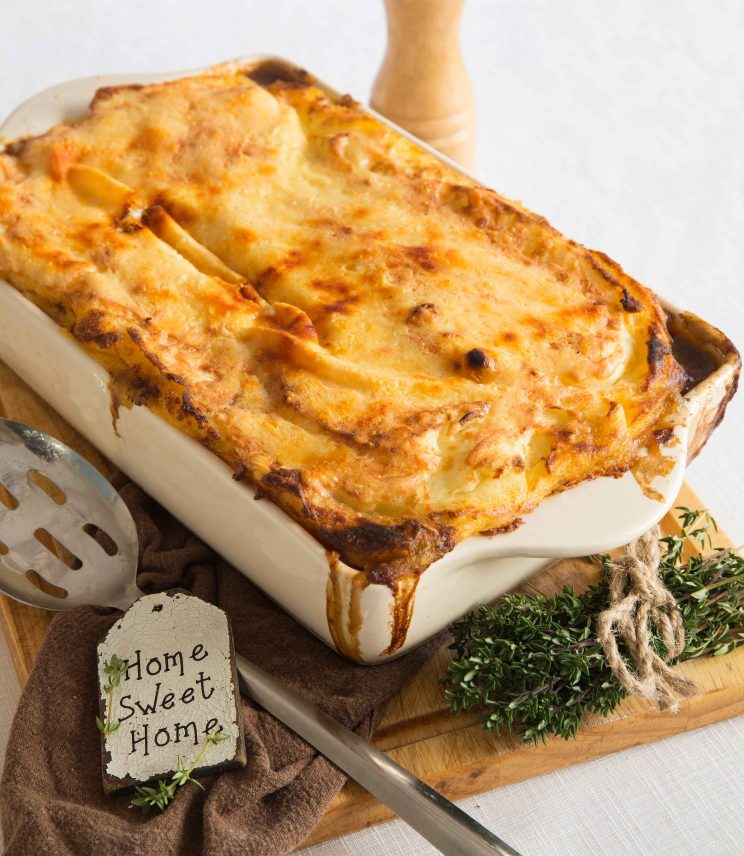 If you loved this Chilli Con Carne Recipe be sure to Pin it for later! Already made it or got a question? Let me know in the comments and pick up your free ecookbook along the way!