How to get delicious and most importantly CRISPY Oven Baked Sweet Potato Fries. Follow this tried and tested 5 step method and you won't be disappointed!

There seriously is nothing, and I mean NOTHING better than a batch of hot, sweet and salty, crispy sweet potato fries. There's so many great things the sweet potato brings us in life, but nothing greater than the classic fry. Having said that though, there really is nothing more disappointing in life than a batch of soggy sweet potato fries. Ugh, doesn't the thought of it just make your heart sink? But unfortunately it's a far too common scenario, especially when making homemade sweet potato fries and more specifically, when baking them in the oven. It's not easy! Getting crispy sweet potatoes using the oven is an art. But there is hope.
I have searched far and wide, and tested too many batches I care to even think about, in order to crack the code of getting crispy oven baked sweet potato fries every single time. Thankfully, I am here today to tell you that I've cracked it.
Look, I'm probably making it out to be a lot more difficult than it actually is, because once you try this method you'll realise it's a piece of cake. Could you just deep fry the bloomin' things? Yes. But where's the fun in that? Plus my waistline can't deal with much more deep frying. So oven baked it is.
Are you ready for the crispy baked sweet potato fry challenge?
---
Crispy Baked Sweet Potato Fries – 5 Easy Steps
1. Size Matters
Grab yourself the largest sweet potato you can find, because they're easier to handle. Peel and slice in half. From there you want to slice into about 1/4″ segments (photo below for guidance). The first mistake people make is making their fries too thick. It's incredibly difficult to get crispy sweet potato wedges in the oven, it's better to slice them too thin than too think.
The second crucial step is to make sure they are all uniformly cut. Whether you've sliced them too thick, too thick or end up with pieces that look like shattered glass, at least make sure they're all the same size so everything cooks at the same rate.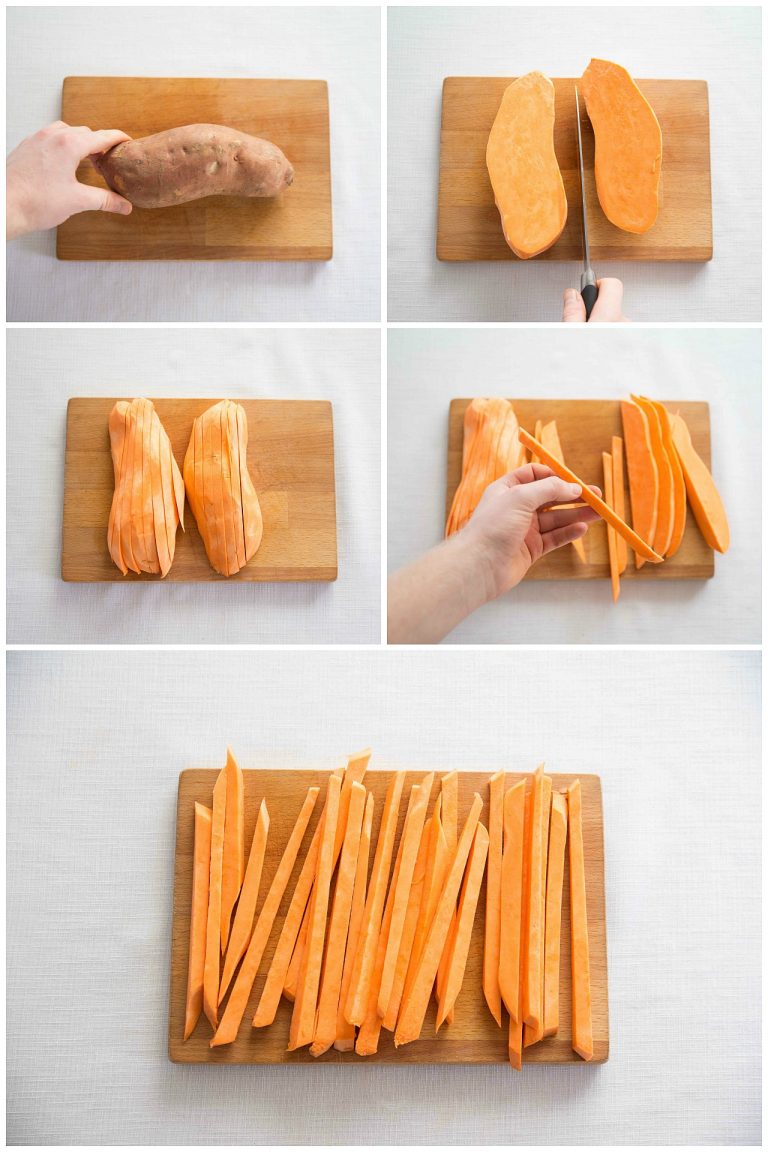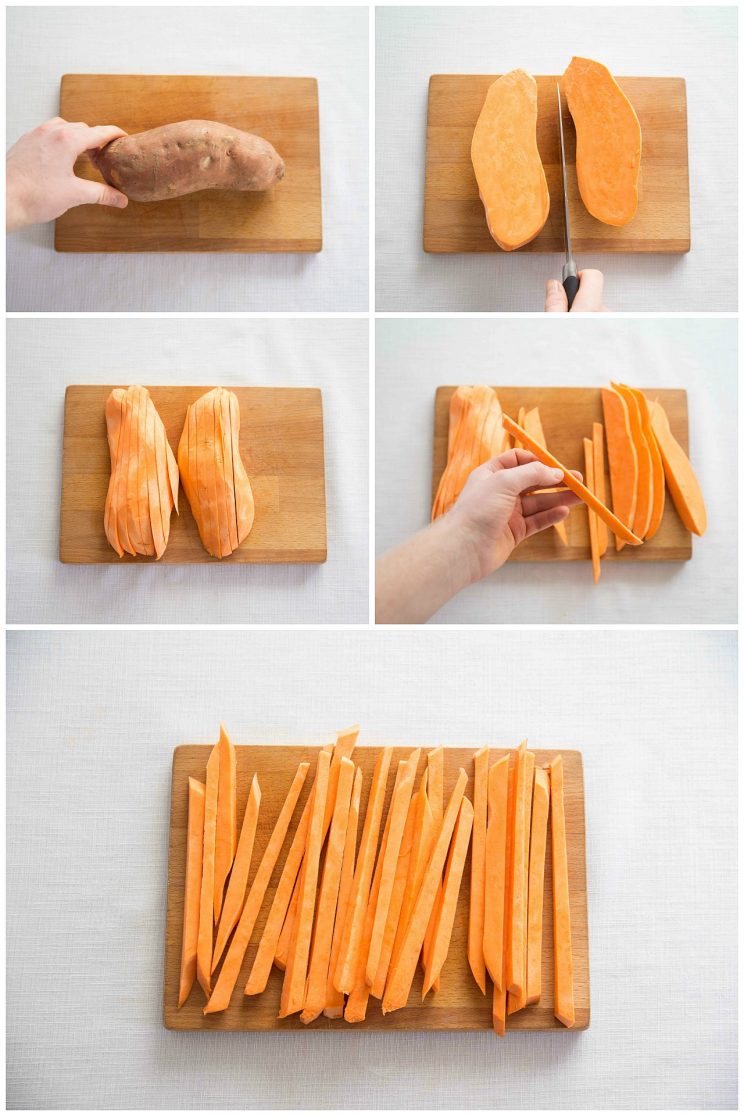 2. Soak and dry
Soak them in a bowl of cold water for at least 45mins. You can actually do this way in advance and pop in the fridge, the longer the better.
Soaking your fries in water will pull out starch from the potato, resulting in a soft inside and a crispy outside. You'll actually see all the starch at the bottom of the bowl after soaking them, which is strangely satisfying.
At the same time it is important that you dry the fries like you've never dried a fry before. Seriously, once they've had their bath we don't want a spec of water left on them.
3. The power of Cornflour!
Or cornstarch depending on what part of the world you're from. Okay, so you've pulled the starch from the potato in order to get them soft, but you want the outside to be crispy, so you've gotta do some DIY. Cornstarch is perfect for this. A thin coating of cornstarch is key to get that crispy outside you're after.
Grab a large ziplock bag, place in your fries and a dusting of cornstarch. I find that 1 tbsp per large sweet potato does the trick. Give it a really good shake to ensure a full even coating. You don't want too much otherwise the fries will taste dusty, so pour out any excess cornstarch left at the bottom of the bag.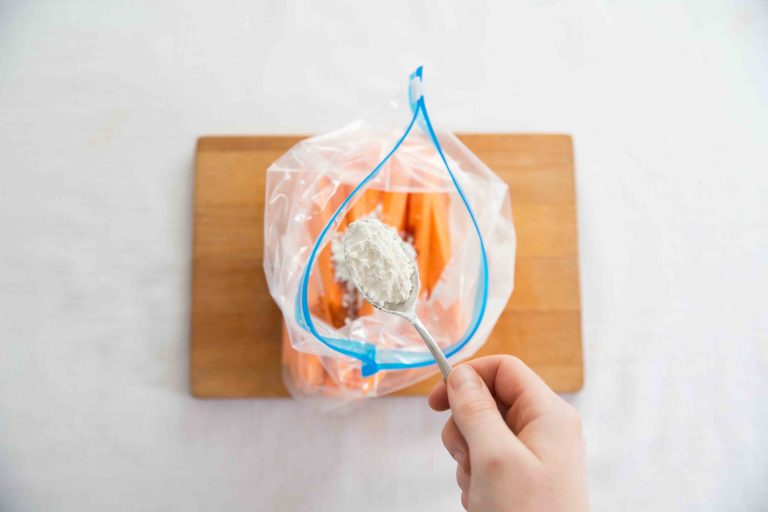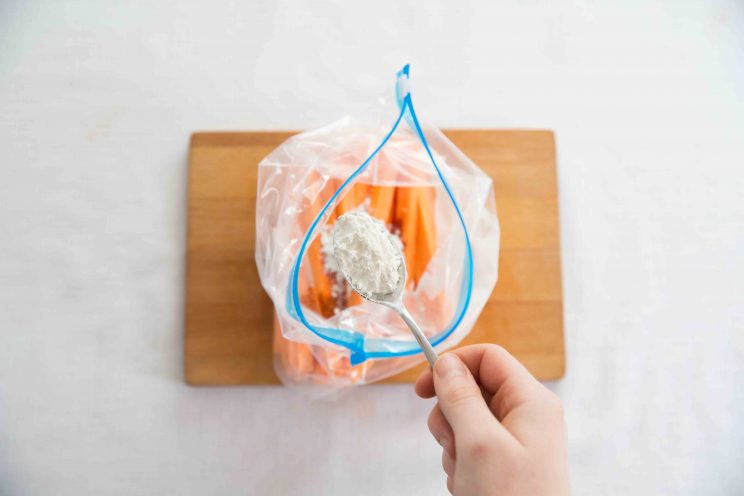 Now it's time for seasoning, and this really is up to your tastebuds. I usually put in a tsp of smoked paprika. Other spices that work well are cumin, paprika and cayenne pepper. I've also done a combo of rosemary and garlic before which came out nice!
HOWEVER, whatever you do, don't add salt. One more time, do not add salt at this point. I've experimented by adding salt before and after the cooking process and adding it before they go in the oven seems to wilt the fries too much. Adding salt at the end drawers out that final bit of moisture without leaving them too wrinkly.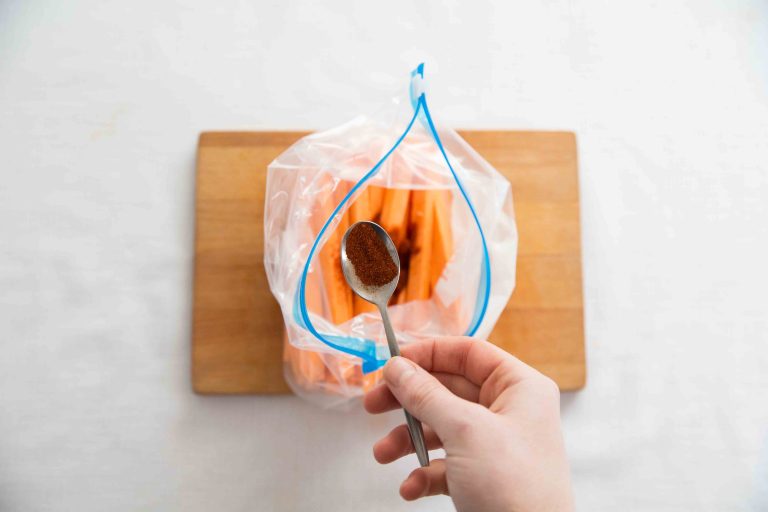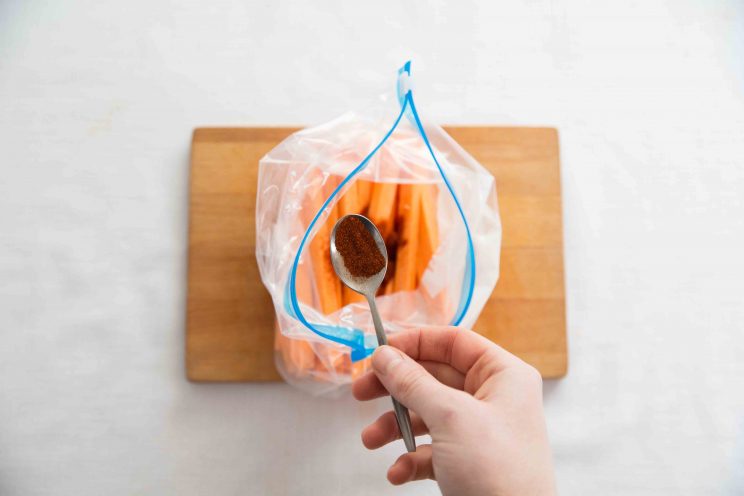 The key with oil is using one with a high smoking point. As tempting as it is to use olive oil you must resist! Some olive oils can have a smoking point as low as 320f/160c which is no good when we are cooking the fries at 430f/220c. Oils such as peanut oil, sunflower oil and avocado oil have much higher smoking points. Here is a great article on smoking points of oils.
Here I use 1tbsp avocado oil.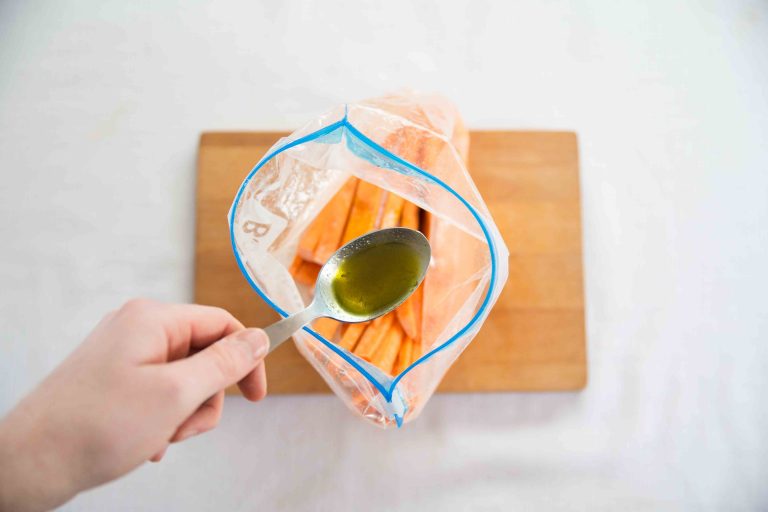 4. The baking method – broken down
First things first, you want to either spray the tray with a light coating of oil, or use heavy duty foil so the fries don't stick.
Secondly you want to make sure you don't overcrowd the fries. As the fries cook they will release steam, if they are crowded together they are going to consequently steam instead of roast. These sweet potato fries are divas, give them space. Use two trays if you need to.
You want to cook them on a high heat, so as I mentioned earlier you're looking at 430f/220c. Ironically you don't want to bake these fries, you want to roast the heck out of them. Cooking on a low heat will bake them, leaving them soft and soggy. Because the fries are quite thin it's not going to take long at all for the inside to cook, so a short(ish) sharp stint of high heat will focus on getting the outside crispy.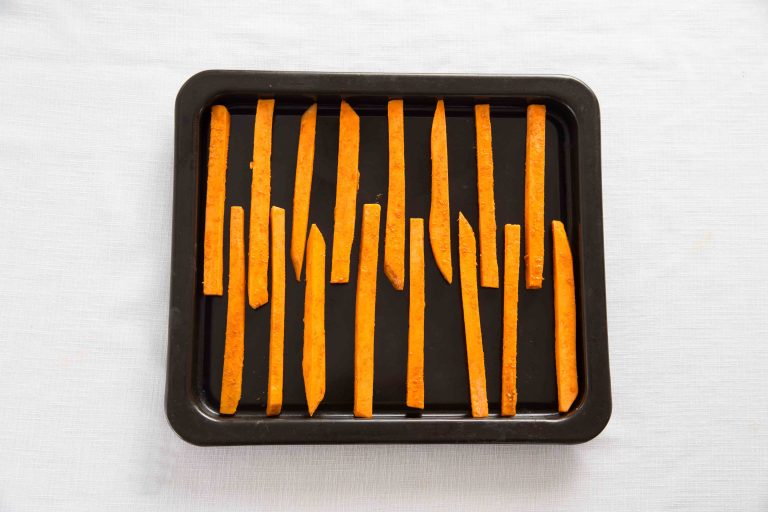 After around 15mins you want to take them out, flip them over and put the trays back in the opposite way. This will ensure an even roast across the board.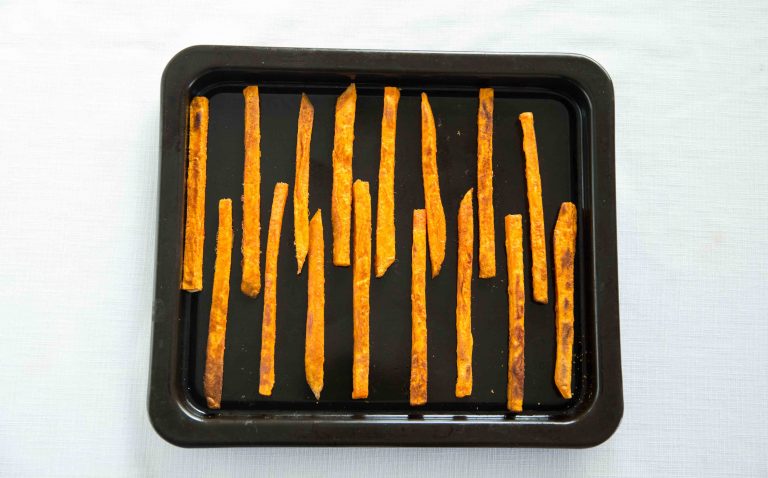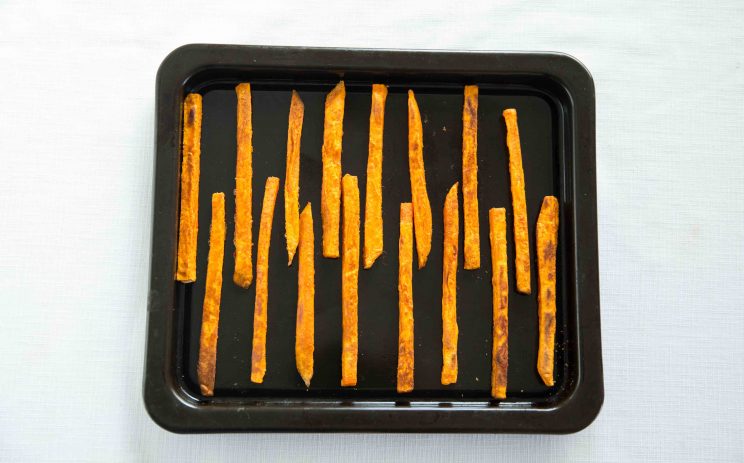 From there on out it usually takes around another 10-15mins until they risk burning. You will find they go slightly black but wilth baked sweet potato fries unfortunately that's inevitable.
5. The aftercare
Once cooked, the key is to turn off the heat and open the oven door. This step is crucial for crispiness. Strangely sweet potato fries become more crispy as they cool, so let them rest for a good 15 mins.
After, it's finally time for the salt to draw out that final bit of lingering moisture and allow the final 'crisping' phase.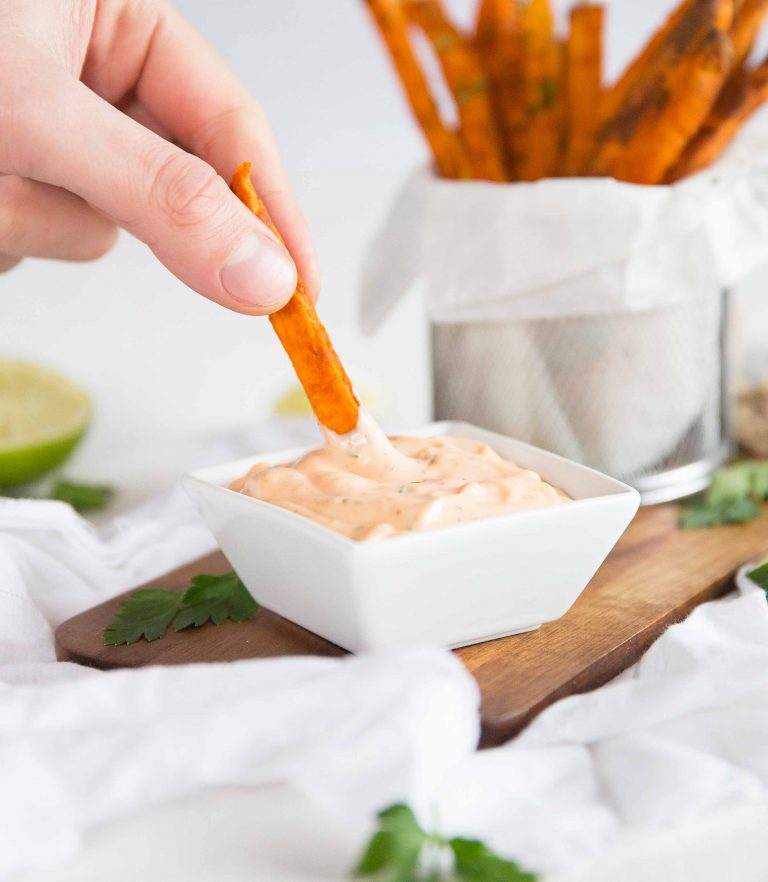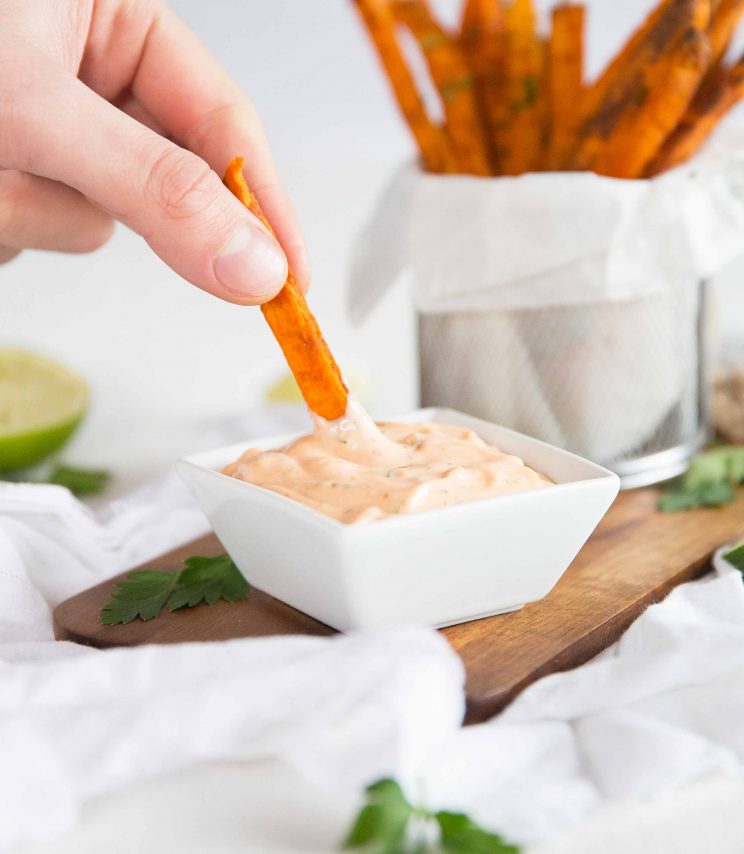 And what's a batch of crispy oven baked sweet potato fries with out your favourite dip? For me it's sriracha mayo every darn time. Oh I also like to sprinkle a lil chopped fresh parsley, which somehow justifies eating an entire batch to myself.
Well there we have it folks, it's over to you. Are you ready for the crispy sweet potato fry challenge?
Join the foodie family! – Get awesome recipes sent straight to your inbox by signing up to my Weekly Mailing List (where you'll receive your FREE ECOOKBOOK) and stay in touch on Instagram, Facebook and Pinterest! 🧡
How to make Truly Crispy Oven Baked Sweet Potato Fries

(Full Recipe & Video)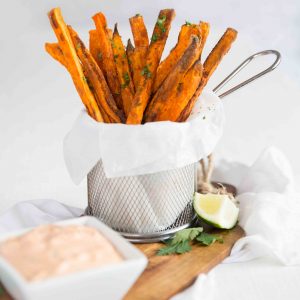 Truly CRISPY Oven Baked Sweet Potato Fries
How to get delicious and most importantly CRISPY Oven Baked Sweet Potato Fries. Follow this tried and tested 5 step method and you won't be disappointed
Print
Pin
Rate
Share by Text
Servings (click & slide):
4
Calories per serving:
158
kcal
Ingredients (check list):
2

Large

Sweet Potatoes, peeled

2

tbsp

Cornstarch/Cornflour

2

tbsp

Oil with high smoking point e.g Avocado, Vegetable, Sunflower

2

tsp

Seasoning of choice e.g Paprika, Smoked Paprika, Cayenne Pepper, Cumin

Salt, to taste
Instructions:
Prep
Slice your Sweet Potato in half (vertically) and then slice into 1/4" strips. Then cut your strips into 1/4" by 1/4" fries.

Soak in a bowl of cold water for a minimum of 45mins. Completely dry to remove as much moisture as possible.

Place in a large zip lock bag with your Cornstarch. Shake, then remove excess that didn't stick. Add your Seasoning (no salt), shake to completely coat, then add your Oil and repeat.

Evenly space out on an oven tray that is either lined with heavy duty foil or has been sprayed with oil.
Cooking
Place in a preheated oven at 430f/220c for 15 mins.

Take out, flip the fries and place tray back in the other way around to ensure an even bake. Cook for another 10-15mins or until just turning dark brown.
Aftercare
Turn off oven, open the door slightly and leave for 15mins, or until they begin to crisp.

Take out and sprinkle Salt to taste. Leave for a few minutes to extract the last bit of moisture from the skin, allowing for the final stage of crispiness.

Enjoy with your favourite dip!
Notes:
a) Fresh Potatoes - Aim to get to get the freshest sweet potato you can find. Leave the soft one knocking about at the back of your cupboards for some mash a different day.
b) Uniformed - When cutting your fries it's essential to get them all uniformed in size. It is also better to have them thinner rather than thicker.
c) Shake it off -  Once you've fully coated your fries with cornstarch, remove any excess that didn't stick. Leaving it there and mixing it in with the oil will create clumps that'll stick the fries and cause them to taste powdery.
d) Spatula - Contrary to the recipe video, I don't recommend flipping the fries half way through with your fingers. I just have fireproof fingers. Use a spatula 🙂
e) Timings - Unfortunately cooking times will differ slightly on the make of your oven, the size of fries you cut, the position of the fries on the tray etc etc. The ends of the fries are likely to turn slightly black, but just be vigilant throughout to ensure the whole fry doesn't burn.
f) The dip I served with is Sriracha Mayo. To make your own simply combine 4tbsp Mayo, 1 tsp Sriracha, a squeeze of Lime Juice and a sprinkle of chopped Fresh Parsley.
g) Calories are based served between 4 people.
h) Technique inspiration came from layerofhappiness, cookieandkate, thecookful and foodiewithfamily
Nutrition:
Nutrition Facts
Truly CRISPY Oven Baked Sweet Potato Fries
Amount Per Serving
Calories 158
* Percent Daily Values are based on a 2000 calorie diet.
Nutrition is based on the absence of salt unless stated as a measurement in the ingredients. Cost is worked out based on ingredients bought from UK supermarkets, then divided by the number of servings. In both instances these values are just for guidance. Please check out my FAQ Page for more info.
---
If you loved getting crispy sweet potato fries in the oven, check out my Crispy Oven Baked Wedges!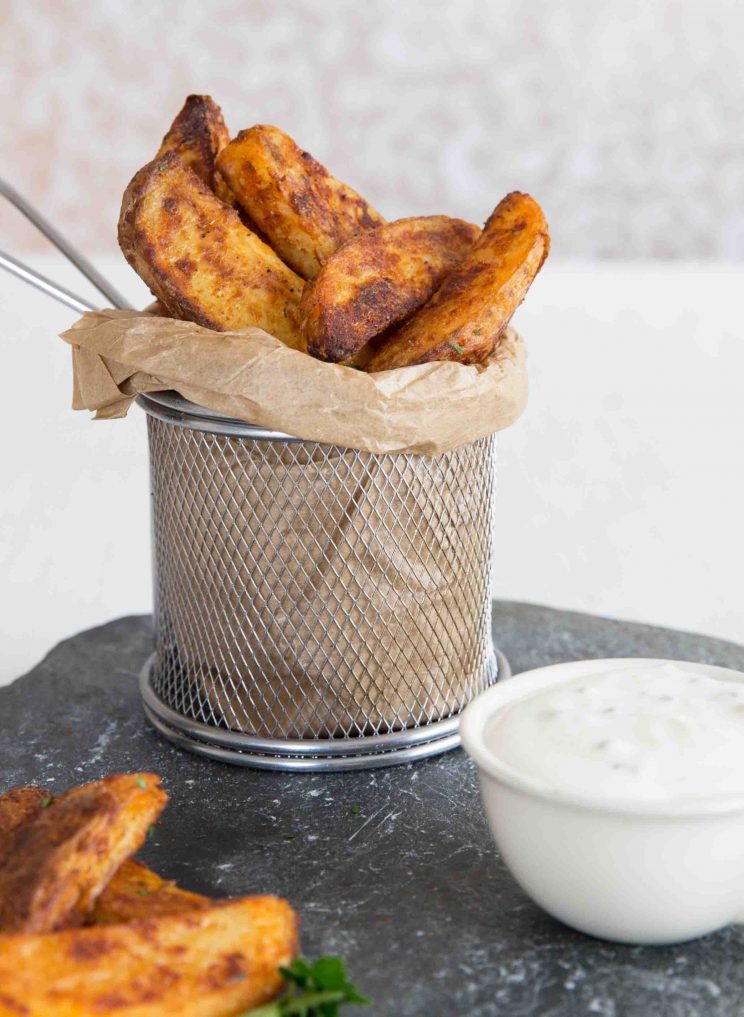 If you loved these Crispy Oven Baked Sweet Potato Fries be sure to pin them for later! Already made them or got a burning question? Give me a shout in the comments and pick up your free ecookbook along the way!