Here I'll show you a few tips and tricks to getting the most delicious baked french fries, which are crispy on the outside and fluffy on the inside. No deep fryer needed!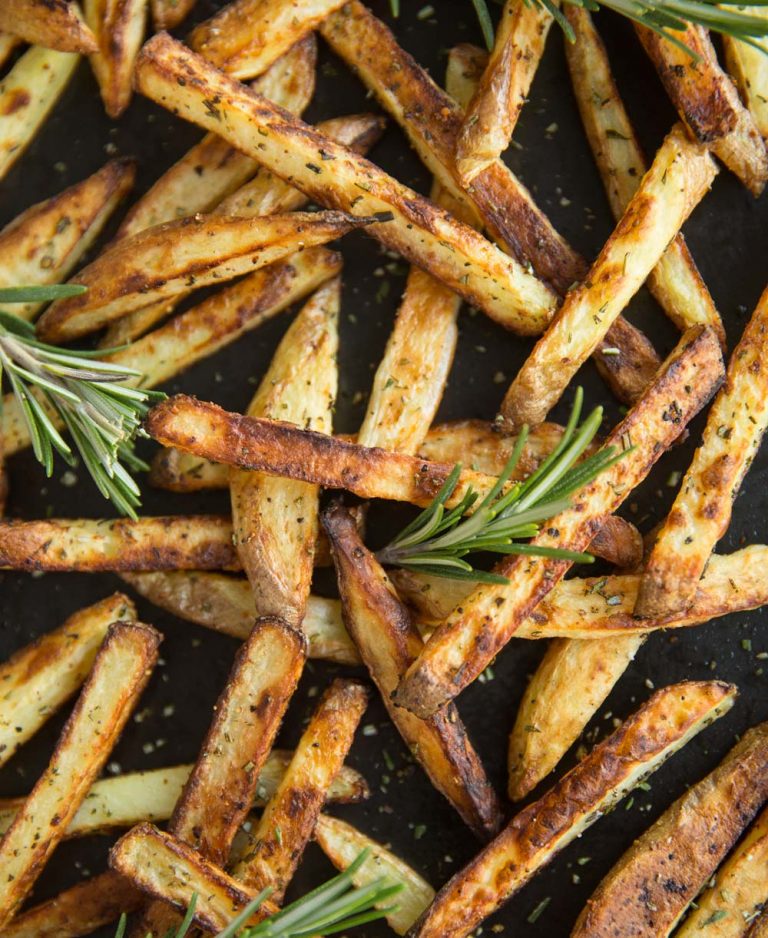 Extra Crispy Baked Fries
So maybe you've tried it – slice up some potatoes, coat in a little oil, pop them in the oven and when you take them out they're limp and soggy? Yep, we've all been there. But fear not. There's hope!
If I do say so myself, these will truly be the best homemade fries you'll ever taste. Here's why you're going to LOVE them:
Flavoursome – Seasoned with Rosemary and Garlic.
Few Ingredients – Most of which you'll have knocking about in your cupboards.
CRISPY – Most importantly, these beauties are gorgeously crispy!!
These fries are perfect as a side for a main meal or just as great as finger food with a dip!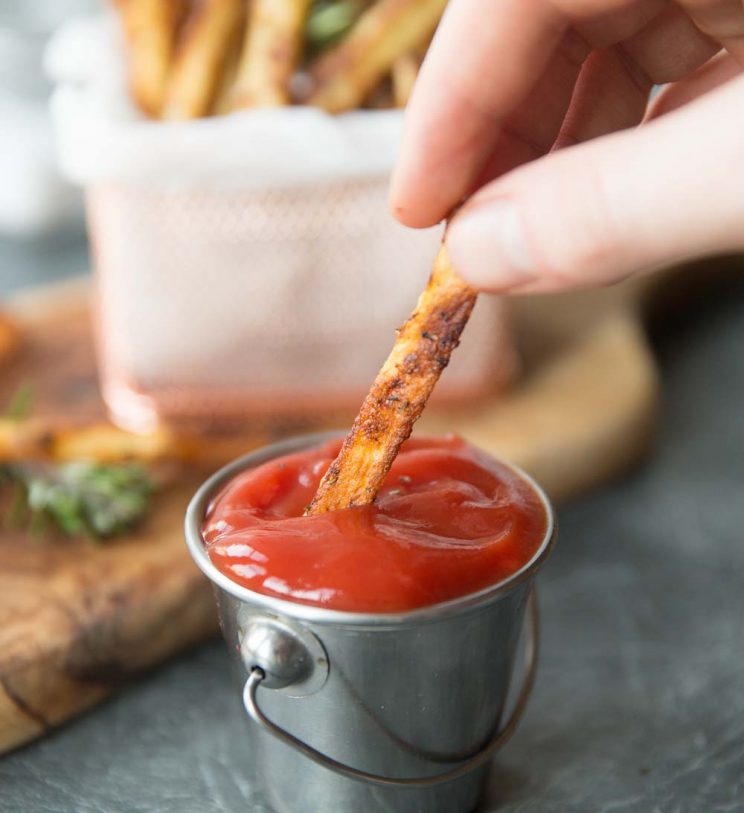 Preparing French Fries
There's a few tricks to ensuring your fries come out crispy, which we'll get to in just a sec, but first you need to start with the perfect potato.
What kind of potatoes are best for fries?
Maris Pipers and Russets work the best for their shape (easy to slice into fries) and their floury interior. They tend to hold less water than waxy potatoes, which makes them nice and fluffy when turned into fries.
How to cut potatoes for home fries
You want them sliced skinny. Obviously the skinnier they are the crisper they'll be, but 1/4″ is what you're aiming for. To do this I first slice the potato into 1/4″ discs, and then slice those discs into 1/4″ fries. I always keep the skin on for extra flavours and less hassle.
Next up, soaking the fries in cold water.
What does soaking potatoes in water do?
Potatoes are packed full of starch, which when subjected to intense heat makes the potatoes go gloopy. Because we want fries that are fluffy in the centre, we want to remove as much starch as possible before we bake them. The best way to do this is to blanch them in cold water. 30 minutes will do the trick, but the longer the better.
After, drain the fries and we'll continue.
Baking French Fries
Once drained, make sure you completely dry them. Any water lurking on the fries will increase the chance of them steaming instead of baking, which in turn will increase the chance of them being soggy. Next up, seasoning.
French fry seasoning
There's so many different variations of seasoning, but personally I love the combination of rosemary, garlic and salt. I use garlic powder as it's less likely to burn than raw garlic, I also add the rosemary half way through the cooking process for the same reason.
What oil to use when baking fries?
You want to roast your fries at a high temp and olive will simply smoke up. I always use vegetable oil as it's relatively flavourless and has a much higher smoking point. Sunflower oil & Canola oil always work well.
Can I use Olive Oil?
Step away from the olive oil, It can't take the heat (literally). Whilst it'll add flavour, we're going to be roasting the fries at a high temp, meaning the olive oil is likely to just smoke, instead of crisp up the potatoes.
How to bake fries (quick summary)
Thoroughly dry fries.
Coat in oil and seasoning.
Place on try and bake.
Take out, flip, then bake again.
Top Tip – Place the oven tray in the oven for at least 15mins before needed. Adding the fries to a piping hot tray will kick off the cooking process right away and leave them extra crispy!
Serving French Fries
Once they're out the oven, I recommend sprinkling with a little salt – this will help drawer out any final moisture.
Dips for fries
Also just FYI I'm 'that guy' who has mayo and ketchup side by side. Judge me as necessary 😂
Can you freeze homemade fries?
You absolutely can yes. Just pop them in a zip lock bag and chuck them in the freezer. When reheating, place them in the oven at a slightly lower temp for a little less time. I find 200C/390F for 15-20mins (depending on size) works well.
Okay guys, let's grab the recipe shall we!?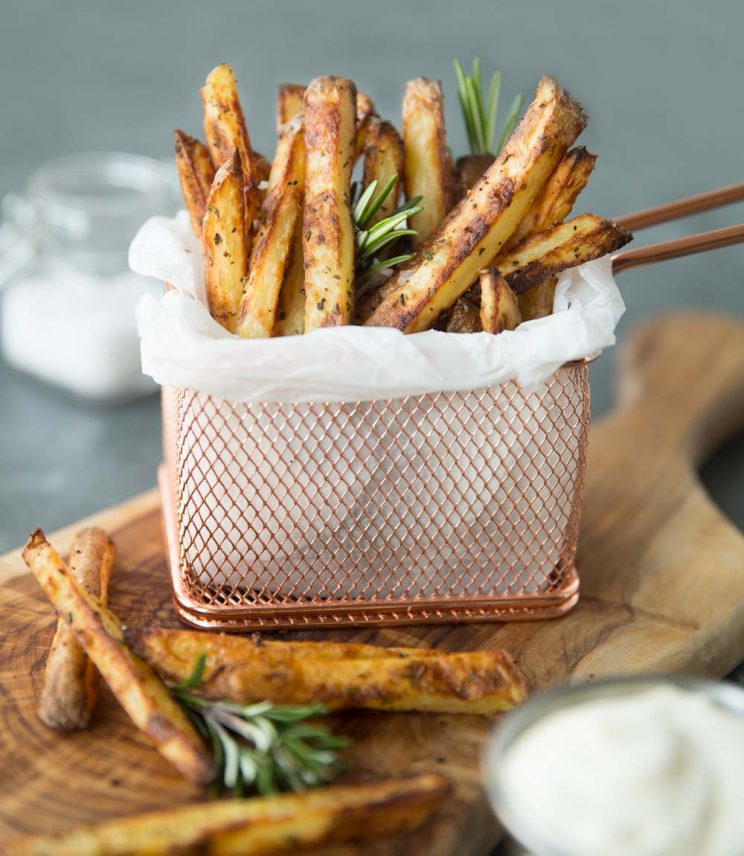 How to make Crispy Oven Baked Fries

(Full Recipe & Video)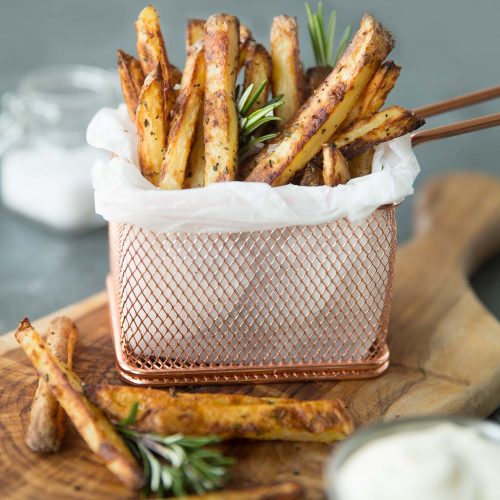 Crispy Oven Baked Fries
Here I show you a few tips and tricks to getting the most delicious baked french fries, which are crispy on the outside and fluffy on the inside. No deep fryer needed!
Print
Pin
Rate
Servings (click & slide):
4
Calories per serving:
210
kcal
Cost per serving:
£1 / $1
Equipment:
1 - 2 Oven Trays (depending on size)

Large Mixing Bowl

Tea Towel or Paper Towels

Spatula/Turner

Sharp Knife & Chopping Board
Ingredients (check list):
3

medium/large

Russets or Maris Pipers

(approx 1.6lb/750g total weight)

2

tbsp

Vegetable Oil

1

tsp

Garlic Powder

2 sprigs (approx 1 heaped tsp)

Fresh Rosemary, very finely diced

1/2

tsp

Salt, plus more to serve (or to taste)
Black Pepper, to taste
Instructions:
Slice your potatoes into discs, then slice those discs into fries. You're aiming to get them around 1/4" thick.

Soak the fries in a bowl of cold water for at least 30mins, or as long as you have time for. This is important to remove starch, which will result in the fries having a fluffier centre. Meanwhile, place an oven tray (or two) in the oven at 220C/430F to get nice and hot.


Drain and thoroughly dry the fries. Any moisture left on the potato will increase the likelihood of them coming out soggy. Combine with 2 tbsp vegetable oil, 1 tsp garlic powder, 1/2 tsp salt and a pinch of black pepper, then spread out on your oven tray(s). It's important to spread them out otherwise they will steam and never get crispy. Again, make sure the tray is piping hot when you do this.


Place in the oven for 15mins, then take out and sprinkle with 1 heaped tsp rosemary. Coat and flip the fries, then place back in the oven for another 10-15mins or until golden and crispy. Timing will depend on the thickness of your fries, how many are on the tray and how hot you maintain the oven. Just be vigilant after placing them in the oven the 2nd time.


Serve with an extra sprinkle of salt to pull out any remaining moisture!

Notes:
a) Trays - To determine if you'll need more than one tray, I usually place them on a tray after I've cut them just to test how much room there will be. b) Oil - Vegetable oil is great for it's high smoking point. Olive oil isn't suitable for this recipe as it can't take the high heat. You could also use sunflower or canola oil (or any other oil with high smoking point) c) Rosemary - I don't recommend using dried rosemary, it won't infuse the flavour properly. You can alternatively leave the rosemary out all together if you're not keen on it. d) Can You Freeze Fries? - You can absolutely freeze these after they're cooked if you wanted. Just let them cool down and pop them in a zip lock bag and chuck in the freezer until the next craving hits. To reheat, pop them back in the oven at 200C/390F for 15-20mins or until crispy again. e) Calories - based on using Russet potatoes and sharing between 4 people
Your Private Notes:
Nutrition:
Nutrition Facts
Crispy Oven Baked Fries
Amount Per Serving
Calories 210
Calories from Fat 63
% Daily Value*
Fat 6.98g11%
Polyunsaturated Fat 0.194g
Monounsaturated Fat 0.784g
Sodium 301mg13%
Potassium 17mg0%
Carbohydrates 34.52g12%
Protein 4.15g8%
Vitamin A 50IU1%
Vitamin C 11.6mg14%
Calcium 30mg3%
Iron 1.6mg9%
* Percent Daily Values are based on a 2000 calorie diet.
Nutrition is based on the absence of salt unless stated as a measurement in the ingredients. Cost is worked out based on ingredients bought from UK supermarkets, then divided by the number of servings. In both instances these values are just for guidance. Please check out my FAQ Page for more info.
If you're looking for more crispy baked potato recipes then definitely check out my Oven Baked Potato Wedges, Crispy Smashed Potatoes and Crispy Roasted Baby Potatoes! If you're looking for more fries I've got you covered as well!
Different Fries Recipes
---
If you loved this Baked French Fries Recipe then be sure to Pin it for later! Already made it or got a burning question? Give me a shout in the comments below and pick up your free ecookbook along the way!