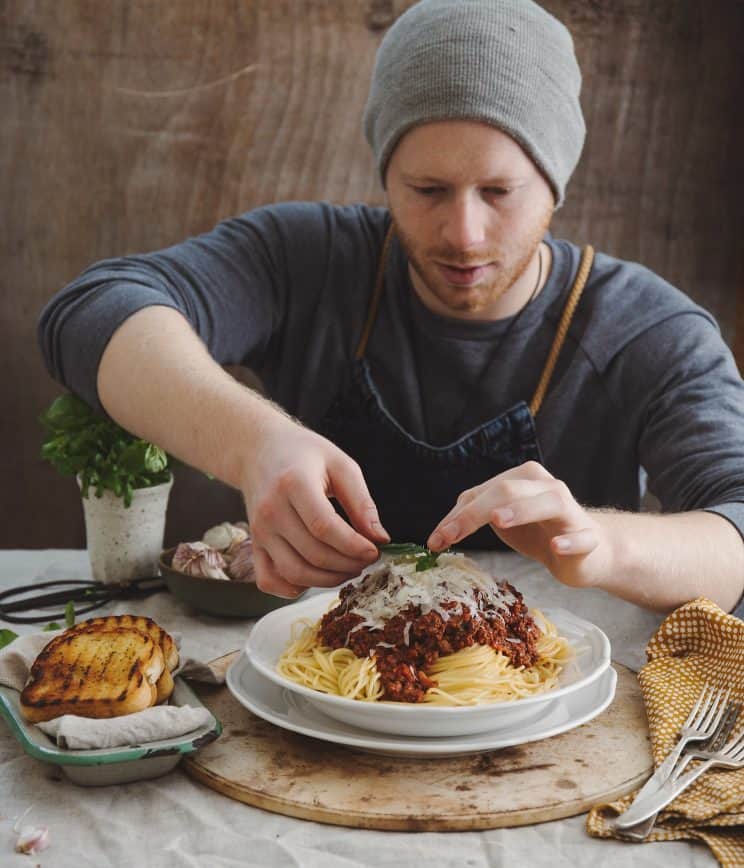 I'm Chris, owner of Don't Go Bacon My Heart. Otherwise known as 'the guy behind the bacon'. Hi 🙂
DGBMH is a blog totally dedicated to savoury comfort food. I'm a firm believer that food should be soul-hugging and bring endless amounts of joy. In such case I've made it my mission to spread the love and create easy, hearty home cooked recipes. For me, the best kind of comfort food brings a smile to your face because it genuinely tastes delicious. I'm also a firm believer that you can lead a perfectly fit and healthy life and still put an entire cup of cream in your pasta. You won't find any gluten free fat free calorie free quinoa salads here 🙂
How did you end up here?
I don't want to start with the cliche 'I've always loved food', but it really is true. From way back when I was a young warthog cooking up some real experimental pasta sauces, to now where I'm essentially still doing the same, food has led the way for me.
And it still did right up to a couple years back when I discovered the wonders of Instagram. It's funny, I guess you can pin all this down to one photo I uploaded. In hindsight it was (/is… It's still alive on my private account for memorabilia) a truly awful photo of an average dinner I made that night. I think it maybe got 5/6 comments saying how delicious it looked and at that very moment, I felt like a michelin star chef destined to be a world famous food blogger.
But in all seriousness, that's all it took. A little nudge from some friends which gave me a tiny bit of confidence and I took it and ran with it. From there on over the next couple of years I made a separate instagram dedicated to food, which developed to a website and what can only now be described as my pride and joy.
How can I get in touch?
You can find me on social media – Facebook | Instagram | Pinterest  | Twitter. Got a burning question? Checkout out my Contact page and pop me a message. Also before sure to check out my FAQ Page!
So take a look around and find your new favourite meal! Hope to see you again real soon 🙂