Homemade Popcorn Chicken couldn't be easier to make! The key is marinating in buttermilk for that crispy, flaky finish. But warning, these are incredibly moreish!!
Ever wish you could get KFC style popcorn chicken in the comfort of your own home? Yeah, me too. It's literally my guiltiest pleasure in life and I'm assuming that because you've made it here, it could well be yours too. So, here's the plan. I show you how to make popcorn chicken in the most mind-blowingly delicious way and we can fall into a food coma and regret not going to the gym together. Sound good? Okay cool. Let's go…

Buttermilk Popcorn Chicken
The best popcorn chicken has to be crispy on the outside and soft and juicy in the centre. No brainer right? We'll get onto the batter in a second but firstly, the absolute key to tender fried chicken is buttermilk. And not just buttermilk, but marinating in buttermilk.
Why marinate popcorn chicken?
By marinating in buttermilk you tenderize the chicken. Once you've marinated the chicken in buttermilk it becomes nice and soft, and when you then coat it in the batter it becomes flaky. The flakier the popcorn chicken, the crisper it is. Win-win!
How long to marinate popcorn chicken?
If I know I'm making a batch of popcorn chicken I'll marinate it overnight. The absolute minimum should be an hour. But because the chunks are quite small you want them to flake, not turn to mush. So just to be on the safe side I tend not to marinate for longer than 12ish hours (it's not going to hurt if it's longer, but you'll see what I mean texture-wise).
Do I have to marinate the popcorn chicken in buttermilk?
Short answer – no. But I do HIGHLY recommend it. But you do have to at least coat it to allow the flour the stick.
What can I substitute buttermilk for?
If you don't have buttermilk on hand you can either make it will milk and some form of acidity (lemon juice, white wine vinegar etc), or you can milk unsweetened yogurt with milk. More on that in the recipe card!

Fried Popcorn Chicken
Alrighty, nice tender chicken breast at the ready, let's talk crispy batter. Alongside a simple spice mix and a cup of flour, you'll want to add a secret ingredient:
Baking Powder
I always add a tsp of baking powder in with my fried chicken just to give it that extra crisp. The baking powder reacts with the oil and produces tiny air bubbles, which results in a light and airy batter. Make sure you're not using baking soda or bi-carb soda!
Working in batches
Although tedious, I highly recommend dredging the chicken pieces one by one. You really want to coat the chicken as well as you can to create those nice flaky pieces. These parts are what make the chicken extra crispy. Although tempting, do not mix large amounts of the chicken in with the flour. It will make the batter of pasty. No more than 3-4 at a time.
Deep Fried Popcorn Chicken
When it comes to frying the chicken, there are two things worth keeping in mind:
Oil Temp – Important to make sure your oil is at the right temp before adding the chicken. Too high and the outside will cook before the inside has, too low and the batter will become soggy and break off the chicken. You're looking for the oil to be around 356F/180C. I recommend using a kitchen thermometer!
Batches – You want to fry the chicken in batches to not only ensure they don't stick together but also to ensure the oil temp doesn't drop too much!
How long to fry popcorn chicken?
It's dependent on the size of your chicken, but you're looking for anywhere between 3-5mins. Won't take long, and the pieces do continue cooking once removed from the oil.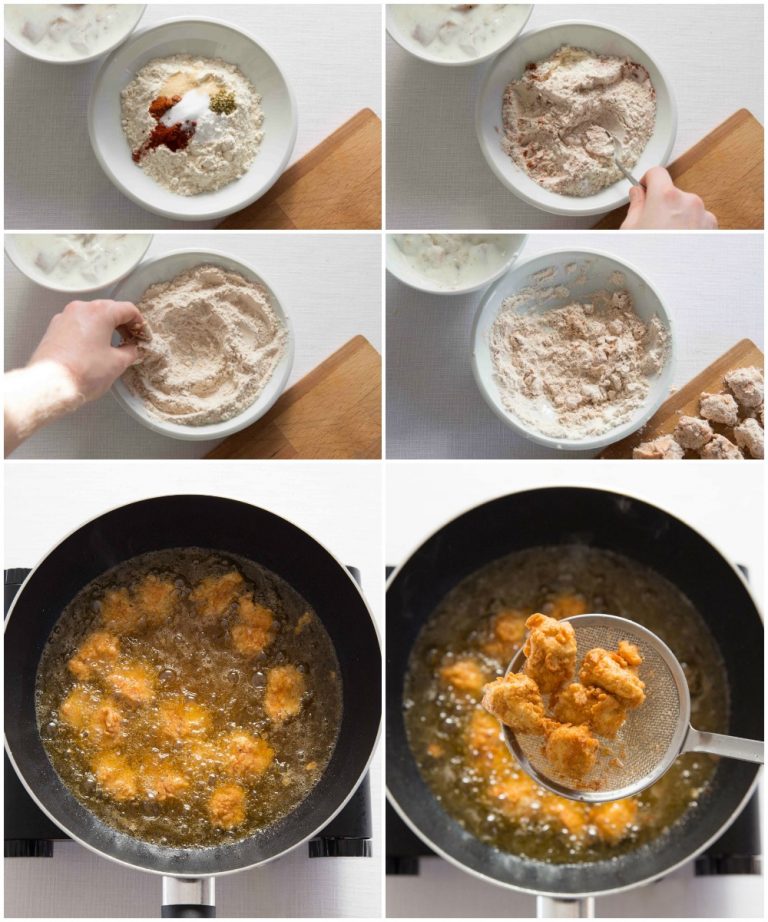 Popcorn Chicken FAQ
What part of the chicken is popcorn chicken made of?
Traditionally you'd use chicken breast for popcorn chicken. Having said that you can use thigh if you'd prefer! In all cases, just make sure it's boneless skinless meat you're using.
How spicy is this popcorn chicken?
Even if you don't like spice, keep the cayenne pepper in, just reduce the quantity. Cayenne pepper, alongside the smoked paprika, not only injects some gorgeous colour into those popcorn chicken pieces, but it also adds heaps of flavour.
Can you bake popcorn chicken?
You can, and I've tried it, but in all honesty it's just not as crispy and moist in the centre. However, if you are watching the calories and want to cook in the oven, then I suggest using a flour/egg/breadcrumb combo to try and get the maximum crispiness. Dredge in flour, then egg and finish in breadcrumbs. Similar to how I make my Oven Baked Crispy Chicken Tenders or Chicken Nuggets!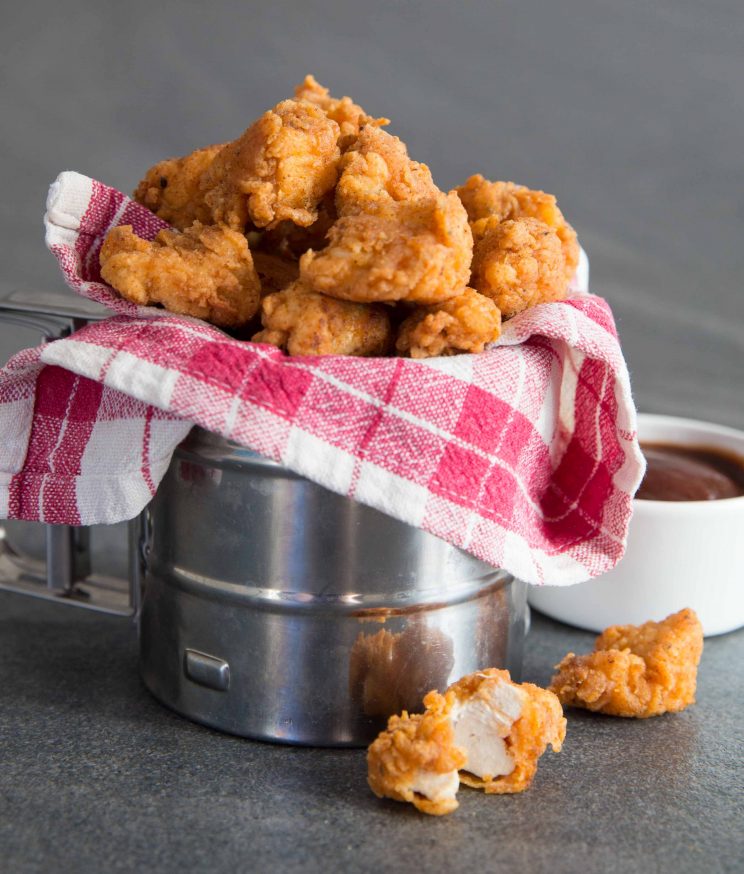 Serving Popcorn Chicken
Popcorn chicken is incredibly versatile to serve. I usually serve it at gatherings, parties, footy matches etc as part of a 'snack platter'. Here are the usual suspects alongside the popcorn chicken:
What to serve with popcorn chicken?
The other way to serve popcorn chicken is by itself with a good old trusty dip:
Best Dips for popcorn Chicken
And there we have it folks! Super easy and insanely delicious homemade popcorn chicken! KFC, you're sacked! Just kidding please take me back… Let's tuck into the full recipe shall we?!
How To Make Popcorn Chicken

(Full Recipe & Video)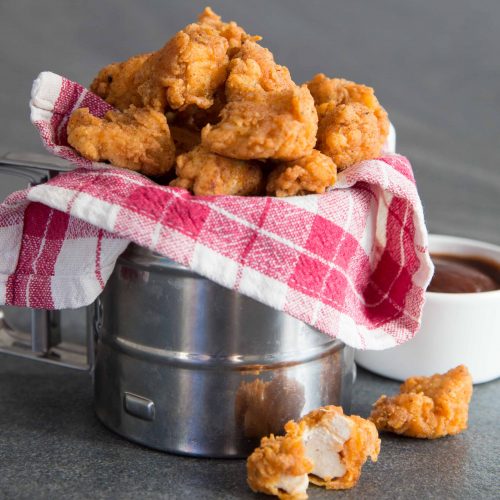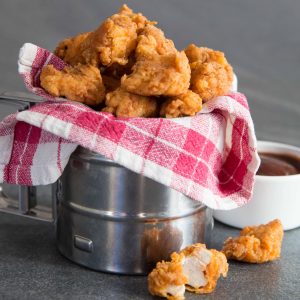 Homemade Popcorn Chicken
Homemade Popcorn Chicken couldn't be easier to make! The key is marinating in buttermilk for that crispy, flaky finish. But warning, these are incredibly moreish!!
Print
Pin
Rate
Share by Text
Servings (click & slide):
6
Calories per serving:
145
kcal
Cost per serving:
£2 / $2.50
Equipment:
Large Pot & Slotted Spoon (for deep frying)

Medium Sized Bowl (for dredging)

Small-Medium Sized Mixing Bowl (for marinating)

Sharp Knife & Chopping Board

Kitchen Thermometer

Wire Rack & Paper Towels
Ingredients (check list):
2x 7oz/200g

Chicken Breasts

4 cups / 1litre

Oil, suitable for deep frying (vegetable, canola, sunflower)

1 cup / 250ml

Buttermilk

1 packed cup / 200g

Plain Flour (scoop & level method)

2

tsp

Salt

1.5

tsp

Smoked Paprika

1

tsp

Cayenne Pepper (see notes)

1

tsp

Baking Powder

3/4

tsp

Onion Powder

3/4

tsp

Garlic Powder

3/4

tsp

Black Pepper

1/2

tsp

Dried Oregano
Instructions:
Slice your chicken breasts into mini even-sized bite-size pieces. You should get around 40-50 pieces in total.

Combine in a bowl with your Buttermilk, 1 tsp of Salt and 1/2 tsp Black Pepper. Pop cling film over and marinate in the fridge for at least 1 hour. Preferably overnight. This will help tenderize the chicken pieces.

In a bowl, combine your Flour, Baking Powder, 2nd tsp of Salt, Smoked Paprika, Cayenne Pepper, Onion Powder, Garlic Powder, Oregano and 1/4 tsp Black Pepper.

Take a piece of Chicken and coat it the flour mixture. Really try and get as much flour in the cracks of the chicken. You want the chicken to be nice and flakey. This is important. Although it sounds tedious to do it one by one, by this is the best way to get the best coating on the chicken. No more than 3-4 at a time max.

Heat up 4 cups of oil, depending on depth of pan. You want the temp at around 180C/356F. Grab a tiny piece of leftover flour mixture and drop it in. If it sizzles and slowly rises to the top, you're good to go.

In batches, add the chicken and fry for around 3-5mins until golden brown. Place on wire rack over paper towels to drain away excess fat. To test if they're cooked, just take one piece out and slice it through the centre. It should be white and piping hot. If you're not confident with deep frying just test with one piece at the start.

Repeat with the rest of your batches, bringing the oil back up to temp between each batch, then serve with your favourite dip!
Notes:
a) Spice - 1 tsp of Cayenne Pepper gives a nice gentle kick of spice. If you're not good with spice at all, consider lowering to 1/2 or 1/4 tsp. Just don't leave it out, it offers beautiful flavour! b) Batches - it's important to fry the chicken in batches for two reasons. The first is so it's not overcrowded, which can increase the chances of your chicken sticking together. The second is that if there's a large amount of chicken plonked in the pan at once, it lowers the temperature of the oil. Because the chicken pieces are small, they don't take long to cook, meaning you don't want them sat in oil for longer than they have to be. If they soak up too much oil over a long period of time they won't be crispy. I find that two batches is usually fine, but no more than 3 for this recipe. You don't want the first batch to be cold. c) Buttermilk - Buttermilk is important as its slight acidity will help tenderize and soften the chicken breast. It also has the perfect consistency to dredge through the flour. To substitute you can either mix 3/4 cup plain unsweetened yogurt mixed with 1/4 cup of milk (to thin it out). Or, mix 1 cup milk with 1 tbsp vinegar or lemon juice, let it sit for 10mins then stir in the chicken. d) Can I use Chicken Thigh instead? - Traditionally chicken breast is used for popcorn chicken, but you can use chicken thigh if you'd prefer. Just make sure it's boneless and skinless meat you're using. e) Can you make popcorn chicken ahead of time? - Popcorn chicken is at it's crispiest/juiciest when served fresh, so I don't recommend making it ahead of time. If you want to get ahead of the game just ensure the chicken is marinating away and have the flour & spices premixed and ready to go.
Your Private Notes:
Nutrition:
Nutrition Facts
Homemade Popcorn Chicken
Amount Per Serving
Calories 145
Calories from Fat 51
% Daily Value*
Fat 5.68g9%
Polyunsaturated Fat 1.572g
Monounsaturated Fat 3.106g
Cholesterol 30mg10%
Sodium 836mg35%
Potassium 179mg5%
Carbohydrates 9.66g3%
Protein 13.37g27%
Vitamin A 950IU19%
Vitamin C 0.8mg1%
Calcium 30mg3%
Iron 1.1mg6%
* Percent Daily Values are based on a 2000 calorie diet.
Nutrition is based on the absence of salt unless stated as a measurement in the ingredients. Cost is worked out based on ingredients bought from UK supermarkets, then divided by the number of servings. In both instances these values are just for guidance. Please check out my FAQ Page for more info.
---
For another KFC inspired recipe check out my Crispy Chicken Burgers!
For more similar recipes check out these beauties too:
Deep Fried Finger Food Recipes
---
If you plan on making this Popcorn Chicken Recipe be sure to Pin it for later! Already made it? Let me know how you got on in the comments and pick up your free ecookbook on the way!