Here I share with you a some game changing tips to getting Oven Baked Potato Wedges that are crispy and crunchy on the outside, yet light and fluffy on the inside!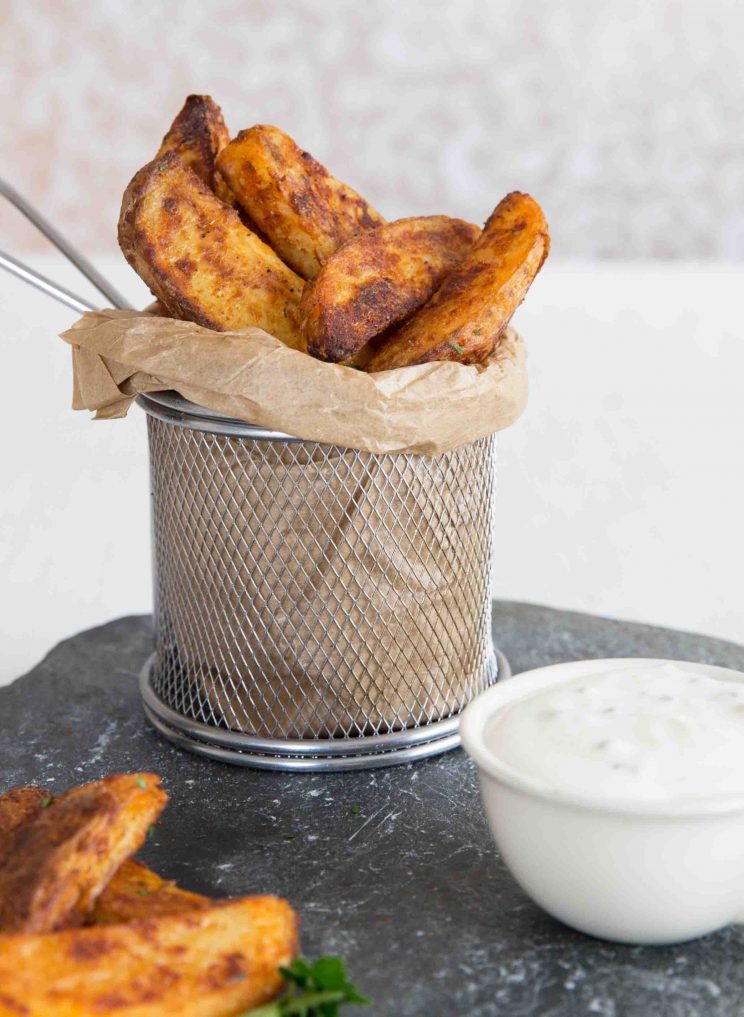 Life Changing Potatoes Wedges
I mean ever so sliiiiiiiiightly dramatic. BUT, they are seriously delicious. Crispy, crunchy, fluffy, flavoursome deliciousness. Here's why you're going to love them:
Oven Baked – No faffing about with deep frying, these come out truly crispy straight out the oven.
Parmesan – Secret ingredient that takes these wedges through the roof!
EASY – Even the most beginner of cook can master these.
Okay, first things first, let's talk potato. I tend to use 4 medium potatoes, which will get 8 wedges from them each (32 in total).
What is the best potato to use for wedges? – You want to use floury potatoes such as King Edwards, Maris Pipers or Russets. They retain less moisture and turn out fluffier in the centre. I'd avoid waxy potatoes as they cling on to more moisture.
How to cut Potato Wedges
Find 4 evenly sized potatoes (important so the wedges are uniformed size and cook at an even rate).
Slice them in half, place them flat side down, slice in half again, flip them again then slice those 4 slices in half again. This will produce 8 wedges from each potato.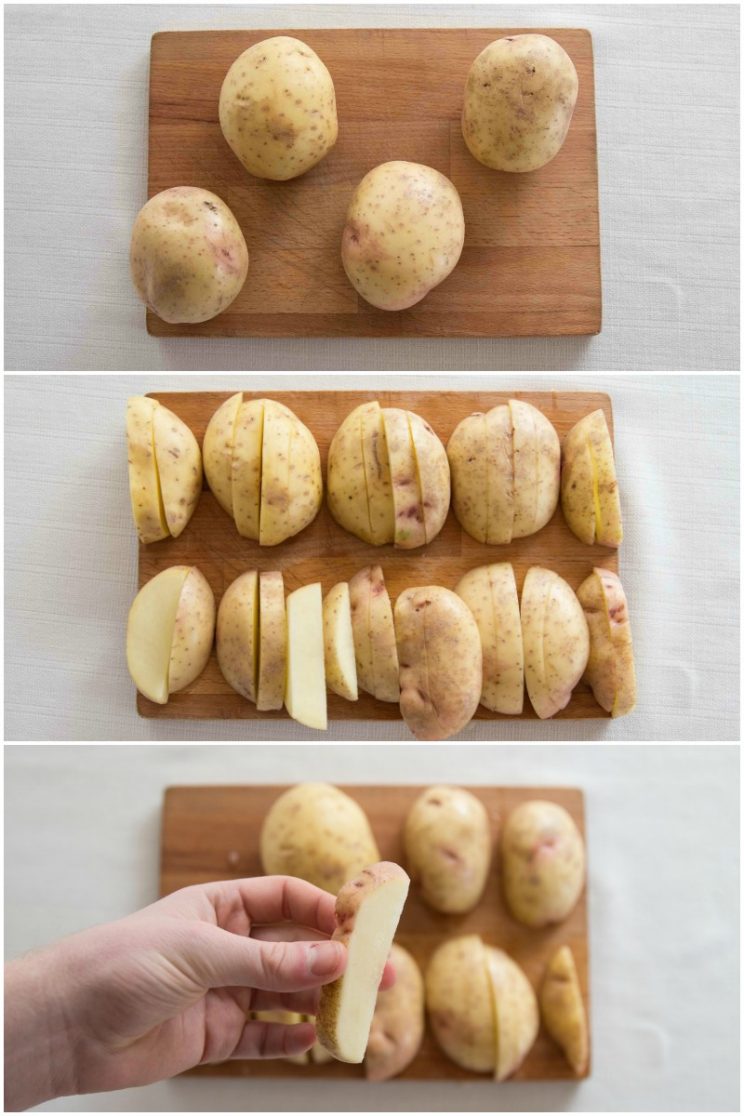 Top Tip – Keep the skins on for extra flavour and extra crispiness!
Parboiling Potato Wedges
In terms of preparing potato wedges, different people having different methods. Some soak in cold water, other coat them straight in the seasoning, I prefer to par-boil.
Removing Starch from Potatoes
Potatoes are stuffed full of starch, and when cooked that's what makes potatoes go gloopy in the centre. So essentially we want to remove as much starch as possible before baking. By parboiling the wedges you do just this.
However…
After placing them in the water, the wedges will soak up some of the moisture. This is ironically what we don't want. Potatoes that have too much moisture = soggy. So, what to do is after you've drained them, let them sit for at least 5 minutes and allow the steam to leave the wedges. This is the moisture that we don't want escaping the wedges, which is good.
I don't recommend soaking in cold water, you want the potatoes to be partly cooked so they're not in the oven so long they burn the parmesan (more on that in just a sec).
How to Parboil Potato Wedges (quick summary)
Pop wedges in cold water (important – if you place straight in boiling water they won't cook evenly from the centre). Bring to boil for 3-4mins.
Drain in colander and allow to steam for minimum 5mins (preferably until they completely stop steaming)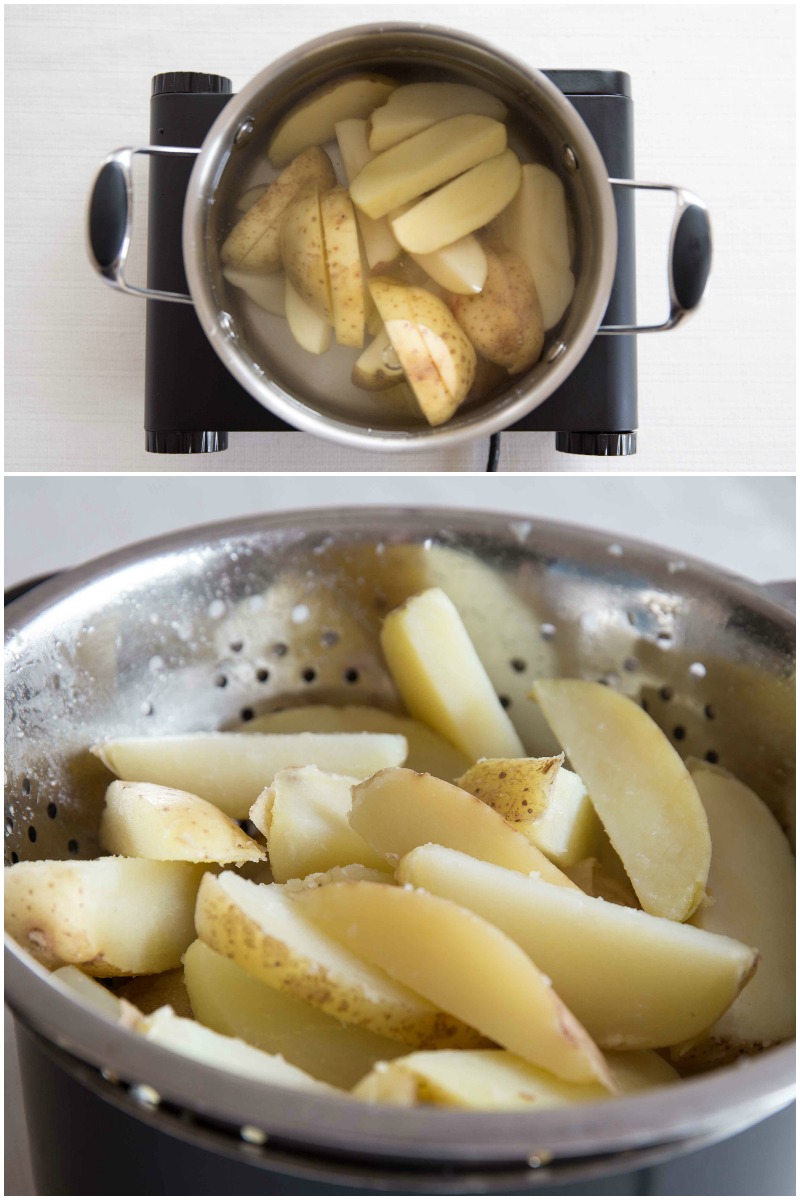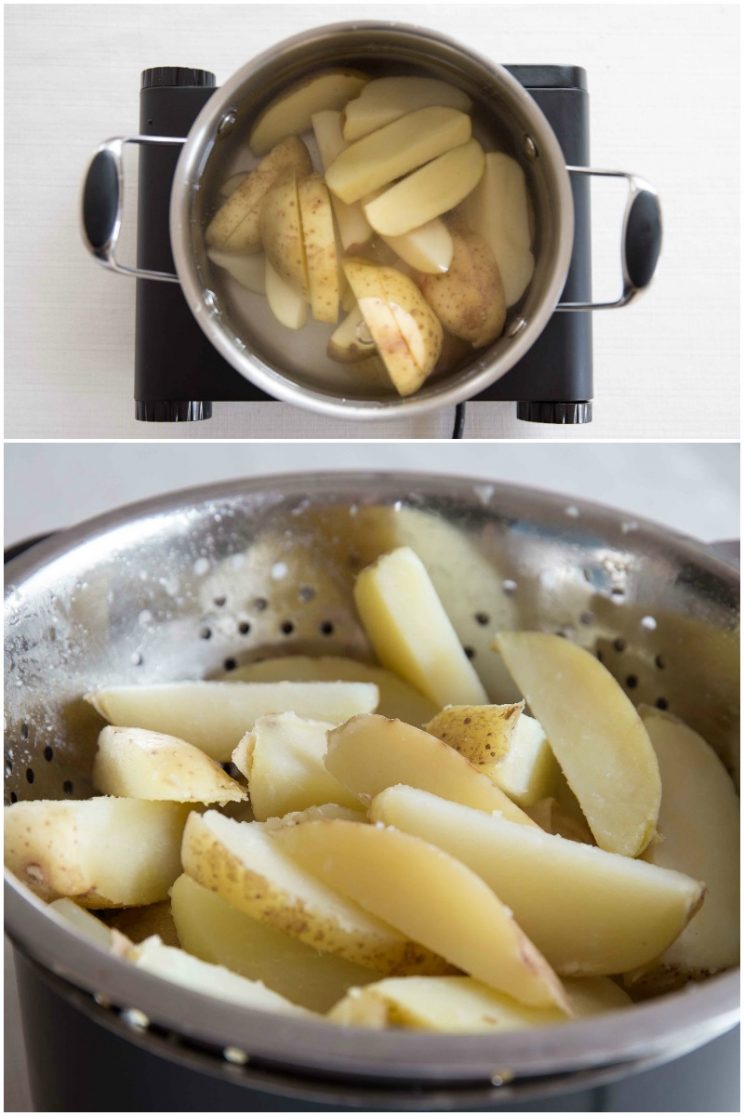 Top Tip – As the wedges rest and steam, give them a shake in the colander to rough up the edges (rough edges = extra crispiness)
Parmesan Potato Wedges
Okay, here's where things get intense. There's a couple of reasons I add parmesan to potato wedges. First is flavour. Parmesan adds a gorgeous, salty flavour to potato wedges. Plus, potatoes and cheese is a match made in heaven. The second is texture. Baking potato wedges in parmesan enhances that gorgeous crispy outside.
In terms of other seasoning, here's what you'll need:
Potato Wedge Seasoning
Paprika
Garlic Powder
Thyme
Cayenne Pepper
Salt & Black Pepper
Olive Oil
Parmesan
When it comes to baking the wedges, my number 1 tip is making sure you spread the wedges out. If you pile them on top of each other they are just going to steam and not get crispy. Use two trays if you have to!
How to make Parmesan Wedges (quick summary)
Coat potatoes in oil and seasoning.
Stir through freshly grated parmesan.
Space out on a baking tray and bake!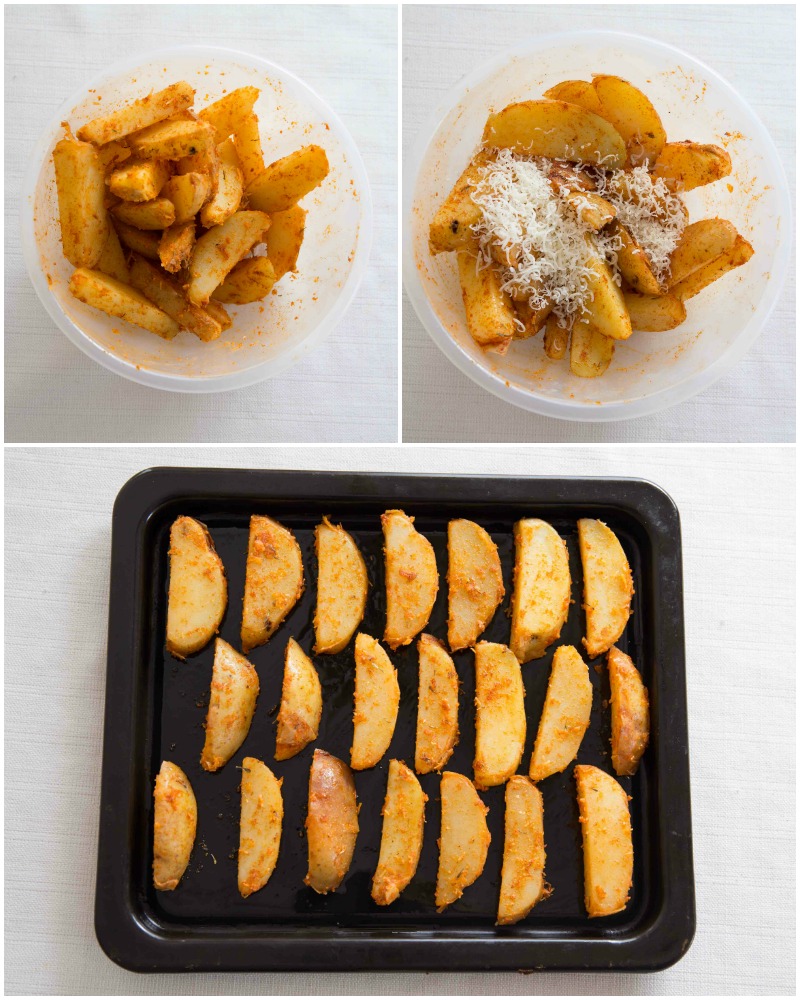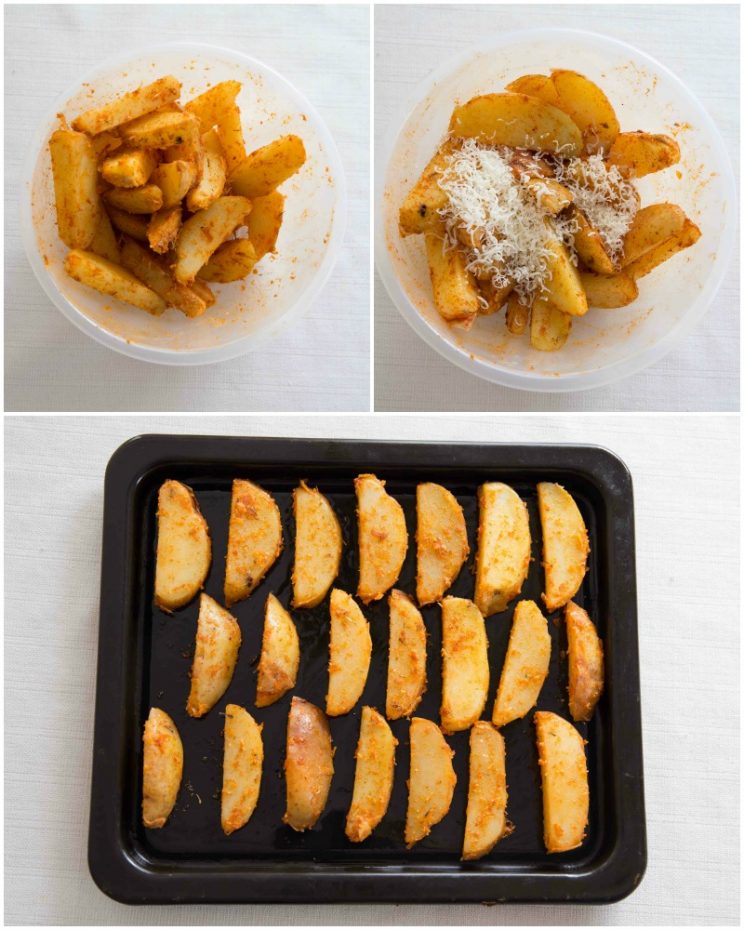 Serving Potato Wedges
Once the wedges are out the oven, that smell is going to melt your soul 😍I like to let them rest for a few mins (just to let the final bit of steam escape) and then sprinkle a pinch of salt. The will extract any moisture from the surface. You know, just for extra crispiness.
From there, you can either serve them as a side, or even as an appetizer with dips! Here's my faves:
Potato Wedges Dips
Or do it the Aussie way! When I spent 2 years in Australia it became apparent that the only dipping sauces for potato wedges were sweet chilli sauce and sour cream. Hey, it kinda worked!
The BEST Potato Wedges
So there we have it folks! Your fool proof guidance to incredible oven baked potato wedges. A few simple but crucial steps really make the difference in getting flavoursome, fluffy and crispy potato wedges!
Hey, whilst you're here why not check out my other recipes?
Crispy Potato Recipes
Baked Finger Food
Alrighty, let's tuck into these baked wedges shall we?!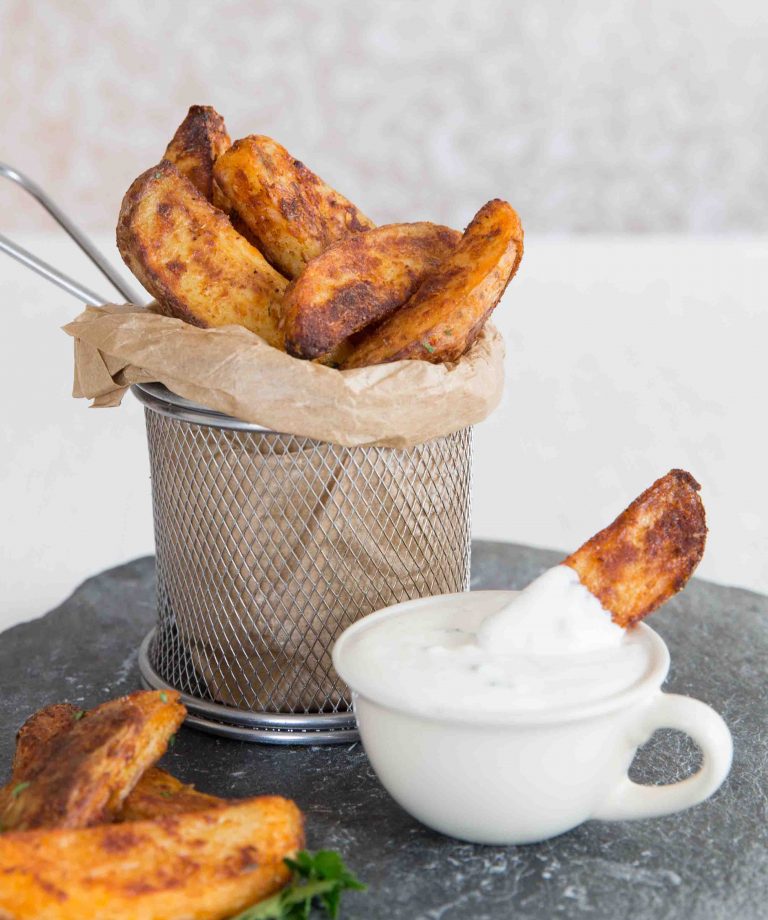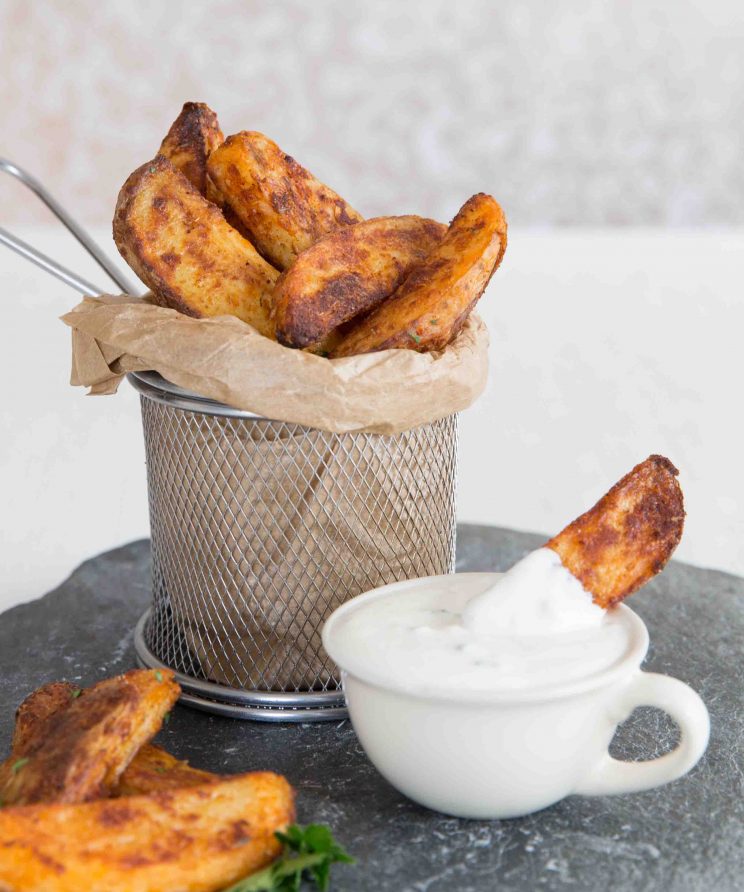 How to make Oven Baked Potato Wedges (Full Recipe & Video)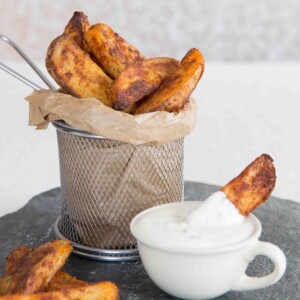 The most INCREDIBLE Oven Baked Potato Wedges
Here I share with you a some game changing tips to getting Oven Baked Potato Wedges that are crispy and crunchy on the outside, yet light and fluffy on the inside!
Print
Pin
Rate
Share by Text
Servings (click & slide):
4
Calories per serving:
354
kcal
Cost per serving:
£1.50 / $2
Equipment:
Sharp Knife & Chopping Board

Pot & Colander (for par-boiling wedges)

Large Mixing Bowl

Large Baking Tray

Fine Cheese Grater

Small Pot/Ramekin (for seasoning mix)
Ingredients (check list):
4

medium sized

White Potatoes (Russets or Maris Pipers work great)

1/2 cup / 40g

freshly grated

Parmesan

2

tbsp

Olive Oil

1

heaped tsp

Paprika

1

heaped tsp

Garlic Powder

1/2

tsp

Dried Thyme (can sub Oregano)

1/2

tsp

Salt, plus extra to serve & par-boil (to taste)

1/4

tsp

Cayenne Pepper, or more for spicier wedges!

1/8

tsp

Black Pepper
Instructions:
Slice your potatoes into 8 equal wedge shapes. I find this easiest by slicing in half, place flat side down and slice those in half, then flip again and slice in half again.

Pop in a pot of cold water with a good pinch of salt and bring to boil for 3-4 minutes. You should only just be able to slice with a knife.

Drain and give them a shake in the colander to rough the edges (optional). Sit and rest to steam for at least 5 minutes. The longer the better (the more steam that escapes the fluffier the inside and crispier the outside).

Meanwhile, in a small bowl/ramekin combine 2 tbsp Olive Oil, 1 heaped tsp Paprika & Garlic Powder, 1/2 tsp Thyme & Salt, 1/4 tsp Cayenne Pepper (or to taste) and 1/8th tsp Black Pepper and preheat the oven to 200C/390F.

Combine your wedges with the oil seasoning, mix to fully coat, then pour in 1/2cup/40g freshly grated Parmesan and mix again.

Spray or lightly oil an oven tray and evenly space out your wedges. Use 2 trays if you have to. Spacing out is important so they don't steam on each other and room room to crisp up!

Bake for 25-30mins or until golden brown on the outside. Flip once after 15 mins. Timings will vary depending on your oven/size of wedges so just be vigilant after flipping.

Enjoy hot with an extra pinch of salt and your favourite dip!
Notes:
a) Potatoes - Try and find 4 even sized potatoes so all the wedges come out in uniform size. This is important so they cook at an even rate. I find fluffy baking potatoes like Russets, King Edwards or Maris Pipers work great. I would avoid waxy potatoes as they hold on to too much moisture and won't get as fluffy.
b) Steam - Allowing the wedges to sit whilst the steam is released is an important step. After being parboiled they will have taken on unwanted moisture. The steam is merely that unwanted moisture leaving the wedges. i.e fluffier insides! It's preferable to allow them to rest until they completely stop steaming.
c) Spice - 1/4 tsp of Cayenne Pepper will give a gentle kick of spice. Increase for more spice or take out all together if you'd prefer without!
d) Salt - I only use 1/2 tsp of salt in the seasoning because seasoning is always down to preference. However it's difficult to 'taste test' as such when they're raw. Add more after they're cooked if you want them saltier!
e) Space - It's important to space the wedges apart in the oven. If they're too close they will steam instead of bake, therefore turning soggy in the process! Also important to flip so both sides of the wedges have equal time with direct contact on the hot tray.
f) Cooking Times - they will vary depending on the size of wedges you end up with. Still flip after 15 mins and from there just be vigilant throughout!
g) Dipping Sauces - Check out my Sour Cream and Chive dip and Homemade Blue Cheese Dip! Or do it the Aussie way and have one pot of sour cream and a second pot of sweet chilli sauce!
h) Calories - Based sharing between 4 people, approx 8 wedges each.
Your Private Notes:
Nutrition:
Nutrition Facts
The most INCREDIBLE Oven Baked Potato Wedges
Amount Per Serving
Calories 354
Calories from Fat 86
% Daily Value*
Fat 9.5g15%
Cholesterol 7mg2%
Sodium 500mg21%
Potassium 1544mg44%
Carbohydrates 60.1g20%
Protein 8.8g18%
Vitamin A 950IU19%
Vitamin C 37.1mg45%
Calcium 110mg11%
Iron 2.2mg12%
* Percent Daily Values are based on a 2000 calorie diet.
Nutrition is based on the absence of salt unless stated as a measurement in the ingredients. Cost is worked out based on ingredients bought from UK supermarkets, then divided by the number of servings. In both instances these values are just for guidance. Please check out my FAQ Page for more info.
---
If you loved these Oven Baked Potato Wedges be sure to Pin the recipe for later! Already made them or got a question? Let me know in the comments below and pick up your free ecookbook along the way!