These Chicken Fried Potatoes take deep frying potatoes to a whole new level – the same delicious flavours of fried chicken just using potatoes!
These truly are the finger food you never knew you needed. They're ultra crunchy on the outside with fluffy potato hidden on the inside. Better still, they're so easy to make. Follow me…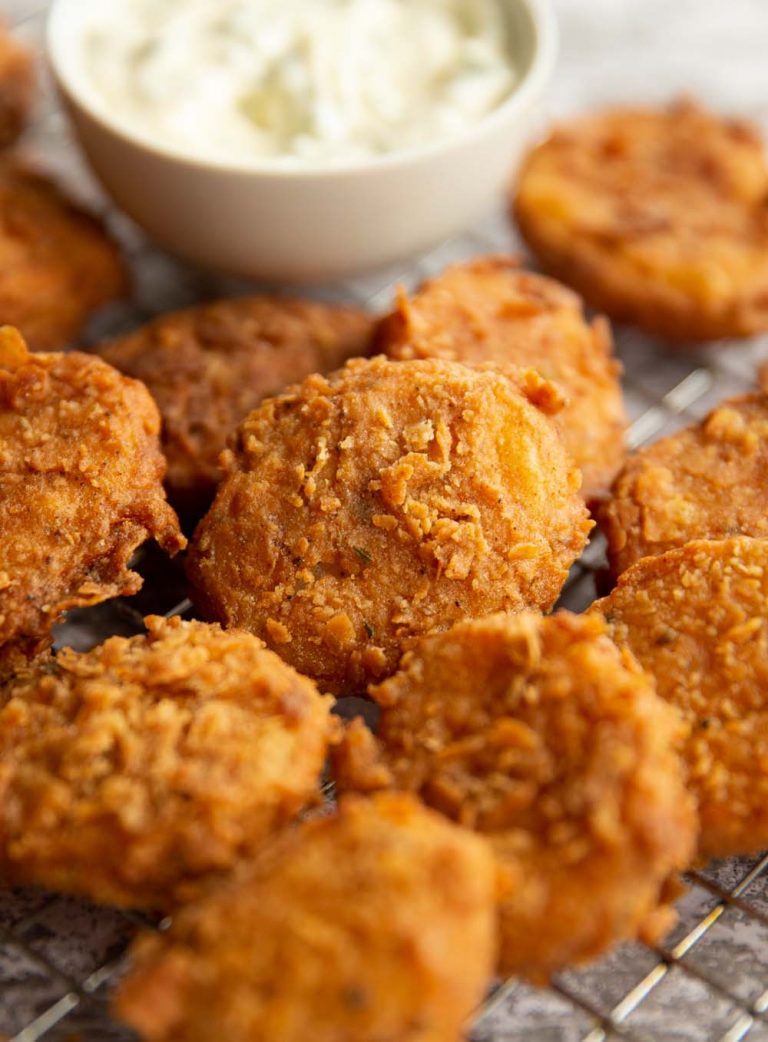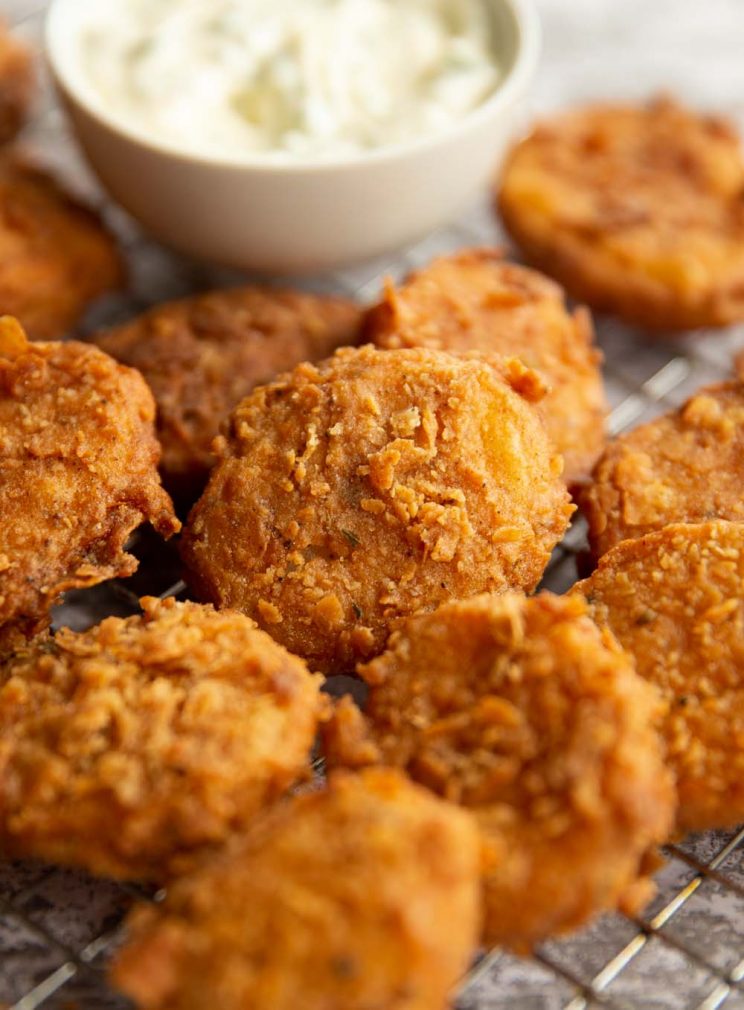 Chicken Fried Potatoes
All good fried potatoes start with a good potato, as such I recommend going for a Russet (US) or Maris Piper (UK). Always keep the skin on for extra flavour and less fuss.
You'll want to slice them into disks, for no other reason than it means you can scoop up maximum dip. You're looking for them to be about 1/4″ in thickness. Much bigger and you run the risk of them not cooking through properly by the time the batter is cooked, any less and they tend to get a bit lost in the batter.
The main thing however is to ensure you slice them all to an even size, just so they cook at an even rate.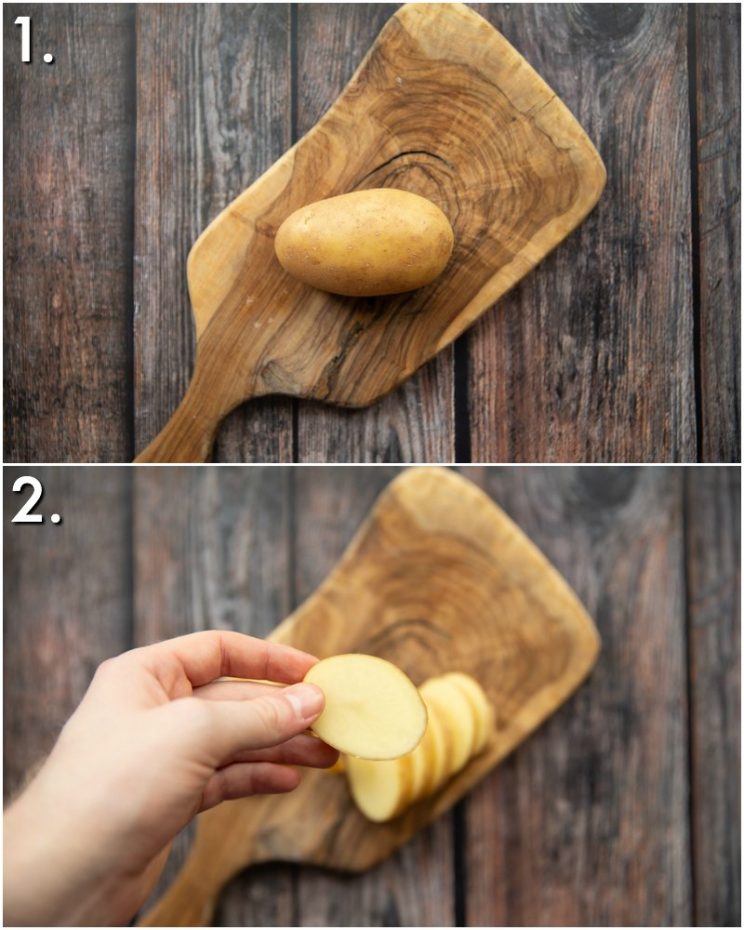 Buttermilk Marinade
Marinating potatoes is an odd concept, but it is an essential step. No good having a flavoursome batter with a bland, unseasoned spud inside. In fact, is there anything worse than unseasoned potato?!
Buttermilk is great not only flavourwise, but it's the perfect consistency for dredging through the flour. However I've added a couple of subs in the recipe card if you're in need.
How long to marinate for?
An absolute minimum of 30mins, and a max of around 3 hours. Any less and the potatoes don't absorb enough seasoning, any more and they start turning brown.
Process shots: Add potatoes to bowl (photo 1), add buttermilk (photo 2), add seasoning (photo 3) marinate (photo 4).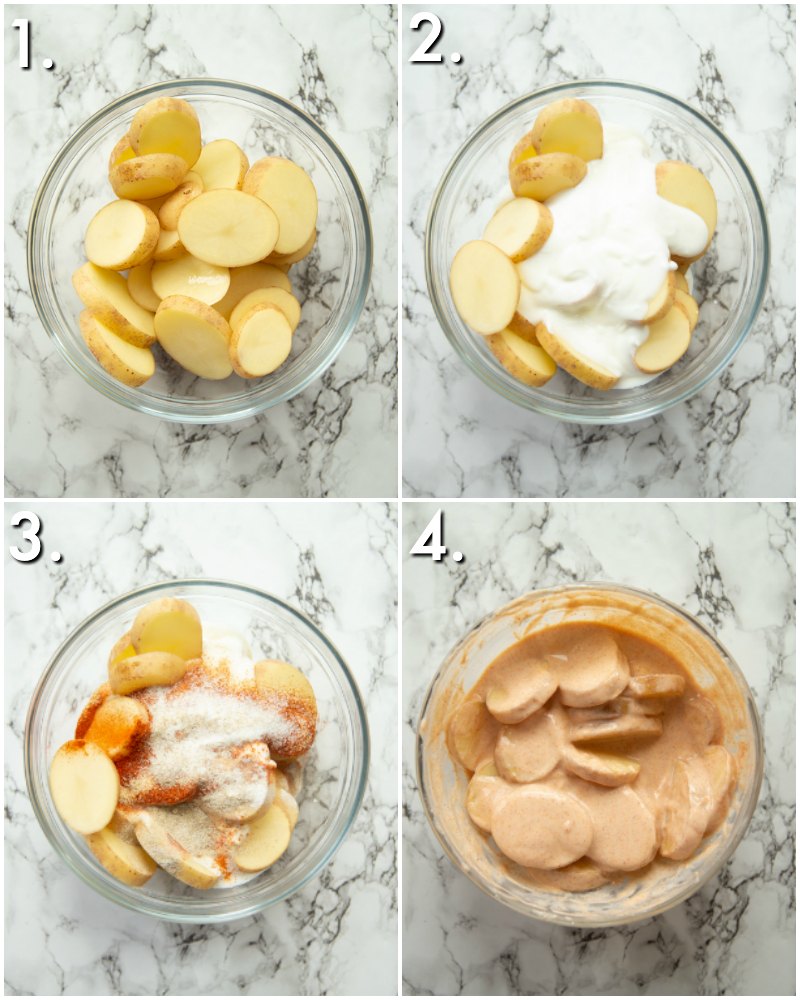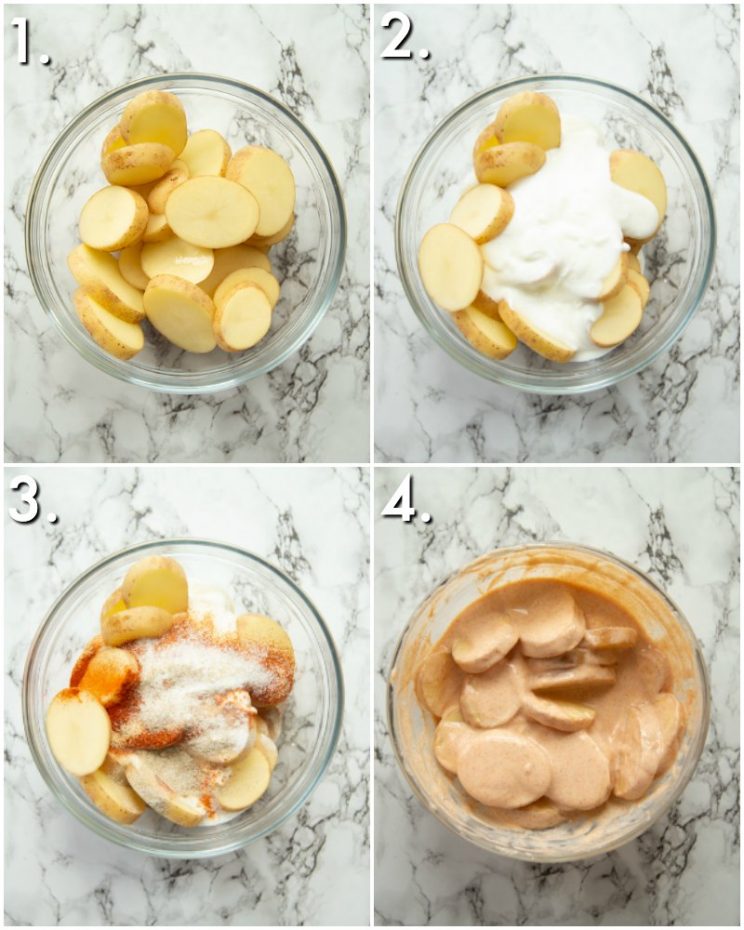 EXTRA Crispy Potatoes
When it comes to dredging the potatoes through the flour, a sneaky tip that results in ultra crunchy fried potatoes is to add in a little bit of the marinade.
Okay, stick with me here. By mixing through a little bit of the buttermilk marinade into the flour you start creating lots of flaky bits. These flaky bits, when attached to your potatoes and deep fried, are what give you that classic fried chicken texture.
Another tip for getting that ultra crispy exterior is to add in a little baking powder. When subjected to the hot oil, baking powder causes a chemical reaction which results in lots of tiny bubbles. Those tiny bubbles are what makes the batter nice and airy/crispy.
Process shots: Add flour to a bowl (photo 1), add seasoning (photo 2), mix (photo 3) collect marinade (photo 4) stir into flour (photo 5) coat potato (photo 6).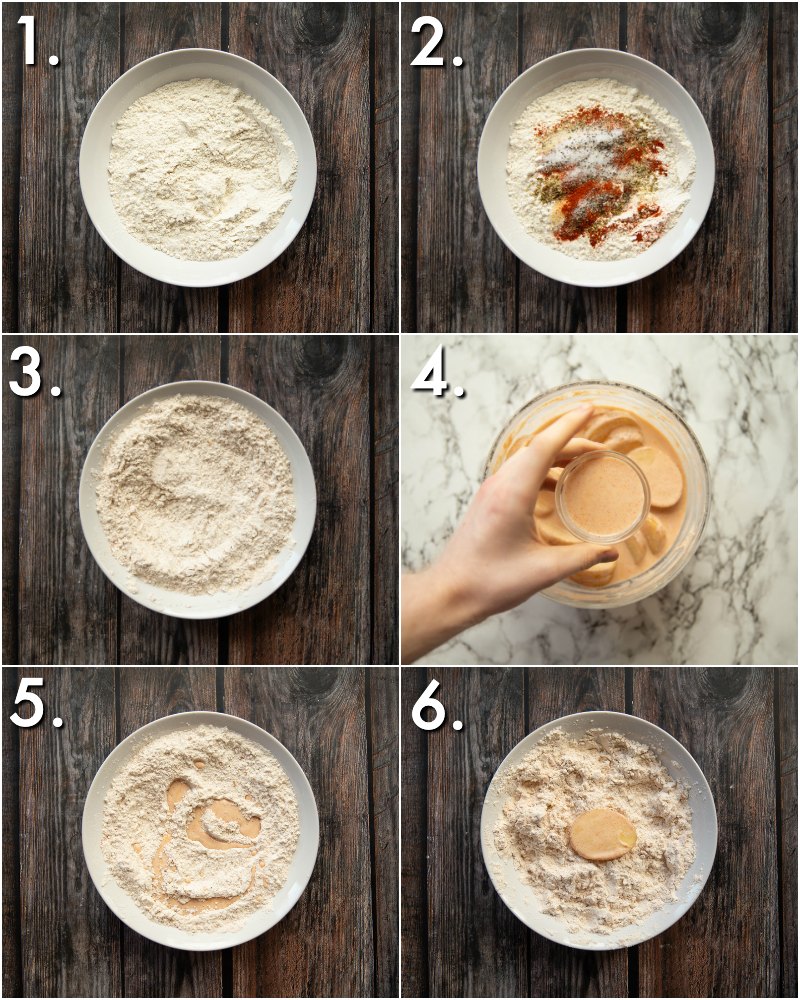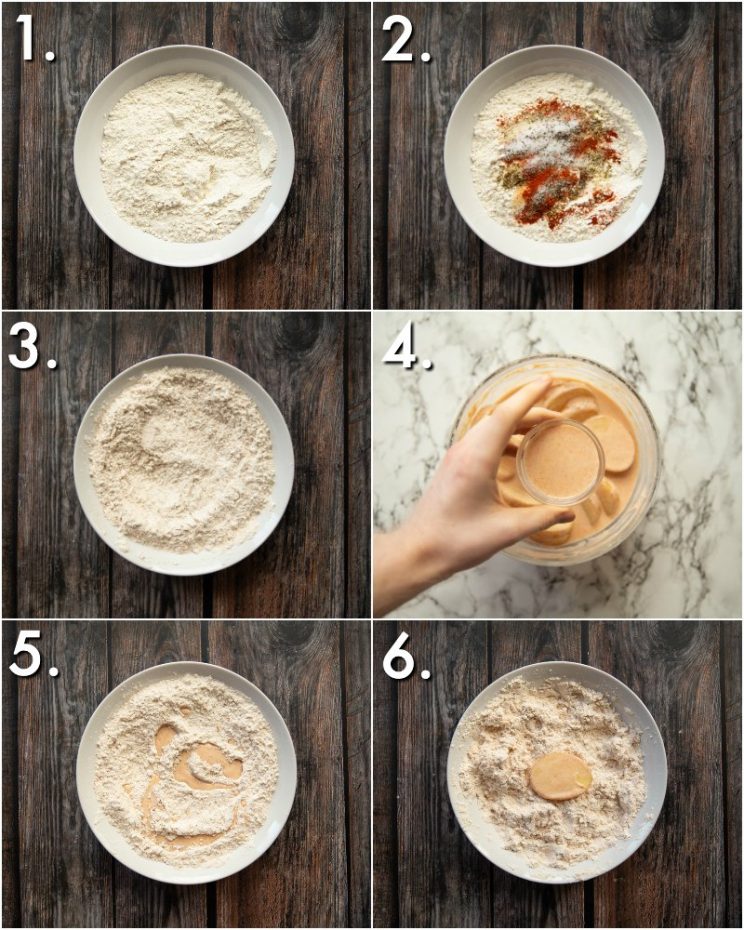 Deep Fried Potatoes
Sorry folks, baking just ain't gonna give you that classic chicken crust. Deep frying all the way here!
The main thing I'd mention here is make sure you fry in batches. This will not only ensure that the potatoes don't stick together, but will also ensure the temperature of the oil doesn't drop too much.
What oil to use?
You want to use an oil with a high smoking point, which essentially means it can go to high temperatures without turning into smoke. You also want a neutral flavoured oil. We've already injected enough flavour into the chicken, so no need for a flavoured oil too. For this reason I use vegetable or sunflower oil.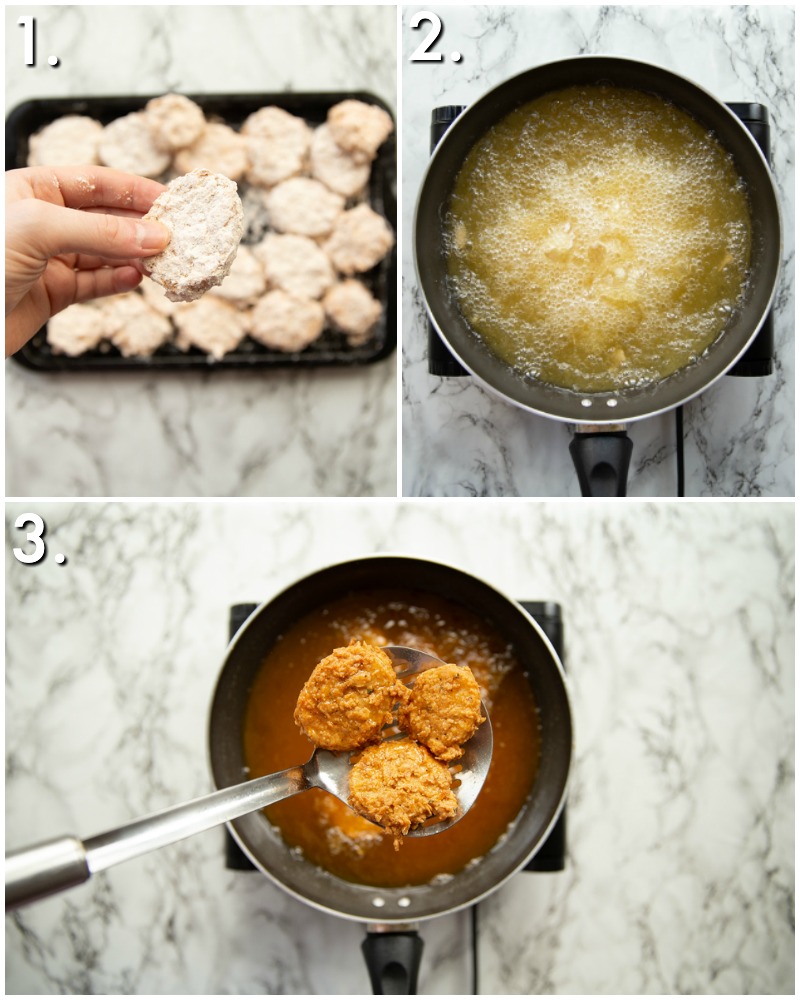 Serving Chicken Fried Potatoes
Once you've fried the potatoes I highly recommend sprinkling both sides with a good pinch of salt. This will not only season the batter further, but it will also draw out the last bit of moisture (just for extra crispiness).
From there, another non-negotiable is serving these with a dip. Here I serve them with a sour cream and chive dip, but I've also served them with sriracha mayo and blue cheese dip in the past – both of which go beautifully. Do check out all my delicious dips for more inspiration though!
And there we have it! All my top tips for ultra delicious chicken fried potatoes!
If you're after more chicken fried recipes then check out my Buttermilk Fried Chicken and Spicy Fried Chicken Tenders!
For more delicious potato recipes check out these beauties too:
Crispy Potato Recipes
Alrighty, let's tuck into the full recipe for these chicken fried potatoes shall we?!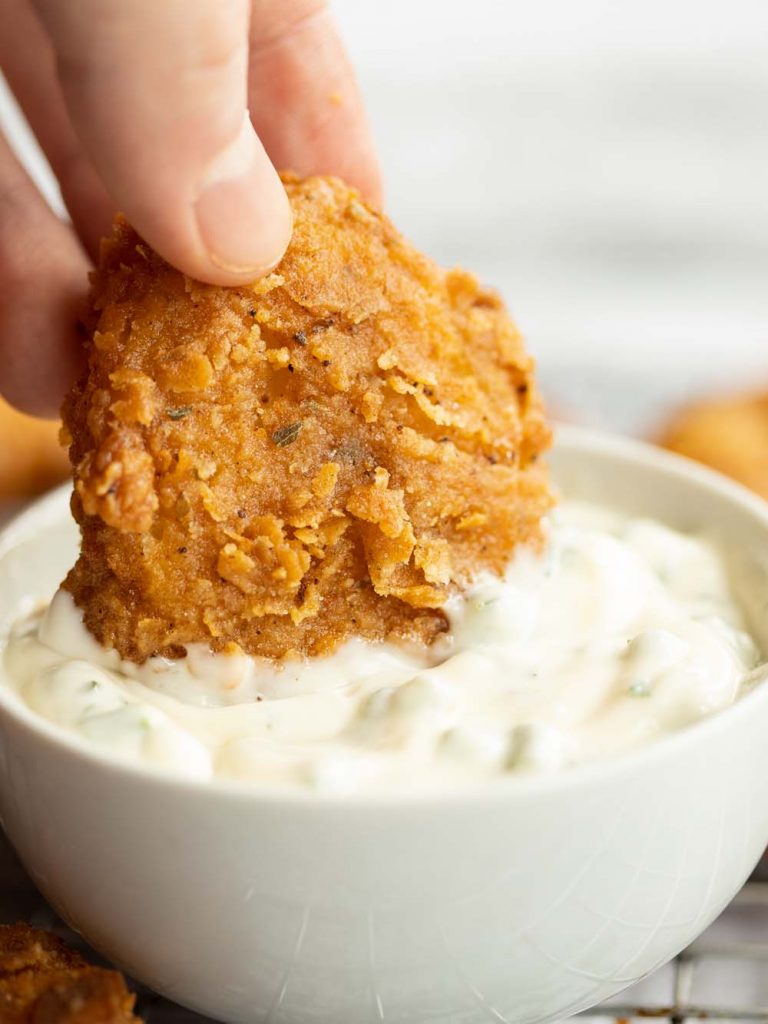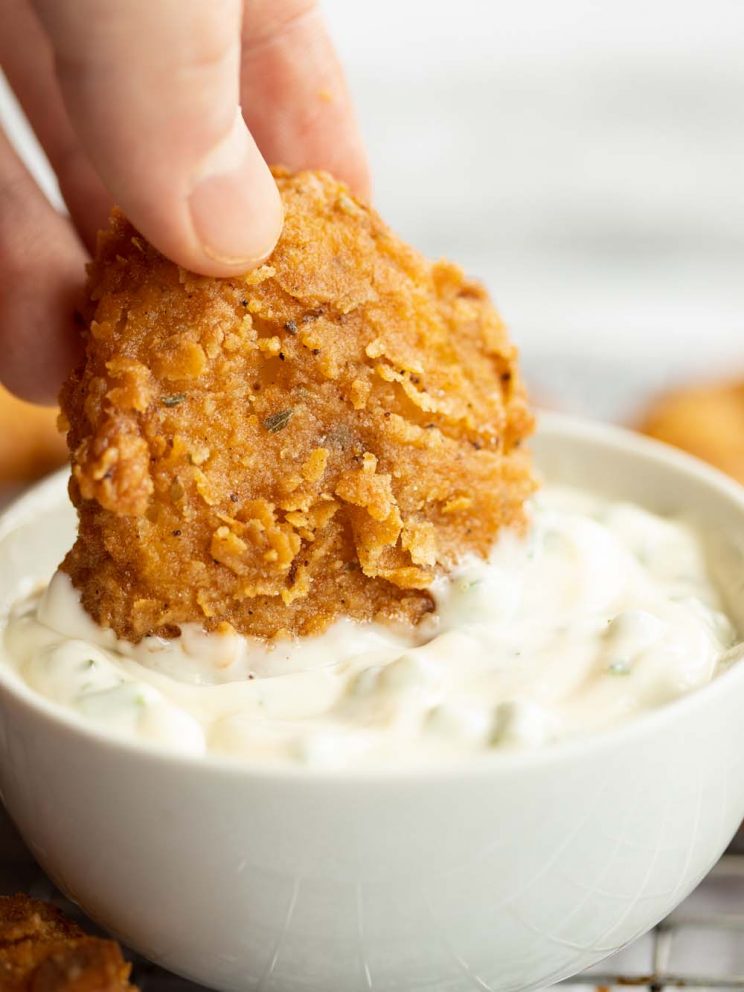 How to make Chicken Fried Potatoes

 (Full Recipe & Video)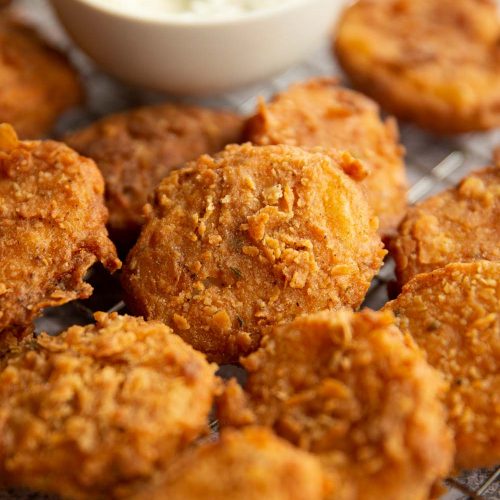 Chicken Fried Potatoes
These Chicken Fried Potatoes take deep frying potatoes to a whole new level - the same delicious flavours of fried chicken just using potatoes!
Print
Pin
Rate
Servings (click & slide):
5
Calories per serving:
345
kcal
Cost per serving:
£2.50 / $3
Equipment:
Medium Sized Bowl & Cling Film (for marinating)

Large Bowl (for dredging)

Wire Rack & Paper Towels

Large Deep Pot & Slotted Spoon (for deep frying)

Kitchen Thermometer

Sharp Knife and Chopping Board
Ingredients (check list):
1lb / 500g

Russets/Maris Pipers, sliced into disk around 1/4" thick
Vegetable Oil, for deep frying (see notes)
Marinade
1 1/4 cups / 300ml

Buttermilk (see notes)

1

tsp

Salt

1/2

tsp EACH:

Paprika, Cayenne Pepper, White Pepper, Onion Powder, Garlic Powder
For Dredging
1 1/2 cups / 225g

Plain/All Purpose Flour

2

tsp

Paprika

1

tsp EACH:

Oregano, Baking Powder, Salt, Onion Powder, Garlic Powder plus more salt to serve

1/4 - 1/2

tsp

Cayenne Pepper

1/4

tsp

Black Pepper
Instructions:
In a medium sized mixing bowl combine 1.25cups/300ml buttermilk with 1 tsp salt and 1/2 tsp paprika, cayenne pepper, onion powder, garlic powder & white pepper. Add in potatoes and stir with a spatula to completely coat. Leave to marinate in the fridge for AT LEAST 30mins, the longer the better though (up to 3 hours).

Meanwhile in a large bowl combine 1.5cups/225g flour with 2 tsp paprika, 1 tsp baking powder, salt, oregano, onion powder & garlic powder, 1/4-1/2 tsp cayenne pepper and 1/4 tsp black pepper. Scoop out 3 tbsp of the marinade and stir into the flour until lots of little lumps form. This will give you those flaky/crunchy parts.

One by one, thoroughly coat the potatoes in the flour. You really need to press the flour into the potato and use the excess buttermilk to form those flaky bits. That's what will give you the crunch. Place on a wire rack to one side and repeat with remaining potatoes.

Heat up 3-4cups/750ml-1litre vegetable oil in a large deep pot to 175C/350F. In batches, use a slotted spoon to gently lower the potatoes into the oil. Immediately separate them if they begin to stick, then leave to fry for 7-8mins or until golden and crispy. Timings will depend on size and thickness of potato, how long you marinated for and how much flour attached, so just be vigilant (they will continue cooking slightly as they rest). Remove and place on wire rack with paper towels underneath (don't add straight to paper towels or you run the risk of the outside steaming/going soggy). Repeat with rest of potatoes.

Once they're fried, sprinkle both sides with a little salt. This is essential not only to season and bring out the flavours, but it'll also draw out the final bits of moisture from the batter. Serve with you favourite dip (suggestions in notes).
Notes:
a) Buttermilk - You'll find this in nearly all mainstream supermarkets/grocery stores, but if for whatever reason you can't find it I recommend either of the following:
3/4 cup plain unsweetened yogurt mixed with 1/4 cup milk to thin out.
1 cup milk mixed with 1 tbsp acid (white vinegar or lemon juice). Mix together and let it sit for 10mins before mixing in the potato. This is a slightly thinner solution than buttermilk, so if you're doing this just make sure you give it a thorough dredge through the flour.
b) Oil - You'll need an oil with a high smoking point such as vegetable or sunflower oil. Olive oil is not suitable, unless you want to smoke your house out! Highly recommend a thermometer to measure the oil temp.
c) Marinating Times - Leaving the potatoes the marinate will help inject some much needed flavour/salt into them, so I recommend at least an hour or so. Just go careful, after 3 or 4 hours they start the brown slightly.
d) Cooking Times - If you're not confident with deep frying I recommend just starting with one. If you find the batter cooks before the potato softens or vice versa just adjust the heat accordingly.
e) To serve - Dipping sauce is essential. My faves are Sour Cream and Chive (what I used to film), Sriracha Mayo and Blue Cheese Sauce. Check out all my Delicious Dips for more inspo!
f) Inspiration - Recipe inspired by Spoon Fork Bacon!
g) Calories - Very hard to calculate but this is based on 1/3cup buttermilk staying attached, 1 cup flour attaching and 1 tsp oil per potato soaked up (approx 22 potato slices). No extra salt or dip included. Per serving (5 servings).
Your Private Notes:
Nutrition:
Nutrition Facts
Chicken Fried Potatoes
Amount Per Serving
Calories 345
Calories from Fat 185
% Daily Value*
Fat 20.61g32%
Polyunsaturated Fat 0.567g
Monounsaturated Fat 2.366g
Cholesterol 1mg0%
Sodium 967mg40%
Potassium 460mg13%
Carbohydrates 37.02g12%
Protein 5.25g11%
Vitamin A 622IU12%
Vitamin C 5.4mg7%
Calcium 38mg4%
Iron 2.22mg12%
* Percent Daily Values are based on a 2000 calorie diet.
Nutrition is based on the absence of salt unless stated as a measurement in the ingredients. Cost is worked out based on ingredients bought from UK supermarkets, then divided by the number of servings. In both instances these values are just for guidance. Please check out my FAQ Page for more info.
---
If you loved this Fried Potatoes Recipe then be sure to Pin it for later! Already made it or got a question? Give me a shout in the comments and pick up your free ecookbook along the way!