These fried chicken burgers are ultra crispy and absolutely bursting with flavour. Better still, they couldn't be easier to make!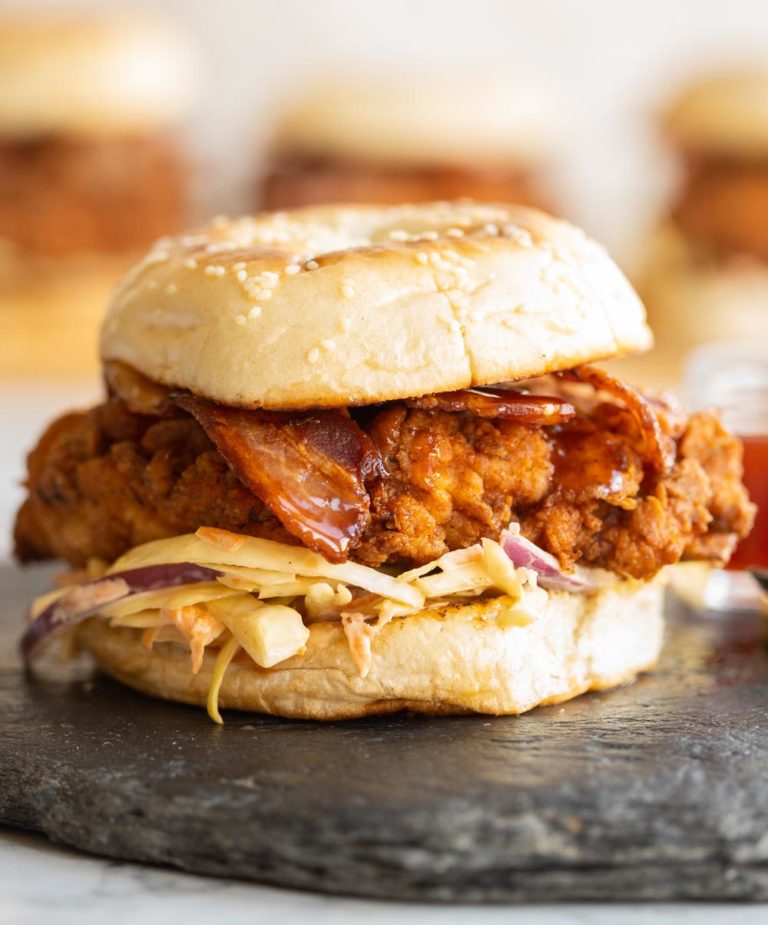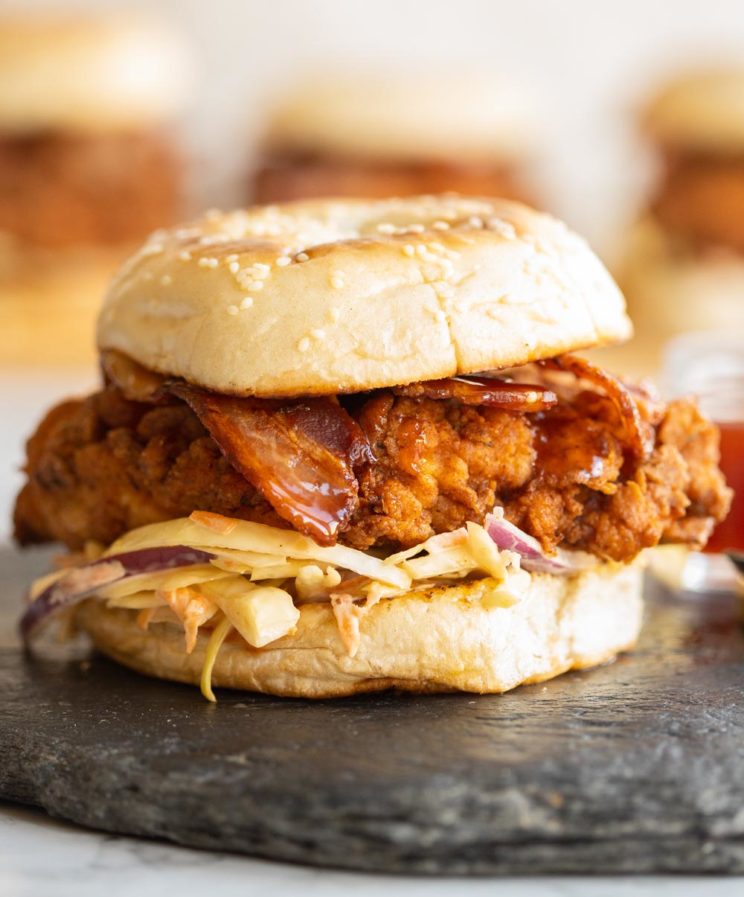 The ULTIMATE KFC Style Chicken Burger!
For real though, is there anything better in life than wrapping your chops around a burger from KFC when you're beyond hungry? No is the answer. No is the ONLY answer. However, I'd like to throw my 2 pence in and suggest this homemade version may, just may, be more satisfying than any chicken burger you've ever tried (please don't sue me KFC). Here's why you're gonna LOVE these chicken burgers:
Whilst frying up chicken may seem like a hassle, I promise you it's really straight forward. Even if you're not experienced with deep frying. Follow me…
Chicken Breast Burger
For this recipe we're going with boneless skinless chicken breast. Most chicken burger recipes you'll find use breast, mainly because they're larger than thighs. It gives you more of that classic flavour too, thighs tend to be used more in fried chicken sandwiches or more Asian dishes.
Pound that chicken!
I mean pound the chicken breast. Not an actu… nevermind. Pounding the chicken serves two purposes:
It ensures the breast is even thickness, which will ensure the chicken cooks evenly.
It tenderises the meat and reduces the risk of it coming out tough & chewy.
You can use a mallet, heavy pan or a rolling pin (as I use here). Just cover with cling film and pound until the breasts are even thickness.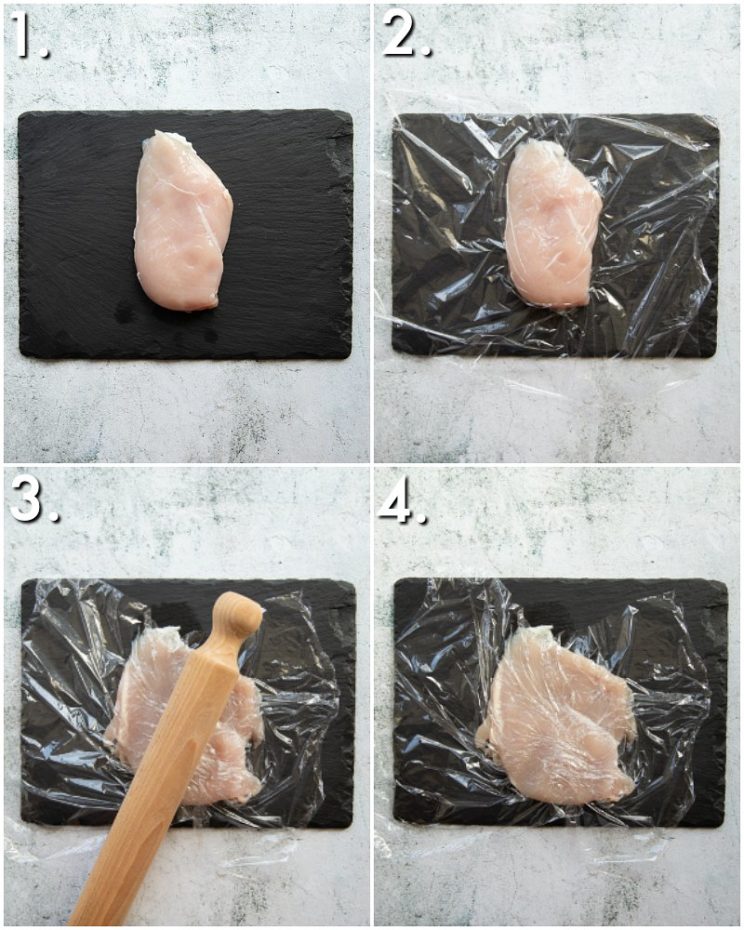 Buttermilk Marinated Chicken
Buttermilk is absolutely KEY to the deliciousness of these burgers. Marinating chicken in buttermilk tenderises the meat and acts as a great gateway to inject the spices into the chicken.
How long to marinate the chicken?
Ideally you're looking for 4 hours, over night is even better. Having said that just marinate for as long as you have time for. Even just 30mins makes the world of difference!
Just mix your spices in with the buttermilk, mix in the chicken then tightly cover and rest in the fridge. Once you've marinated the chicken, it's important to get the chicken out the fridge 30mins before needed. You want the chicken close to room temp before it's fried. Frying cold chicken will cause it to seize up and become tough/chewy.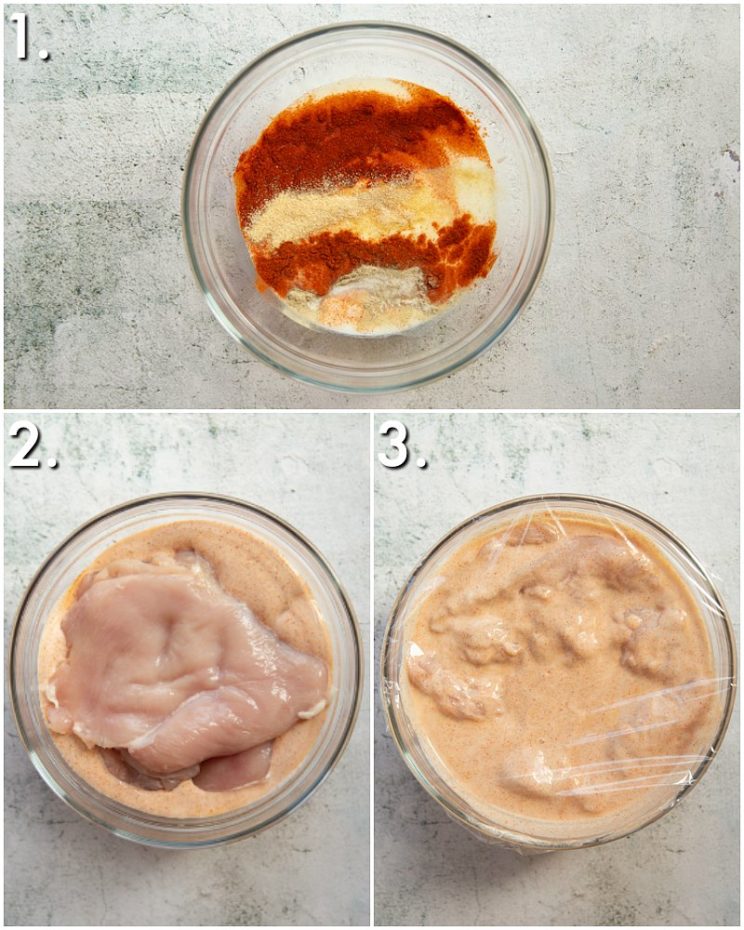 Dredge that chicken!
Alrighty, chicken sufficiently marinated, let's talk dredging. For this stage all you'll need is a second round of spices, baking powder (reacts with the oil and causes extra bubbles to ensure the batter turns out extra crispy) and flour.
My two main tips at the dredging stage are:
Ensure you completely blend the spices in the flour to ensure they're evenly distributed across the chicken.
Really take the time to ensure every nook and cranny of the chicken is dredged with flour. Really press it into the chicken to ensure it's all completely coated.
Once you've dredged, give the chicken a good shake to get rid off any excess flour, then place to one side.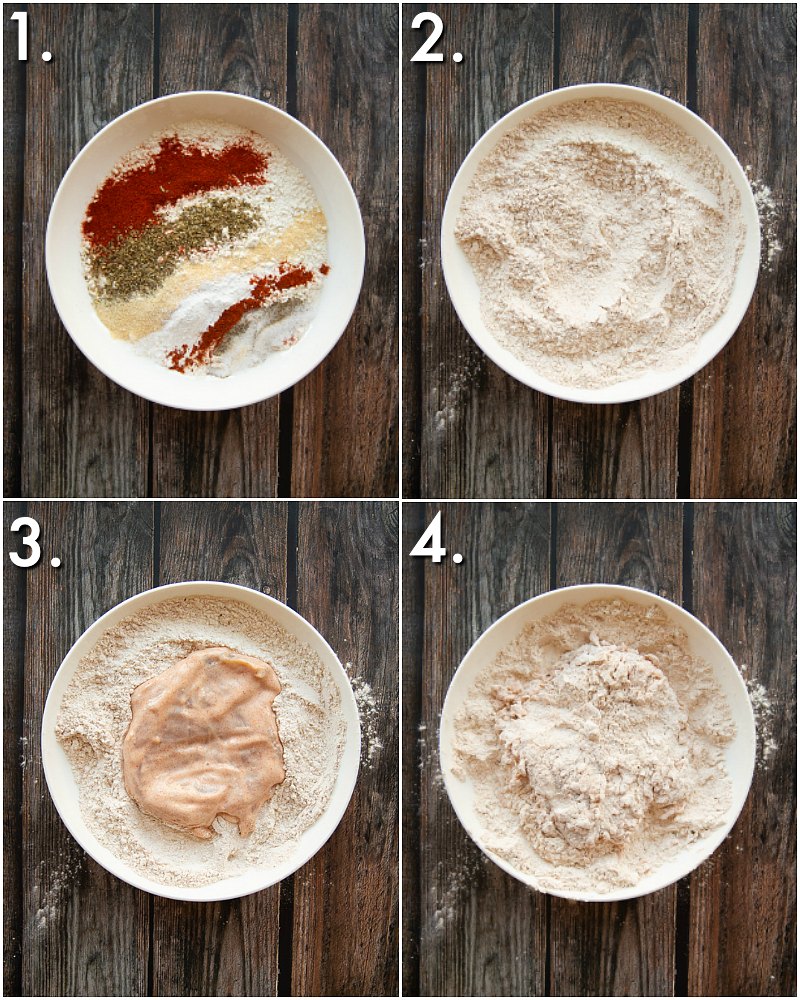 Deep Fried Chicken Burger
Please don't be put off by this stage. It's a fairly fool proof step and because you've pounded the chicken, it's fairly quick as well. Let's hit some questions straight off the bat:
How hot should the oil be?
I highly recommend getting a kitchen thermometer for deep frying. You want the oil to get to 180C/356F. Once the chicken hits the oil the temp will drop, which is fine, but you'll want to keep it at a steady 165C/300F. After each batch get it back up to 180C/356F.
What's the best oil to use?
You'll want to use an oil with a high smoking point like vegetable/sunflower/rapeseed oil. Olive oil is not suitable for deep frying as it has a low smoking point.
How long to deep fry the chicken?
This will entirely depend on the thickness and size of your chicken, but as a rough guide you're talking around 4-5mins, then flip and continue for another 2-3mins until fully golden and crisp. But again, this will depend on the size of your chicken. In all cases you want the internal temp of the chicken to reach 75C/165F. Also take into consideration the chicken will continue to cook slightly once removed from the oil.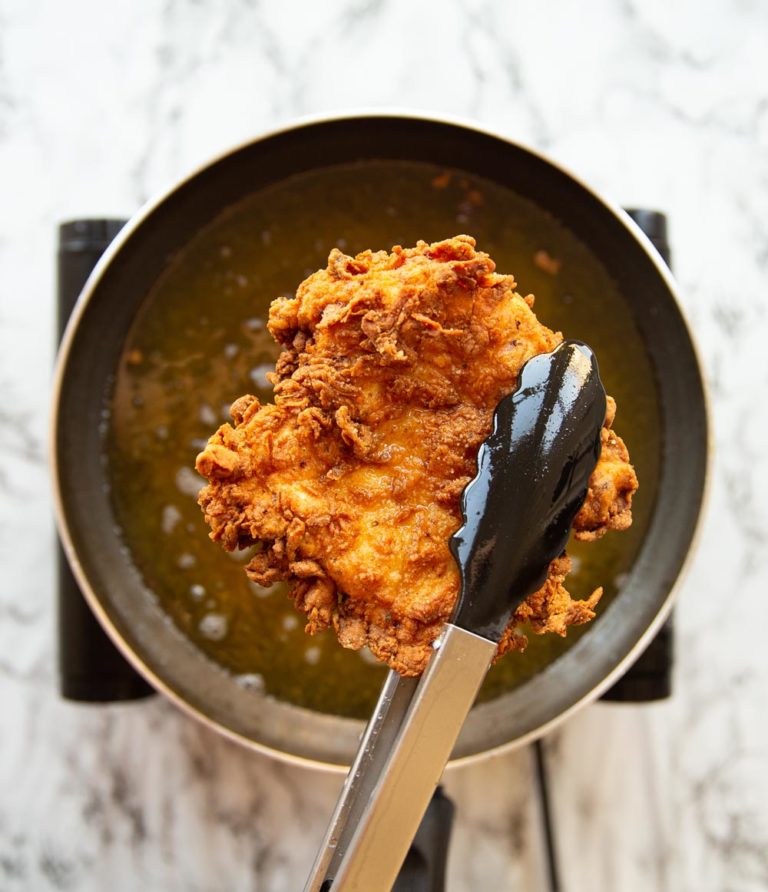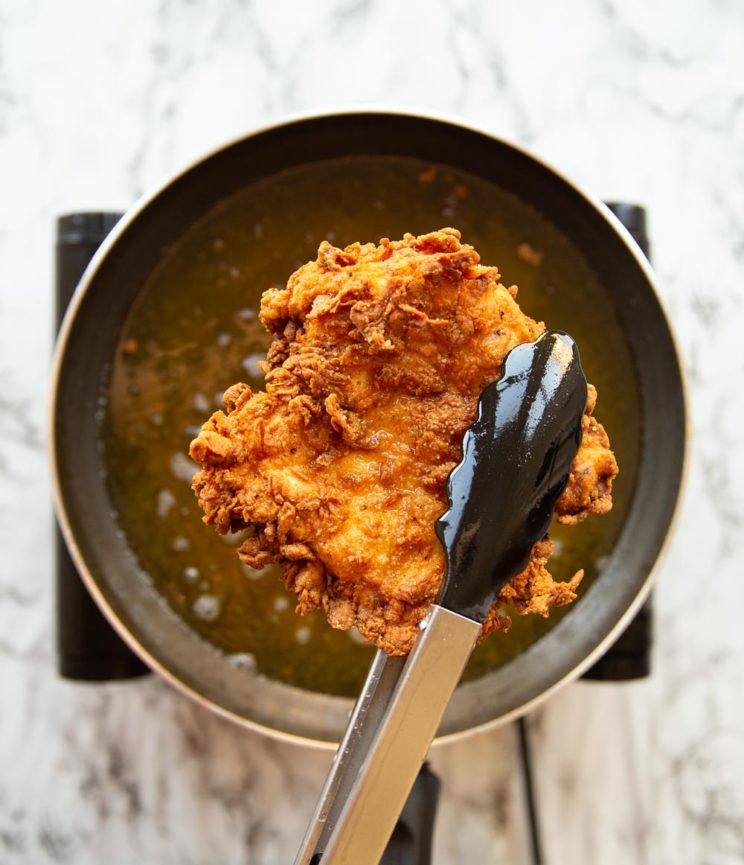 Ultra Crispy Chicken!
From there, you'll want to rest your chicken on a wire rack. I don't recommend placing on paper towels, I actually find this causes the chicken to steam into the paper towel and dampen the batter.
Top Tip – For EXTRA crispiness sprinkle a pinch of salt over the chicken when it's fresh out the fryer. This will draw out any final bits of moisture from the batter.
Alrighty, time to build a burger (build a bear you were so last year..) Here's the usual suspects in my chicken burgers:
Chicken Burger Toppings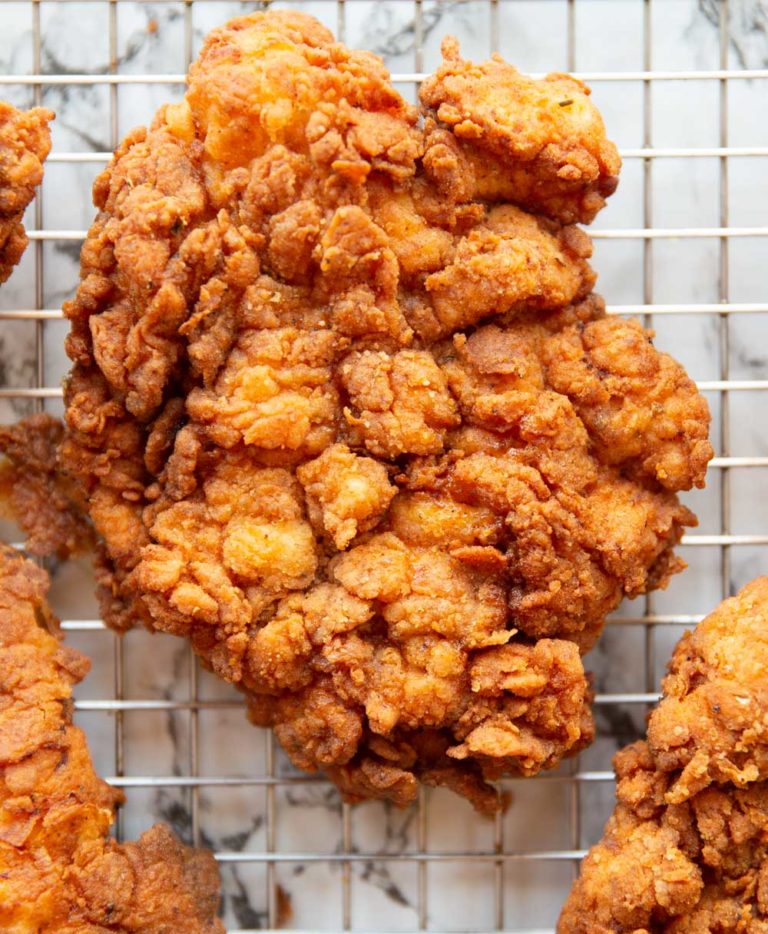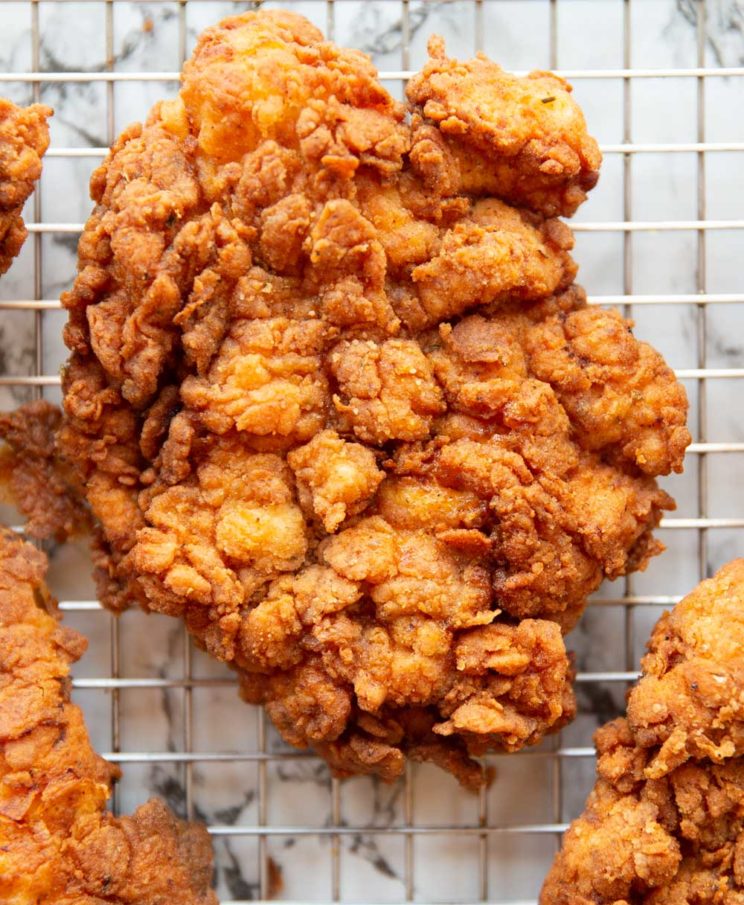 What to serve with chicken burgers?
Honestly, these are pretty intense by themselves. However if you're looking for a few nibbles to go along side check out these:
If you're looking for similar recipes check out these beauties too:
Alrighty, let's tuck into the full recipe for these crispy chicken burgers shall we?!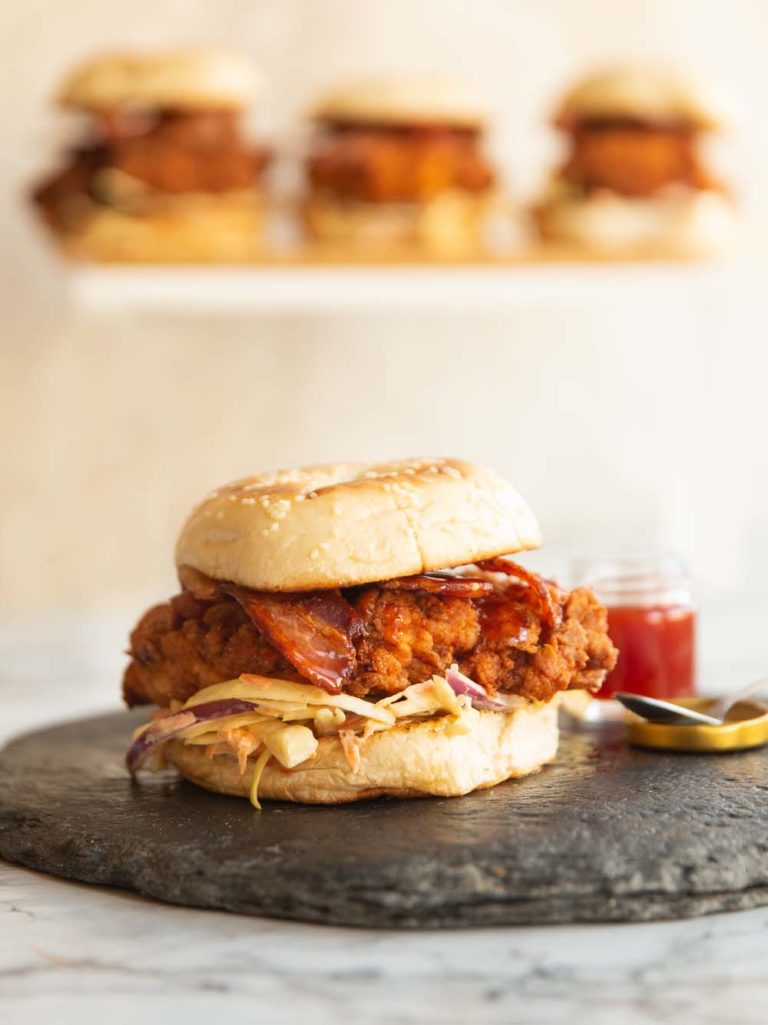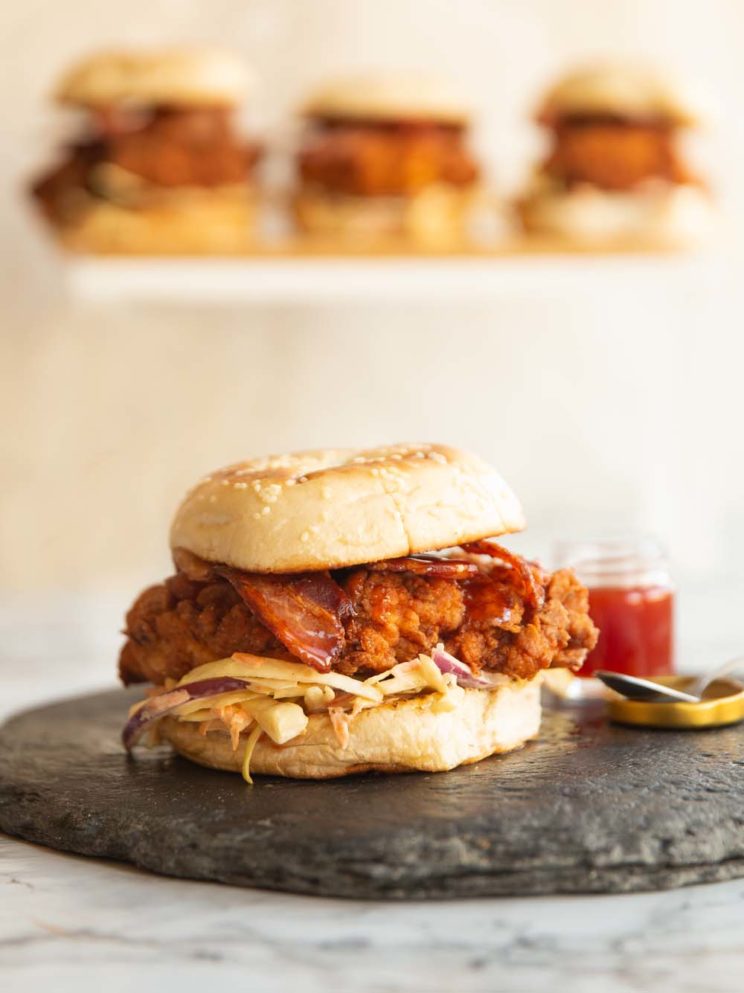 How to make Homemade Chicken Burgers

 (Full Recipe & Video)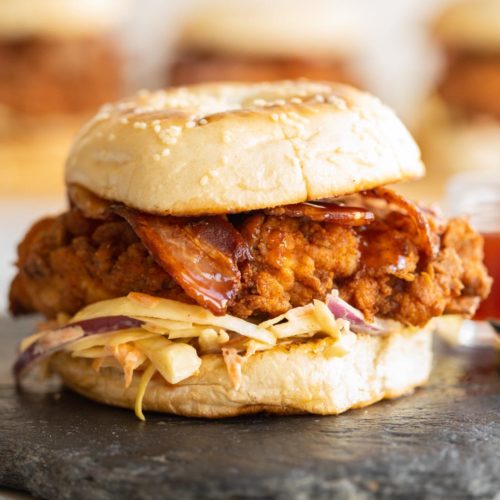 Crispy Chicken Burgers
These fried chicken burgers are ultra crispy and absolutely bursting with flavour. Better still, they couldn't be easier t0 make! Check recipe for marinating times.
Print
Pin
Rate
Share by Text
Servings (click & slide):
4
Calories per serving:
539
kcal
Cost per serving:
£4 / $5
Equipment:
Cling Film & Rolling Pin or Mallet (for pounding chicken)

Large Pot & Tongs (for deep frying)

Large Deep Bowl (for marinating)

Large Shallow Bowl or Curved Tray (for dredging)

Sharp Knife & Chopping Board

Cooling Rack

Kitchen Thermometer

Small Pot (for honey/sriracha)

Paper Towels
Ingredients (check list):
Burger
4

Boneless Skinless Chicken Breasts (see notes)

1 cup

Coleslaw or as needed

8-12

rashers of

Bacon, cooked to preference (2-3 per burger)
Honey + Sriracha (50/50 ratio, quantity to preference)

4

Burger Buns, toasted

3-4 cups / 750ml-1litre

Vegetable Oil (see notes)
Wet Mix
1 1/4 cups / 300ml

Buttermilk

1

tsp EACH:

Paprika, Salt

1/2

tsp EACH:

Onion Powder, Garlic Powder, White Pepper, Cayenne Pepper
Dry Mix
1 3/4 cups / 250g

Plain/All Purpose Flour

2

tsp

Paprika

1

tsp EACH:

Baking Powder, Oregano, Salt

1/2

tsp EACH:

Onion Powder, Garlic Powder, Cayenne Pepper

1/4

tsp

Black Pepper
Instructions:
Lay chicken breasts on a flat surface and cover with a sheet of cling film (pinch around the edges so no juices escape). Pound with a rolling pin or mallet until even thickness, but not so much they start to tear apart. You're looking for around 3/4" thickness. If the breasts are particularly long you can cut off the very end of the tail to make them more circular and burger shaped (keep in mind they will also shrink slightly when frying).

In a large bowl, combine 1.25cups/300ml buttermilk with 1 tsp paprika & salt and 1/2 tsp onion powder, garlic powder, cayenne pepper and white pepper. Place in your chicken breasts, use tongs to fully coat then tightly cover with cling film and marinate in the fridge. I highly recommend a minimum of 4 hours (up to overnight), but just as long as you have time for. Take the chicken out the fridge 30mins before needed to bring close to room temp (see notes).

In a large shallow bowl (or curved tray) combine 1.75cups/250g flour with 2 tsp paprika, 1 tsp oregano, baking powder & salt, 1/2 tsp onion powder, garlic powder & cayenne pepper and 1/4 tsp black pepper. One by one coat the breasts in the flour, making sure you completely coat each time. Really get in all the cracks and crevices of the chicken. Place to one side.

In a large pot or deep pan heat up your oil to 180C/356F. In batches of 1-2 (depending on pot size), carefully place your chicken in the hot oil. The temp will likely drop, and that's fine, but make sure the temp stays at around 165C/300F as the chicken fries. Depending on the size and thickness of your breasts you're looking at around 4-5mins on one side, then flip and continue frying until golden. The internal temp of the chicken should reach 75C/165F. Carefully remove and rest on wire rack with paper towels underneath (don't place directly on paper towel or they'll lose crispiness). Bring oil temp back up to 180C/356F between each batch.

Stack burgers in the following order: bottom bun, coleslaw, chicken, bacon, honey sriracha, top bun. Enjoy!
Notes:
a) Chicken - You're looking to get breasts around 7oz/200g each. You can substitute boneless skinless thighs, they'll just obviously be slightly smaller, so adjust the cooking time accordingly (same temps). Important to make sure you don't fry the chicken if it's still cold, otherwise it'll seize up when it hits the oil and come up slightly tough/chewy - hence bringing it out the fridge 30mins before needed.
b) Coleslaw - Highly recommend a homemade coleslaw (I use the same recipe for my BBQ Chicken & Coleslaw Wraps). I also discuss make ahead options in that post too!
c) Honey Sriracha - This really is as simple as combining runny honey and sriracha. I usually go for a 50/50 ratio (I love spice) but you can adjust to your spice preference. I usually do about 1 tbsp per burger but again, just work to preference.
d) Oil - Important to use an oil with a high smoking point e.g vegetable, canola, rapeseed, sunflower etc. Please do NOT use olive oil, not suitable for deep frying.
e) calories - Only a rough estimate, very difficult to tell how much oil, flour and buttermilk is soaked up by the chicken. This is based on 1/2 cup buttermilk staying attached, all the flour, 2 tsp oil per burger and using 4 chicken breasts at 200g/7oz each. Calories only for chicken, not for toppings/bun.
Your Private Notes:
Nutrition:
Nutrition Facts
Crispy Chicken Burgers
Amount Per Serving
Calories 539
Calories from Fat 138
% Daily Value*
Fat 15.28g24%
Polyunsaturated Fat 6.42g
Monounsaturated Fat 3.586g
Cholesterol 147mg49%
Sodium 1315mg55%
Potassium 947mg27%
Carbohydrates 45.31g15%
Protein 51.99g104%
Vitamin A 915IU18%
Vitamin C 0.5mg1%
Calcium 116mg12%
Iron 3.81mg21%
* Percent Daily Values are based on a 2000 calorie diet.
Nutrition is based on the absence of salt unless stated as a measurement in the ingredients. Cost is worked out based on ingredients bought from UK supermarkets, then divided by the number of servings. In both instances these values are just for guidance. Please check out my FAQ Page for more info.
---
If you loved this Chicken Burger recipe then be sure to pin it for later! Already made it or got a question? Give me a shout in the comments and pick up your free ecookbook on the way!