Fried Cheese Balls are the perfect party snack. Using mozzarella or bocconcini balls, these easy cheesy balls of joy couldn't be easier to make!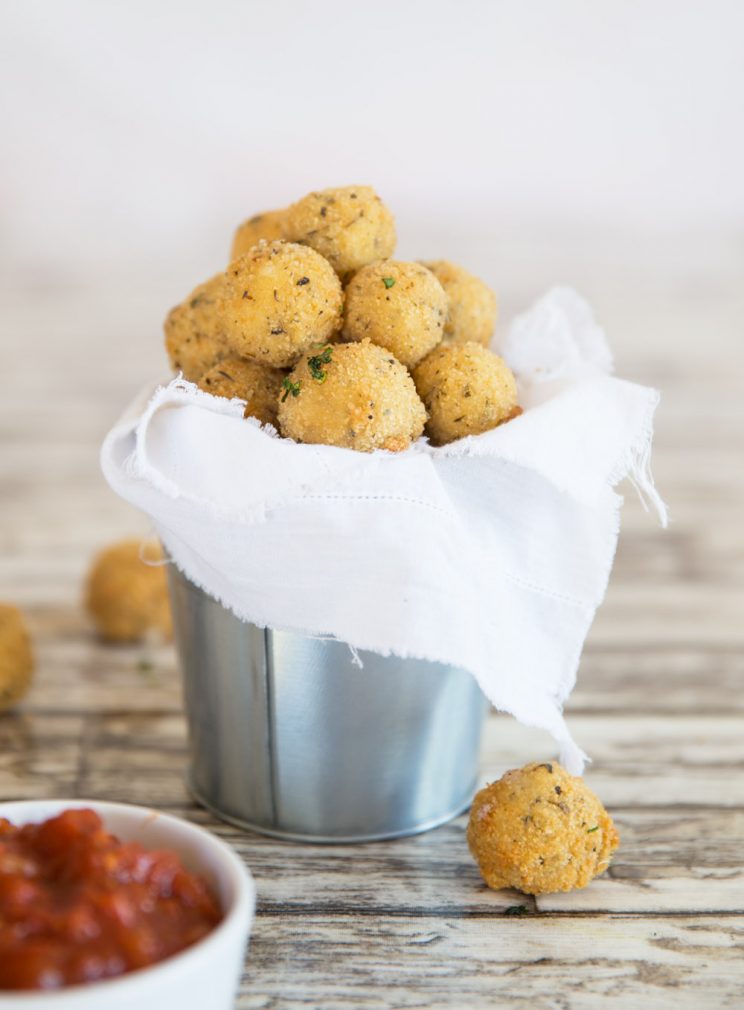 Deep Fried Cheese
Fried cheese is one of those unnecessary things in life that's way too good to ignore. Like, cheese by itself is incredible. Does it need to be coated in breadcrumbs and deep fried to be enjoyed? No. But does cheese coated in breadcrumbs and deep fried taste insanely delicious? Absolutely!
What is the best cheese to fry?
For this recipe we are going for mozzarella, specifically cherry mozzarella balls (more on that in just a sec). But there are a variety of different cheeses that deep fry well using the exact same method I'm about to show you. But here's a few I have personally tried successfully:
Goats Cheese – Gorgeous flavour, very light and airy and goes nice and creamy when fried.
Halloumi – Has a high melting point so turns nice and soft, without completely melting. (recipe)
Cheese Curds – Another popular choice and has that same kind of 'squeaky' taste to halloumi.
Cheddar – A classic and deep fries perfectly!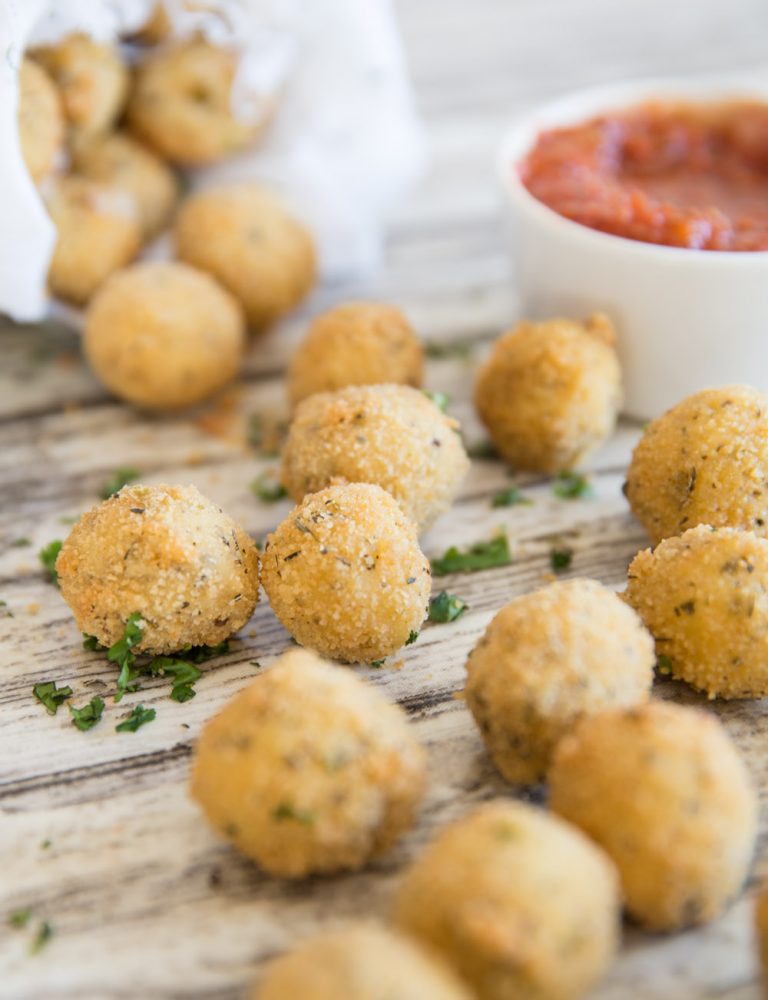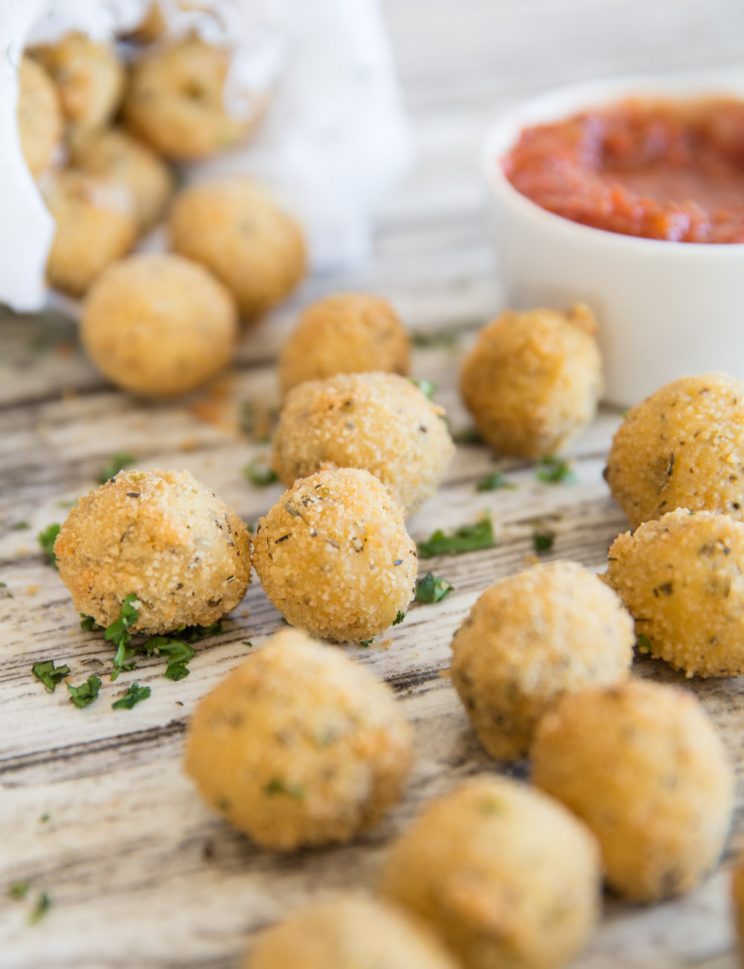 Fried Mozzarella Balls
Like I mentioned, today we're going to be deep frying mozzarella. Fried mozzarella is the classic option, it's got a nice creamy and subtle taste and gives you an awesome cheese pull.
Cherry Mozzarella Balls
These are the perfect size for frying. Not too big not too small. You should be able to find them in most supermarkets/grocery stores, but if you can't find them then opt for either of these two options:
Bocconcini – Bocconcini is more widely accessible than cherry mozzarella balls, they're also larger so feel free to sub!
Mozzarella – You can alternatively just cut up a regular mozzarella ball into chunks, they just obviously won't be as spherical.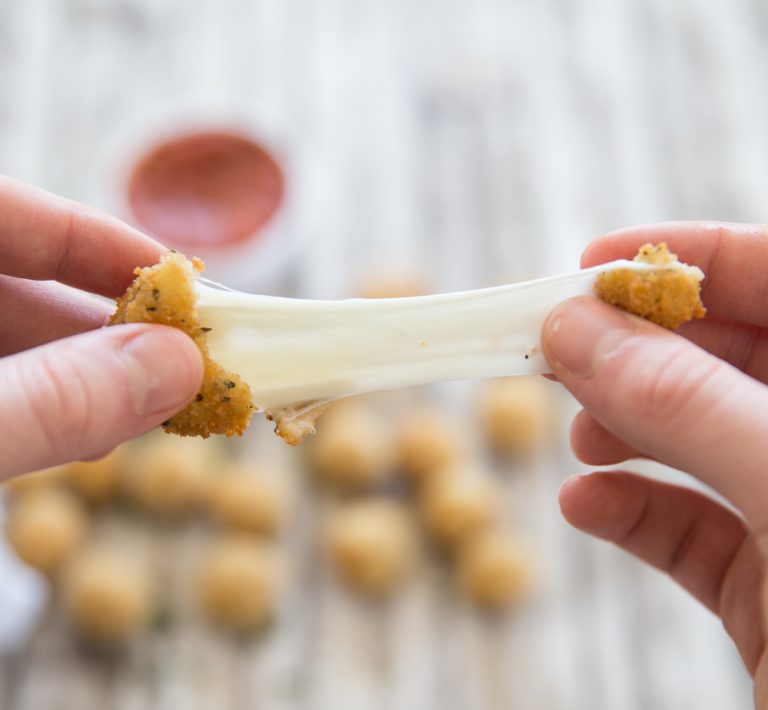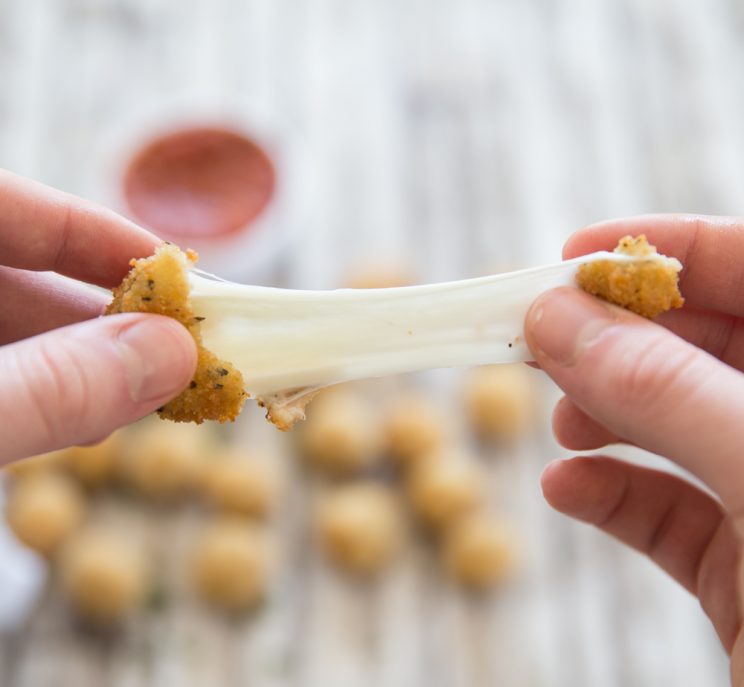 Making Fried Cheese Balls
These truly couldn't be easier to make. Even if you're not confident with deep frying, these are the perfect introduction.
Italian Breadcrumbs
For this recipe I use Italian breadcrumbs, which you'll find in a lot of mainstream supermarkets/grocery stores (subs in the recipe card). Mozzarella is quite subtle in flavour, so adding so flavoured breadcrumbs helps bring everything to life. You can use regular breadcrumbs if you wish.
Double Coating
Because mozzarella has a low melting point, I coat the balls twice, just to ensure they don't splurge out in the oil too quickly. A double coating gives a nice crispy coating, whilst allowing the cheese to go gloopy in the centre.
Oil
Important to use an oil with a high smoking point (i.e vegetable or sunflower oil). You want the oil nice and hot before the cheese balls are lowered in and something like olive oil just can't take the heat (will smoke out the kitchen).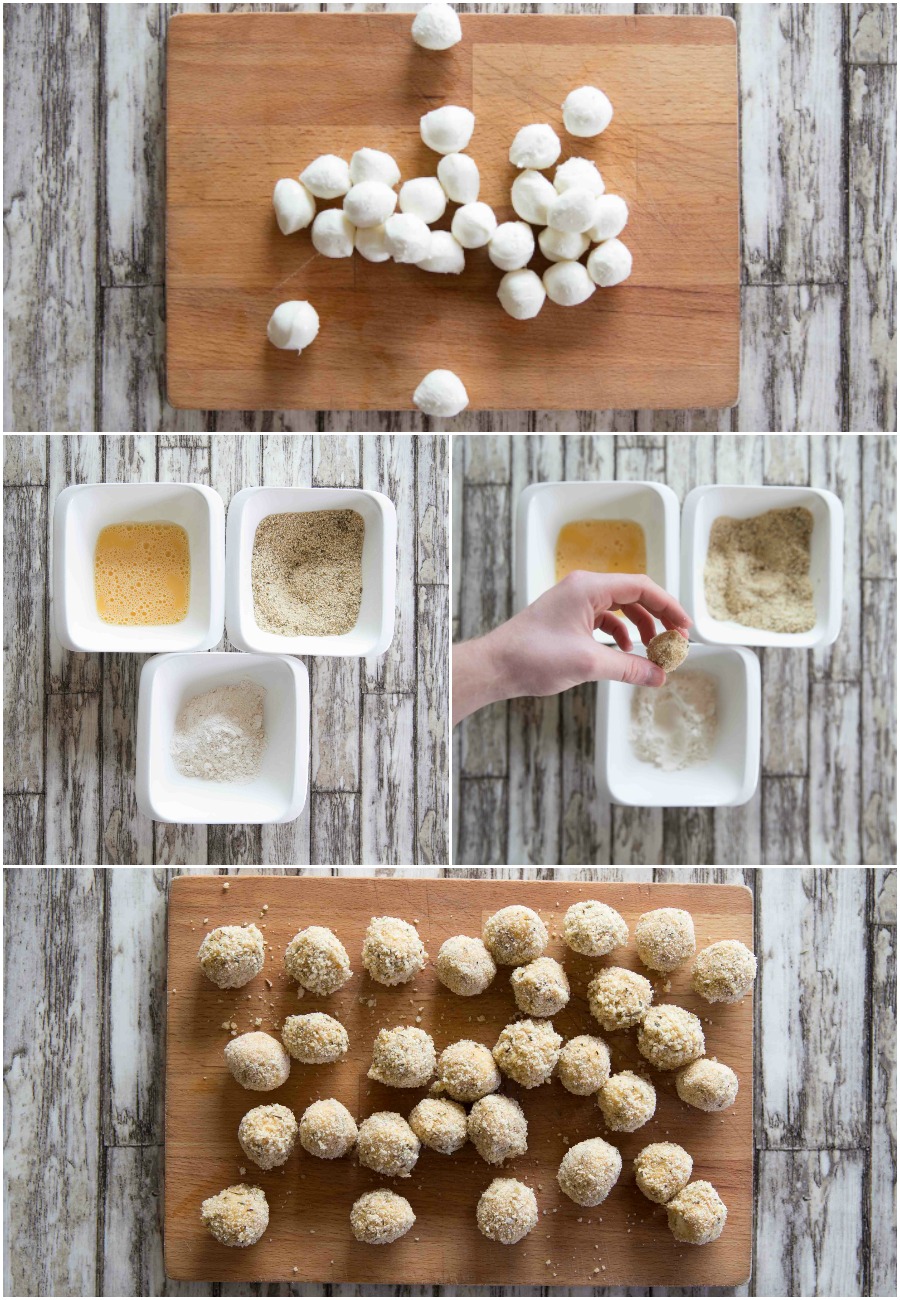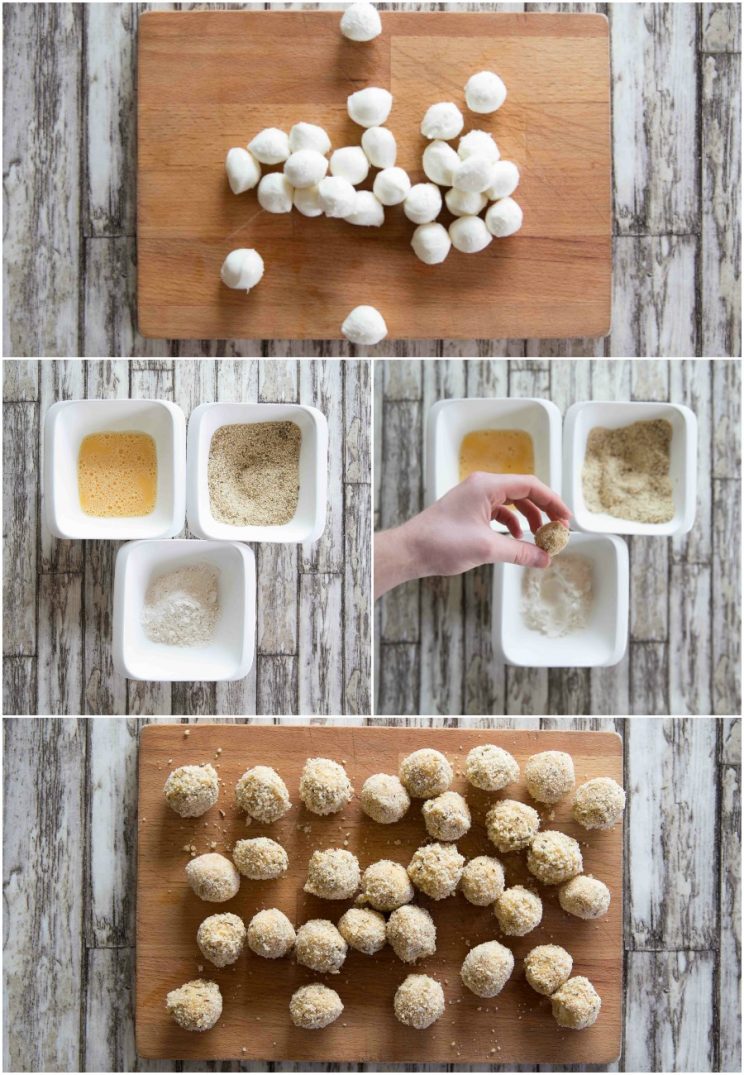 Top Tip – Breading things or making a batter come sometimes be a messy process, so to minimise mess, I use the 'wet hand dry hand' method. Use your dominant hand and plonk the mozzarella in the flour (dry hand) and drop into the egg without getting it wet. Now coat and take out with the other hand (wet hand), plonk it into the breadcrumbs and finally coat with your dry hand.
Serving Cheese Balls
Once you've deep fried them (in batches for just a few mins) allow them to cool for a few mins (or you'll lose the roof of your mouth). From there I usually serve up with a dip! Here's some dipping ideas:
If you're looking for another recipe to use up some cherry mozzarella then check out my Watermelon and Mozzarella Salad!
For similar recipes be sure to give these a ganders too:
Deep Fried Finger Food
Alrighty, let's tuck into the full fried cheese balls recipe shall we?!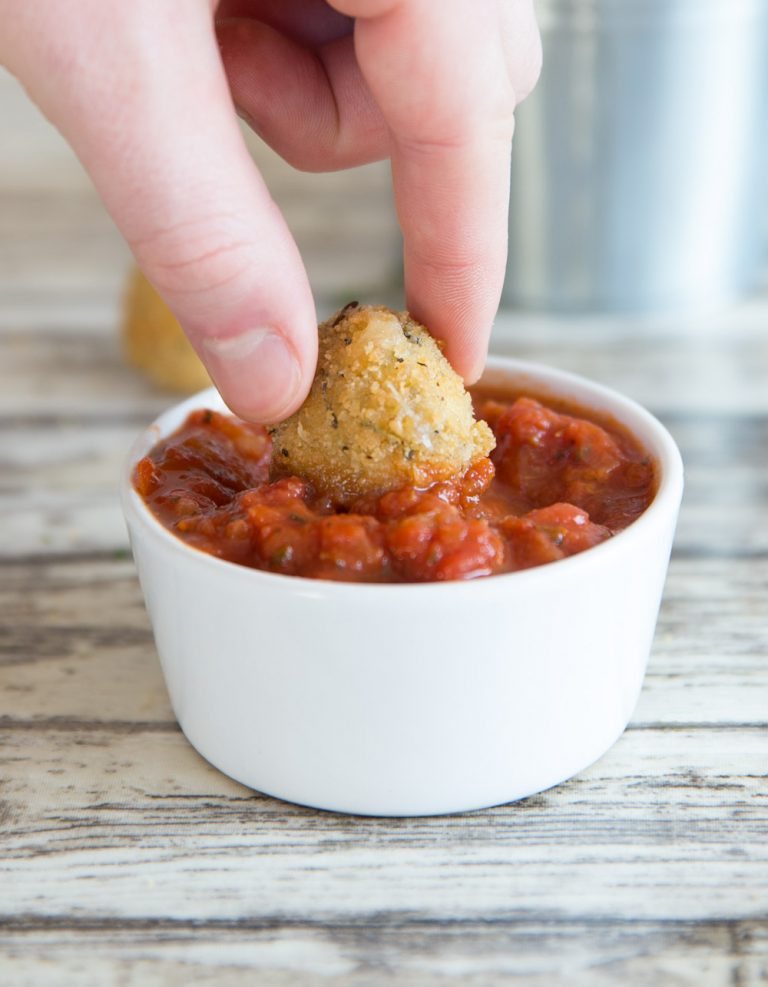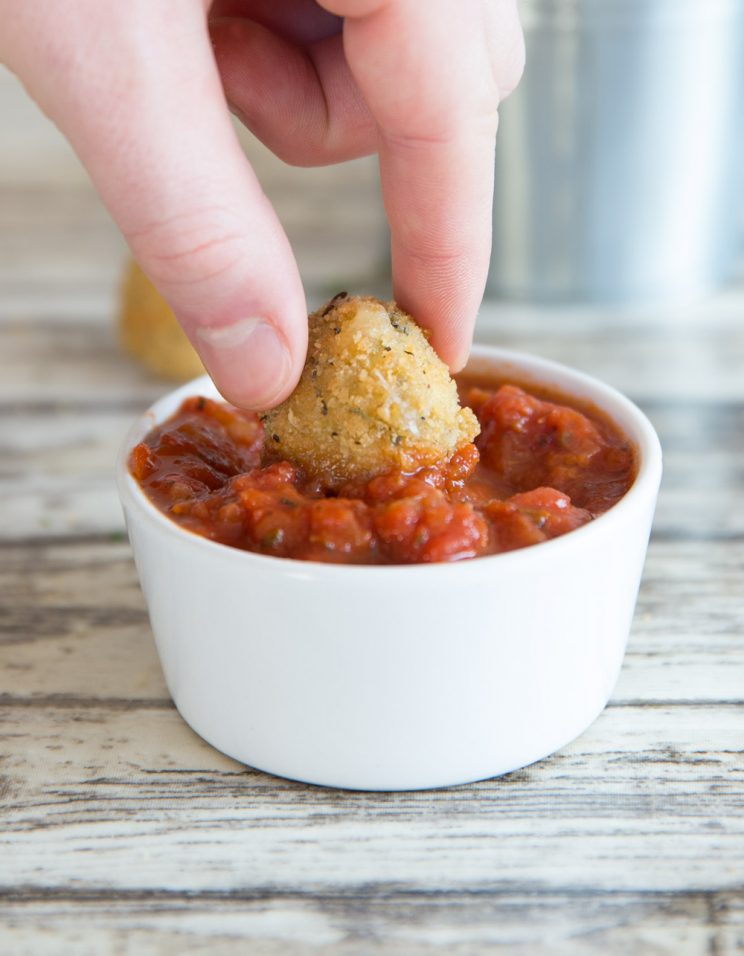 How to make Fried Cheese Balls

(Full Recipe & Video)
Fried Cheese Balls
Fried Cheese Balls are the perfect party snack. Using mozzarella or bocconcini balls, these easy cheesy balls of joy couldn't be easier to make!
Print
Pin
Rate
Share by Text
Servings (click & slide):
5
Calories per serving:
381
kcal
Cost per serving:
£1 / $1
Equipment:
Large Deep Pot or Pan (for deep frying)

Slotted Spoon

3 Medium Bowls

Paper Towels

Wire Rack

Kitchen Thermometer
Ingredients (check list):
7oz / 200g

Cherry Mozzarella Balls (see notes)

3-4cups / 750ml-1litre

Vegetable/Canola/Sunflower Oil/Rapeseed Oil

1 cup / 100g

Italian Breadcrumbs (see notes)

2

tbsp

Plain Flour, or as needed

2

large

Eggs, beaten

splash of

Milk
Salt & Pepper, to taste
Instructions:
Pat your mozzarella dry with paper towels.

Set up your stations: 1 bowl of flour with a pinch of salt and pepper, followed by 1 bowl of eggs with a splash of milk, followed by a bowl of your breadcrumbs with a pinch of salt and pepper.

Dip the mozzarella into the flour, then into the egg, then into the breadcrumbs, back into the egg and finally back into the breadcrumbs again. Repeat for all mozzarella balls.

Heat up your oil in a suitably sized pot/pan to 180C/356F. Test one of your mozzarella balls to see if it rapidly sizzles, then enter the rest in batches of 2 or 3. Fry for no longer than a couple of minutes or until you see the cheese start to leak. Make sure the oil returns to temp before each batch.

Rest each batch on a wire rack with paper towels underneath to catch excess oil. Enjoy!
Notes:
a) Cherry Mozzarella Sub - bocconcini is usually more accessible and usually larger, so feel free to sub that. You can also just cut a large ball of mozzarella into smaller chunks (they just obviously won't be as spherical).
b) Italian Breadcrumbs Sub - If you can't get your hands on any Italian Breadcrumbs then simply mix into 1 cup of regular dried breadcrumbs the following: 1/2 tsp dried basil & parsley and 1/4 tsp garlic powder, onion powder and oregano. If you don't have the individual herbs, mix in 2 tsp of Italian Seasoning instead.
Failing all the above you can just use regular breadcrumbs and season well with a pinch of salt and pepper.
c) Pre Freezing - Honestly I don't find a huge difference in popping them in the freezer before you deep fry, but if you are conscious of them bursting then pop them in the freezer for 10/15mins before you fry them. Either way, a very short burst of deep frying is all you'll need and the moment you see cheese begin to seep through, remove them for the oil.
d) Thick Coating - Be sure to double dip the mozzarella balls and ensure that no white is showing before you pop them in the oil.
e) Marinara Dipping Sauce - Check out my homemade Marinara Dipping Sauce!
f) Serving - Based on 30 balls, so 6 balls per person. 
g) Calories - This is an OVERESTIMATE as it assumes all the flour, egg (+1tbsp milk) and breadcrumbs is used. Based on each ball soaking 1/2tsp canola oil. Based on one serving (6 balls).
Your Private Notes:
Nutrition:
Nutrition Facts
Fried Cheese Balls
Amount Per Serving
Calories 381
Calories from Fat 231
% Daily Value*
Fat 25.67g39%
Polyunsaturated Fat 5.047g
Monounsaturated Fat 12.229g
Cholesterol 106mg35%
Sodium 452mg19%
Potassium 96mg3%
Carbohydrates 23.2g8%
Protein 13.91g28%
Vitamin A 375IU8%
Calcium 273mg27%
Iron 1.95mg11%
* Percent Daily Values are based on a 2000 calorie diet.
Nutrition is based on the absence of salt unless stated as a measurement in the ingredients. Cost is worked out based on ingredients bought from UK supermarkets, then divided by the number of servings. In both instances these values are just for guidance. Please check out my FAQ Page for more info.
---
If you loved this Fried Cheese recipe then be sure to pin it for later! Already made it or got a question? Give me a shout in the comments and pick up your free ecookbook along the way!