Fried Cheese Balls are the perfect party snack. Using mozzarella or bocconcini balls, these easy cheesy balls of joy couldn't be easier to make!
Fried cheese is one of those unnecessary things in life that's way too good to ignore. Like, cheese by itself is incredible. Does it need to be coated in breadcrumbs and deep fried to be enjoyed? No. But does cheese coated in breadcrumbs and deep fried taste insanely delicious? Hells to the yes!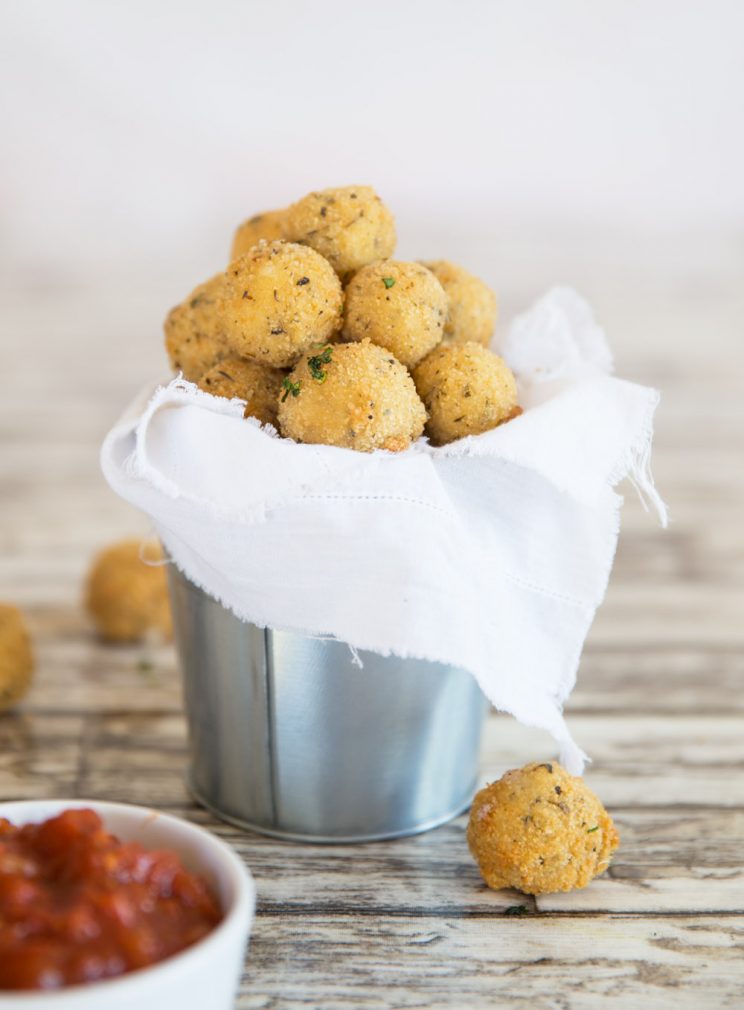 This recipe actually came about after making a batch of my homemade popcorn chicken and thinking 'hmm, what else can I destroy my diet with?'
Well, cheese of course.
You guys, these fried cheese balls are fa-reaking delicious, and completely worth any diet destroying.
Ooey gooey mozzarella, coated in a crispy Italian breadcrumb, ready to eat in bite sized balls? Yeah that's totally the life I'm about.
And what's best is they couldn't be more quick and easy to make!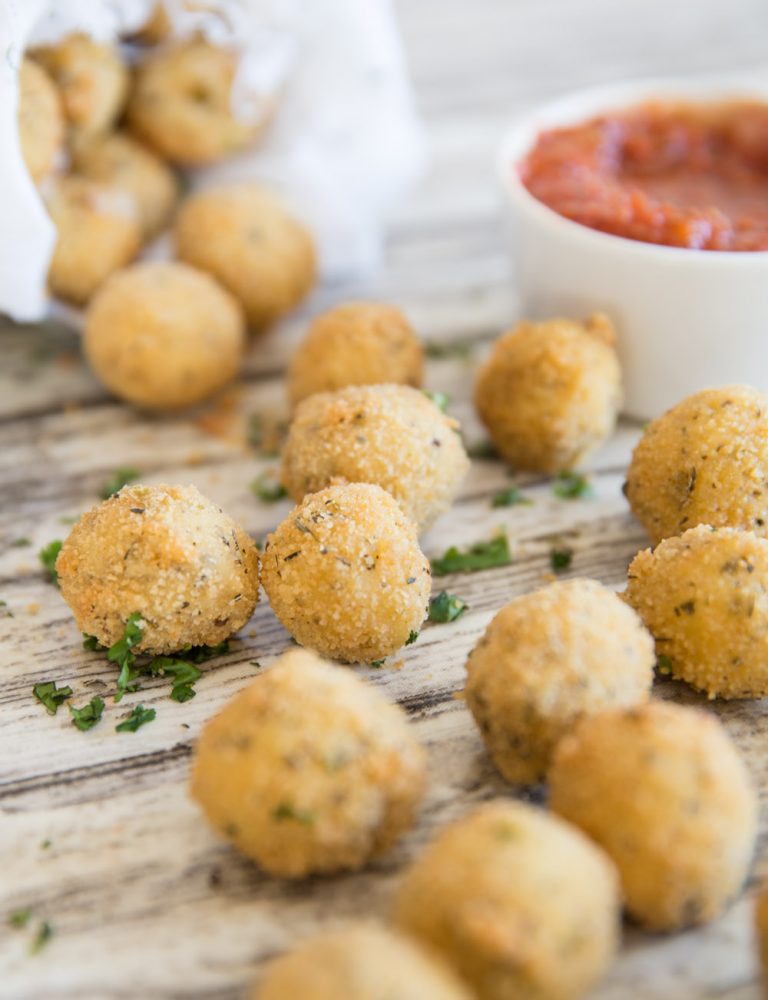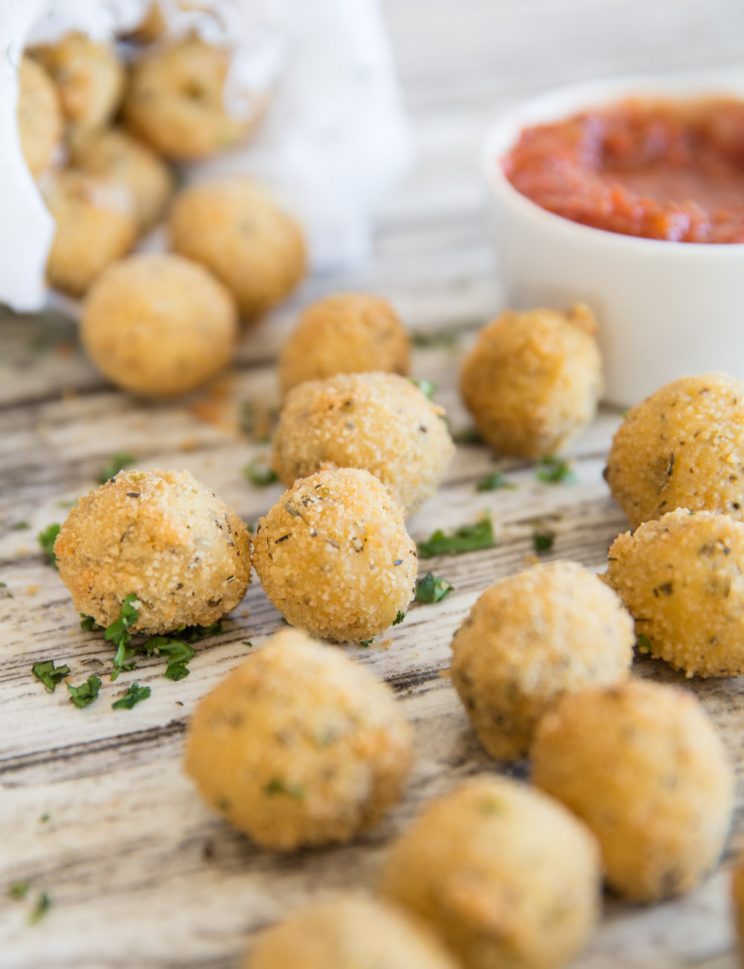 How to make Fried Cheese Balls
Pat your mozzarella balls dry, then coat in flour.
Double dip first into egg, then breadcrumbs, back into egg and finish in breadcrumbs again.
Deep fry for a matter of minutes, or until you see the cheese just starting to seep out.
Place on a paper towel to soak up excess oil, then eat right away!
Breading things or making a batter come sometimes be a messy process, so to minimise mess, I use the 'wet hand dry hand' method.
Wet hand dry hand breading
Use your dominant hand and plonk the mozzarella in the flour (dry hand) and drop into the egg without getting it wet. Now coat and take out with the other hand (wet hand), plonk it into the breadcrumbs and finally coat with your dry hand.
And you should end up with less mess than if you go for a free for all!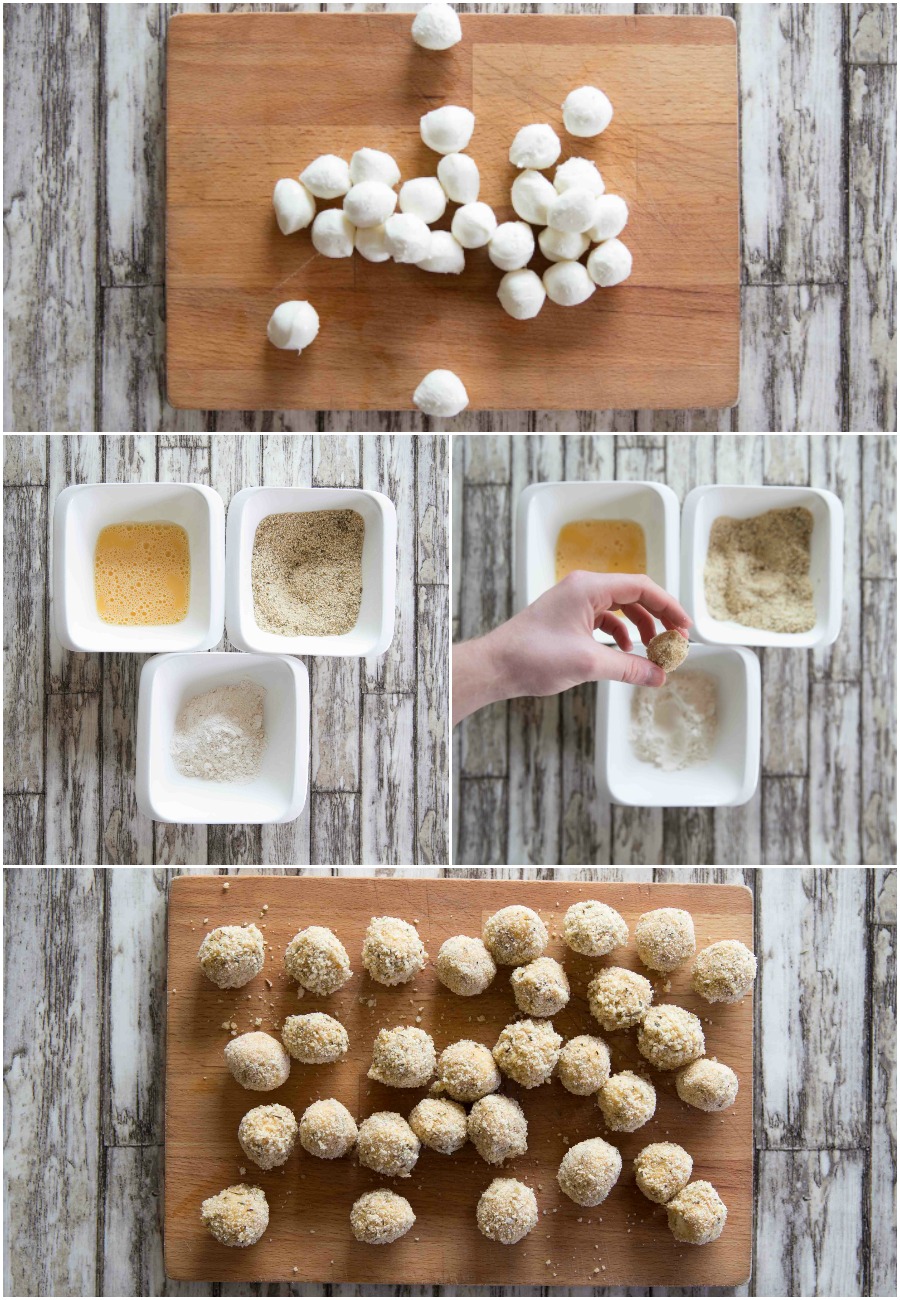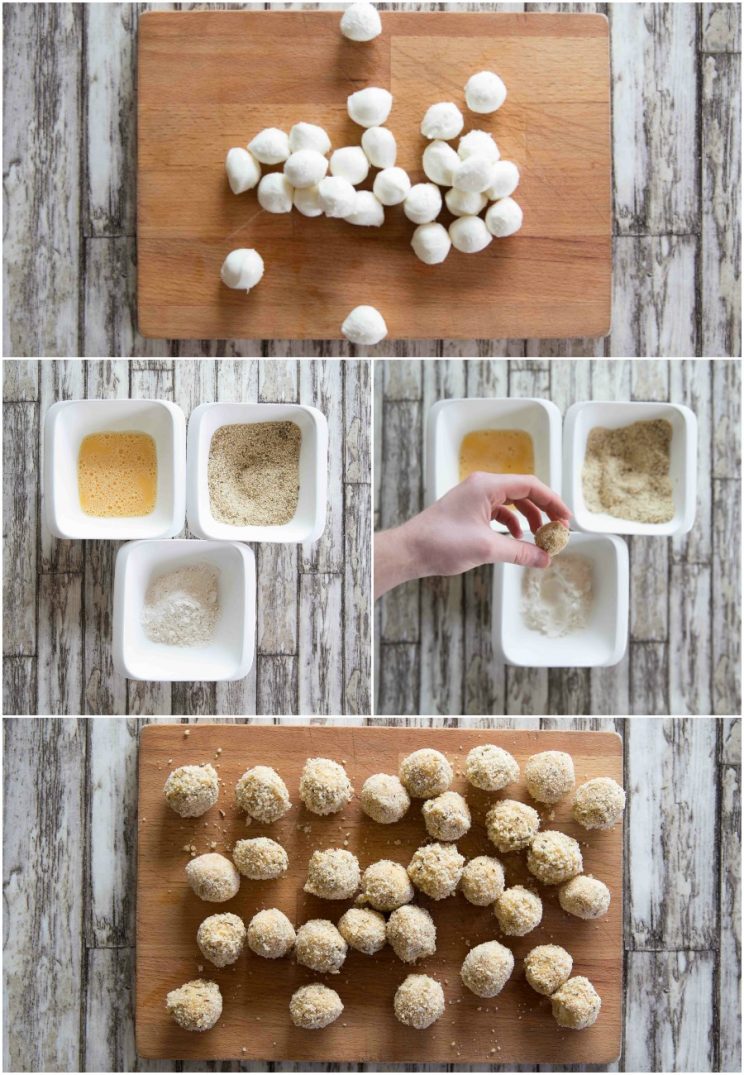 Now let's get down to the nitty gritty.
What can I use instead of Cherry Mozzarella?
Bocconcini – Bocconcini is more widely accessible than cherry mozzarella balls, they're also larger so feel free to sub!
Mozzarella – You can alternatively just cut up a regular mozzarella ball into chunks, they just obviously won't be as spherical.
Other cheeses – I have never personally used different cheese, but it can be done. Here are some examples: Cheddar Cheese, Camembert & Goat Cheese.
Top tips for making perfect Fried Cheese Balls
Double Dippin' – Mozzarella is fairly soft and has quite a low melting point, so it's important to build up a thick crust to protect it from the oil. By double dipping in flour and breadcrumbs you'll protect it just enough for the mozzarella to not melt into oblivion, but allow enough oil to get them perfectly gooey.
Seasoning – Mozzarella has a fairly subtle taste, so seasoning the breadcrumbs is essential. I use Italian breadcrumbs and I've added a section in the recipe to guide you on how to make your own if you don't have any!
Dip – What's a fried cheese ball without a dip? Check out my homemade marinara dip!
Now give me one of those darn things and let's get dipping.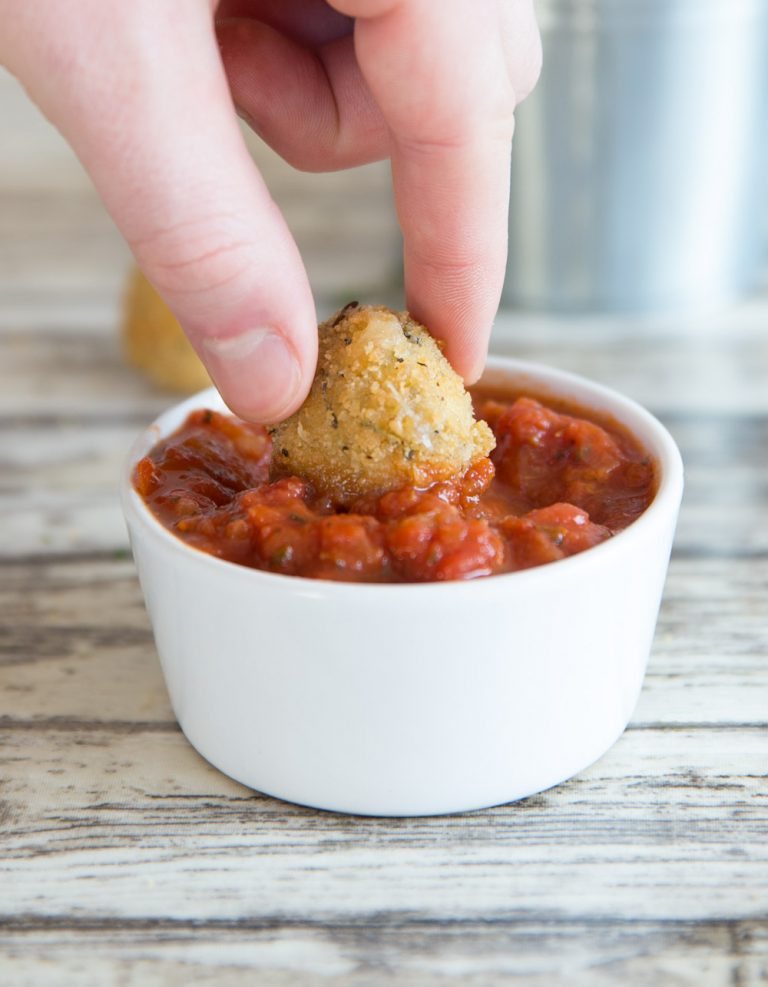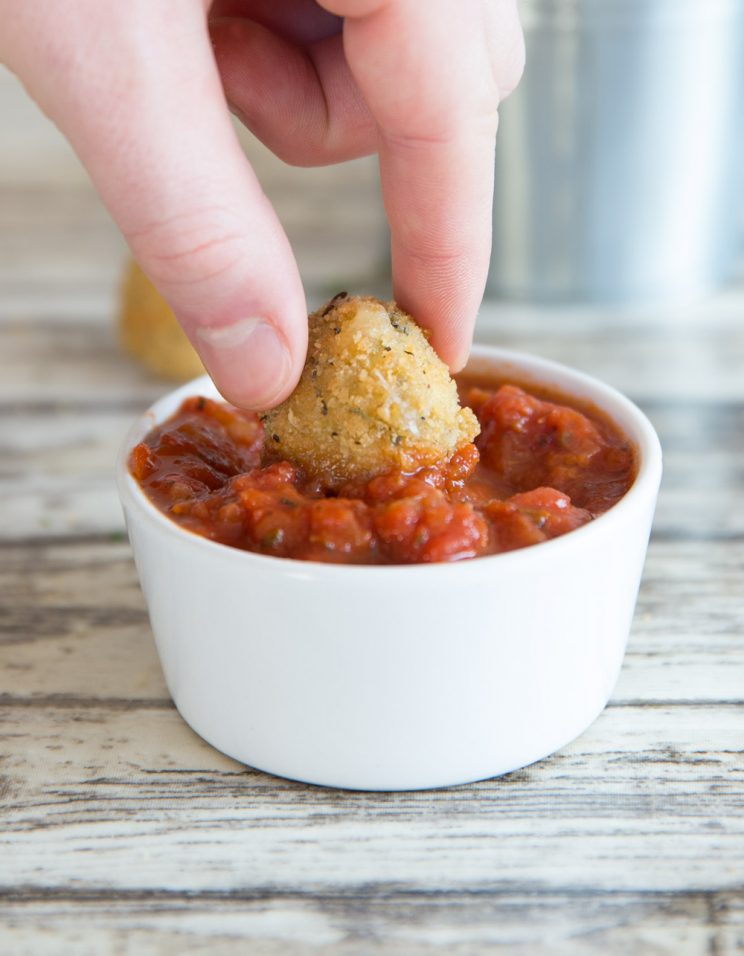 These fried mozzarella balls are absolutely perfect for parties or gatherings.
Not only is it fun to have a room full of people pulling cheese, but it's also great to see a room full of satisfied faces, because the food tastes so good.
Better still, these cheese balls are so easy to make. Bread them in advance and fry them at the last minute, you really can't go wrong.
So, what are you waiting for? Let's get cheese pulling!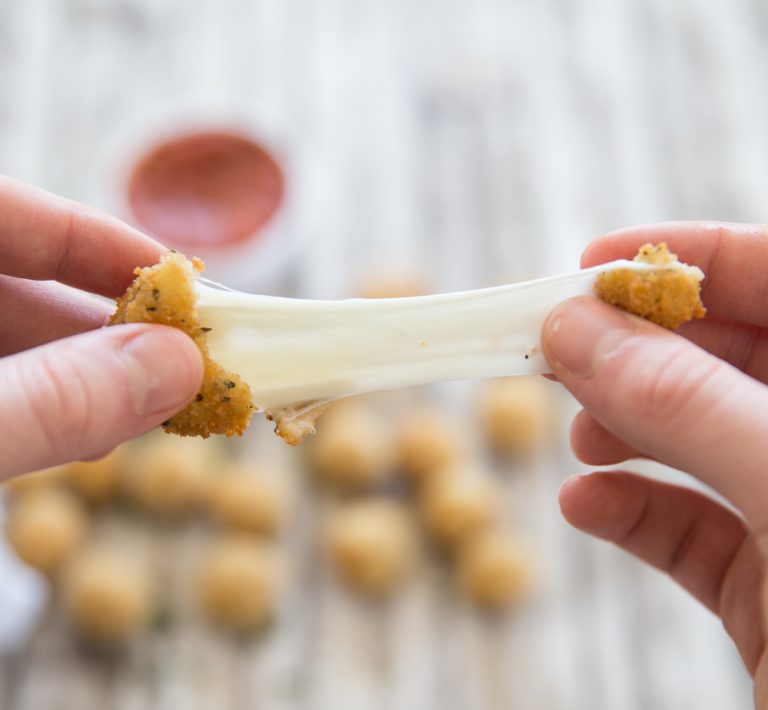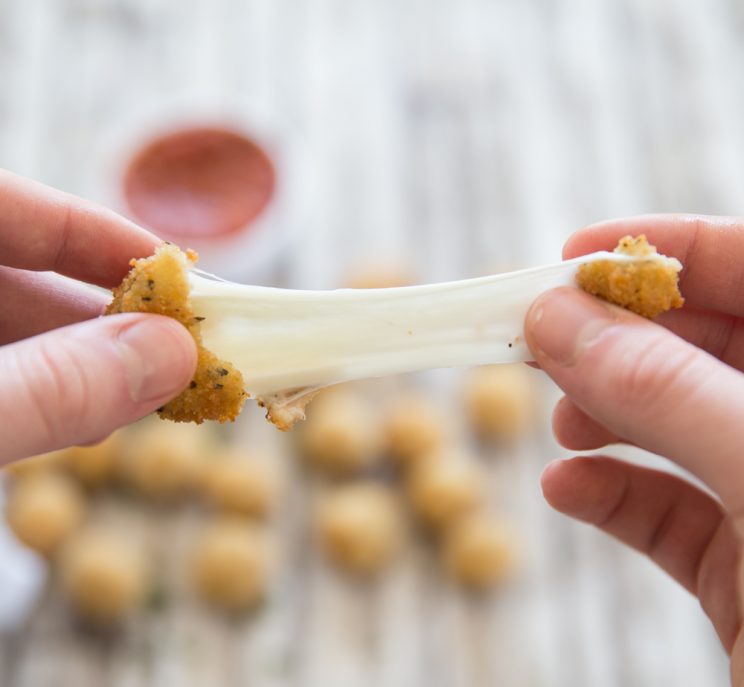 Join the foodie family! – Get awesome recipes sent straight to your inbox by signing up to my Weekly Mailing List (where you'll receive your FREE ECOOKBOOK) and stay in touch on Instagram, Facebook and Pinterest! 🧡
How to make Fried Cheese Balls

(Full Recipe & Video)
Fried Cheese Balls
Fried Cheese Balls are the perfect party snack. Using mozzarella or bocconcini balls, these easy cheesy balls of joy couldn't be easier to make!
Print
Pin
Rate
Servings (click & slide):
5
Ingredients (check list):
7oz / 200g

Cherry Mozzarella Balls

1 cup / 100g

Italian Breadcrumbs

2

tbsp

Plain Flour

2

Eggs, beaten

2-3 cups / 500ml-750ml

Vegetable/Canola/Sunflower Oil

Salt & Pepper, to taste
Instructions:
Pat your mozzarella dry with a paper towel.

Set up your stations: 1 bowl of flour, followed by 1 bowl of eggs, followed a bowl of your breadcrumbs.

Dip the mozzarella into the flour, then into the egg, then into the breadcrumbs, back into the egg and finally back into the breadcrumbs again. Repeat for all mozzarella balls.

Heat up your oil in a suitably sized pot/pan. Test one of your mozzarella balls to see if it rapidly sizzles, then enter the rest in batches of 2 or 3.

Fry for no longer than a couple of minutes or until your see the cheese start to leak.

Drain on a paper towel and seasoning if desired.
Notes:
a) Cherry Mozzarella Sub - bocconcini is usually more accessible and usually larger, so feel free to sub that. You can also just cut a large ball of mozzarella into smaller chunks (they just obviously won't be as spherical).
b) Italian Breadcrumbs Sub - If you can't get your hands on any Italian Breadcrumbs then simply mix into 1 cup of regular breadcrumbs the following:
1/2 tsp dried basil
1/2 tsp dried parsley
1/4 tsp garlic powder
1/4 tsp onion powder
1/4 tsp oregano
salt & pepper to taste
If you don't have the individual herbs, mix in 1 tbsp of Italian Seasoning instead.
c) Pre Freezing - Honestly I don't find a huge difference in popping them in the freezer before you deep fry, but if you are conscious of them bursting then pop them in the freezer for 10/15mins before you fry them. Either way, a very short burst of deep frying is all you'll need and the moment you see cheese begin to seep through, remove them for the oil.
d) Thick Coating - Be sure to double dip the mozzarella balls and ensure that no white is showing before you pop them in the oil.
e) Marinara Dipping Sauce - Check out my homemade Marinara Dipping Sauce!
f) Serving Size - Based on 30 balls, so 6 ball balls per person.
Nutrition:
Nutrition Facts
Fried Cheese Balls
Amount Per Serving
Calories 138
* Percent Daily Values are based on a 2000 calorie diet.
Nutrition is based on the absence of salt unless stated as a measurement in the ingredients. Cost is worked out based on ingredients bought from UK supermarkets, then divided by the number of servings. In both instances these values are just for guidance. Please check out my FAQ Page for more info.
---
For another easy fried cheese recipe, check out my EXTRA Crispy Halloumi Fries!
If you loved this Fried Cheese Balls recipe then be sure to pin it for later! Already made it or got a question? Give me a shout in the comments and pick up your free ecookbook along the way!