Making your own Beer Battered Onion Rings truly couldn't be easier. Here I'll show you some tips and tricks to getting teeth-shatteringly crispy Onion Rings!
If you're looking for the most delicious homemade onion rings which are truly crispy and bursting with flavour, you've come to the right place. Follow me…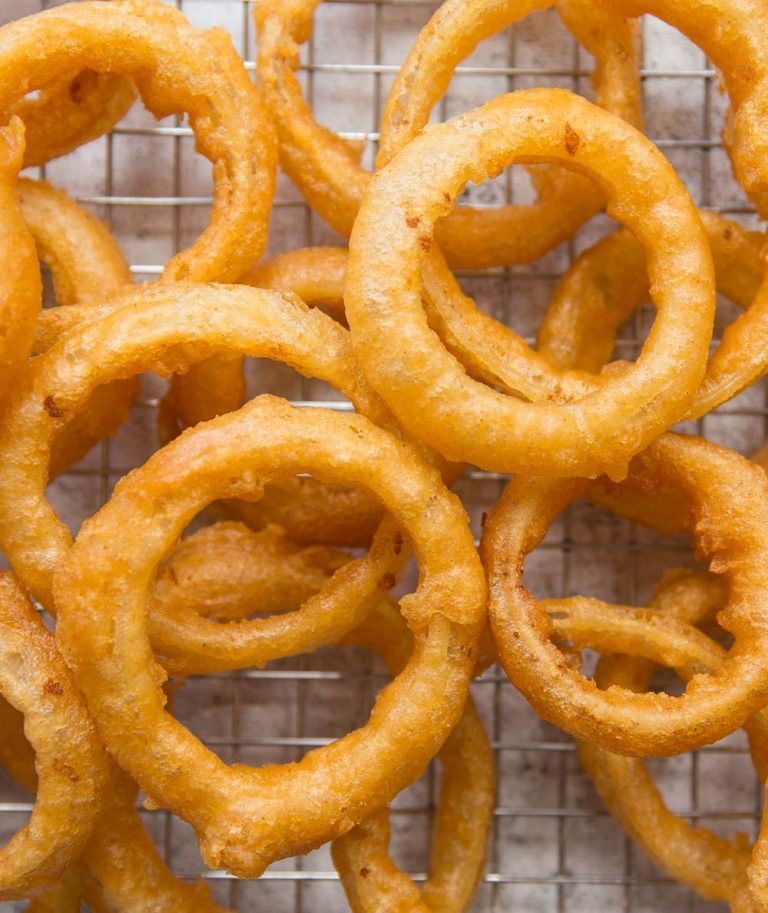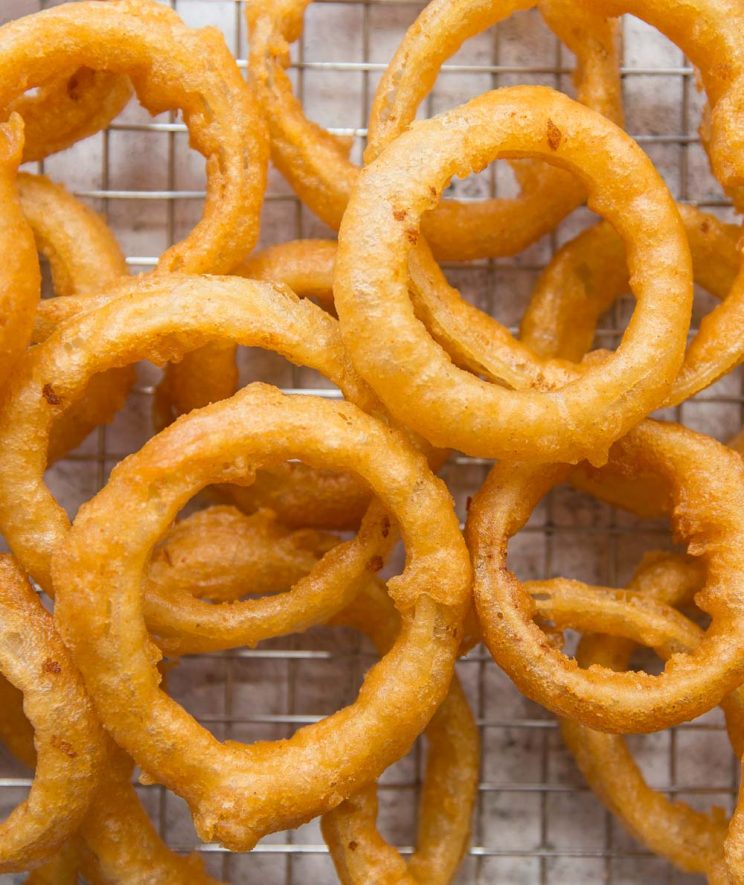 Homemade Onion Rings
All great onion rings start with the perfect onion. Here's what you're looking for:
Variety – You want to get yourself a white/brown onion. You can use red onions, but their slightly higher sugar content makes them more prone to burning.
Size – The bigger the better. If you can, you want an onion that weighs around 10.5oz/300g. You also want to try and get a very spherical onion too.
Slices – The perfect onion ring is sliced to 1/2″. Use all of the slices apart from the very small ones, or ones that tear.
If you live in the UK, Morrisons sells a variety of onion called the 'Cannonball Onion'. These are absolutely perfect for making onion rings.
From there, we want to coat the rings first in a flour mix, and then into the infamous beer batter. By doing this you're going to create tiny air bubbles in the batter, which in turn is what makes the batter so crispy.

Beer Battered Onion Rings
The initial flour mix is what helps the beer batter stick to the onion. For flavour, I add salt, white pepper (adds a little more heat than black pepper) and paprika. Nothing OTT, but makes the world of difference. I also add a tsp of baking powder in all my batters. This is what helps create those tiny air bubbles we were just talking about.
Did you know – When baking powder is added to a batter and subjected to hot oil, it undergoes a chemical reaction which produces small gas bubbles in the batter. The tiny air bubbles break up the batter, almost like holes in honeycomb, which is what helps make it light, airy and crispy.
Tips for the perfect Beer Batter
Cold Beer – using cold beer causes more of a reaction when the batter hits the hot oil, which in turn contributes to extra crispiness.
Don't over mix – when you whisk the beer into the flour, make sure you don't beat the heck out of it, or all the bubbles will burst. Whisk until just combined. A few lumps are fine.
Work quick – The longer the batter rests, the more it will deflate and the more bubbles will pop. You want it as airy and frothy as possible before it hits the oil.
How to prepare onion rings (Quick Summary)
Slice the tip off a large onion, peel the outer layer, then slice into 1/2″ rings.
Full coat in a flour mix.
Line up on a wire rack.
Pour beer into flour mix.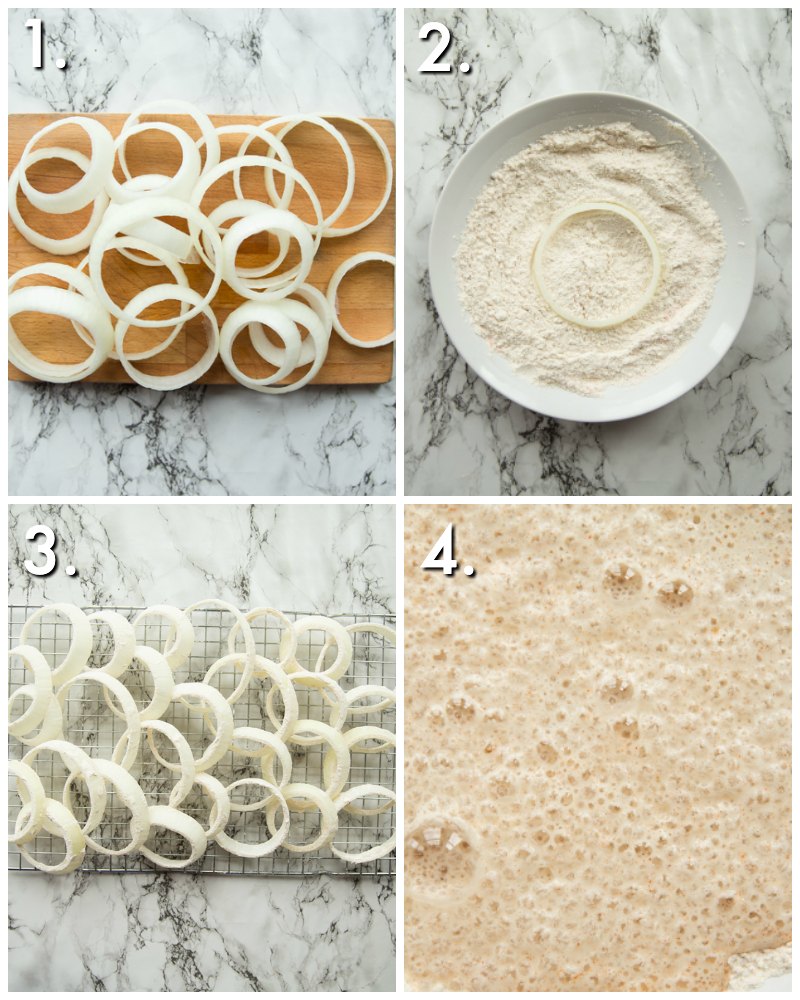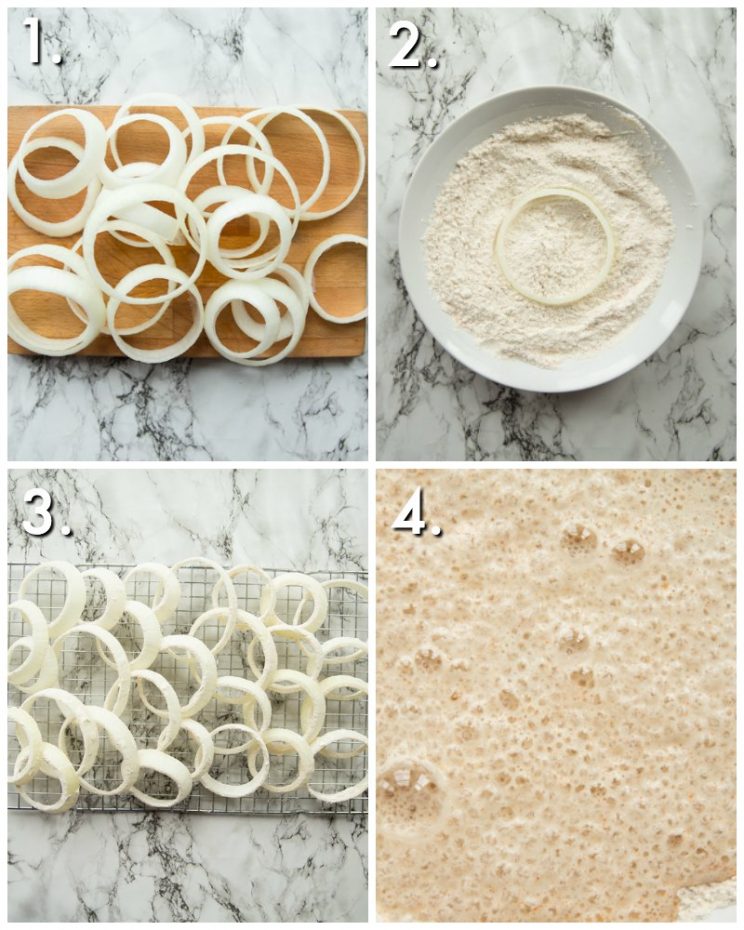 Deep Fried Onion Rings
100% if you want truly crispy onion rings, it's deep fried all the way. If you're not confident with deep frying, onion rings are the perfect introduction. I.e no chance of raw meat, the worst that is going to happen is you'll end up with a few questionable onion rings. No biggie. There's tonnes to test.
How to Deep Fry Onion Rings (Quick Summary)
Coat your onion rings in the beer batter.
Give them a gentle shake, then place on wire rack.
Add to hot oil and fry for around 2-3mins, flipping once.
Remove from oil, give them a shake, place on wire rack.
I recommend serving after ever 2 batches. The longer you leave the onion rings, the less crispy they'll be; meaning by the time you've finished deep frying the lot, the first batch won't be as fresh as the last. Just have someone ferry the batches out to guests as you fry 🙂
Top Tip – Sprinkle salt over the onion rings when they're fresh out the oil and resting on the wire rack. This will help draw out moisture as they cool and help them crisp up!
Do not rest your onion rings on paper towels when they're fresh out the oil. This will cause them to steam and make the batter soggy. Always use a wire rack with a paper towel placed underneath (to catch the oil)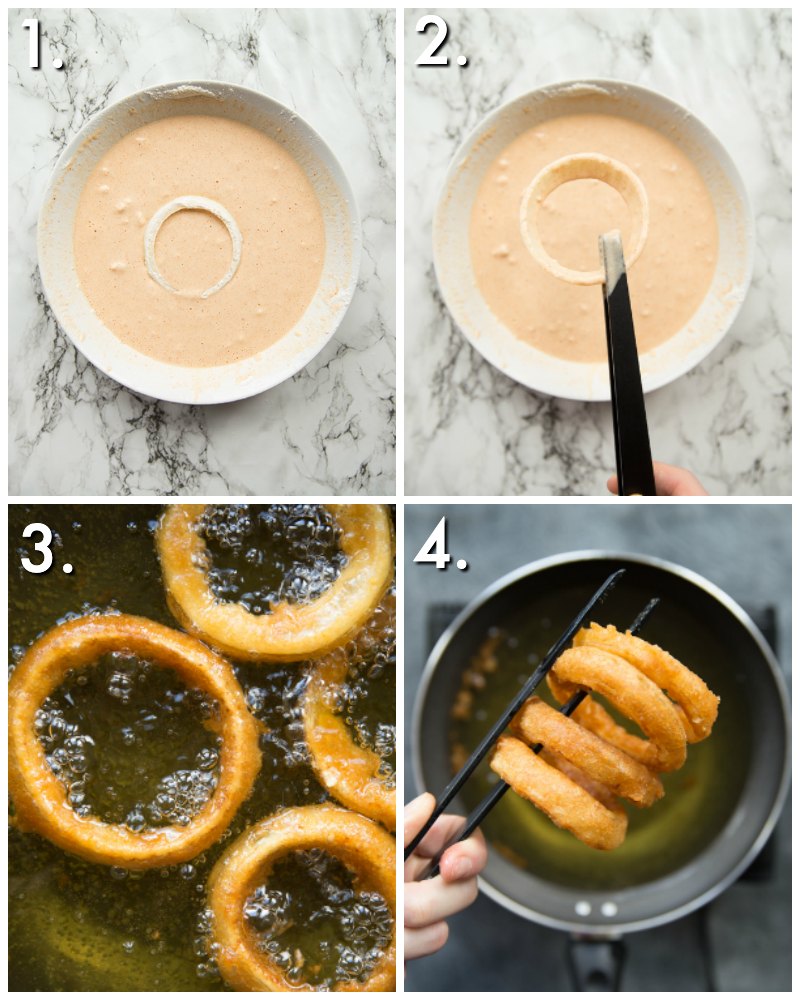 And after all that you're going to be staring at some darn good looking onion rings. Before we tuck into the full recipe, why not check out some of my similar recipes?
Finger Food Recipes
Deep Fried Recipes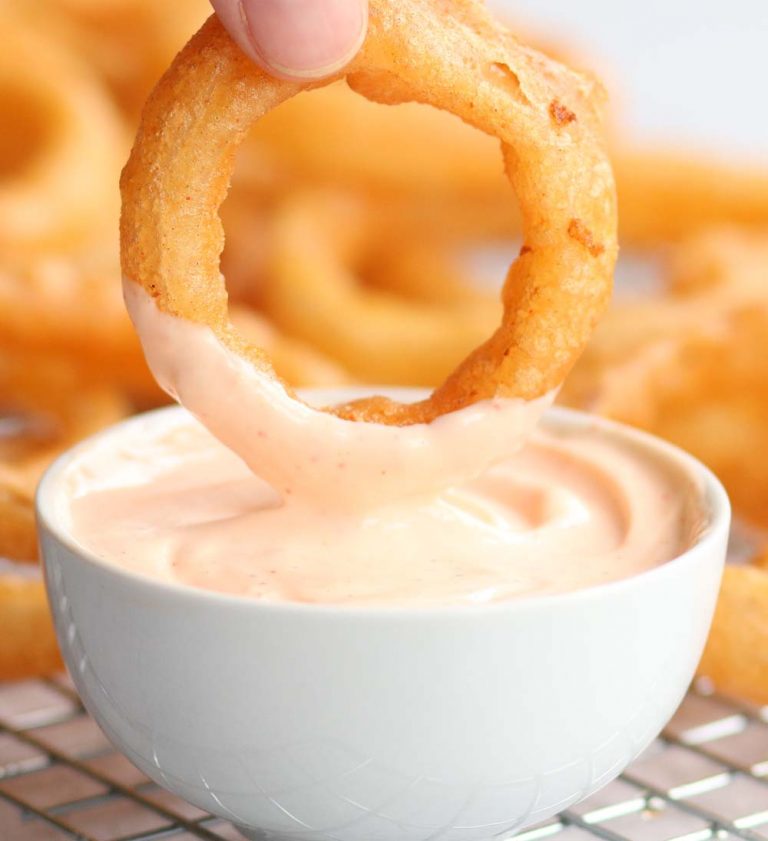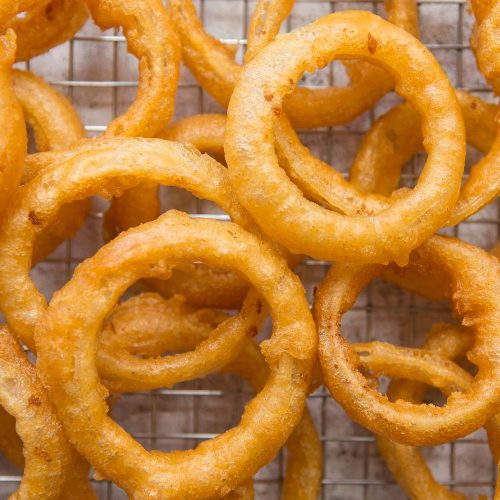 Beer Battered Onion Rings
Making your own Beer Battered Onion Rings truly couldn't be easier. Here I'll show you some tips and tricks to getting teeth-shatteringly crispy Onion Rings!
Print
Pin
Rate
Share by Text
Servings (click & slide):
6
Calories per serving:
264
kcal
Cost per serving:
£1 / $1
Equipment:
2 Wire Racks

1 Large Pot/Deep Pan, for deep frying

1 large Bowl

Kitchen Tongs

Whisk

Paper Towels

Sharp Knife
Ingredients (check list):
1

Extra Large Onion (see notes)

1 cup / 240ml

Cold Beer (see notes)

1 cup / 150g

Plain Flour

1

tsp

Paprika

1

tsp

Baking Powder

1/2

tsp

Salt, plus extra to serve (optional)

1/4

tsp

White Pepper
Oil, for deep frying (see notes)
Instructions:
In a bowl, add 1 cup flour, 1 tsp paprika, 1 tsp baking powder, 1/2 tsp salt, 1/4 tsp white pepper and whisk to combine. Place to one side.

Cut the tip (not the root) off of your onion with a sharp knife. Peel off the brown skin, then carefully make 1/2" slices along the onion. Pop out the rings, discarding any extremely small ones or any that broke.

One by one, completely coat your onion rings in the flour mixture. Place on one of your wire racks with paper towels underneath (to catch excess flour). Once all rings have been coated in the flour, pour in your 1 cups of beer. Gently whisk to combine.

Don't beat the hell out of it, or you will burst all of the bubbles. Whisk until just combined. A few lumps in the mixture are fine. If you went a little OTT with the beer just add a dash more flour to thicken, and vice versa with the beer. It should be somewhat thin, but thick enough to coat the back of a spoon.

One by one dip the rings into the batter and place on the second wire rack with paper towels underneath. Try and work quickly, you want the batter as bubbly/cold as possible.

Heat up a couple inches of oil in a suitably sized pot/pan until around 375F/190C. Carefully place in 3-4 onions rings (don't overcrowd the pan) and separate if they instantly stick. Allow to fry for 2-3mins, flipping once. Remove and place on your first wire rack with paper towels underneath. Sprinkle with salt to drawer out moisture (optional).
Notes:
a) Type of Onion - If you live in the UK, get yourselves down to Morrisons and buy a 'Cannonball Onion'. These are huge and work perfectly work this recipe. Failing that, just get the largest, most spherical onion you can find. In all instances make sure it's a sweet onion.
b) Beer - It's imperative that the beer is unopened and straight from the fridge. This will ensure the batter is nice and airy. I often use Fosters or Heineken. For a beer substitute you could also use a neutral flavoured sparkling soda.
c) Oil - Use a neutral flavoured oil with a high smoking point such as vegetable or sunflower oil.
d) Tips for deep frying - I recommend testing with one onion ring first. If it cooks in under 1 minute, reduce the heat of the oil. The onion will still be hard. If it takes 4mins plus then crank up the heat. The batter will absorb too much oil and be soggy. In both instances don't overcrowd the pot/pan or they will stick and not cook properly.
e) Serving - I recommend serving after 2 batches. If you wait to get through the whole batch, the original ones are going to be cold and soggy. Have a helper running them from the kitchen! Also, a dip works great with these. Here I've used Sriracha Lime Mayo.
f) Calories - Assuming all of the batter is used (slight overestimate) and 1/2 tsp oil is absorbed per onion ring. Based on 30 rings shared between 6 people. Calories for 5 onion rings.
Your Private Notes:
Nutrition:
Nutrition Facts
Beer Battered Onion Rings
Amount Per Serving
Calories 264
Calories from Fat 125
% Daily Value*
Fat 13.87g21%
Polyunsaturated Fat 2.046g
Monounsaturated Fat 9.634g
Sodium 238mg10%
Potassium 150mg4%
Carbohydrates 27.68g9%
Protein 3.66g7%
Vitamin A 500IU10%
Vitamin C 8.3mg10%
Calcium 20mg2%
Iron 1.4mg8%
* Percent Daily Values are based on a 2000 calorie diet.
Nutrition is based on the absence of salt unless stated as a measurement in the ingredients. Cost is worked out based on ingredients bought from UK supermarkets, then divided by the number of servings. In both instances these values are just for guidance. Please check out my FAQ Page for more info.
If you loved this Homemade Onion Rings Recipe then be sure to Pin it for later! Already made it or got a question? Give me a shout in the comments and pick up your free ecookbook along the way!