These homemade sausage rolls couldn't be more delicious if they tried. Here I show the easiest way to whip up both mini and giant sausage rolls!
Because really, who can resist the sausage rolls at a party spread? In fact, if you're anything like me then it's the first thing you stock up on! But let's keep it real here, those sausage rolls are always store bought right? And if we're keeping it even more real here, do they even taste that nice? Or are you just eating them because it's a damn sausage roll 😂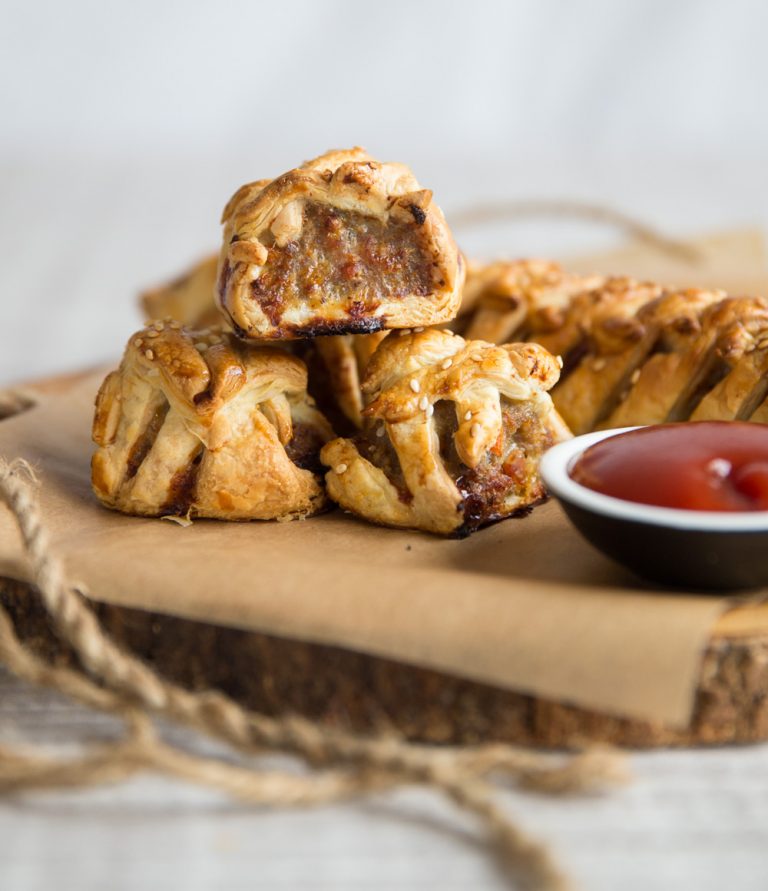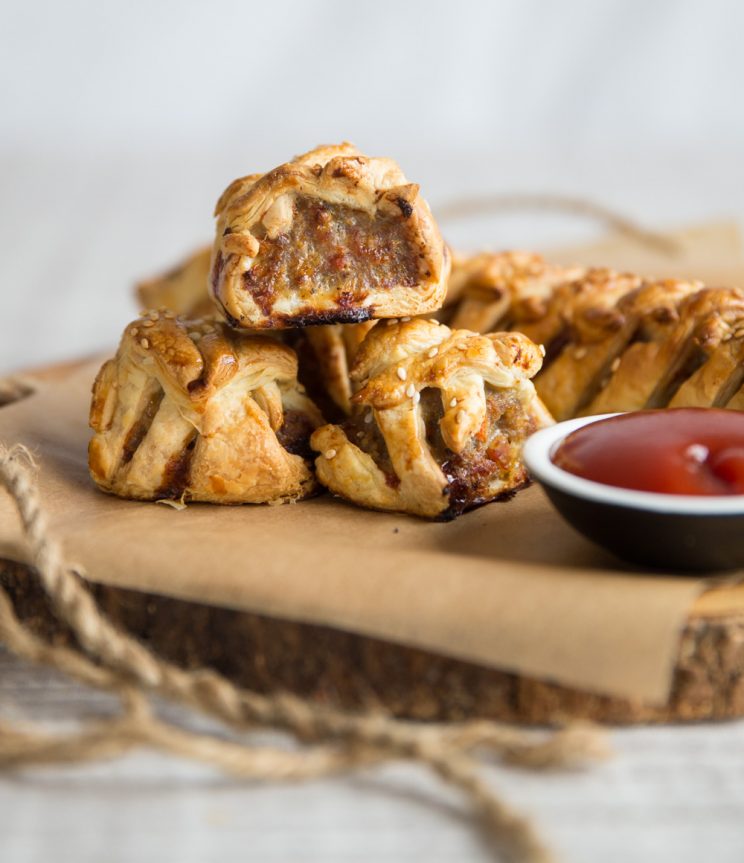 My point is after you try making your own sausage rolls there's just no comparison to store bought. SO SO SOOOO much tastier!
Better still, they seriously couldn't be easier to make.
First things first, let's address the elephant in the room, because I can already hear people screaming 'THAT'S NOT A SAUSAGE ROLL IT'S A SAUSAGE PLAIT'.
Look, I hear ya. Could I have just rolled the sausage in puff pastry like a normal human? Yes. But it looks pretty neat right? 😏
So for those of you who wanna be extra like me…
How to braid puff pastry for a sausage roll
Lay your meat in a log shape and slice around 1.5″ either side.
At a 45 degree angle, slice equal strips around 0.5″ wide, ensuring you slice and even number on both sides.
Starting from the bottom, braid your strips.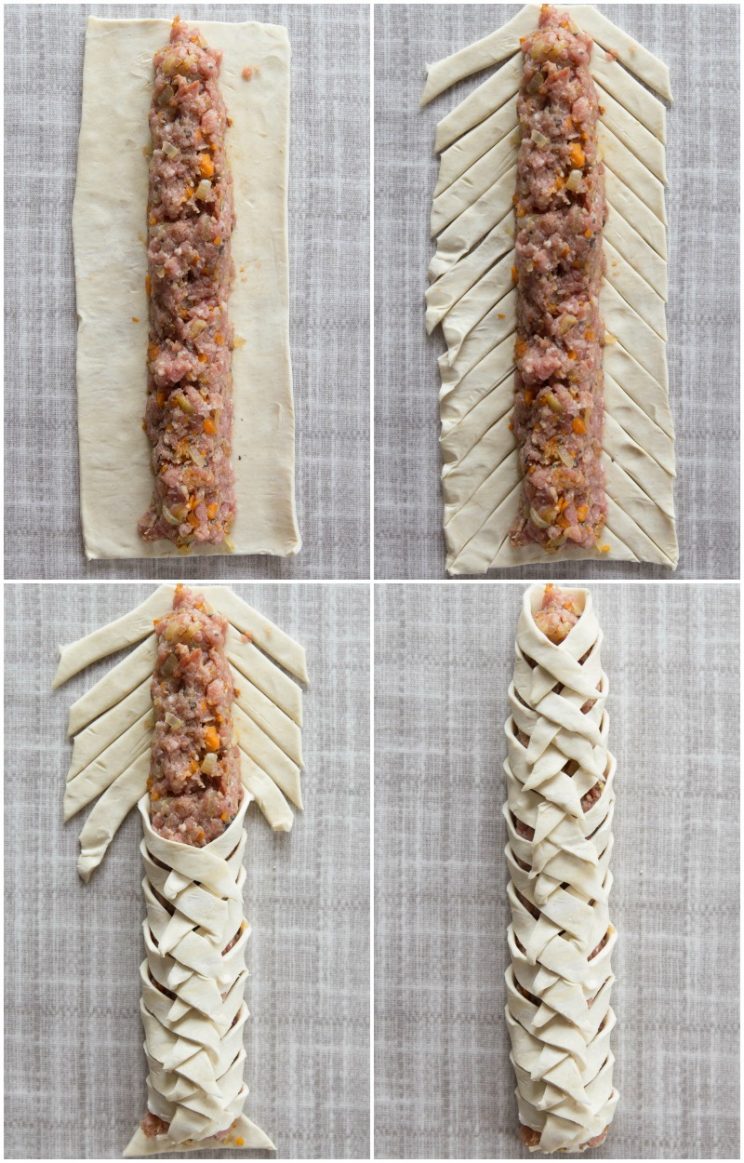 Okay, OTT sausage pastry out the way, let's talk homemade sausage rolls.
Tips for the best Homemade Sausage Rolls
Sausage meat vs minced pork – Personally I like starting with a blank canvas, so I always opt for minced pork. I'm never really sure what's in sausage meat and I'm way too anal over the fact that different sausage meats taste differently.
Fennel Seeds – Umm pork and fennel? A marriage I am NOT here to break up.
Fry the veg – By putting in raw veg, it releases too much moisture during the cooking process and makes for a soggy pastry! Plus, extra flavour from frying.
Sesame seeds – Not just a pretty garnish, the sesame flavour actually goes gorgeously with the pork and fennel.
Other stars of the show for me are Sage, for the same reason as fennel, and bacon, which adds a gorgeous saltiness to the sausage rolls and a nice little breakup in the texture.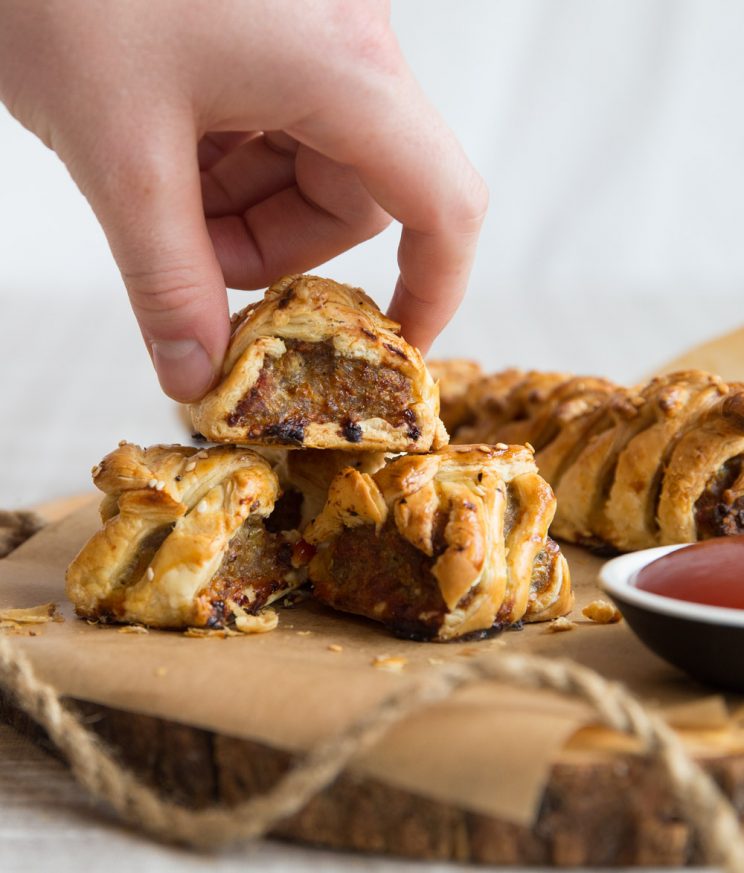 How to prevent sausage meat from drying out in the oven
A problem we too often experience is a dry sausage. Here are my 3 killer tips to producing juicy sausage rolls:
Breadcrumbs – Contrary to popular belief, breadcrumbs aren't just there to help mould the sausage, and don't dry out the meat at all. In fact, breadcrumbs help keep the sausage moist. As the meat cooks and releases fat, the breadcrumbs capture it and keep it locked up within the meat. Obviously if you use too much breadcrumbs it's going to have the reverse effect, but just a small amount will work wonders.
Non-lean pork – You want to aim for a pork at least 15% fat, 20-25% is best though. Unfortunately this is not the recipe to use that lean pork you've got waiting in the fridge!
Don't work the meat too much – Just like when you're making meatballs, you only want to mix the ingredients until they're just about evenly spread. No more. If you over work the meat it's gonna come out tough and gross.
Mini Sausage Rolls vs Giant Sausage Roll
Really it depends what the occasion is. For dinner I'll keep them as large sausage rolls, but obviously if it's for a buffet or party I'll slice them up. The best way to make mini sausage rolls is to slice them before they go in the oven. You may need to pop them in the fridge before hand the firm up the pastry. Either way be very gentle with the knife to ensure you don't ruin the shape.
Can I make these sausage rolls ahead of time?
Yep, keep them uncooked in the fridge and apply the egg wash just before you put them in the oven. Add an extra 5/10mins onto the cooking time and ensure they're piping hot through the centre.
And last but not least, ketchup. Haters hide your eyes, but a sausage roll ain't a sausage roll if it's not dunked in tomato sauce! There, I said it 🤪 Anywho, let's tuck into the recipe shall we??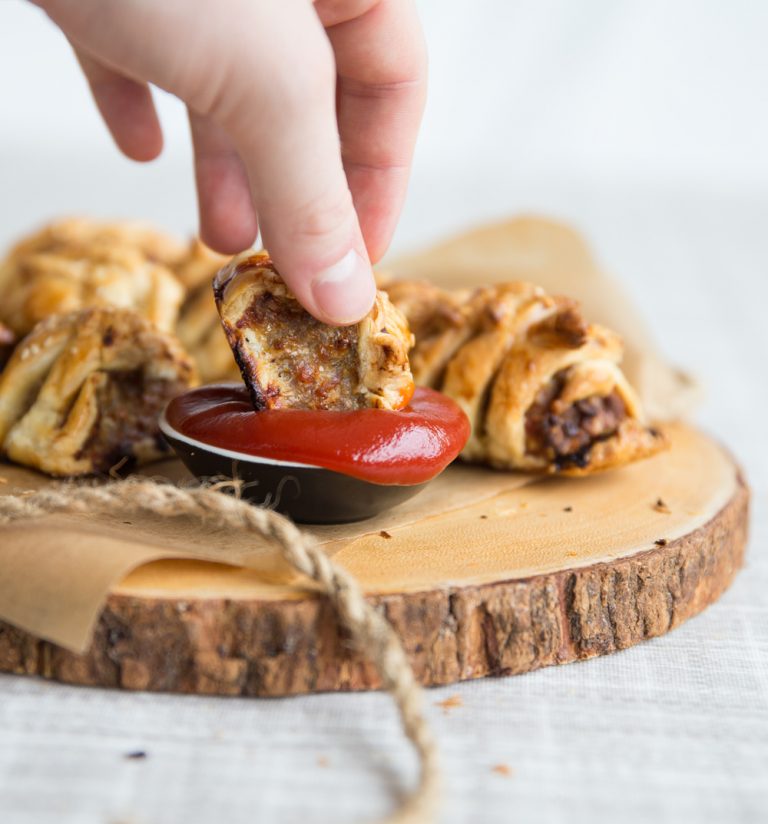 Join the foodie family! – Get awesome recipes sent straight to your inbox by signing up to my Weekly Mailing List (where you'll receive your FREE ECOOKBOOK) and stay in touch on Instagram, Facebook and Pinterest! 🧡
How to make Homemade Sausages

(Full Recipe & Video)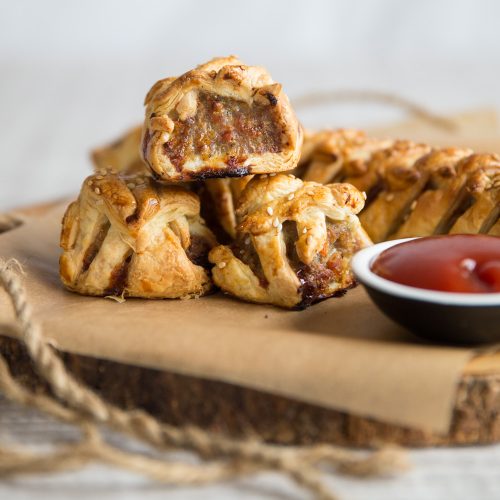 Homemade Sausage Rolls
These homemade sausage rolls couldn't be more delicious if they tried. Here I show the easiest way to whip up both mini and giant sausage rolls!
Print
Pin
Rate
Servings (click & slide):
20
mini
Ingredients (check list):
1

sheet

Pre-rolled Puff Pastry (375g/13.2oz)

1lb / 500g

Minced Pork (non-lean)

3.5oz / 100g

Streaky Bacon, finely diced

1

medium

Carrot, finely diced

1

medium

White Onion, finely diced

1

clove

Garlic, finely diced

1

tbsp

Fresh Sage, finely diced

1

tsp

Fennel Seeds, crushed

1

tsp

Worcestershire Sauce

3/4

tsp

Salt

1/4

tsp

White Pepper

1/3 cup / 35g

Dry Breadcrumbs

2

Eggs (1 beaten for egg wash)

1

tsp

Olive Oil, for frying

Sesame seeds, to garnish
Instructions:
Fry up your bacon in a little oil until it begins to crisp, then add your carrot and onion. Don't let them brown too much, you want them just soft and slightly caramelized. Add your garlic and fry for a further minute or so. Remove from pan and leave to cool.

Combine with your pork, fennel, sage, salt, pepper, Worcestershire sauce, breadcrumbs and 1 egg. Make sure you don't over work the meat.

Split your pastry into 4 rectangles and evenly distribute your sausage meat into 4 log shapes. Braid the pastry (see video) or simply roll and fasten with a little egg wash.

Place on a lightly oiled baking tray, brush with egg wash and sprinkle with sesame seeds.

Bake at 180c/356f for 25mins or until a deep golden colour.
Quick 1 min demo!
Notes:
a) Non-leak pork - Try and get a pack of pork at least 15% fat, which 20-25% being optimum. Grocery stores should sell up to 20%, anything above it's a butchers job!
b) Mini vs Giant - If you're going for mini sausage rolls, then cut them before they go in the oven. In doing this you might find it easier to slice after a stint in the fridge to firm up the pastry. Either way just slice gently so you don't squash the shape.
c) Classic Sausage Rolls - If you don't feel like being as extra as me and braiding the pastry, simply roll the pastry. Try and leave a small overlap and fasten it with egg wash. Cook seal side down to prevent them unfolding.
d) White Pepper sub - I use white pepper as it adds a nice little bit of heat. You can sub 1/8 tsp cayenne pepper or just use 1/4 tsp black pepper.
e) Crushing Fennel Seeds - You can do this in a pestle and mortar or smash in a zip locked bag. Failing that just drizzle a tiny bit of olive oil over them on a chopping board and diced with a knife. The olive oil the stop them bouncing over the kitchen.
f) Calories - based per sausage roll (20 in total)
Nutrition:
Nutrition Facts
Homemade Sausage Rolls
Amount Per Serving
Calories 198
Calories from Fat 126
% Daily Value*
Fat 14g22%
Polyunsaturated Fat 1.569g
Monounsaturated Fat 6.131g
Cholesterol 63mg21%
Sodium 195mg8%
Potassium 136mg4%
Carbohydrates 10.59g4%
Protein 7.43g15%
Vitamin A 1850IU37%
Vitamin C 0.8mg1%
Calcium 20mg2%
Iron 1.1mg6%
* Percent Daily Values are based on a 2000 calorie diet.
Nutrition is based on the absence of salt unless stated as a measurement in the ingredients. Cost is worked out based on ingredients bought from UK supermarkets, then divided by the number of servings. In both instances these values are just for guidance. Please check out my FAQ Page for more info.
---
For more awesome party food, check out my Homemade Popcorn Chicken!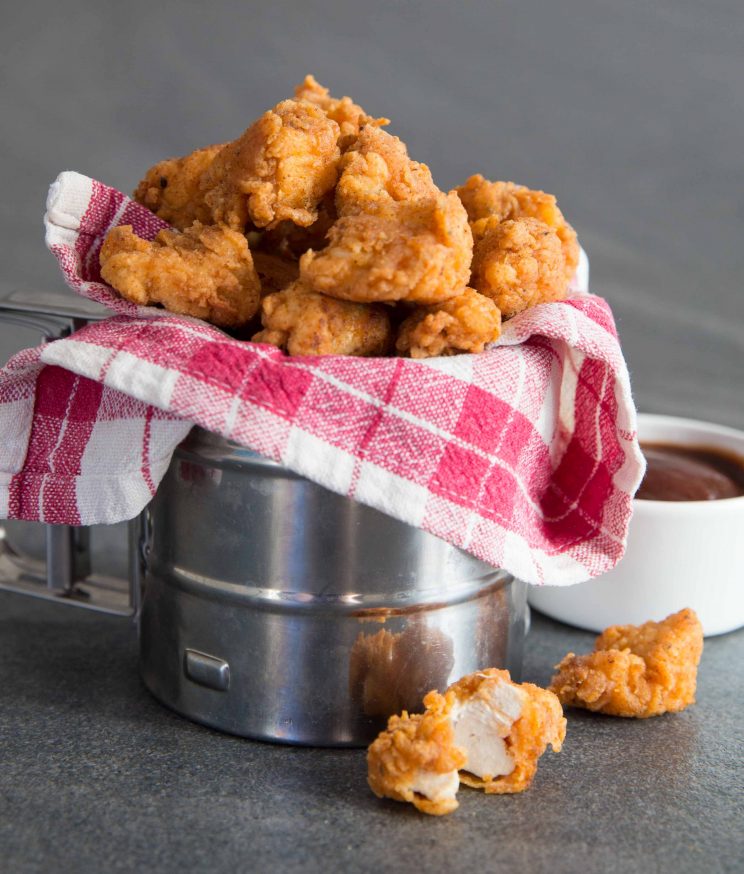 If you loved this Homemade Sausage Recipe then be sure to Pin it for later! Already made it or got a burning question? Give me a shout in the comments below and pick up your free ecookbook along the way!