These homemade pizzas couldn't be easier to make. The best no-yeast flatbread you'll ever make + easy and delicious topping ideas. Pizza night never looked so good!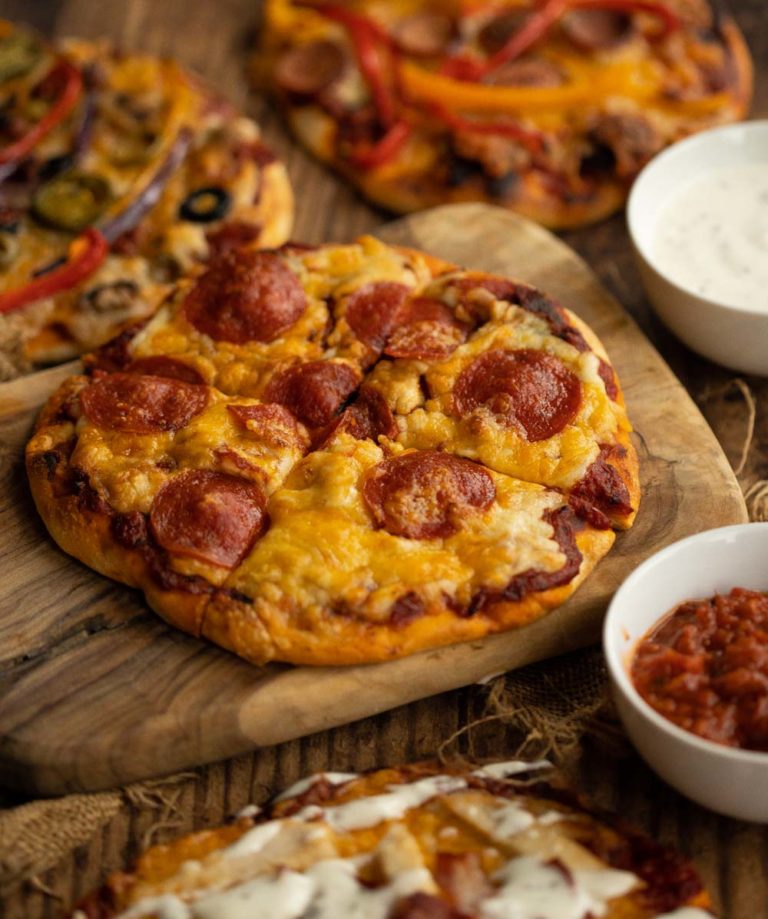 No Yeast Yogurt Flatbreads
The idea of making pizzas is awesome, but if I want pizza I want it now. Dealing with yeast and proofing pizza dough is sometimes a bump in the road when you want pizza in your face asap. You with me? Okay good, glad I'm not the only one. Using flatbread as the base for a homemade pizza is great for a few reasons:
They're incredibly quick to make.
You only need 3 ingredients.
No long kneading means they're easy to make!
Homemade Flatbread Ingredients
All purpose/plain flour – No need for bread flour, regular flour works just fine.
Yogurt – Plain/Natural/Greek yogurt (no extra sweetened or flavoured).
Baking powder – This will help the flatbread rise a little.
The main tip I have for making flatbreads is to just lever the texture with yogurt and flour. If the dough is too sticky just add a few pinches of flour, if it's too dry and not coming together don't be scared to add another dollop of yogurt.
How to prepare Flatbreads (quick summary)
Add flour, baking powder and salt to a bowl.
Whisk.
Make a well.
Add yogurt.
Stir to combine.
Form a ball.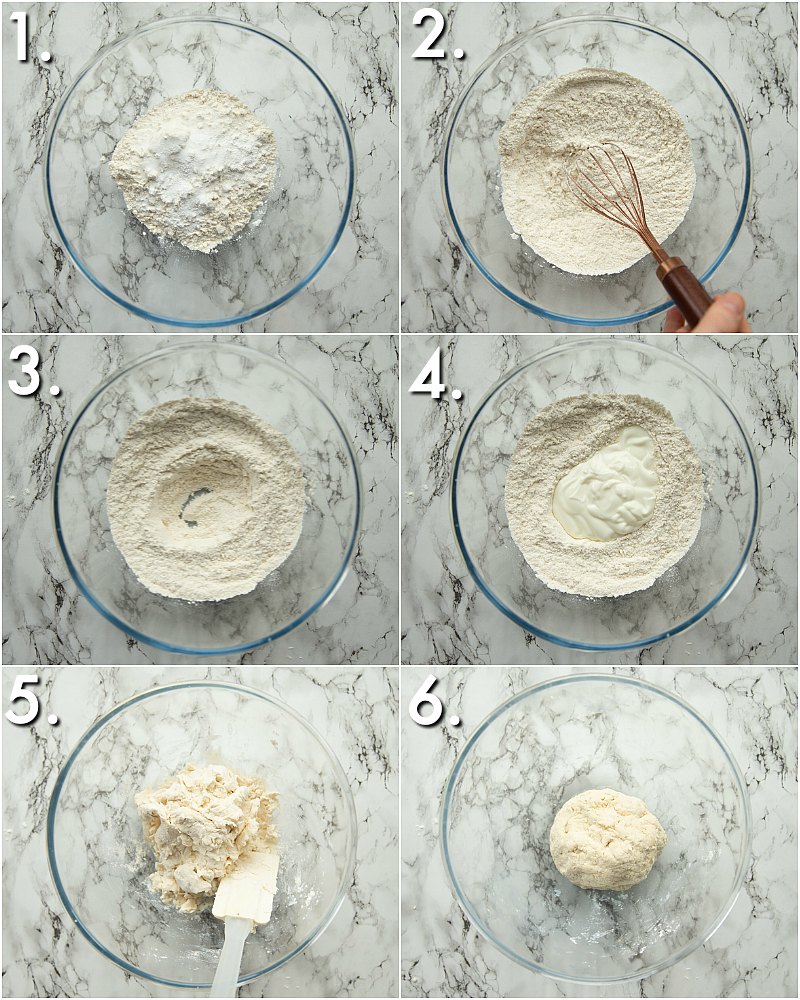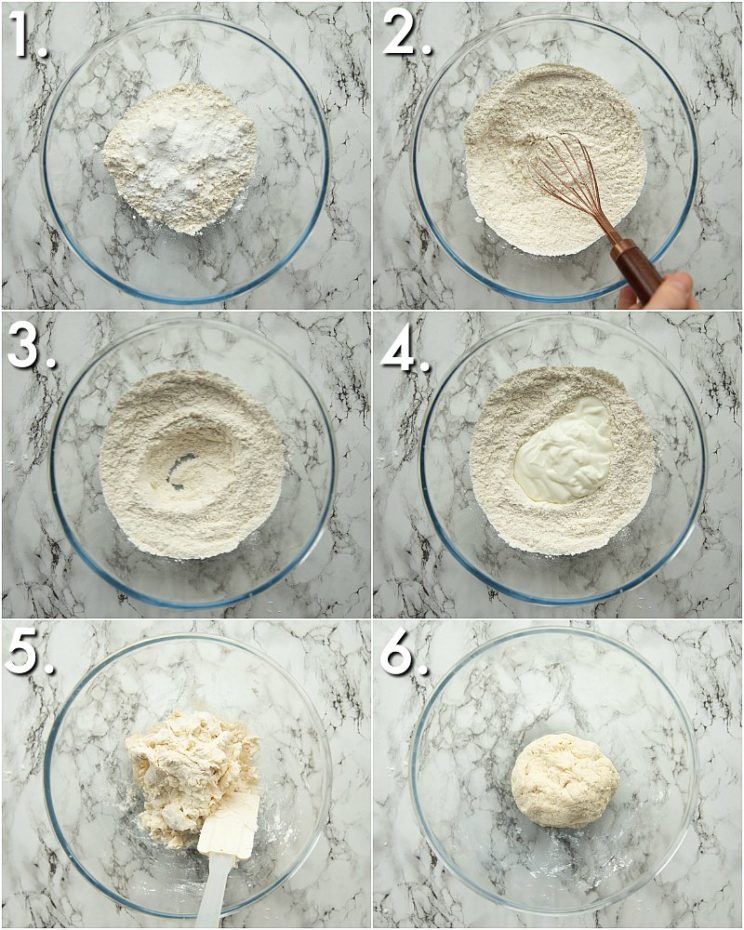 Flatbread Pizzas
Once you've got the dough formed into a ball, you will need to knead the dough for 5 minutes or so, just to completely smooth it out (I know, I promised no kneading but just 5mins will do the trick, no need for achy elbows!). Divide the dough, roll out and lightly brush with oil.
Pan frying flatbreads
The key to perfect flatbreads, specifically for making pizzas, is temperature control and time.
Regular flatbreads -> Usually fried over a medium heat until just golden on each side, then rested in between cloth to keep them soft.
Flatbreads for pizza -> You want them slightly more firm than regular flatbreads or the pizza will be too soft/sloppy. As such, I recommend frying over a slightly higher heat. Black circles will form, much like you see on naan breads. This is great because it tells us the flatbread is crispy up nicely AND a bit of char will add flavour to the pizzas (not too much though, never been a fan charcoal flavoured pizza…) Just a couple of minutes on each side will do the trick.
Once you've made the flatbreads, just load them up with pizza sauce and mozzarella.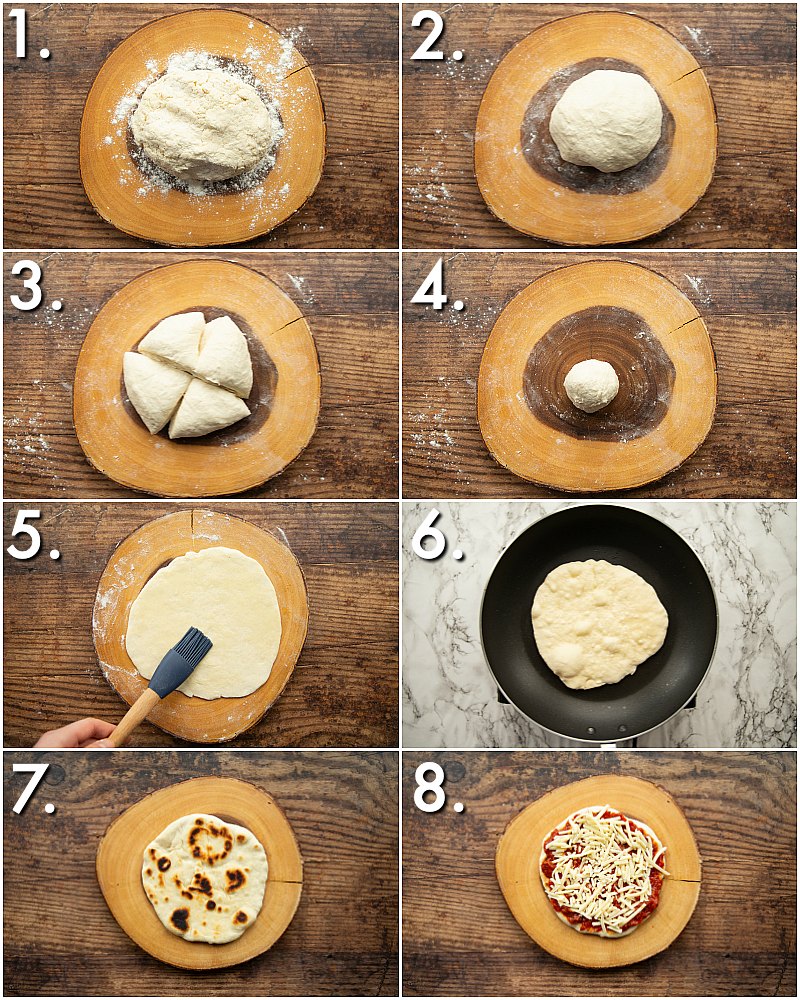 Flatbread Pizza Toppings
You can honestly go with whatever you fancy! This recipe will make 4 small pizzas, here's what I usually go for:
Pepperoni – Thin slices of pepperoni
Veggie – Whatever I've got knocking about in the fridge. Peppers, onion, jalapeño, olives and sun dried tomatoes are the usual culprits.
Chicken and Bacon – Replace half the mozzarella with cheddar, use cooked chicken and part cooked bacon. I also finish with a drizzle of ranch.
Sausage and Peppers – Sprinkle with crushed fennel before going in the oven.
How to cook flatbread pizzas
Because we've already cooked the flatbread, you'll only need to grill/broil the top to complete the pizzas. You could add the toppings to the raw dough and bake, which some recipes do suggests, but you lose out on that gorgeous char from pan frying. Plus you have less control over the texture of the flatbreads.
Can I freeze these?
Yes! Absolutely perfect for freezing.
To freeze BEFORE baking: Just cover and freeze with layers of baking paper between. Bake straight from the freezer until just heated through the centre, then switch on the grill and broil.
To freeze AFTER baking: Same as above, but just bake in the oven until heated through the centre.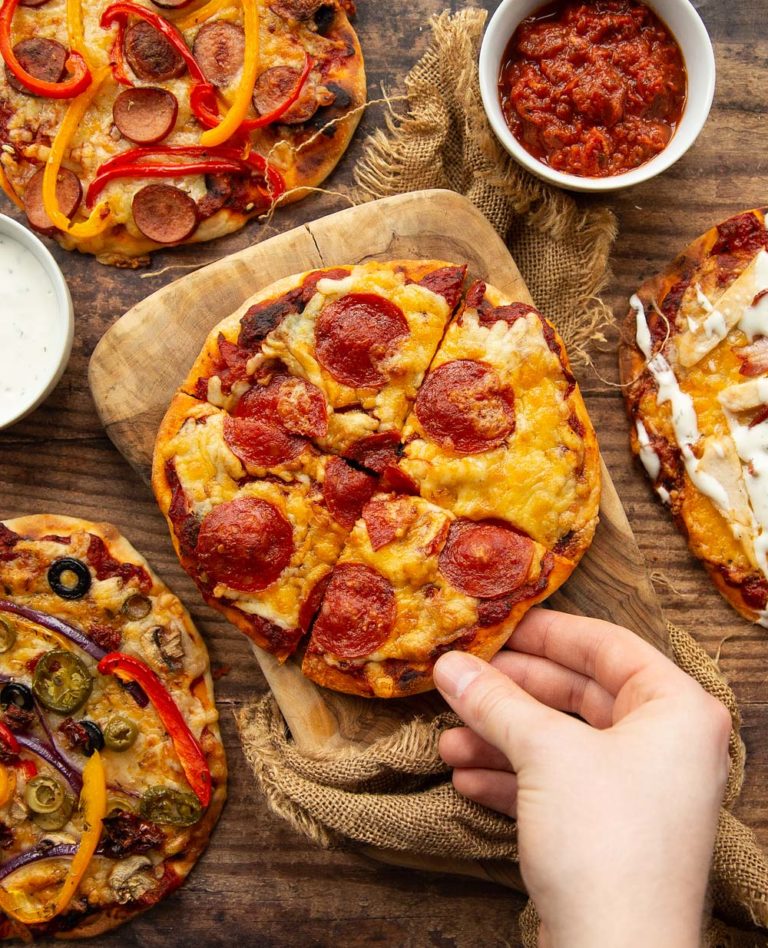 What to serve with flatbread pizzas
If you're looking for DIPS then Garlic and Herb (classic Domino's style) or Sour Cream and Chive work great. If you're looking for a few nibbles on the side check these out:
If you're looking for similar recipes then definitely check out my BBQ Chicken Pizza, Pepperoni Pizza Parcels and Pizza Stuffed Portobello Mushrooms. But for now, let's tuck into the full recipe for these pizza flatbreads shall we?!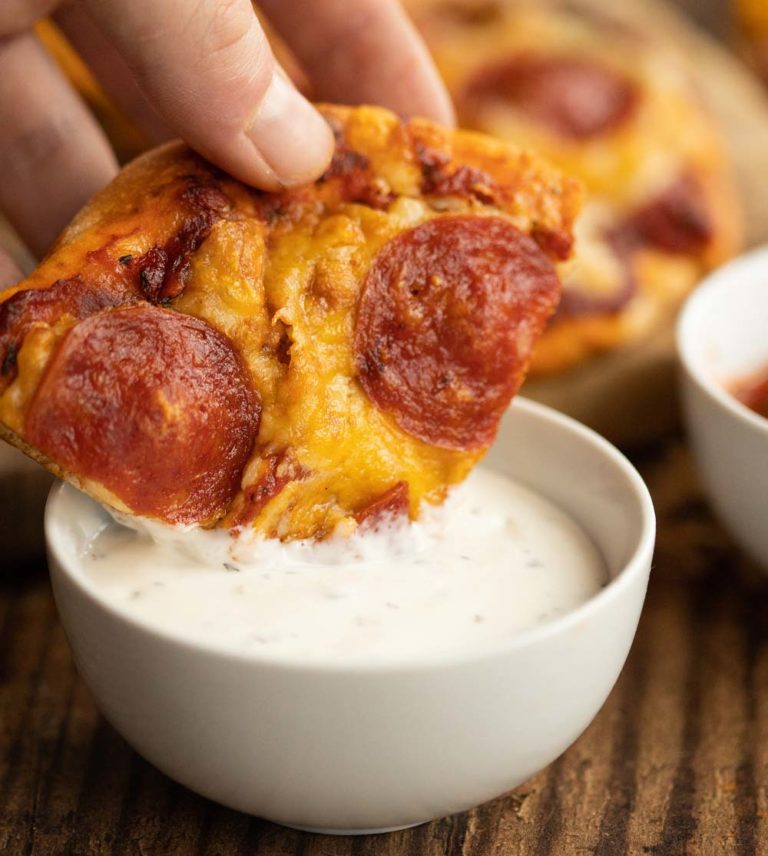 How to make Flatbread Pizzas (Full Recipe & Video)
Flatbread Pizzas
These homemade pizzas couldn't be easier to make. The best no-yeast flatbread you'll ever make + easy and delicious topping ideas. Pizza night never looked so good!
Print
Pin
Rate
Servings (click & slide):
4
pizzas
Calories per serving:
409
kcal
Cost per serving:
£2 / $2.50
Equipment:
Large Mixing bowl & Whisk

Large Baking Tray (or two if you need)

Large Frying Pan & Tongs

Spatula

Sharp Knife & Chopping Board

Brush (for oil)

Rolling Pin
Ingredients (check list):
Flatbread
1 packed cup / 200g

Plain/All Purpose Flour, plus more as needed

1 cup / 250g

Natural/Plain Yogurt (non-sweetened)

1.5

tsp

Baking Powder

1/2

tsp

Salt

8

tsp

Olive Oil
Instructions:
In a large mixing bowl, whisk together flour, baking powder and salt. Make a well in the centre then pour in most of your yogurt. Combine with a spatula until it comes together, then begin forming into a ball with your hands. It should be very slightly tacky, but not so much it sticks to your fingers. Add a pinch more flour if it's too wet, add a dollop more yogurt if it's too dry. The perfect consistency will take all the dough off the edges of the bowl.

Place on a floured surface and knead for a 4-5mins until completely smooth and lump free, adding more flour as needed. The kneading process will dry out the dough so don't add too much flour or it'll throw off the consistency. Cover and rest for 5-20mins (perfect time to prep toppings). Use a sharp knife to divide into 4 smaller portions.

One by one roll out each ball into a 7"x7" circle. Brush one side of each of them with olive oil (just enough to full coat the surface, around 1 tsp per side should be fine).

Heat a pan over medium-high heat and when hot carefully place a flatbread oil-side-down in the pan. Brush top with oil. Allow the dough to puff up and lightly char, then flip and leave to lightly char on the other side. Remove from pan and repeat (refer to notes).

Place flatbreads on a large tray (or two if you need to) and coat each with pizza sauce, then sprinkle with mozzarella. Finish with your toppings (see notes) then place under the grill and broil until golden and gooey. The flatbreads are already completely cooked, so baking is not necessary. It's only the toppings you need to cook.

Allow to rest for a few mins, they may be slightly soft at first, but they do firm up as they cool. Slice 'em up and enjoy!
Notes:
a) Yogurt - You can also use Greek Yogurt for this. In all cases I recommend full fat, but not flavoured (vanilla etc). If at any point you run out of yogurt but the dough is still dry, you can add water.
b) Heat and Texture - Usually if I'm making flatbreads I cook a little longer on medium heat. This will result in softer, more flimsy flatbreads. However, in this case I crank up the heat to get the surface lightly charred and crispy. This will give you a more sturdy pizza base. The higher heat will cause black circles to appear, almost like a naan bread. This is fine, and will actually add flavour. Depending on the heat, they'll only need a couple minutes max on each side.
c) Pizza Toppings - Here are my go to's and the ones I use in the video, but work to preference!
Pepperoni (thin slices of pepperoni)
Veggie (peppers, onion, olives, jalapeño, mushroom, sun dried tomato).
Chicken, Bacon & Cheddar (cooked chicken, part cooked bacon and replace half mozzarella with cheddar, the finish with a drizzle of ranch). 
Sausage and Peppers (different coloured peppers, then finish with a few pinches of crushed fennel seeds before baking)
d) Make Ahead Flat Bread - You can make the dough, roll into rounds and stack (with baking paper in between) in the fridge for a couple of days. Or, you can completely cook them, allow them to cool, then cover and store at room temp for a couple of days. Can also be frozen, just defrost at room temp or bake at 180C/356F for a few mins until heated through if you want to serve hot.
e) Make Ahead Pizzas - Best way is to freeze them either before or after you've baked them. If you're storing before you've baked, just cover and pop in the freezer. From there, bake at 180C/356F for a few mins until just heated through, then switch on the grill and broil until cheese melts on top and the toppings cook. If you're storing after you've baked them, allow to completely cool then cover and store in the freezer. Reheat in the oven at 180C/356F until the cheese starts to bubble and the centre is hot.
f) Calories - per flatbread pizza with no additional toppings (just tomato and mozzarella). 
Your Private Notes:
Nutrition:
Nutrition Facts
Flatbread Pizzas
Amount Per Serving
Calories 409
Calories from Fat 216
% Daily Value*
Fat 24g37%
Polyunsaturated Fat 1.579g
Monounsaturated Fat 10.894g
Cholesterol 52mg17%
Sodium 727mg30%
Potassium 416mg12%
Carbohydrates 30.17g10%
Protein 18.11g36%
Vitamin A 544IU11%
Vitamin C 2.1mg3%
Calcium 452mg45%
Iron 2.07mg12%
* Percent Daily Values are based on a 2000 calorie diet.
Nutrition is based on the absence of salt unless stated as a measurement in the ingredients. Cost is worked out based on ingredients bought from UK supermarkets, then divided by the number of servings. In both instances these values are just for guidance. Please check out my FAQ Page for more info.
---
If you loved this Flatbread Pizza Recipe then be sure to pin it for later! Already made them or got a question? Give me a shout in the comments below and pick up your free ecookbook along the way!