This Pizza Sauce uses pantry staples to produce a rich, thick and outrageously flavoursome base to any homemade pizza!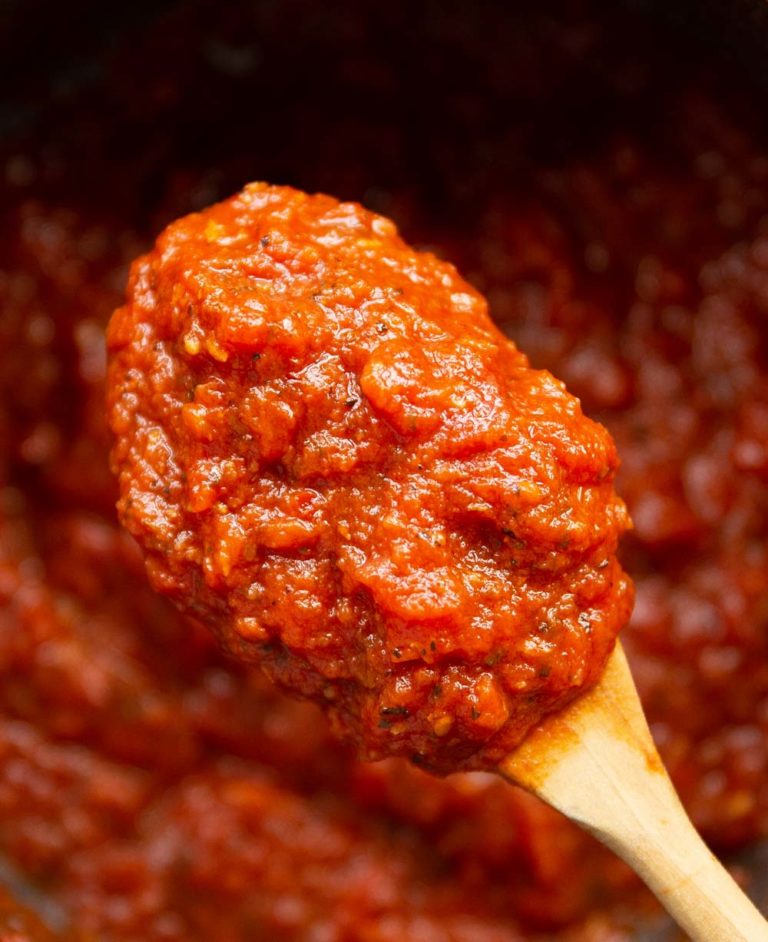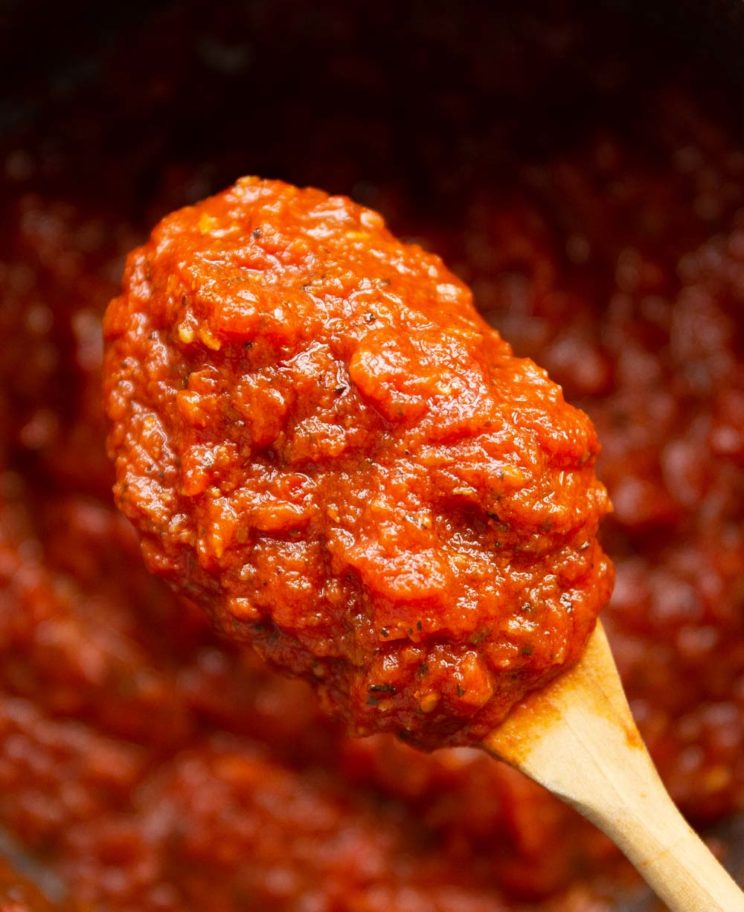 Simply the BEST Pizza Sauce!
Because really, has anyone ever got store bought pizza sauce and not questioned if they'll make it through the pizza or not? 😳I know, I'm such a food snob aren't I 🤣BUT – I will say this with confidence, homemade pizza sauce is an absolute game changer. Here's why you're going to LOVE this recipe:
Pantry Essentials – No fresh herbs or special ingredients here, not needed!
Flavour – This pizza sauce has a deep, rich flavour that is to DIE for.
Texture – It has a natural chunky, thick and rustic texture which you'll want to literally eat by the spoon (100% from experience).
When it comes to the ingredients, they're the usual suspects in my fridge/cupboards, so hopefully they are for you too. The list is fairly short, so try and get some good quality ingredients (namely the tomatoes as they're the star of the show).
Pizza Sauce Ingredients
Plum Tomatoes – Canned skinned plum tomatoes, just dice them roughly in the can. Plum tomatoes are slightly richer in flavour and sweeter than chopped tomatoes.
Onion & Garlic – Both grated so they melt into the sauce.
Olive Oil – Adds flavour and a nice glossy texture to the sauce.
Tomato Puree – Tomato Paste in the US, deepens the tomato flavour and adds a touch more colour.
Basil & Oregano – Pizza essentials, both dried, no need for fresh.
Sugar – Balance out the acidity from the tomatoes
Chilli Flakes – Optional, but does add a nice gentle background heat.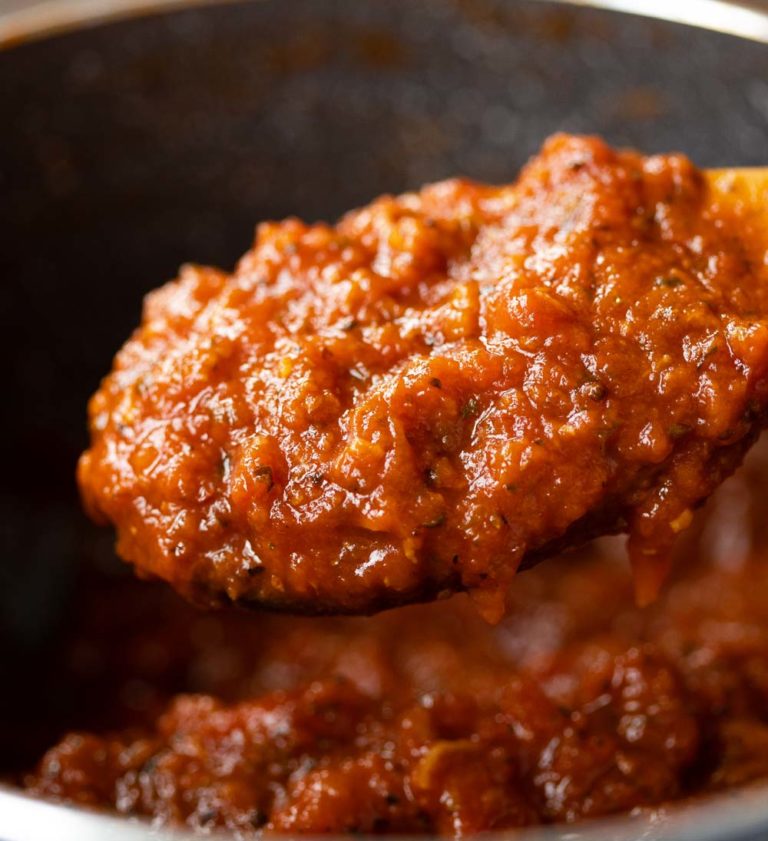 How to make Pizza Sauce from scratch
Making pizza sauce is actually incredibly simple. All you need is the ingredients above, a medium sized pot with a lid, a wooden spoon and a grater for the onion/garlic.
Tips for the Best Pizza Sauce
Tomato Puree – It's important to FRY the tomato puree (paste). This will caramelize/sweeten it and take the 'bite' out. Just a couple of minutes makes a huge difference.
Low Heat – It's important to have the heat low in the first instance (so the grated onion/garlic doesn't burn) and in the last instance (to slowly marry the flavours together before the sauce has fully reduced).
Simmer – Some recipes suggest hours (literally) and others don't even suggest cooking the sauce. I prefer somewhere in between – I find simmering on low for around 30-40mins develops the flavours enough and reduces down nicely.
What consistency should pizza sauce be?
Totally down to preference, but I recommend something that is thicker than regular tomato sauce, but not quite as thick as tomato puree (paste). The further you reduce down the sauce, the more intense the flavour.
How to make Pizza Sauce (quick summary)
Add onion/garlic to olive oil on low-medium heat.
Fry until golden.
Stir in tomato puree and fry.
Add tomatoes.
Add seasoning.
Stir then simmer.
Pizza Sauce FAQ
Why is my pizza sauce watery?
This is because it hasn't reduced down enough. I suggest cooking with the lid slanted on the pot so there's room for steam to escape so the sauce can reduce.
How do you make pizza sauce thicker?
If it's still watery after the suggested cooking time, leave the lid off and continue simmering until thickened.
Can you over cook tomato sauce?
Yes. If the sauce is over-reduced (and has a mushy texture like tomato puree/paste) then just add water in 1 tbsp at a time until it has a looser texture.
How long does pizza sauce last in the fridge?
If you completely cool the sauce and tightly store it in the fridge, it should last 3-4days. Longer at your discretion.
Can you freeze pizza sauce?
Yes! Just cool and tightly store in the freezer. I recommend defrosting in the fridge overnight, but you can reheat small portions of it straight from the freezer on a very low heat on the stove (thin out with water as needed).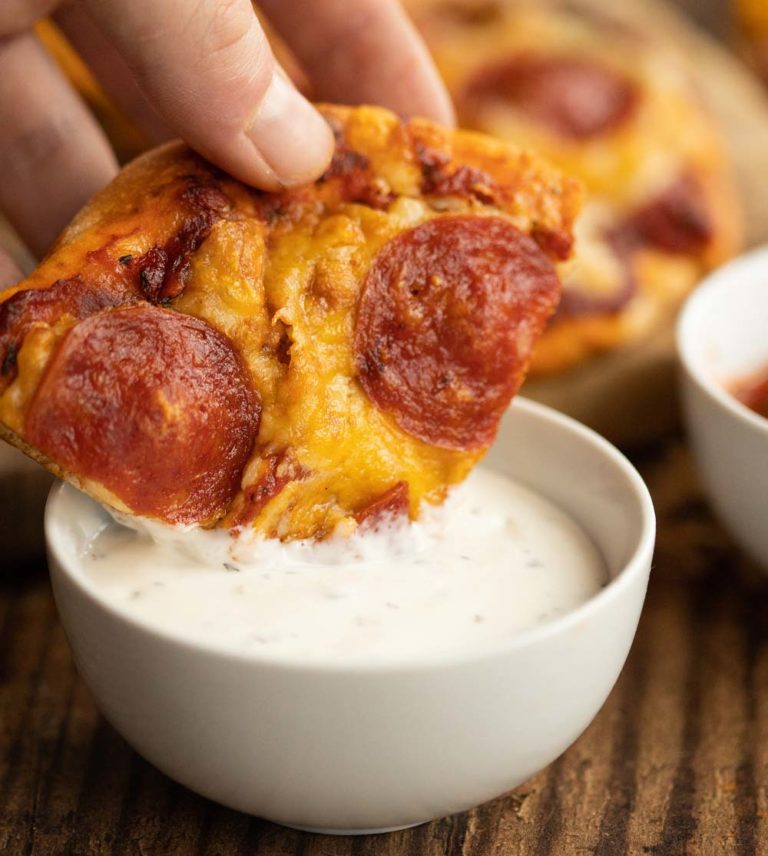 What can I use pizza sauce for other than pizza?
You can use leftovers and stir through pasta! Just thin it out with water if you need to. Here's some other 'pizza-like' recipes to plonk it on:
I don't think I've used so many P's in such a short space of time 🤣
If you're looking for a BBQ style pizza then definitely check out my BBQ Chicken Pizza. For more simple sauces check out these beauties:
Alrighty, let's tuck into the full pizza sauce recipe shall we?!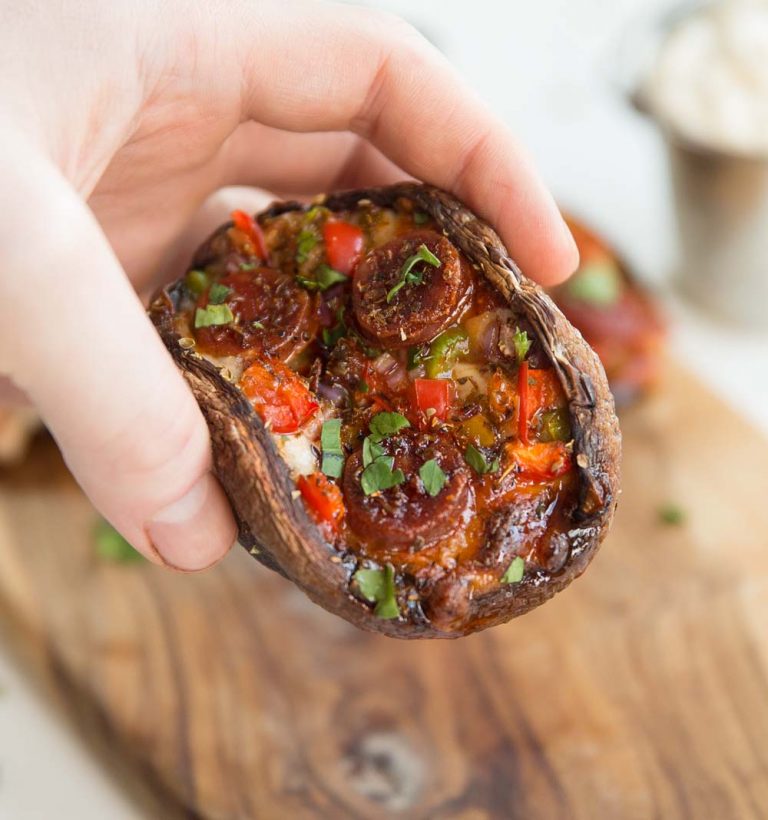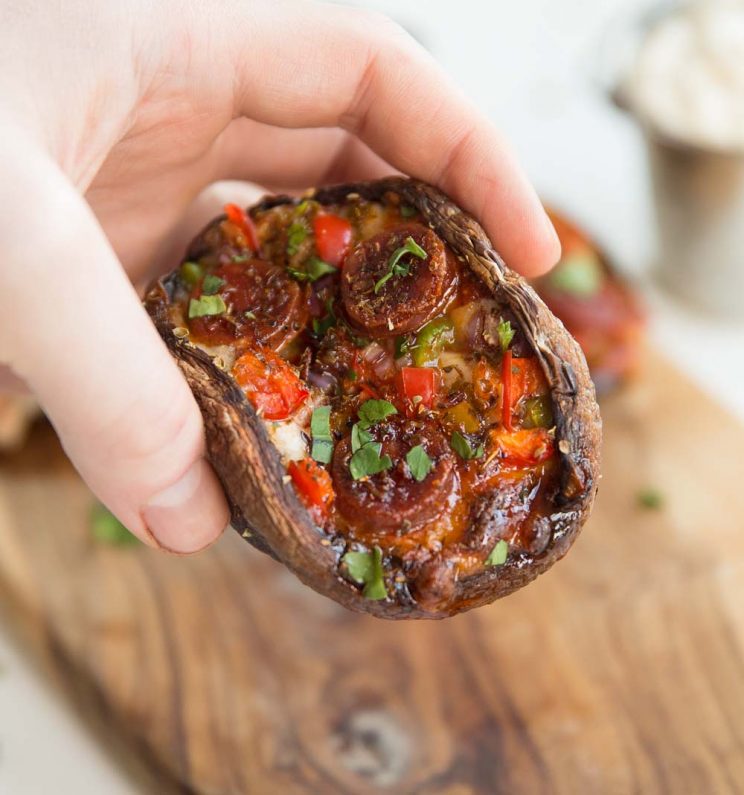 How to make Pizza Sauce (Full Recipe & Video)
Homemade Pizza Sauce (Rich & Rustic)
This Pizza Sauce uses pantry staples to produce a rich, thick and outrageously flavoursome base to any homemade pizza!
Print
Pin
Rate
Servings (click & slide):
1.5
cups
Calories per serving:
48
kcal
Cost per serving:
£1 / $1
Equipment:
Medium Sized Pot with Lid

Fine Grater

Wooden Spoon
Ingredients (check list):
1x 14oz/400g

can of

Good Quality Skinned Plum Tomatoes (roughly chop in can with knife)

1/2

small

White Onion, grated

1-2

cloves of

Garlic, grated/minced

1

tbsp

Tomato Puree (Tomato Paste in US)

1

tbsp

Olive Oil

1

tsp

Dried Oregano

1/2

tsp

Dried Basil

1/2

tsp

Sugar, or to taste

1/4

tsp

Salt, or to taste

1/8

tsp

Black Pepper, or to taste

1/4

tsp

Chilli Flakes, or to taste (optional)
Instructions:
Heat 1 tbsp olive oil in a medium pot over low-medium heat. Add grated onion & garlic and fry until they just begin to brown (careful, garlic burns quickly and goes bitter). Add 1 tbsp tomato puree and fry for a few mins.

Pour in tomatoes, then swill out the can with a little water and pour that in too. Add 1 tsp oregano, 1/2 tsp basil and sugar and 1/4 tsp salt, black pepper and chilli flakes (optional). Give it a good stir and bring to boil. Immediately reduce heat to low and simmer with the lid on (slanted to allow some steam to escape) for 30-40mins, or until thick and no longer watery, stirring occasionally.

If the sauce thickens too much just add water in 1 tbsp at a time to thin out. If the sauce is still watery just continue simmering on low with the lid off. Taste for seasoning and adjust accordingly. Blitz until smooth if you prefer!
Notes:
a) Plum Tomatoes - Plum tomatoes are best because they're slightly richer/sweeter than regular chopped tomatoes. Just dice them up in the can with a knife. If you don't have plum tomatoes you can sub chopped tomatoes or tomato passata (pureed/crushed tomatoes) just adjust the sugar accordingly. A can of good quality plum tomatoes still best though. b) Frying Tomato Puree - This is an important step. By frying the puree it takes the 'bite' out of the puree and sweetens/caramelizes it. Just a couple of minutes will make the difference. Deglaze the pot with the tomato juices as necessary. c) Consistency - Some recipes suggest simmering for hours (literally) and other suggest you don't even need to cook it. I like somewhere in between. I believe 30-40mins develops the flavours enough, and also thickens the sauce (with the lid leaning off) to a good consistency. You're looking for somewhere between tomato paste/puree and tomato sauce. See video for guidance.  d) Chunky or Smooth? - I like mine more of a thick, chunky and rustic style. Gives it a bit more character and a bit more texture. However, feel free to either pulse in a blender or use a hand mixer to blitz until your desired texture. e) Storing - You can cool and tightly store in the fridge for 3-4days (must cool first and ensure lid is clean or more likely to go off). Or, you can freeze and defrost in the fridge when needed. f) How much does this make? - It's about 1 1/4 cups (300g). It's down to preference how much you want on your pizzas, but I usually make this with 4 small pizzas or 2 large. g) Calories - based on all ingredients listed then divided by 4
Your Private Notes:
Nutrition:
Nutrition Facts
Homemade Pizza Sauce (Rich & Rustic)
Amount Per Serving
Calories 48
Calories from Fat 32
% Daily Value*
Fat 3.54g5%
Polyunsaturated Fat 0.416g
Monounsaturated Fat 2.488g
Sodium 202mg8%
Potassium 134mg4%
Carbohydrates 4.08g1%
Protein 0.67g1%
Vitamin A 220IU4%
Vitamin C 7.4mg9%
Calcium 28mg3%
Iron 0.6mg3%
* Percent Daily Values are based on a 2000 calorie diet.
Nutrition is based on the absence of salt unless stated as a measurement in the ingredients. Cost is worked out based on ingredients bought from UK supermarkets, then divided by the number of servings. In both instances these values are just for guidance. Please check out my FAQ Page for more info.
---
If you loved this Pizza Sauce Recipe then be sure to pin it for later! Already made them or got a question? Give me a shout in the comments below and pick up your free ecookbook along the way!