These Pizza Stuffed Portobello Mushrooms are super easy, quick and great fun to make – They're also PERFECT for the low-carb community among us! Say hello to your new favourite keto meal!

The BEST Pizza Mushrooms
It's a bit of an odd concept at first I will admit, and even as I was developing this recipe I did have my reservations. But let me tell you, mushroom based pizzas are fa-reaking delish. What's best they're so easy to make. No faffing about with pizza dough, just clean and gut some portobello mushrooms and you're well on your way. I mean, you have mushrooms on pizza, so why not have pizza on mushrooms? 🤣
Portobello Mushrooms
Portobello mushrooms are by far the best mushroom to make pizzas out of, purely because of their size. They're big and chunky, so make a sturdy base for the pizza.
Can I use any other mushrooms?
I've used two other mushrooms for this recipe and both work quite well. First is 'Large Flat Mushrooms' – slightly smaller than portobello mushrooms, but still large enough to hold a pizza filling. Second is 'Chestnut Mushrooms' – these are a lot smaller than portobello mushrooms, but they've still got a deep curve that can fit fillings in. You'll just have lots of mini pizza mushrooms 😁

Preparing Portobello Mushrooms
Just like a pizza dough, the mushrooms will need a little TLC before they're ready to be topped.
Cleaning Mushrooms
Mushrooms can sometimes contain a fair amount of dirt, so it's important to clean them first. BUT, please for heavens sake don't wash them under the tap. Mushrooms are packed full of water and washing them will only add fire to the flame (don't want soggy mushrooms!) so instead just lightly clean with a damp cloth to remove dirt.
Get rid of that moisture!
The single most important step in this recipe is pre baking the shells before you stuff them.
Like I said, mushrooms contain a huge amount of water, which is consequently released when they are cooked. The first few rounds of testing this recipe I did what felt sensible, and merely chucked the fillings in the mushrooms and baked them in the oven. However it soon became apparent that unless I wanted a portobello swimming in water, it wasn't going to work.
The stuff and bake method works perfectly if you're using dry ingredients like quinoa or rice, because the extra moisture will actually keep everything from drying out. But with such wet ingredients like melted cheese and pizza sauce, the extra moisture just turns everything a little sloppy.
In such case a quick stint in the oven before you add the fillings will do these pizzas the world of good.
And by 'add the fillings' I mean raid the fridge of leftovers you need to use up of course.
How to prepare Portobello Mushrooms (quick summary)
Clean lightly with a damp cloth to remove dirt, then flip upside down.
Pull out the stalk and gut out the gills with a tsp.
Brush both sides with olive oil and sprinkle with salt and pepper.
Prick 4-5 times with a toothpick.
By pricking with a toothpick you'll allow moisture to drip out the bottom of the mushroom, which is what we want. The holes are small enough for the fillings/sauce to not seep through, yet big enough for water to find it's way out.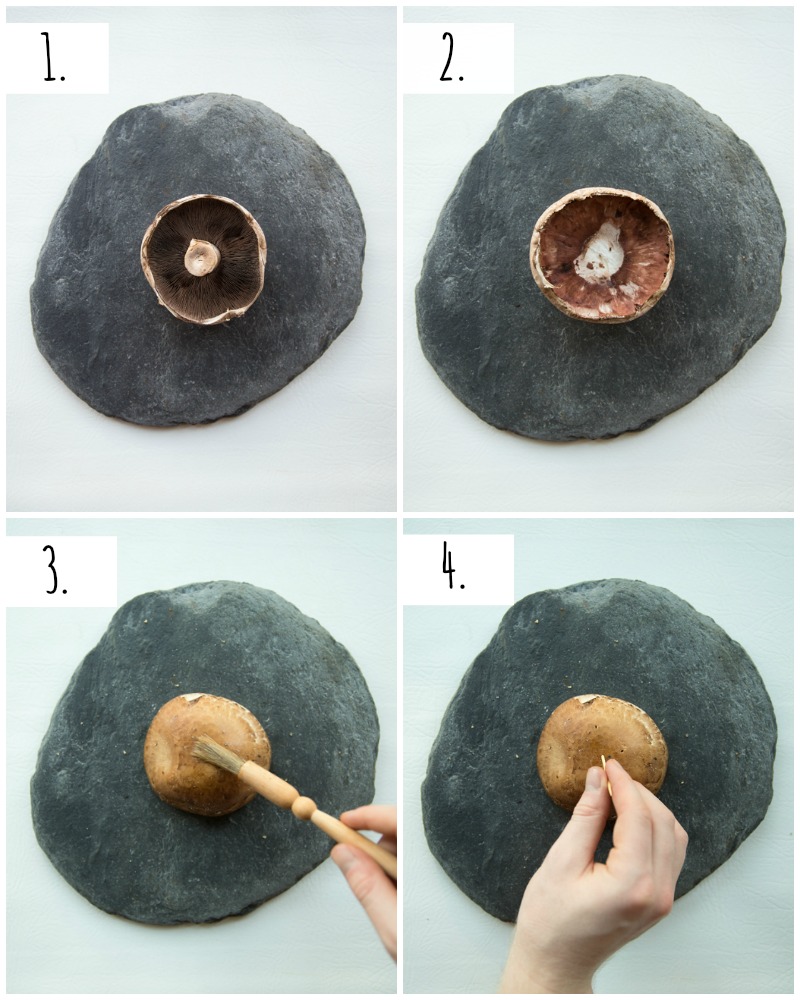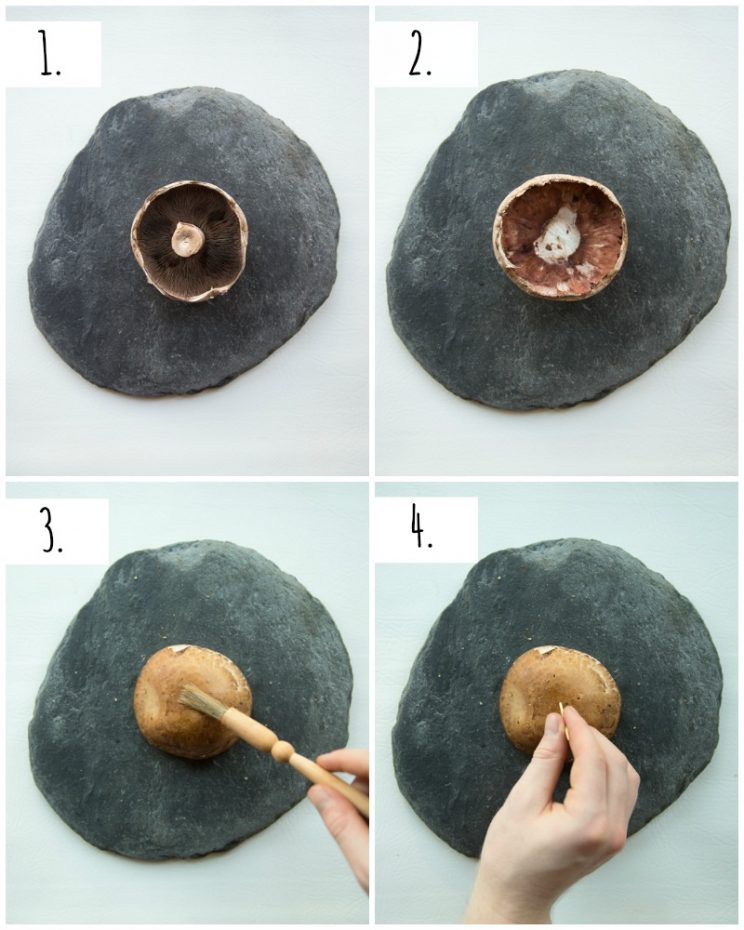 Making Pizza Mushrooms
When it comes to the pizza part, you can really add any toppings your heart desires! Here's the usual suspects for me:
Pizza Mushroom Toppings
Cheddar
Peppers
Onion
Chorizo
Italian Herbs
Pizza sauce and cheese (can sub choice of choice) are of course essentials! I recommend herbs, namely oregano, basil or an Italian mix like I use. But other topping ideas are yours for the taking!
How to cook Portobello Mushrooms Pizzas (quick summary)
Place mushrooms on a wire rack above an oven tray. Bake until some moisture is released (6-10mins).
Soak up excess moisture with a paper towel.
Pop on your toppings and grill until the cheese melts!
Tips for Pizza Stuffed Portobello Mushrooms
Cleaning – Don't be tempted to wash your mushrooms under the tap, that'll only add unwanted moisture to the mushrooms. The best way to clean mushrooms is to grab a lightly damp cloth and clean them that way.
Seasoning – It's really important to season the mushrooms caps before they bake in the oven, just to avoid a bland finish. All the toppings in the world won't mask an unseasoned mushroom base!
Chop the veg small – Because the fillings only have a short time to cook under the grill, it's important to chop your onions, peppers etc quite finely so they get the best chance of cooking all the way through.
What can I serve with these?
They're great for lunch with a side salad, or, for a more hearty meal check these sides out:
If you're looking for another delicious way to use portobello mushrooms check out my Portobello Mushroom Burgers! If you're looking for similar recipes then definitely check out my BBQ Chicken Pizza, Pepperoni Pizza Parcels and Flatbread Pizzas. But for now, let's tuck into the full recipe for these portobello pizza mushrooms shall we?!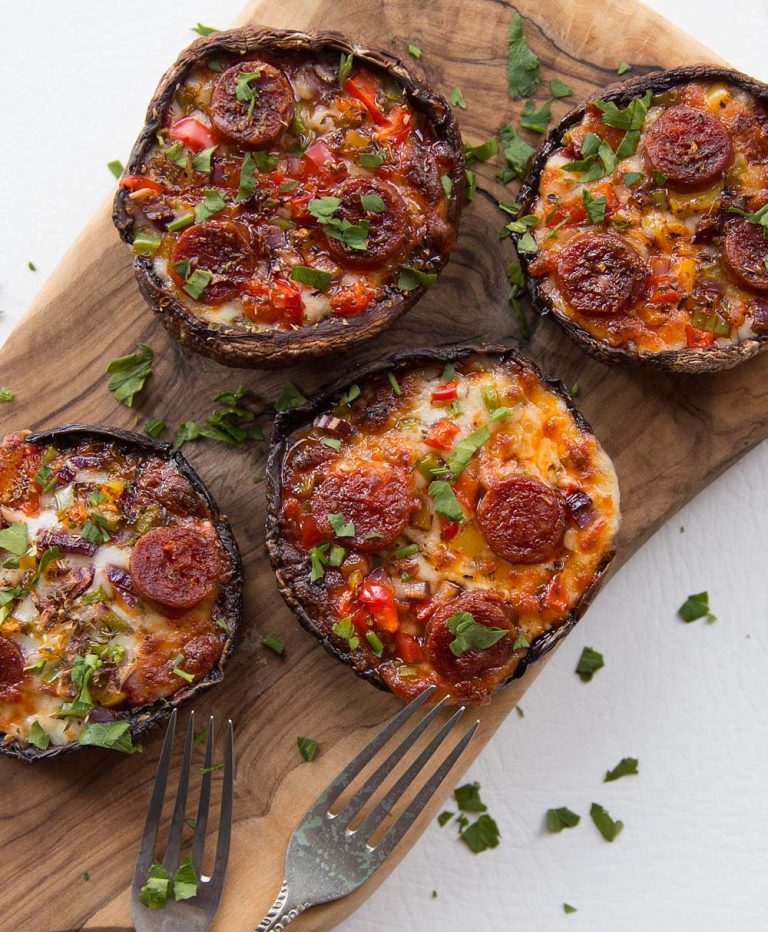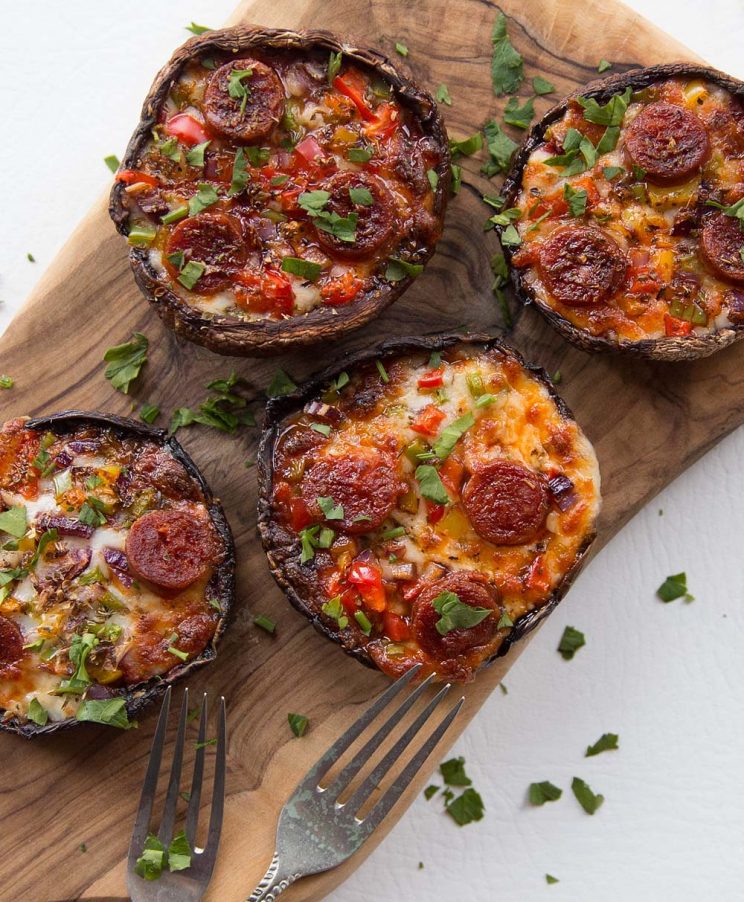 How to make Pizza Stuffed Portobello Mushrooms (Full Recipe & Video)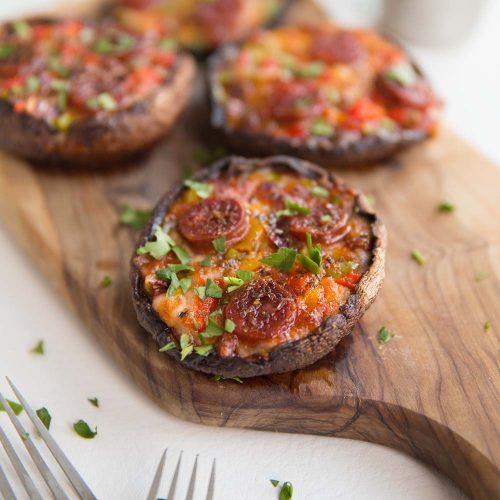 Pizza Stuffed Portobello Mushrooms
These Pizza Stuffed Portobello Mushrooms are super easy, quick and great fun to make. Also they're PERFECT for the low-carb community among us!
Print
Pin
Rate
Share by Text
Servings (click & slide):
4
Calories per serving:
134
kcal
Cost per serving:
£1.50 / $2
Equipment:
Baking Tray with Wire Rack

Sharp Knife & Chopping Board

Tooth Pick

Paper Towel
Ingredients (check list):
4

Portobello Mushrooms, cleaned (see notes)

4

tbsp

Pizza Sauce

4

tbsp

Cheddar, grated (or cheese of choice)

12

small slices

Chorizo (or pepperoni)

4

tbsp

Mixed Peppers, finely diced

4

tsp

Onion, finely diced

1

tsp

Dried Italian Herbs
Salt & Black Pepper, to taste
Olive Oil, as needed
Instructions:
Preheat oven to 200C/390F.

Remove stalks from the mushrooms and scrape out the gills with a teaspoon. Lightly coat with oil and give a good seasoning of salt and pepper. Grab a toothpick/cocktail stick and pierce the mushroom 4-5 times. This will allow moisture to drip out during cooking.

Place on a rack over a pan to catch the moisture that leaves. Bake for around 6-10 minutes or until they just begin to wilt and produce water. You want to ensure some moisture leaves, but not until they completely wilt flat. Use your best judgement based on the size of your mushrooms.

Drain away and soak up the excess moisture with paper towels, then finish building your masterpiece. Use a first layer of pizza sauce, then cheese, then evenly sprinkle the rest of your toppings and finish with a dusting of Italian herbs. Pop back in the oven and grill/broil for a few minutes until the cheese starts to crisp.

Enjoy! Oh and maybe grab some napkins. That cheese is gonna be oozey.
Notes:
a) Portobello Mushrooms - Try and get the most curved portobellos you can find. If they start out flat, they're going to wilt too much in the oven and the toppings will spill out. Also you can definitely trade out the portobello mushroom with just large flat mushrooms, just consider reducing your baking time depending on how much smaller they are. b) Cleaning - As 'extra' as it may seem to clean the mushrooms with a damp cloth, do try and avoid washing them. They contain a hefty amount of moisture as it is and cleaning under tap unfortunately will only add to that. c) Herbs - You can sub your own herbs, my advice however is to definitely include Basil and Oregano.  d) Finely diced toppings - Because the toppings only have a short amount of time under the grill, it's important to avoid large chunks of onion/pepper just to give them the best chance of cooking all the way through. e) Baking - You can extend the baking time and completely cook the mushrooms through, which will extract a good amount of moisture. However this massively increases the chance of your mushrooms wilting completely flat. I personally enjoy the mushrooms still with a bit of their naturally curve, just so they contain as much filling as possible. In such case I find the optimum time for this, whilst still draining out some of the mushroom moisture, lies between 6-10 minutes. Use your best judgement for your desired result based on the size of your mushrooms! f) Calories - based per mushroom pizza.
Your Private Notes:
Nutrition:
Nutrition Facts
Pizza Stuffed Portobello Mushrooms
Amount Per Serving (1 Mushroom Pizza)
Calories 134
Calories from Fat 84
% Daily Value*
Fat 9.38g14%
Polyunsaturated Fat 0.798g
Monounsaturated Fat 3.949g
Cholesterol 20mg7%
Sodium 274mg11%
Potassium 455mg13%
Carbohydrates 5.99g2%
Protein 7.38g15%
Vitamin A 1050IU21%
Vitamin C 15.7mg19%
Calcium 70mg7%
Iron 0.7mg4%
* Percent Daily Values are based on a 2000 calorie diet.
Nutrition is based on the absence of salt unless stated as a measurement in the ingredients. Cost is worked out based on ingredients bought from UK supermarkets, then divided by the number of servings. In both instances these values are just for guidance. Please check out my FAQ Page for more info.
---
If you loved these Pizza Mushrooms be sure to Pin them for later! Already made them or have a burning question? Give me a shout in the comments and pick up your free ecookbook along the way!