Take your homemade garlic bread to the next level by using roasted garlic! Using minimal ingredients this truly is the ultimate side dish to any meal!
I know, just when you thought garlic bread couldn't get any more glorious, we go ahead and take things to a whoooooole new level. Yep, strap yourselves in folks, this one's a good'n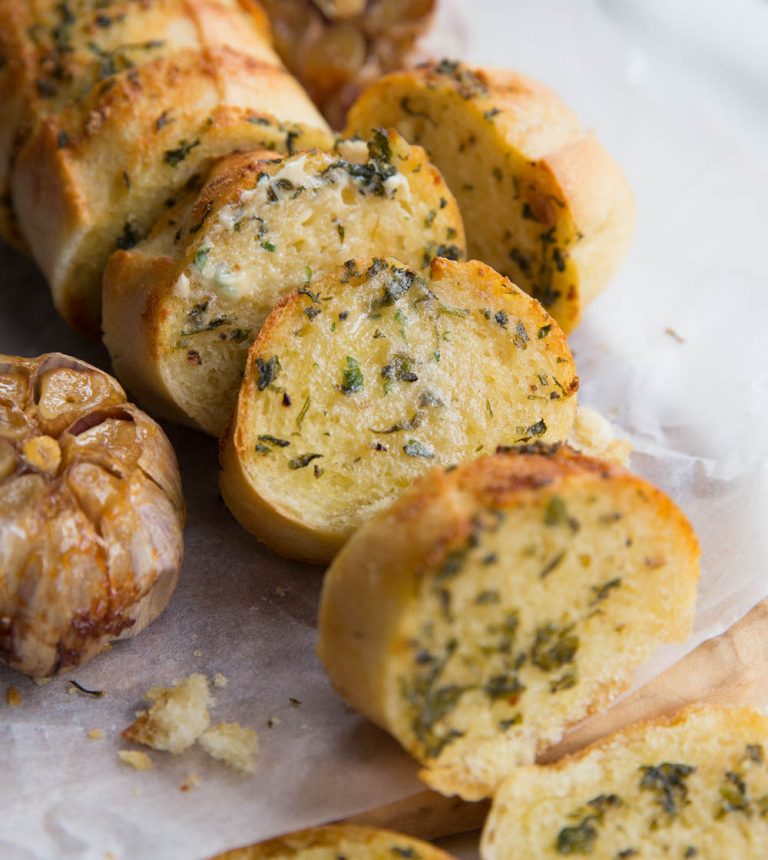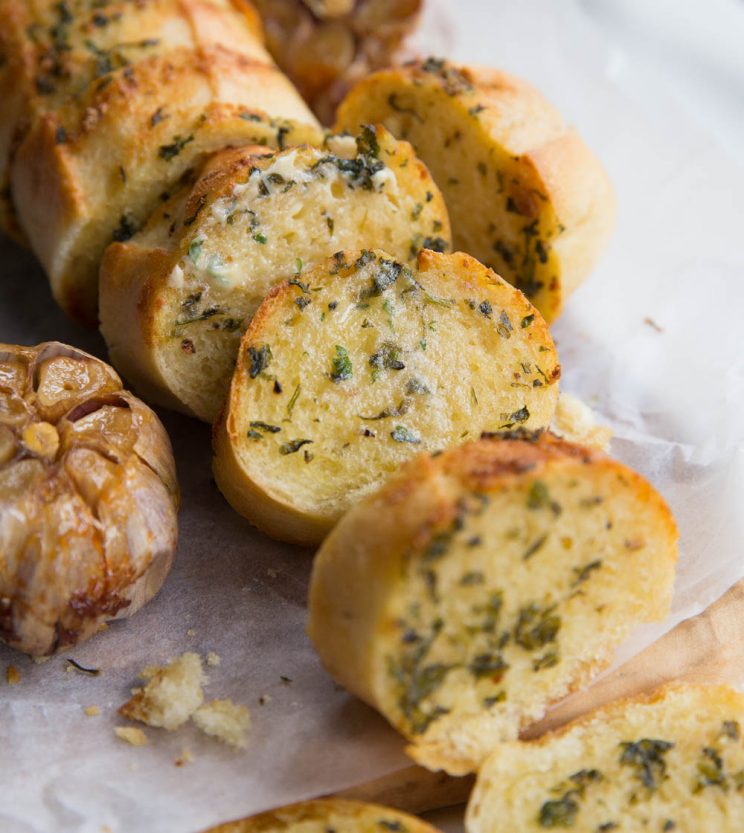 I've been obsessed with roasting garlic for a while now and honestly by this point I'm just looking for different ways to use it other than spreading it over my face. Shameless.
When you roast garlic low and slow in the oven it turns sweet and sticky. It completely takes the pungency out of the garlic and actually changes the flavour quite considerably.
Roasted garlic bread is just as flavoursome as classic garlic bread, but without being too 'up in your face garlicy', if you get my flow…
Any who, let's see just how easy garlic is to roast shall we?
How to roast garlic
Slice the tips off 2 small garlic bulbs.
Place on top of 2 sheets of foil and drizzle with olive oil.
Wrap.
Place in a baking tin for 45mins at 180c/350f.
Drown in the gorgeous sweet smell of caramelized garlic.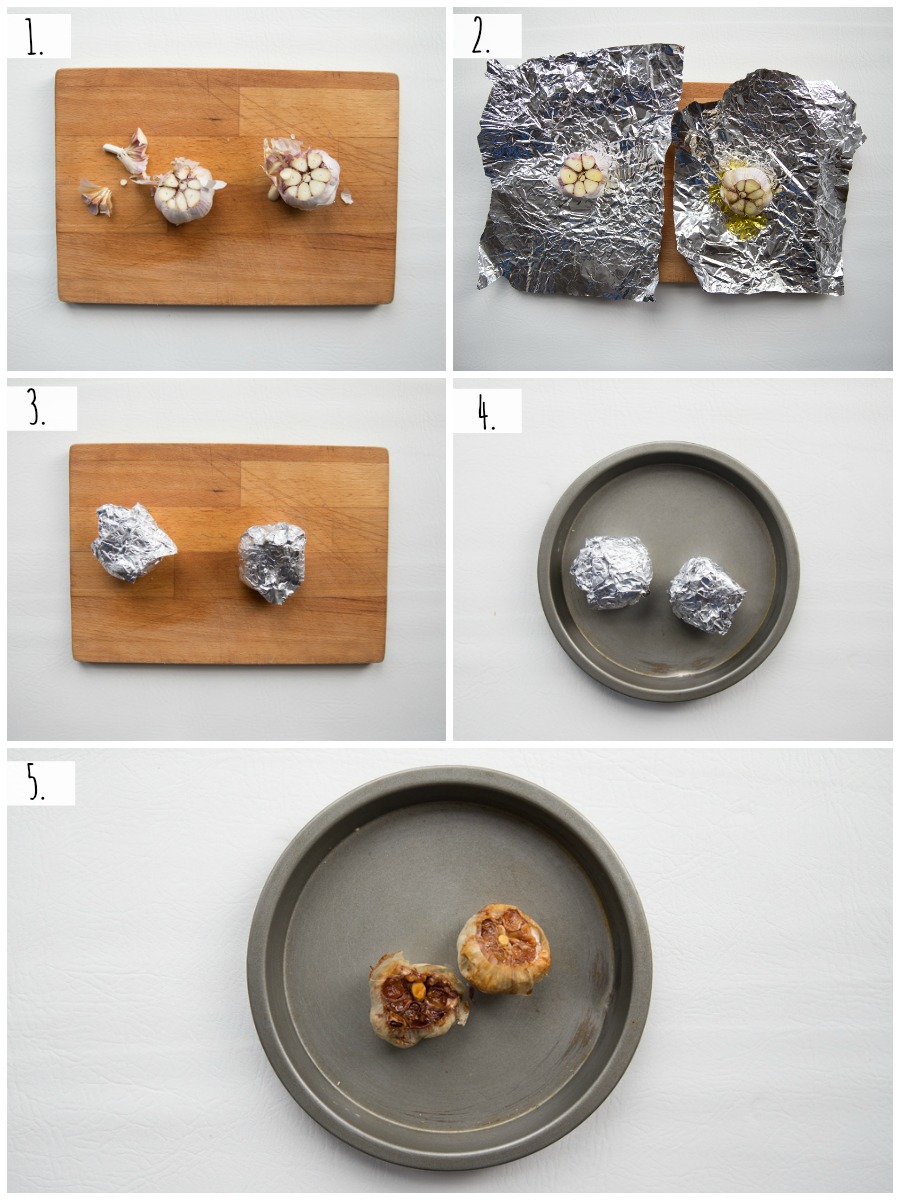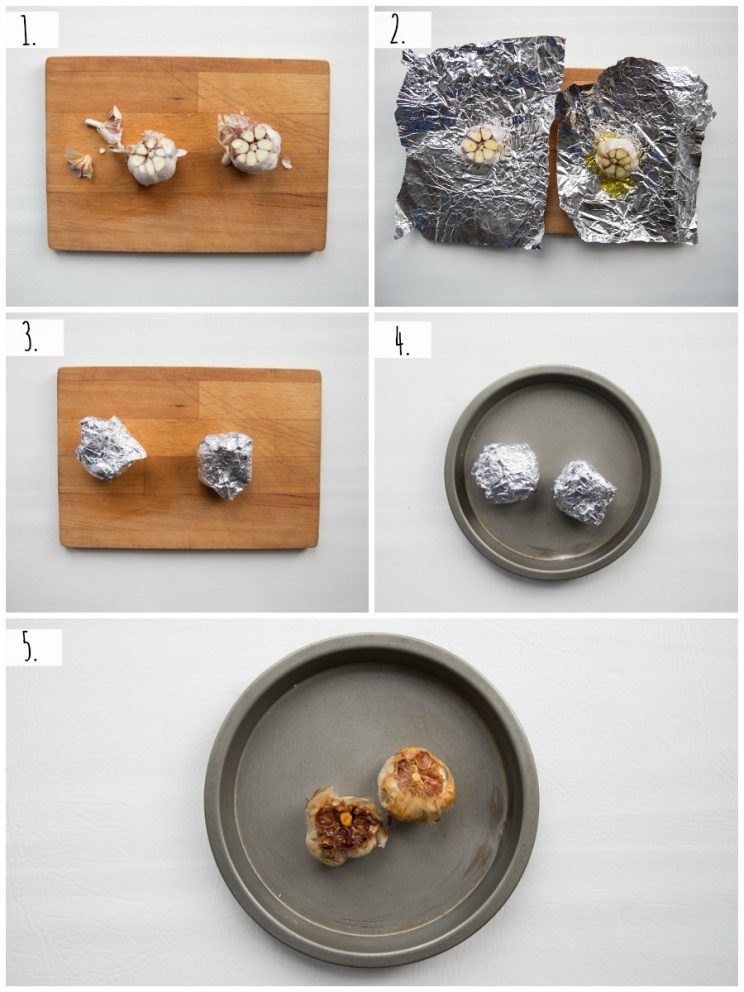 Alrighty, so you've got your roasted garlic, let's talk butter.
Couple of tips to keep in mind – Firstly make sure it's unsalted butter, just so you've got complete control over how salty your garlic bread ends up. Secondly make sure it's at room temp so it's easy to mash and spread.
When it comes to the roasted garlic it will actually be pretty smooth, but I like to mash out any final lump by spreading it into a pinch of salt.
With regards to herbs I like to keep it classic with parsley. Nice and fresh, not too overpowering.
Alright, quick summary:
How to make roasted garlic butter
Mash roasted garlic into a pinch of salt to break up any hard bits.
Add unsalted butter, parsley, black pepper and olive oil.
Combine until smooth.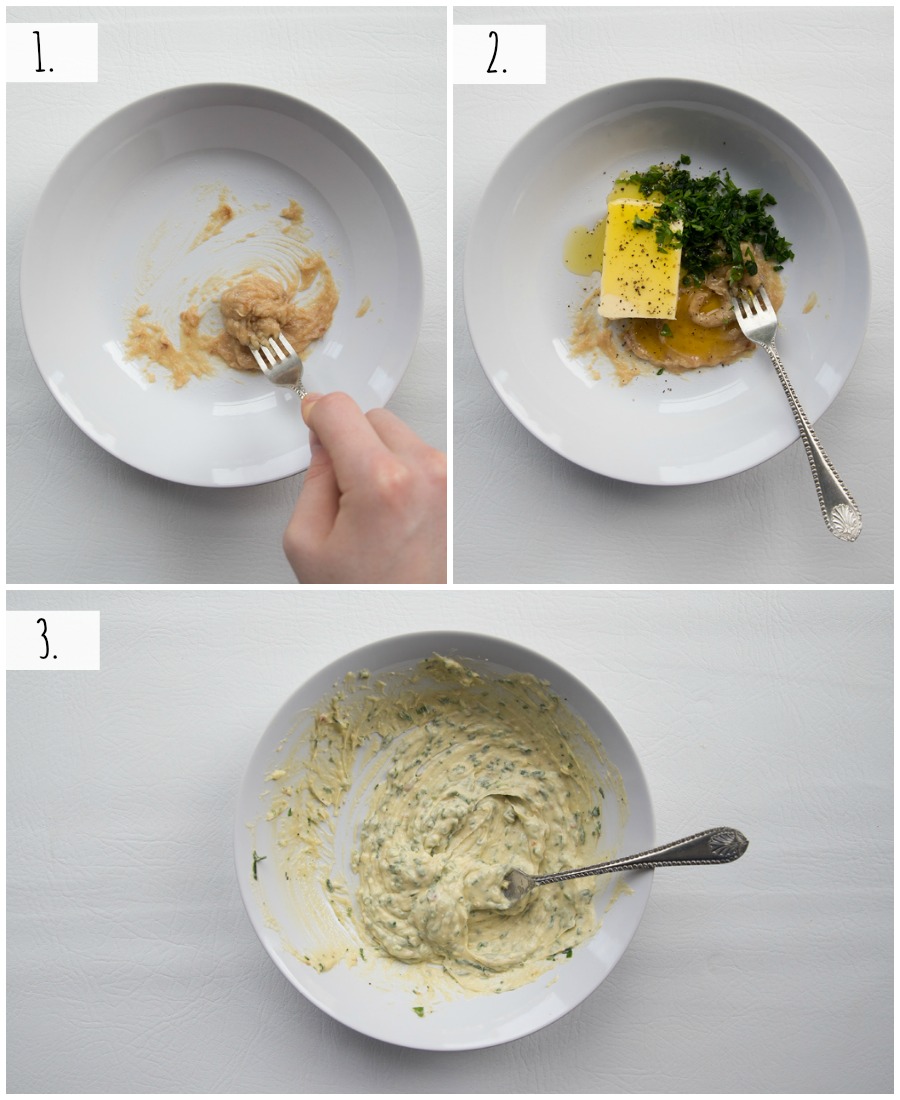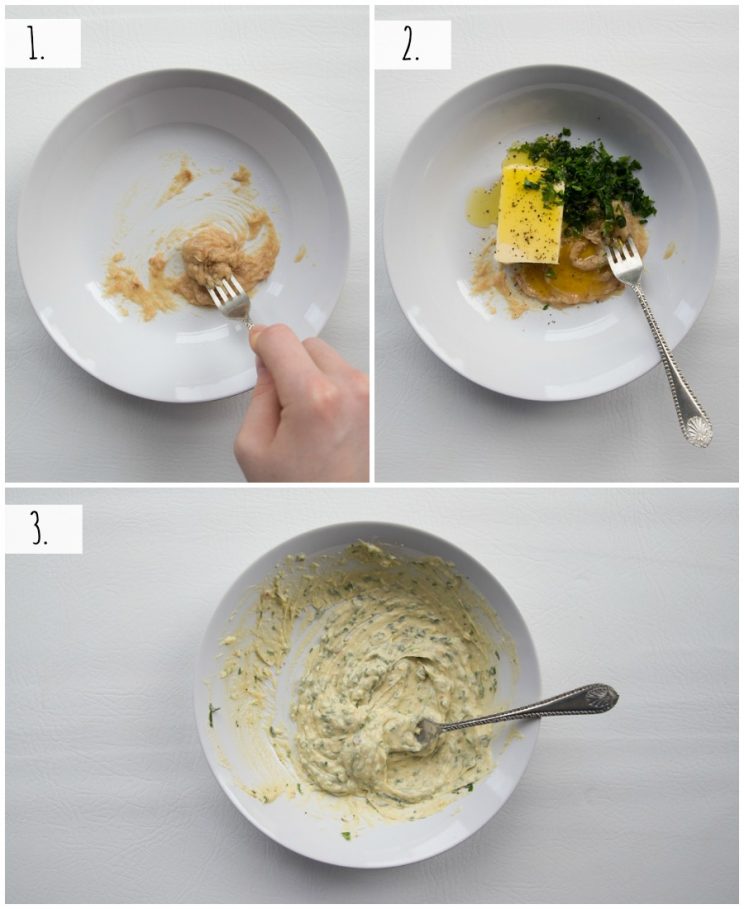 What bread to use for garlic bread?
I always use a part-baked french baguette. You can pick these up almost anywhere in the UK. Using a part-baked baguette offers the perfect texture, ensuring it doesn't end up too hard/chewy after it's baked. If you can't find part-baked don't panic, a fresh baguette will do perfectly. In all instances I recommend using a simple french baguette, and try and ensure it's a nice soft one. Don't need fancy bread, the store bought stuff works the best.
What size baguette to use?
The baguettes I use are around 10″/25cm long and around 300g/10.5oz. This is the standard size in the UK for store bought garlic bread. I slice into 12 pieces which should serve 3-4 people as a side.
How to make Garlic Bread
Slice equal into 3/4″ chunks, ensuring you don't slice all the way down.
With a knife, spread the garlic butter down the slits.
Wrap in foil and bake for 10 mins, the unwrap and bake again until desired texture.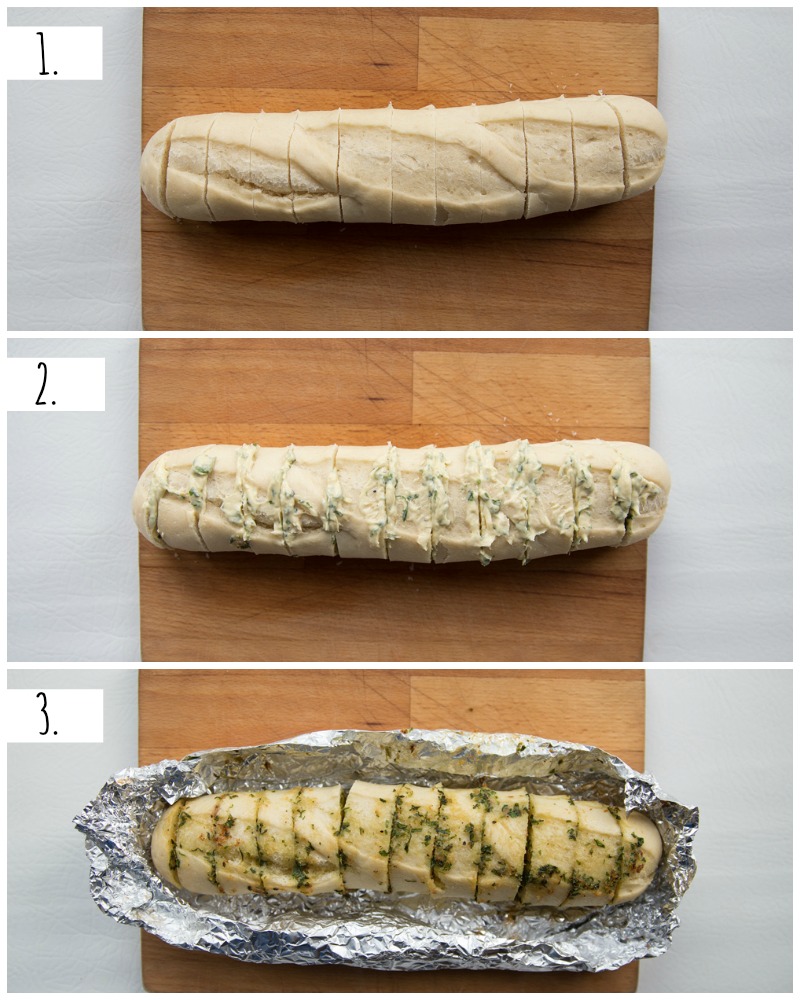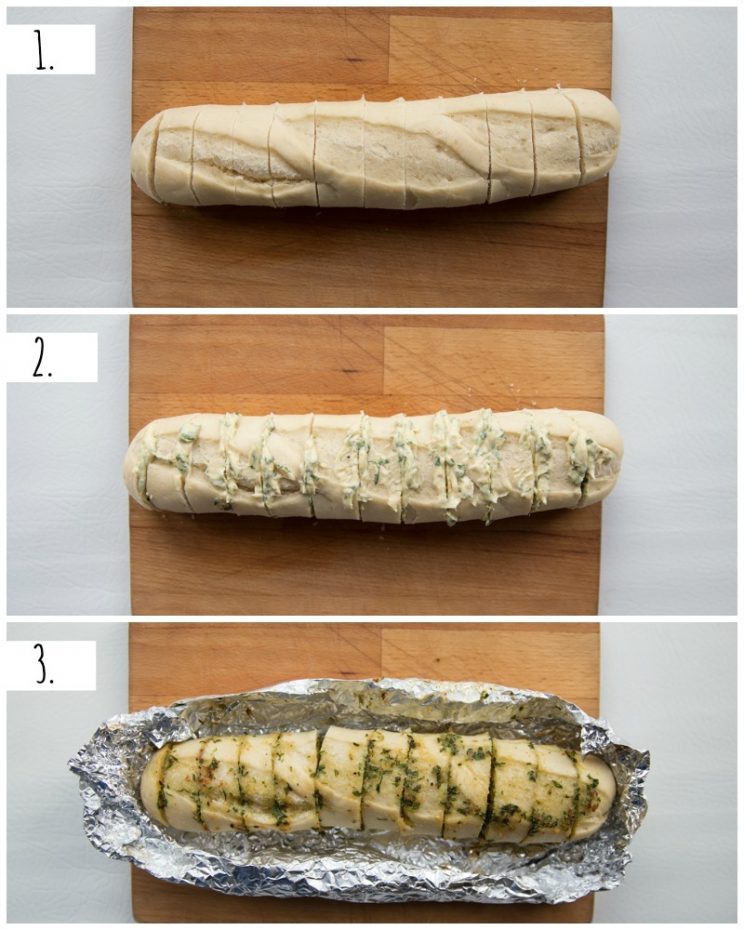 The first 10 minutes in the oven is just to melt the butter and soften the bread, the second slot is to crisp it up. I find that just an extra 10-15mins turns it beautifully golden and crispy, but not too hard. Completely to preference though.
And there we have it! My tips for perfect roasted garlic bread.
Hey, whilst you're here why not check out my other roasted garlic recipes?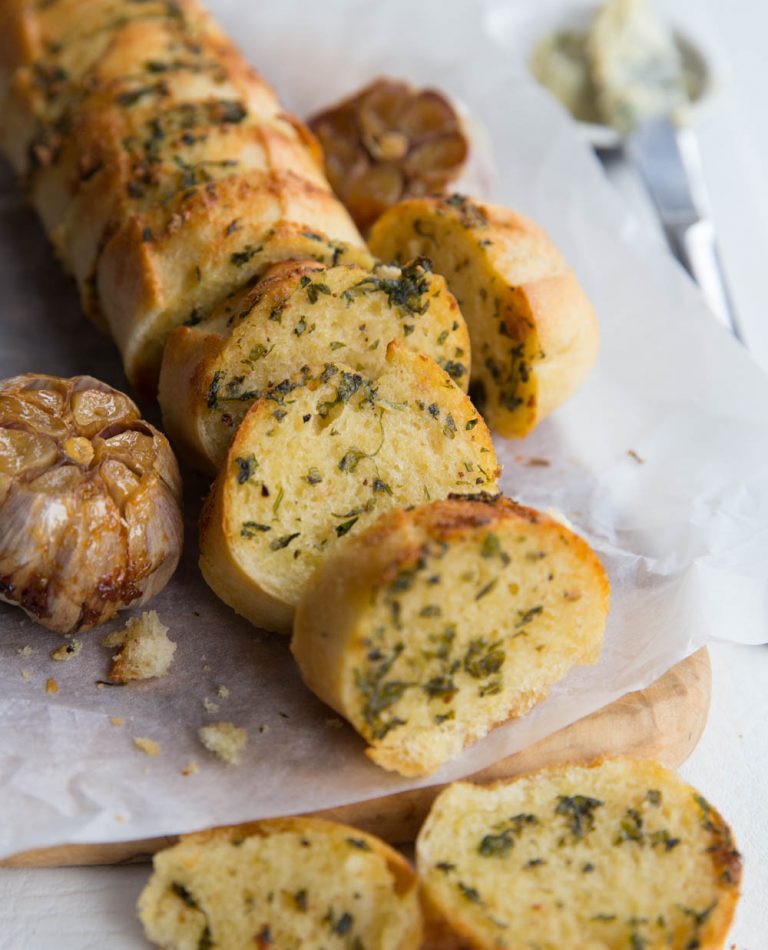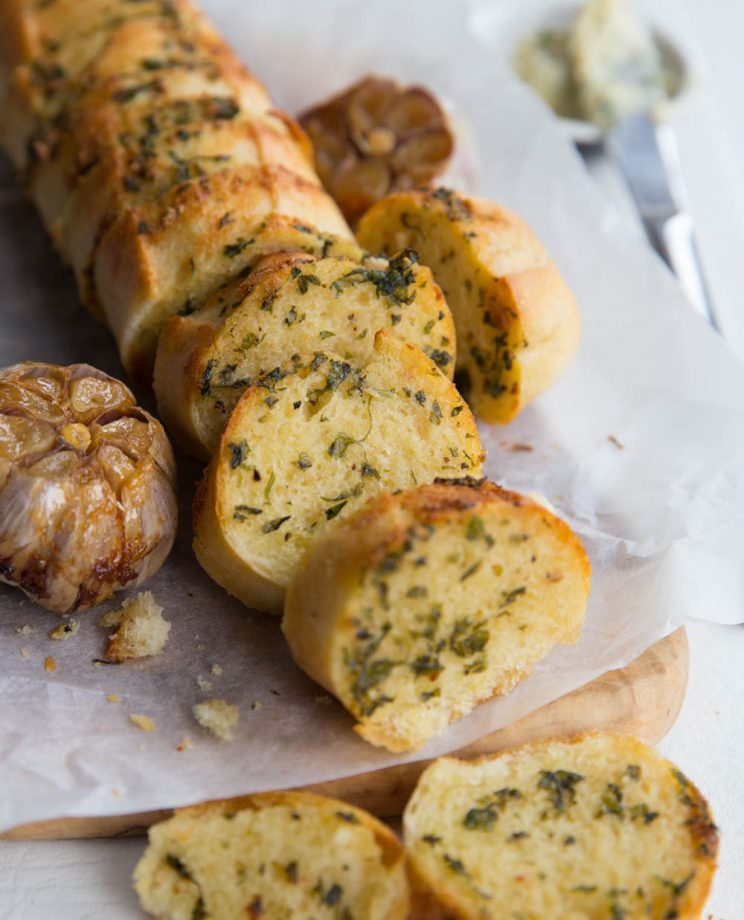 Join the foodie family! – Get awesome recipes sent straight to your inbox by signing up to my Weekly Mailing List (where you'll receive your FREE ECOOKBOOK) and stay in touch on Instagram, Facebook and Pinterest! 🧡
How to make Roasted Garlic Bread (Full Recipe & Video)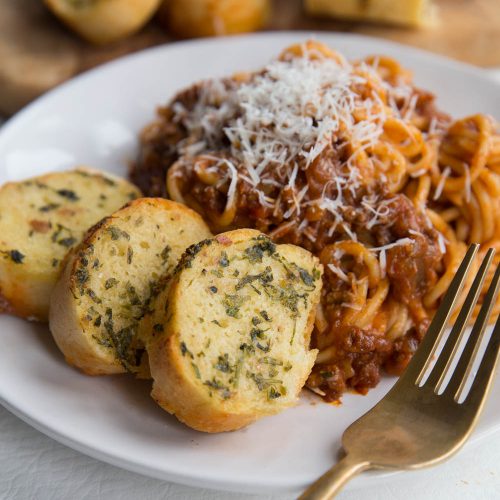 Roasted Garlic Bread
Take your homemade garlic bread to the next level by using roasted garlic! Using minimal ingredients this truly is the ultimate side dish to any meal!
Print
Pin
Rate
Cook Time:
1
hour
5
minutes
Total Time:
1
hour
15
minutes
Servings (click & slide):
4
Ingredients (check list):
1

Baguette (see notes)

2oz / 60g / 4 tbsp

Unsalted Butter

2

small

Bulbs of Garlic

1

tbsp

Fresh Parsley, finely diced

1

tbsp

Olive Oil, plus extra for roasting garlic

Salt & Black Pepper

Foil for baking
Instructions:
Slice the tips off your garlic bulbs to expose the cloves. Drizzle with a little olive oil, wrap in foil then pop in the oven at 180c/350f for 45mins until dark golden and caramelized.

Squeeze out roasted garlic into a bowl and mash with a pinch salt until smooth. Stir in your butter, olive oil, parsley and a pinch of black pepper. Once smooth, place to one side.

Grab your baguette and slice into 3/4" wedges, ensuring you don't slice all the way through. Evenly spread your butter down each slit, then wrap in foil and bake for 10mins at 180c/350f.

Take out the oven and unwrap into a boat shape. This will expose the bread whilst catching any butter that melts out. Pop back in the oven for another 10mins or until your desired texture.
Quick 1 min demo!
Notes:
Tips for the best Roasted Garlic Bread
What type of bread to use?
This recipe is based on using a standard part-baked french baguette. Part baked baguettes are sold in most supermarkets in the UK and are perfect for homemade garlic bread, offering the perfect texture. Not too hard/crunchy and not overly soft either. If you can't find part-baked baguettes then I still recommend using your regular store-bought french baguette, nothing fancy. You could also use a soft ciabatta. Either way you don't want a baguette with a hard crust because it will come out too chewy.
What size of baguette to use?
This recipe is based on using a baguette 25cm/10" long  and 300g/10.5oz in weight which in the UK is your standard store-bought garlic bread size. I slice this into 12 pieces, which should feed 3/4 people as a side.
Roasting Garlic
Timings will depend on size/age of garlic but you'll struggle to burn it at 180c/350f, just be vigilant past 45mins. The lower the temp and longer the time the more caramelized the garlic will be. With the same token, if you don't efficiently caramelize the garlic it's going to end up way too pungent!
Nutrition:
Nutrition Facts
Roasted Garlic Bread
Amount Per Serving (3 pieces)
Calories 317
Calories from Fat 117
% Daily Value*
Fat 12.96g20%
Polyunsaturated Fat 1.306g
Monounsaturated Fat 4.968g
Cholesterol 15mg5%
Sodium 459mg19%
Potassium 139mg4%
Carbohydrates 41.95g14%
Protein 9.13g18%
Vitamin A 300IU6%
Vitamin C 4.1mg5%
Calcium 60mg6%
Iron 3.2mg18%
* Percent Daily Values are based on a 2000 calorie diet.
Nutrition is based on the absence of salt unless stated as a measurement in the ingredients. Cost is worked out based on ingredients bought from UK supermarkets, then divided by the number of servings. In both instances these values are just for guidance. Please check out my FAQ Page for more info.
---
Be sure to check out my Spaghetti Bolognese Recipe for the perfect garlic bread pairing!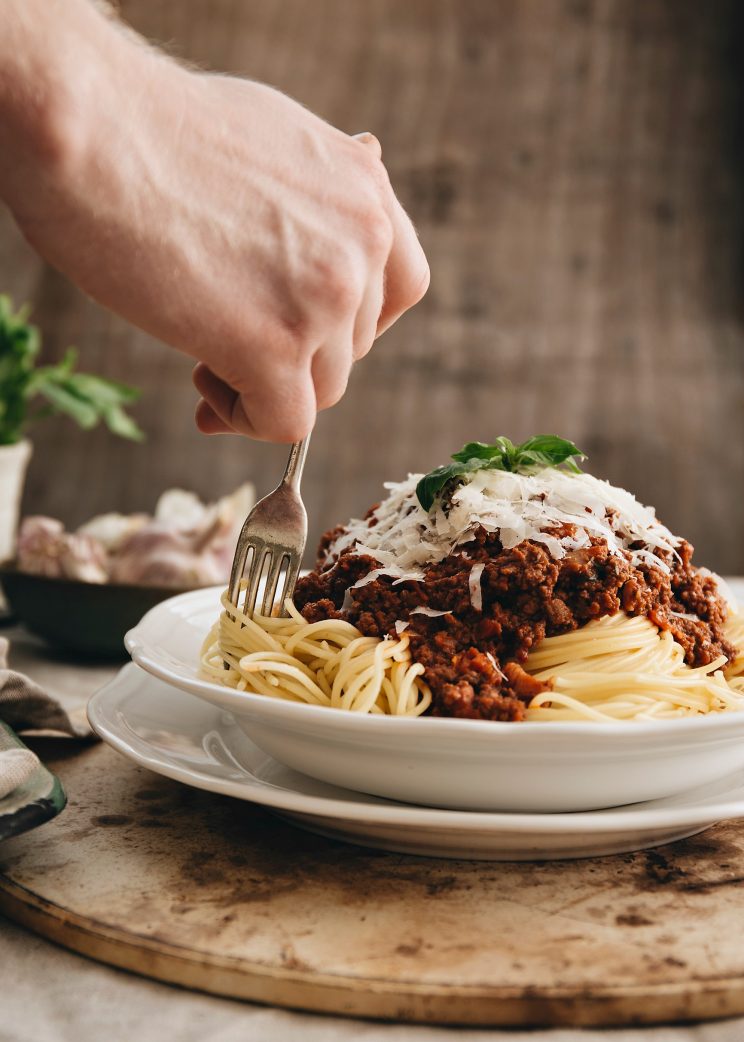 If you loved this Roasted Garlic Bread Recipe then be sure to Pin it for later! Already made it or got a burning question? Give me a shout in the comments below and pick up your free ecookbook along the way!