There's just a few simple but crucial ingredients that make this dip the best ever! Once you give this easy homemade Blue Cheese Dip recipe a go you'll never get store bought again!
You know what, come to think of it I don't think I've ever bought a blue cheese dip from the shop before. Never had a reason to! A homemade blue cheese dip is waaaaaaay too easy and delicious to do that. And trust me, this recipe is about to be your new 'go-to' dip for just about everything.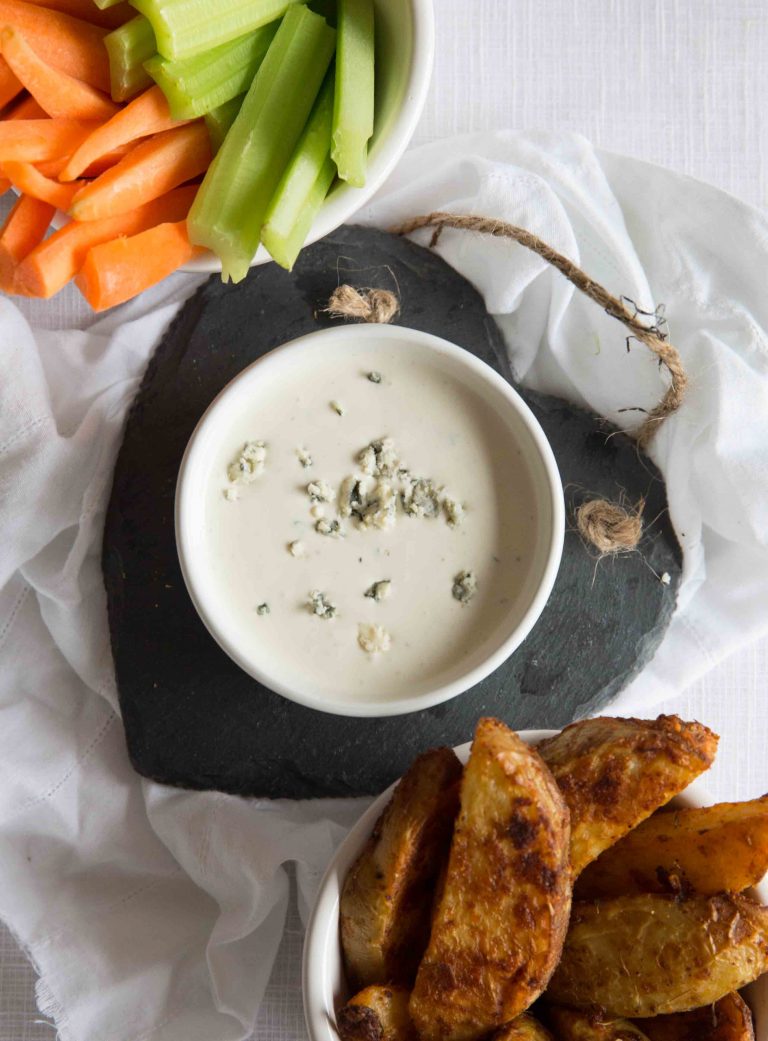 Blue cheese is one of those foods that you either love or hate. Personally, if you couldn't already tell, I'm a bit of a fan. Just a bit.
But strangely enough, I feel that even if you're not a fan of blue cheese, you'll still like blue cheese dip.
Maybe not, but there's only one way to find out right?
As I was developing this recipe I certainly came to the conclusion that sometimes less is more.
Look, I could eat blue cheese all day everyday and not get bored, but when it comes to the dip it's quite easy to create something that's overpowering. I've seen recipes out there that call for more blue cheese than sauce, which baffles me. I also stay clear of additions of onion/garlic powder because again I feel it becomes slightly too much.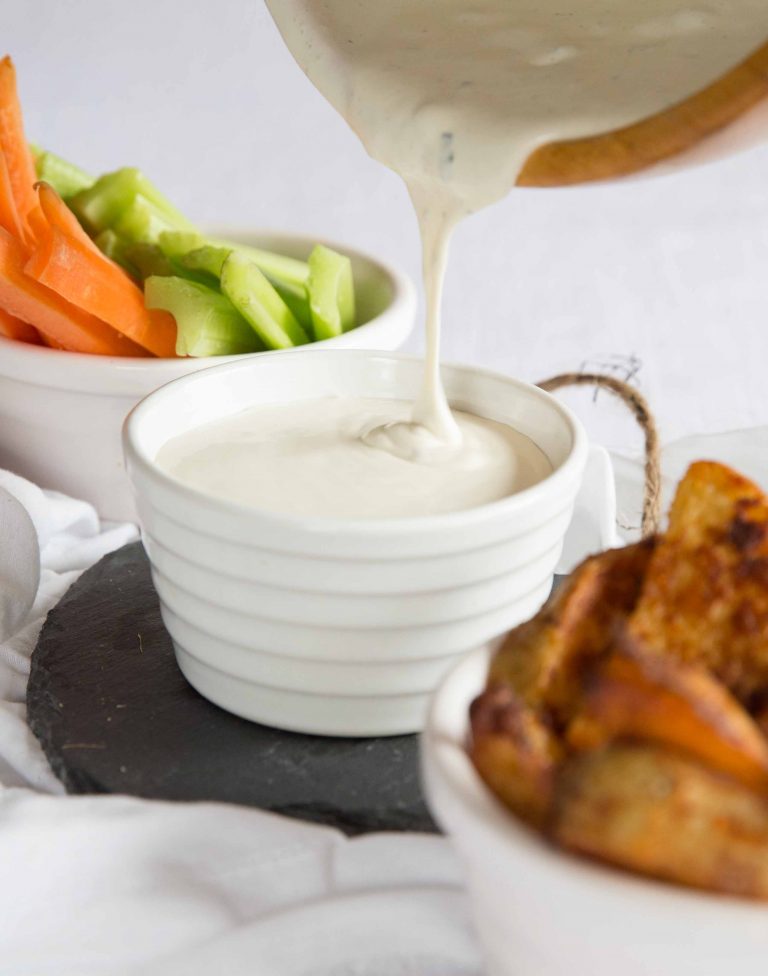 For me, the perfect blue cheese dip needs just 5 ingredients!
Homemade Blue Cheese Dip Ingredients
Sour Cream
Mayo
Blue Cheese
Chives
Lemon Juice
And that's it. Simple, yet delicious.
Chunky vs smooth blue cheese dip
Personally I prefer a chunky blue cheese dip, which means just simply crumbling in the cheese. If you're after a smooth dip then smash the cheese with a fork in a little lemon juice to form a paste. Mix in the other ingredients from there.
What type of blue cheese to use?
I'll always go for a nice strong Stilton. For a milder blue cheese taste then use something creamier like a Gorgonzola.
When it comes to what to eat blue cheese dip with, all I can suggested is to keep all spoons out of arms reach because otherwise you'll be devouring it by the spoonful!
Classic additions include carrots, celery and chicken wings. For me I also LOVE some potato wedges dunked straight in. Literally drooling at the thought.
This dip also works perfectly as a dressing too! Wasn't too long a go I drizzled (poured by the jug) some in a buffalo chicken wrap!
Tips for the best blue cheese dip
Full fat mayo – Honestly, there's just no comparison to using reduced fat mayo. If you're in the mindset of making a blue cheese then go all the way and opt for full fat mayo!
Let it rest – Like all dips, it's best to make ahead and pop in the fridge until needed. It gives time for the flavours to develop.
Chives – just a tsp of chives really brings this dip to life!
A homemade blue cheese dip is the perfect addition to your next game day gathering or night in with your pals! Use it as a dip for fries, veg and wings or dress up your favourite salad! Either way, prepare to bless your tastebuds with your new favourite blue cheese recipe!
Anywho, who's hungry?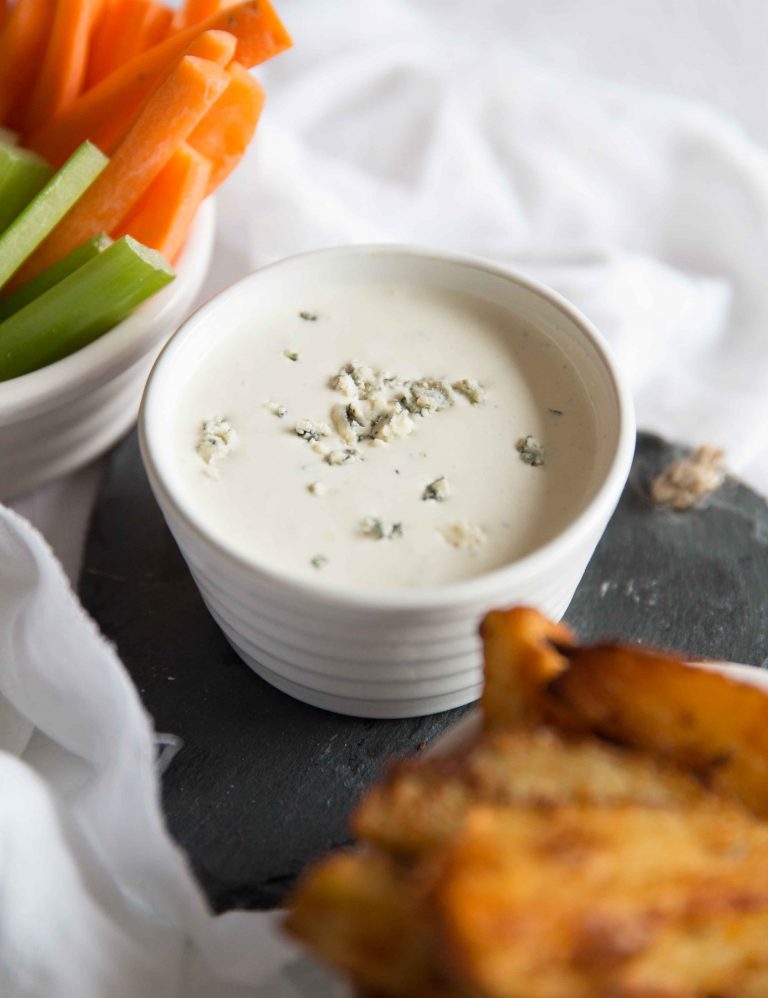 Join the foodie family! – Get awesome recipes sent straight to your inbox by signing up to my Weekly Mailing List (where you'll receive your FREE ECOOKBOOK) and stay in touch on Instagram, Facebook and Pinterest! 🧡
How to make Blue Cheese Dip

(Full Recipe & Video)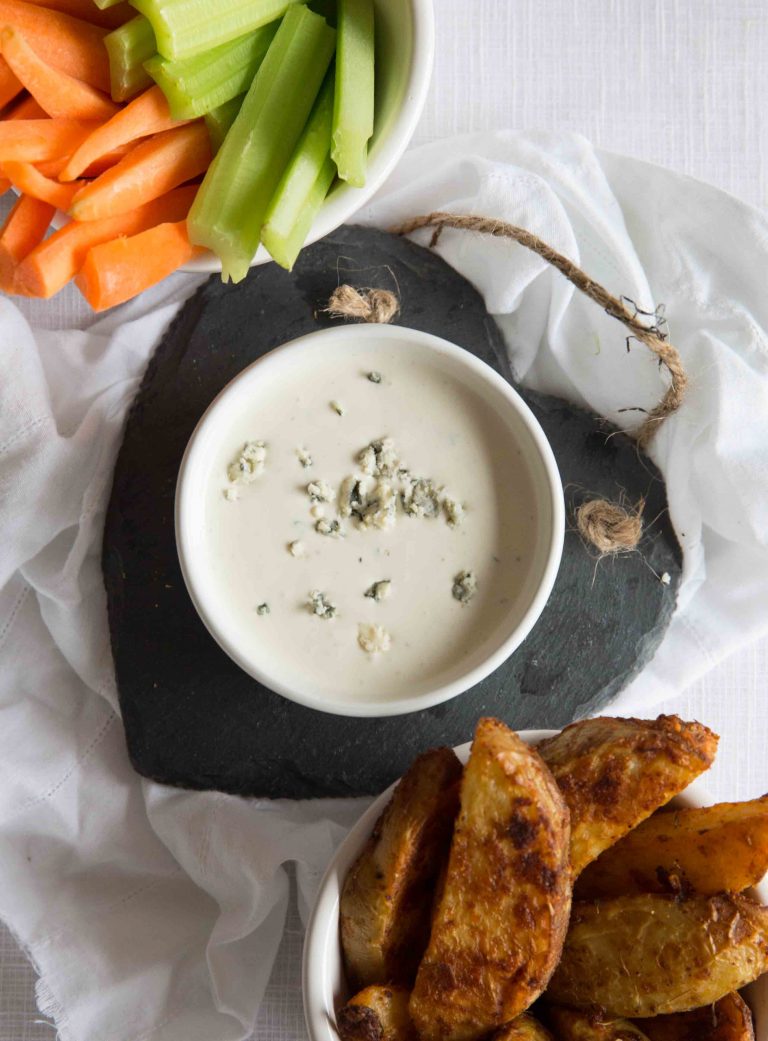 Blue Cheese Dip
'There's just a few simple but crucial ingredients that make this dip the best ever! Once you give this easy homemade Blue Cheese Dip recipe a go you'll never get store bought again!'
Keyword:
Homemade Blue Cheese Dip
Ingredients
2/3 cup / 150g

Sour Cream

1/3 cup / 75g

Full Fat Mayo

1/2 cup / 50g

crumbled

Blue Cheese, or more to taste

1

tsp

Fresh Chives, finely diced

1/2

Lemon (juice of)

Salt & Black Pepper, to taste
Method
Combine all of your ingredients in a suitably sized bowl. Taste test and adjust accordingly.

Cover and allow to sit in the fridge until needed or serve immediately.
Watch how to make it!
Recipe Notes
a) Chunky or Smooth? - Personally I love it chunky, but if you prefer it smooth then simply mash it with a fork to form a paste. Then stir in the rest of the ingredients.
b) Resting Time - Allowing the dip to sit in the fridge for at least a couple of hours before serving, will give time for the flavours to blend and develop. So do try and make it in advance!
c) Calories - The entire dip is 641 calories, the figure in the recipe is a division between 6.
Nutrition Facts
Blue Cheese Dip
Amount Per Serving
Calories 172
Calories from Fat 156
% Daily Value*
Total Fat 17.37g 27%
Polyunsaturated Fat 5.714g
Monounsaturated Fat 4.215g
Cholesterol 27mg 9%
Sodium 218mg 9%
Potassium 72mg 2%
Total Carbohydrates 1.36g 0%
Protein 3.07g 6%
* Percent Daily Values are based on a 2000 calorie diet.
---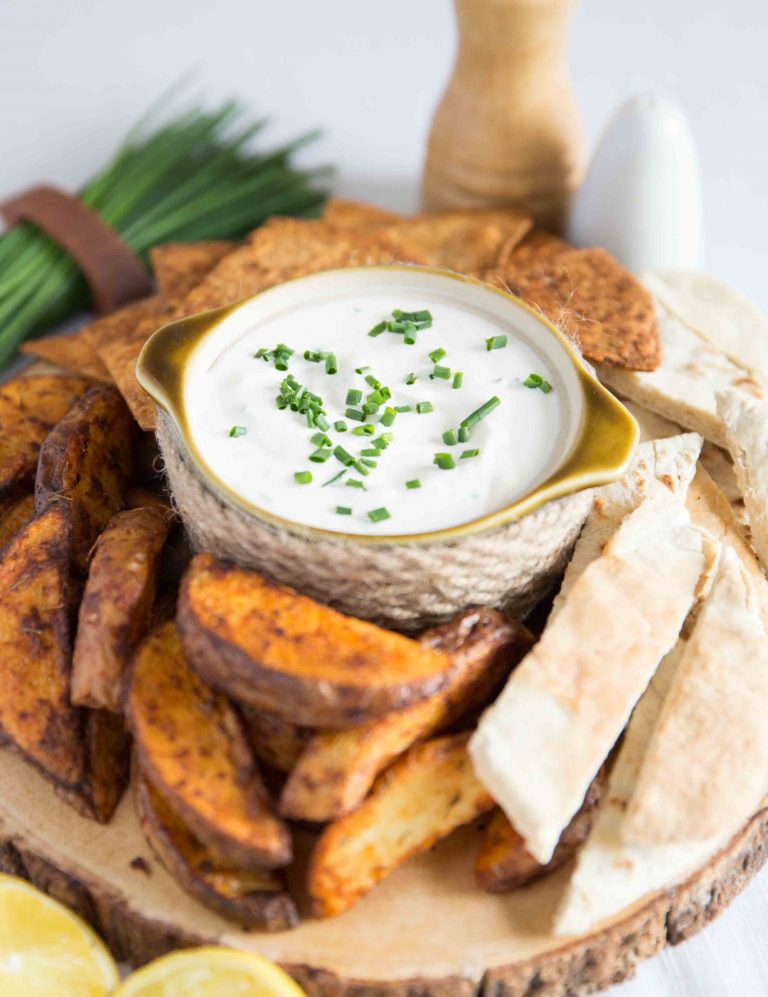 If you loved this Blue Cheese Dip recipe be sure to Pin it for later! Already made it or have a question? Let me know in the comments and pick up your free ecookbook along the way!