These Goose Fat Roast Potatoes are seriously crunchy on the outside & light and fluffy on the inside. Follow these foolproof tips for perfect roast potatoes!
There is nothing, and I mean NOTHING more irresistible than a crispy roast potato. And when I say crispy I mean gosh darn crispy. Today, I'm going to let you in on a few secrets which will transform the way you roast potatoes. Follow me…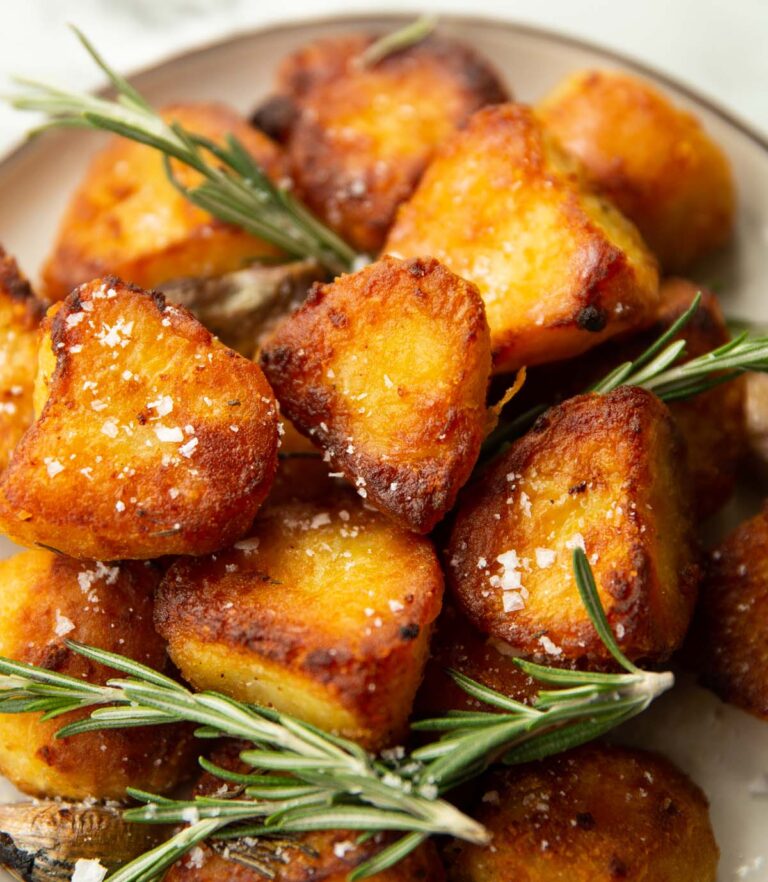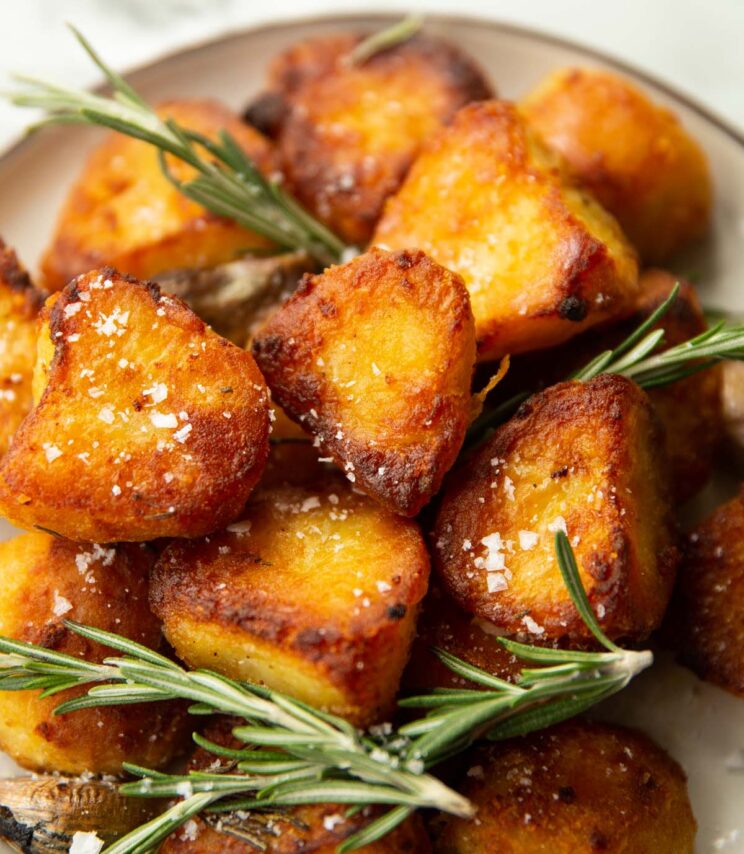 EXTRA Crispy Roast Potatoes
I've been making this recipe for longer than I care to think about. It's like my signature go-to potato dish that never fails me. Guests love 'em every single time. Which also means that after starting a food blog I've kinda got to give away the secrets, right?
For me and for many of you (I hope), the perfect potato is outrageously crispy on the outside with a heavenly fluffy inside. They're also flavoursome, slightly salty and golden all around.
*The secret ingredient to all the above is Goose Fat*
Why is goose fat the best for roast potatoes?
I hear you cry! Goose fat has a gorgeously rich flavour to it that wraps around roast potatoes like silk. It also has a high smoking point, meaning it can withstand much higher temperatures than many regular oils. In turn, this is one of the reasons goose fat roast potatoes are so crunchy.
Can I use Duck Fat instead of Goose Fat?
For all intents and purposes, duck fat works just the same as goose fat (i.e high smoking point, rich flavour). So feel free to sub duck fat if that's more readily available for you.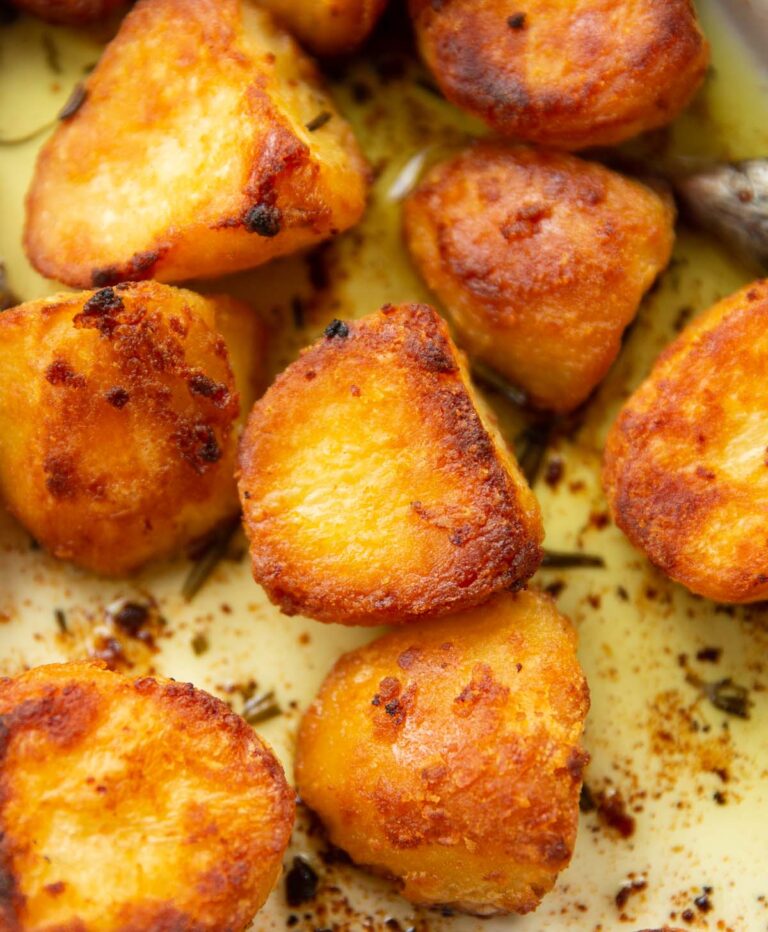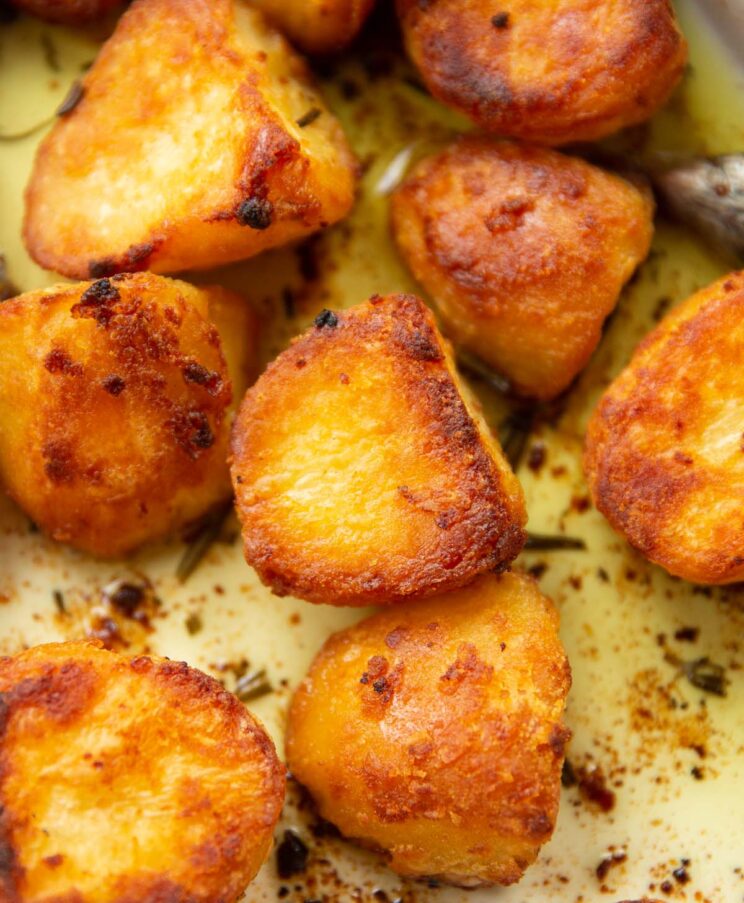 Best Potato for Roasting
You want a nice big floury, starchy potato such as a Maris Piper or Russet. Do not use any type of waxy potato like a Yukon.
Peel your potatoes and chop them into medium-large evenly sized chunks. It's important to make sure they are spaced out in the baking dish. As such, I usually put them in the dish I'm planning on using beforehand just to check how well they're going to fit. A dress rehearsal if you will.
Should I peel potatoes before baking?
In this case absolutely yes. You want the outside of the potato to be rough and textured so that when they're roasting, these rough bits go extra crispy. Potato skin will prevent this from happening.
Process shots: peel potato (photo 1), dice (photo 2).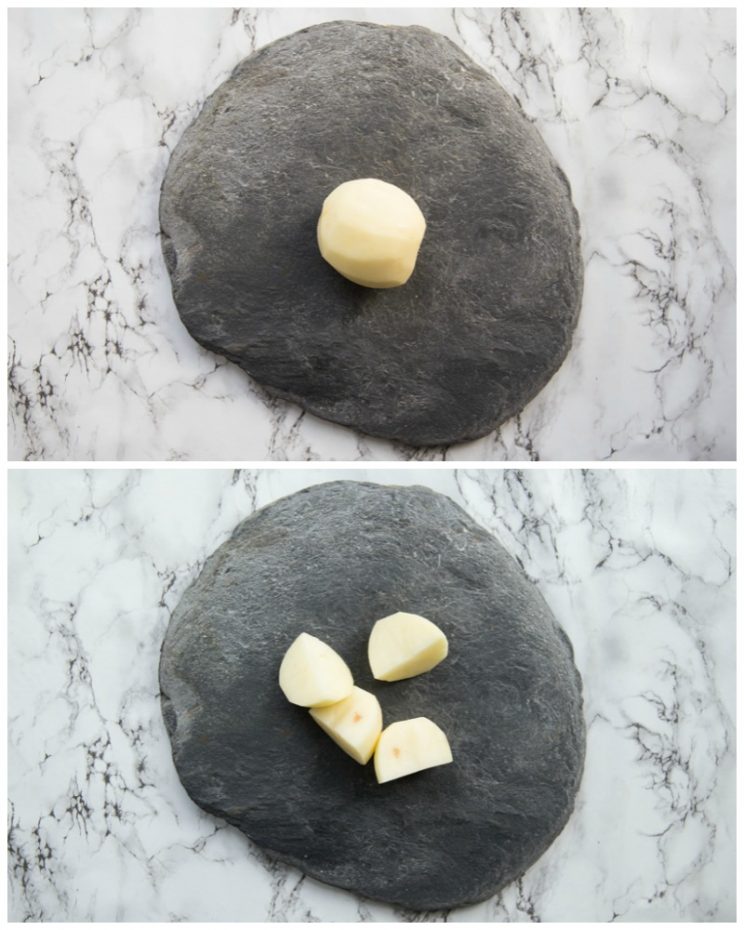 Boiling Potatoes Before Roasting
Another fundamental step in the quest for crispy roast potatoes. Boiling the potatoes beforehand will not only remove the starch (therefore increasing the 'fluffiness' of the centres) but also add more of that rough texture you want on the outside.
When parboiling potatoes always start with cold water. Chucking them straight in boiling water will cook them unevenly with the centre still hard. Add salt to season and boil until you can just about slice with a knife and the outside begins to flake.
Rough up the edges!
When draining don't rinse, this will only add excess moisture. Instead, shake about in the colander to rough the edges, this will give them that crispy crunchy casing you're after once they're cooked. Allow at least 5 minutes for them to release as much steam as possible before putting them in the dish. This allows unwanted moisture to leave the spuds. At this point also sprinkle in seasoned flour, which will draw out even more moisture during the cooking process.
Process shots: parboil potatoes (photo 1), steam dry (photo 2), dust in seasoned flour (photo 3).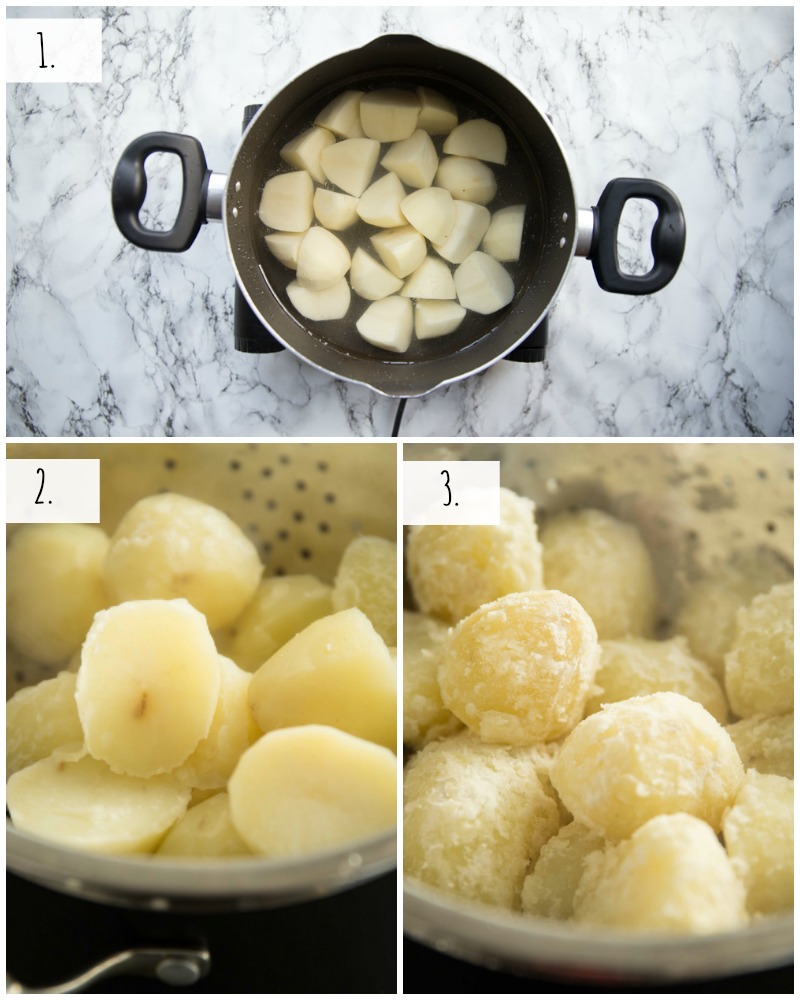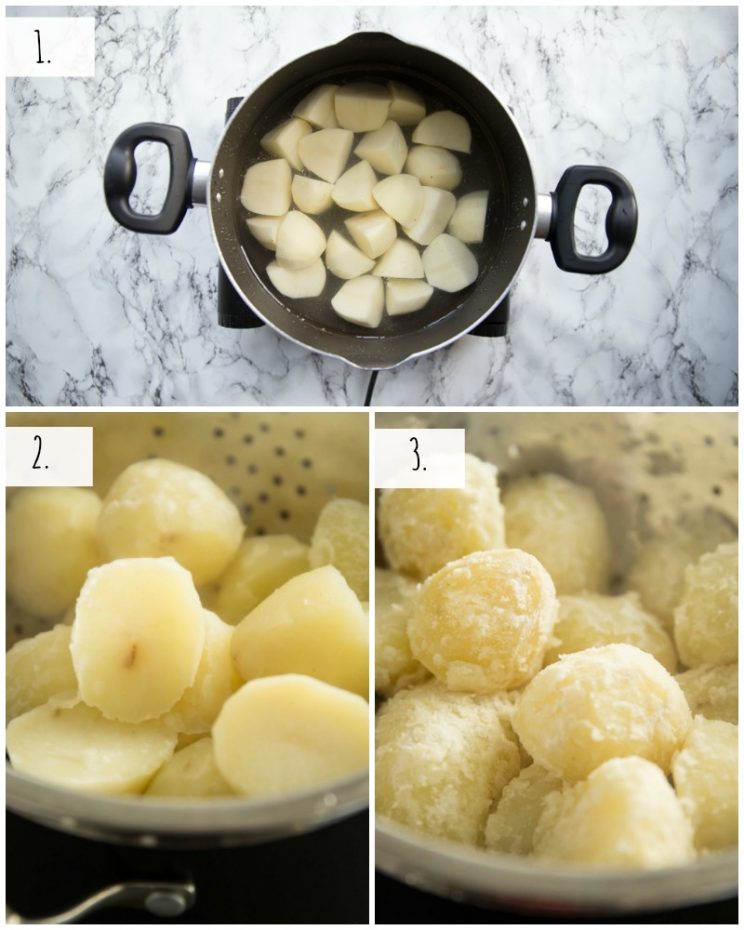 How to Roast Potatoes in Goose Fat
The number 1 rule when roasting potatoes in goose fat is to make sure the goose fat is piping hot! Spread the fat in a baking dish and pop it in the oven until it's smoking hot (literally). That instant contact with the high intense heat will make the basis for a crunchy golding outside.
Carefully place your potatoes into the dish of smoking hot fat. Don't overcrowd them, these spuds are divas, and they need space. Packing in too many potatoes will cause them to steam, as opposed to roast. Not good.
Top Tip – To test if the goose fat is hot enough, drop a tiny piece of potato in; if it rapidly bubbles, you're good to go!
Rosemary and garlic roast potatoes
Rosemary and garlic are a match made in heaven and go BEAUTIFULLY with goose fat potatoes. Fresh rosemary as opposed to dried, and whole garlic cloves thrown in too. No need to peel/dice.
How long to roast potatoes in oven?
I find 50-60mins is the perfect time for these goose fat potatoes to come out beautifully golden. Just make sure you flip them a couple of times to make sure they're evenly coated. Just be quick, although it is an important step, it's just as important to keep the goose fat as hot as possible throughout the whole process.
Process shots: heat oil (photo 1), add potatoes, garlic and rosemary then roast (photo 2).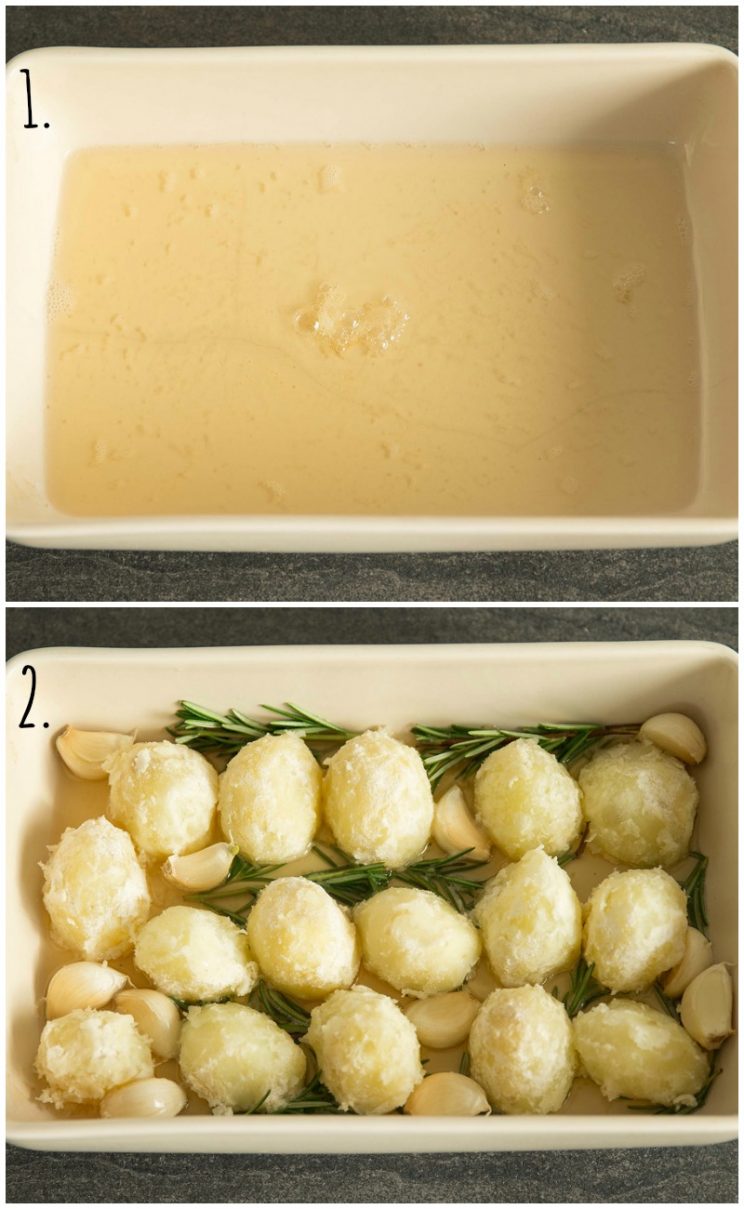 Phew, we made it. Just as a quick recap:
Top tips for crispy roast potatoes
Use starchy/floury potatoes like Maris Pipers.
Peel them for rough/crispy edges.
Boil them to soft and remove starch.
Steam dry for moisture to escape.
Coat in seasoned flour for a crunchy outside.
Use HOT Goose Fat.
Add rosemary and garlic.
Space them out so they roast and don't steam.
If you like the look of these goose fat potatoes, you've got to check out my other recipes!
Crispy Potato Recipes
Roast Dinner Essentials
Alrighty, let's tuck into this goose fat potato recipe shall we?!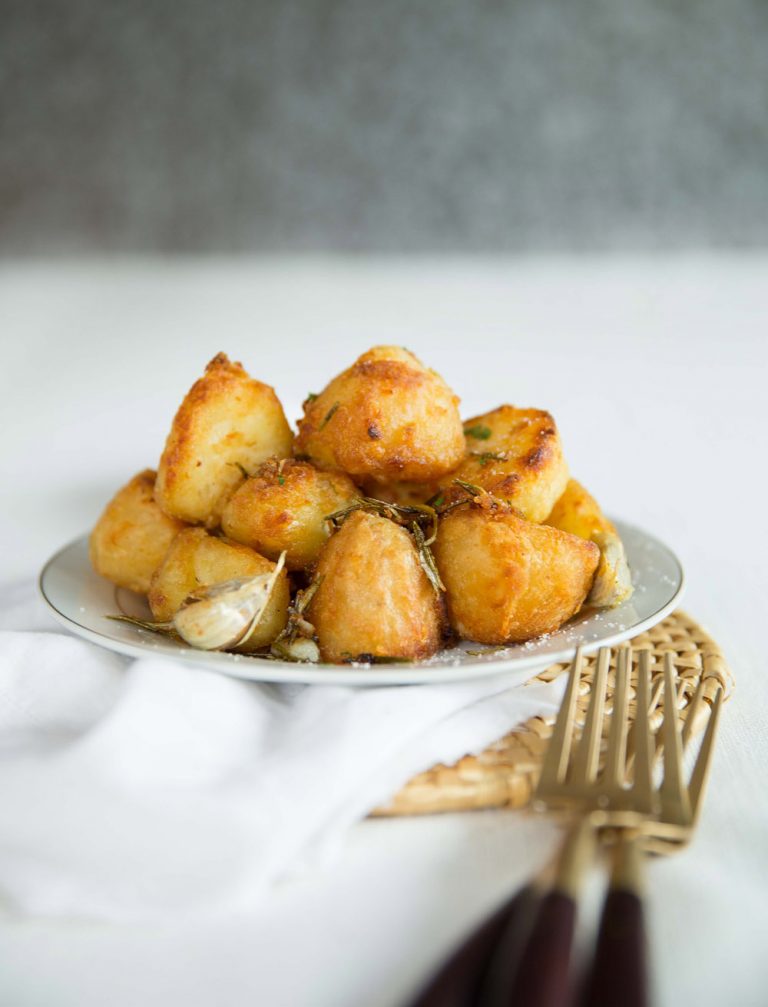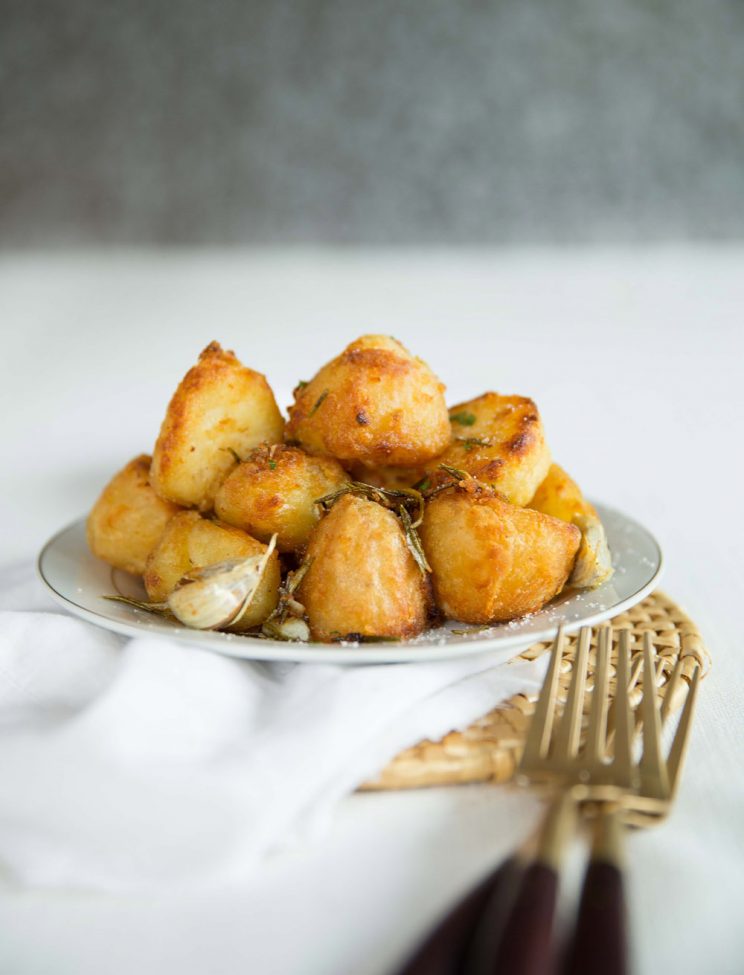 How to make Goose Fat Roast Potatoes

(Full Recipe & Video)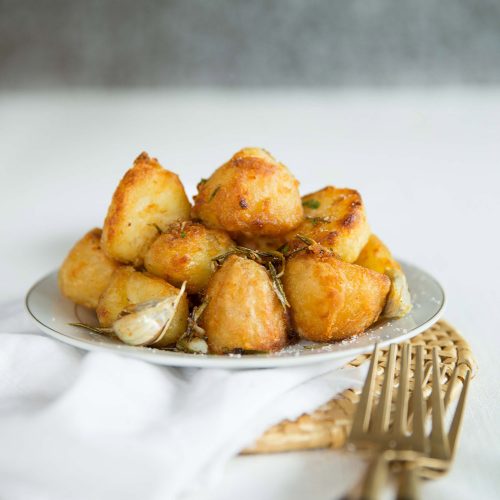 Goose Fat Roast Potatoes
These Goose Fat Roast Potatoes are seriously crunchy on the outside & light and fluffy on the inside. Follow these foolproof tips for perfect roast potatoes!
Print
Pin
Rate
Share by Text
Servings (click & slide):
4
Calories per serving:
274
kcal
Cost per serving:
£1 / $1
Equipment:
Large Baking Dish

Sharp Knife & Chopping Board

Potato Peeler

Large Pot

Colander

Small Pot

(for seasoning flour)
Ingredients (check list):
2lbs / 1kg

Baking Potatoes, (see notes)

4

heaped tbsp

Goose Fat (4.5oz/135g)

1

heaped tsp

Plain/All Purpose Flour

1

small bulb

Garlic, cloves separated with skins left on

3-4

sprigs

Fresh Rosemary

fine/table

Salt,

as needed

Flaky Sea Salt, to serve (or sub table salt if that's what you have)
Instructions:
Peel the potatoes, then dice them into large even-sized chunks. For reference, I consider a 9oz/250g potato to be a medium/large potato, of which I quarter. For smaller potatoes consider slicing them into 2 or 3 (they will shrink down somewhat as they cook). Preheat oven to 410F/210C.

Place the potatoes in a pot and fill with cold water until just about covered. Add in 2 tsp salt and bring to a full rolling boil. Once boiling, cook the potatoes for 6-8mins, or until they are just about knife tender, but not so much that they begin breaking apart. The edges should start to rough.

Drain in a colander (do not rinse) and give them a shake to rough the edges. Allow them to steam dry for 8-10mins. The more they steam = the more moisture is leaving the potatoes = the fluffier they'll be. During this time, spread the goose fat in a large baking dish and place it in the oven. The fat should comfortably cover the base of the dish.

Mix 1 heaped tsp (not tbsp!) flour with 1/2 tsp salt in a small pot to one side. Sprinkle over the potatoes, shaking a little more to ensure they're evenly coated. Leave for a further 2mins to allow the flour to 'glue' to the potato and form a crust.

When the goose fat is smoking hot (literally) very carefully add the potatoes to the dish, ensuring they're evenly spaced out. Add garlic and rosemary and stir to coat everything in the fat. Work quickly so the fat stays hot, just be careful of the fat spitting out the pan.

Place in the oven for a total of 50-60mins or until deep golden and visibly crispy. Take out and flip/re-coat in fat 2-3 times throughout to ensure an even coverage. Ovens will run slightly differently, so just be vigilant. It's unlikely they'll be done before 50mins, but don't be afraid to run over the hour until they're ultra-crisp.

Serve with a sprinkle of sea salt to draw out the final bit of moisture, just for extra crispiness.
Quick 1 min demo!
Notes:
a) What type of potato to use - I use Maris Pipers but any large white floury potatoes will do the job (Russets in US). Don't use waxy potatoes, they won't be as fluffy in the centre. 2lb/1kg is around 4 medium-large potatoes. Try and find ones that are even in size. b) How to know when the goose fat is hot enough - A tip to check the goose fat is hot enough when it comes out the oven is to pop in a tiny bit of potato. If it rapidly bubbles, you're good to go. The fat needs to be scorching hot.  c) Keeping the temp high - Whilst flipping the potatoes during the process is important, making sure the fat temperature stays high is just as important, so be quick! Also make sure adding the potatoes in the first instance is a quick process. Remember - hot hot hot! d) How long to roast for -  Timings for these spuds will vary due to size, variety, other things in the oven etc just be vigilant throughout the process. e) Is there anything I can use instead of Goose fat and get the same results? - The only other thing I recommend using is Duck fat. In terms of things such as olive oil, you just won't get the same results. Goose/duck fat is gorgeously rich in flavour and their high smoking point turns the potatoes extra crispy. Olive oil unfortunately does not work the same at higher temperatures for long periods of time. You can sub something with a high smoking point like veg or sunflower oil, you just won't get the same rich flavour, unfortunately. f) UPDATED RECIPE - Updated the recipe on 14/11/22 just for housekeeping. Refined instructions, with extra photos and video. Only tweak is adding exact amount of salt and removing black pepper (you can still use this if you wish).
Your Private Notes:
Nutrition:
Nutrition Facts
Goose Fat Roast Potatoes
Amount Per Serving
Calories 274
Calories from Fat 74
% Daily Value*
Fat 8.23g13%
Polyunsaturated Fat 0.988g
Monounsaturated Fat 4.569g
Cholesterol 8mg3%
Sodium 1mg0%
Potassium 22mg1%
Carbohydrates 46.05g15%
Protein 5.49g11%
Vitamin A 50IU1%
Vitamin C 15.7mg19%
Calcium 40mg4%
Iron 2.2mg12%
* Percent Daily Values are based on a 2000 calorie diet.
Nutrition is based on the absence of salt unless stated as a measurement in the ingredients. Cost is worked out based on ingredients bought from UK supermarkets, then divided by the number of servings. In both instances these values are just for guidance. Please check out my FAQ Page for more info.
---
If you loved this Goose Fat Roast Potato Recipe then be sure to Pin it for later! Already made it or got a burning question? Give me a shout in the comments below and pick up your free ecookbook along the way!