'These best ever Goose Fat Roast Potatoes are seriously crunchy on the outside & light and fluffy on the inside. Follow these foolproof tips for perfect potatoes this holiday season' – Hungry now?  Jump to Recipe
Well folks, I would say it's that time of year, but quite frankly roast potatoes are a staple in this household no matter the season. Sunday lunch, midweek dinners and late night feasts, roast potatoes always have a place in my kitchen.
You know, I've been making this recipe for longer than I care to think about. It's like my signature go-to potato dish that never ever fails me. Guest love 'em every single time. Which also means that after starting a food blog I've kinda got to give away the secrets, right?
For me and for many of you (I hope), the perfect potato is outrageously crispy on the outside with a heavenly fluffy inside. They're also flavoursome, slightly salty and golden all round. From many years of striving for just those things, I've picked up some absolutely critical steps when aiming for the perfect roast spud. The first starting with goose fat. Goose fat has a gorgeously rich flavour to it that wraps around roast potatoes like silk. It also has a high smoking point, meaning it can withstand much higher temperatures than many regular oils. In turn, this is one of the reasons goose fat roast potatoes are so crunchy.
Alongside the obvious inclusion of goose fat, I have gathered together 5 quick top tips for creating the perfect roast potato. Follow these steps and you'll have show-stopping roast potatoes every single time!
---
5 Tricks for Crispy Roast Potatoes.
1. Always begin by putting your goose fat in the oven so it's smoking hot (literally) ready for your spuds to go in. Follow by peeling your potatoes and chopping into small-medium evenly sized chunks. Large sized potatoes are far more difficult to get crunchy but still fluffy. I usually put them in the dish I'm planning on using before hand just to check how well they're going to fit. A dress rehearsal if you will.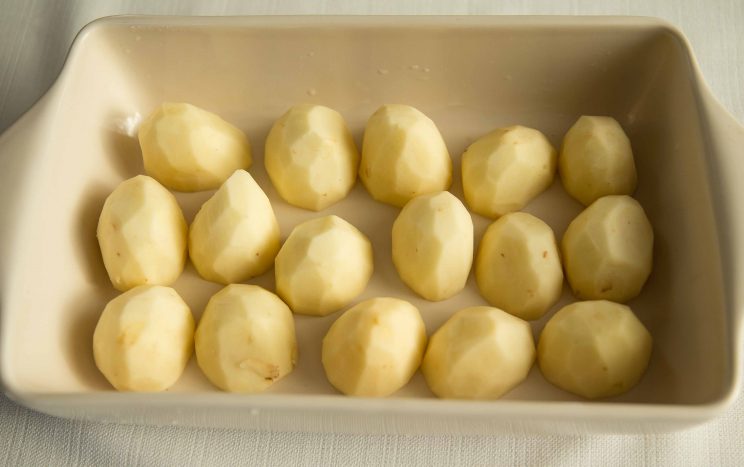 2. When parboiling potatoes always start with cold water. Chucking straight in boiling water with cook them unevenly with the center still hard. Add in a pinch of salt to season and boil until you can just about slice with a knife and the outside begins to flake.
3. When draining don't rinse, this will only add excess moisture. Instead, shake about in the colander to rough the edges, this will give them that crispy crunchy casing you're after once they're cooked. At this point also sprinkle in seasoned flour, this will drawer out even more moisture during the cooking process. Allow at least 5 minutes after for them to release as much steam as possible before putting in the dish. This is allows unwanted moisture to leave the spuds.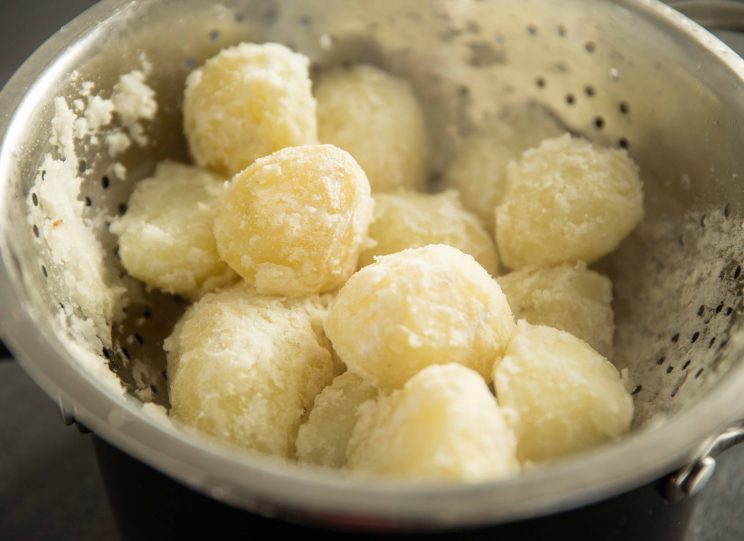 4. Cooking with garlic and rosemary will take these goose fat roast potatoes through the roof. Carefully place them into the dish of hot goose fat and evenly plonk in your potatoes. Don't overcrowd them, these spuds are divas, they need space. Coat the tops with fat before you put in the oven.
5. I find 50-60mins is perfect time for these potatoes to come out beautifully golden. Just make sure you flip them a couple of times to make sure they're evenly coated. Just be quick, although it is an important step, it's just as important to keep the goose fat as hot as possible throughout the whole process. Serve with an extra sprinkle of salt to bring out the last remaining bit of moisture.
---
And there we have it folks, beautifully crispy and crunchy on the outside, fluffy in the center and golden all round. Check out the full recipe below and the recipe video below that! Let me know how you all get on and happy holidays! You got this 🙂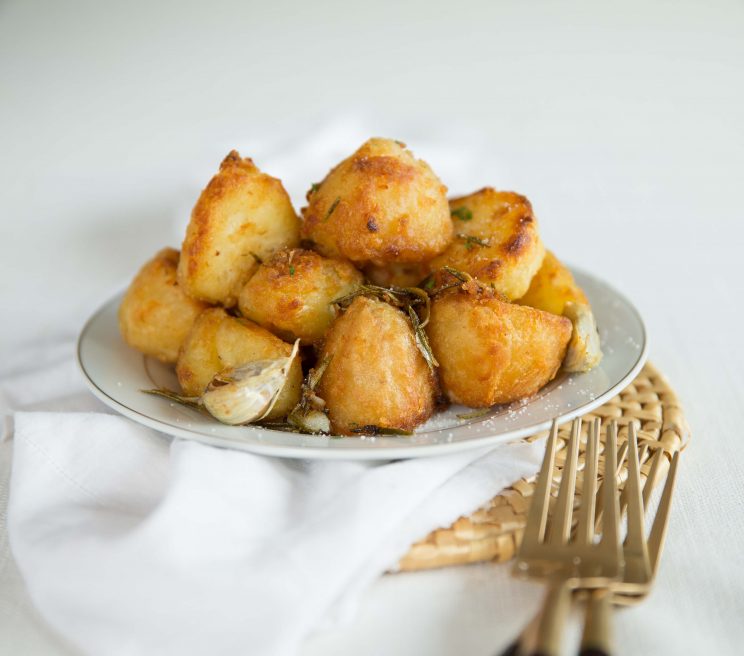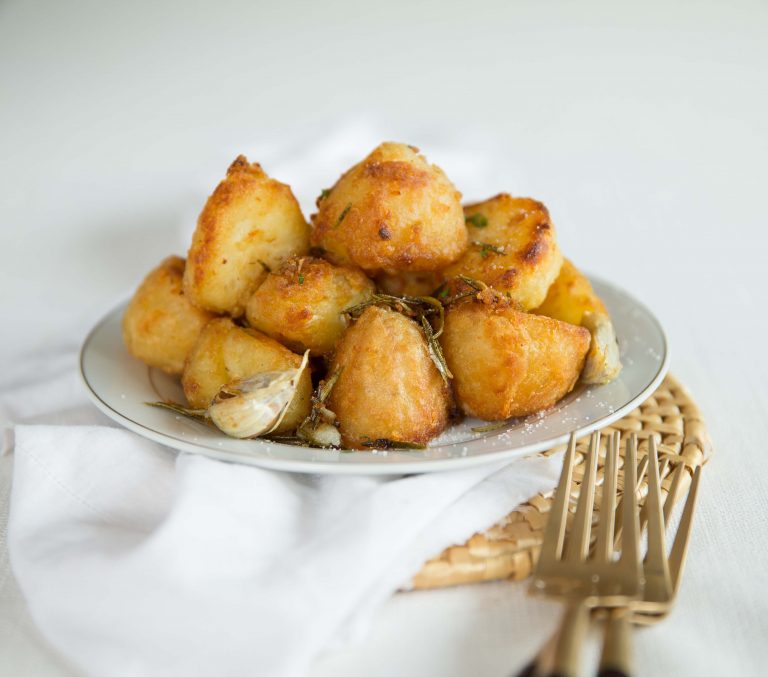 ---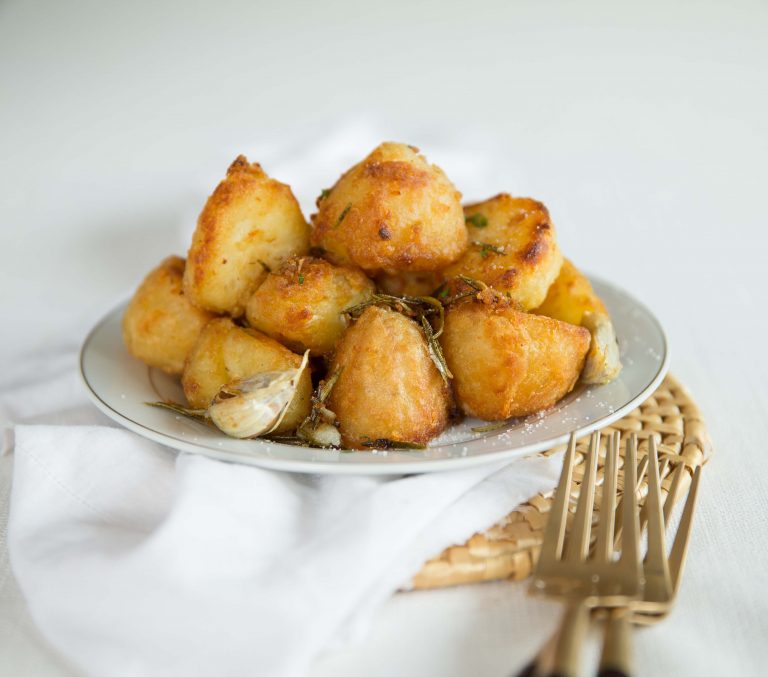 Goose Fat Roast Potatoes
'These best ever Goose Fat Roast Potatoes are seriously crunchy on the outside & light and fluffy on the inside. Follow these foolproof tips for perfect potatoes this holiday season'
Cuisine:
Christmas, Sunday Roast, Thanksgiving
Ingredients
2.2

(1kg) Maris Piper Potatoes, peeled

2-3

tbsp

Goose Fat

1

tbsp

Flour

1

head

Garlic, cloves separated with skins left on

3-4

sprigs

Fresh Rosemary

Salt

Pepper
Method
Preheat oven to 410f (210c). Spread your goose fat in a suitably sized baking dish and place in the oven.

Peel and slice your potatoes into small-medium even sized chunks. Place in a suitably sized pot of cold water and bring to boil with a pinch of salt. Boil until the potatoes just begin to flake on the outside. (10-15mins)

Drain in a colander (do not rinse) and give them a shake to ruffle the edges. Mix together your flour with a pinch of salt and pepper and sprinkle over the potatoes, shaking a little more.

Let your potatoes rest to release steam for a good 5 minutes or longer if you have time. The more steam let out, the more moisture that leaves the potatoes and the fluffier/crispier they end up being.

By now your goose fat will be piping hot. Carefully add your garlic cloves and rosemary and stir into the fat. One by one add your potatoes making sure they aren't cramped. Use a teaspoon to fully coat the potatoes in the fat.

Place in the oven for a total of 50-60mins or until golden and crispy on the outside. Take out and flip/recoat in fat twice throughout to ensure an even coverage.

Serve with an extra sprinkle of salt to drawer out the final bit of moisture.
Recipe Notes
a) I usually use Maris Pipers but any large white floury potatoes will do the job.
b) Making sure your potatoes aren't too big is important. Smaller spuds = crunchier casing. Also making sure they're uniformly cut ensures they all cook at an even rate.
c) A tip to check the goose fat is hot enough when it comes out the oven is to pop in a tiny bit of potato. If it rapidly bubbles, you're in.
d) Whilst flipping the potatoes during the process is important, making sure the fat temperature stays high is just as important, so be quick!
e) Timings for these spuds will vary due to size, variety, other things in the oven etc just be vigilant throughout the process.
f) Calories based on 4 servings.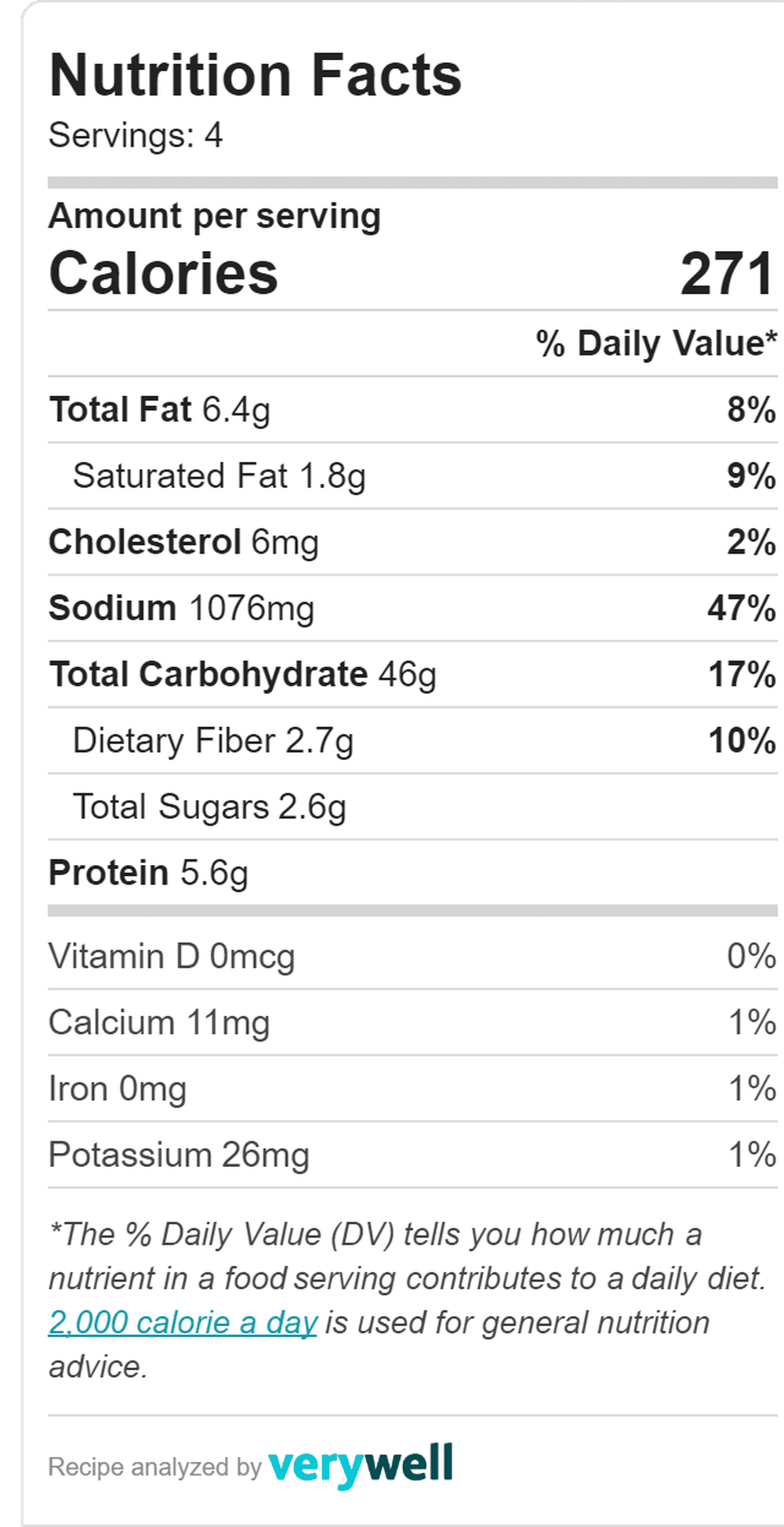 Nutrition Facts
Goose Fat Roast Potatoes
Amount Per Serving
Calories 271
* Percent Daily Values are based on a 2000 calorie diet.
---
Goose Fat Roast Potatoes Recipe Video
---
For more potato perfection, check out my Best Baked Potato!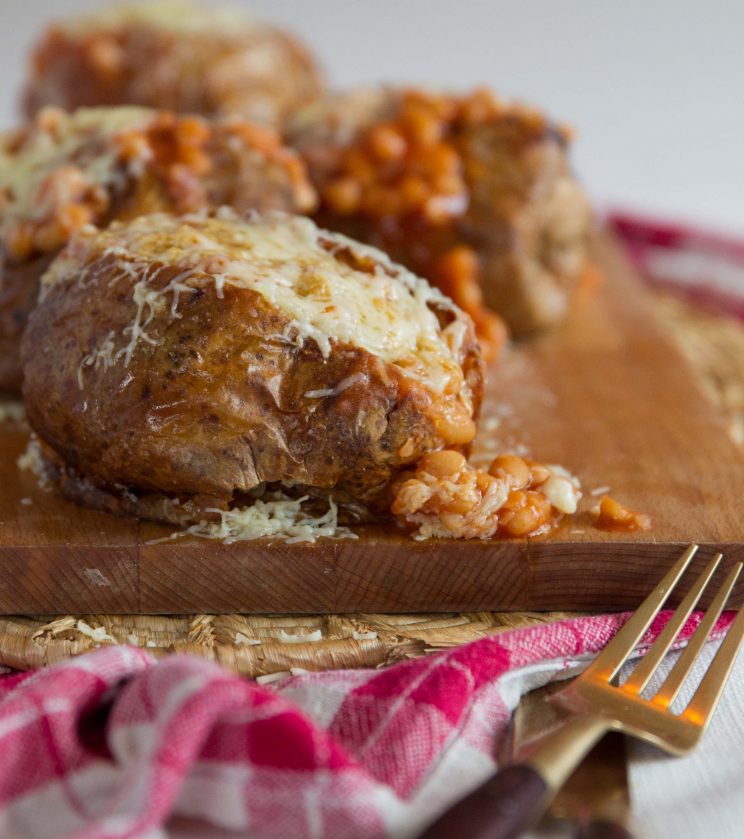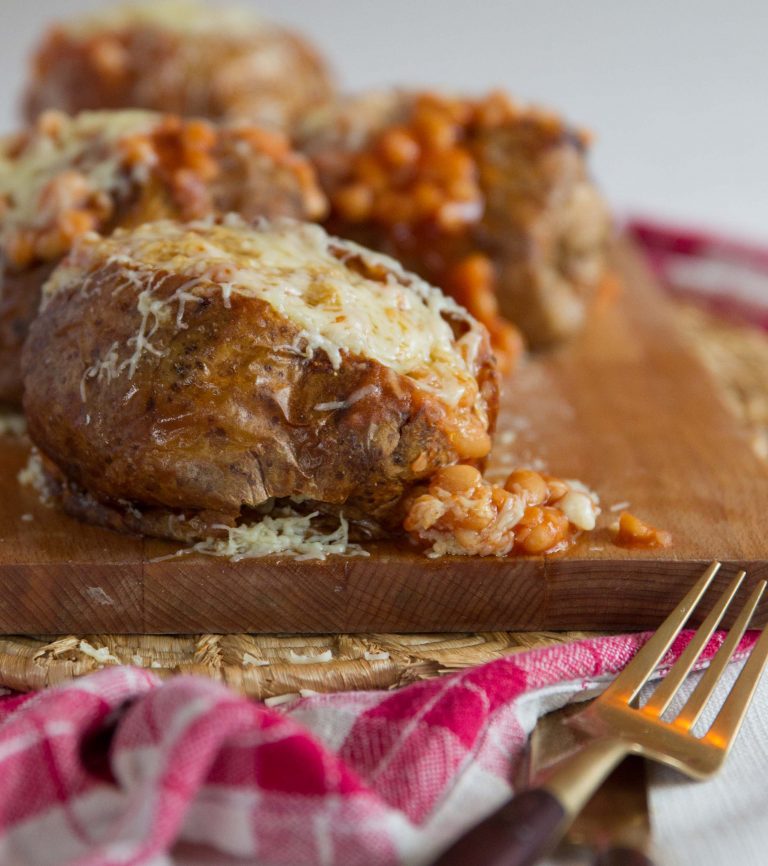 ---

---
Cheers guys, this has been ' Goose Fat Roast Potatoes '. Comment, share, do whatever you fancy but for crying out loud don't go bacon my heart. See you next time 🙂