Here I'll show you how to make a blooming onion in the most delicious way possible. Served with a sriracha-lime mayo dip, this is a blooming onion recipe to be reckoned with!
For those on dedicated diets, your journey unfortunately ends here. For those who can't wait to wrap their chops around some questionable calories, welcome. And in turn, welcome to the most delicious form of fried onion you'll ever taste. Onion rings, you were so last year.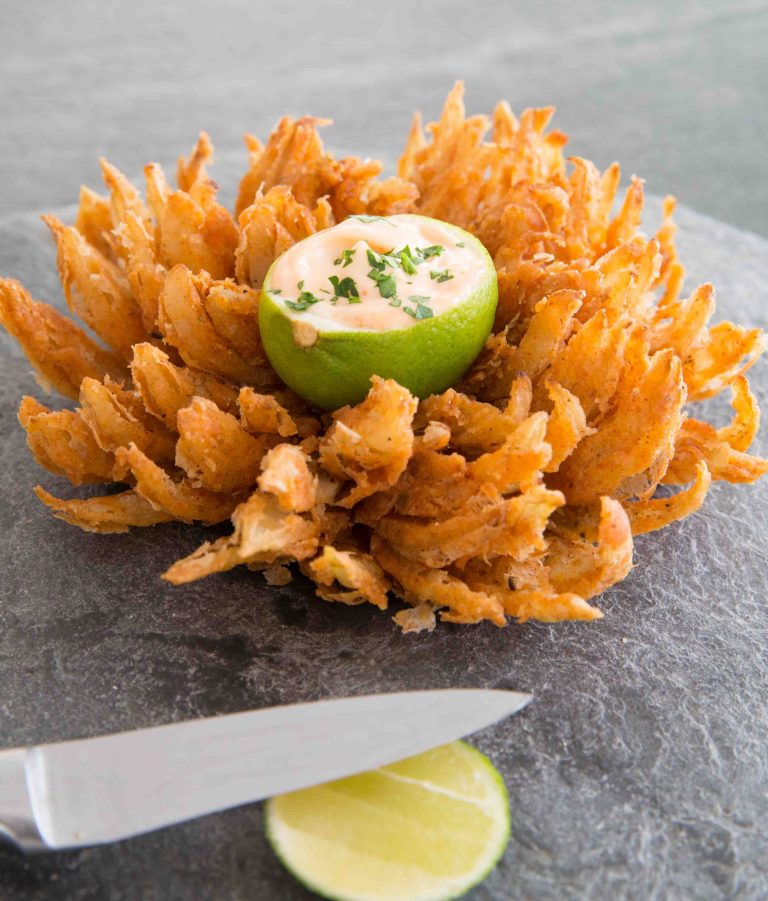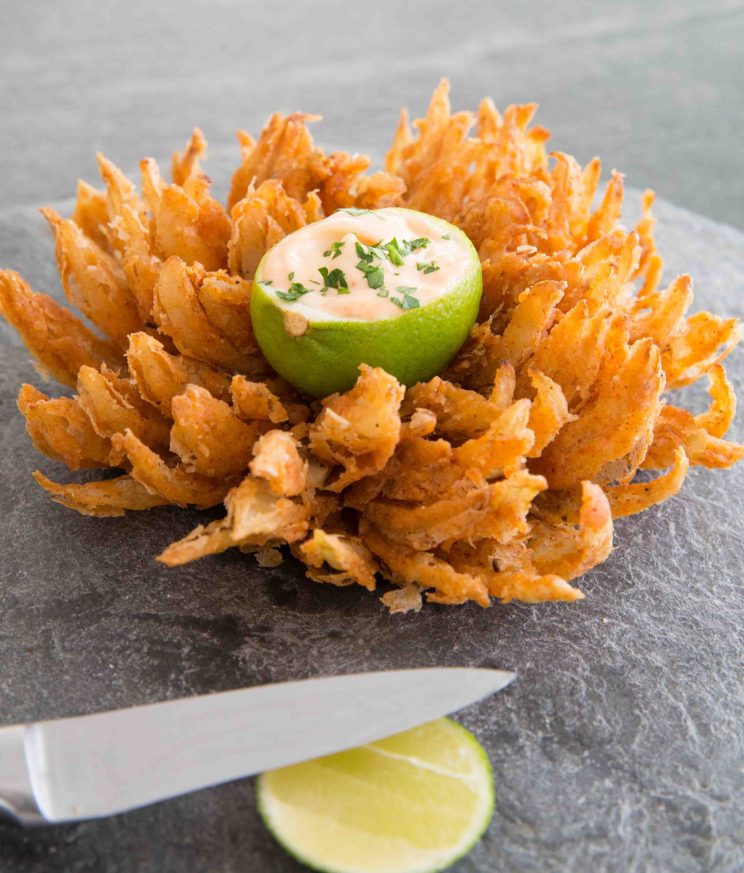 I don't know about you, but when I first laid my eyes on a blooming onion, I thought 'how the heck do you make that!?'
But you know what, after a little research and a little more trial and error, I soon realised it seriously couldn't be easier to make.
The key to a delicious blooming onion is finding the biggest white onion you've ever set your eyes on. I'm all for 'good things come in small packages' but in this instance bigger is certainly better.
The bigger the onion, the bigger the petals and the less chance they're going to turn into wilted crispy bits of batter when they're fried.
First things first, let's get our slicing skills in order.
How To Cut a Blooming Onion
Peel a large brown/white onion.

Cut a tiny slice off the tip of your onion, then peel off the brown outer layer of skin.

Flip the onion cut side down, then begin slicing about 1/2 inch away from the root. I find it easiest to do 4 quarter slices, then about 3-4 times in between. You should be able to make about 12-16 slices, depending on the size of the onion.

Flip the onion back over, then gently spread out the petals.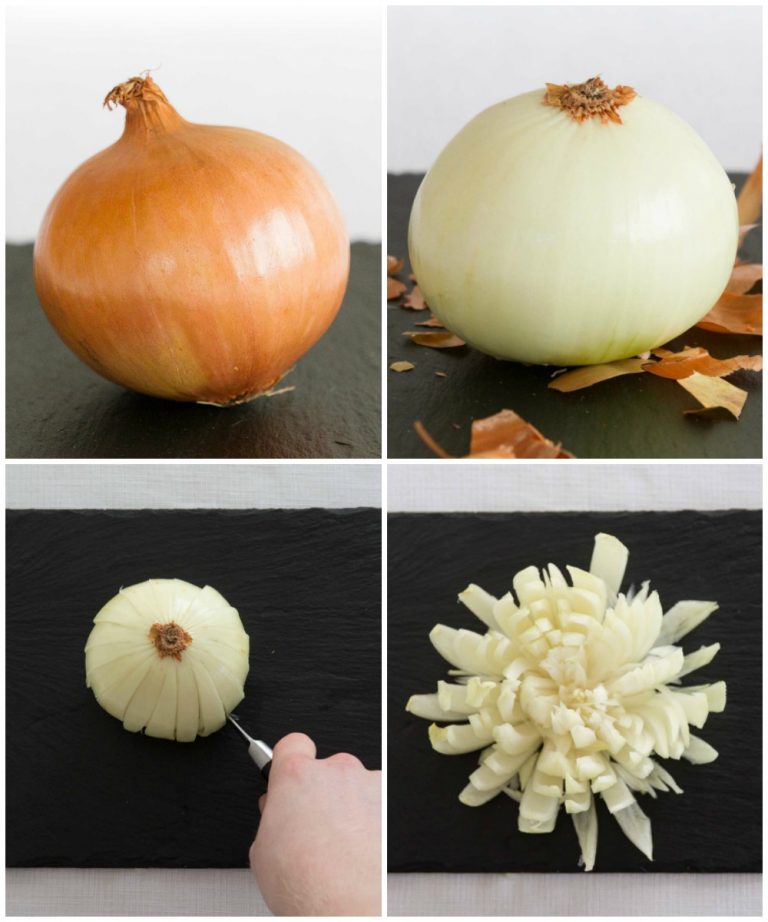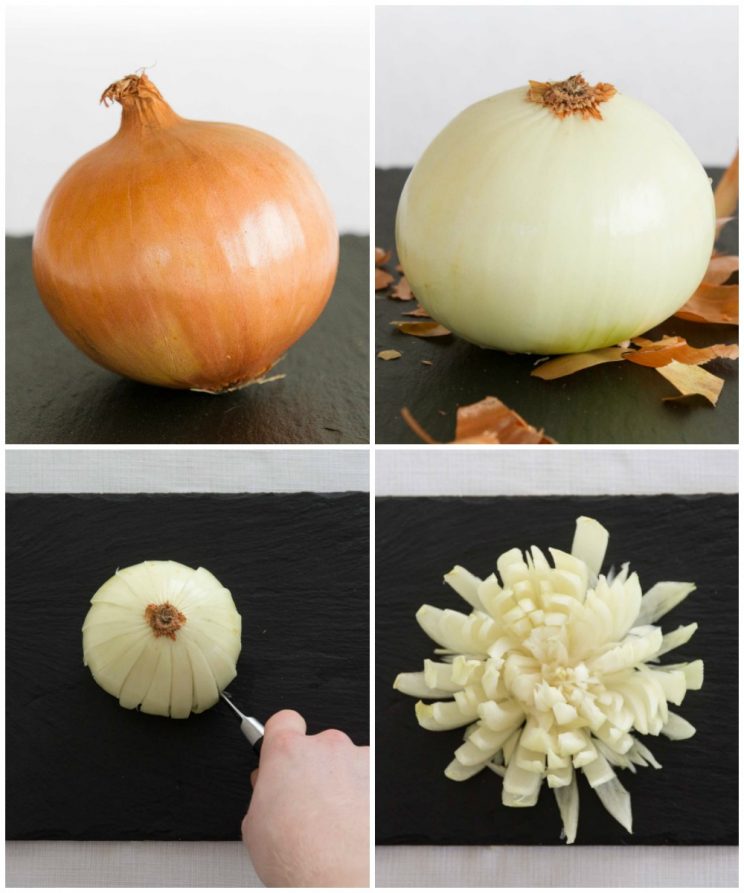 Easy right?
When it comes to how to make a blooming onion, it really has to be deep frying.
I have toyed around with making a baked blooming onion in the past, but personally I feel it just falls a little lacklustre. Deep frying the blooming onion gives you the crispy crunchy petals you're after.
How to cook a blooming onion
Mix all of your spices and flour in a suitably sized bowl.
Place in your onion and fully coat it with the dry mix.
Give a shake and place it in with your milk and egg. Fully coat again, making sure you get in between the petals.
Place back in the dry mix and give it a final coating.
Place in oil and deep fry until deep golden a crispy.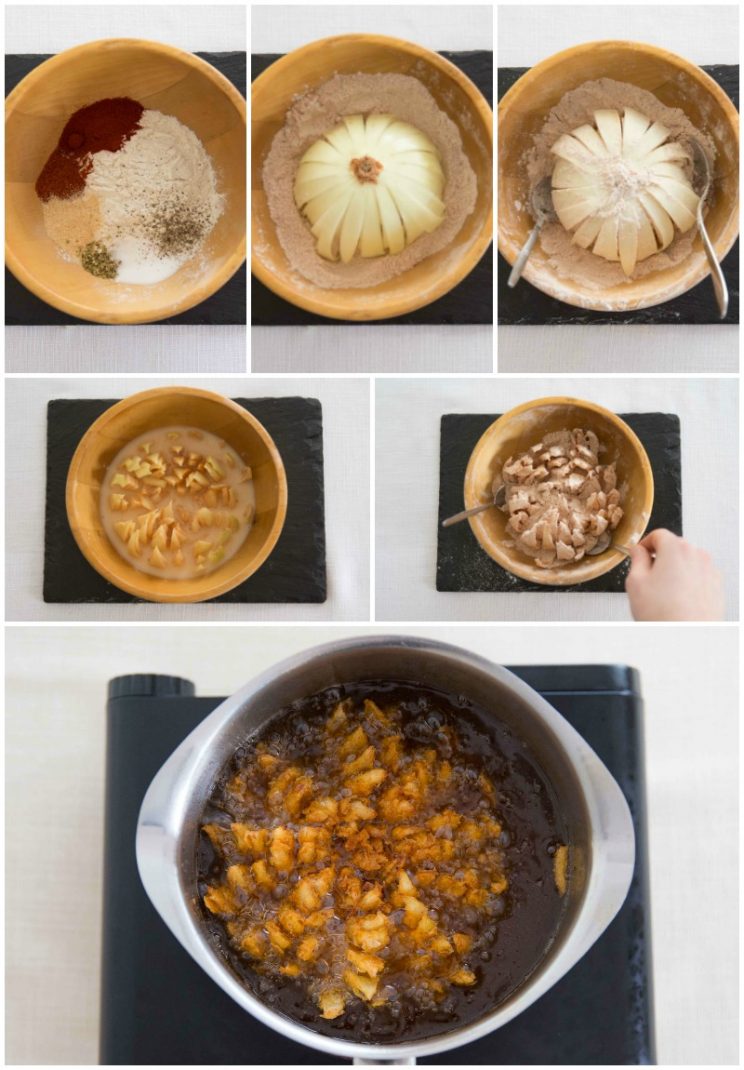 Tips for a Deep Fried Blooming Onion
1. Spoons and plate
When making a batter for anything that's going to be deep fried, the mess is sometimes just too much to bare. To reduce mess when coating your onion with the dry ingredients, I find it easiest to grab a plate, place it on top of the bowl, then give it a good shake. To get in between the petals, I use two spoons. For more clarity on this then be sure to watch the recipe video down below.
2. Shake it off
After each coating, it's important to shake off excess flour/egg. This will ensure your blooming onion petals don't stick together and become clumpy.
3. Oil
Firstly, it's important to ensure you're using an oil with a high smoking point such as vegetable, sunflower or canola oil. Using olive oil will cause your house to turn into a cloud of smoke. Secondly, it's crucial to ensure your oil is hot. You want to get your oil to around 350f/175c, but either way I always drop a petal in the oil to see if it sizzles before I put the entire thing in.
After that, it's just a matter of making a dipping sauce.
I actually developed this sriracha-lime mayo through default. I wanted to put a little dipping pot of sriracha mayo in the centre of the blooming onion, but didn't have anything small enough. So, I made one using a lime! Turns out not only does a lime make the perfect dipping pot for a blooming onion, but lime goes perfectly with sriracha mayo too!
Other dips for a blooming onion
Blooming onions are so great to make for a sharing appetizer, for game day, a side dish or even just because you're darn fed up with your diet and want to devour the definition of comfort food. For me personally, it's always the latter.
Any who, let's tuck in shall we?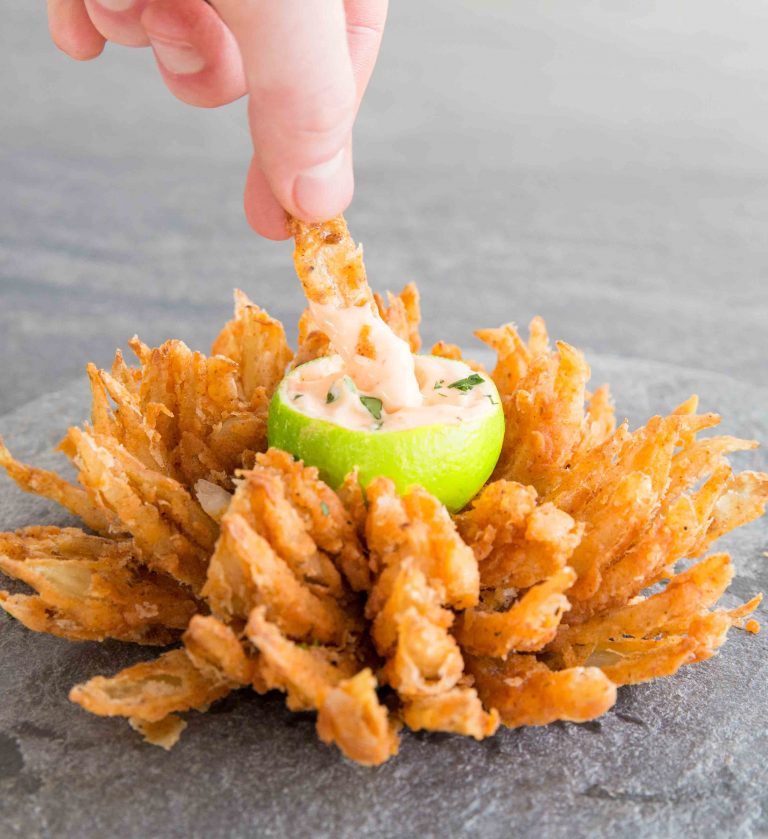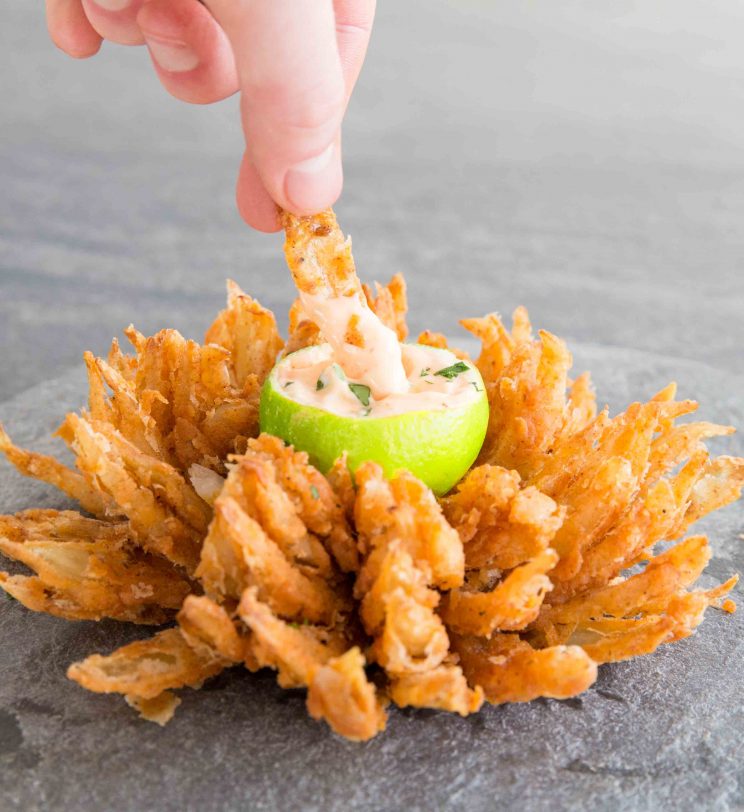 Join the foodie family! – Get awesome recipes sent straight to your inbox by signing up to my Weekly Mailing List (where you'll receive your FREE ECOOKBOOK) and stay in touch on Instagram, Facebook and Pinterest! 🧡
How to make a Blooming Onion (Full Recipe & Video)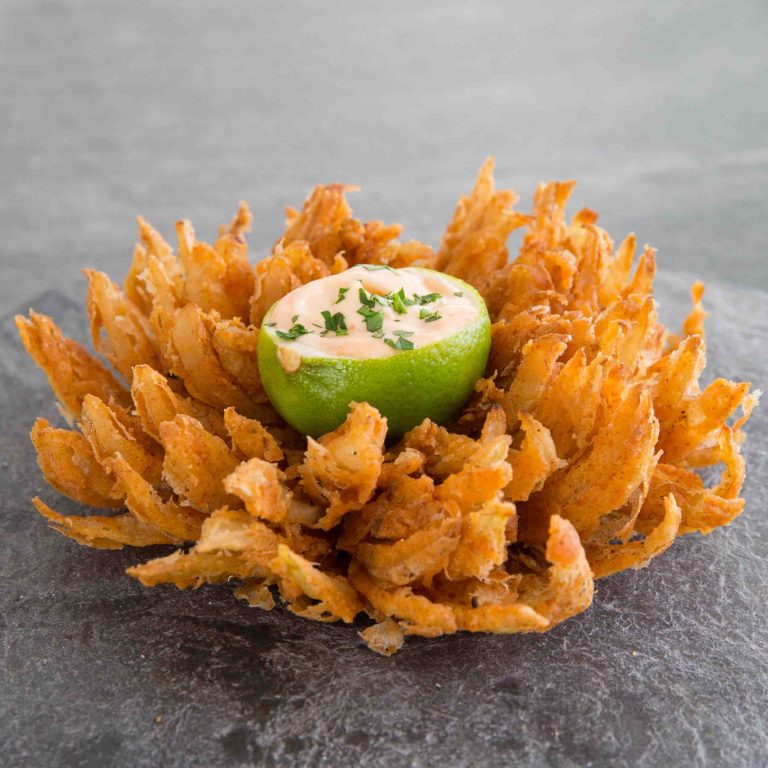 How To Make A Blooming Onion
Here I'll show you how to make a blooming onion in the most delicious way possible. Served with a sriracha-lime mayo dip, this is a blooming onion recipe to be reckoned with!
Print
Pin
Rate
Servings (click & slide):
6
Calories per serving:
290
kcal
Cost per serving:
£2 / $2.50
Equipment:
Deep Pot & Slotted Spoon (for deep frying)

Sharp Knife & Chopping Board

2 Medium Sized Mixing Bowls

Paper Towels

Kitchen Thermometer
Ingredients (check list):
Blooming Onion
1

large

White Onion (big as you can find)

1 cup / 150g

Plain White Flour

1

tbsp

Paprika

(can used smoked or a mix of regular and smoked)

1

tsp

Salt, plus extra to sprinkle for serving if desired

1

tsp

Cayenne Pepper

1

tsp

Garlic Powder

3/4

tsp

Oregano

1/4

tsp

Black Pepper

2

Eggs, beaten

1/2 cup / 125ml

Milk

4 cups / 1 litre

Oil Suitable for deep frying (Vegetable, Sunflower, Rapeseed, Canola)
Instructions:
Slicing
Make a tiny slit across the tip (not the root) of your onion and peel the brown shell away.

Place the onion with the root facing up. With a knife, begin slicing around 1/2 inch away from the root in a circular motion. You should be able to create 12-16 even slices depending on the size of your onion.

Flip the onion and gently spread out the petals.
Coating
In one bowl combine your flour, paprika, cayenne pepper, oregano, garlic powder and salt & pepper. In a second, combine your eggs and milk.

Place your onion in the dry mix, spread out the petals and thoroughly coat, ensuring you coat as much of the onion/petals as possible. Shake away excess, then place into the wet mix. Coat again, ensuring you get in between the petals. Allow excess to drip off then place bake into the flour. Coat once again, ensuring you thoroughly coat each petal, carefully spreading them out as needed and shaking out any excess so the petals don't clump together. See recipe notes for best ways to do this.
Frying
In a suitably sized pot, heat up enough oil to cover the depth of the onion. You want to get it to about 350F/175C. Drop a petal in and if it vigorously sizzles, you're good to go. Using a ladle, slowly and carefully drop in your onion root side up. Allow to fry for around 10 seconds then flip the onion over to petal side up.

Depending on the size of your onion it should take around 6-10 minutes until done. You don't want to pull it out early as the batter with taste flakey/powdery, so ensure it's a deep golden colour before it comes out.

Place upside down on a paper towel to drain. Sprinkle another pinch of salt then serve with your favourite dip!
Quick 1 min demo!
Notes:
a) Coating the onion - If you want to reduce mess I find that placing a plate over the bowl of dry ingredients, shaking it, then flipping it upside down (holding tightly) coats the onion well. I then use two spoons to get between the petals. In all instances though it's important to spread out the petals and really coat as much of the onion as possible and shake out excess, otherwise it'll clump together as it fries.
b) Deep Frying - Essentially you want to find the deepest pot you've got. If it's too shallow, when you lower the onion in the oil is gonna spill out everywhere. Not good. 
c) Serving - You can pluck out the core before or after frying. This makes room for the dipping sauce. Here I carve out a lime to make a mini bowl and add Sriracha Mayo in the centre.
Nutrition:
Nutrition Facts
How To Make A Blooming Onion
Amount Per Serving
Calories 290
* Percent Daily Values are based on a 2000 calorie diet.
Nutrition is based on the absence of salt unless stated as a measurement in the ingredients. Cost is worked out based on ingredients bought from UK supermarkets, then divided by the number of servings. In both instances these values are just for guidance. Please check out my FAQ Page for more info.
---
For more deep fried goodness, check out my Homemade Popcorn Chicken!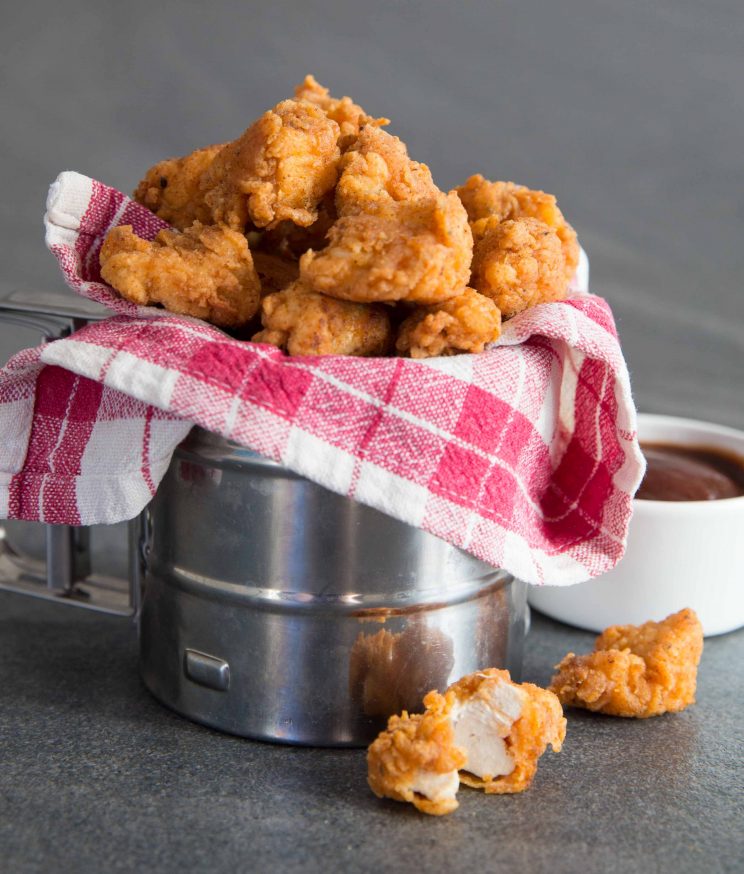 If you loved this recipe on How To Make a Blooming Onion then be sure to Pin it for later! Already made it? Let me know how you got on in the comments below and pick up your free ecookbook along the way!