'This playful twist on the classic Hummus is absolutely packed with flavour. Roasted Beetroot and Feta Hummus is your new go-to crowd pleaser!'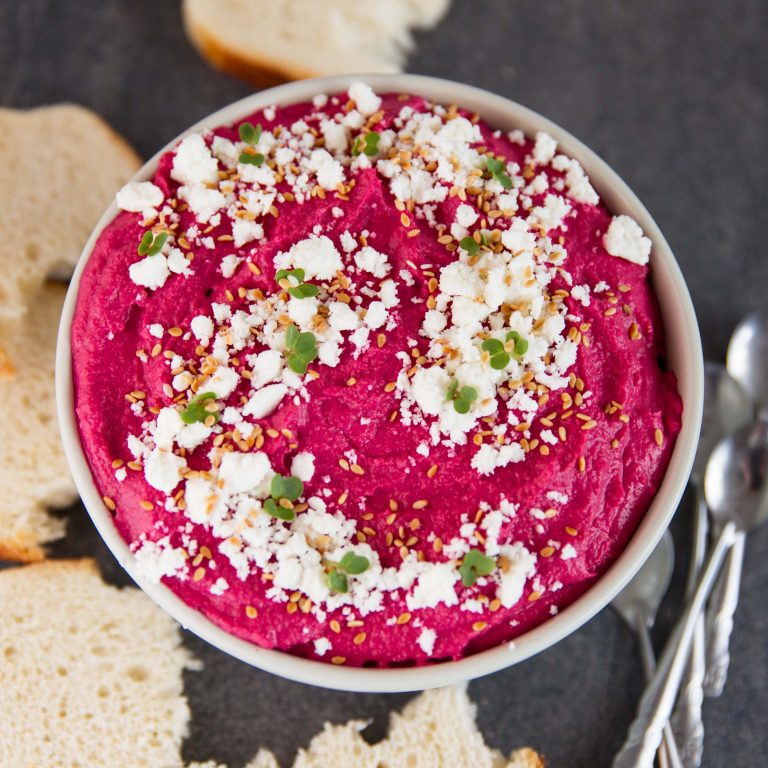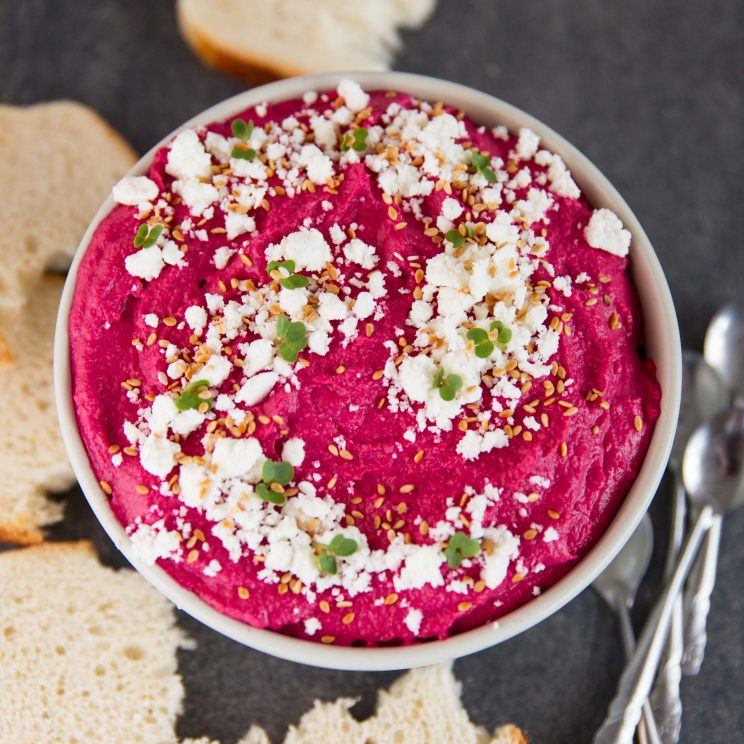 So we're all in agreement here that Hummus is the most addictive dip in the history of dips ever, right? Okay good. I was trying to put my finger on it the other day as I face planted my third bucket of the stuff, what is it that makes it so damn gorgeous? An endless list of things of course, but one thing that resonated with me was that you'll never truly appreciate the beauty of Hummus until you make your own from scratch.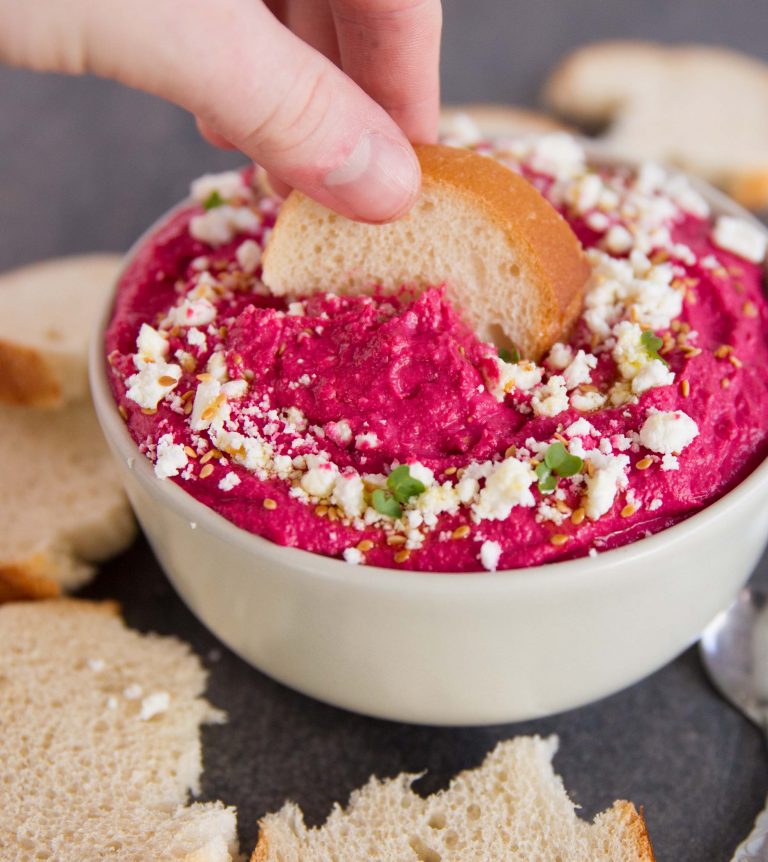 For real, different kettle of fish. So after a little more thinking and even more face planting, I wondered how I could make a homemade Hummus even more delicious.
Hello Roasted Beetroot and Feta Hummus.
This right here. YA'LL. Toooooo tasty. The way the Feta creates a smooth and creamy texture, the explosive flavour of the roasted beet, the colour! Oh boy, we're in trouble. Like a classic Hummus, this version is still super simple. Roasting your own beets couldn't be more easy.
How to roast beetroot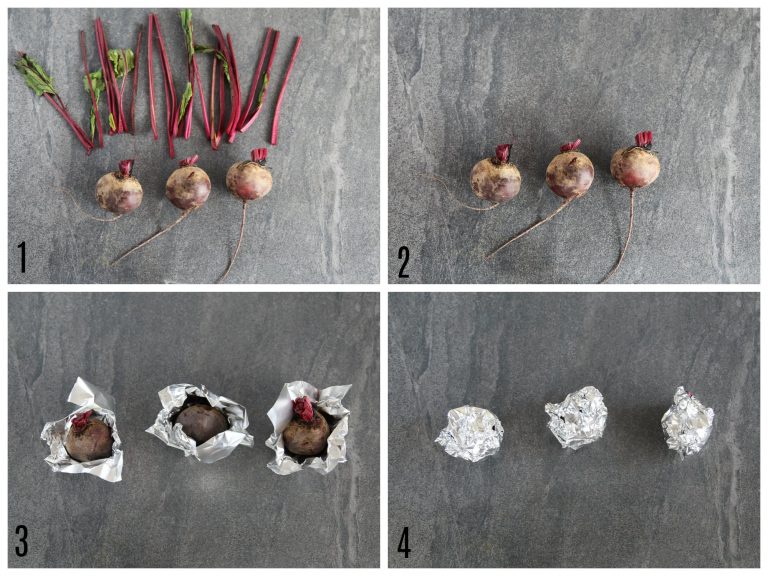 1. Cut off the stems, leaving a little attached. I tend to keep this here so the centre isn't exposed and the juice is kept locked in. Same with the gnarly looking tail.
2. Give your beets a good old wash, removing all trace of dirt.
3. Individually wrap in tin foil and lightly coat with olive oil. This will keep the beets from drying out and will help the skin peel off once they're roasted.
4. Pop in the oven at 180c (355f) for around 40-45mins or until easily sliced with a knife.
5. (not shown in photo, beet juice doesn't go well with photography). Trim off stem and peel off skin.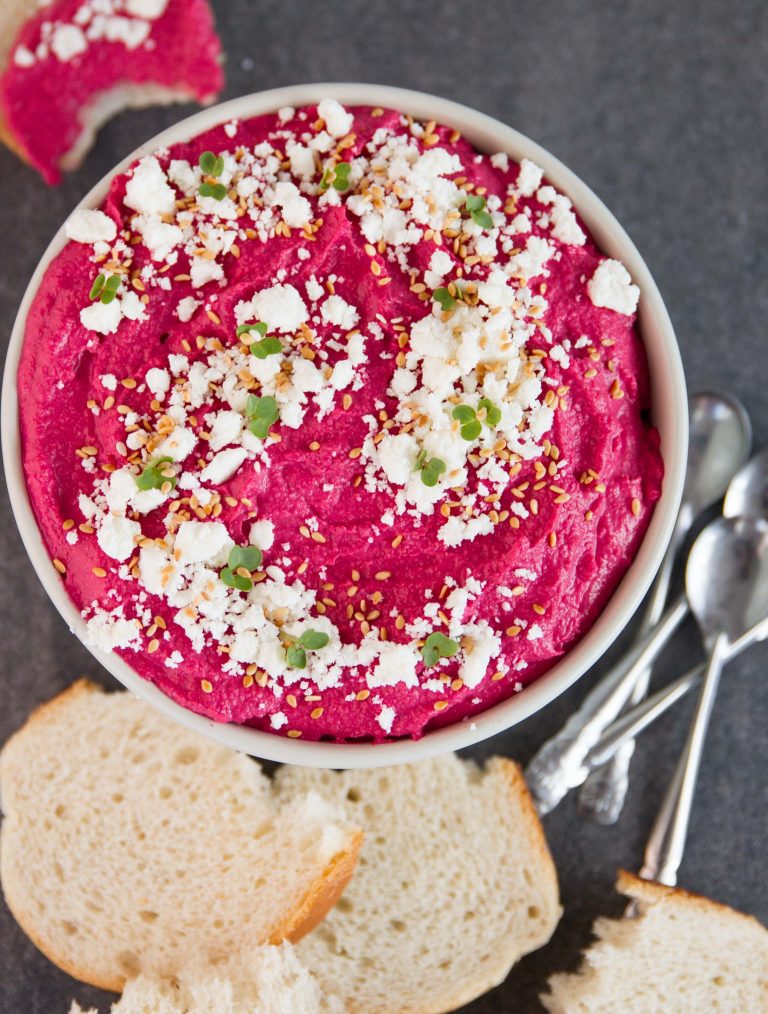 And there we have it folks! Simples.
Oh, quick note. This will give you a huge batch of Hummus. You know we don't do things light hearted here at DGBMH. So make sure you've got company! That or just quickly come to terms with that fact that any diet you may be on is about to be thrown out the window.
Let me know how you get on and I'll catch you on the next post! Enjoy 🙂
Join the foodie family! – Get awesome recipes sent straight to your inbox by signing up to my Weekly Mailing List (where you'll receive your FREE ECOOKBOOK) and stay in touch on Instagram, Facebook and Pinterest! 🧡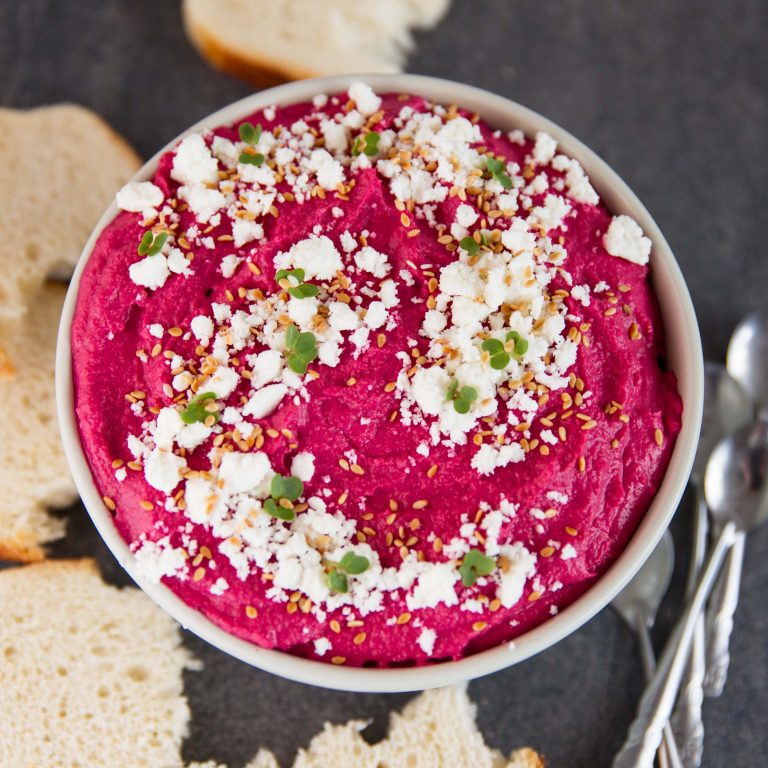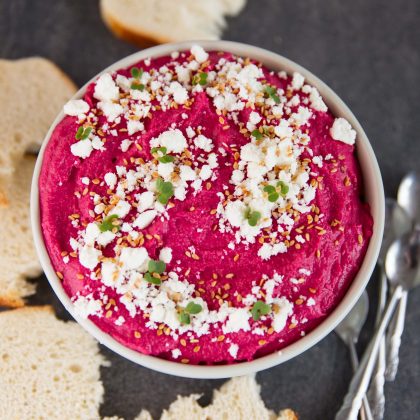 Roasted Beetroot and Feta Hummus
'This playful twist on the classic Hummus is absolutely packed with flavour. Roasted Beetroot and Feta Hummus is your new go-to crowd pleaser!'
Course:
Appetizer, Starter
Cuisine:
Middle Eastern, Original
Ingredients
2

Cans

Chickpeas + brine from one can

4

tbsp

Tahini

2

Cloves

Garlic

1

tsp

Cumin

6

tbsp

Extra Virgin Olive Oil, plus more for the beets and to garnish

1

large

Lemon, juice of

1

Tsp

Salt, or to taste

1/2

Tsp

Pepper, or to taste

3

Medium

Fresh Beetroot

2/3

Cup

Feta, plus extra to serve

1 1/2

Tbsp

Balsamic Vinegar
Extras 'n' Optionals
1

Tsp

Toasted sesame Seeds

Endless amounts of bread for dipping
Method
Begin by washing your beets. Trim off the stems, leaving about 1/2 inch attached. Lightly coat with olive oil, wrap in tin foil and pop in the oven at 180c (355f) for 40-45mins, or until you can easily slice with a knife.

Once cool enough, unwrap the beets, cut off the stems and peel off the skin.

In a blender, add your Chickpeas, Chickpea Brine, Cumin, Tahini, Garlic, Lemon Juice, Salt and Pepper. Begin blending, adding your olive oil throughout until silky smooth.

Add in your Beets, Feta and Balsamic Vinegar. Blend further until smooth again.

Serve with Toasted Sesame Seeds (optional), Feta and a dash of Olive Oil.
Recipe Notes
a) If you don't want your kitchen to look like a crime scene, gloves are recommended whilst peeling the beetroot.
b) Taste test throughout to check for seasoning. Follow your tastebuds on adding more lemon juice/olive oil etc.
c) If you're pondering why everything isn't thrown in the processor at once, there is an explanation! I like to make a regular hummus first as it's easier to check for seasoning and adapt accordingly, before the beets, feta and balsamic vinegar are put in. Slowly adding the oil in whilst it's processing helps it blend in better for a silky smooth finish.
---

---
Cheers guys, this has been ' Roasted Beetroot and Feta Hummus '. Comment, share, do whatever you fancy but for crying out loud don't go bacon my heart. See you next time 🙂