This gorgeous homemade fresh salsa couldn't be more simple to make. Use this homemade chunky salsa to top chicken, quesadillas, nachos or keep at as a dip for your favourite chips! – Hungry now?  Jump to Recipe
Pick De Gallo, Salsa Fresca, Tomato Salsa, whatever you wanna call it, today we're here to discuss it in all it's beauty. And boy is it beautiful.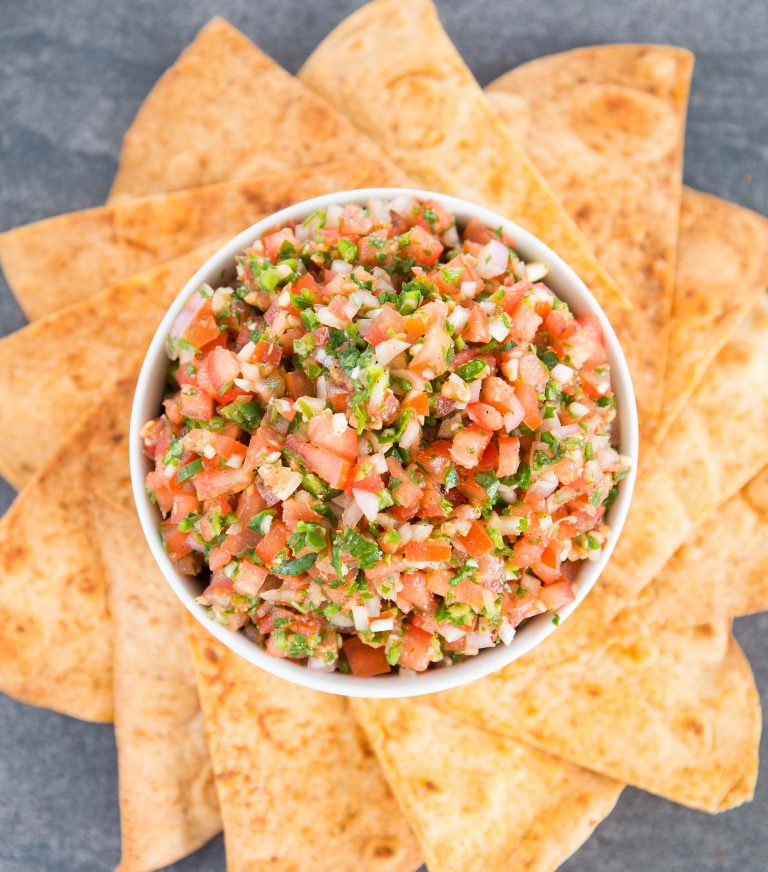 A good tomato salsa is one of those staples in life. Whether it's for dipping tortilla chips, plonking on a chicken breast or wrapping in a fajita, salsa is an absolute must in my house.
And really, it's gotta be a freshly homemade salsa.
Admittedly for a looooong time (too long) I'd get store bought salsa just for the pure fact I thought a really delicious homemade salsa would be tricky to make. Oh how wrong was I.
I tested around with this recipe for a while, longer than I usually would with a recipe actually. Let's be real there's enough salsa recipes out there to feed the 5000, so I felt it important to make this one the most delicious it can be!
Without blowing my own trumpet, mission accomplished.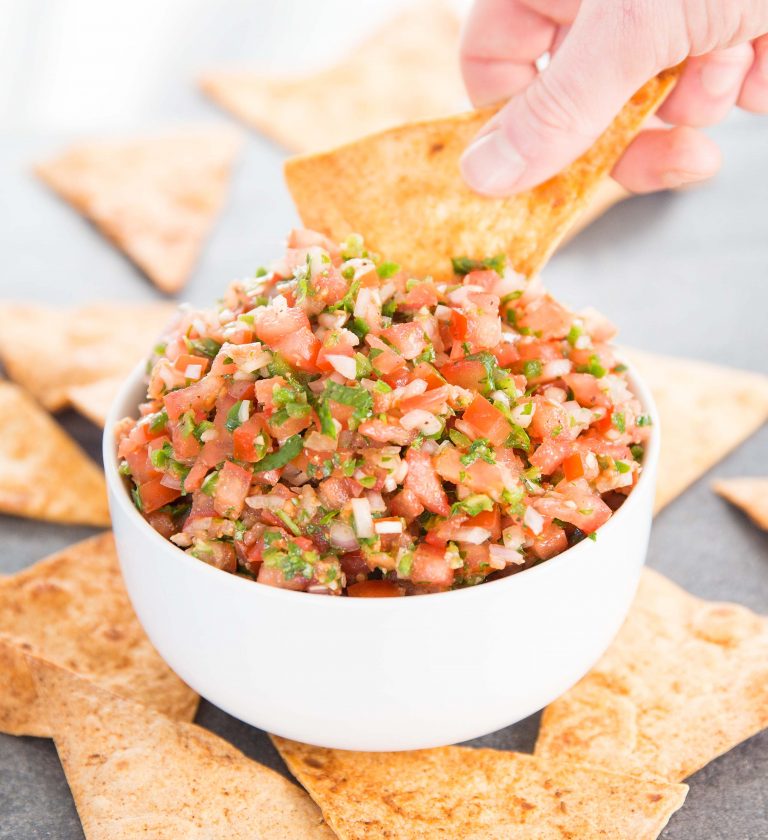 Best ingredients for Homemade Salsa
– Fresh Tomato
– Onion
– Jalapeno
– Coriander (Cilantro)
– Garlic
– Lime
– Cumin
– Extra Virgin Olive Oil
– Salt & Pepper
This will give you a delicious base salsa to use as it is, or with any added tasty extras.
Many recipes I've seen use canned tomatoes, but for me the taste and texture is second to none using diced fresh tomatoes. Another must is the cumin. Just half a tsp will marry together these ingredients and add a kick to the whole dish. Finally we've got lime, not lemon, but lime. The difference is definitely noticeable 🙂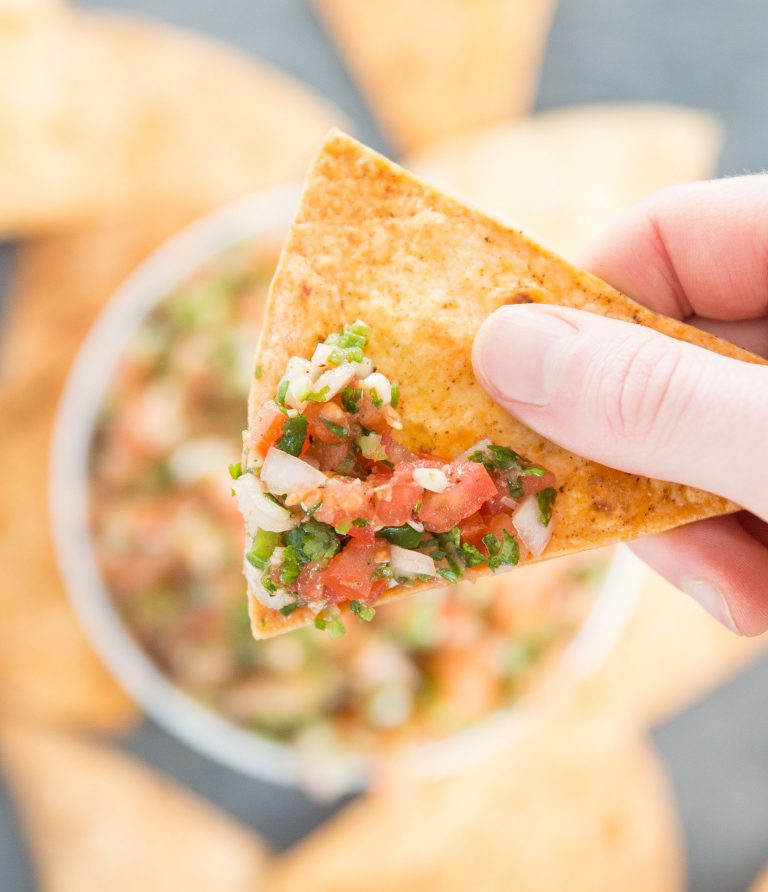 Best way to make a Homemade Salsa
So many recipes out there use a food processor to make salsa. This was actually what I used first time round testing this recipe and didn't touch it again since. I really do see the benefits, which mainly seem to base around convenience, but take a little extra time to hand chop and you'll see a huge difference.
Personally I feel there are a few different reasons for this.
1. Variation: If I'm making a salsa it's usually because I've got guests, and with that you've got a lot of different taste buds to please. Manually chopping your salsa makes it so much easier to add in different ingredients and keep the texture the same i.e peppers, cucumber etc. Sure, you could throw in some sweetcorn or black beans into a processed salsa but they're going to stick out like a sore thumb. Hand chopping keep everything uniformed when adding in extras.
2. Texture: Now I guess this really is preference but I'm certainly team chunky salsa. You wouldn't blend a guacamole now would you.. Would you!? Please tell me you wouldn't!
3. Appearance: Lastly, I find that after the salsa has been in the food processor it loses it's colour. A big bowl of bright chunky salsa certainly looks the part!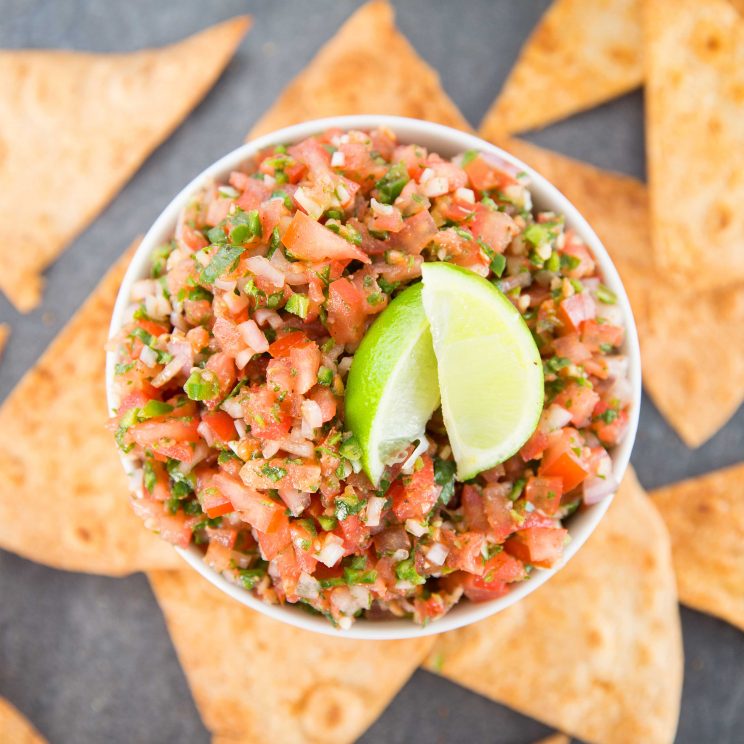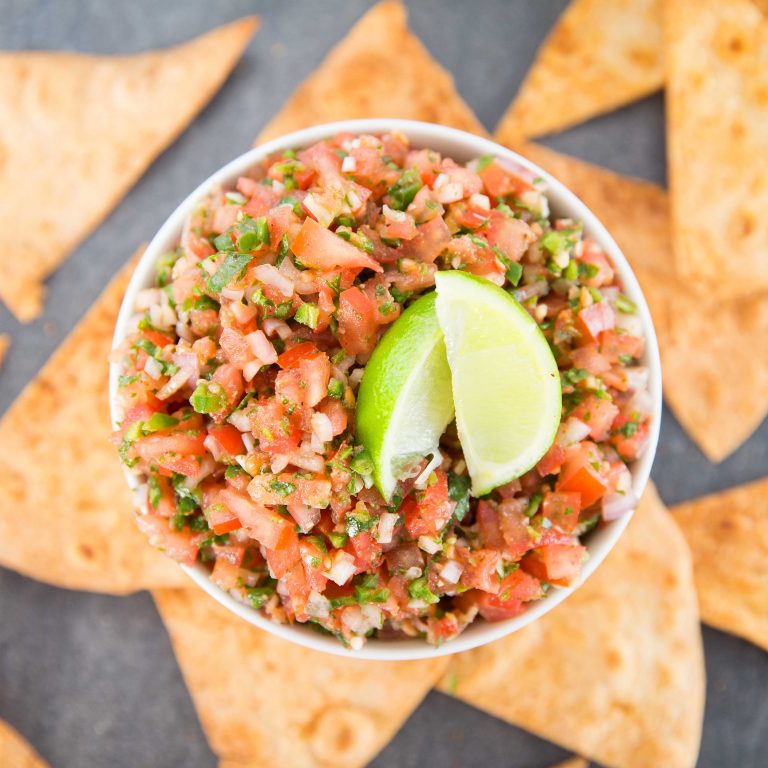 Anywho, enough about me being a hand chopping snob and more about this salsa. Take the extra time to chop your ingredients and enjoy a gorgeously vibrant and fresh homemade salsa. All in all this recipe seriously couldn't be easier!
How to make a Homemade Fresh Salsa

(Full Recipe)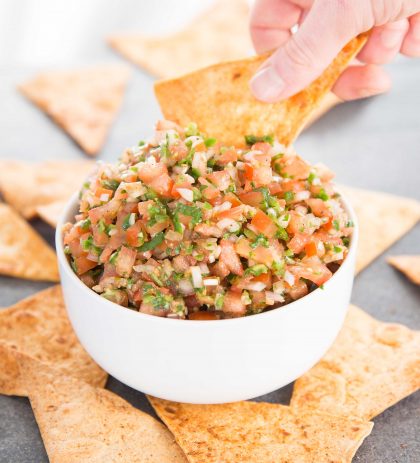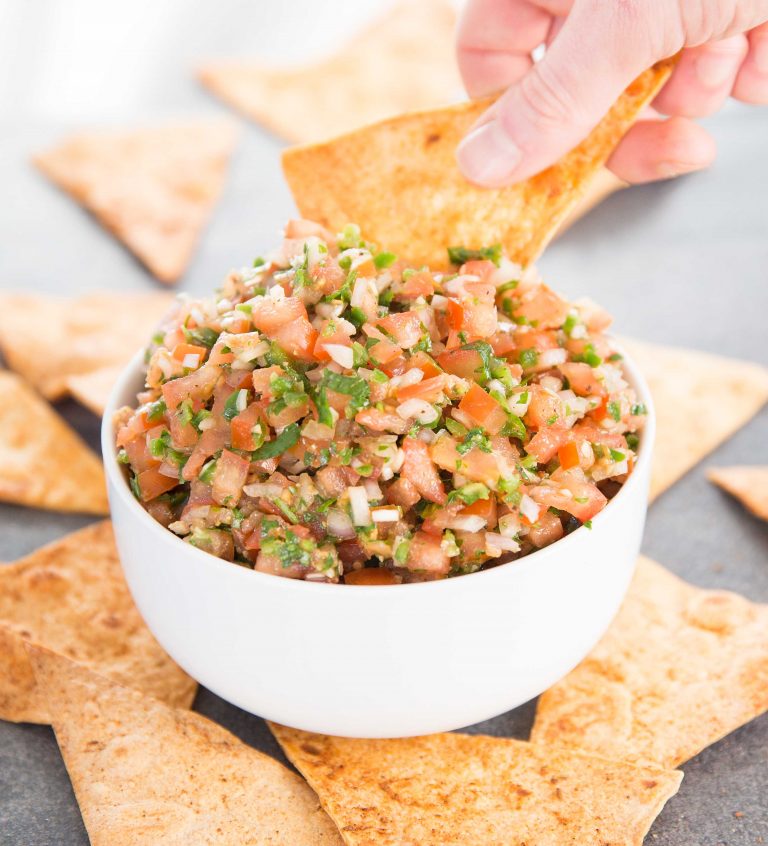 Homemade Fresh Salsa
'This gorgeous homemade fresh salsa couldn't be more simple to make. Use this homemade chunky salsa to top chicken, quesadillas, nachos or keep at as a dip for your favourite chips!'
Ingredients
6

Tomatoes (from the vine), finely diced

1

medium

White Onion, finely diced

1-4

Fresh Jalapenos, finely diced & deesed if preferred.

2

cloves

Garlic, minced

1

bunch

Fresh Coriander (cilantro), finely diced

1-2

Limes

1/2

tsp

Ground Cumin

drizzle of

Extra Virgin Olive Oil

Salt & Pepper, to taste
Method
In a suitably sized bowl, combine all of your ingredients apart from your Jalapeños and 1 lime.

Taste test for seasoning.

Little by little add in your preferred amount of Jalapeño, 1 being fairly mild and 4 being spicy. Add more lime juice to taste.
Recipe Notes
a) For best results, pop the salsa in the fridge for an hour or so before serving to allow the flavours to blend. However, do not add salt if you are doing this, salt draws out moisture at it will turn into salsa soup by the time you serve it. Add salt just before serving.
---
Be sure to crack out some Homemade Baked Tortilla Chips!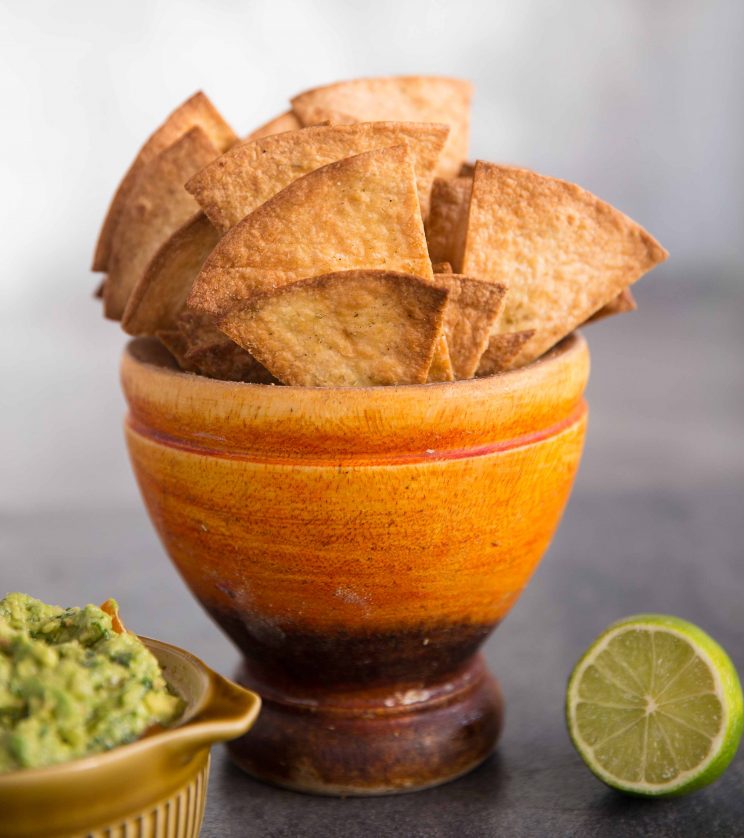 If you loved this Homemade Fresh Salsa then be sure to pin it for later! Already made it or got a burning question? Give me a shout in the comments!