There's a few secrets to creating the Best Spaghetti Bolognese recipe and here I'll show you exactly what they are! A delicious and easy bolognese that your family are going to fall in love with.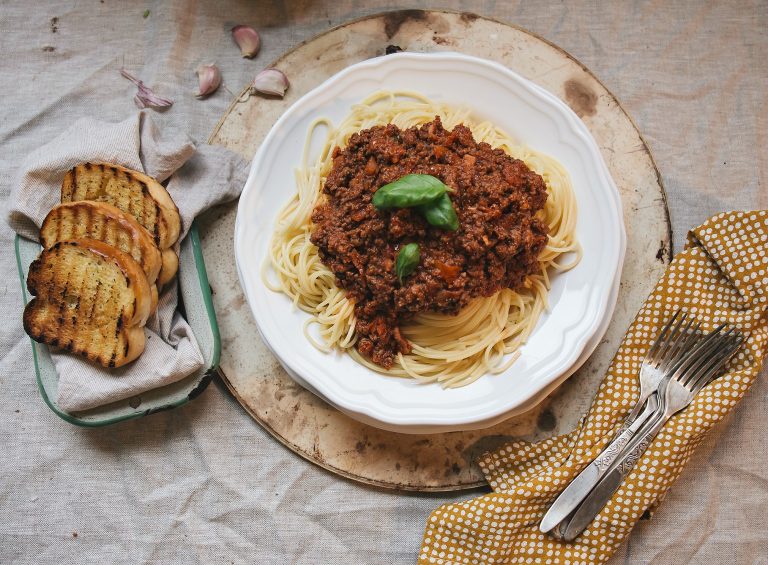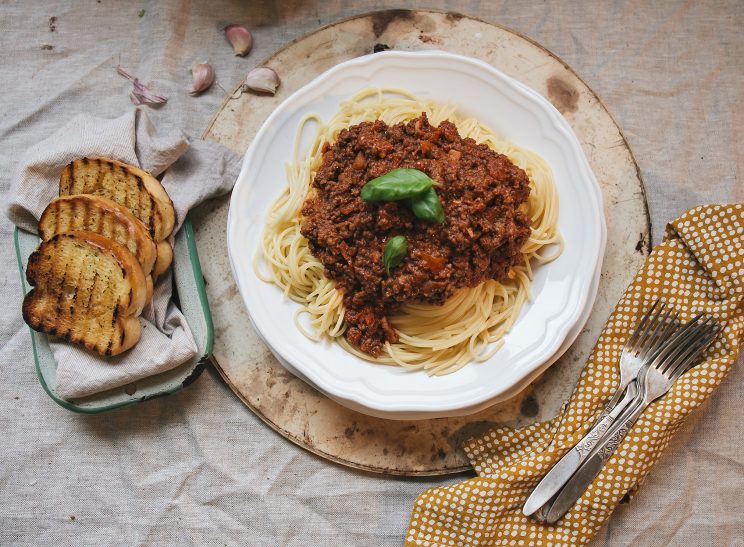 The BEST Spaghetti Bolognese
Spaghetti Bolognese – the ultimate comfort food. The comfiest of comfort food if you will, and literally my favourite home cooked meal of all time. With so many different recipes out there it's difficult to know what's truly good advice. The beauty of this dish is there really isn't a right or wrong way to make it. Having said that, I'm here today to present my argument for the BEST way to make it!
This is a recipe I've been making for too long I care to remember and one I hold close to my dear bacon wrapped heart. One I'm now super duper excited to be sharing with you! Here's why you'll love it:
Rich in flavour – This spaghetti bolognese has a deep, rich flavour that's an absolute treat to the taste buds.
Thick in texture – Ever plated up bolognese on spaghetti and 5mins later it's swimming in it's own juices? This bolognese is thick, luxurious and plonks on top of spaghetti beautifully.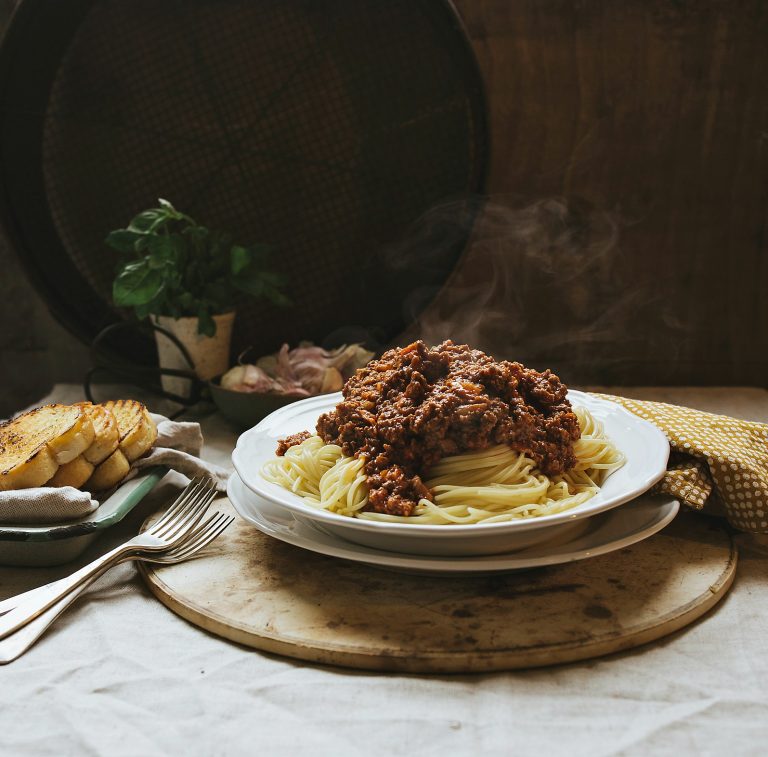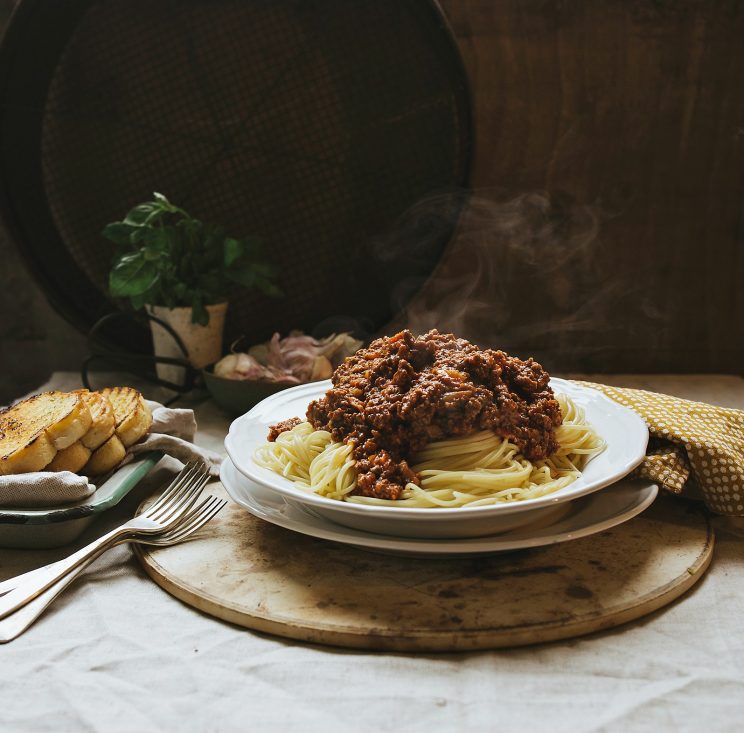 Tips for the Best Spaghetti Bolognese
1. Spaghetti Bolognese with Red Wine
Yep, you guessed it. My first absolute must ingredient is red wine in a bolognese. Adding a good glug of red wine to a bolognese gives a gorgeous depth of flavour. That and beef & red wine are a match made in heaven.
What wine to use for spaghetti bolognese?
Doesn't need to be anything OTT. A cheap bottle of dry red, something like Cabernet Sauvignon or Merlot. Having said that, I keep to the general rule of thumb, if you wouldn't drink it, don't cook with it!
2. Spaghetti Bolognese with Bacon
A guy with a blog called 'Don't Go Bacon My Heart' adding bacon to a bolognese, who'd have thought!? But all jokes aside bacon in a bolognese is an absolute must. It adds a smoky twang to the bolognese and also plays off the beef nicely. Pork and beef is often a combo of meats that go neatly together, just like making meatballs. The bacon also adds a second layer of texture which compliments the ground beef.
3. Time
If you ignore the wine and bacon, for heavens sake please don't ignore this tip. Ever been rushing around trying to cook a quick bolognese, serving it on the spaghetti and BAM. It's sat in a pool of watery tomato juice. Oh and the meat is pretty rough too. Yep, we've all been there.
The key to a delicious bolognese is allowing the mince to simmer with the lid on for a minimum of 90mins . This not only allows the beef to soak up all those gorgeous flavours, but keeps it mouthwateringly tender. As there is a fair load of tomato in this recipe it's crucial to allow the bolognese to naturally thicken.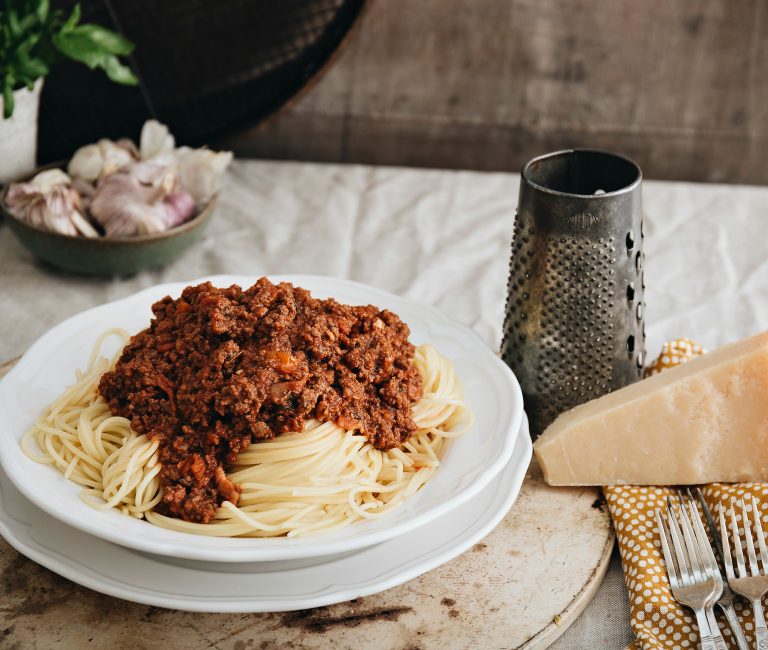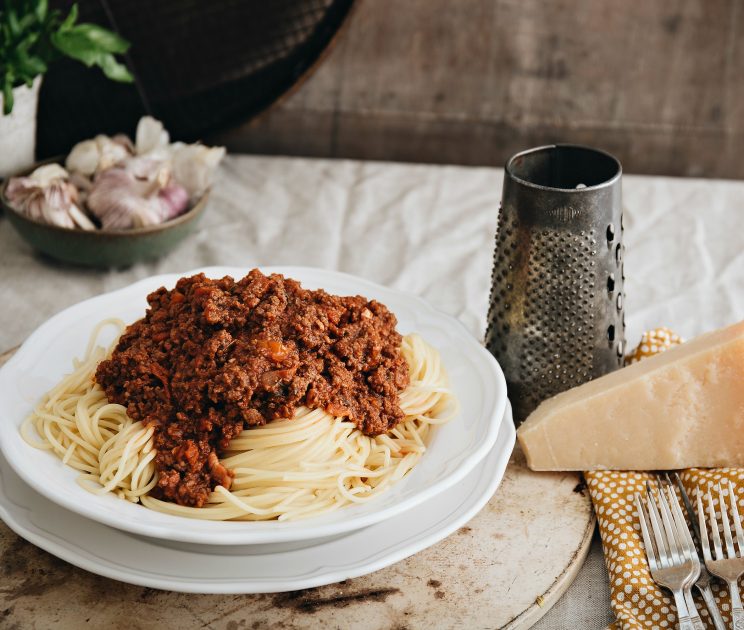 How to make Spaghetti Bolognese
Spaghetti bolognese is one of the easiest dinners you'll ever make. Promise.
The first tip is to use a heavy top pot, like a dutch oven. The reason being is as you're simmering the bolognese for so long, you don't want the steam to be leaking out, as this will reduce down the sauce. So, heavy lid is essential!
The second tip is to brown the beef first, then remove it from the pot. Getting a good browning on the beef is essential to bring out the flavour. Cooking the beef with onions etc prevents it getting a good browning.
How long to simmer bolognese?
I simmer with the lid on for 90mins, then the lid off for around 15mins. The simmering with lid on will tenderise the beef and marry the flavours. The lid off will reduce and thicken the sauce.
How to make the best bolognese (quick summary)
Brown beef.
Remove and fry bacon.
Add onion and fry.
Add sun dried tomatoes and garlic.
Stir in tomato puree.
Pour in red wine & add beef back in.
Add beef stock, passata, rosemary & basil, Worcestershire sauce and seasoning.
Simmer with lid on.
What is Tomato Passata? – Tomato passata is essentially pureed tomatoes. The tomatoes are cooked and strained to make a thick tomato sauce. Perfect for bolognese.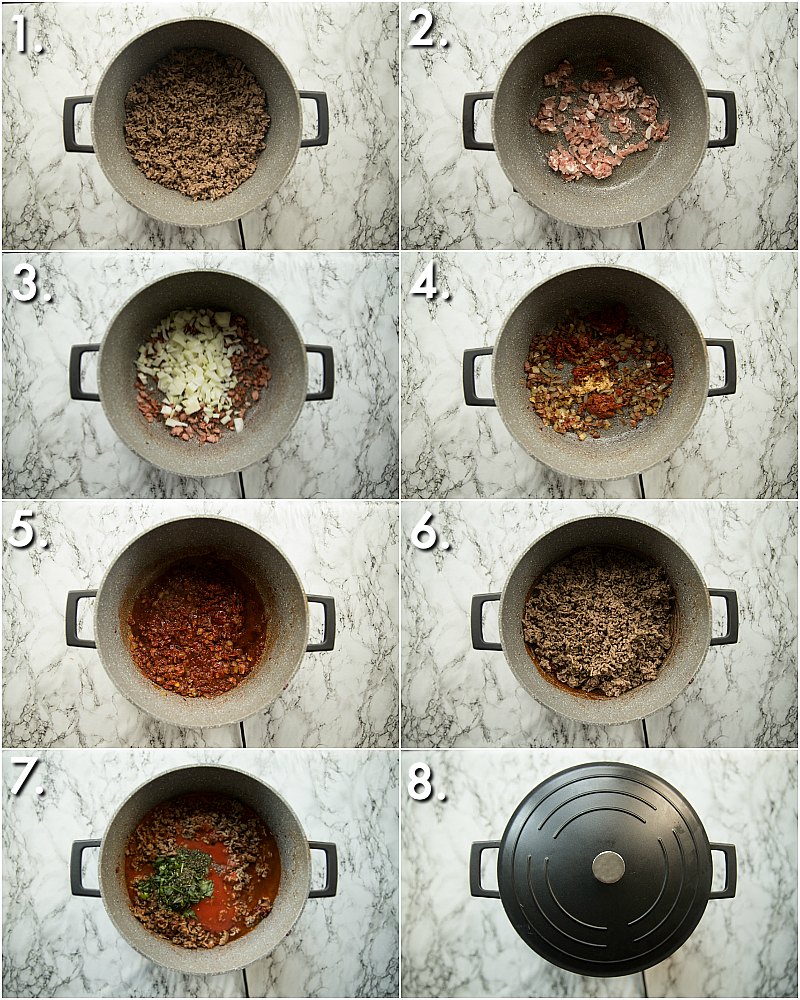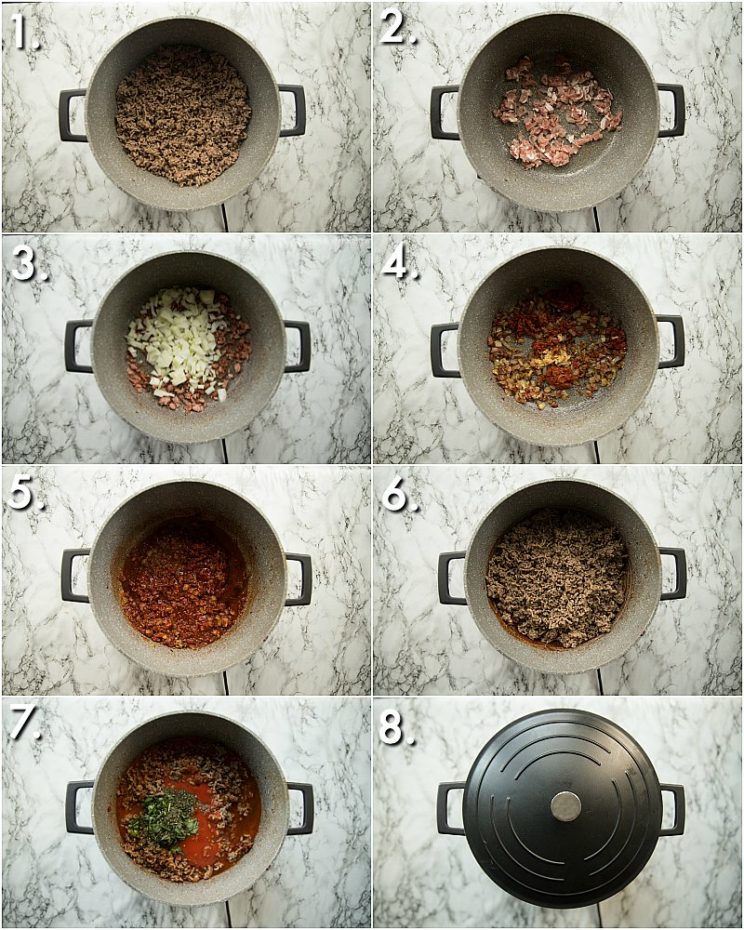 Top Tip – To bulk out the bolognese and/or sneak some healthiness in the for kids, feel free to add more veggies! Mushrooms, celery, carrot and zucchini/courgette all work great!
What is the best ground beef for spaghetti?
I use ground beef with a fat percentage of around 10-12%. This will add some nice fatty flavour, but not so much it needs draining. If you only have fatty beef, so 20%, I recommend draining some of the fat away or it will be too oily at the end.
Can I use dried herbs in bolognese?
I usually go fresh, I find they work slightly better and give a slightly more 'authentic' flavour. But you can sub dried if that's all you have. Quantities in the recipe card.
Can you freeze bolognese?
Sure can! Just allow the bolognese to cool, then pop in an airtight container (or freezer bags) and pop in the freezer.
How to reheat frozen bolognese?
Thaw in the fridge overnight and then heat on the stove. Add a splash of water to thin out if needed. Just make sure the beef is piping hot.
What to do with leftover bolognese?
Stir it through rice, make a bolognese quesadilla, stuffed bolognese peppers, OR, my favourite thing to do is Leftover Bolognese Sliders!
What to serve with spaghetti bolognese?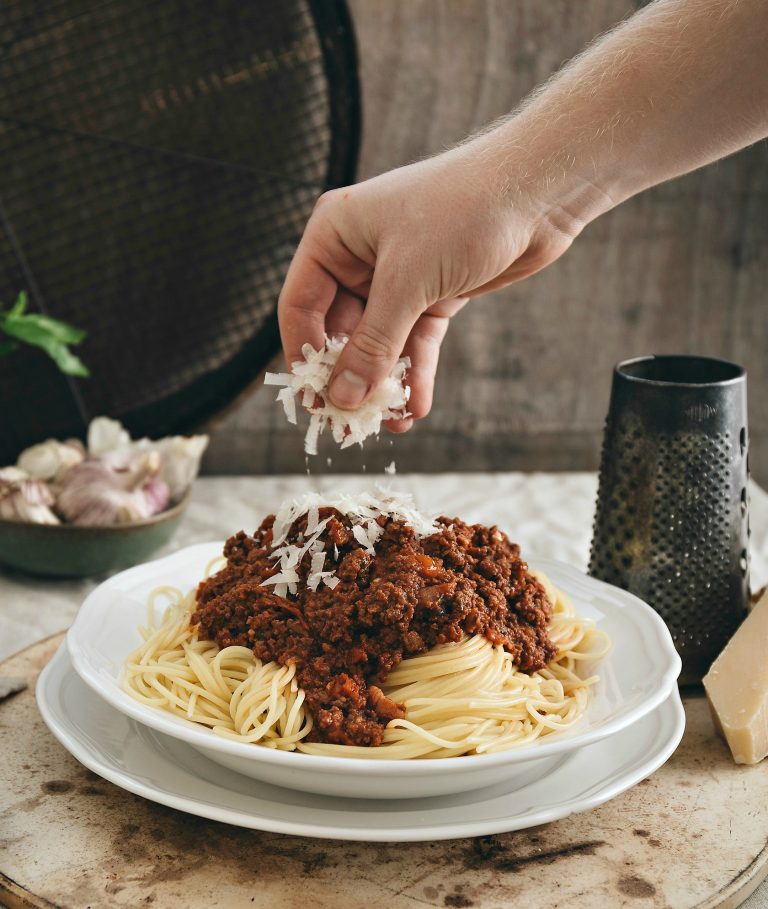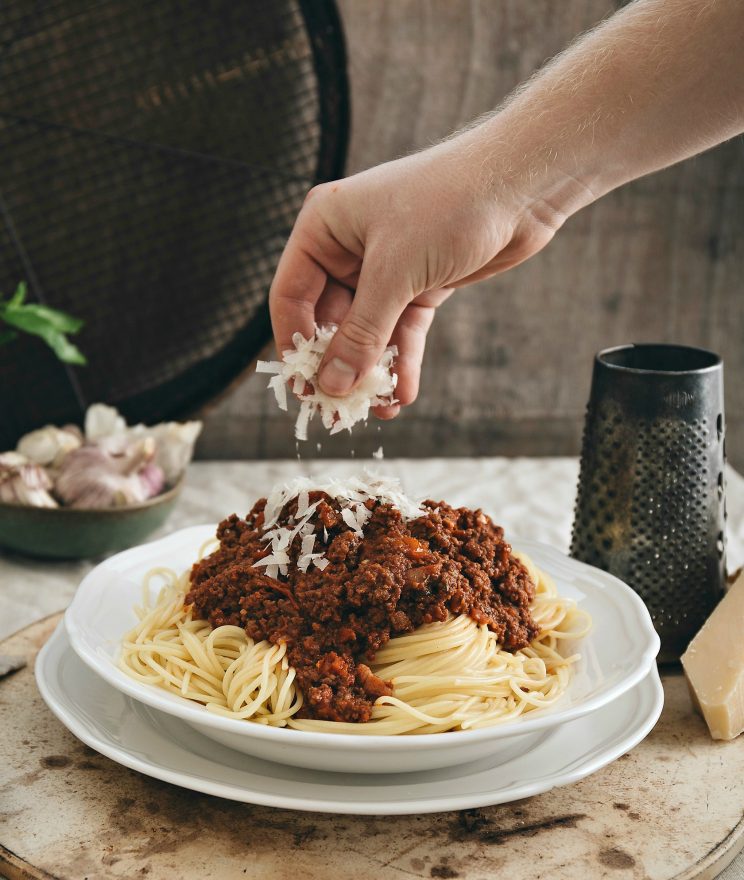 Aaaaaaaaaand I think I've leaked my bolognese brain enough now for you to take the reins 🤣 If you like the sound of this bolognese recipe I know you'll LOVE my Pappardelle Sausage Ragu, quite similar ingredients but completely different taste! Also check out these recipes for some more dinner inspiration:
Delicious Ground Beef Dinners
Alrighty, I think it's time to finally tuck into the best bolognese recipe don't you?! Follow me 😁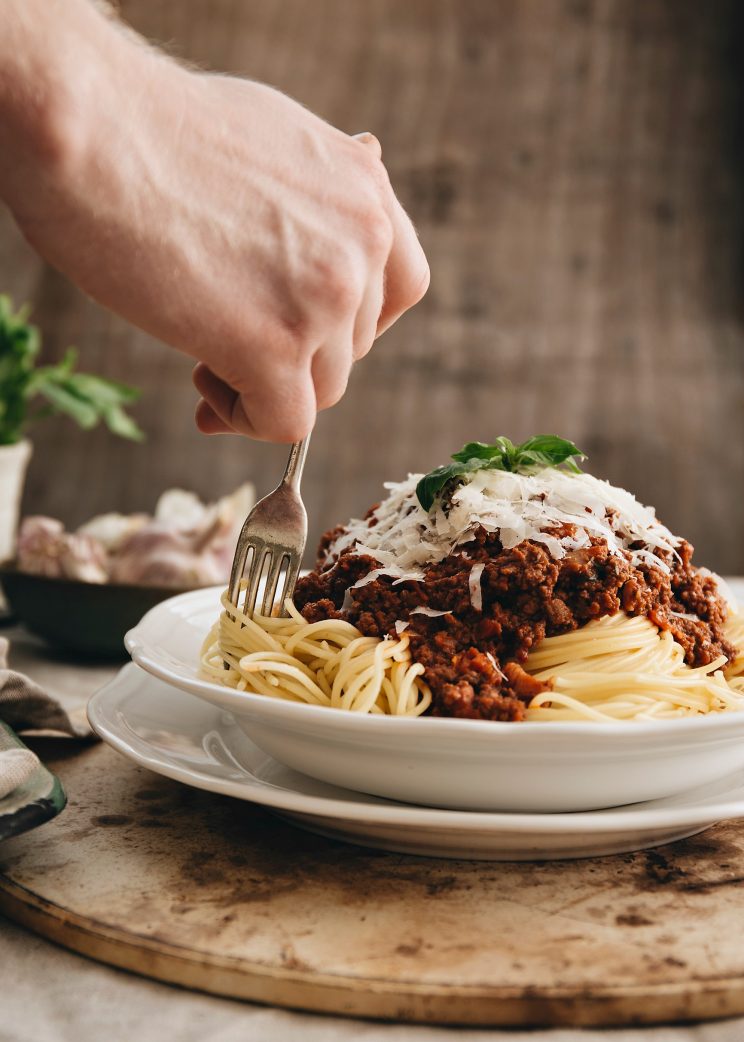 How to make the Best Spaghetti Bolognese (Full Recipe & Video)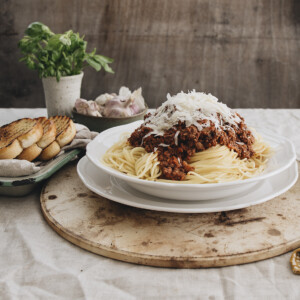 The Best Spaghetti Bolognese (Family Approved)
There's a few secrets to creating the Best Spaghetti Bolognese recipe and here I'll show you exactly what they are! A delicious and easy bolognese that your family are going to fall in love with.
Print
Pin
Rate
Share by Text
Servings (click & slide):
6
people
Calories per serving:
769
kcal
Cost per serving:
£3 / $4
Equipment:
Large Dutch Oven / Pot with Heavy Lid (for bolognese)

Large Pot, Colander & Pasta Tongs (for spaghetti)

Wooden Spoon

Sharp Knife & Chopping Board

Jug (for stock)

Large Side Bowl (to transfer beef)

Fine Cheese Grater

Serving Spoon
Ingredients (check list):
1lb / 500g

Dried Spaghetti

2lbs / 1kg

Ground Beef (see notes)

3 cups / 750ml

Tomato Passata (pureed tomatoes in US)

1 cup / 250ml

Beef Stock

1 cup / 250ml

Red Wine (see notes)

5oz / 150g

Smoked Bacon, finely diced (see notes)

3/4 cup / 100g

Sun Dried Tomatoes, finely diced

1/4 cup / 20g

Freshly Grated Parmesan, plus extra to serve (see notes)

2

tbsp

Tomato Puree (Tomato Paste in US)

3

cloves

Garlic, finely diced

1

large

White Onion, finely diced

2

large sprigs of

Fresh Rosemary, finely diced

1

large handful of

Fresh Basil, finely diced

1

tbsp

Worcestershire Sauce

1

tsp

Sugar, or to taste
Salt & Pepper, to taste
Olive Oil, as needed
Instructions:
Heat up a drizzle of oil in a large pot/dutch oven over medium-high heat and add 2lb/1kg ground beef. Leave to brown for a few mins, then break up with a wooden spoon. Season with a pinch of salt and pepper, then continue frying until nicely browned. Remove from pot.

Add a drizzle of oil (if needed) then add 5oz/150g diced bacon. Fry until the bacon begins to brown, then add 1 diced large onion. Continue frying until the onion begins to soften and brown, then add 1cup/100g diced sun dried tomatoes and 3 minced cloves of garlic. Fry for another 2-3mins until the garlic begins to brown.

Lower heat to medium and add 2 tbsp tomato puree. Fry for 1-2mins, then stir in 1cup/250m red wine. Allow the wine to simmer and reduce for at least 5 mins to burn off alcohol (should start forming a paste). Stir back in your beef.

Pour in 3cups/750ml passata (shake any left in the bottle out with a splash of water), 1cup/250ml beef stock and 1 tbsp Worcestershire sauce, then add your basil & rosemary and salt, pepper and sugar to taste. Give everything a good stir then pop on the lid, reduce the heat to low and simmer for 1 hour 30mins (stir a few times during). This is important as it tenderises the beef and marries the flavours together.

Meanwhile, pop 1lb/500g spaghetti in salted boiling water and cook until al dente.

Take lid off the bolognese and cook for a further 10-15mins without the lid (so it can reduce/thicken) then stir in 1/4cup/20g parmesan. Serve bolognese poured over spaghetti or the spaghetti mixed in. Extra parmesan. Always extra parmesan. Enjoy!
Notes:
a) Beef - I usually go for around 10% fat. Gives a bit more flavour, without draining it in fat. If you've only got high fat beef, say 20%, I recommend draining some fat when you cook. In both instances I recommend investing in some good quality beef. Will make the difference! b) Red Wine - Adds a gorgeous depth of flavour to the bolognese. Most, if not all of the alcohol will burn off, but if for whatever reason you don't want to add it then just use more water/beef stock. I'm no wine expert, but usually go for dry red, something like Cabernet Sauvignon or Merlot. c) Bacon - I always go for smoked, just for an extra punch of flavour. But regular works fine. If you can find pancetta that works perfectly too! d) Parmesan - Ensure you're using freshly grated, not the powdered stuff! e) Dried Herbs - I always use fresh herbs for this, I think you get a better result. So I do recommend using fresh if you can. If not then sub 1 heaped tsp of each (basil and rosemary). f) Time - Hugely important to simmer for at least an hour and a half. Also important you've got a heavy lid to go on top (so the steam doesn't escape and reduce the sauce). Remember, there's no such thing as a 'quick bolognese'! g) Freezing - Perfect to freeze leftovers! Just allow to cool, pop in an airtight container and store in the freezer. Thaw in the fridge overnight and heat on the stove (with a splash of water if needed). h) Calories - Based on using 1 tbsp olive for frying, no extra parmesan, 10% beef, shared between 6.
Your Private Notes:
Nutrition:
Nutrition Facts
The Best Spaghetti Bolognese (Family Approved)
Amount Per Serving
Calories 769
Calories from Fat 265
% Daily Value*
Fat 29.46g45%
Polyunsaturated Fat 1.43g
Monounsaturated Fat 8.501g
Cholesterol 102mg34%
Sodium 424mg18%
Potassium 1477mg42%
Carbohydrates 69.95g23%
Protein 47.31g95%
Vitamin A 1153IU23%
Vitamin C 20.6mg25%
Calcium 106mg11%
Iron 6.04mg34%
* Percent Daily Values are based on a 2000 calorie diet.
Nutrition is based on the absence of salt unless stated as a measurement in the ingredients. Cost is worked out based on ingredients bought from UK supermarkets, then divided by the number of servings. In both instances these values are just for guidance. Please check out my FAQ Page for more info.
---
If you loved this Easy Spaghetti Bolognese Recipe then be sure to pin it for later! Already made it or got a question? Let me know in the comments and pick up your free ecookbook on the way!