There's a few secrets to creating the Best Spaghetti Bolognese recipe and here I'll show you exactly what they are! A delicious and easy bolognese that your family are going to fall in love with.
Spaghetti Bolognese – the ultimate comfort food. The comfiest of comfort food if you will, and literally my favourite home cooked meal of all time. With so many different recipes out there it's difficult to know what's truly good advice. The beauty of this dish is there really isn't a right or wrong way to make it. Having said that, I'm here today to present my argument for the BEST way to make it! So strap yourselves in and unbuckle those eating pants, cause things are about to get tasty..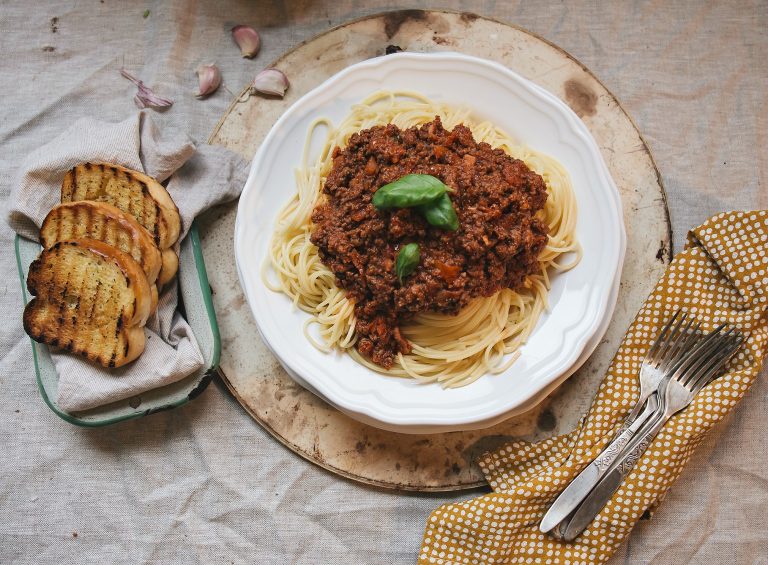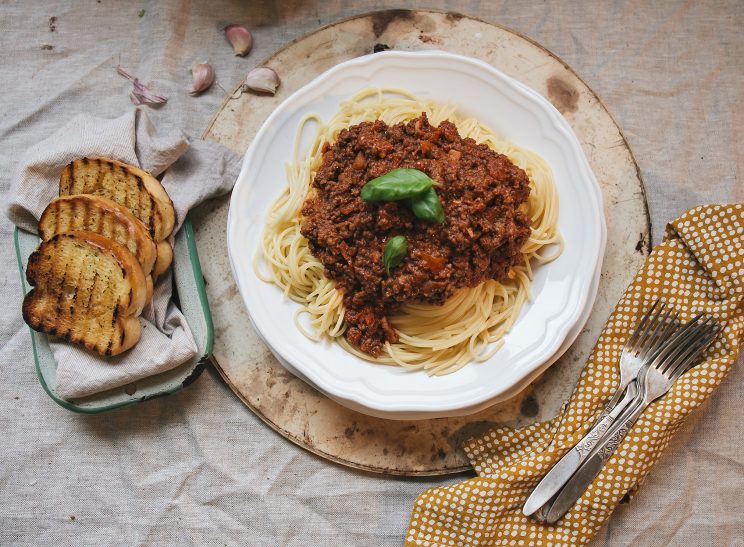 So, the best spaghetti bolognese you say?
*drunk stranger heckles from back row*
Yeah, I kinda guess so.. For me and my family anyway. A recipe I've been making for too long I care to remember and one I hold close to my dear bacon wrapped heart. One I'm now super duper excited to be sharing with ya'll!
Now, time for the important stuff. What makes this spaghetti bolognese recipe different from the rest?
*stranger heckles considerably louder*
Okay let's grab that bottle and put it to good use.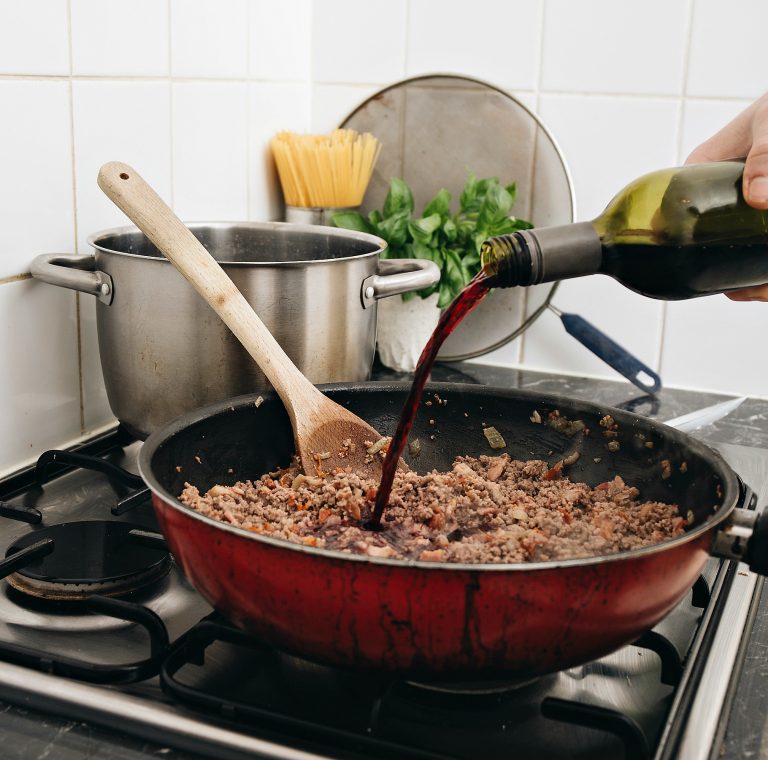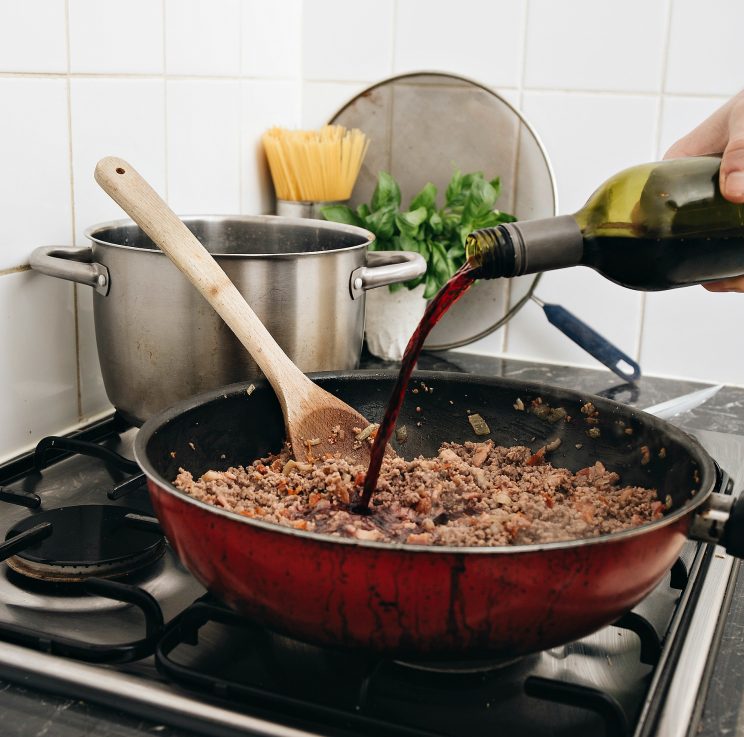 Tips for the Best Spaghetti Bolognese
Red Wine – Yep, you guessed it. My first absolute must ingredient is red wine in a bolognese. Adding a good glug of red wine to a bolognese gives a gorgeous depth of flavour. That and beef & red wine are a match made in heaven.
Bacon – A guy with a blog called 'Don't Go Bacon My Heart' adding bacon to a bolognese, who'd have thought!? But all jokes aside bacon in a bolognese is an absolute must. It adds a smoky twang to the bolognese and also plays off the beef nicely. Pork and beef is often a combo of meats that go neatly together, just like making meatballs. The bacon also adds a second layer of texture which compliments the ground beef.
Time – If you ignore the wine and bacon, for heavens sake please don't ignore this tip. Ever been rushing around trying to cook a quick bolognese, serving it on the spaghetti and BAM. It's sat in a pool of watery tomato juice. Oh and the meat is pretty rough too. Yep, we've all been there. The key to a delicious bolognese is allowing the mince to simmer for up to an hour. This not only allows the beef to soak up all those gorgeous flavours, but keeps it mouthwateringly tender. As there is a fair load of tomato in this recipe it's crucial to allow the bolognese to naturally thicken.
And those my friends, are 3 tips that will totally change up your bolognese game!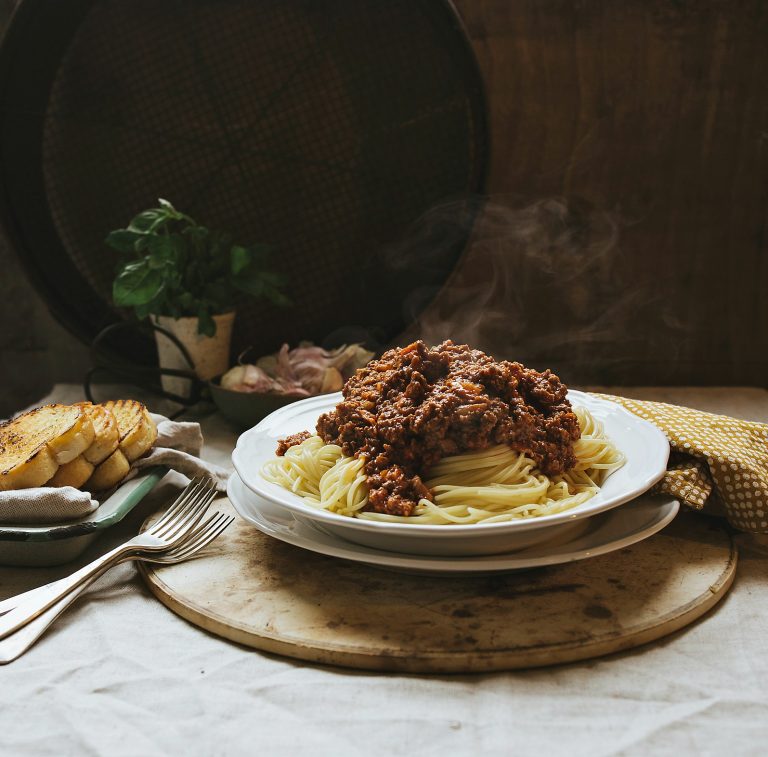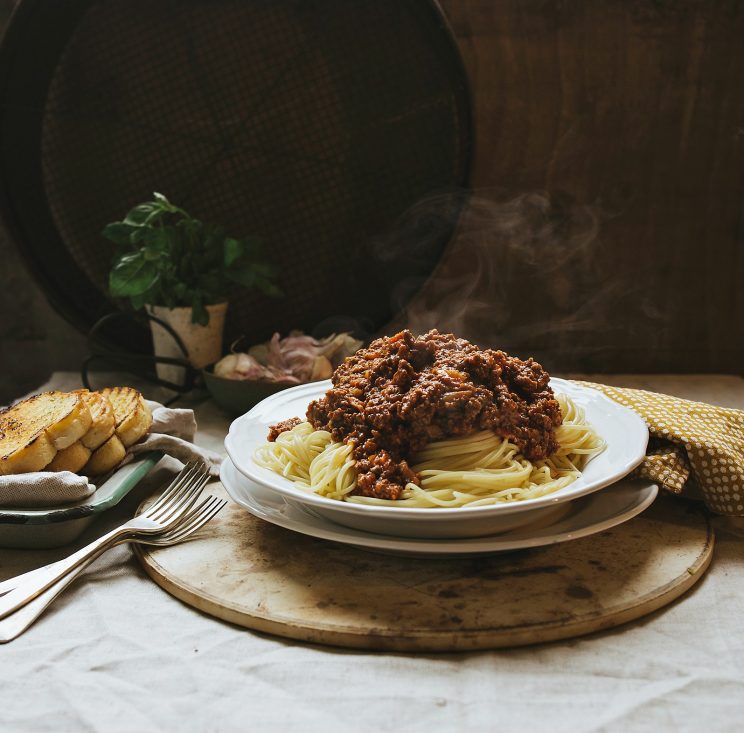 Alongside red wine, bacon and time, there's a couple of other goodies that fit perfectly.
I love throwing in some sun dried tomatoes. Apart from the fact I'm mildly addicted to these things in pretty much every context, I feel they really champion the tomato flavour shining through this dish and add another dynamic to the texture.
A big handful of fresh basil and a couple dashes of worcestershire sauce don't go amiss.
And finally a big hello to our good friend Parmesan as well.
Because is a spaghetti bolognese a spaghetti bolognese without a bucket of parmesan plonked on top?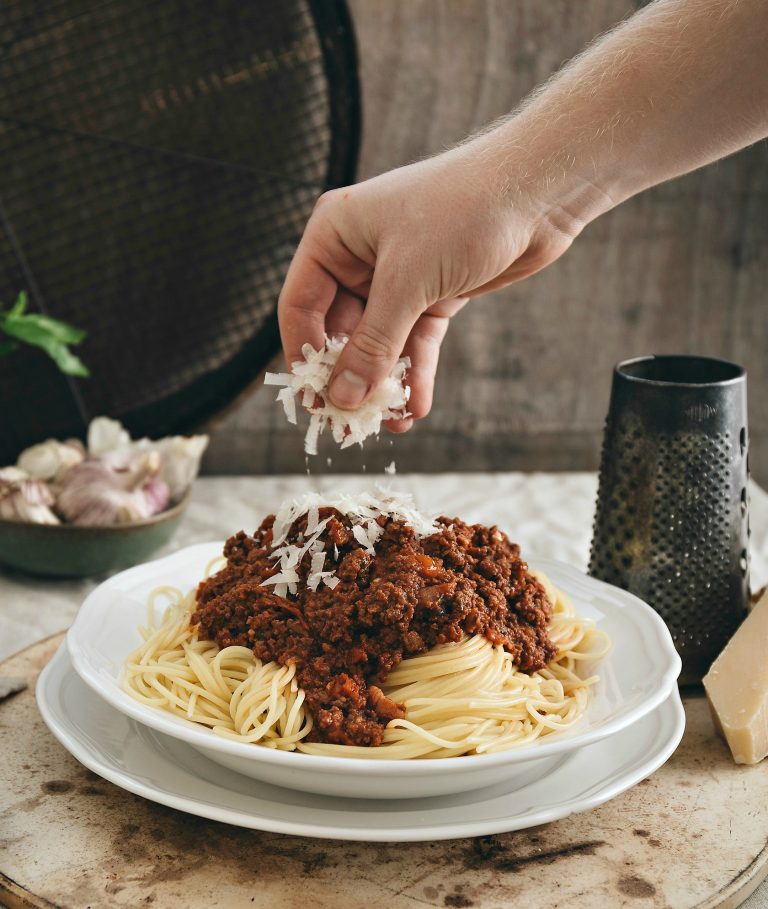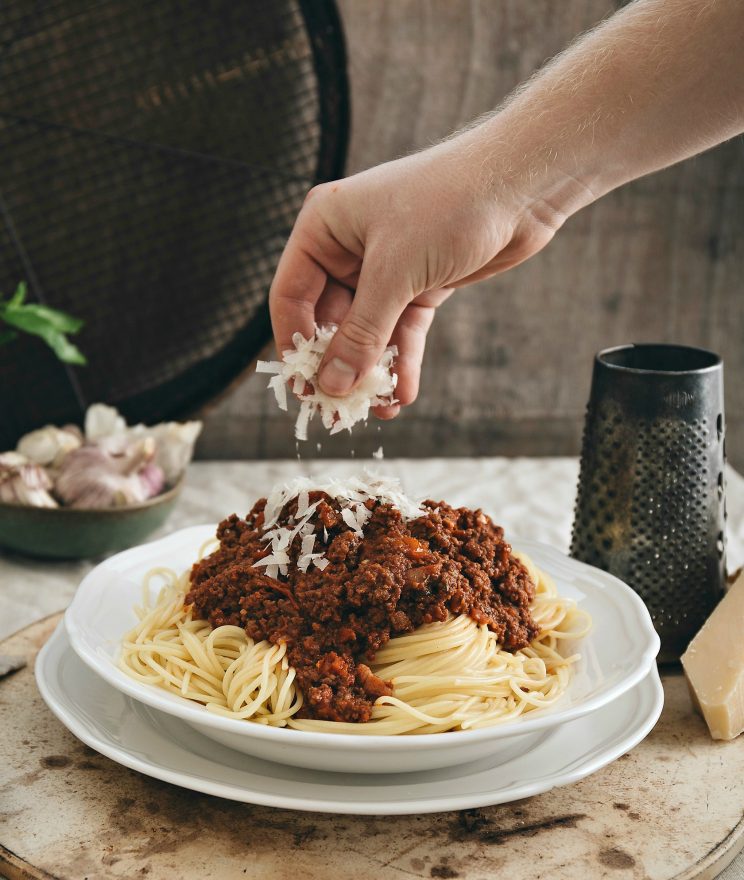 As a whole this recipe couldn't be easier to make. Because in my eyes the best bolognese is an easy bolognese.
It's far too often you see recipes tarting about with this recipe when it's really not needed. Like has anybody really got the time to hunt down Veal or roast some tomatoes? Nope. A spaghetti bolognese is renowned for being a no fuss simple dinner and that's how I like it to remain.
The only hard part is trying not to nibble away at the entire bowl before it's served.
All in all there's just a few tips and tricks to creating the perfect spaghetti bolognese. Is this a traditional spaghetti bolognese recipe? Potentially not. However it is a delicious and easy spaghetti bolognese recipe that your family are absolutely going to fall in love with!
Okay let's wrap this up, I'm hungry.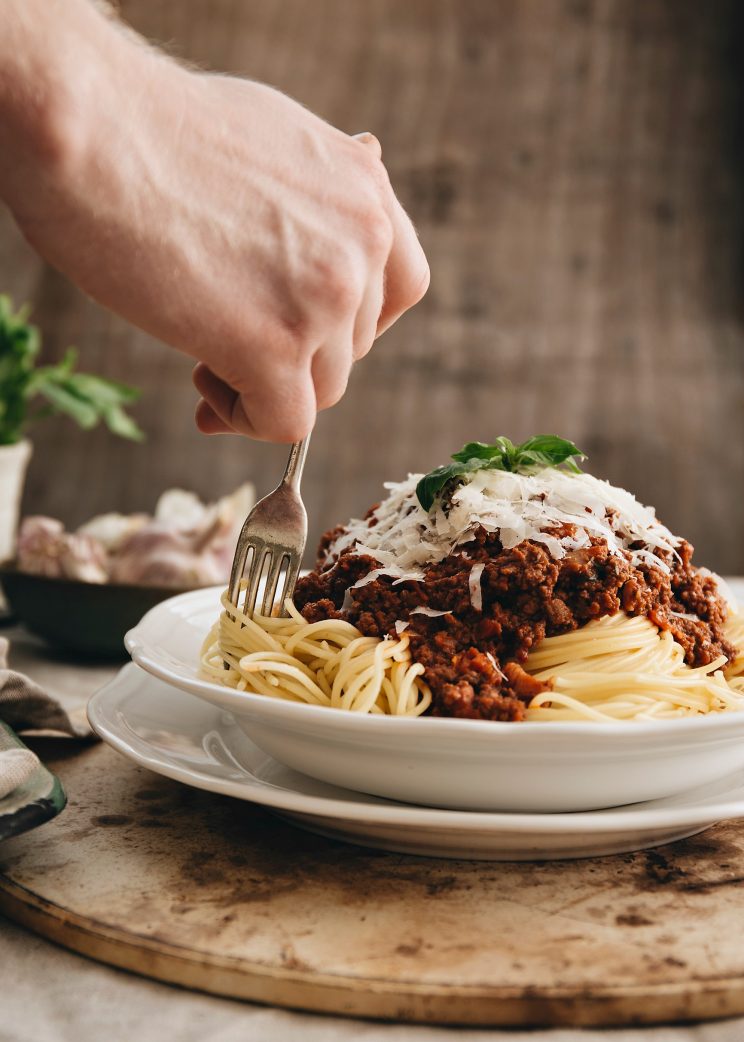 Join the foodie family! – Get awesome recipes sent straight to your inbox by signing up to my Weekly Mailing List (where you'll receive your FREE ECOOKBOOK) and stay in touch on Instagram, Facebook and Pinterest! 🧡
How to make the Best Spaghetti Bolognese (Full Recipe & Video)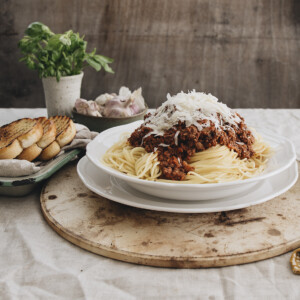 The Best Spaghetti Bolognese (Family Approved)
'There's a few secrets to creating the Best Spaghetti Bolognese recipe and here I'll show you exactly what they are! A delicious and easy bolognese that you're family are going to fall in love with.'

Print
Pin
Rate
Total Time:
1
hour
15
minutes
Servings (click & slide):
6
people
Ingredients (check list):
1.1lbs / 500g

Dried Spaghetti

2.2lbs / 1kg

Beef Mince

4

Rashers of Streaky Bacon, chopped

1 can (14oz/400g)

Chopped Tomatoes

3 cups / 750ml

Tomato Passata

1 cup / 250ml

Red Wine

1

Large White Onion

finely chopped

3/4 cup / 75g

Sundried Tomatoes

finely chopped

3

cloves

of Garlic

minced

1

Handful of Fresh Basil

torn, plus extra for garnish (whole)

1

heaped tsp

Dried Rosemary

1

tbsp

Worcestershire Sauce

1

tsp

Sugar, or more as necassary

Salt & Pepper to taste

Grated Parmesan to top

Olive Oil for frying
Instructions:
Heat up some oil in a large saucepan and fry up your Bacon until it begins to brown. Add the Onion and Sundried Tomatoes and fry for a few more minutes until softened, then add your Garlic and cook for a further minute or so. Add in your Mince and break up with a wooden spoon whilst cooking, stir until crumbled and brown all the way through. Season with a pinch of Salt & Pepper.

It's time to add your Red Wine, stir it in and reduce to a simmer for 5 minutes, allowing the mince to soak up some of that goodness. After, stir in your Tomato Passata and Chopped Tomatoes. Add in your Basil, Rosemary, Worcestershire Sauce, Sugar, Salt & Pepper (to taste) and give it a good stir. Keep it on low-medium heat and allow to simmer for good 45-60mins or until the sauce thickens, stirring occasionally.

Whilst this is on the go, stick your Spaghetti in some salted water and cook accordingly.

Drain and serve Spaghetti, topped with Bolognese, topped with sprinkled Parmesan & Basil. Oh and a train of Garlic Bread...
Quick 1 min demo!
Notes:
a) Just double check you're using Tomato Passata and not Tomato Paste/puree. Tomato paste/puree is a heck of a lot more concentrated.
b) These gorgeous photos were taken by the incredibly talented Dani Knox Photography!
c) Calories based on a division of 6 using 1 tbsp olive oil, 90% lean beef and 1/2 cup of parmesan.
Nutrition:
Nutrition Facts
The Best Spaghetti Bolognese (Family Approved)
Amount Per Serving
Calories 579
Calories from Fat 240
% Daily Value*
Fat 26.7g41%
Cholesterol 109mg36%
Sodium 627mg26%
Potassium 1180mg34%
Carbohydrates 38.3g13%
Protein 44.6g89%
Vitamin A 2600IU52%
Vitamin C 47mg57%
Calcium 140mg14%
Iron 6.1mg34%
* Percent Daily Values are based on a 2000 calorie diet.
Nutrition is based on the absence of salt unless stated as a measurement in the ingredients. Cost is worked out based on ingredients bought from UK supermarkets, then divided by the number of servings. In both instances these values are just for guidance. Please check out my FAQ Page for more info.
---
Looking for leftover ideas? Check out my Leftover Bolognese Sliders!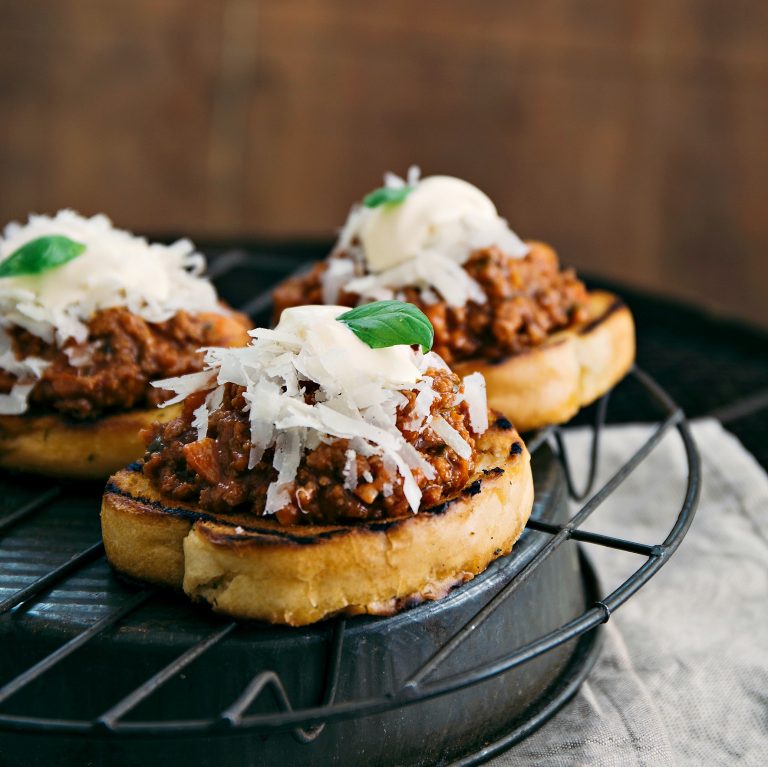 If you loved this Easy Spaghetti Bolognese Recipe then be sure to pin it for later! Already made it or got a question? Let me know in the comments and pick up your free ecookbook on the way!