'For a Perfect Spaghetti Bolognese I love a gulp of red wine for some gorgeous depth of flavour, some bacon for a smokey twang and lastly, I love to give my Bolognese TIME.' – Hungry now? Jump to Recipe
Hey folks! And welcome to the second instalment this week's dinner bananza in partnership with Melbourne photographer Dani Knox. Last post we brought you the Starter in Feta Bruschetta with Balsamic Glaze form. This time, the main event. The Máxima resistencia (or something along those lines) – The Perfect Spaghetti Bolognese. So unbuckle those eating pants and sit tight cause things are about to get tasty.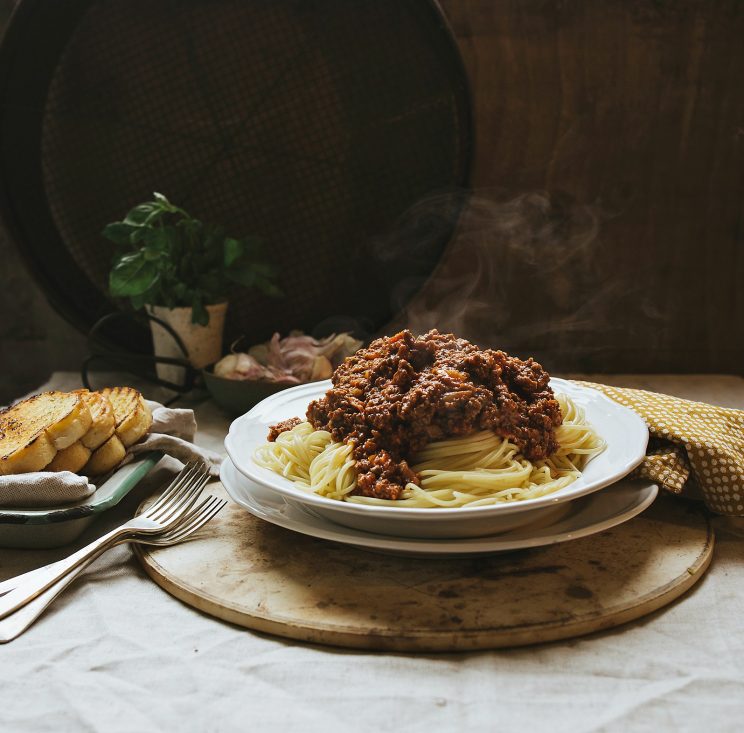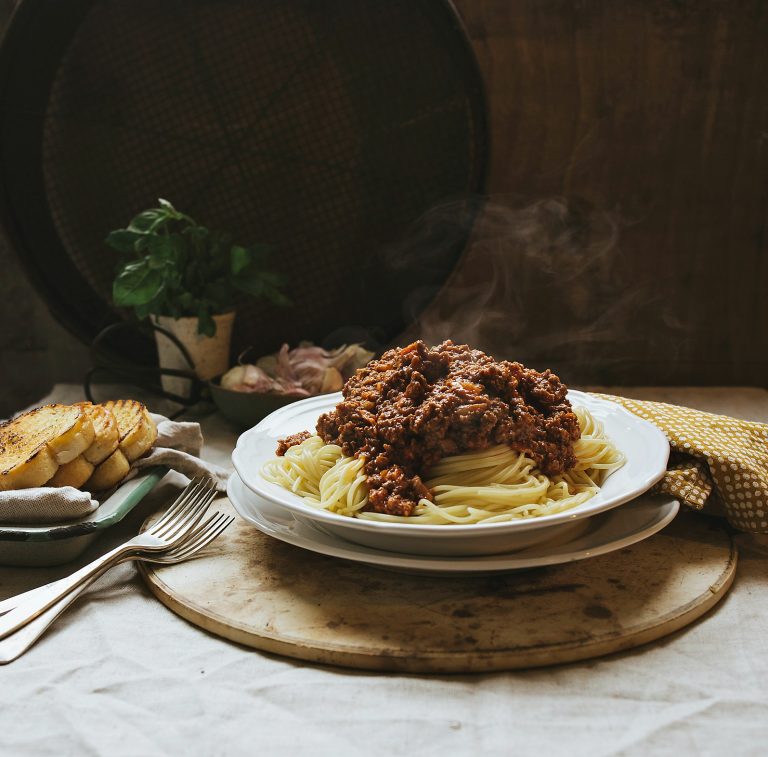 The perfect spaghetti bolognese you say? *drunk stranger heckles from back row*
Yeah, I kinda guess so.. For me and my family anyway. A recipe I've been making for too long I care to remember and one I hold close to my dear bacon wrapped heart. One I'm now super duper excited to be sharing with ya'll!
Now, time for the important stuff. What makes this spaghetti bolognese recipe different from the rest? *stranger heckles considerably louder*
Okay let's grab that bottle and put it to good use.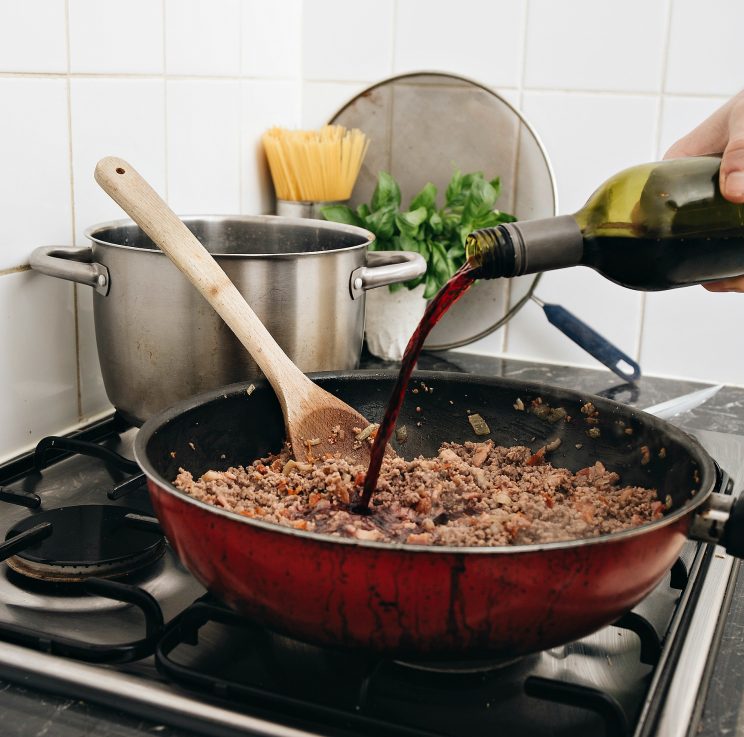 In classic DGBMH style, straight from the bottle. A vibe this recipe is built upon. Rough around the edges, chuck it in, taste test, a sprinkle here a dollop there, up the walls.. You get the gist. But made with so much love. (And wine, clearly.)
But all jokes aside I feel that's exactly what's 'perfect' about this recipe. Sometimes it's way too easy to get in your head about ingredients, precise timings and measurements. I've developed this recipe merely through trial and error, just a pinch of this, a splash of that and it's got me here.
And in my humble opinion 'here' is pretty delicious.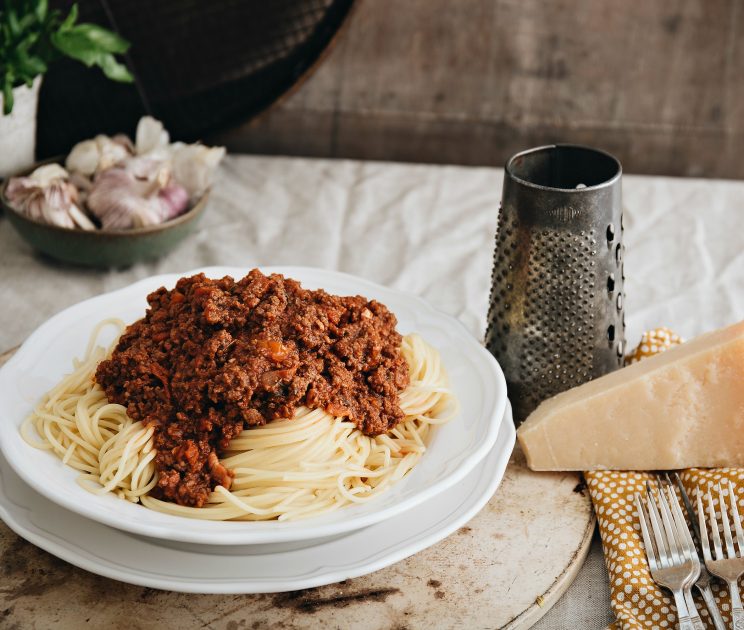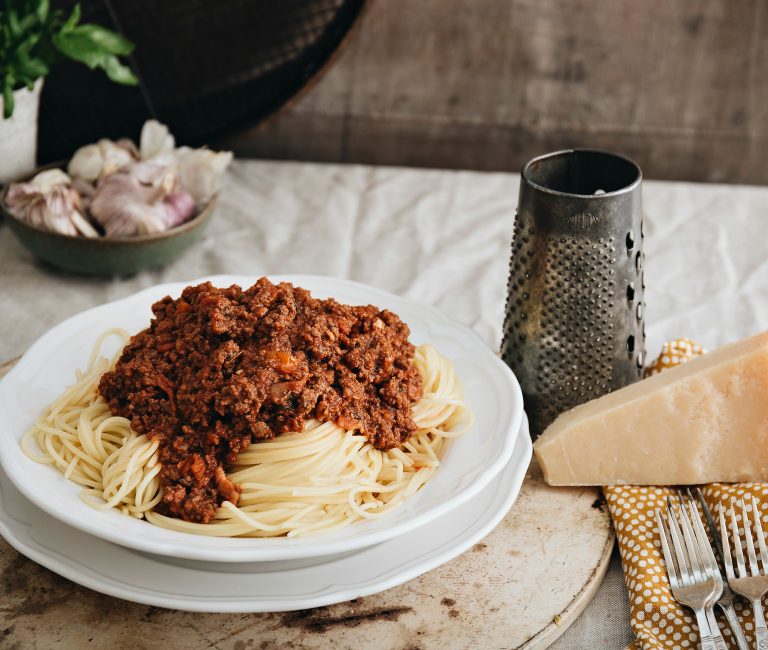 Contrary to many recipes out there I love using bacon. Not too much, but a few rashers of streaky bacon chopped up gives it a beautiful smokey twang and plays off the beef nicely.
I also enjoy throwing in some sun dried tomatoes. Apart from the fact I'm mildly addicted to these things in pretty much every context, I feel they really champion the tomato flavour shining through this dish and add another dynamic to the texture.
A big handful of fresh basil and a couple dashes of worcestershire sauce don't go amiss.
Oh, a hello to our good friend Parmesan as well.
Okay somebody hand me a grater and throw my non-existent diet out the window for crying out loud.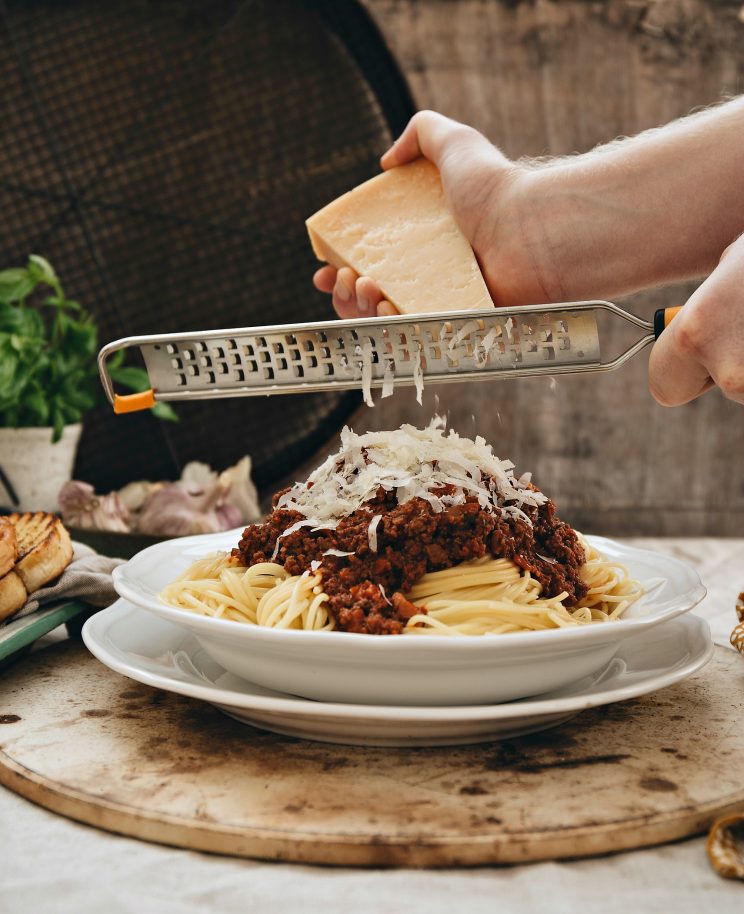 Much better.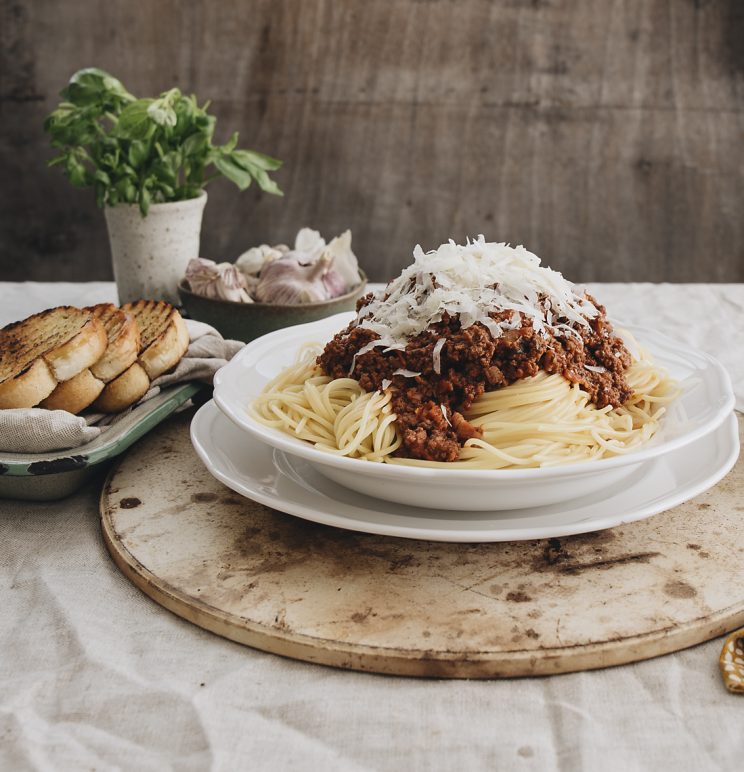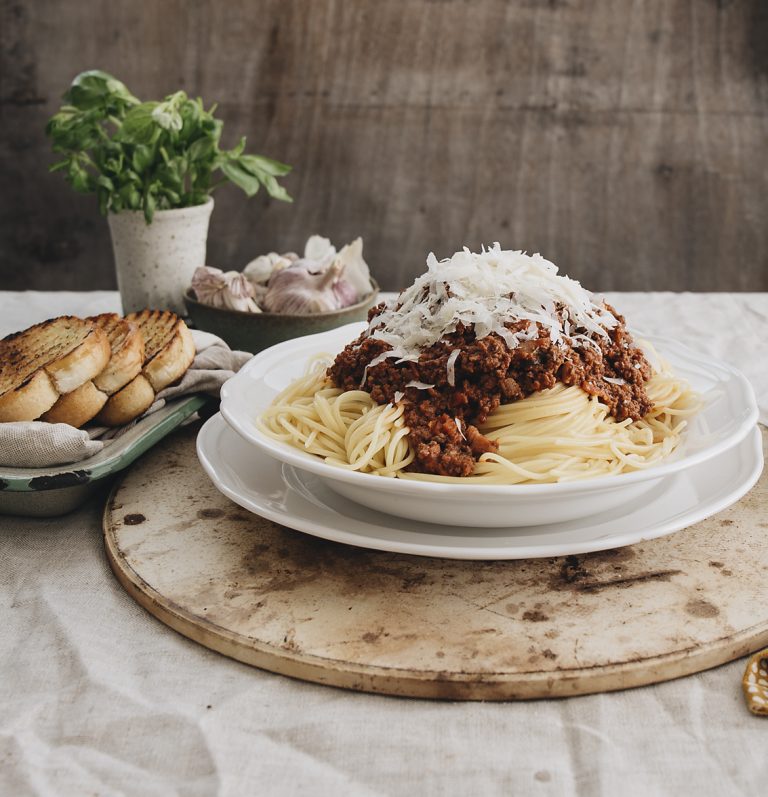 Finally and in contrast to the matter of seconds that pile of parmesan escalated, the perfect spaghetti bolognese needs time.
Trust me, I've been there. Rushing around trying to cook a quick bolognese, serving it on the spaghetti and BAM. It's sat in a pool of watery tomato juice. Oh and the meat is pretty rough too.
Allowing the mince to simmer for up to an hour not only allows the beef to soak up all those gorgeous flavours, but keeps it mouthwateringly tender. As there is a fair load of tomato in this recipe it's crucial to allow the bolognese to naturally thicken.
Okay let's wrap this up, I'm hungry.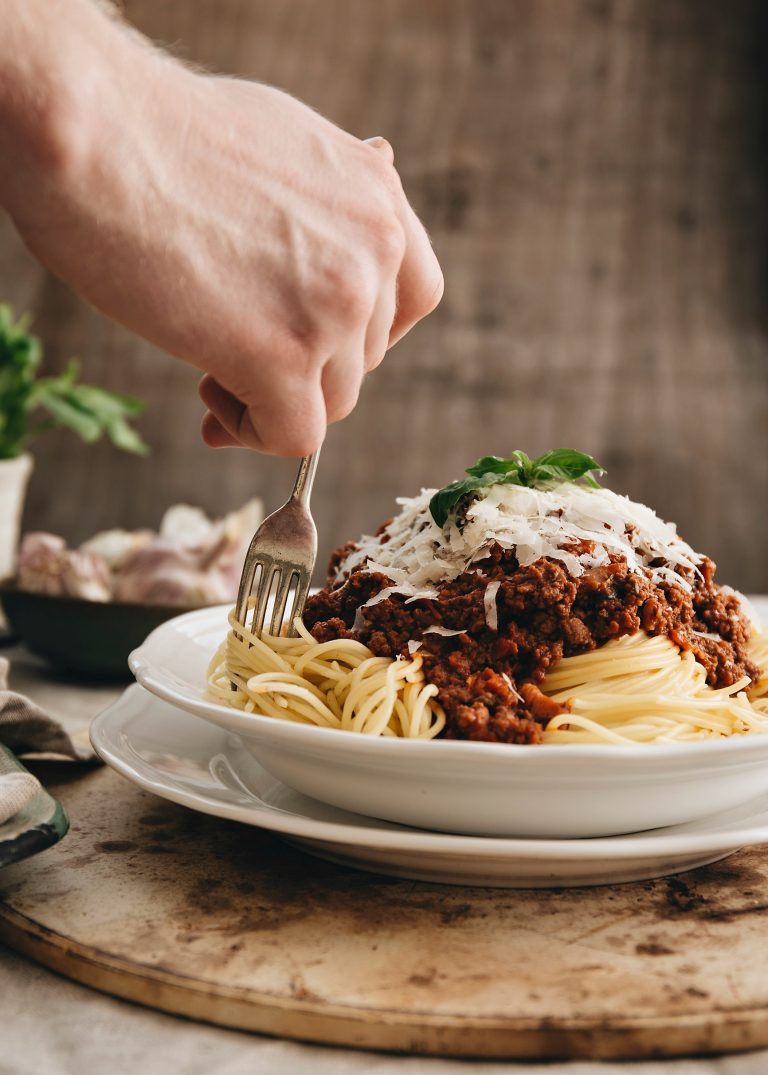 A traditional spaghetti bolognese recipe ? Potentially not. An easy spaghetti bolognese recipe that your family are going to fall in love with? Absolutely yes!
Full recipe below and be sure to let me know how you all get on. Until next time, Ciao for now!
---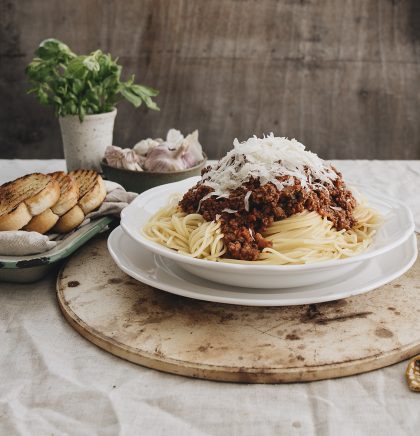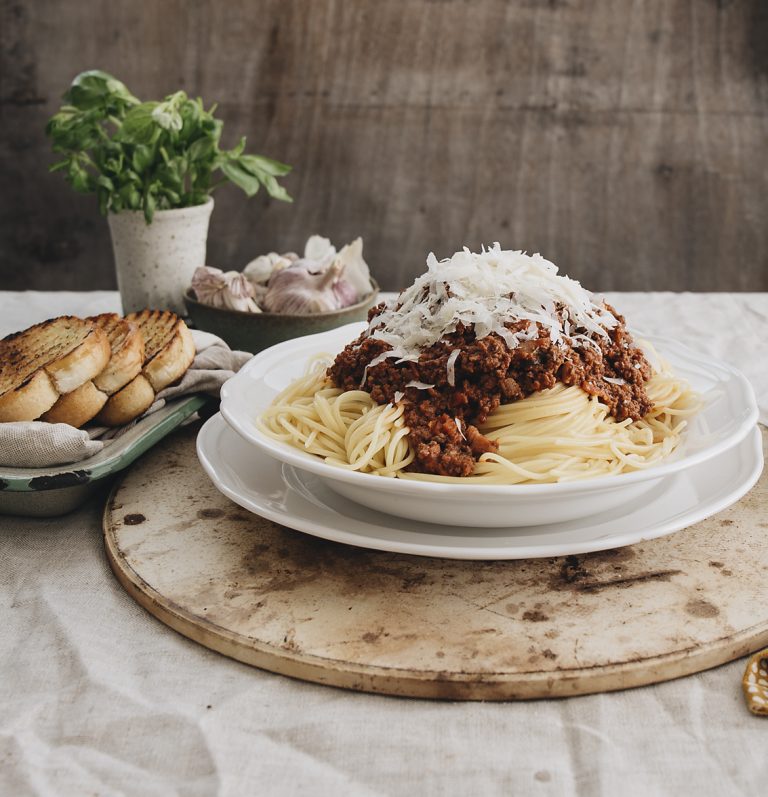 Perfect Spaghetti Bolognese (Family Approved)
'For a Perfect Spaghetti Bolognese I love a gulp of red wine for depth of flavour, some bacon for a smokey twang and lastly, I love to give my Bolognese TIME.'

Ingredients
12

oz

(350g) Dried Spaghetti

2.2

lbs

(1kg) Beef Mince

4

Rashers of Streaky Bacon, chopped

1

can

Chopped Tomatoes

3

cups

(700g) Jar of Tomato Passata

1

cup

(250ml) Red Wine

1

Large White Onion

finely chopped

1

cup

(100g) Sundried Tomatoes

finely chopped

3

cloves

of Garlic

minced

1

Handful of Fresh Basil

torn, plus extra for garnish (whole)

1

heaped tsp

Dried Rosemary

1

tbsp

Worcestershire Sauce

1

tsp

brown sugar, or more as necassary

Salt & Pepper to taste

Grated Parmesan to top

Olive Oil for frying
Method
Heat up some oil in a large saucepan and fry up your Bacon until it begins to brown. Add the Onion and Sundried Tomatoes and fry for a few more minutes until softened, then add your Garlic and cook for a further minute or so. Add in your Mince and break up with a wooden spoon whilst cooking, stir until crumbled brown all the way through.

It's time to add your Red Wine, stir it in and reduce to a simmer for 5 minutes, allowing the mince to soak up some of that goodness. After, stir in your Tomato Passata and Chopped Tomatoes. Add in your Basil, Rosemary, Worcestershire Sauce, Sugar, Salt & Pepper (to taste) and give it a good stir. Keep it on low-medium heat and allow to simmer for good 45-60mins or until the sauce thickens, stirring occasionally.

Whilst this is on the go, Stick your Spaghetti in some salted water and cook accordingly.

Drain and serve Spaghetti, topped with Bolognese, topped with sprinkled Parmesan & finished with a beautiful Basil bow. Oh and a train of Garlic Bread...
Recipe Notes
a) Just double check you're using Tomato Passata and not Tomato Paste. Tomato paste is a heck of alot more concentrated.

b) Calories based on a division of 6.
---
For all things photography be sure to check out the amazing Dani Knox Photography!
---
---
Looking for leftover ideas? Check out my Leftover Bolognese Sliders!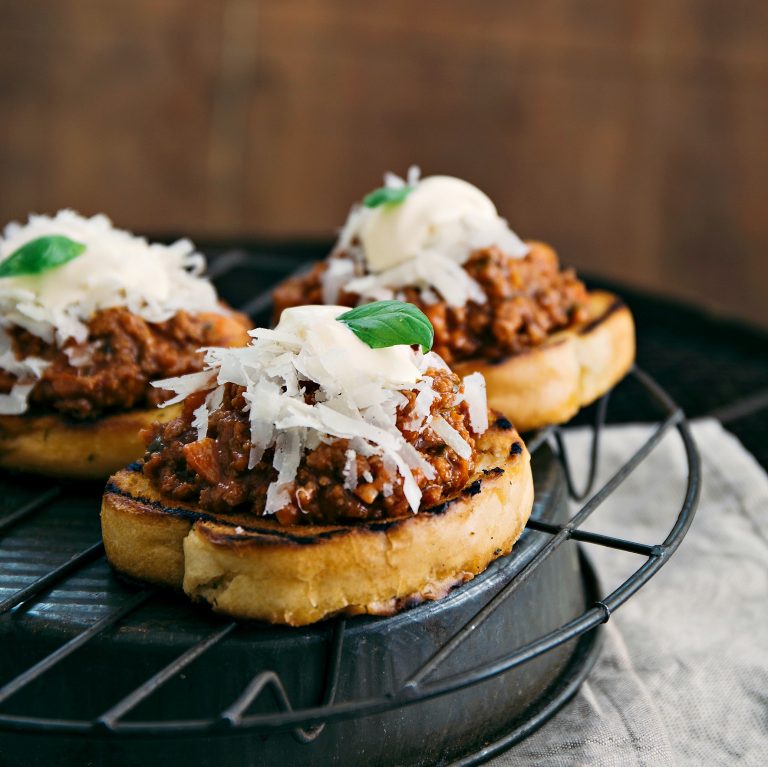 ---
Cheers guys, this has been ' Perfect Spaghetti Bolognese ' Comment, share, do whatever you fancy but for crying out loud don't go bacon my heart. See you next time 🙂