Take your Taco Tuesday to new heights with these easy Ground Beef Tacos. Served with homemade baked taco shells, you really can't go wrong!
I mean it really doesn't have to be a Tuesday to devour these beauties. Perfect for lunch or dinner, midweek or weekend. There's a million and one way to enjoy tacos, but here's exactly how I like mine. Follow me.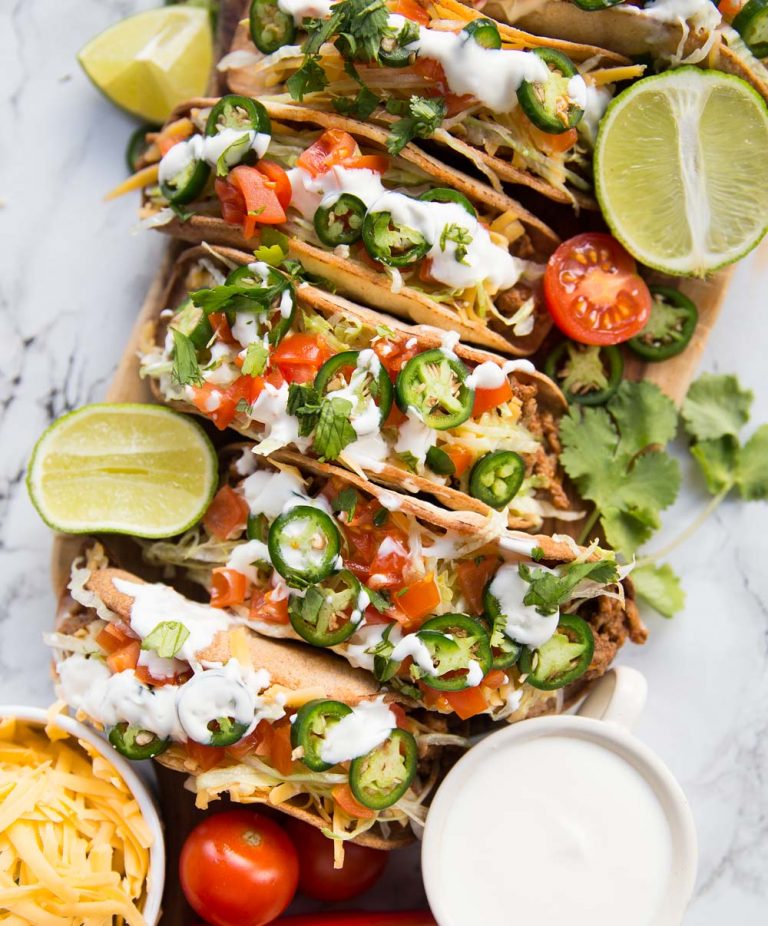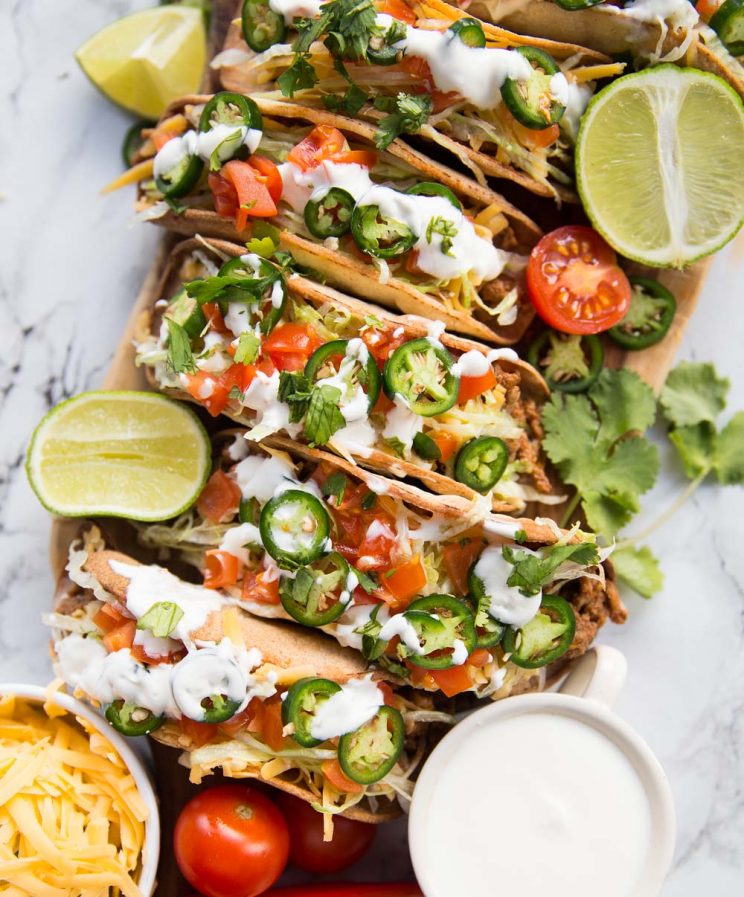 The BEST Ground Beef Tacos!
For me, ground beef tacos are an absolute classic. For so long my experience of minced beef tacos was a trip to the local supermarket, picking up a taco kit and off I went. I mean convenience wise yeah, those kits are great. Admittedly my version is a little more labour intensive.
BUT –
You're going to fall in love with these beef tacos. Here's why:
Hard Shell Option – I've got you sorted if you want to turn your soft tortilla wraps into hard taco shells!
Flavour – A homemade spice mix which is sure to tickle your tastebuds.
Quick & Easy – No fuss tacos!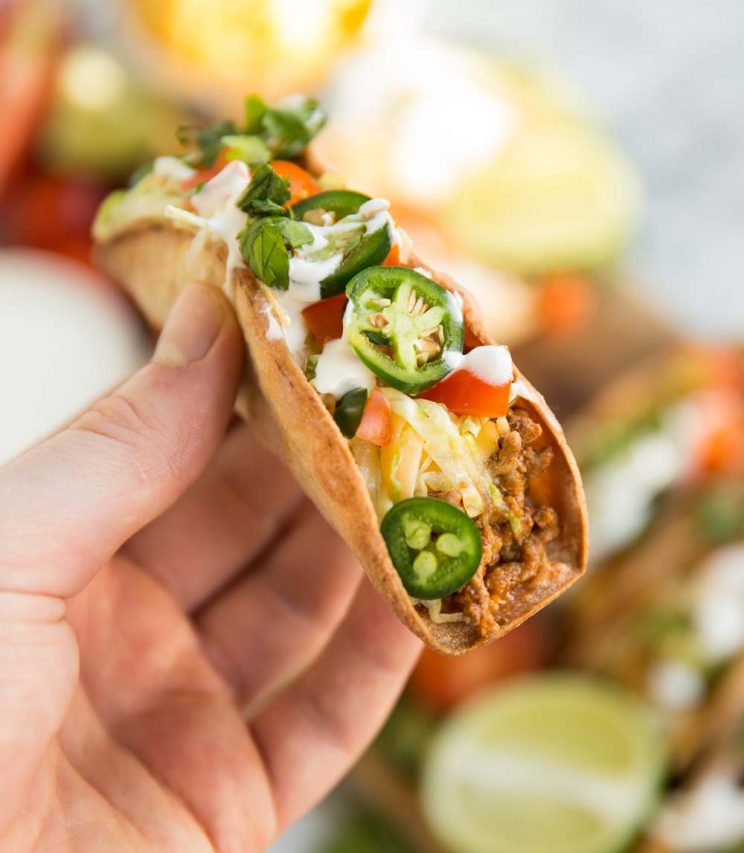 Ground Beef Taco Meat
Before I actually properly got into food, tacos were my go-to. I think I lived off them at uni. But my culinary skills went as far as mixing a spice mix in with beef and that was that. If this sounds familiar to you, I'm telling you there's a better way. It doesn't have to be this way… 😂
Homemade Spice Mix
First things first, I highly recommend whipping up a batch of your own ground beef taco seasoning. I find store bought spice mixes differ a huge amount, so you never really get the same result twice (unless you use the same variety of course). But even with that, homemade is always better 😁
Tomato Puree/Paste
A good dollop of tomato puree in with the mince adds a good amount of flavour!
Cornstarch/Cornflour
There's honestly nothing worse than dry taco meat is there? As such I usually pour in some beef stock/water and a bit of cornstarch. This will lightly coat the beef and make it juicy!
What ground beef is best for tacos?
I usually get ground beef that is around 10% fat. I find that it has more flavour than extra lean beef (>5%), but also doesn't turn the taco meat too fatty/oily. If you only have fatty beef (say 20%) just drain away excess fat after it's fried.
How to make Taco Meat (quick summary)
Brown off mince, then add your taco seasoning.
Add tomato puree and fry for a minute or so.
Pour in liquid and add cornstarch/cornflour.
Allow to thicken, then place to one side.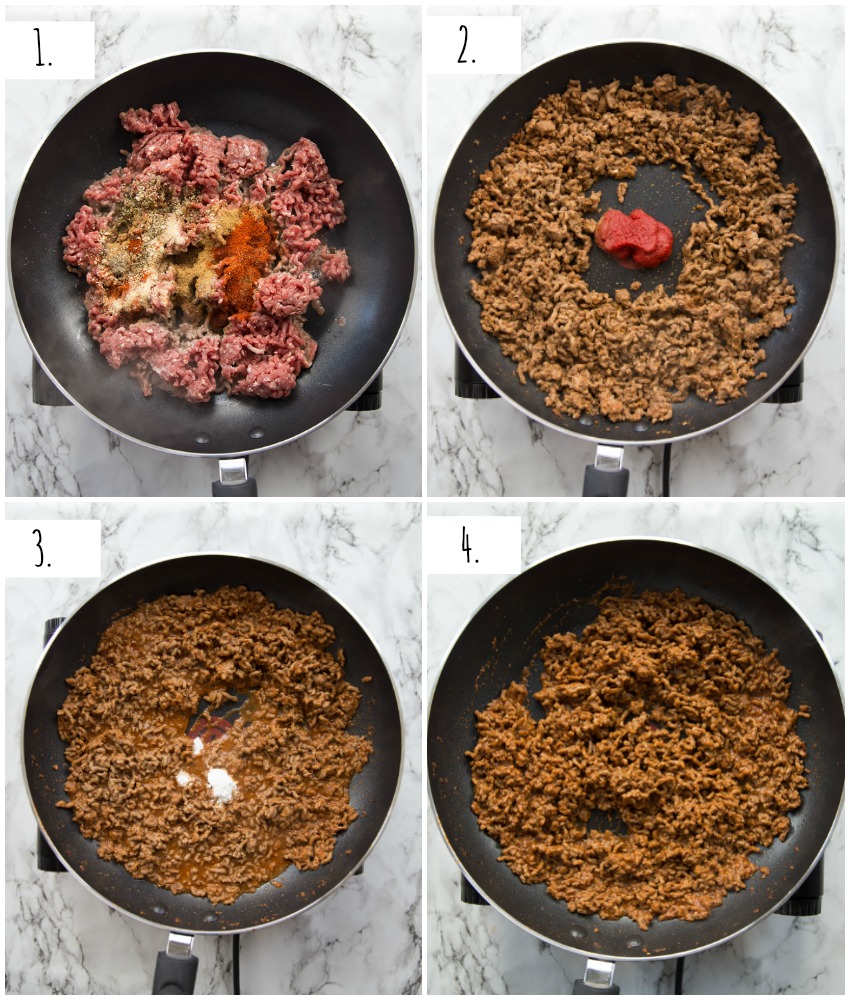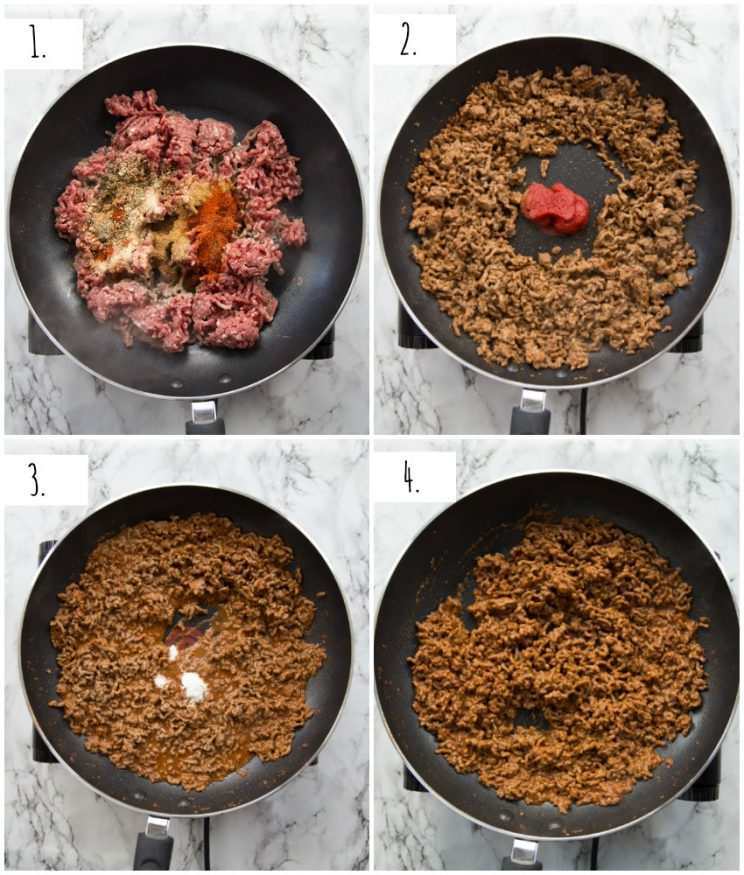 Homemade Taco Shells
It truly couldn't be easier to make taco shells. What's best, there's no need for oil or frying. Chuck 'em in the oven and they come out gorgeously crispy!
What is the best tortilla to make hard taco shells?
You'll find 'taco tortillas' (i.e small and oval) in most supermarkets/grocery stores. They're the perfect size to bake into hard shells. If you can't find them just use the smallest wraps they offer.
Corn vs Flour Tortillas
I find corn tortillas come out slightly crispier, but you can use flour if that's all you have. Flour works just fine!
Top Tip – Microwave your tortilla wraps before you start baking them. This way they'll fold over the wires more efficiently.
How to Bake Taco Shells (quick summary)
Brush both sides of the tortilla with oil.
Fold over an oven wire rack.
Repeat with all your wraps.
Bake until golden and crispy.
Allow to rest for a few minutes (they will crisp up further as they cool).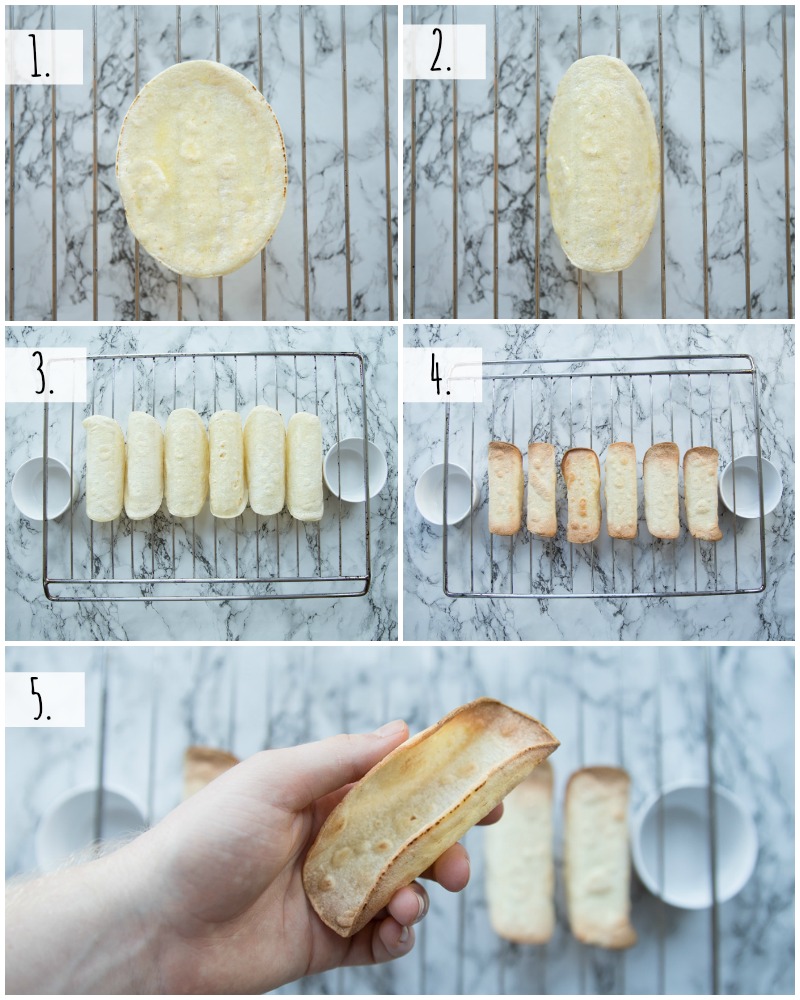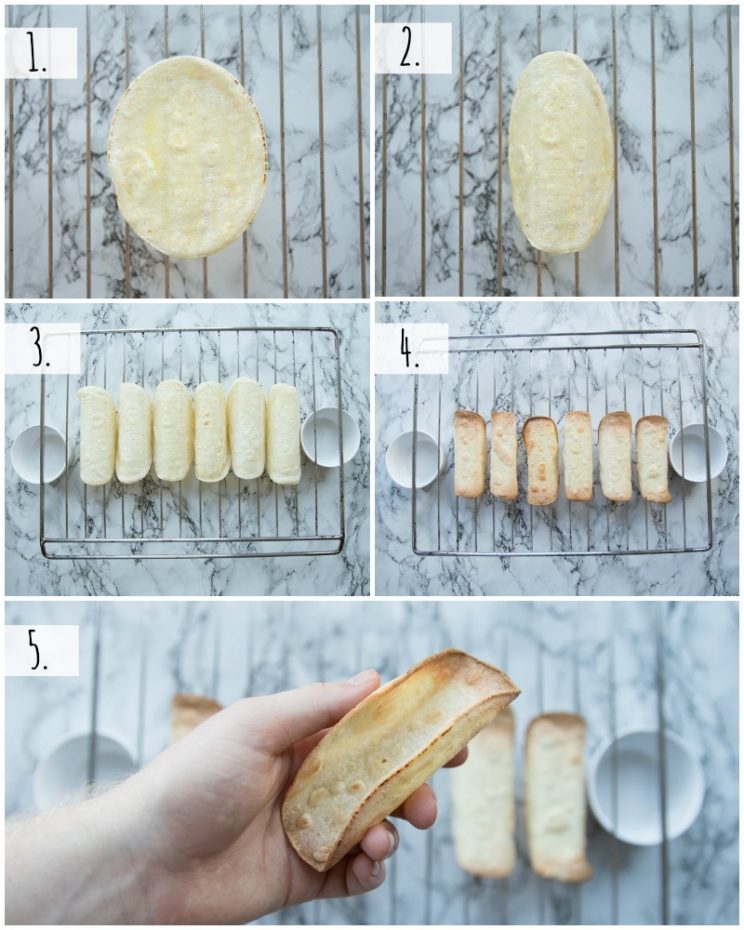 How to Serve Ground Beef Tacos
I recommend serving the tacos unbuilt, just so the shells don't go soggy from the beef. Plus it's more fun to have everyone stack their own tacos!
When it comes to taco toppings, you can really go wild with whatever you fancy! Here's my favourite culprits on taco Tuesday:
Ground Beef Taco Toppings
Cheese
Shredded Lettuce
Tomato
Jalapeno
Sour Cream
When it comes to what cheese to use, I usually go for a nice sharp cheddar. I'd stay away from mozzarella because it doesn't pack enough flavour. Pepper Jack/Monterey Jack would also work nicely!
Okay, to the full ground beef taco recipe we go!!
How to make Ground Beef Tacos

(Full Recipe & Video)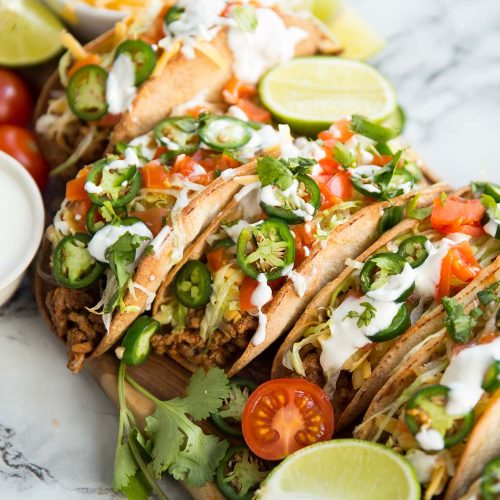 Ground Beef Tacos
Take your Taco Tuesday to new heights with these easy Ground Beef Tacos. Served with homemade baked taco shells, you really can't go wrong!
Print
Pin
Rate
Share by Text
Servings (click & slide):
10
tacos
Calories per serving:
193
kcal
Cost per serving:
£1.50 / 2
Equipment:
Oven Wire Rack

Brush

Large, Deep Frying Pan

Sharp Knife & Chopping Board
Ingredients (check list):
Baked Taco Shells
10

Taco Tortilla Wraps, warmed in the microwave (see notes)
Olive Oil, to brush
Taco Mince
1lb / 500g

Ground Beef (see notes)

3

tbsp

Taco Seasoning

1/2 cup / 125ml

Water or Beef Stock, or as needed (see notes)

1

heaped tbsp

Tomato Puree/Paste

1

tsp

Cornstarch/Cornflour, optional (see notes)
Olive Oil, for frying
Toppings
Cheese
Lettuce, shredded
Tomatoes, finely diced
Jalapeños, sliced
Sour Cream
Lime Juice + Coriander/Cilantro, to serve
Instructions:
Baked Taco Shells
Brush each side of your wraps with olive oil, fold over your wire rack (see video) and pop in the oven for 10-15mins at 170c/340f, or until golden and crispy. Take them out and allow to rest for 5 or so minutes, they will actually crisp up as they rest. As every oven/tortilla wrap will be different, timings do vary quite considerably, so just be vigilant past 10mins. These go from perfect to burnt VERY quickly so increase the temp only slightly (with caution) if they're struggling to crisp.
Taco Mince
Fry 1lb/500g ground beef in a drizzle of olive oil over medium high heat until it begins to brown. Stir in your spices and fry for a minute or so longer, then stir in 1 heaped tbsp tomato paste. Fry for a few mins then add your water/stock and cornstarch and allow to rapid simmer for a few minutes until it thickens, stirring occasionally. 
Stacking
It's best to serve them 'un-built', just so the taco shell doesn't go soggy. Plus it's more fun to have everyone build their own! Just for reference, I stack mine in the following order: beef, cheese, lettuce, tomato, jalapeños, sour cream, then garnish with lime juice and coriander/cilantro. Of course you can use any toppings in any order, but I do recommend placing the cheese on top of the beef, just so it goes nice and gooey!
Notes:
a) Homemade Taco Seasoning - Be sure to check out my Homemade Taco Seasoning for Ground Beef
b) Taco Tortilla Wraps - You'll find these (i.e small and oval) in most supermarkets. If you can't find them just use the smallest wraps they offer. In both cases, I find corn tortilla come out slightly more flavoursome and crispy, but flour tortilla wraps will work too.
c) Can I use soft tortillas? - Absolutely! Making the shells crispy is just optional 🙂
d) Ground Beef - I usually get beef with around 10% fat. This gives a bit more flavour than lean mince (say 5%) but doesn't go oily like fattier beef. If you've only go non-lean beef (say 20%) consider pouring out some of the fat after the beef has fried BEFORE adding the spices.
e) Adding Water/Beef stock & Cornstarch - Firstly, beef stock will add more flavour to the mince, but if you only have water it'll still be great. Secondly, if you're using cornstarch (which will add a glossy kind of gravy to the mince) then use around 1/2 cup of liquid to 1 tsp cornstarch and allow to simmer until it thickens. If you're not using cornstarch then just add 1/4 cup/60ml liquid and simmer until the water reduces and the beef is juicy.
f) Calories - just the tacos and mince (no toppings), using 2 tbsp olive oil (a drizzle for frying and the rest to brush the wraps) and 10% lean beef.
Your Private Notes:
Nutrition:
Nutrition Facts
Ground Beef Tacos
Amount Per Serving
Calories 193
Calories from Fat 80
% Daily Value*
Fat 8.94g14%
Polyunsaturated Fat 0.826g
Monounsaturated Fat 4.473g
Cholesterol 44mg15%
Sodium 227mg9%
Potassium 237mg7%
Carbohydrates 12.63g4%
Protein 14.86g30%
Vitamin A 250IU5%
Vitamin C 0.8mg1%
Calcium 30mg3%
Iron 2mg11%
* Percent Daily Values are based on a 2000 calorie diet.
Nutrition is based on the absence of salt unless stated as a measurement in the ingredients. Cost is worked out based on ingredients bought from UK supermarkets, then divided by the number of servings. In both instances these values are just for guidance. Please check out my FAQ Page for more info.
---
For more taco recipes check out my Fish Finger Tacos and Slow Cooker Chicken Tacos!
For more similar recipes check out these beauties:
Easy Tex Mex Recipes
---
If you loved this Ground Beef Taco Recipe then be sure to Pin it for later! Already made it or got a burning question? Give me a shout in the comments below and pick up your free ecookbook along the way!