Feta Bruschetta with Balsamic Glaze is the perfect starter to your family dinner. Super quick, easy and most importantly – crazy delicious!!
Bruschetta really is the ultimate appetizer. It's just one of those really simple dishes that everybody loves. Fresh, hearty and most importantly, versatile. Versatile enough to chuck in some feta and pour over a bucket of balsamic glaze? Ohhhhh yes.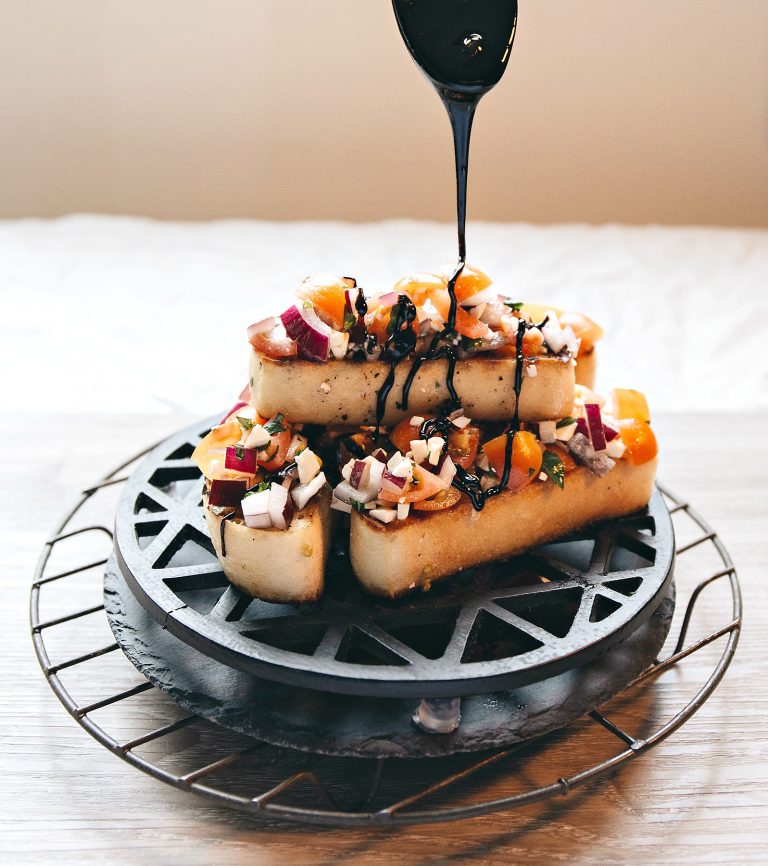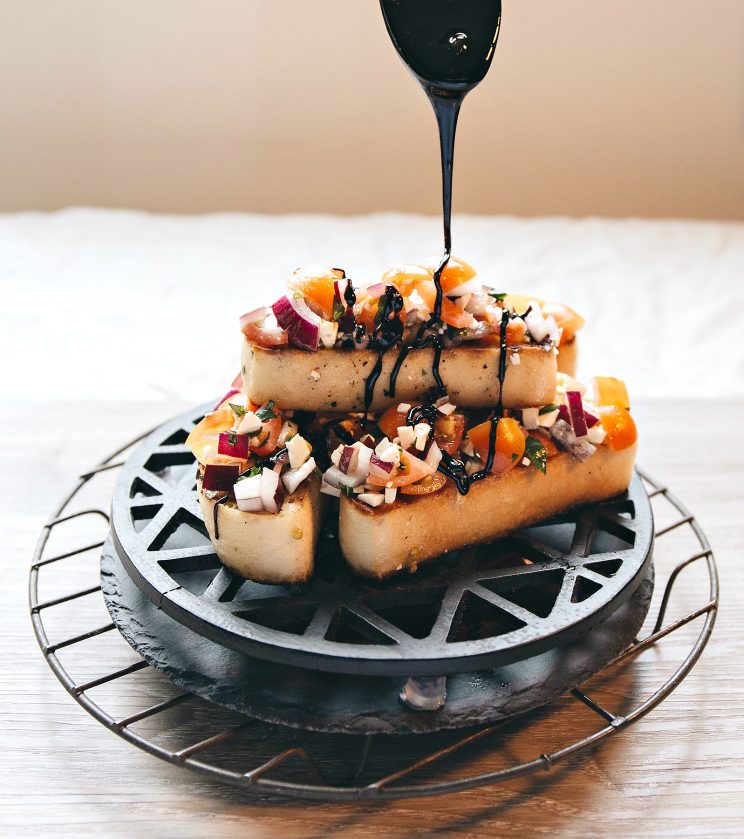 Authentic Bruschetta only calls for a few simple ingredients – Tomato, Basil, Garlic and Olive Oil. Which in itself is already a marriage of ingredients made in heaven. But for me, that makes the perfect foundation to mix things up and throw in a few special additions, my favourite one being Feta.
I LOVE feta. And for me there's nothing better to add it to than a fresh homemade bruschetta.
Not just because feta bruschetta is fun to say, but because it tastes freakin' delicious.
The richness and creaminess of the feta brings something so delicious to the party. It creates such a beautiful combination with the tomato, garlic and basil. I usually purposefully make too much just so I've got a feta bruschetta dip for later.
What bread to use for bruschetta
For me it's always gotta be a loaf of Ciabatta. It's quite corse and has bumps for the oil/juice to sit in with makes in perfect for bruschetta. But any Italian bread that leaves a rough texture when sliced will work. This will help break down the garlic when you rub it on.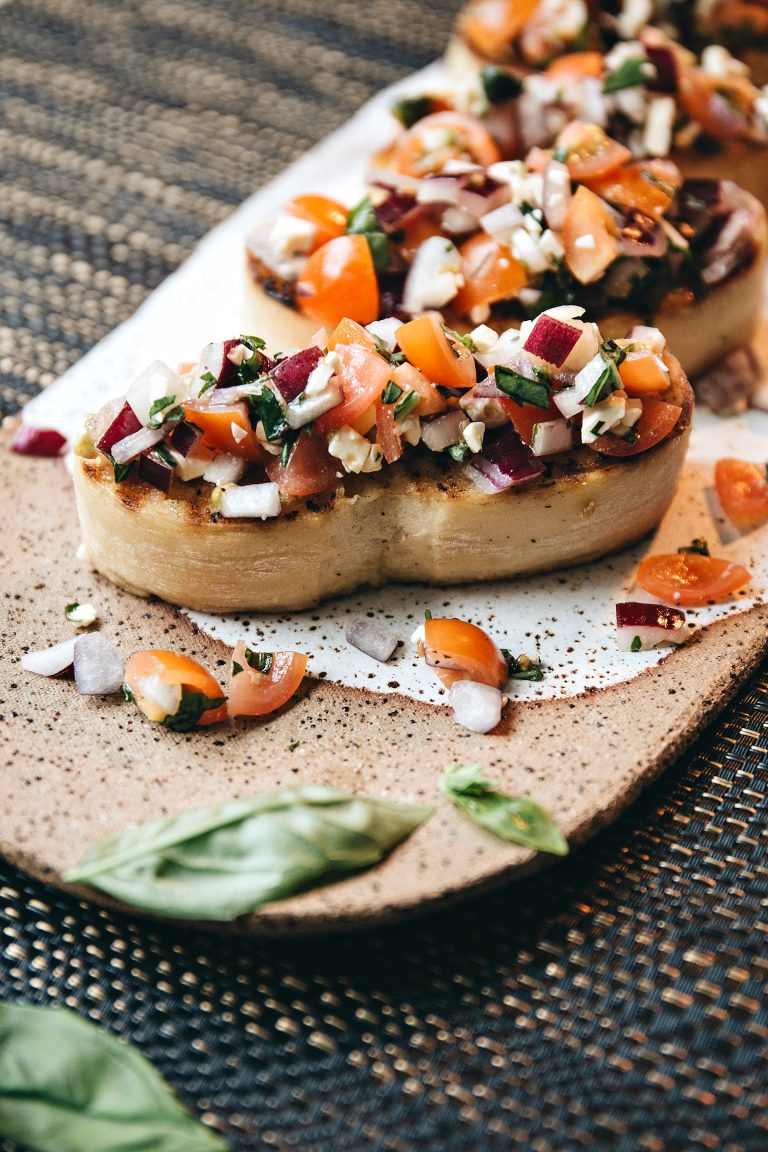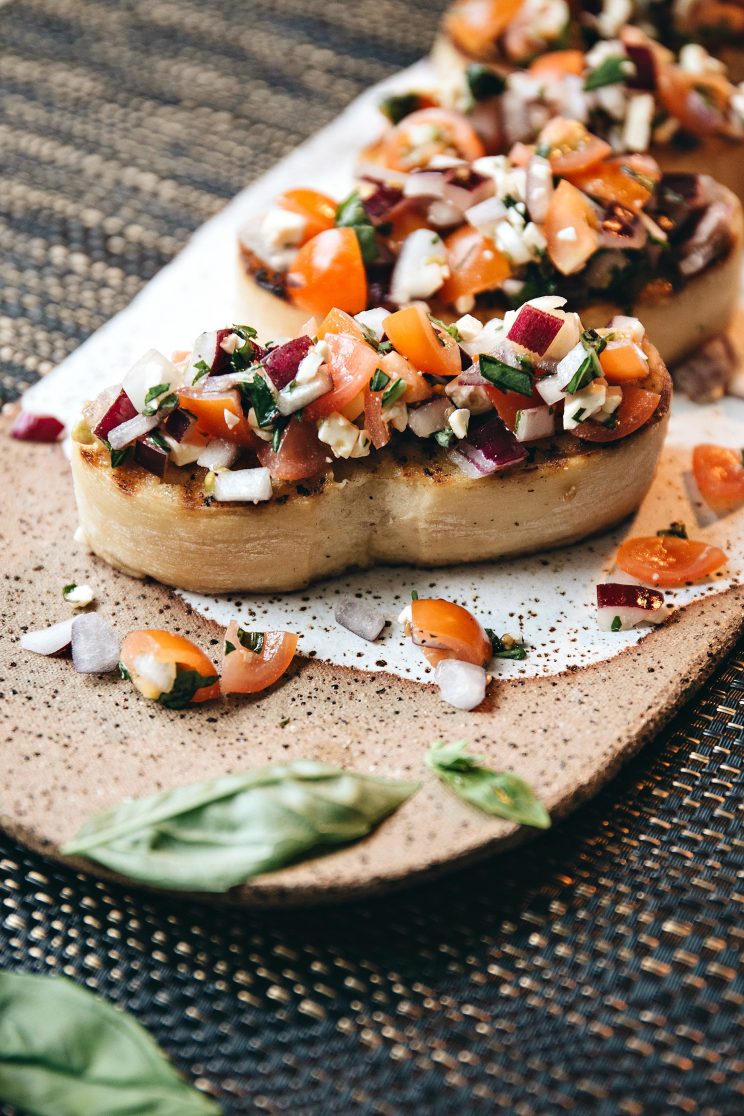 Another addition to feta bruschetta I love is of course a sweet 'n' silky Balsamic Glaze.
Like holy crap balls this stuff is good. I drizzle the stuff over literally everything. Usually just over my face with a wooden spoon, but I thought I'd keep it classy this time round.
Unlike feta, balsamic vinegar is a traditional appearance with the likes of tomato and basil. It's pretty common as it is dashed over bruschetta too.
Personally I find plain balsamic vinegar enhances too much acidity in the dish, especially with raw onion being there. Whipping a quite balsamic glaze balances things out nicely, adding a touch of sweetness to the dish.
Plus let's be real, everything tastes better with a sweet balsamic glaze.
What tomatoes to use for bruschetta
Essentially you can use any tomatoes you like, just make sure they're ripe and fresh. Go the extra mile to find the best quality tomatoes to make them the hero of the bruschetta!
What oil to use for bruschetta
Extra virgin olive oil, or regular olive oil. Same again, make sure it's great quality.
What feta to use for feta bruschetta
All down to preference. In the photos I used a firm Greek feta, which keeps the ingredients fairly separate. Whereas in the video I used Danish, which is much creamier and blends with the tomatoes more.
So at your next food gathering or family dinner spare a thought for some feta bruschetta if you're thinking of whipping up a quick starter! Packed full of flavour and pretty as can be, this easy bruschetta couldn't be more convenient to make!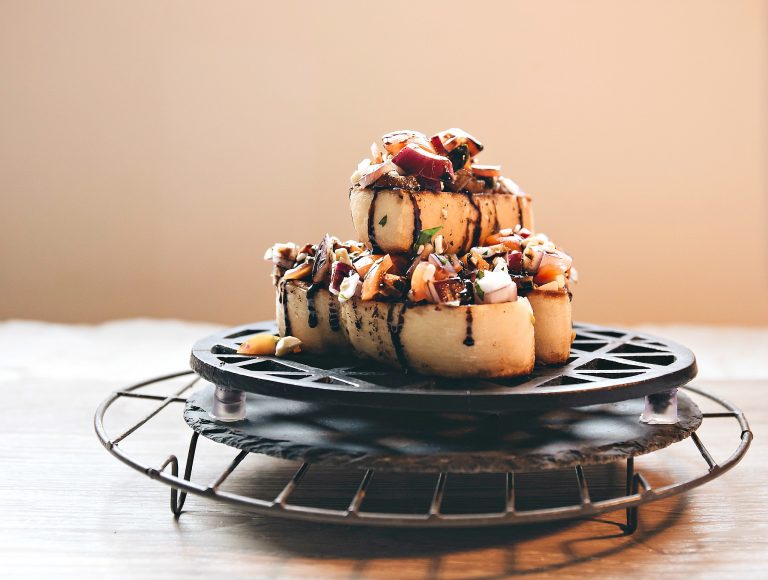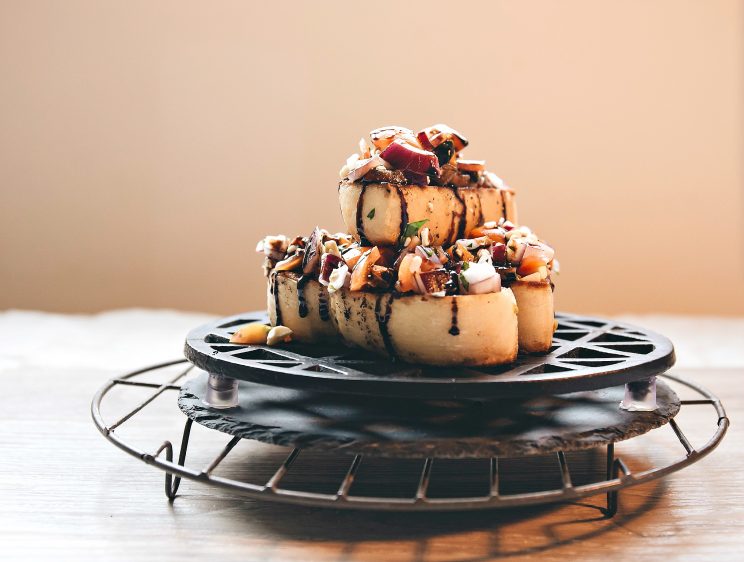 Join the foodie family! – Get awesome recipes sent straight to your inbox by signing up to my Weekly Mailing List (where you'll receive your FREE ECOOKBOOK) and stay in touch on Instagram, Facebook and Pinterest! 🧡
How to make Feta Bruschetta with Balsamic Glaze

(Full Recipe & Video)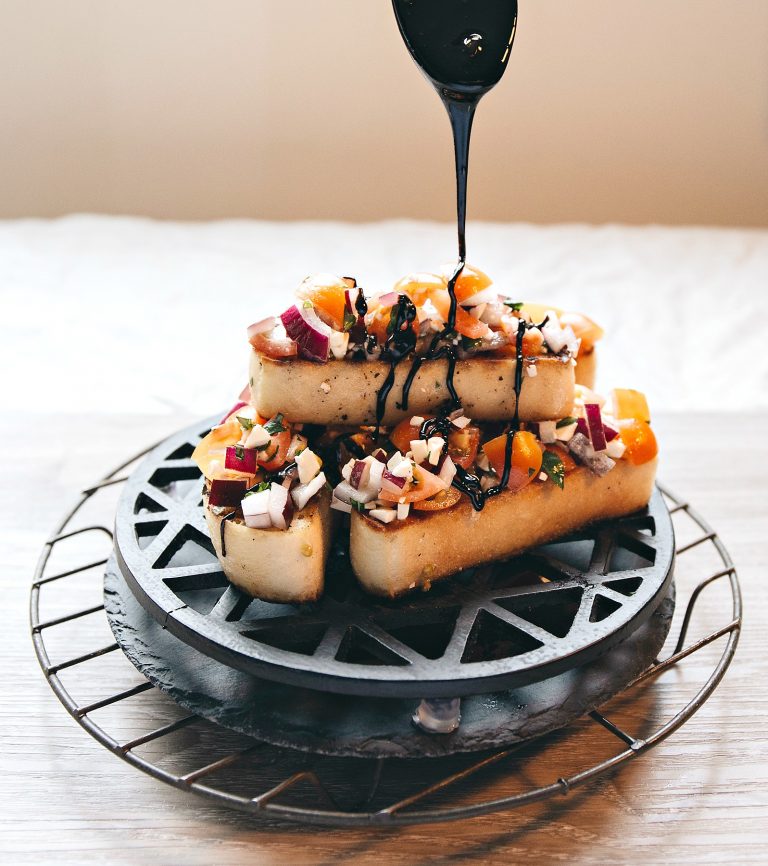 Feta Bruschetta with Balsamic Glaze
' Feta Bruschetta with Balsamic Glaze is the perfect starter to your family dinner. Super quick, easy and most importantly - crazy delicious!! '
Course:
Appetizer, Side Dish, Starter
Ingredients
1

loaf

Ciabatta, divided into 8

9oz / 250g

Tomatoes, finely diced

2/3 cup / 100g

Feta, crumbled

1

small

Red Onion, finely diced (optional)

1

handful

Fresh Basil, finely diced

2

tbsp

Balsamic Glaze

1

clove of

Garlic, peeled

Salt & Pepper, to taste

Olive Oil
Method
In a bowl, combine your Tomatoes, Onion, Feta, Basil, a good glug of Olive Oil and Seasoning to taste. Place to one side.

Drizzle your Ciabatta in a little oil, then place your on the griddle pan over high heat. Fry for a minute or so each side until grill marks form.

Lightly rub your garlic across one side of each of your Ciabatta slices.

Top your Ciabatta with the Bruschetta mix and drizzle over your Balsamic Glaze.
Watch how to make it!
Recipe Notes
a) Balsamic Glaze - Check out my Homemade Balsamic Glaze!
b) Other types of Bread to use - Essentially any Italian bread to have a coarse/rough texture when sliced. Tuscan or Pugliese bread are traditionally used. A sourdough also works great. 
c) What type of Feta to use - In terms of what Feta to use, a traditional Greek works great because it's slightly firmer than say Danish Feta, which turns slightly creamy when mixed with the other Bruschetta toppings. All down to preference 🙂
d) What Tomatoes to use? - You can really use any tomatoes you want, just made sure they're ripe and fresh! Really go the extra mile to find the best quality tomatoes to use and make them the hero ingredient in this bruschetta.
e) These gorgeous photos were taken by the incredibly talented Dani Knox Photography!
Nutrition Facts
Feta Bruschetta with Balsamic Glaze
Amount Per Serving
Calories 141
Calories from Fat 46
% Daily Value*
Total Fat 5.12g 8%
Polyunsaturated Fat 0.557g
Monounsaturated Fat 1.982g
Cholesterol 11mg 4%
Sodium 247mg 10%
Potassium 153mg 4%
Total Carbohydrates 18.34g 6%
Protein 4.06g 8%
* Percent Daily Values are based on a 2000 calorie diet.
---
Bruschetta with feta for a starter? Let's crank things up a notch and get a Spaghetti Bolognese involved for the main!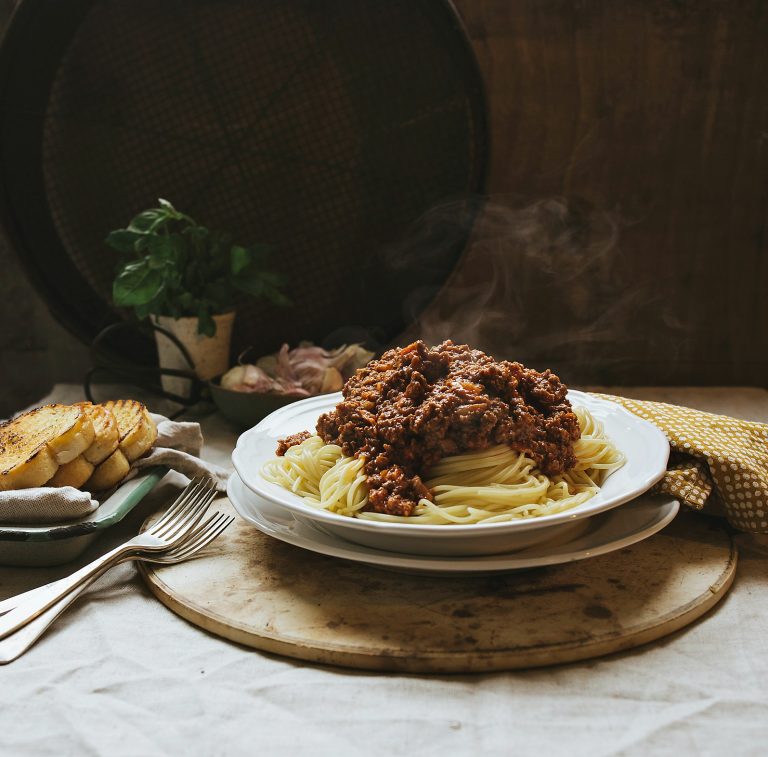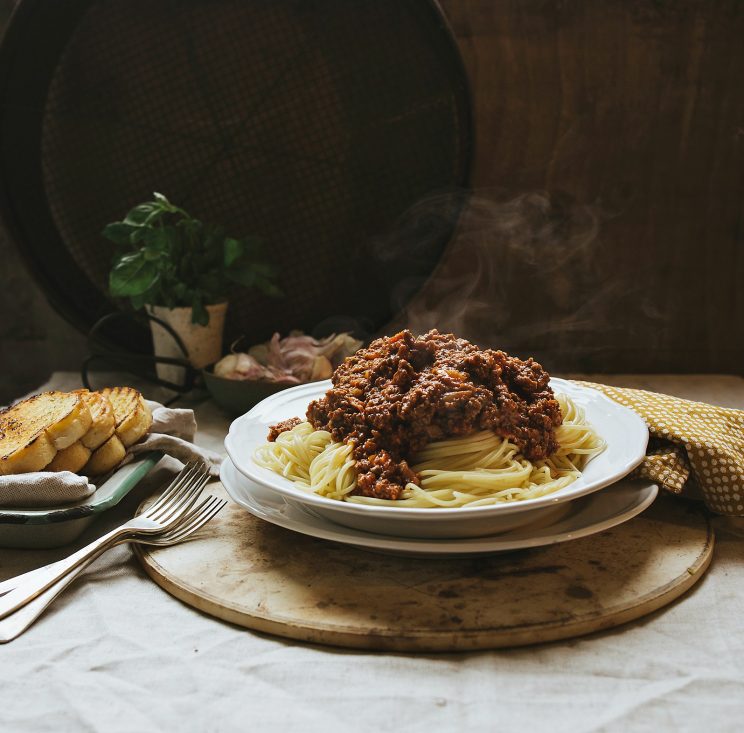 If you loved this Feta Bruschetta recipe then be sure to pin it for later! Already made it or got a burning question? Give me a shout in the comments below!