A comforting and simple cottage pie recipe. Once you try Mum's Traditional Cottage Pie you won't have it any other way! – Hungry now? Jump to Recipe

A good traditional cottage pie (not to be confused with a traditional shepherd's pie) was, is and always will be one of my favourite dinners. Ugh, just the smell of it sends me back to being a young piglet, staring in the oven waiting to devour it.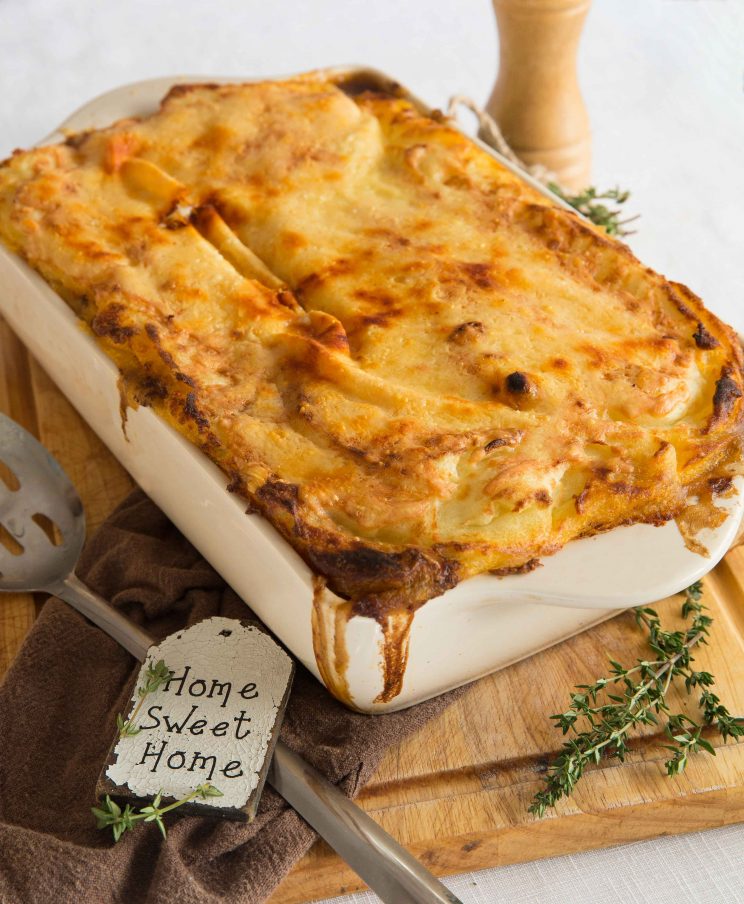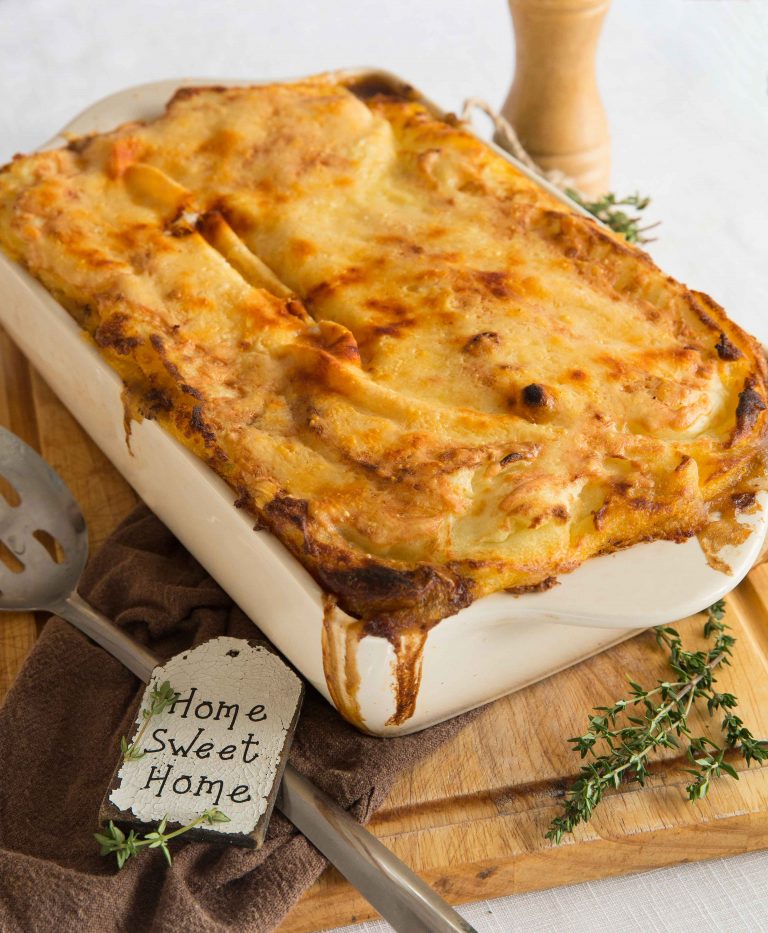 Still to this day, the ingredients for cottage pie make it in my weekly shopping basket. It's just one of those easy rotation dinners that you know is going to leave everyone hobbling away from the table because they're so full. Which is usually my aim with anything I make, but cottage pie is the perfect dish to do that.
A layer of rich and saucy minced beef, topped with some smooth and creamy mash finished with a layer of cheese? I don't know who came up with this idea but wherever you are, whoever you are, I love you and everything you stand for.
And besides this dish being so freakin' delish, the real selling point is how easy it is to make.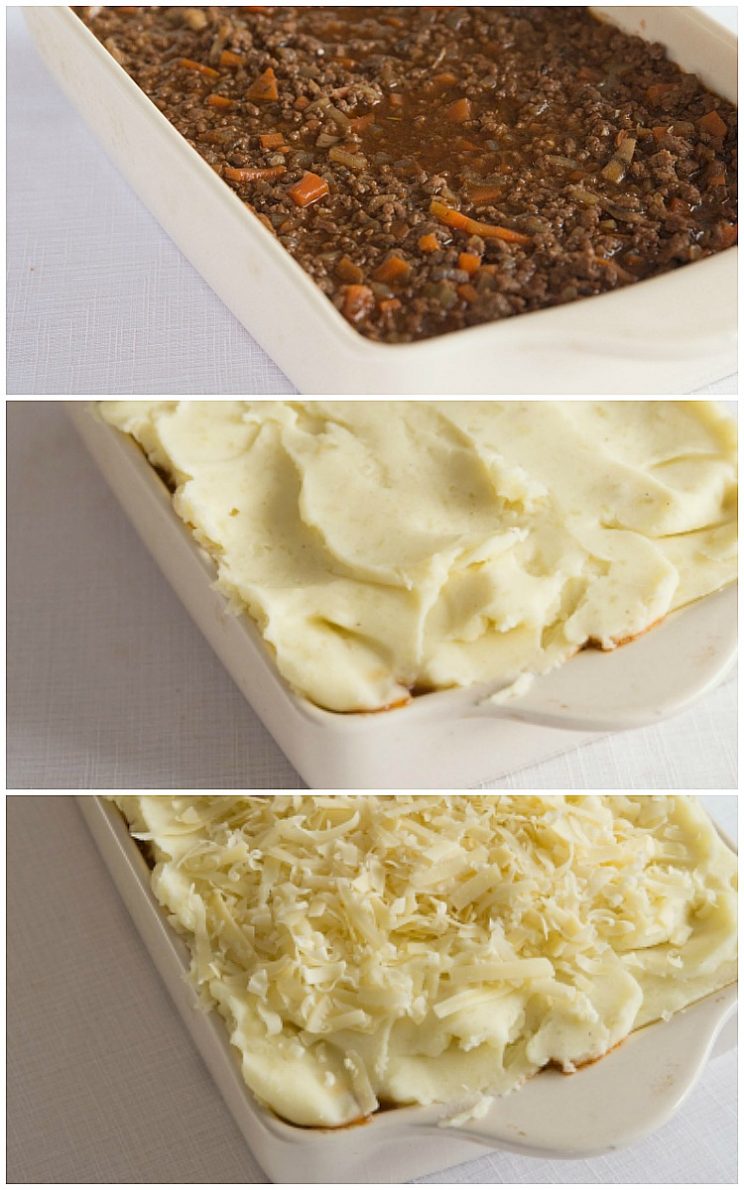 How to make Cottage Pie
Beef layer – the heart and soul of a cottage pie is a rich and flavoursome ground beef layer. Fry up the veg, fry up the beef, add in the seasoning and liquids, then simmer away until thickened. Easy!
Potato layer – yup, mashed potato plonked straight on top of the beef. I usually get going on this when the meat is simmering.
Bake away – sprinkle on infinite amounts of cheese then chuck it in the oven until the top is golden and crispy. The smell at this point, I can't even begin to tell you.
Just look at that gorgeous work of art. Cheers Mum!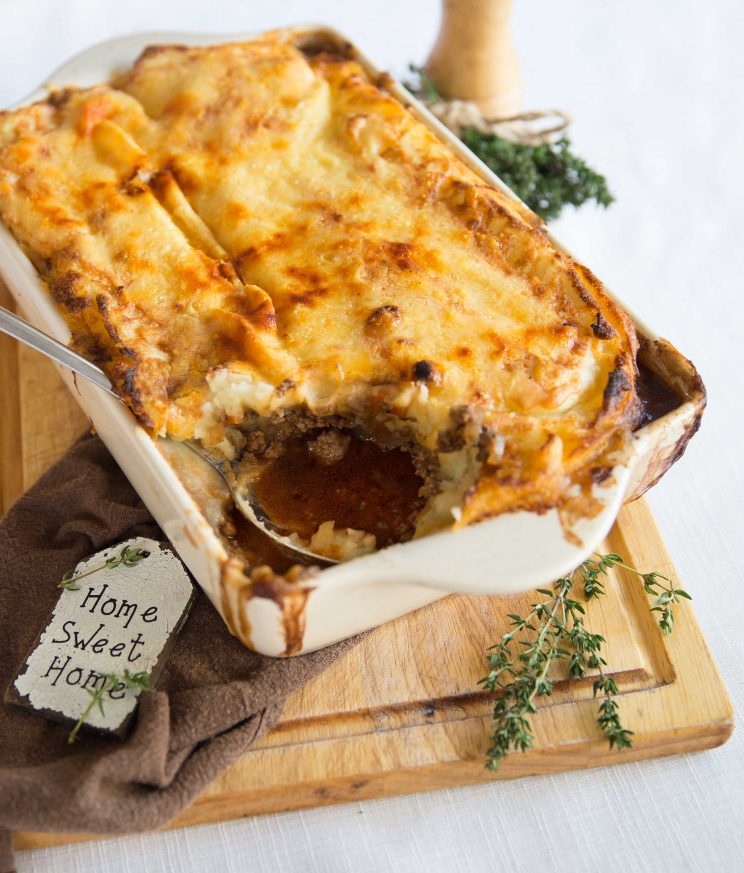 'So what makes your mum's cottage pie so damn special ey!?'
I mean it's a valid question given you have no idea who my mother is. It's also an interesting question which kinda got my brain ticking for a little while. Like, I know this cottage pie is damn special, but unfortunately the answer 'because it's mum's homemade cottage pie, that's why!' doesn't really cut the mustard. But here's a few contributing factors that I think could be the reason.
Tips for the perfect Cottage Pie
Gravy granules – I see so many recipes out there that thicken the mince layer with flour and it makes me want to cry. Not only will gravy granules help along with the thickening, but they're going to turn the mince layer into a beautifully rich gravy as well. Win win!
Depth of flavour – Alongside the gravy granules, a good helping of Worcestershire sauce and red wine gives this cottage pie a delicious depth of flavour, enhancing those gorgeous beefy flavours.
Time – 'Is it ready yet?' 'how much longer?' 'I'm hungry!'. Yep, you're gonna hear a lot of that, but boy it'll be worth it. Remember, there's no such thing as a quick cottage pie!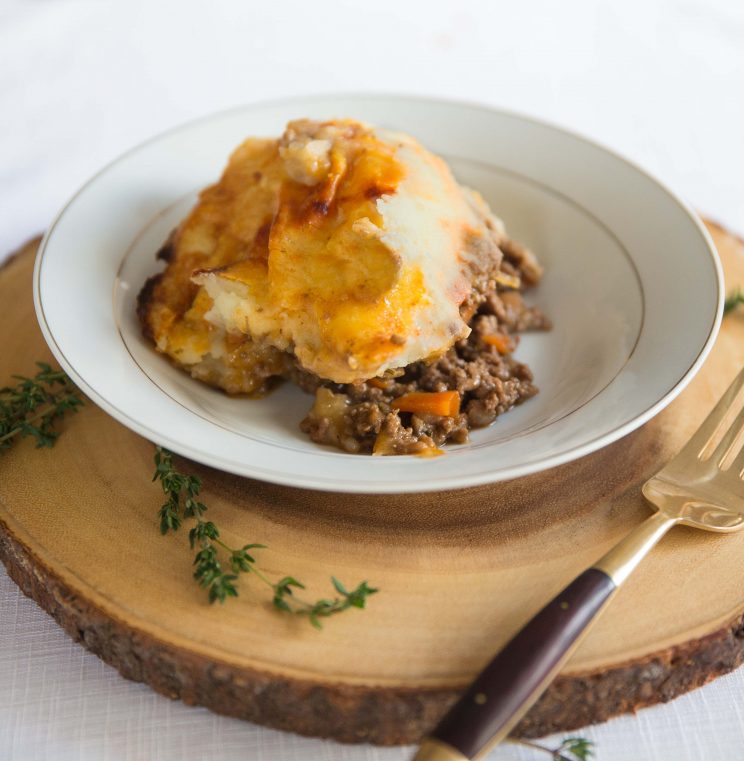 The other perfect thing about cottage pie is that if there is any leftovers, it heats up perfectly the next day for lunch. Or even freeze them in portions for whenever the craving hits again (literally the only thing close to meal prepping I do is freezing leftovers).
Perfect if you're a small family or aren't big eaters. Heck, even if it's just a one man show fear not, it won't go to waste!
How to make a Traditional Cottage Pie (Full Recipe & Video)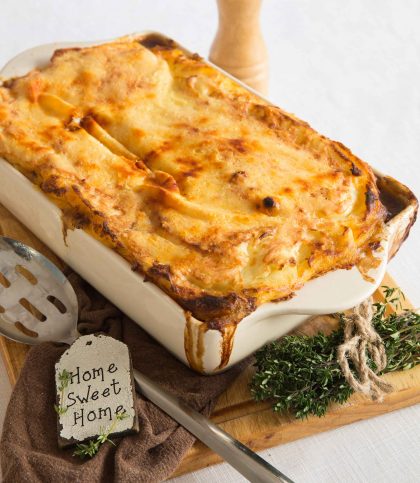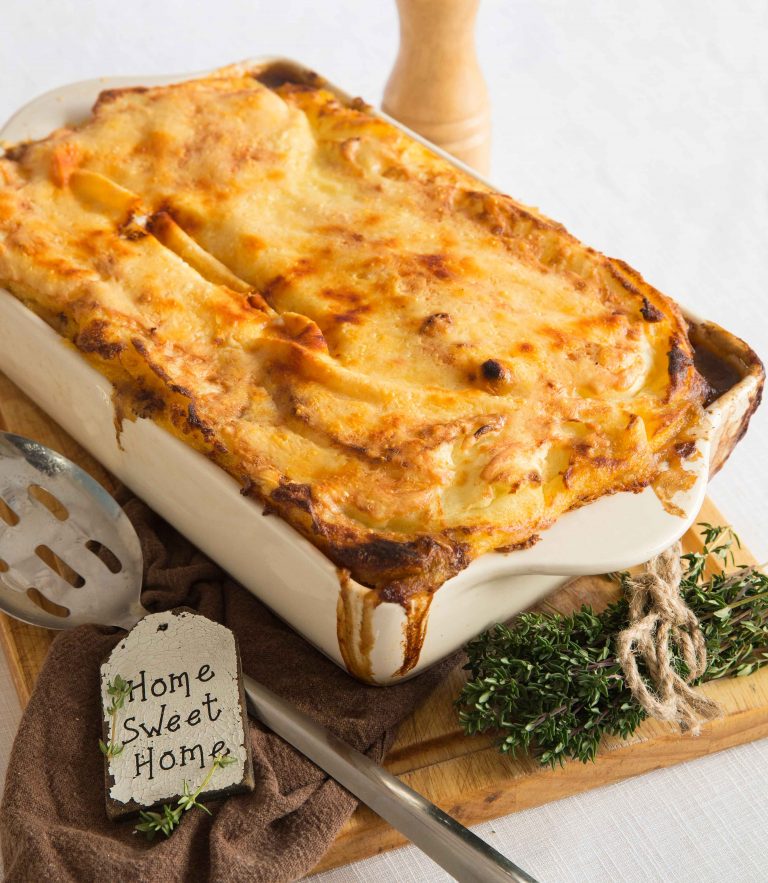 Mum's Traditional Cottage Pie
'A comforting and simple cottage pie recipe. Once you try Mum's Traditional Cottage Pie you won't have it any other way!'
Course:
Dinner, Main Course
Keyword:
Traditional Cottage Pie
Ingredients
Beef Layer:
2.2

lbs

(1kg) Beef Mince

1

Large sized White Onion

finely diced

1 1/2

cups

(150g) Mushrooms, finely diced

2

medium sized Carrots

peeled

2

cloves

of Garlic

minced

1

small

glass of Red Wine

4

tbsp

Worcestershire Sauce

2

cups

(500ml) Beef Stock

1

tbsp

Gravy Granules

1

tsp

dried Thyme

1

tsp

dried Rosemary

1

Bay Leaf

1

tbsp

Tomato Puree

Salt & Black Pepper

Olive Oil
Mashed Potato Layer:
4.4

lbs

(2kg) White Potatoes

peeled

3-4

heaped tbsp Butter

1/4-1/2

tsp

Ground Nutmeg

2

handfuls

Cheddar Cheese, grated

Generous helpings of Salt & Pepper

Cream or Milk (optional)
Method
In a suitably sized pot/pan, saute your Onions, Garlic, Carrot and Mushrooms in Olive Oil over medium heat until they begin to soften. Add your Mince, break it up and continue to fry over medium heat until brown all the way through.

Now it's Wine time. Pour in your Red Wine and leave to simmer for around 5 minutes to burn off the alcohol and allow the Mince to soak up the flavour.

After, add your Beef Stock, Gravy Granules, Worcestershire Sauce, Tomato Puree, Thyme, Rosemary, Bay Leaf, Salt & Pepper (to taste) and leave to simmer over low heat for a good 30-45 minutes, stirring occasionally. At this point it will look like you've got way too much liquid but it will naturally thicken, so fear not.

Whilst your Mince is simmering, get started on the mash. Whack your peeled Potatoes in a pot of salted boiling water for around 15mins or until soft enough to comfortably slice. Drain (don't rinse) and place back in the pot. Mash with your Butter, Nutmeg and generous helpings of Salt & Pepper until a smooth but fluffy texture. Add cream/milk until desired texture if you are using it. Leave to one side and preheat oven to 220c (430f)

In a tin or baking dish, firstly pour in your Mince (removing Bay Leaf), top the Mince with your mash and finish with a layer of Cheese. Pop in the oven for around 20mins or until golden and crispy on top. Leave to sit for a few minutes to retain shape and then serve.
Watch how to make it!
Recipe Notes
a) Gravy granules - Whilst the gravy granules are a key part of this recipe for both flavour and thickening of the mince, make sure it's a reputable brand. Here in the UK we do gravy granules pretty well, but I have bought some very questionable gravy granules from around the world. If you can't find any decent gravy granules I would consider leaving them out all together and allow the mince the thicken naturally. Whilst this may take a little more time, it's not worth your cottage pie tasting like perfume.
b) Seasoned Mash - Seasoning your mashed potato is absolutely key. There is nothing worse than bland mash taking away from the gorgeous flavours of the mince underneath it. For a creamier mash also add milk, cream or creme fraiche until desired texture.
c) Calories - based on using 1 tbsp of olive oil for frying and without added cream/milk.
Nutrition Facts
Mum's Traditional Cottage Pie
Amount Per Serving
Calories 620
* Percent Daily Values are based on a 2000 calorie diet.
---
Love a good hearty home cooked meal? Check out my Perfect Spaghetti Bolognese!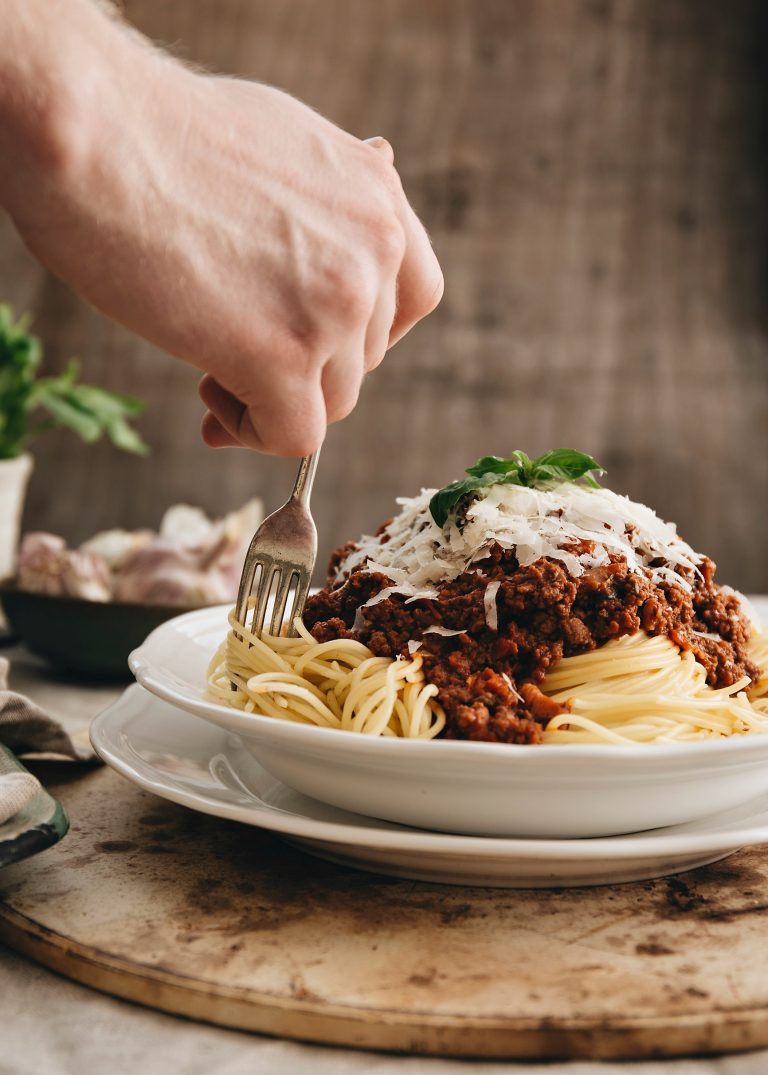 If you loved this Traditional Cottage Pie recipe then be sure to Pin it for later! Already made it or got a question? Let me know in the comments below and pick up for free ecookbook on the way!