---
'A simple 'n' easy, hearty and homely Traditional Cottage Pie recipe – family approved'

Ahhh look at that steam. No really, you looking? Cause that steam right there ruined my life today. I was like 'ooh, pretty steam let me snap it quick'. Cue fire alarm, followed by tripping over the table, smashing a vase and listening to the faint sound of the camera closing itself down because the batteries dead… *sighs* guys, I don't think I'm cut out for this business.
But you know what, totally worth it. Totally worth it every time in fact. A weekly staple in my shopping basket every week without fail, cottage pie is a recipe that takes me way back to when I was being cooked for by my dear mother.
Alongside Spaghetti Bolognese and Chilli, mum has mastered the art of hearty homecooking using minced beef. A good traditional cottage pie, not to be confused with a traditional shepherd's pie, was, is and always will be one of my favourite dinners. Ugh, just the smell of it sends me back to being a young piglet, staring in the oven waiting to devour it.
This recipe is one fully inspired by mum's original cottage pie. One of which I tweaked slightly a few years back, left it alone, locked the recipe in a safe never to be tweaked again. Slightly dramatic but you get the gist. I'm my own biggest fan when it comes to visiting my recipes but this one, every measurement is ingrained my brain.
 This traditional cottage pie recipe has a beautiful beefy depth of flavour. I truly believe this is down to not only the combination of ingredients below, but also allowing it plenty of time to cook. Please note this is not a quick cottage pie recipe. I see a lot of recipes add flour to the beef to thicken it, however I love leaving it to reduce naturally, allowing the meat to soak up those gorgeous flavours. I also tend to stay away from milk in the mash, I feel just butter, nutmeg and seasoning allows for a light a fluffy texture which finds itself sitting neatly on top of the beef.
The stars of this dish:
Thyme
Nutmeg
Simplicity
Quality Beef
Worcestershire Sauce
It's traditional roots
A mother's touch
The ingredients below will result in a decent sized Cottage Pie, which lends itself conveniently to being frozen for leftovers. This recipe is one I'm incredibly proud to share and with it's traditional, one I'm confident one you and your family will absolutely love. Let me know how you all get on and I'll see you on the next post! Enjoy 🙂
---
Mum's Traditional Cottage Pie
'A simple 'n' easy, hearty and traditional Cottage Pie recipe - family approved'
Ingredients
Beef Layer:
2.2

lbs

(1kg) Beef Mince

1

Large sized White Onion

finely diced

1 1/2

cups

(150g) Mushrooms, finely diced

2

medium sized Carrots

peeled

2

cloves

of Garlic

minced

1

glass of Red Wine

4

tbsp

Worcestershire Sauce

2

cups

(500ml) Beef Stock

1

tsp

dried Thyme

1

tsp

dried Rosemary

2

Bay Leaf

1

tbsp

Tomato Puree

Salt & Black Pepper

Olive Oil
Mashed Potato Layer:
4.4

lbs

(2kg) White Potatoes

peeled

3-4

heaped tbsp Butter

1/4-1/2

tsp

Ground Nutmeg

Generous helpings of Salt & Pepper
Method
In a suitably sized pot/pan, saute your Onions, Garlic, Carrot and Mushrooms in Olive Oil over medium heat until they begin to soften. Add your Mince, break it up and continue to fry over medium heat until brown all the way through.

Now it's Wine time. Pour in your Red Wine and leave to simmer for around 5 minutes to burn off the alcohol and allow the Mince to soak up the flavour. After, add your Beef Stock, Worcestershire Sauce, Tomato Puree, Thyme, Rosemary, Bay Leaf, Salt & Pepper (to taste) and leave to simmer over low heat for a good 30-45 minutes, stirring occasionally. At this point it will look like you've got way too much liquid but it will naturally thicken, so fear not.

Whilst your Mince is simmering, get started on the mash. Whack your peeled Potatoes in a pot of salted boiling water for around 15mins or until soft enough to comfortably slice. Drain (don't rinse) and place back in the pot. Mash with your Butter, Nutmeg and generous helpings of Salt & Pepper until a smooth but fluffy texture. Leave to one side and preheat oven to 220c (430f)

In a tin or baking dish, firstly pour in your Mince (removing Bay Leaf), then top the Mince with your mash. Pop in the oven for around 20mins or until golden and crispy on top. Leave to sit for a few minutes to retain shape and then serve.
Recipe Notes
Feel free to mix in some cheese in the mash for a cheesy cottage pie!
---
Love a good batch of leftovers? Check out these Leftover Bolognese Sliders!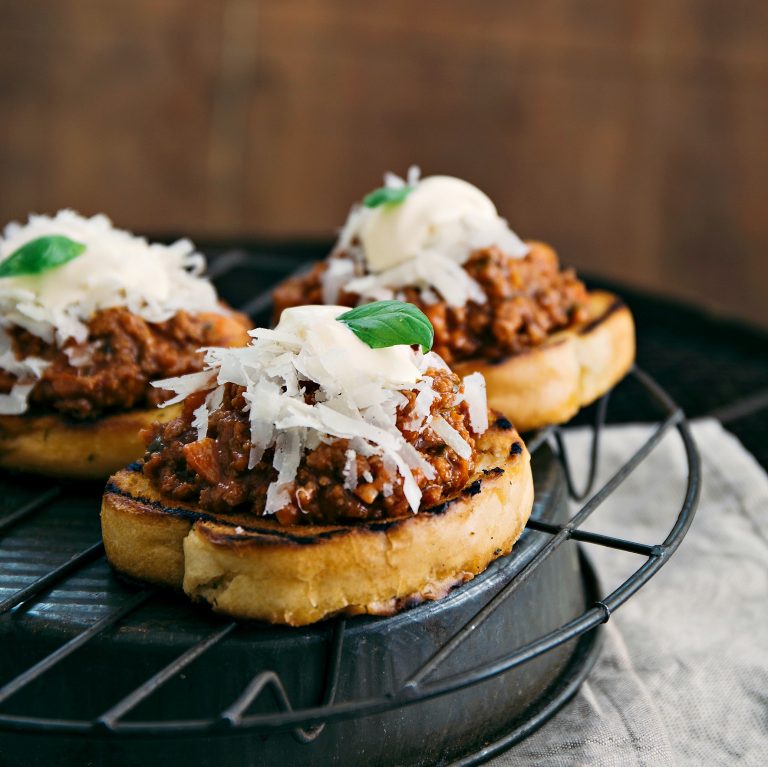 ---
---
Cheers guys, this has been 'Mum's Traditional Cottage Pie recipe '. Comment, share, do whatever you fancy but for crying out loud don't go bacon my heart. See you next time! 🙂