'Cheese and Prosciutto Twists are the PERFECT sharing appetizer! So easy to make and even more delicious to snack on, these twists are going to make your next game day feast one to remember!' – Hungry now?  Jump to Recipe
You guys, if you could smell my kitchen right now you'd probably just keel over and die (from happiness and rainbows, obv). The sweet scent of crispy cheese, prosciutto and fresh out the oven pastry is still lingering around the house as I write this post and honestly – without sounding too much like a kardashian cloned averagely famous instagram gal who lives off brand deals and coconut water – I can't even.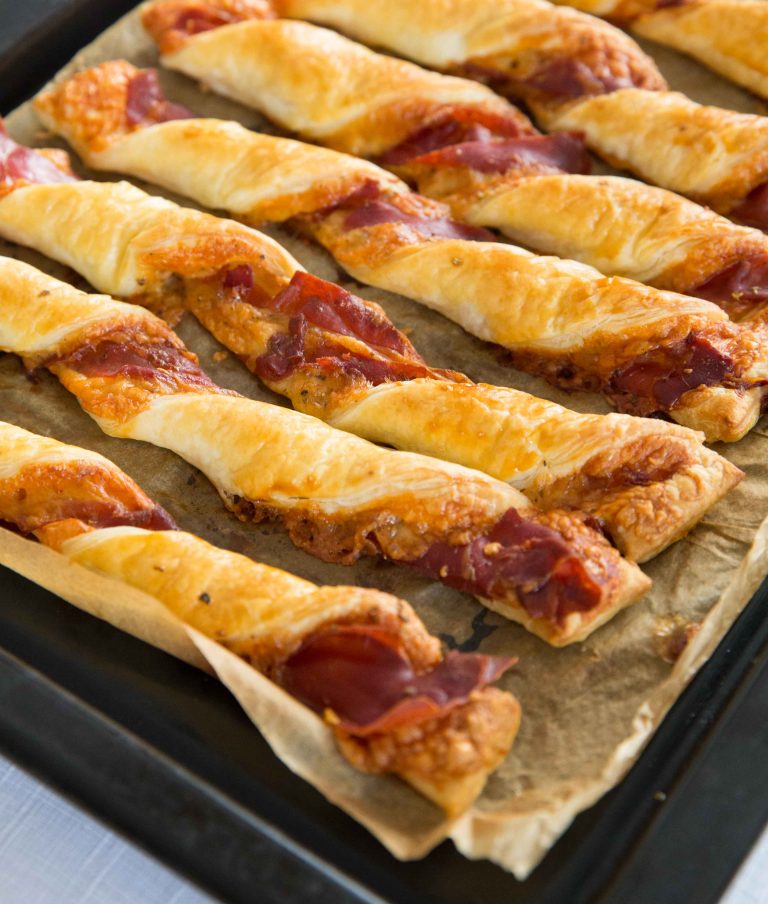 But seriously who can blame me?? Just look at these cheese and prosciutto twists!
Actually if you're Italian maybe look away. I've heard it's a sin to serve crispy prosciutto. Everybody else, let's just appreciate a close up of said crispy prosciutto, lying on a bed of even crispier cheese, wrapped in warm puff pastry. UGH! So much yum.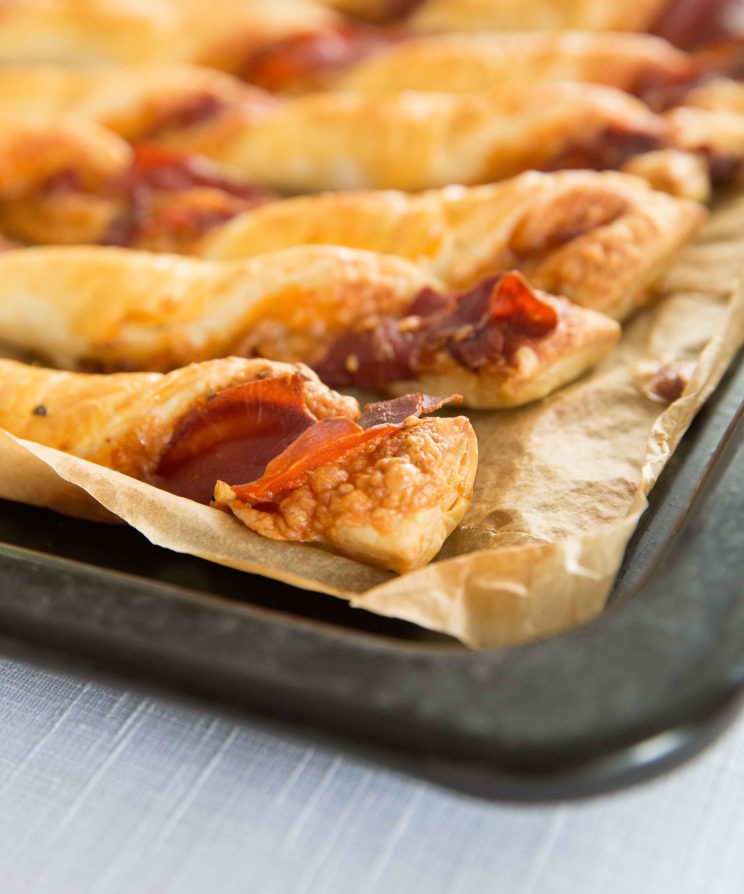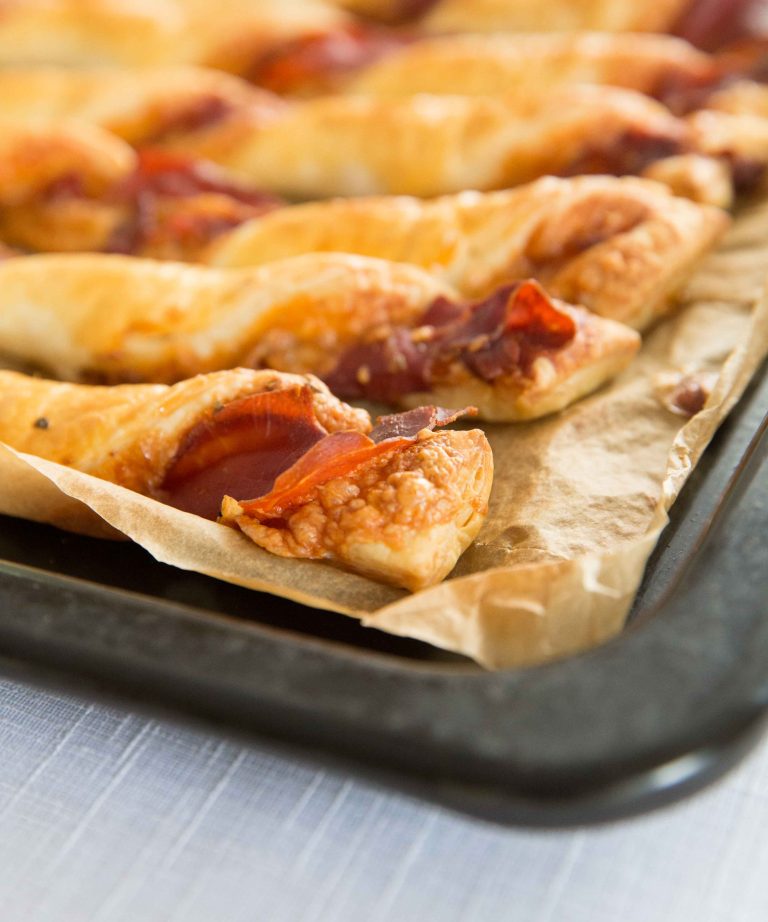 You know what's so awesome about these twists? They're SO easy to make.
Anybody up 'til now assuming I made the puff pastry, I make no apologies in correcting you. Without fail there is always a few sheets of pre made puff pastry laying about my freezer for this exact reason. No fuss, just whack it out to defrost and you're good to go. Perfect for quick and easy appetizers like these which require few ingredients.
Here I simply top with cheddar, a few strips of prosciutto and a couple pinches of oregano and black pepper. Slice them up into 1″ strips, twist and brush with egg wash. Pop in the oven and voila, your food coma is good to go.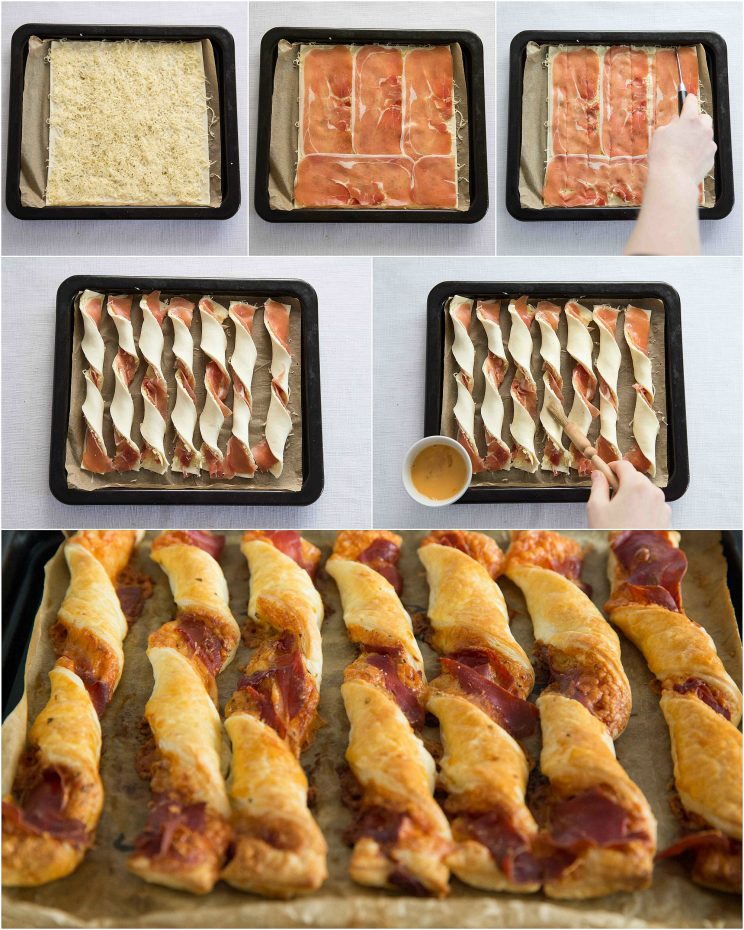 Like I mentioned earlier, these are the perfect game day snack. Besides the fact they're delicious, they're ideal because you can make in bulk and serve hot or cold. There's nothing worse than putting a spread out and worrying about stuff going cold. These twists taste just as delicious cold as they do fresh out the oven!
On one condition though – dip must be present. (dip does not have to be present I just enjoy the extra calories)
For me, it has to be sour cream and chive dip every single time. I've included the ingredients for this in the recipe notes below.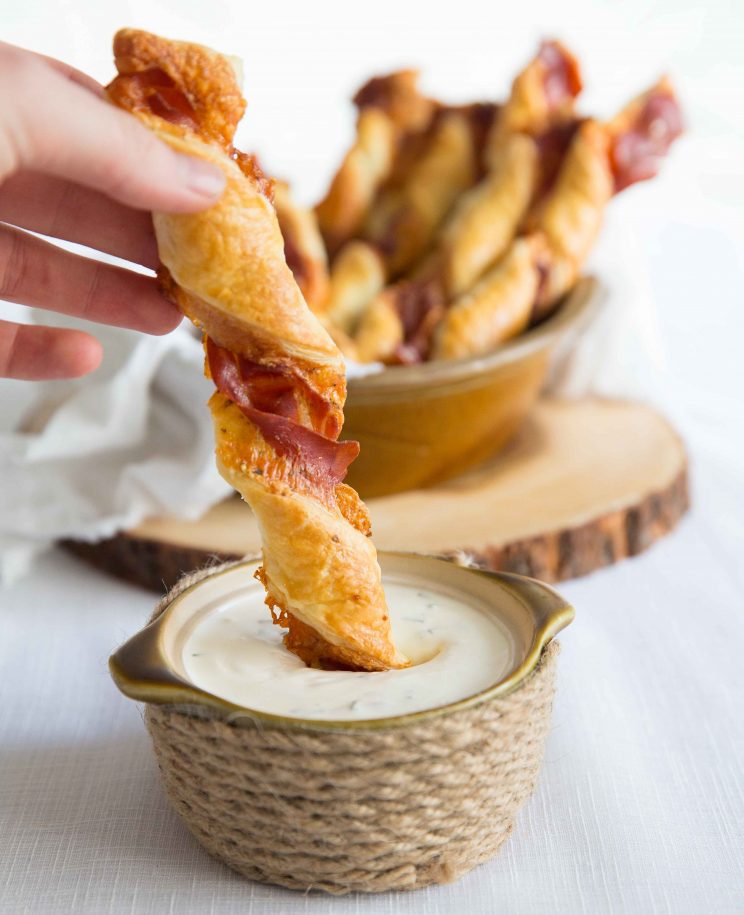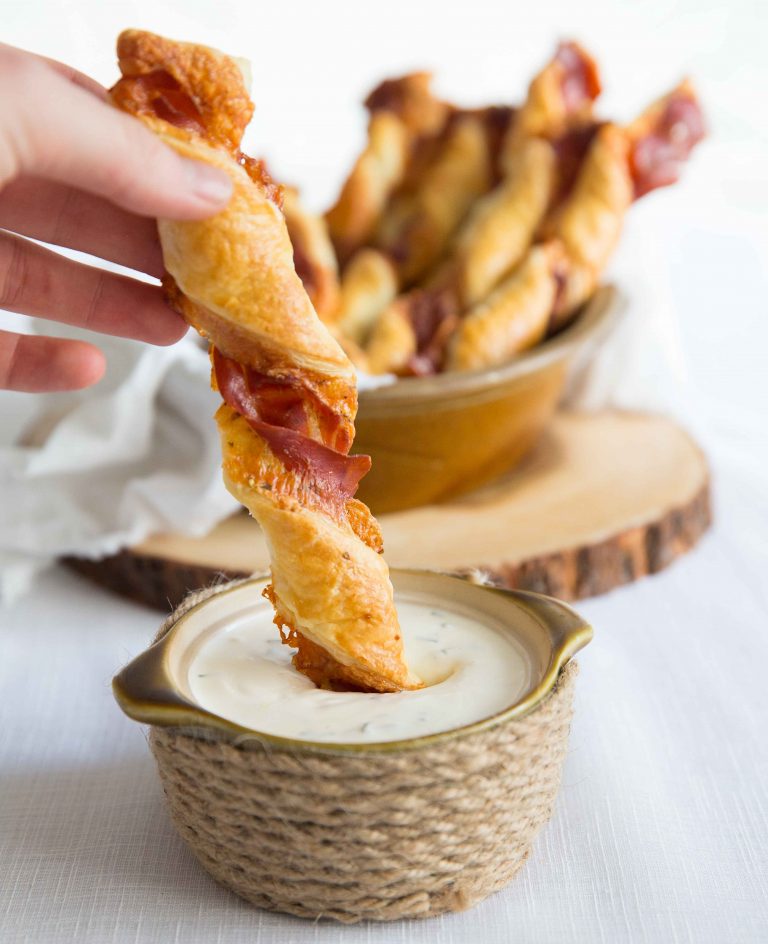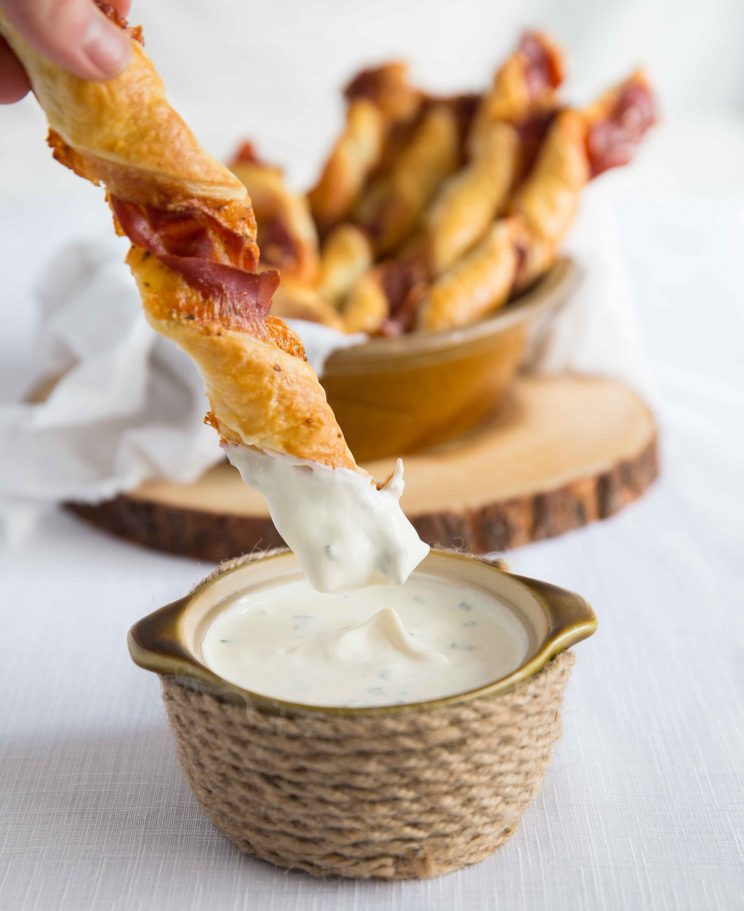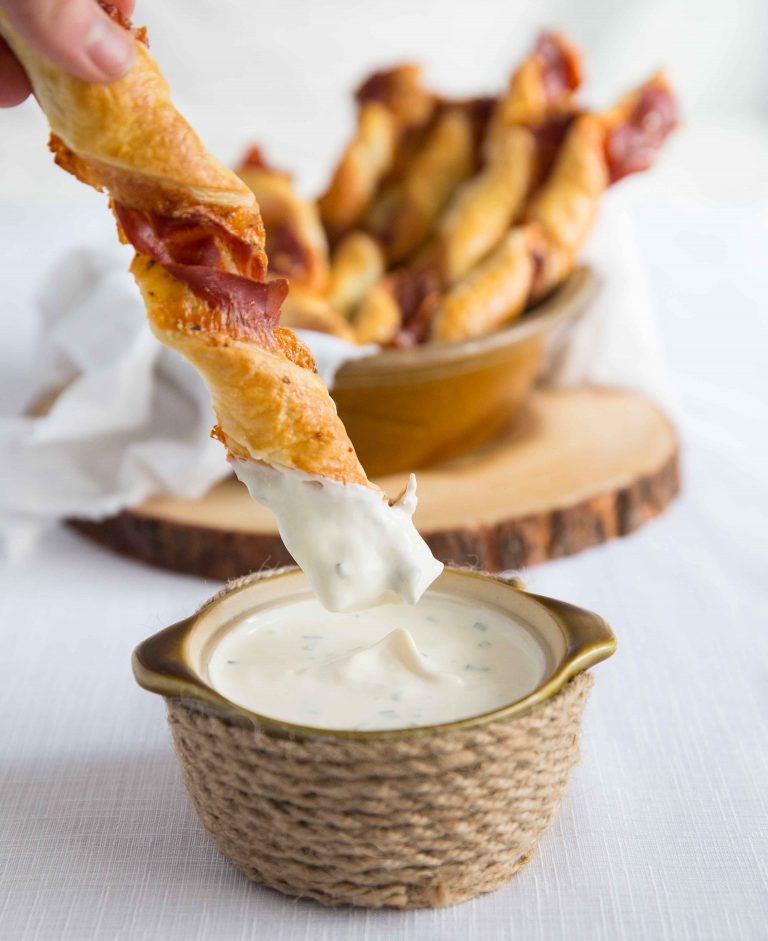 Oh quick side note!
So some of you might actually be wondering what prosciutto is. It's also commonly known as 'Parma-Ham'. Essentially it's a thinly sliced Italian dry-cured ham. The fact it is thinly sliced and can be eaten uncooked makes it perfect for these twists. Trying to roll up thick wedges of ham isn't fun. Also messing about with meat that needs to be cooked, not for me.
Having said that if you do have some leftover thinly sliced ham feel free to sub!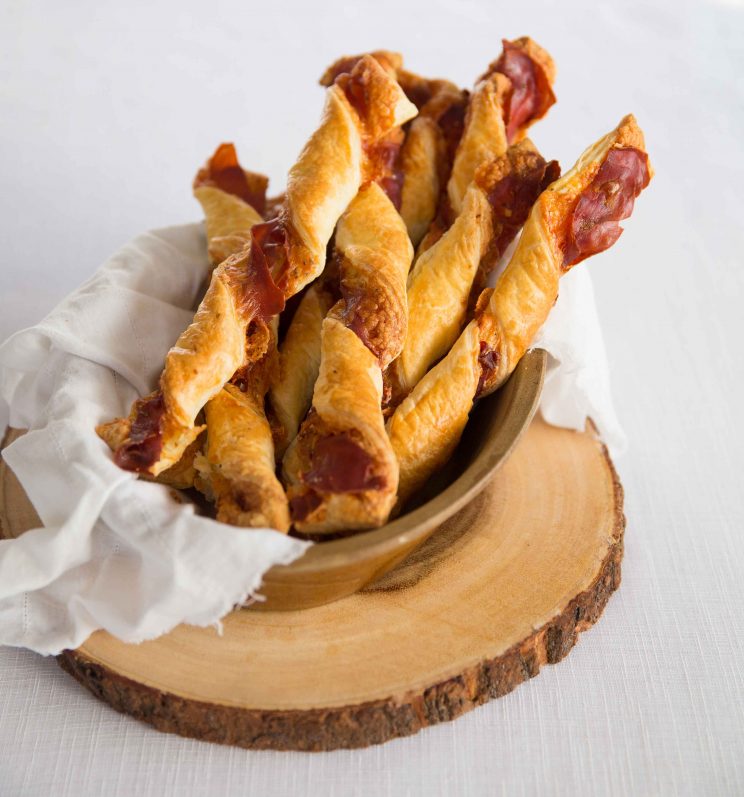 So at your next game day gathering, family get together or cheesy carb craving, spare a thought for these cheese and prosciutto twists. Super easy, inexpensive and delicious, these are bound to be your new 'go-to' appetizer.
Check out the 1 minute recipe video just below and full printable recipe below that. Let me know how you get on in the comments and I'll catch you on the next post!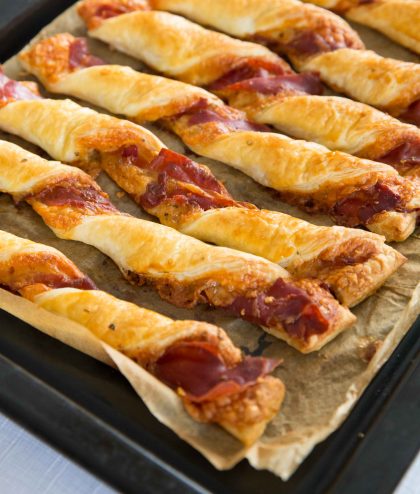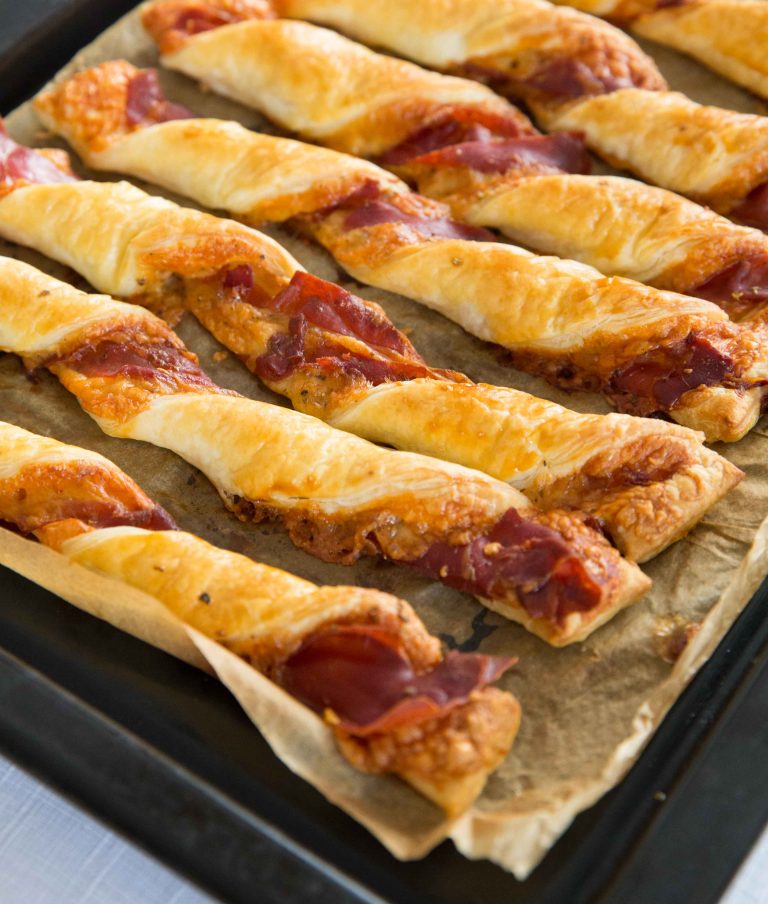 Cheese and Prosciutto Twists
Cheese and Prosciutto Twists are the PERFECT appetizer to share! So easy to make and even more delicious to snack on, these twists are going to make your next game day feast one to remember!
Ingredients
2

Sheets

Puff Pastry, thawed as necessary

10

Slices

Prosciutto/Parma Ham

2

Large Handfuls

Cheddar, finely grated

few

Pinches

Dried Oregano

1

Egg, beaten

1

tbsp

Milk

Black Pepper, to taste
Method
Preheat oven to 180c/356f.

Unroll your pastry and place straight onto a baking sheet in a suitably sized oven tray.

Evenly space out your Cheese and push down with your hands to flatten. Sprinkle a little Oregano and Black Pepper, then evenly space out your Prosciutto. You might need to cut a piece in half/quarter to fit perfectly.

Take a sharp knife and cut into 1 inch strips. Space out the strips then twist a couple of times.

Combine your beaten Egg with 1 tbsp Milk and brush the surfaces of your twists.

Pop in the oven for 15-20 mins or until golden and crispy. Enjoy warm or cold laster in the day!
Recipe Notes
a) Size - Different brands of pre made puff pastry will come in different sizes, some square some rectangular etc. As long as you fully cover the surface with your ingredients, cut into 1 inch strips and make sure they are spaced out on the tray, it really doesn't matter what length they are.
b) Baking Sheet - You'll find that many pastries actually come wrapped in a sheet which 99% of the time is suitable to bake. Just check the instructions to make sure.
c) Space - It's important to give your Twists space in the oven else they will stick together!
d) Salt - You'll have twigged on to the fact I add no salt throughout the recipe. That is indeed because prosciutto is already incredibly salty. I actually find that using a mild cheddar instead of a sharp cheddar also reduces the salty taste if that's something you're not a fan of.
e) Sour Cream and Chive Dip - The dip I usually serve these with and the one featured in the recipe video/photos is as follows:

- 1 cup (250ml) Sour Cream
- 2 tbsp Mayo, full fat
- 1 tbsp Fresh Chives
- 1 small clove Garlic, minced
- Squeeze of Lemon Juice
- Cracked Black Pepper, to taste
---
For more perfect footy snacks, check our my Crispy Baked Jalapeño Poppers!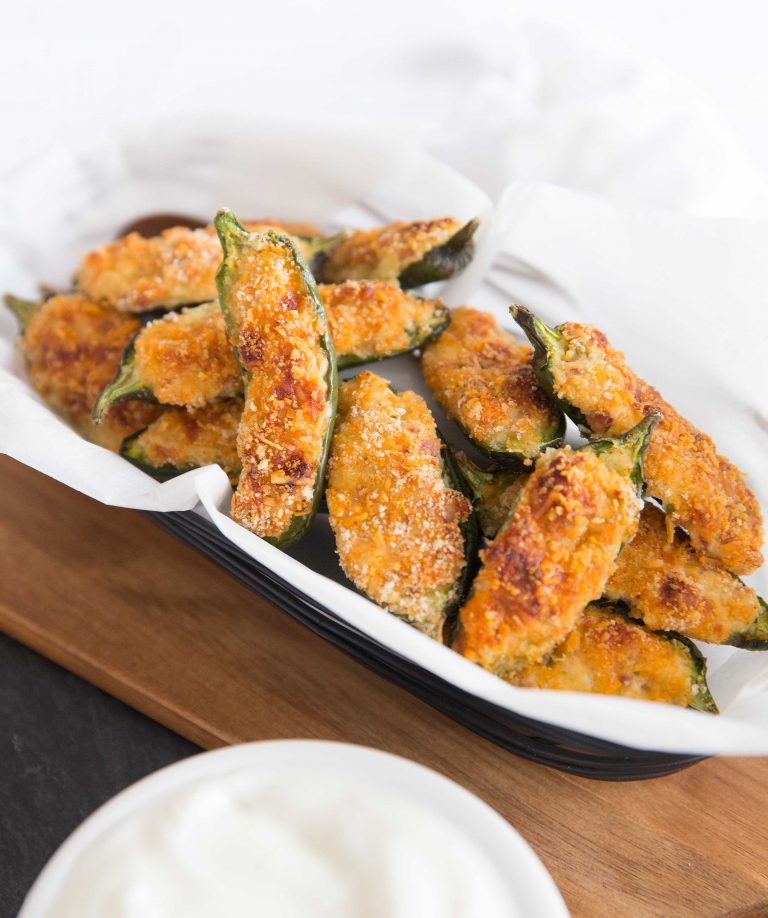 ---

---
Cheers guys, this has been ' Cheese and Prosciutto Twists '. Comment, share, do whatever you fancy but for crying out loud don't go bacon my heart. See you next time 🙂