'A Creamy Peppercorn Sauce couldn't be more simple and delicious to make! This Peppercorn Sauce without brandy is about to be your go-to sauce for steak, chicken, portobello mushrooms, potatoes and everything between!' – Hungry now?  Jump to Recipe   
A quick peppercorn sauce is the perfect addition to any meal. I'm serious, I pour this stuff over everything. I like to call it 'dressing up your dinner'. That or just pouring calories over your dinner, because that's also quite fun. Delicious calories nevertheless!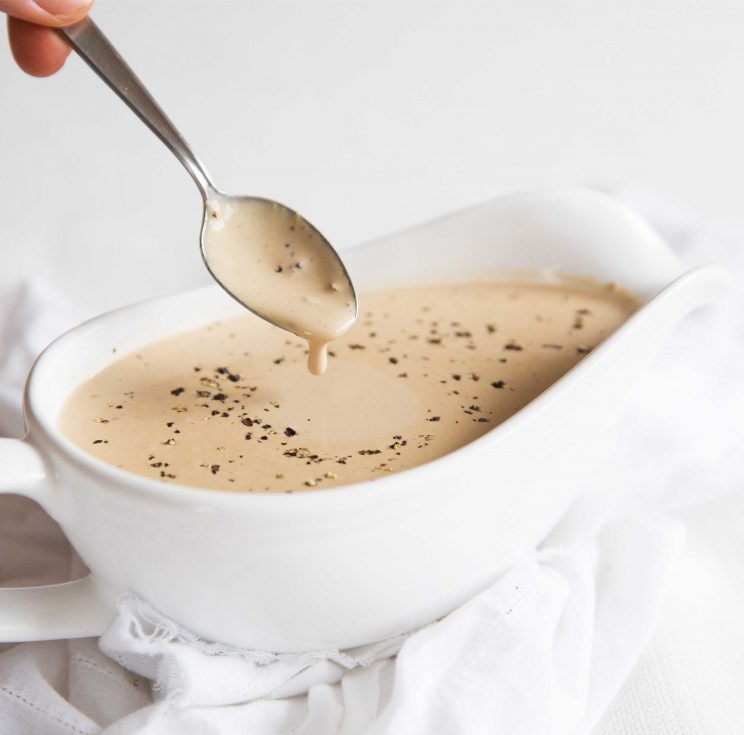 I've been obsessed with peppercorn sauce for as long as I can remember. It mainly started around the time became obsessed with steak, because steak with peppercorn sauce is juuuuuust the best.
And don't get me wrong, I've had some pretty decent restaurant peppercorn sauce in my time, but honestly, finding a good peppercorn sauce is sometimes pretty tricky. For me the best peppercorn sauce is creamy, yet beefy with a kick of spice. Most of the stuff you get served these days is almost like gravy with a few whole peppercorns floating in it. Not for me.
So, after realising I was turning into a food snob (that or a just cream addict) I made it my mission to create the best homemade creamy peppercorn sauce! Guys, I can't express to you how easy it is make and how much more delicious it is than any pepper sauce you've tasted before. I know, what a claim! But it's true. Let's take a closer look.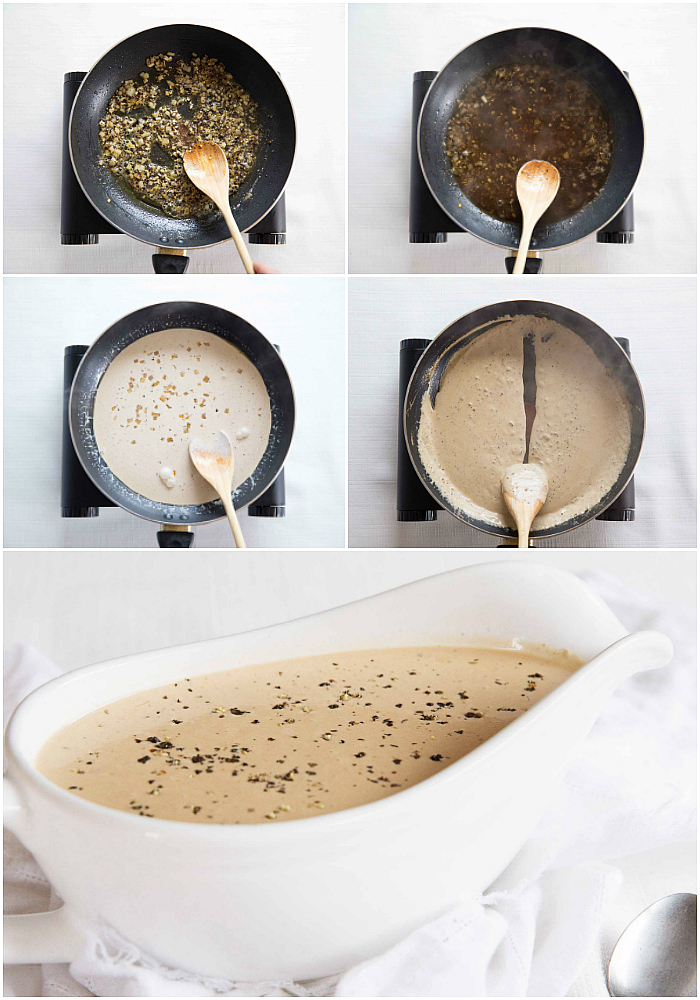 I'll always take over from where I left off. So if I'm cooking steak, I'm starting in the same pan, using the leftover juices to get things started. From there it's as simple as sautéing some shallots and garlic, chucking in some Worcestershire sauce, crushed peppercorns and beef stock, then pouring in some cream. No flour or cornstarch needed, it'll thicken just beautifully by itself.
Oh yeah, why the need to add 'Peppercorn Sauce without brandy' in the intro? Good question.
There are a lot of peppercorn sauce recipes that use brandy and honestly when I first developed this recipe way back when, I did include brandy. Brandy adds a nice little kick to the sauce. It's nice. But to use it effectively you need to burn it off by igniting it into a flame, which turns it into a syrupy, glossy kind of texture. For some people that can be a scary process, which I totally get. So weighing things up, the small benefit of using it isn't worth the hassle, in my opinion. Plus not everyone has brandy lying about the house.
Anywho, steak anyone?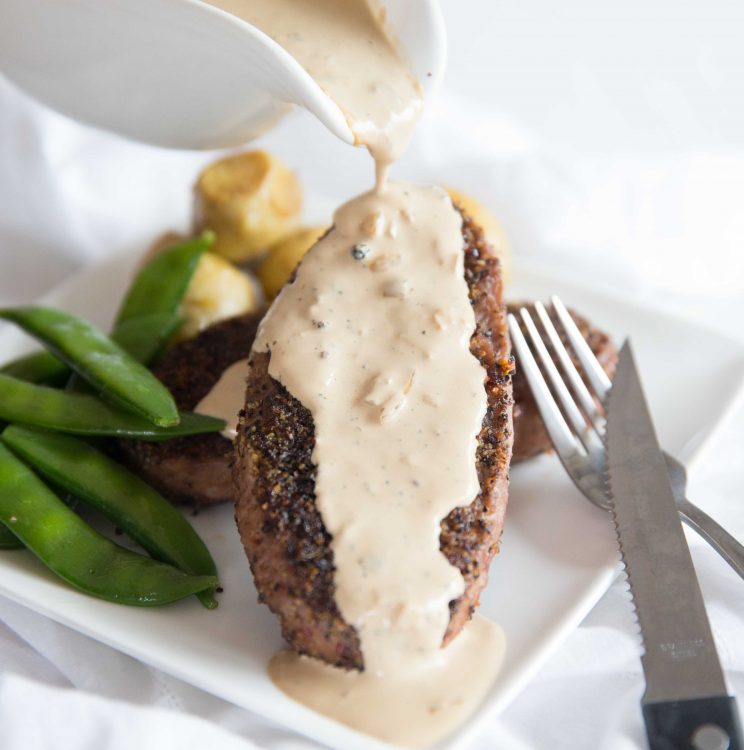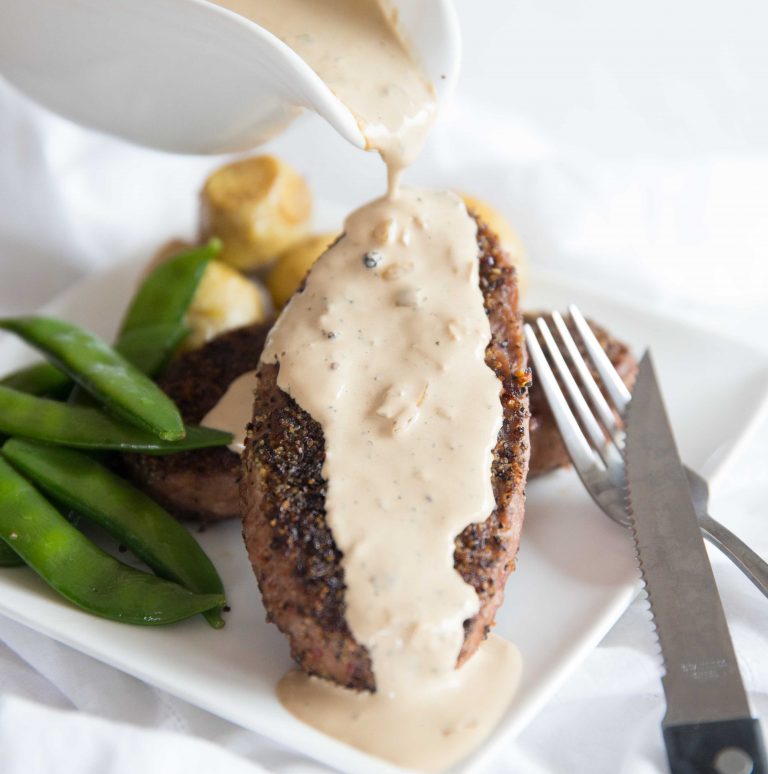 But let's not be narrow minded here, peppercorn sauce goes with e-v-e-r-y-t-h-i-n-g. I've recently just stared frying up portobello mushrooms and pouring the sauce straight in.
Because cream, pepper and mushrooms? Let's not pretend like that's not a food coma waiting to happen.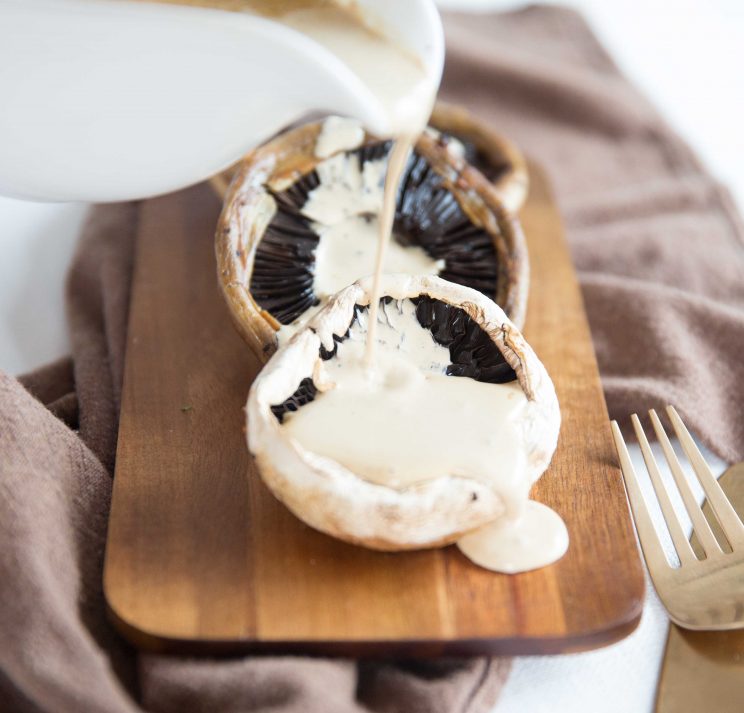 And then sometimes things just get real intense.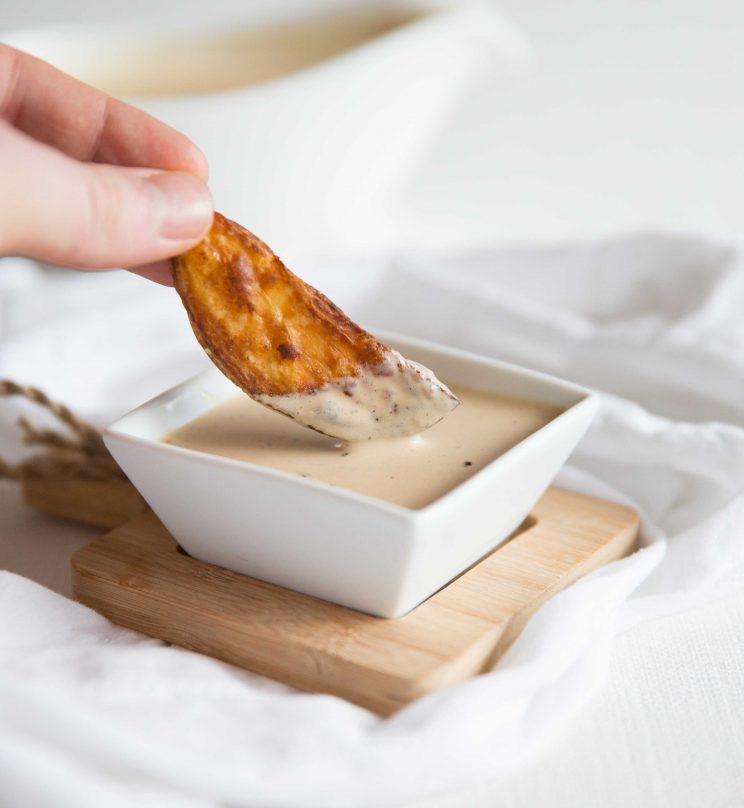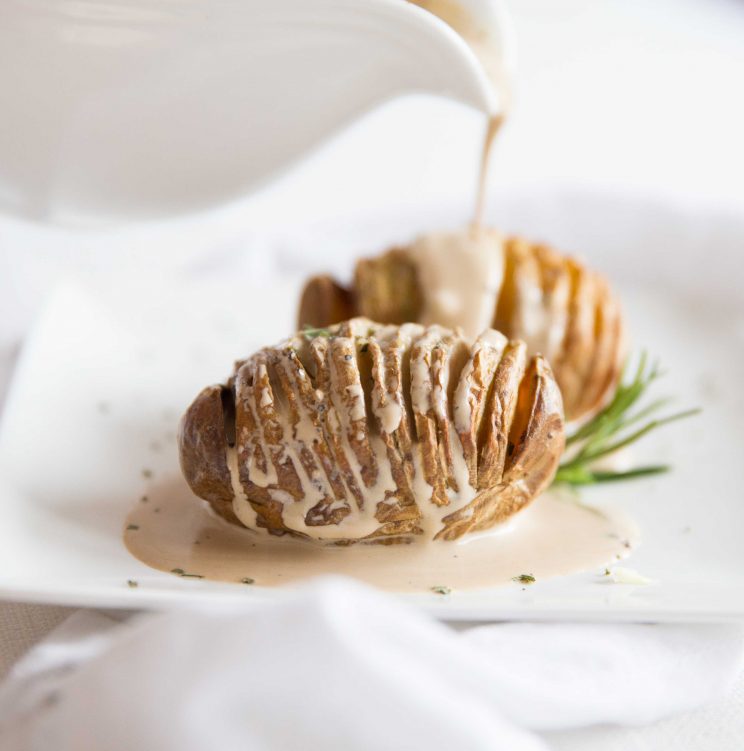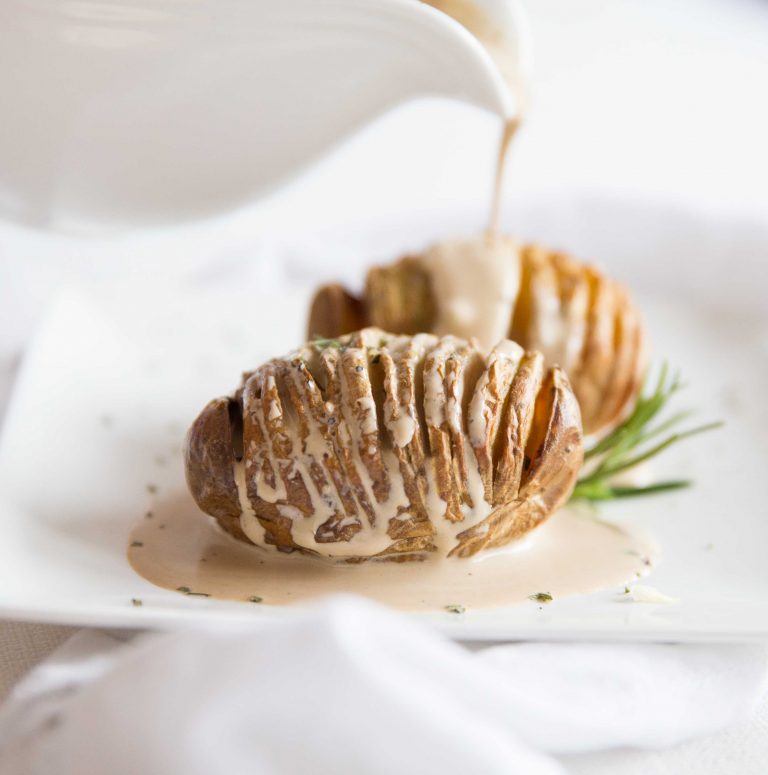 Yeah, I have no reasoning or explanation behind that. It just happened.
Anywho, I think that's just about enough from me and my intense creamy peppercorn sauce addiction. It's over to you.
1 minute recipe video just below and full printable recipe just below that! let me know how you get on in the comments below and I'll catch you on the next post! Enjoy 🙂
---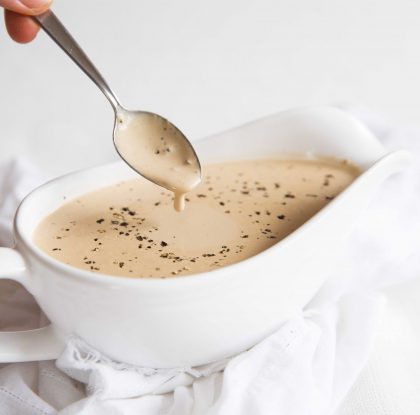 Creamy Peppercorn Sauce
'A Creamy Peppercorn Sauce couldn't be more simple and delicious to make! This Peppercorn Sauce without brandy is about to be your go-to sauce for steak, chicken, portobello mushrooms, potatoes and everything between!'
Course:
Main Course, Sauce
Ingredients
1

tbsp

Black Peppercorns, crushed

1

cup

(250ml) Double Cream

1/2

cup

(125ml) Beef Stock

2

small

Shallots, finely diced

1

clove

of Garlic, finely diced

1

tbsp 

of Butter

1

tsp

of Worcestershire Sauce

Salt, to taste
Method
If you're frying steak, chicken, mushroom etc leave the juices in the pan. This will add a huge amount of flavour to the peppercorn sauce.

Melt your butter over medium heat and deglaze the pan if necessary. Fry your shallots until fragrant and translucent. (2-3mins)

Add in your garlic and peppercorns and fry for a minute or so until the garlic just begins to brown.

Pour in your Worcestershire sauce and beef stock, then stir in your cream.

Reduce to a simmer until the sauce thickens enough to coat the back of a spoon. (8-10mins).
Recipe Notes
a) If you're not frying anything in the pan prior to the sauce, then start from melting the butter.

b) 1 tbsp of peppercorns will result in a definite kick in terms of spice. If you're not keen on spice then start with 1 tsp and adjust accordingly.
c) To crush the peppercorns, either use a pestle and mortar or pop them in a zip lock bag and whack with a rolling pin (or something to that effect).
d) Calories based on a division of 4. The whole peppercorn sauce recipe = 513 calories.
---
For the perfect accompaniment to your peppercorn sauce, check out my Easy Homemade Skinless Sausages!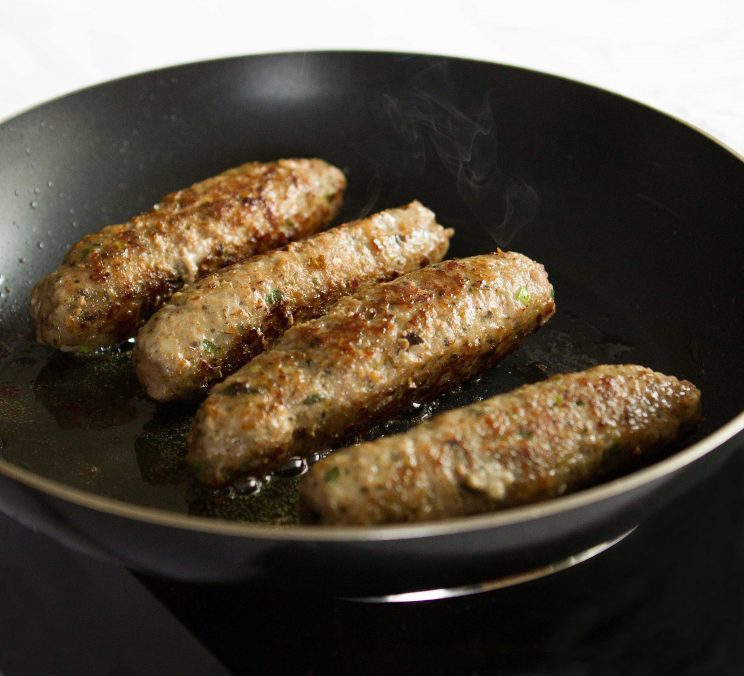 ---
---
Cheers guys, this has been ' Creamy Peppercorn Sauce ' Comment, share, do whatever you fancy but for crying out loud don't go bacon my heart. See you next time 🙂