These Easy Homemade Skinless Sausages are super delicious and packed full of flavour. So simple to make and even easier to fall in love with!
But really, I can't express to you how easy homemade sausages are to make. No sausage casings needed, no meat grinders/sausage making machine and no special sausage meat. Just good old ground pork, some tasty fillings and a frying pan. I guarantee after making these homemade pork sausages, you'll never get store bought again.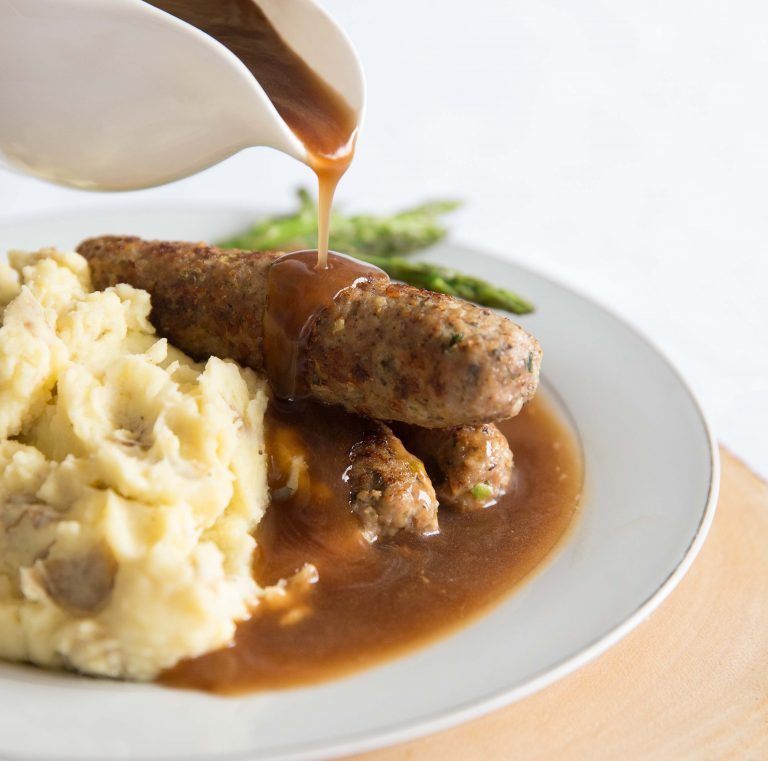 I know quite the claim right? And I (used to) LOVE me some supermarket sausages. But that was the old me.
So first things first, let's address the elephant in the room, because I can hear a few of you heckling from the back row
'what's wrong with store bought sausages?'
Look, don't get me wrong you can get some darn tasty sausages from the store, but there's so many questionable ones out there. Plus, the tastier ones are usually so pricey!
Making your own sausages is too easy to not do and I guarantee you've got half the ingredients knocking about in your cupboard. That and you know exactly what's going into them.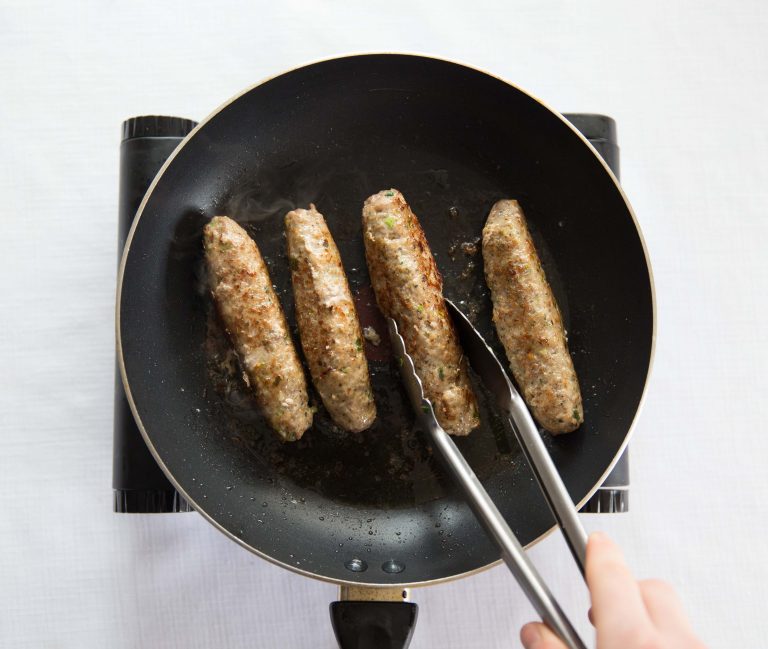 Homemade Sausage Ingredients
Minced Pork
Breadcrumbs
Egg
Garlic
Green Onion
Sage
Fennel
Thyme
Parsley
For me, those seasonings compliment the pork so beautifully. There's seriously nothing worse than a bland pork sausage, and as I was testing these I was quite conscious of that. These sausages are an explosion of flavour. You won't be disappointed.
Alrighty, ingredients in check, let's see just how easy it is to make your own sausages.
How to make homemade sausage without casing
Combine your pork with seasonings.
Roll into even sausage shapes and quickly rest in the fridge/freezer to firm up.
Fry in a little olive oil, ensuring you turn frequently.
Simple right?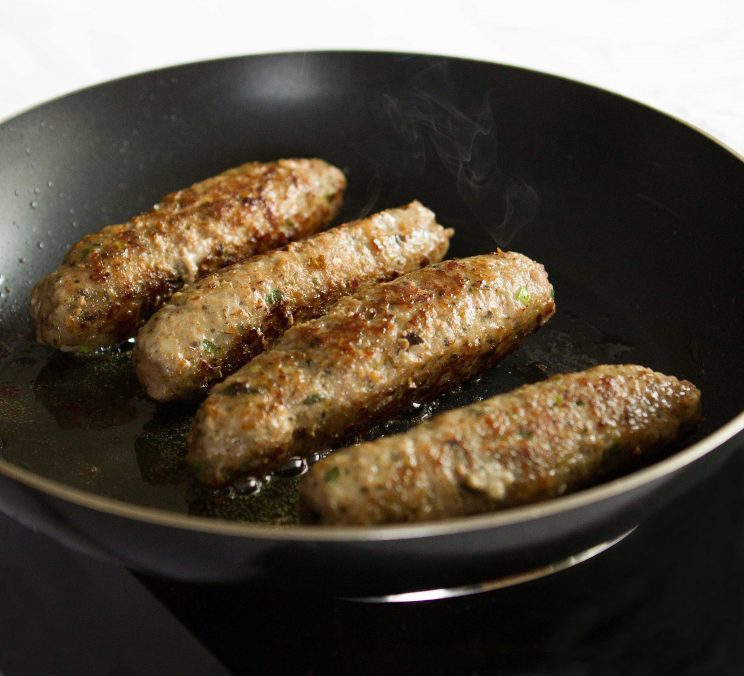 Essentially you're making long thin meatballs. However, unlike meatballs there are a few tips and tricks you need to include to produce the perfect sausage shape.
Tips for perfect Homemade Sausages
Roll 'em big – the sausages will shrink fairly considerably when frying, so roll them larger than what you envision the end product to look like.
Freezing – just a 10 minute stint in the freezer after rolling them out will firm up the meat and help in keeping shape throughout the cooking process.
Keep on moving! – unlike a burger, you can't just chuck the sausages in the pan and flip once. You need to keep them moving to ensure an even browning.
And don't worry, even with the 10 minutes of freezing these will still go down from start to finish in 30 minutes.
Homemade sausage using minced pork
Sure, you could use sausage meat, but personally I think ground pork is the better option. It gives you the opportunity to start with a blank canvas and put your own seasonings in. Because you never really know what the heck is in sausage meat.
How to stop sausages from drying out
Non-lean meat: It's really important to use a non-lean pork to help keep the pork as moist as possible. I've added a section on this in the recipe notes.
Breadcrumbs: Contrary to popular belief, breadcrumbs don't dry out meat, they actually lock in the moisture.
Gentle mixing: Try to not overwork the meat when you mix in the seasonings. This will lead to a tough/gritty texture.
So next time you're thinking of your next quick mid-week dinner, spare a thought for these homemade skinless sausages. Just 30 minutes start – finish (10 minute freezing time included).
Join the foodie family! – Get awesome recipes sent straight to your inbox by signing up to my Weekly Mailing List (where you'll receive your FREE ECOOKBOOK) and stay in touch on Instagram, Facebook and Pinterest! 🧡
How to make Homemade Skinless Sausages

(Full Recipe & Video)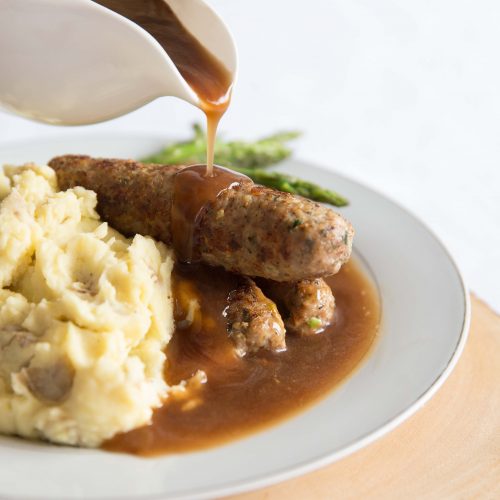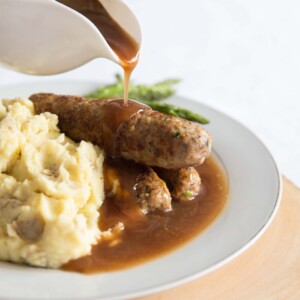 Easy Homemade Skinless Sausages
'These Easy Homemade Skinless Sausages are super delicious and packed full of flavour. So simple to make and even easier to fall in love with!'
Print
Pin
Rate
Servings (click & slide):
6
Ingredients (check list):
1lb / 500g

'non-lean' Ground (minced) Pork

1

whole large Spring Onion

finely diced

1

tsp

Garlic

minced

1

tsp

dried Sage

1

tsp

dried Parsley

1

tsp

dried Thyme

1

tsp

Fennel Seeds

crushed

2

tbsp

Breadcrumbs

1

tbsp

Extra Virgin Olive Oil

plus extra for frying

1

tsp

Worcestershire Sauce

1

Egg

beaten

Generous amounts of Salt & Pepper.
Instructions:
In a bowl, use a fork to mix together all of your ingredients, using generous helpings of Salt & Pepper. You can use your hands if you prefer!

Heat up a little oil in a suitably sized pan, grab a tiny amount of your sausage meat and fry up a tiny burger shape to test for seasoning. If it's tasting a little bland then add more salt. It's really crucial to season well as bland sausages are, well, not okay.

Roll out your mixture into 6 classic sausage shapes and pop in the freezer for 10 mins, just to help hold the shape through the cooking process.

Fry over medium/high heat for a few minutes, flipping continuously to sear all surfaces of the sausages. It's important to brown the outside in the first instance to lock in moisture and help hold shape more firmly as they continue to cook.

Turn heat down to a low/medium and fry for a further 10-12 minutes or until white and piping hot throughout the centre. Turn often to ensure an even coverage.
Notes:
a) Adding Moisture - Choosing a 'non-lean' pork is important to ensure the meat stays lubricated and doesn't dry throughout the cooking process. However, if you only have or only want to use lean pork, consider adding a small amount of finely diced mushrooms as they are packed with water. Also swap out green onion for grated white onion for the same reason.
b) Lean/Non-Lean Pork - Supermarkets often sell pork mince in the range of 5%-20% fat. When referring to 'lean pork' you're looking at around the 5% mark. The next section they have is sometimes labelled as 'reduced fat' pork (often either 10%, 12% or 15% fat). You can use this range, but consider adding 1 extra tbsp olive oil (use your season test in step 2 to decide). The optimum range is 20%-25%. Supermarkets will certainly stock the 20% pork, anything higher you're most likely looking to go to a butcher.
c) Crushing Fennel Seeds - The best way to crush your fennel seeds is with a mortar and pestle. If don't have one, pop in a zip lock bag and crush with a rolling pin. Failing that, on a chopping board mix the seeds with your 1 tbsp of olive oil and dice with a knife. The oil will stop them bouncing off the chopping board.
d) Freezing for no longer than 10 minutes is important, any longer and the bottom of the sausages tend to flatten and stick the surface. To make in advance simply pop them in the fridge instead of the freezer and take out when needed. A longer time in the fridge will function just as well as a short stint in the freezer.
e) Calories based on 22% fat pork mince. 208 cal per sausage. 
Nutrition:
Nutrition Facts
Easy Homemade Skinless Sausages
Amount Per Serving
Calories 220
Calories from Fat 145
% Daily Value*
Fat 16.16g25%
Polyunsaturated Fat 2.357g
Monounsaturated Fat 7.254g
Cholesterol 155mg52%
Sodium 95mg4%
Potassium 244mg7%
Carbohydrates 3.09g1%
Protein 15.57g31%
Vitamin A 350IU7%
Vitamin C 1.7mg2%
Calcium 40mg4%
Iron 1.4mg8%
* Percent Daily Values are based on a 2000 calorie diet.
Nutrition is based on the absence of salt unless stated as a measurement in the ingredients. Cost is worked out based on ingredients bought from UK supermarkets, then divided by the number of servings. In both instances these values are just for guidance. Please check out my FAQ Page for more info.
---
After more hearty home cooking ideas just like this homemade pork sausage recipe? Check out Mum's Traditional Cottage Pie!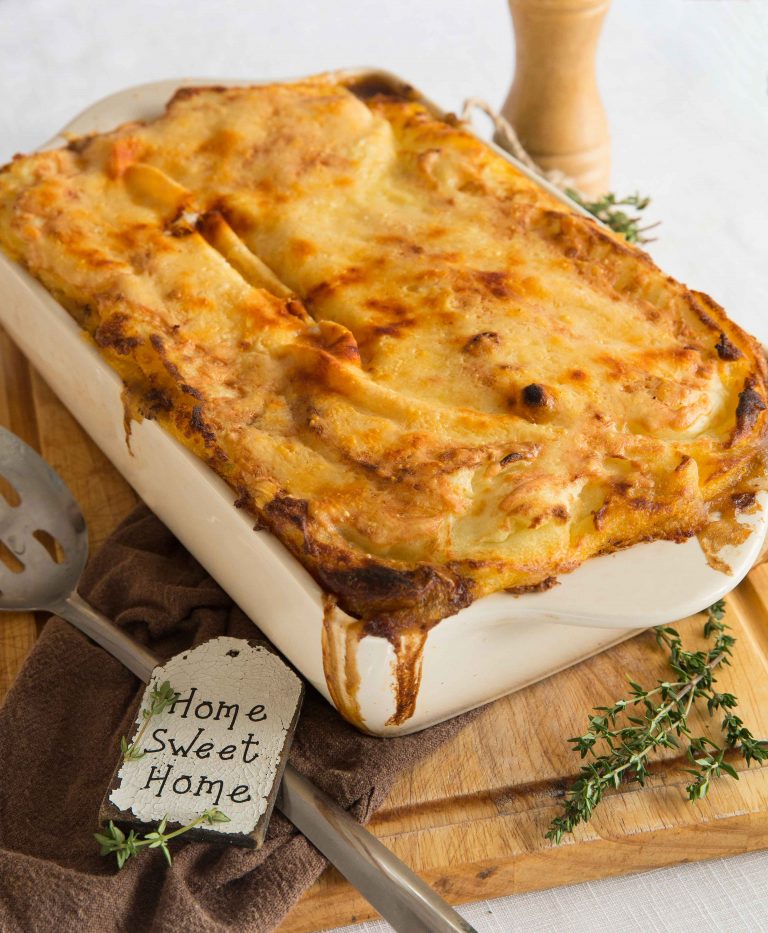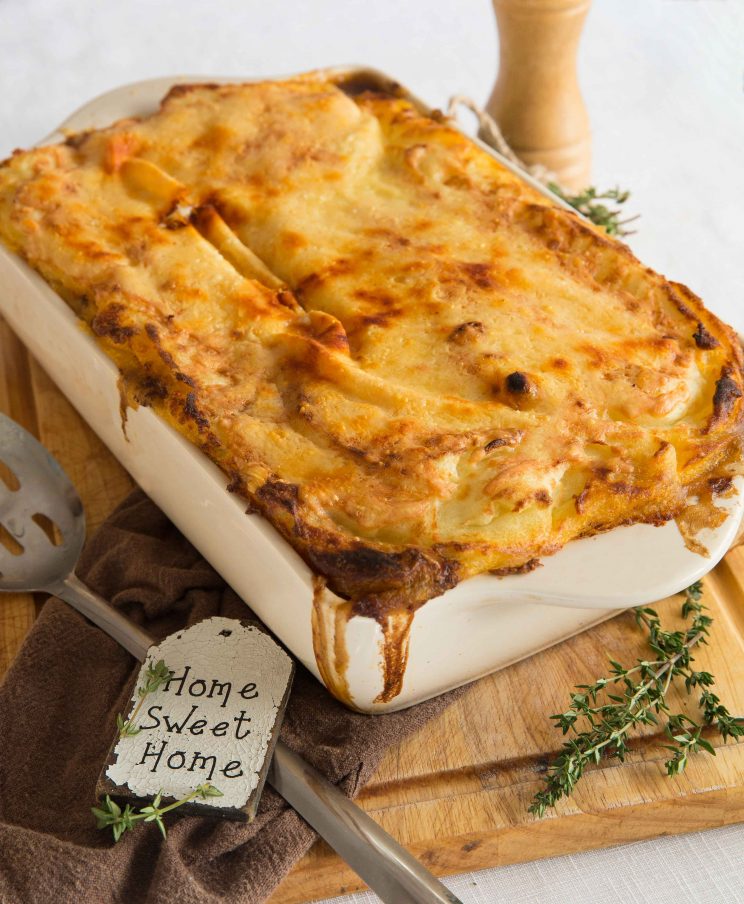 If you loved these Skinless Sausages be sure to pin the recipe for later! Already made them or got a question? Give me a shout in the comments and pick up your free ecookbook on the way!