Nothing screams comfort food louder than pasta bake & this vegetarian version is no exception. Easy Cheesy Vegetable Pasta Bake – your new favourite dinner ready and waiting!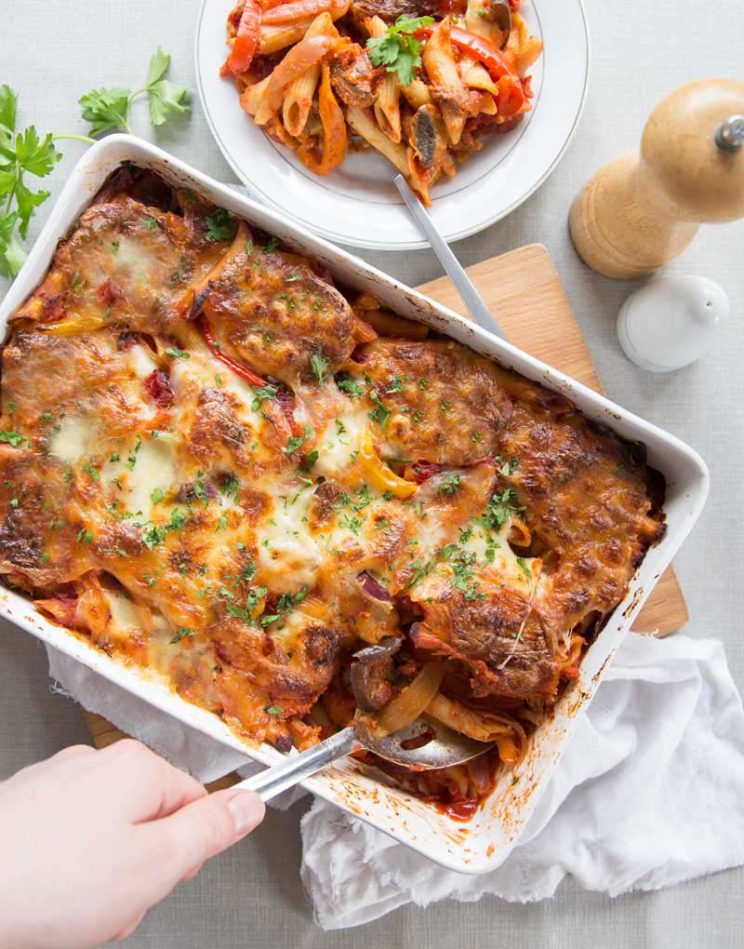 The BEST Leftover Vegetables Recipe!
If you're anything like me, you've got an entire vegetable garden sat in your fridge which is on the verge of dying a sad and wasted death. It's a far too common occurrence, but that's exactly what veggie pasta bakes are for. You can truly go wild with what veg you want to add into the pasta bake, but here's the offenders most spotted in the back of my fridge:
Best Vegetables for Pasta
Onions
Peppers
Aubergine/Eggplant
Courgette/Zucchini
Mushrooms
Carrots, Asparagus, Sweet Corn and Broccoli all work perfectly too! But like I said, go wild with whatever you fancy. As long as it's not actually grown legs and walking out your fridge, because then it's food waste time.
You can of course buy fresh vegetables for this pasta bake too 😁
How much Veg to put in Pasta Bake?
For this recipe I recommend 1lb/500g, 3.5oz/100g of each. I find this bulks out the pasta perfectly enough to feed 5-6 people.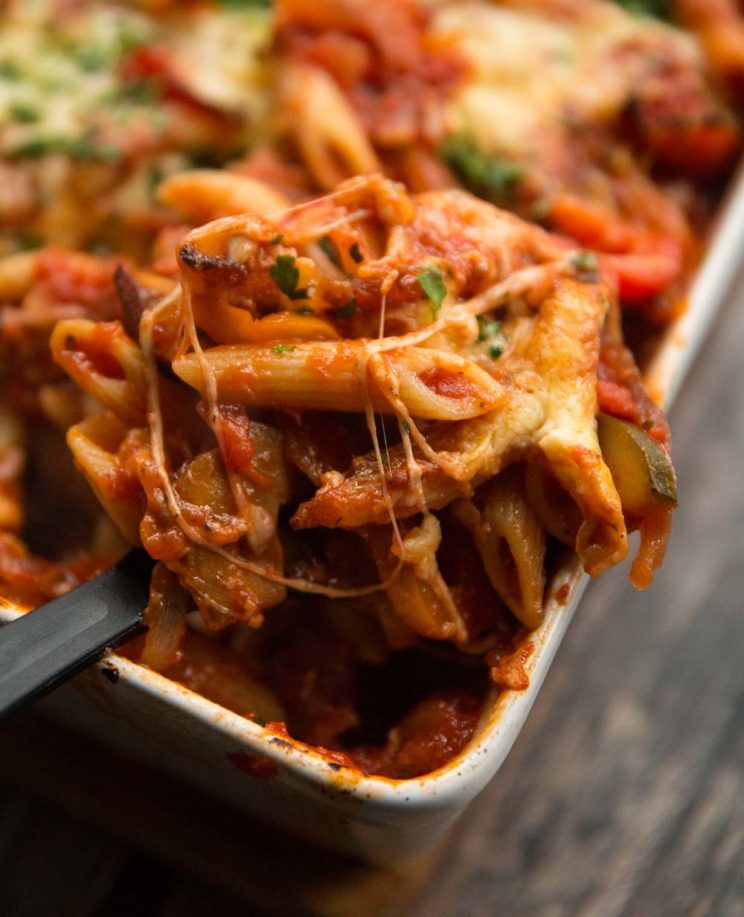 Easy Vegetable Pasta Bake
The other great thing about a veggie pasta bake besides being an awesome way to use up leftovers, is the fact it's so freakin' easy to make. Literally no/little cooking ability needed. Vegetable pasta bakes are supposed to be stress free, and that's exactly what this one is.
With the same token, I have made more pasta bakes than I care to admit, so along the way I have picked up some top tips For the best Pasta Bake:
Tips for the perfect veggie pasta bake
Al dente pasta – You only want to cook the pasta until it's just about done, so take a few minutes off of the packet instruction. If you fully cook the pasta, it's going to come out broken and sloppy after it's baked.
Stir fry veg – Same with the veg, you don't want it too soft and sloppy when it comes out the oven. When frying, make sure you quickly fry over high heat, enough to caramelize the veg, but not get it too soft.
Herbs – Always good to take the flavour up a notch! Here I use dried oregano and basil, then fresh parsley to serve.
Cheese – Because really, is a pasta bake a pasta bake if it's not bombarded with cheese!? More on this in just a sec.
How to make Vegetable Pasta Bake (quick summary)
Heat oil until smoking hot.
Add veg and stir fry.
Stir in tomato puree/paste.
Add chopped tomatoes, veg stock, seasoning.
Simmer to thicken.
Add pasta.
Can I roast the veg instead of stir fry 🤔 – You sure can! I just recommend grouping together the veg that will cook at the same rate i.e root veg like carrots potatoes etc will take longer. A good drizzle of olive oil and salt & pepper, big oven tray and roast at 200C/390F.
Cheesy Vegetable Pasta Bake
Okay, put quite simply, a pasta bake isn't a pasta bake unless there's cheese. Sorry, I don't make the rules!
Best Cheese for Pasta Bake
In my opinion there's two you can't compete with: Cheddar and Mozzarella. I add mozzarella through the middle of the pasta bake, you know, just for that classic cheese pull. Cheddar goes perfectly on top because it goes golden and crispy.
Can you make pasta bake ahead of time?
You can, it's just more important than usual to undercook the pasta, otherwise it'll bloat and absorb the sauce as it rests. I also tend to cool the sauce before combining with the pasta for the same reason. Just make as instructed, with those two points in mind, then cover and store in the fridge until ready to bake. Full transparency I do prefer it freshly baked!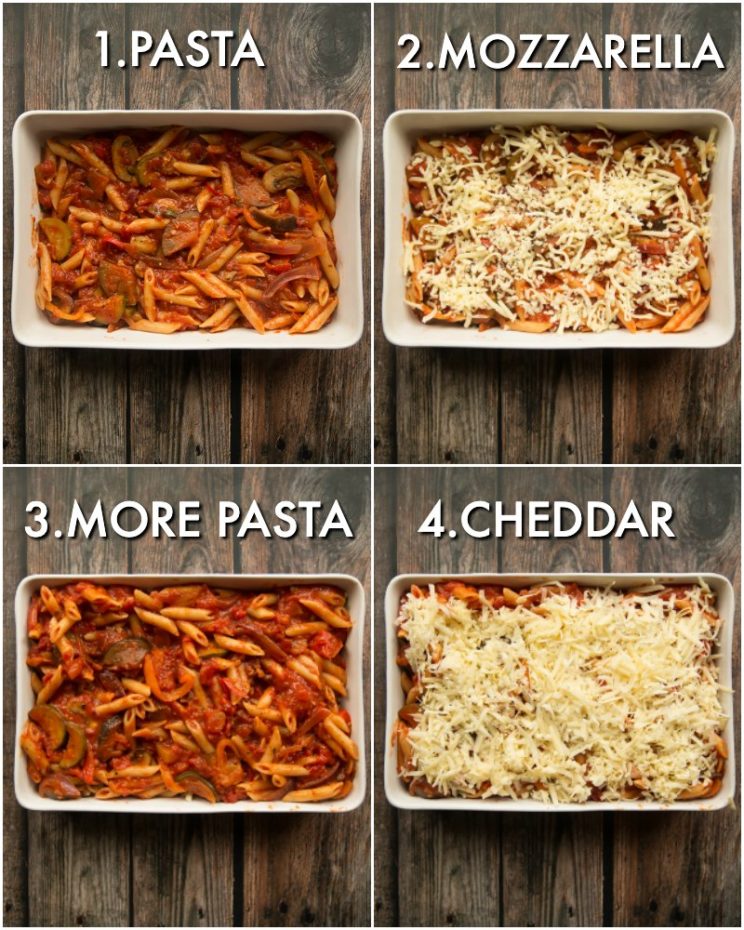 Serving Vegetable Pasta Bake
Once it's out the oven, I let it sit for a few mins, or at least until it stops spitting at me. From there I love a good sprinkling of fresh parsley.
What to serve withVegetable Pasta Bake?
Can I freeze pasta bake leftovers?
Absolutely! Just let the pasta cool then cover and pop in portions in the freezer. I usually defrost in the fridge overnight and reheat in the microwave.
And there we have it! An easy cheesy veggie pasta bake is yours for the taking. If you're looking for more pasta bake recipes then definitely check out my Chicken Pasta Bake, Broccoli Pasta Bake, Taco Pasta Bake and Meatball Pasta Bake!
Alrighty, let's tuck into the full recipe shall we?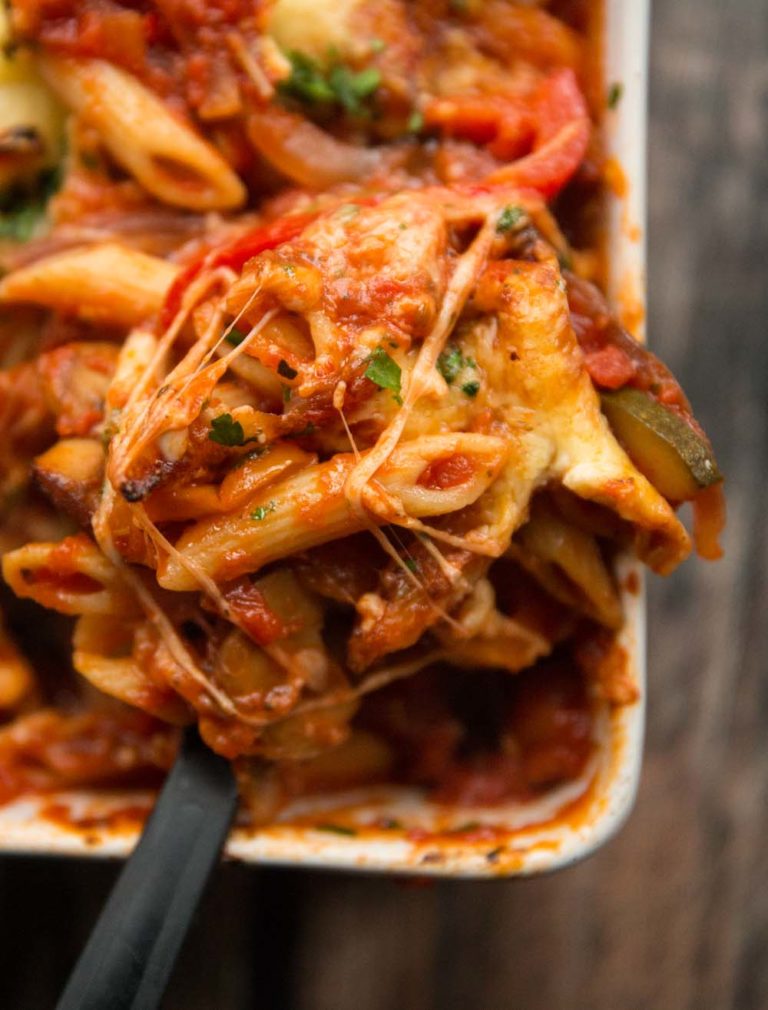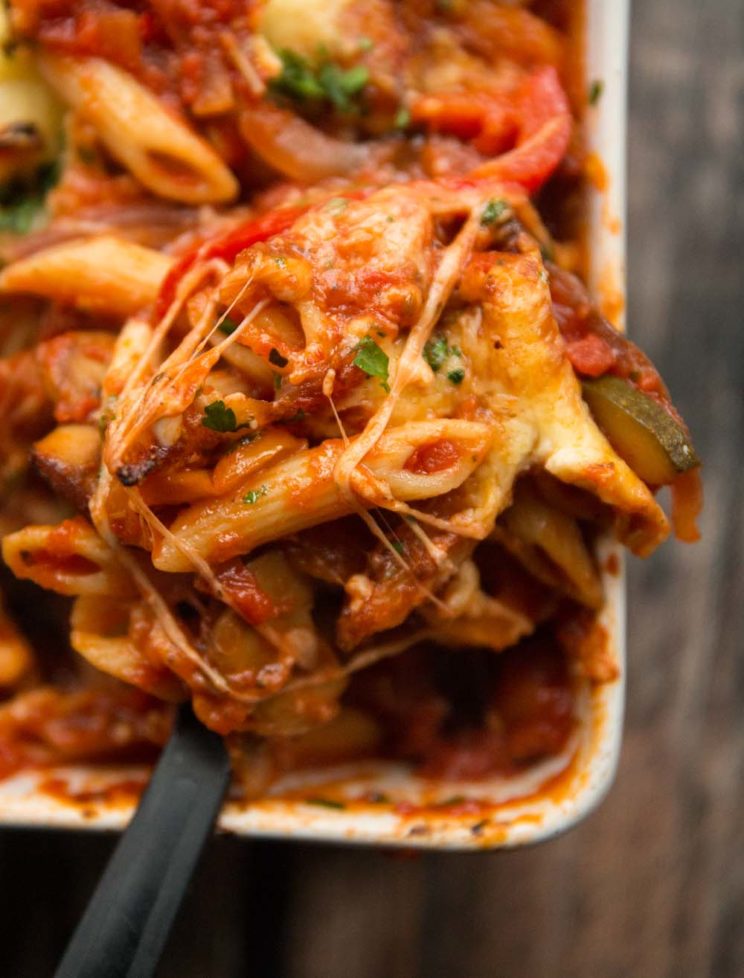 How to make a Vegetable Pasta Bake (Full Recipe & Video)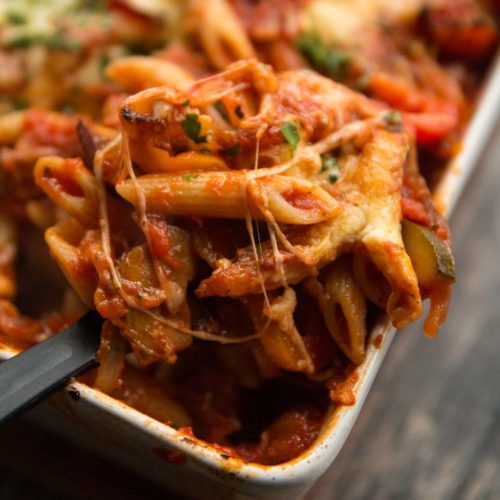 Easy Cheesy Veggie Pasta Bake
Nothing screams comfort food louder than pasta bake & this vegetarian version is no exception. Easy Cheesy Vegetable Pasta Bake - your new favourite dinner ready and waiting!
Print
Pin
Rate
Servings (click & slide):
5
Calories per serving:
380
kcal
Cost per serving:
£1.50 / $2
Equipment:
9x13" Baking Dish (or similar size)

Pot & Colander (for pasta)

Large Deep Frying Pan & Wooden Spoon

Sharp Knife & Chopping Board

Cheese Grater
Ingredients (check list):
10.5oz / 300g

Penne Pasta (or other short-cut pasta)

3x 14oz/400g

cans of

Chopped Tomatoes

1.5 cups / 150g

Cheddar, grated (or more as you like)

1 cup / 100g

Mozzarella, shredded

1 cup / 250ml

Vegetable Stock

3.5oz / 100g

EACH:

sliced Red Onion, sliced Peppers, sliced Mushrooms, diced Eggplant/Aubergine, diced Zucchini/Courgette (1lb/500g Veg in total)

2

tbsp

Tomato Puree (Tomato Paste in US)

1

heaped tsp EACH:

Dried Oregano, Dried Basil

1

tsp

Garlic, minced

1/2

tsp

Chilli Flakes, or to taste

1/2

tsp

Sugar, or to taste

1

tbsp

Vegetable Oil
Salt & Black Pepper, to taste
Fresh Parsley, to garnish
Instructions:
Heat up 1 tbsp vegetable oil in a large deep frying pan over high heat until it begins to smoke. Add in all 1lb/500g of your veg and begin to stir fry. Shake the pan frequently so the veg doesn't steam itself, you want the veg nicely browned and still a little firm. The veg will cook through properly as you simmer the sauce and bake in the oven, so don't worry too much if it's browned but not completely cooked through.

Add 1 tsp garlic and a pinch of salt and pepper, continue stir frying for another 1-2mins until the garlic browns.

Turn heat down to medium and stir in 2 tbsp tomato puree. Fry the puree for 1-2mins, then add 3x 14oz/400g cans of chopped tomatoes. Add a drizzle of water to the cans and shake out all the tomato juice.

Pour in 1cup/250ml vegetable stock, then add 1 heaped tsp oregano & basil, 1/2 tsp sugar and chilli flakes (or to taste) and salt & pepper (to taste). Give it a good stir then simmer for 15mins, or until it starts to thicken slightly.

Meanwhile, add 10.5oz/300g pasta to salted boiling water and boil until al dente. You want it still a bit hard otherwise it'll go soft and mushy in the oven. Drain and combine with sauce. Preheat oven to 200C/390F.

In a suitably sized baking dish, spoon in half your pasta, top with 1cup/100g mozzarella, spoon over the rest of your pasta and top with cheddar (to you hearts content). Bake in the oven for 20mins or until golden and bubbly on top.

Allow to cool for a few mins then serve with an extra helping of fresh parsley!
Notes:
a) What Vegetables to use? - You can really use any you want, I just recommend using 1lb/500g's worth! I usually go for whatever is lurking about in the fridge, and the above veggies are the usual suspects. Broccoli, sweetcorn, asparagus and carrot all work great too!
b)Stir fry veg - To ensure the veg doesn't turn too soft and sloppy in the oven, quickly fry your veg over high heat to ensure it takes on some colour, but stays slightly firm before you add the sauce and bake. If the heat is too low the veg will steam and struggle to caramelize properly.
c) Oil - Because you're stir-frying over high heat, you want to use an oil with a high smoking point like vegetable, canola or rapeseed oil. Not olive oil.
d) Cheese - I love adding mozzarella through the centre for a nice bit of cheese pull, but this is optional. Cheddar on top is a classic, I always go for a nice strong cheddar for a punch of flavour. Could also use parmesan.
e) Al Dente Pasta - To avoid the pasta becoming sloppy and breaking up in the oven, you want to under-boil it by a few minutes. You only want it to just be cooked before you add it to the sauce.
f) Leftovers - Allow pasta to cool, then cover and pop in the fridge or freezer. If freezing, I usually allow to thaw in the fridge over night then reheat in portions in the microwave.
g) Serving/Calories - Serves 5 big portions of 6 with a side of Garlic Bread. Calories based on sharing between 5 with no side.
Your Private Notes:
Nutrition:
Nutrition Facts
Easy Cheesy Veggie Pasta Bake
Amount Per Serving
Calories 380
Calories from Fat 184
% Daily Value*
Fat 20.47g31%
Polyunsaturated Fat 1.942g
Monounsaturated Fat 6.304g
Cholesterol 52mg17%
Sodium 377mg16%
Potassium 932mg27%
Carbohydrates 33.42g11%
Protein 18.68g37%
Vitamin A 3281IU66%
Vitamin C 67.6mg82%
Calcium 387mg39%
Iron 1.71mg10%
* Percent Daily Values are based on a 2000 calorie diet.
Nutrition is based on the absence of salt unless stated as a measurement in the ingredients. Cost is worked out based on ingredients bought from UK supermarkets, then divided by the number of servings. In both instances these values are just for guidance. Please check out my FAQ Page for more info.
---
If you loved this Vegetable Pasta Bake then be sure to Pin it for later! Already made it or got a burning question? Give me a shout in the comments below and pick up your free ecookbook along the way!