This Broccoli Pasta Bake recipe will change the way you make pasta bake forever. Here I also show you how to prep and cook broccoli in the most delicious way imaginable!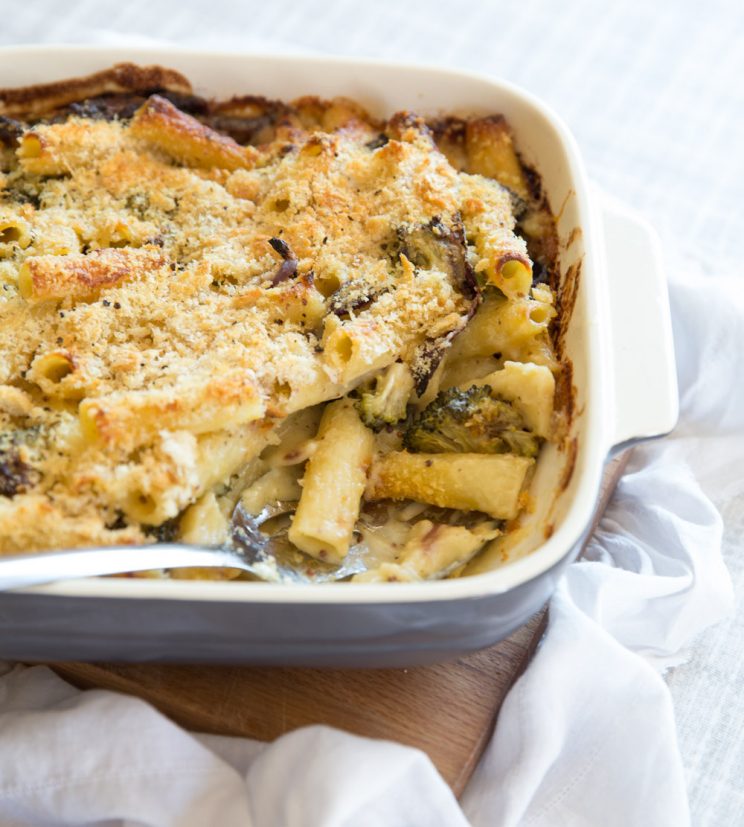 Roasted Broccoli Pasta Bake
Creamy cheesy goodness topped with a crunchy pasta bake topping, loaded with broccoli. Yep, broccoli. Just one more time, b-r-o-c-c-o-l-i.
Look I'll be honest with you here, I'm not usually a massive fan of broccoli. I kinda made it my mission to fall in love with it because I knew I was missing out. Turns out I've been cooking it wrong all these years. So classic vegetable pasta bakes that include broccoli just chuck the florets in the water to cook with the boiling pasta right?
Wrong.
When I tell you that roasting broccoli will change your entire outlook on life, I'm not exaggerating.
Why roast the broccoli?
Beats Boiling – When you boil broccoli it tends to soak up and cling on to water. It then releases it when baked, resulting in a slightly watery sauce.
Flavour – The caramelization you get from roasting broccoli just can't be beaten by boiling/steaming!
Extra Goodies – You can add in extra goodies in the roasting dish! Here I add red onion and slices of garlic.
No more having an explosion of water in your mouth from where the broccoli florets soaked it all up. Just some beautifully crisp and tender broccoli, seasoned with salt, pepper, onion and garlic. YUM.
How to roast broccoli (quick summary)
Cut the florets from the stem, cutting further into bite-sized pieces.
Combine in a baking dish with red onion, garlic, salt and pepper and toss in olive oil.
Roast at 200C/392F for 15mins or until fork tender and lightly charred.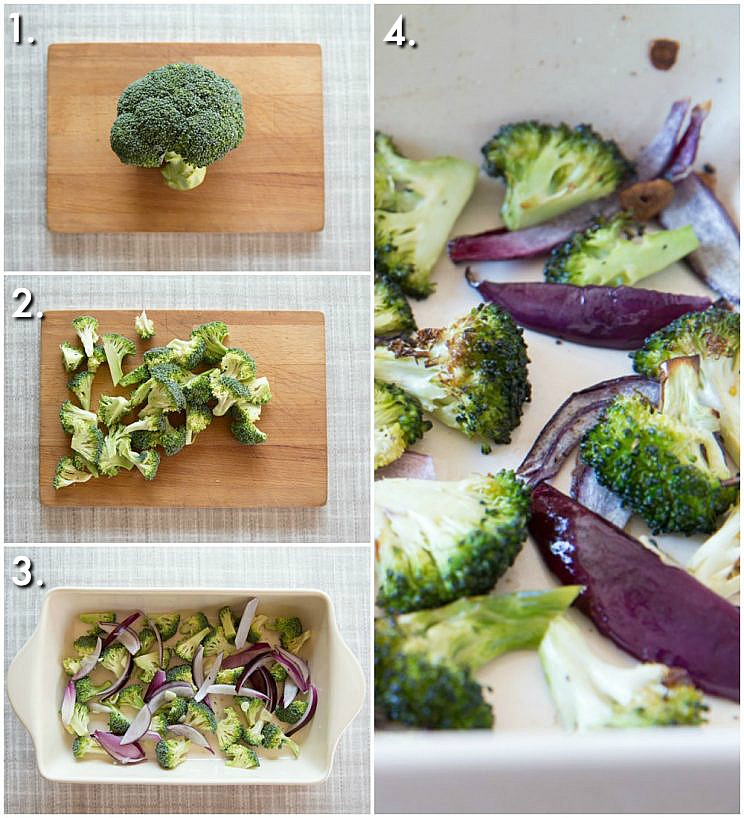 Cheesy Broccoli Pasta
Is a pasta bake really a pasta bake if you've got thrown in copious amounts of cheese? I mean, certainly not in my books anyway!
Best cheese for broccoli pasta bake?
Here I use Gruyere. It's got a gorgeous sweet and nutty flavour to it which pairs beautifully with creamy sauces AND broccoli.
Can I sub Cheddar?
Cheddar broccoli pasta is a popular combo, so if for whatever reason you don't have/want Gruyere just stick with cheddar. In such case I recommend a good quality sharp cheddar for maximum flavour.
How to make a cheesy broccoli pasta (quick summary)
Melt butter and stir in flour.
Stir in veg stock then milk.
Add wholegrain mustard, nutmeg and seasoning.
Add gruyere.
Add roasted broccoli/onions.
Stir.
Add pasta.
Stir to combine.
BEST Broccoli Pasta Bake
From there, it's oven time. The pasta will be delicious as it is, but baking it in the oven is an absolute game changer!
Tips for the best broccoli pasta bake
Al dente – It's crucial to only just cook your pasta. If you cook it to packet instruction, by the time you've finished baking it's gonna be waaaaaay to soft.
Topping – As far as I'm concerned, a pasta bake ain't a pasta bake unless it's got a crispy, crunchy top. A sprinkle of breadcrumbs, a few sprays of olive oil and some seasoning should do the trick.
Bake, not Broil – I know it sounds obvious, but make sure you give it a good 20mins in the oven. It's way to tempting to chuck it under the grill or give it a quick bake, but the difference is huge. The way the cheese clings to the pasta and the topping goes golden is just too good to miss out on.
Can I make broccoli pasta bake ahead of time?
Sure! I do think it's best made fresh, but you can certainly prepare in advance. I recommend making the sauce and allowing it to cool a little before combining with the pasta (or it'll start cooking the pasta). Leave off the breadcrumbs, cover and store in fridge (3-4days) or freeze then thaw, top with breadcrumbs and bake as the recipe suggests. The sauce will be slightly thinner than if making fresh and important to undercook the pasta or it'll bloat and be soggy when baked.
If you're looking for more pasta bakes recipes then definitely check out my Veggie Pasta Bake, Chicken Pasta Bake, Taco Pasta Bake and Meatball Pasta Bake! Also give these a ganders if you've got a sec:
Delicious recipes using broccoli
Alrighty, let's tuck into the full broccoli pasta bake recipe!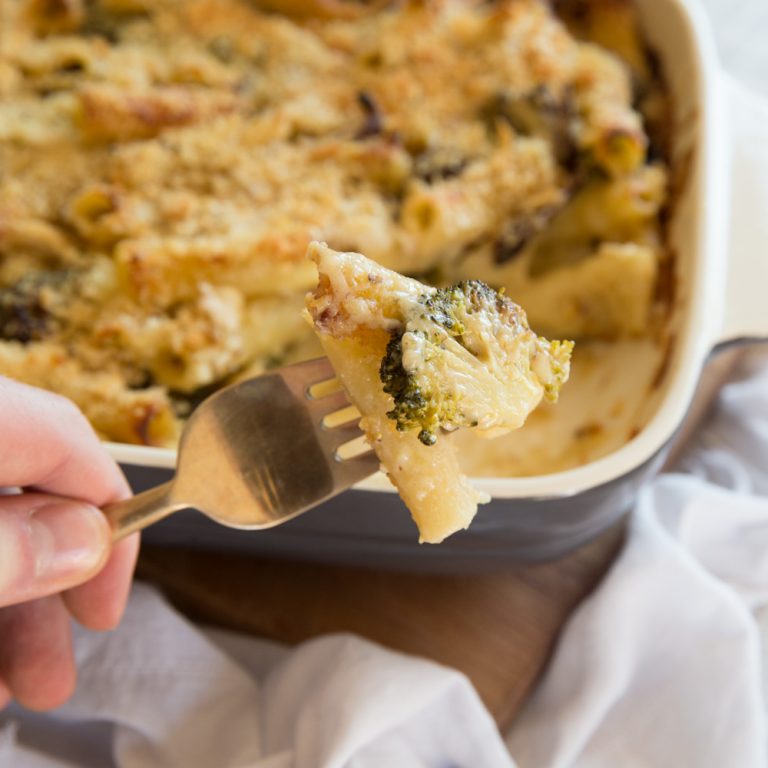 How to make Broccoli Pasta Bake

(Full Recipe & Video)
Broccoli Pasta Bake
This Broccoli Pasta Bake recipe will change the way you make pasta bake forever. Here I also show you how to prep and cook broccoli in the most delicious way imaginable!
Print
Pin
Rate
Servings (click & slide):
4
Calories per serving:
465
kcal
Cost per serving:
£2 / $2.50
Equipment:
Large Deep Frying Pan & Wooden Spoon

Suitably Sized Baking Dish

Large Pot & Colander

Jug (for stock)

Sharp Knife & Chopping Board

Cheese Grater
Ingredients (check list):
300g / 10.6oz

Rigatoni (or short cut pasta of choice)

1.25 cup / 300ml

Milk, at room temp

1.25 cup / 300ml

Vegetable Stock

2 cups / 200g

Gruyere Cheese, can sub cheddar (see notes)

2

tbsp

Butter

2

tbsp

Flour

1

small head of

Broccoli, sliced into bite sized florets

1

small

Red Onion, peeled & sliced

1

clove of

Garlic, peeled & finely sliced

1

heaped tsp

Wholegrain Mustard

pinch of

Nutmeg

1

slice of

Bread, pulsed into crumbs (see notes)
Olive Oil/Oil Spray, as needed
Salt & Black Pepper, to taste
Instructions:
Place your broccoli, onion, garlic, a good drizzle of olive oil and salt & pepper in a suitably sized baking dish and roast for 15-20mins at 200C/392F or until fork tender and lightly charred. Timings will differ depending on the size of broccoli, just keep an eye on it as broccoli can burn quickly.

Meanwhile, place your pasta in salted boiling water and cook until a dente. Pasta should be a touch hard still, if it's fully cooked it'll come out sloppy when baked.

At the same time, melt your butter in a suitably sized pan. Add flour, then stir into a paste. Gradually add your milk, stirring throughout, then gradually and your vegetable stock. Make sure it's gradual and you keep stirring or lumps will form. Leave to simmer until thickened.

Once thickened, add gruyere, mustard, nutmeg and seasoning, then add in the broccoli, onions and garlic. Drain pasta and combine.

Pour back into your baking dish, top with breadcrumbs, olive oil spray, seasoning and bake for 20mins at 200C/392F or until golden brown.
Quick 1 min demo!
Notes:
a) Gruyere - Gruyere has a gorgeous sweet and nutty twang to it, which works perfectly in this recipe. You'll find it in nearly all supermarkets/grocery stores. If you don't have it/want to use it, you can sub cheddar. In such case I recommend a good quality sharp cheddar for maximum flavour. b) Al dente pasta - Like mentioned in the method, you want to boil the pasta until it's just al dente. Anymore and it'll turn sloppy when baking. c) Breadcrumbs - Best to use bread that's ever-so-slightly stale and pulse it in a food processor. If you have ready made breadcrumbs (extra points for Panko) just use them. Just a light coating to cover the pasta, but not so much it soaks up all the sauce. d) Calories - based on using 1 tbsp worth of olive oil to coat the broccoli/onions and 10 sprays on the breadcrumb topping.
Nutrition:
Nutrition Facts
Broccoli Pasta Bake
Amount Per Serving
Calories 465
Calories from Fat 214
% Daily Value*
Fat 23.74g37%
Polyunsaturated Fat 1.58g
Monounsaturated Fat 7.52g
Cholesterol 67mg22%
Sodium 507mg21%
Potassium 675mg19%
Carbohydrates 41.54g14%
Protein 24.54g49%
Vitamin A 3650IU73%
Vitamin C 151mg183%
Calcium 670mg67%
Iron 2mg11%
* Percent Daily Values are based on a 2000 calorie diet.
Nutrition is based on the absence of salt unless stated as a measurement in the ingredients. Cost is worked out based on ingredients bought from UK supermarkets, then divided by the number of servings. In both instances these values are just for guidance. Please check out my FAQ Page for more info.
---
If you plan on making the Broccoli Pasta Bake then be sure to Pin it for later! Already made it or got a burning question? Give me a shout in the comments below and pick up your free ecookbook along the way!