'Start your day the right way with this simple and delicious Sweet Potato Breakfast Skillet. Beautiful hearty ingredients and absolutely packed with flavour!' – Hungry now?  Jump to Recipe 
And what's better is that this is all gonna go down in one pan and one pan only. Because really, who enjoys doing more washing up than they have to?
I always think of this dish as a sweet potato style Shakshuka. You know, that same kind of  'I want to bury my face in that' feeling, just with extra carbs. Which in turn makes me want to bury my face in it more.
*faceplants skillet*
Anywho, sweet potato breakfast skillet. What are we looking at here?
The main bulk is a sweet potato skillet hash, built up of chorizo, onion, garlic, chilli, smoked paprika and of course sweet potato. Gluing that together we've got some gorgeous sunny side up eggs, all finished with a few of my favourite toppings.
This dish is so versatile, you can top with anything your tastebuds fancy! In the past I've torn up some mozzarella, swapped out coriander (cilantro) for fresh parsley and added black beans. All work perfectly! Just use the 7 ingredient I offer here as a base and you won't go wrong!
Either way, rest assured this is the easiest sweet potato skillet recipe you'll ever make.
Hey look! A 1 minute recipe video 🙂
Easy right!?
Anywho let's tuck in 'cause I'm now officially staaaaarving!
This recipe is what I like to call a power breakfast. Absolutely bursting with colour, flavour and mouthwatering textures, you'll be making this dish over and over again, promise.
Grab the full printable recipe just below and be sure to let me know how you all get on in the comments! Until next time 🙂
Sweet Potato Breakfast Skillet
'Start your day the right way with this simple and delicious Sweet Potato Breakfast Skillet. Beautiful hearty ingredients and absolutely packed with flavour!'
Course:
Breakfast, Brunch
Cuisine:
Mexican, Middle Eastern
Ingredients
2

medium

Sweet Potato, peeled & diced into small chunks

3

Eggs

3.5

oz

(100g) Chorizo, diced

1

small

Onion, finely diced

1

clove

Garlic, finely diced

1

Red Chilli, deseeded & finely diced

1

tsp

Smoked Paprika

Olive Oil, as needed

Salt & Black Pepper, to taste
Extras 'n' Optionals
Avocado, sliced

few

Sprigs of Coriander (Cilantro)

few

Cherry Tomatoes, sliced

squeeze

Lime Juice
Method
Begin by frying your chorizo over medium heat, you won't need oil as it will cook in it's own fat. Once soften, add your onion & chilli and then your garlic. Once fragrant, remove from the pan. This process should take no longer than 5 mins.

If there isn't enough oil left in the pan from the chorizo, heat up some olive oil as needed. Begin frying your sweet potato over low-medium heat, turning occasionally, until golden brown on the outside and soft throughout (10-15mins).

Stir back through your chorizo mixture with 1 tsp of smoked paprika. Season to taste and create 3 spaces for your eggs.

Carefully crack your eggs in the gaps and place a lid over the pan. Turn the heat to low and allow the gentle heat and steam cook your eggs to preference.

Serve hot with any extra toppings!
Recipe Notes
a) To make sure all your ingredients fit perfectly into your pan, once you've chopped everything place it into the pan BEFORE you start cooking to test. 
b) If you don't like spice, replace the red chilli with red pepper (capsicum).
c) Cooking the eggs is completely to preference. I like mine runny and I think that works well for this recipe. However if you like them more well done then skip covering the pan and place under the grill.
d) This recipe screams for some buttered bread to dip in the eggs and make a breakfast bruschetta kinda thing. Just saying 🙂
e) Calories based on 3 people, using 1 tbsp of added olive oil and before the 'extras n optionals' are added.
---
If you like this Sweet Potato Breakfast Skillet, you'll LOVE my Roasted Sweet Potato and Black Bean Quesadillas!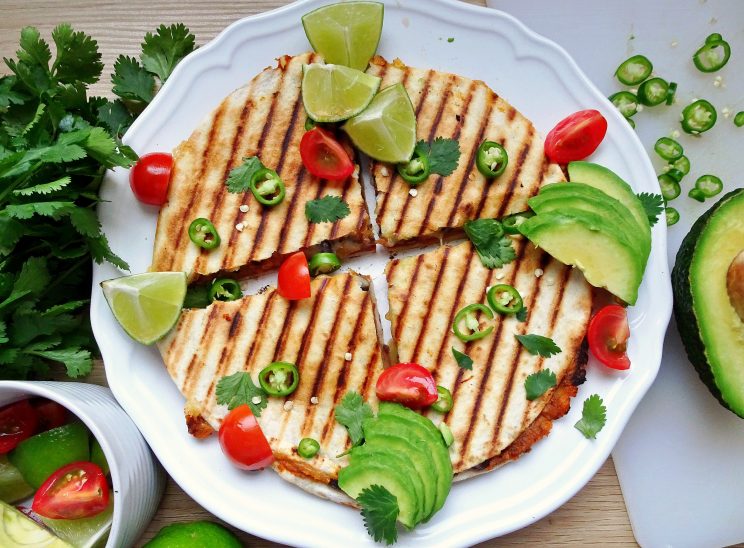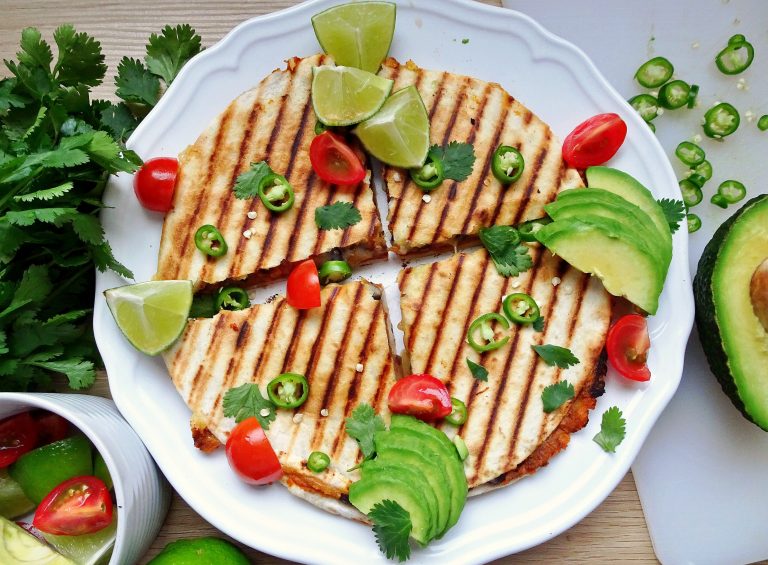 ---
---
Cheers guys, this has been ' Sweet Potato Breakfast Skillet '. Comment, share, do whatever you fancy but for crying out loud don't go bacon my heart. See you next time 🙂