'Create the ultimate Cafe Style Smashed Avocado on Toast in the comfort of your own home, for a fraction of the price. Perfect for lazy brunches!' – Hungry now? Jump to Recipe
If living in Melbourne taught me one thing, it's that eating overpriced smashed avocado on toast was a weekly occurrence for everybody. No matter your location or bank balance, you will find the most over the top smashed avo and pay a ridiculous amount of money for it. It's just the way of life whether you like it or not, a disease that takes over you the second you land in the city.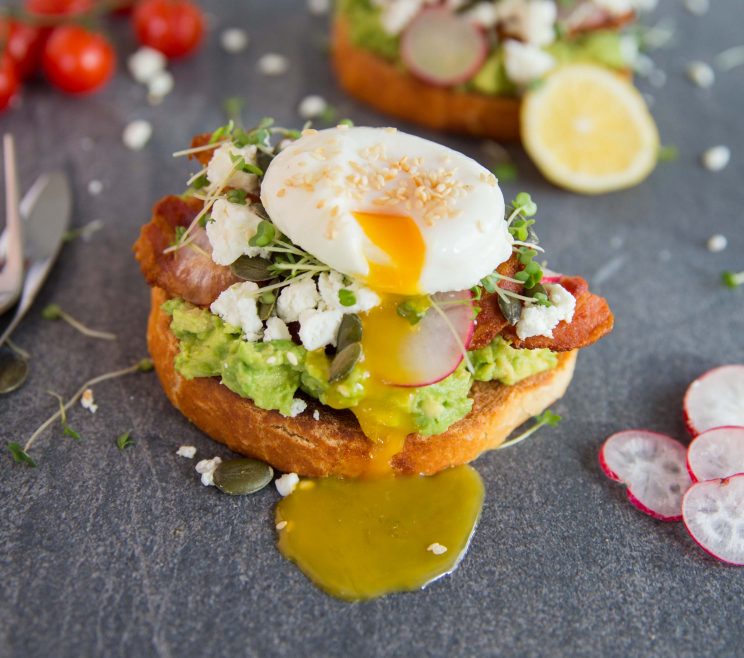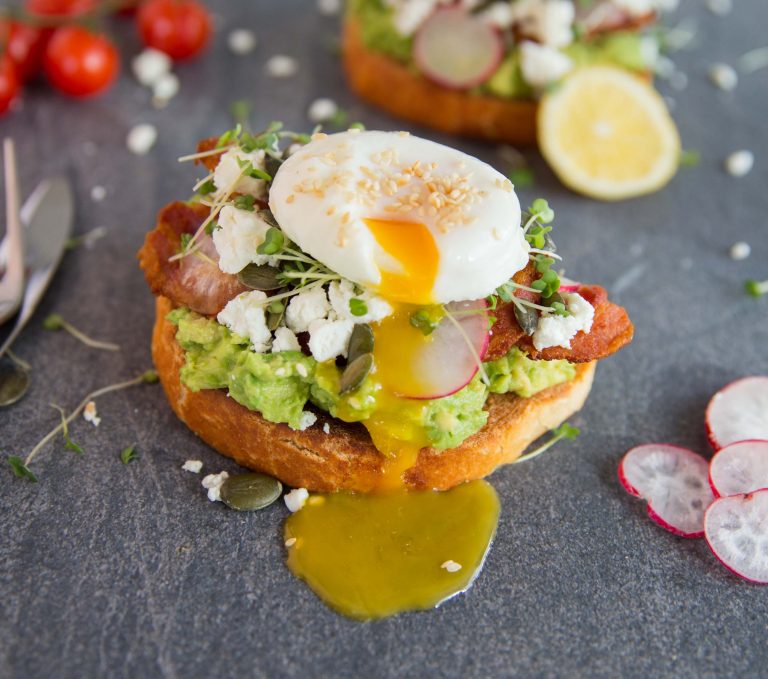 Look, I ate enough smashed avos to nearly send me bankrupt and let me tell you this, it was worth every penny. But it kinda got me thinking, could I bring this beauty from the cafes into the kitchen?
The answer is totally yes.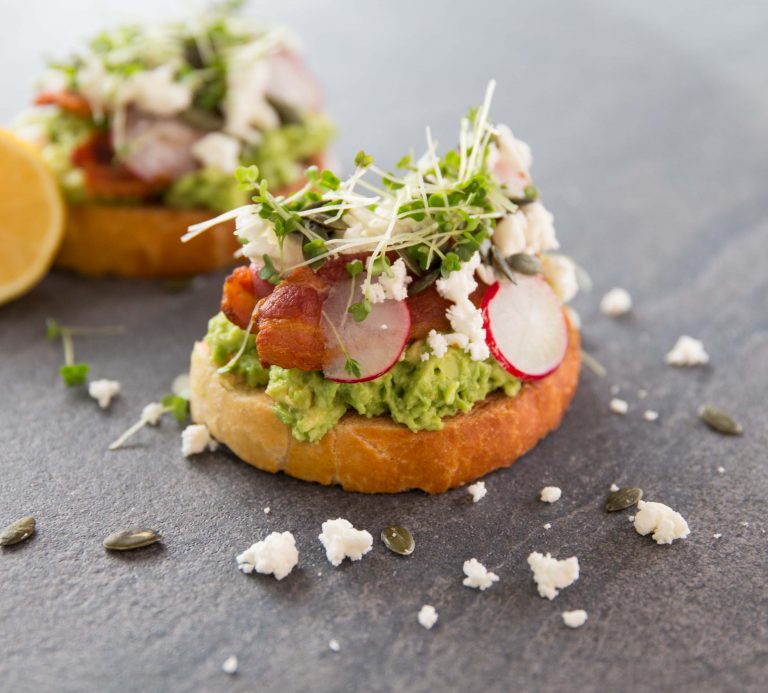 In true cafe style smashed avocado on toast, slightly over the top, yet classy enough to want to face plant. The great thing about this dish is you taken take it as far as you like, there are no rules with the smashed avo and that's the beauty of it!
As a bonafide smashed avo addict, here I offer some inspiration and guidance. For me, this particular combo of ingredients brings everything you need to the table.
Stars of the show
Sourdough Toast
Smashed Avo
Streaky Bacon
Radish
Feta
Pumpkin Seeds
Watercress
Poached Egg
Top tips for the perfect smashed avocado on toast
1. Be gentle with the avo: The key is to lightly smash, not completely mash. Leaving chunks in the bottom layer holds the whole dish together once you start stacking. I much prefer the rustic kinda style of smashed avo rather than a purée smeared on the bottom. Each to their own!
2. Season well: Be sure to bring out the best in the avo with salt, pepper and a squeeze of lemon juice BEFORE you start stacking. Keep the avo the star of the show by enhancing its natural goodness.
3. Balance the flavours: Whatever toppings you choose to add, be sure to balance the sweet, salty and sour components of the dish. Here, my bacon and feta adds saltiness, lemon juice and radish some acidity and pumpkin seeds/toasted sesame seeds a nutty edge to the dish. The egg yolk finishes by adding a beautiful richness, all accompanied with some roasted cherry tomatoes for a little sweetness.
4. Poached Egg: Just because.
So, for your next avocado craving, whip up your very own cafe style smashed avocado on toast. Perfect for brunch and far more affordable than eating out. Use this recipe as inspiration or completely construct your own, either way you're bound to fall under the smashed avocado curse.
Catch you on the next post!
---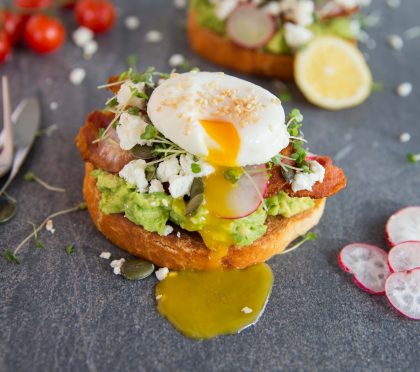 Cafe Style Smashed Avocado on Toast
'Create the ultimate Cafe Style Smashed Avocado on toast in the comfort of your own home, for a fraction of the price. Perfect for lazy brunches!'
Course:
Breakfast, Brunch, Lunch
Ingredients
2

Slices

Sourdough Bread, toasted

1

Large

Avocado, lightly smashed

4

Rashers

Streaky Bacon

4-5

Small

Radishes, sliced

1/4

Cup

(37.5g) Feta, crumbled

2

Tbsp

Pumpkin Seeds

2

Pinches

Watercress

2

Eggs

1/2

Lemon

Salt & Black Pepper

Extra Virgin Olive Oil

5-6

Cherry Tomatoes, to serve
Method
Begin by popping your Tomatoes in the oven until the skin begins to wilt. Meanwhile, fry your Bacon until crisp, pat with a paper towel to absorb excess fat if necessary. Poach your Eggs in lightly simmering water for 3 minutes and place in cold water to stop the cooking process.

Evenly distribute your Smashed Avocado on each slice of toast. Season to taste with Salt, Pepper and Lemon Juice. Stack with Bacon followed by Radish, Feta, Pumpkin Seeds, Watercress and finish with a drizzle of Olive Oil.

Carefully place your Poached Egg on top, sprinkle with Toasted Sesame Seeds and cut just before serving.

Serve with Roasted Cherry Tomatoes and a wedge of Lemon.
---
Cafe Style Smashed Avocado Recipe Video
---
For another great Avocado brunch idea, check out my Stuffed Avocado with Prawns and Mango Salsa!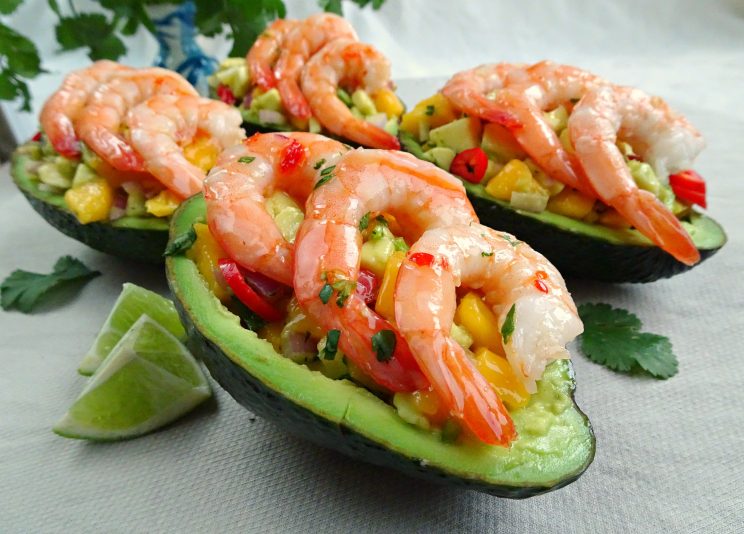 ---

---
Cheers guys, this has been ' Cafe Style Smashed Avocado on Toast ' Comment, share, do whatever you fancy but for crying out loud don't go bacon my heart. See you next time 🙂