How to make the best scrambled eggs without milk, without cream and most importantly without a microwave! There's a few simple but crucial steps in getting the most out of your scrambled eggs and here I'll show you exactly how!
I know what you're thinking, 'who doesn't know how to make scrambled eggs?' and granted, it is difficult to stuff up. However, whilst there isn't strictly a wrong or right way to cook scrambled eggs, there is the best way. Follow me…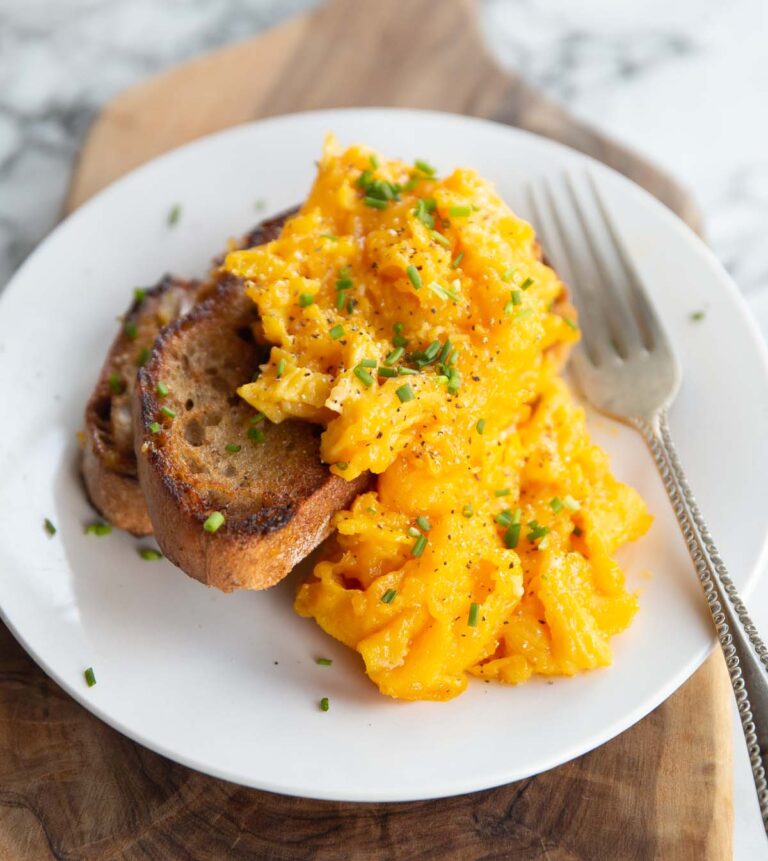 The BEST Scrambled Eggs
For me, the best scrambled eggs are soft and creamy. They're rich in flavour and moist in texture. There's nothing worse than rubbery scrambled eggs that are so overworked they look like rabbit food! For so long I made scrambled eggs by beating the heck out of them in a pan over high heat. However, great scrambled eggs take time and a low heat, which we'll get into in just a sec.
What equipment do you need to make scrambled eggs?
Non-Stick Pan – This is essential to ensure the eggs doesn't catch on the pan.
Whisk – To beat the eggs.
Bowl – Or jug. Just something to beat the eggs in.
Spatula – Better than a wooden spoon so you can cover all the pan and make sure no egg gets caught.
Can you make scrambled eggs in a cast iron skillet?
Technically yes, if it's well seasoned so the eggs don't stick, but cast iron skillets are really for cooking at high heat. Here we want to cook on the lowest heat possible, so I don't recommend using a cast iron skillet. It can also discolour the eggs.
Scrambled Egg Ingredients
As you can imagine, there's really not much to it. Here's what you'll need:
Eggs – Large and as fresh as possible.
Butter – Preferably unsalted, but salted can be used. Just adjust your seasoning as needed.
Salt – To taste.
Pepper – To taste.
Chives – Optional, but they do add a pop of colour and flavour for serving.
Do you put milk in scrambled eggs?
You absolutely do not need to add milk to scrambled eggs. This method will give you rich and creamy eggs without it. The butter also helps!
How many eggs should you scramble for one person?
Generally speaking 3 eggs per person works great.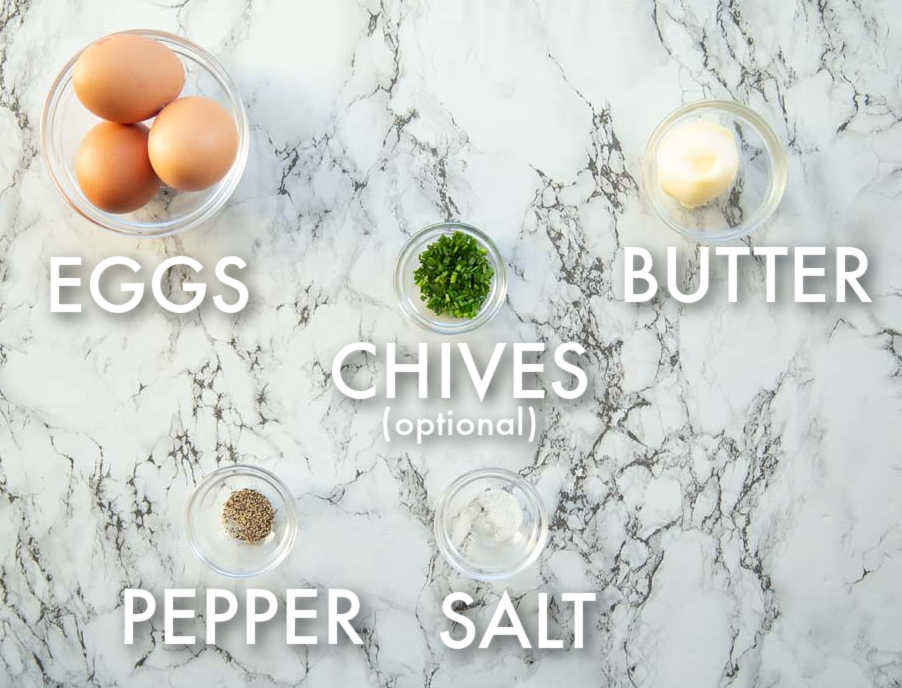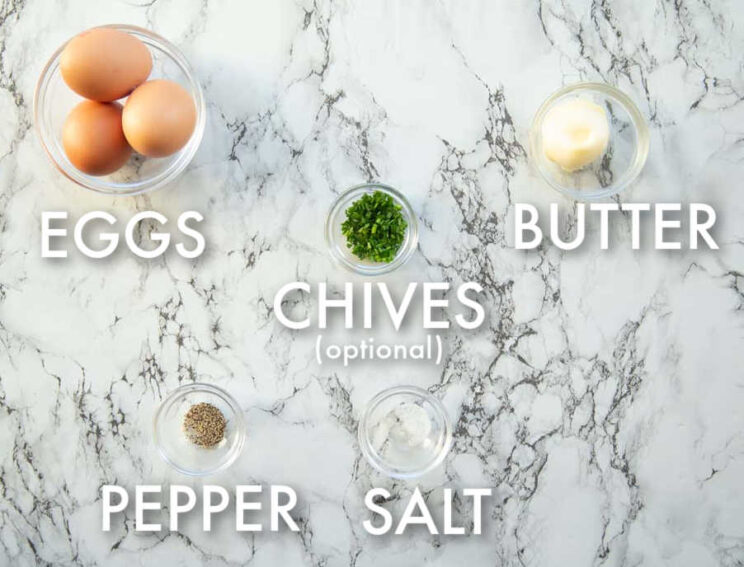 Preparing Scrambled Eggs
The easiest way to get the smoothest eggs is beating with a whisk. You can use a fork, just requires a bit more elbow grease.
Scrambled Egg Seasoning
The next stage is seasoning, which seems to be a controversial topic among the scrambled egg experts. Firstly, no black pepper (at this point), it will discolour the eggs and turn them a little grey. Save the pepper for the end.
Salt on the other hand can be put in at the start. Contrary to popular belief I actually found that this improved the texture of the egg. It's commonly suggested that adding salt to eggs promotes coagulation which in turn promotes that rubbery texture you don't want. I found that the salt actually helps retain moisture in the eggs and keeps them moist. Here's a neat little explanation of pre-salting eggs.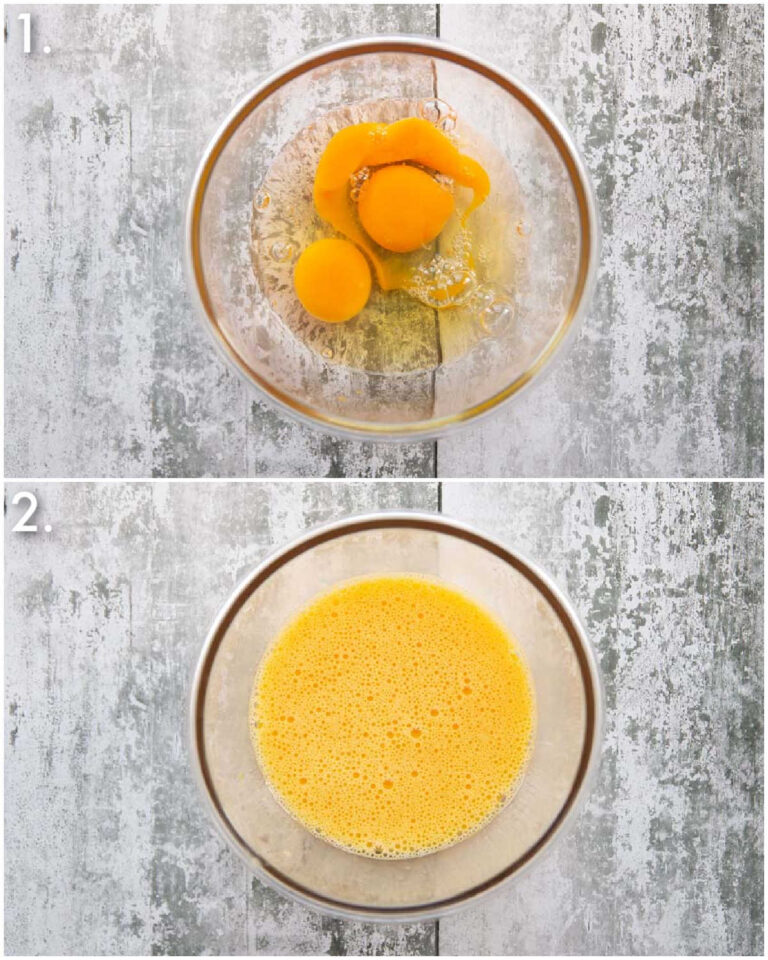 Making Scrambled Eggs
When making scrambled eggs just think: Low – and – slow. Cooking the eggs on a low heat over a long period of time will give you that smooth velvety texture and the creamy taste you're after. You actually want the eggs to catch on the pan as little as possible.
Start off by melting the butter. Don't let it brown or it'll discolour the eggs. Then in goes the beaten eggs and begin gently stirring in long strides.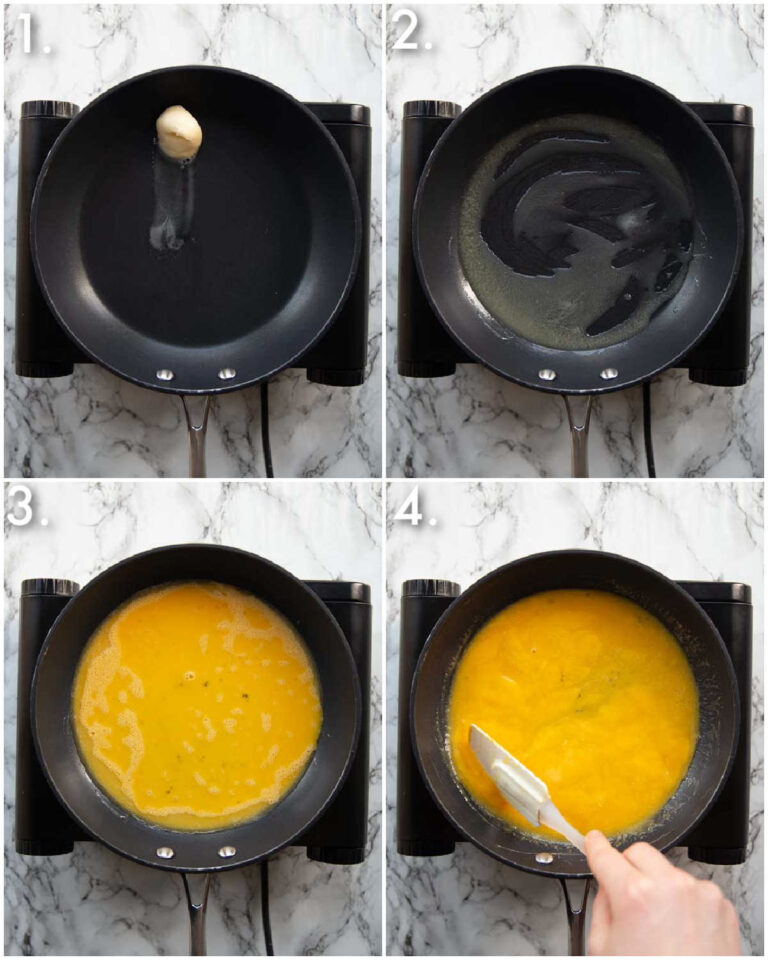 Keeping the heat low, you'll slowly start to see the eggs catch on the pan (seen in the photos below). Like I said this is something you want to try and avoid. So with your spatula stir until the eggs turn into a thick, custardy consistency. At this point you'll see small curds start to form. Start scraping the eggs in a circular motion to start forming long curds.
You want the eggs to be nearly cooked when you take them off the heat. Eggs, especially scrambled eggs, are hugely susceptible to carryover cooking. So whilst the eggs are slightly soft but still a little runny, take them off the heat.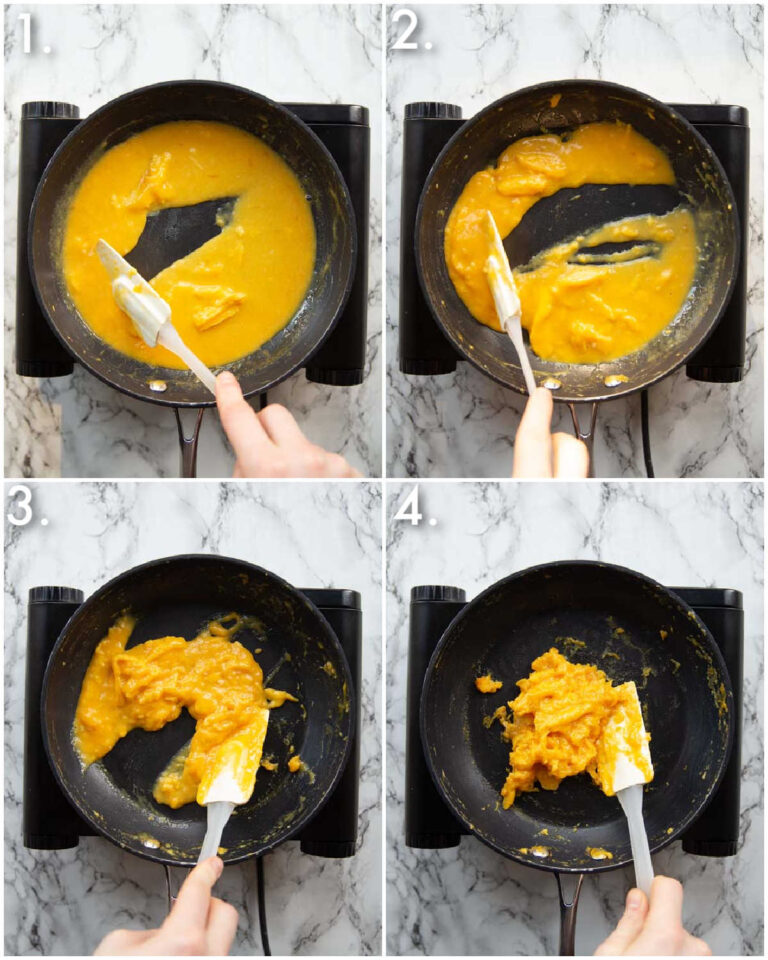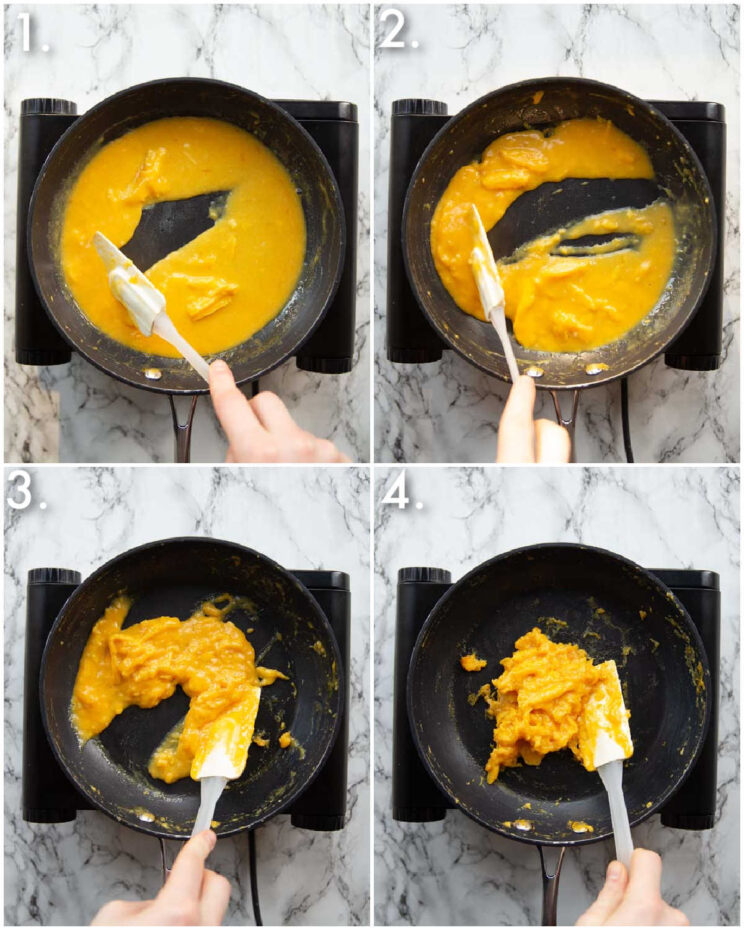 Serving Scrambled Eggs
When it comes to serving, I think simplicity is key. Gordon Ramsay stirs in a tbsp of Crème Fraîche, which I have tried, but honestly I think they're perfect without. However I do like his tip of sprinkling a touch of fresh chives. Now is also when you'd add your black pepper.
You also want some nice bread, don't ruin those gorgeous eggs with some tough old bread you found in the cupboard. Champion those eggs on a bed of your favourite bread. Here I use toasted ciabatta. And for the love of god please no ketchup.
Looking for more ways to serve scrambled eggs? Check out these recipes:
Alrighty, let's tuck into the full recipe for these scrambled eggs shall we?!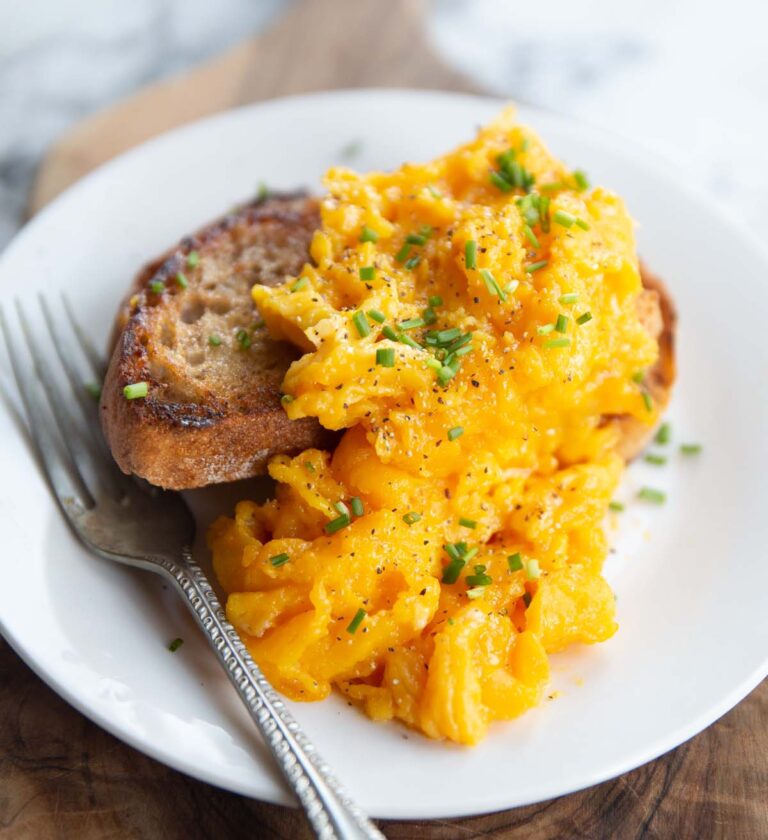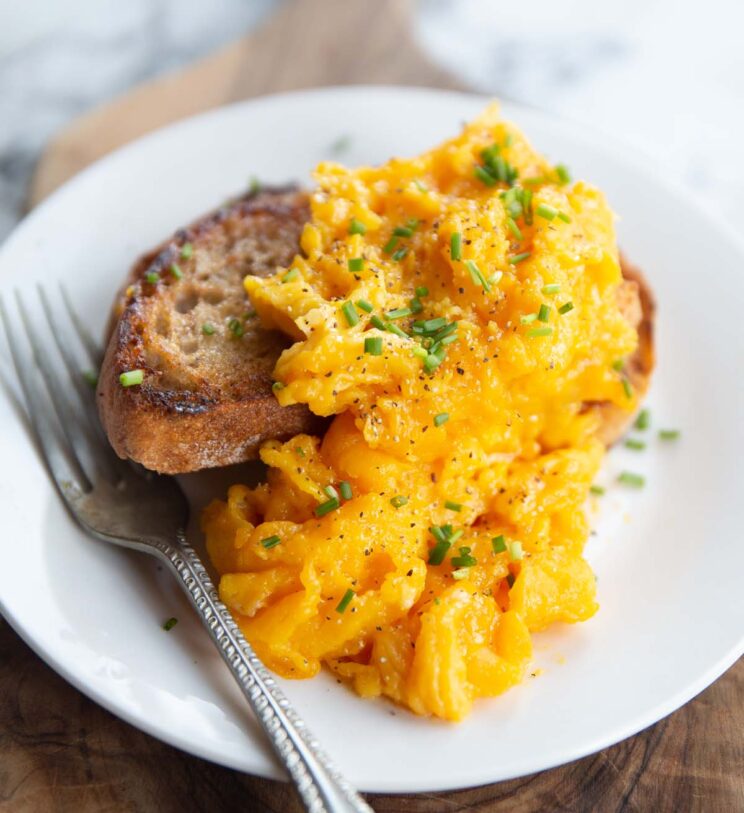 How To Make The Best Scrambled Eggs

(Full Recipe)
How To Make The Best Scrambled Eggs
'How to make the best scrambled eggs without milk, without cream and most importantly without a microwave! There's a few simple but crucial tips in getting the most out of your scrambled eggs and here I'll show you exactly how!'
Print
Pin
Rate
Share by Text
Servings (click & slide):
1
Calories per serving:
514
kcal
Cost per serving:
£2.50 / $3
Equipment:
Non-Stick Pan

Plastic Spatula

Small Bowl

Whisk
Ingredients (check list):
3

Eggs

1

tbsp

Unsalted Butter, can use salted just be cautious of seasoning with too much salt

sprinkle of

Fresh Chives, finely diced
Salt & Black Pepper, to taste
Instructions:
Crack eggs into a bowl, add a pinch of salt then whisk until smooth.

Melt butter in a pan over low heat. Once melted pour in the beaten eggs.

Begin stirring to keep the eggs from catching on the pan. After a few minutes the eggs should start to turn into a thick custardy texture, with smaller curds forming.

At this point stir in a circular motion to form larger curds. Continue gently stirring for a few more mins, making sure the eggs don't catch on the pan. Make sure you stir with long strokes, not tiny rapid ones.

When the eggs have formed into large soft curds, but still very slightly runny, take off the heat. They will continue cooking through the leftover heat from the pan.

Serve on toast with a sprinkle of chives, a grinding of black pepper and extra salt if desired.
Notes:
a) Low and slow - Low heat is key. If you experience the eggs catching on the pan too quickly, take the pan off the stove, lower the heat and then return. This process can take around 10mins! b) Non-Stick Pan - Avoid using a cast iron skillet as it will discolour the eggs to a strange green colour (trust me, I've used one). A good non-stick pan is essential. c) Overcooking - Do not overcook, it's better to take too long than rush them. It's also much easier to put them back on the heat than to try and save overcooked, tough & dry scrambled eggs. Remember, when they're 90% cooked take them off the heat.  d) Calories - based on 2 slices of ciabatta, 3 eggs and 1 tbsp butter.
Your Private Notes:
Nutrition:
Nutrition Facts
How To Make The Best Scrambled Eggs
Amount Per Serving
Calories 514
Calories from Fat 336
% Daily Value*
Fat 37.33g57%
Polyunsaturated Fat 3.133g
Monounsaturated Fat 16.095g
Cholesterol 1871mg624%
Sodium 492mg21%
Potassium 498mg14%
Carbohydrates 13.05g4%
Protein 29.12g58%
Vitamin A 3550IU71%
Calcium 160mg16%
Iron 8.8mg49%
* Percent Daily Values are based on a 2000 calorie diet.
Nutrition is based on the absence of salt unless stated as a measurement in the ingredients. Cost is worked out based on ingredients bought from UK supermarkets, then divided by the number of servings. In both instances these values are just for guidance. Please check out my FAQ Page for more info.
---
If you loved these tips for the best scrambled eggs then be sure to Pin for later! Made this recipe? Let me know how you got on in the comments below and pick up your free ecookbook along the way!