Looking for McDonald's style Hash Browns? Look no further than these Homemade Hash Brown Patties – Crispy on the outside and fluffy on the inside, you'll never need the drive through again!
Ugh, aren't hash browns just the greatest breakfast item of all time!? And I'm not talking shredded hash browns in a pan, I'm talking these hash brown patties. True hash browns 😉 Just look at that golden crispy goodness!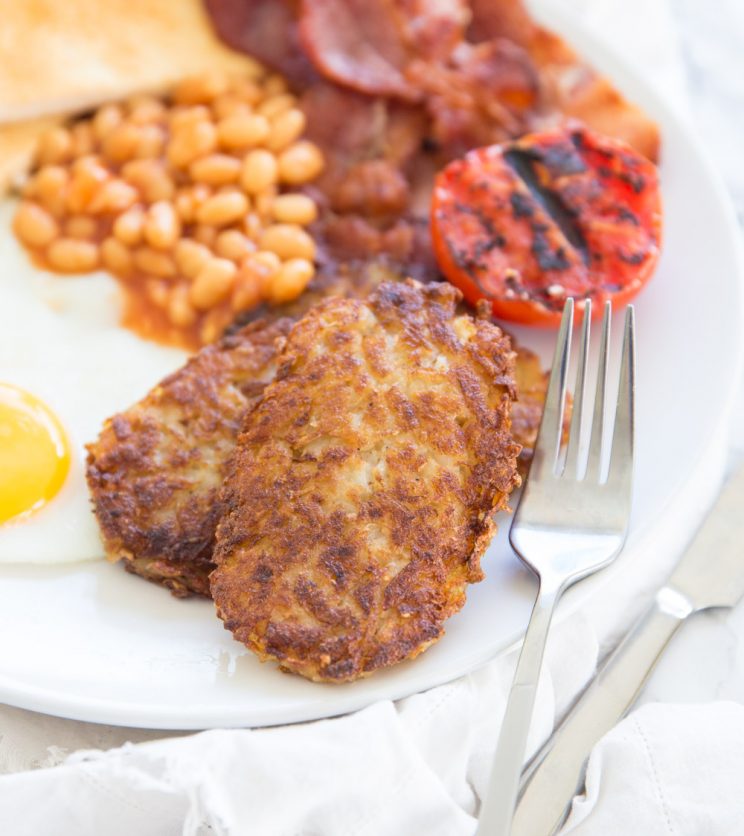 And that's what so perfect about these hash browns, they're so darn crispy!!
We'll discuss how to crispy hash browns in just a sec, but first let's see the minimal ingredients you'll need to whip up a batch.
Hash Browns Ingredients
White Potato (like Maris Pipers, King Edward & Russets)
Shallot
Flour
Oil
Butter
Salt & Black Pepper
And that's it! No eggs, no extra seasoning, just the essentials.
How to prepare Hash Browns
Grab a potato and a box grater.
Grate potato.
Soak in cold water.
Drain.
Pop over a cloth and grate in shallot.
Squeeze the living daylight out of it to get rid of all the moisture.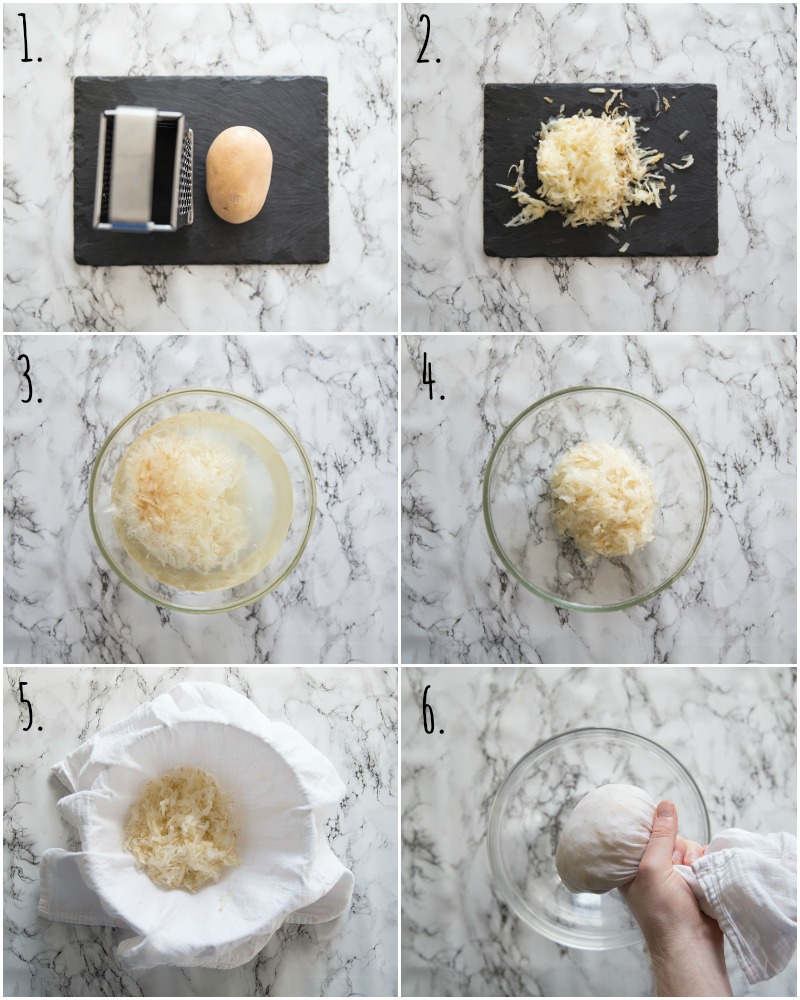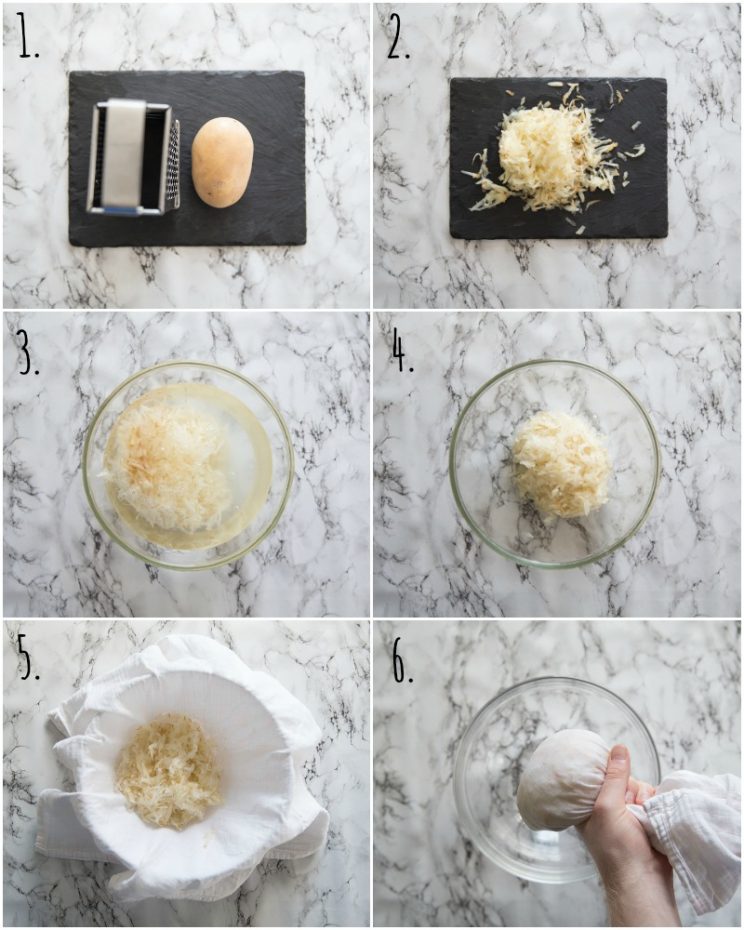 And what you're left is super dry shredded potato, almost the same texture as coconut flakes.
How to shred potatoes for hash browns
As you can see above I simply do this with a box grater. No need to peel, just grate as you'd grate cheese. Not too fine either otherwise it'll turn mushy, medium blade is fine. And watch your finger tips!
Soaking potatoes in water
Potatoes are packed full of starch, which in turn is what prevents potatoes from going crispy when cooked. You know that gloopy taste you sometimes get in the centre of hash browns? Yup, starch. So, just like my crispy sweet potato fries I always soak my potato in cold water to get rid of the starch.
Removing moisture from potatoes
As well containing a large amount of starch, potatoes also contain a large amount of water. Just like starch, trying to fry really moist potatoes is going to result in sloppy hash browns. So, regardless of whether you soak the potatoes or not, you'll have to squeeze out as much moisture as you can before cook them.
Okay, so you've got your dried shredded potato, just mix in a little flour and some seasoning then mould into patties. Make sure they're on the thinner side (more crispy).
How to fry Hash Browns
Heat up a skillet of butter and oil.
Place your hash brown patties in the skillet. You may need to do this in batches.
Fry for 4-5 mins each side OR until golden and crispy.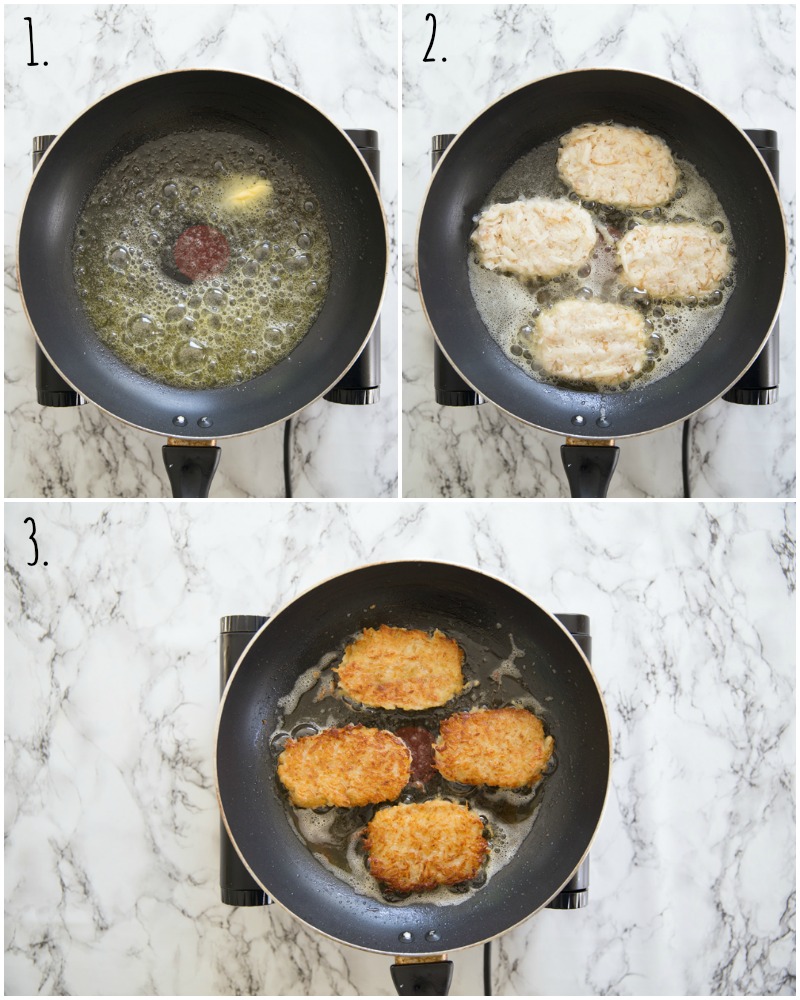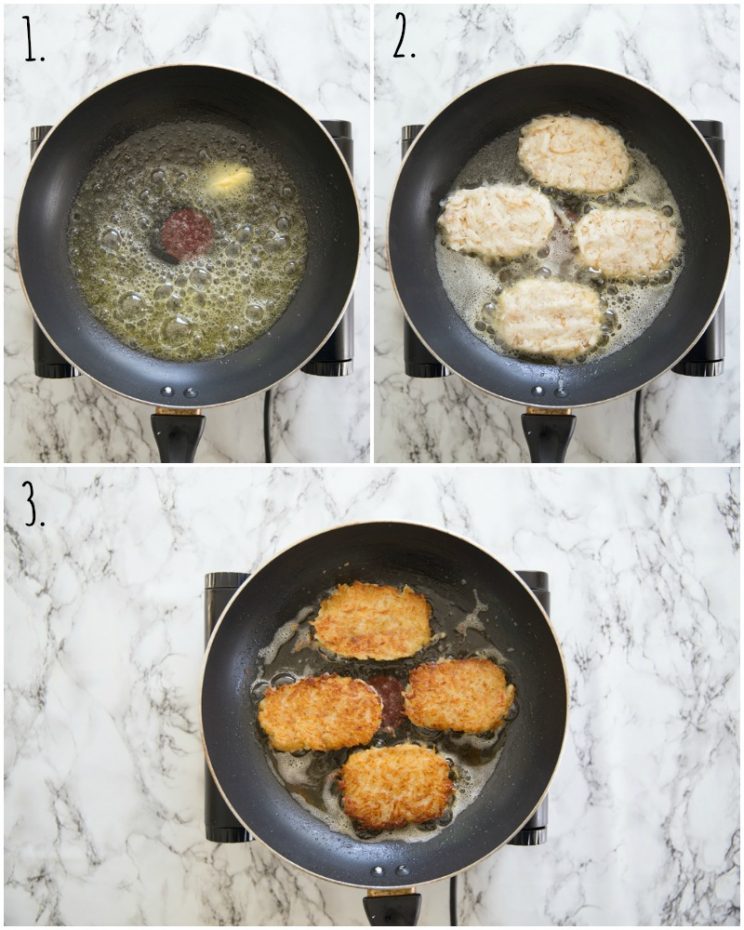 Can I bake Hash Browns?
I have tested this out and you certainly can, but in all honesty they just don't get quite as crispy in comparison to frying. If you were to bake then I'd recommend heating up a little oil in an oven tray before hand and cooking at a high heat. Ensure you flip after around 6-8mins. If you're looking to bake to reduce the fat content then spray in oil and bake that way. But again, just not quite as crispy.
Can you freeze Hash Browns?
You certainly can! Perfect to make in advance. Just fry them at a slightly lower temp in the first instance to defrost them slightly, but apart from that it's the same method.
When it comes to what to serve hash brown patties with, I always go a full English (or American) breakfast, just cause I like to take things too far. BUT a personal fave combo is hash browns and fried egg.
So, just to conclude…
How to get Crispy Hash Browns
Soak the shredded potato in cold water to release the starch.
Squeeze the living hell out of them to get rid of all the moisture.
Mould them on the thinner side of life.
Fry in a good amount of oil.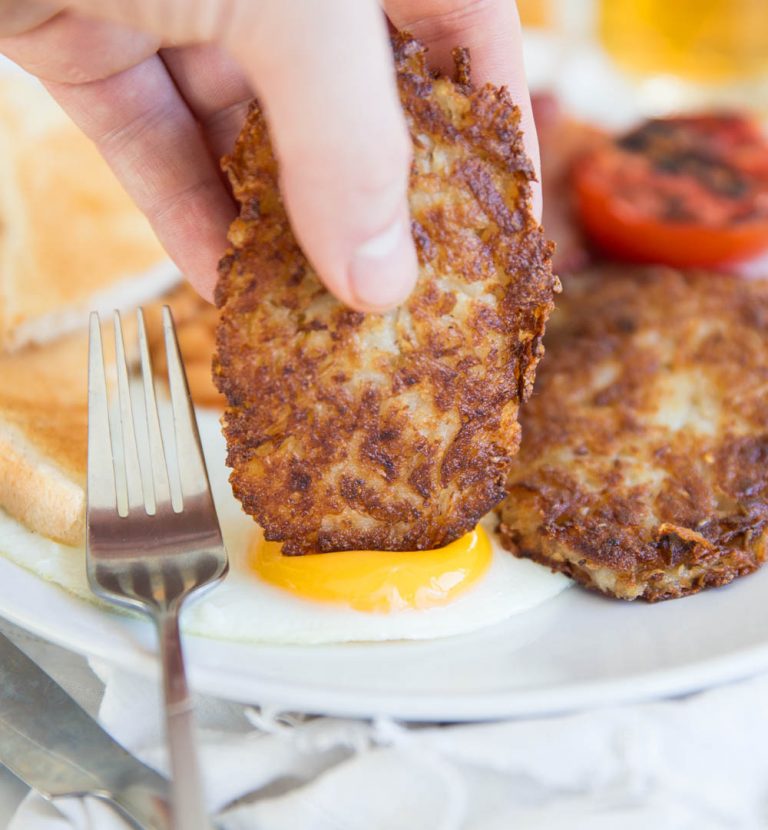 Join the foodie family! – Get awesome recipes sent straight to your inbox by signing up to my Weekly Mailing List (where you'll receive your FREE ECOOKBOOK) and stay in touch on Instagram, Facebook and Pinterest! 🧡
Homemade Hash Brown Patties (Full Recipe & Video)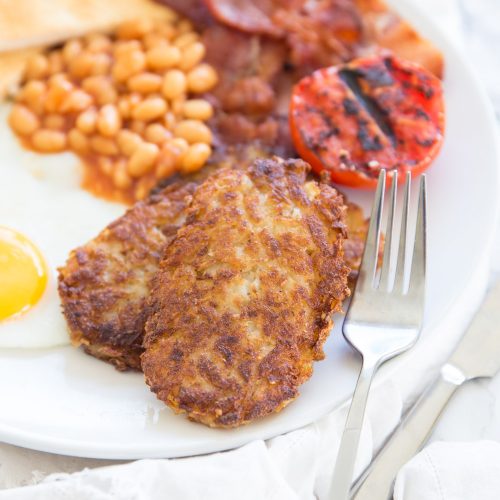 Homemade Hash Browns
Looking for McDonald's style Hash Browns? Look no further than these Homemade Hash Brown Patties - Crispy on the outside and fluffy on the inside, you'll never need the drive through again!
Print
Pin
Rate
Servings (click & slide):
6
Ingredients (check list):
2

large

White Potatoes (Maris Pipers, King Edward & Russets are good choices)

2

tbsp

Plain Flour, or as needed

1

Shallot, peeled

2

tbsp

Vegetable/Sunflower Oil

1

tbsp

Unsalted Butter

Salt & Black Pepper, to taste
Instructions:
Shred your potatoes with a box grater and soak in a bowl of cold water. Swish around with your hand to get out as much starch as possible, then drain.

Place a cloth over your bowl and place your potato on top. Grate over a shallot, then twist into a ball and squeeze out as much moisture as possible.

Place into a bowl and combine with your flour and a good pinch of salt and pepper. Mould into 6 equal oval shapes.


Melt your butter over medium heat with your oil then add your hash browns. Fry for 4-5mins each side OR until golden brown and crispy.
Quick 1 min demo!
Notes:
a) Salting the potatoes - You notice that when you first add the flour it almost becomes too dry to form the patties. However the potato will start releasing a small amount of moisture due to the salt, which in turn helps in forming the patties. Use your flour accordingly to adjust when this happens.
b) Freezing before frying - If your patties are struggling to hold together consider popping them in the freezer for 10 mins to help keep shape before they hit the pan.
c) Forming the patties - Try and mould them on the thinner side, of course the thinner they are the more crispy they will be. 
Nutrition:
Nutrition Facts
Homemade Hash Browns
Amount Per Serving
Calories 96
Calories from Fat 15
% Daily Value*
Fat 1.68g3%
Polyunsaturated Fat 0.111g
Monounsaturated Fat 1.077g
Cholesterol 1mg0%
Sodium 82mg3%
Potassium 402mg11%
Carbohydrates 18.55g6%
Protein 2.22g4%
Vitamin A 50IU1%
Vitamin C 16.5mg20%
Calcium 10mg1%
Iron 0.9mg5%
* Percent Daily Values are based on a 2000 calorie diet.
Nutrition is based on the absence of salt unless stated as a measurement in the ingredients. Cost is worked out based on ingredients bought from UK supermarkets, then divided by the number of servings. In both instances these values are just for guidance. Please check out my FAQ Page for more info.
---
If you loved these hash brown patties then check out my Egg in a Hole Breakfast Bagel!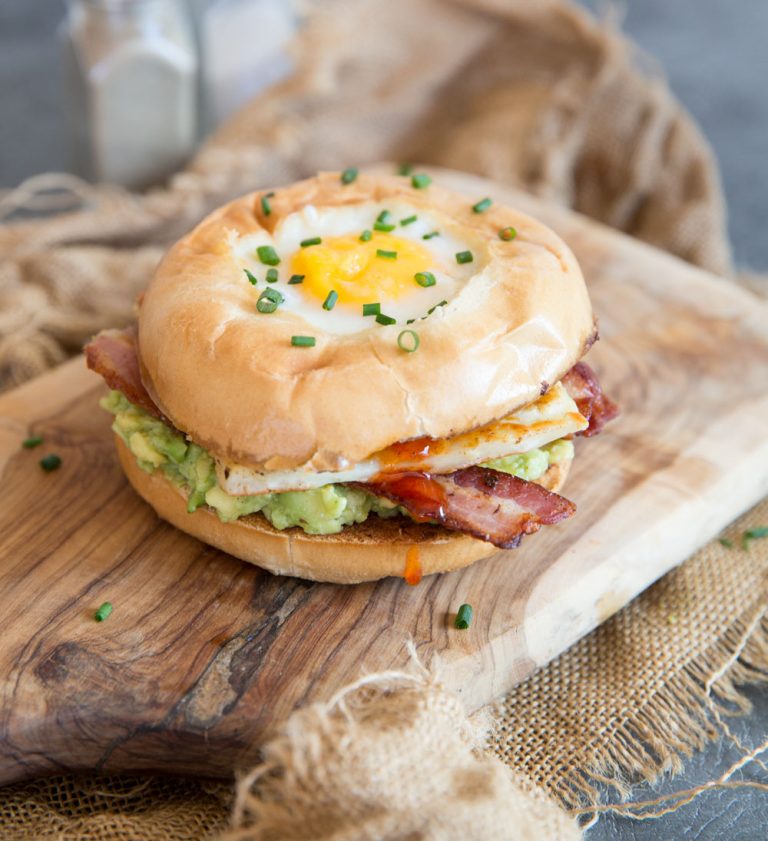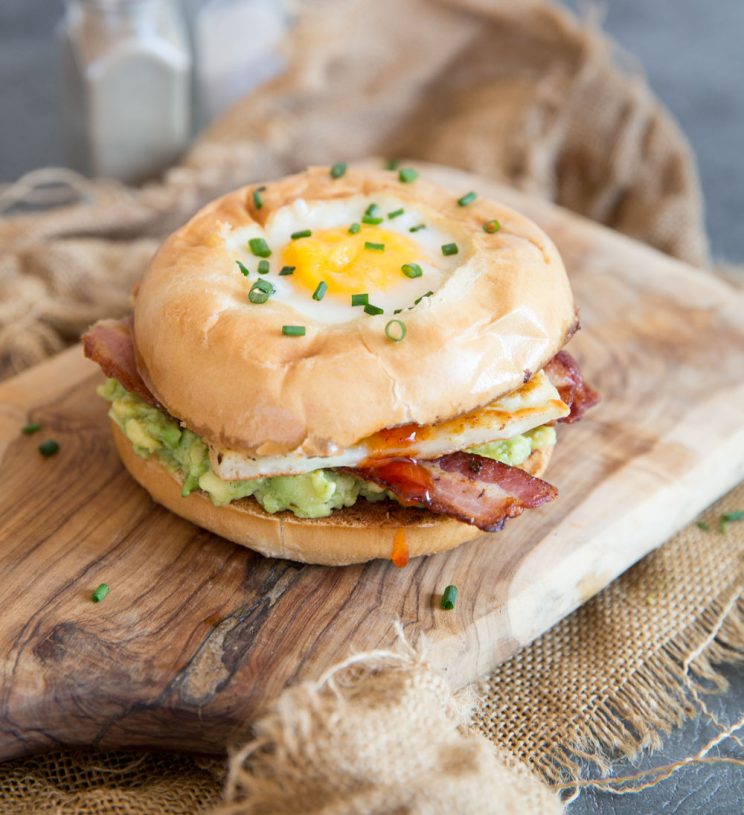 If you plan on making these hash browns then be sure to Pin the recipe for later! Already made them or got a burning question? Give me a shout in the comments below and pick up your free ecookbook along the way!