'Roasted Sweet Potato and Black Bean Quesadillas are the best vegetarian quesadillas you'll ever make. So easy and most importantly really filling and delicious' – Hungry now? Jump to Recipe
Hey ya'll! And welcome to today's edition of 'my blog's name is so contradictory to my love for vegetarian recipes right now'. And in turn, welcome to your new favourite type of quesadilla.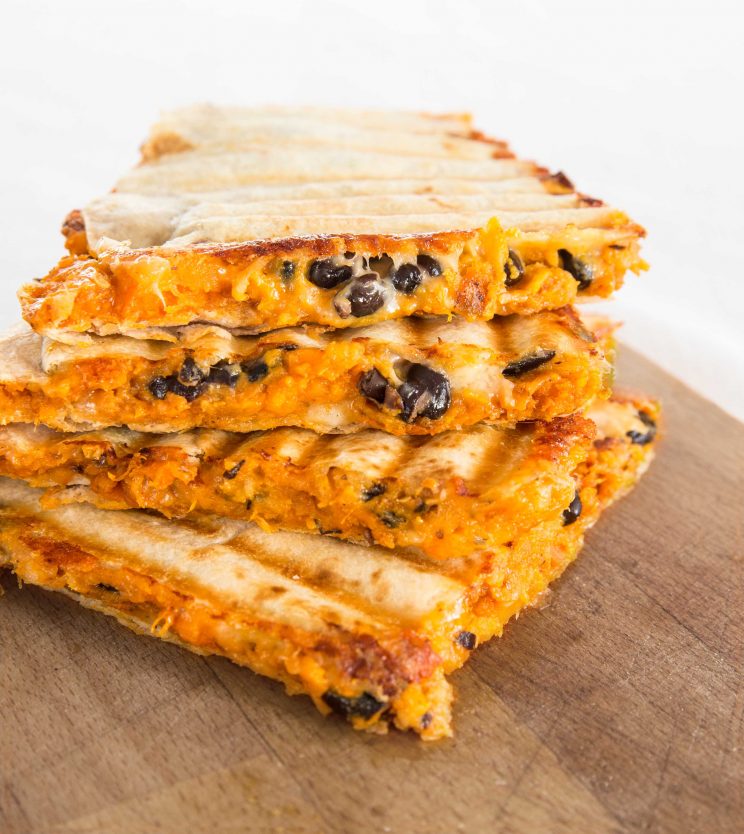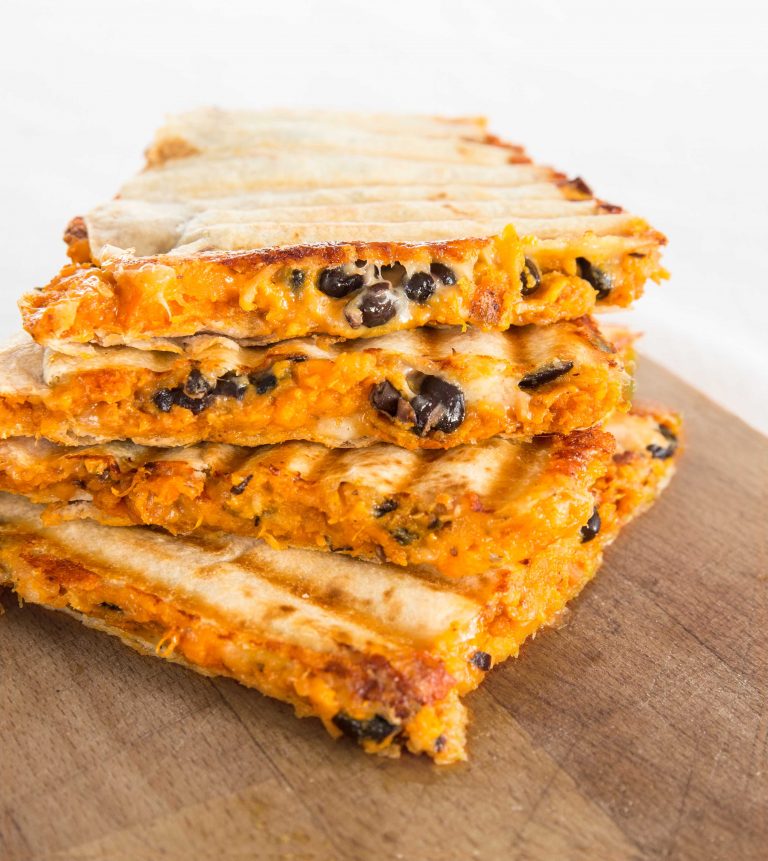 To be honest with you, it was only until I stood back (cheese all over my face) and stared at the crumbs on my plate, when I came to the realisation that there was zero meat involved in this dish. In fact, as I was developing this recipe it never even crossed my mind to add any. Traditional Quesadillas call for chicken, sometimes steak. But for me, the heartiness from the sweet potato and black beans was everything my taste buds called for.
The roasted sweet potato quesadilla part of the recipe actually came pretty naturally to me and stuck throughout the developmental process. What to pair it with took a little more tweaking.
I did toy around with a few variations, sweet potato spinach quesadilla and sweet potato cream cheese quesadilla to name a couple. But there was something about adding the black beans that just took these quesadillas through the roof. They take on the spices and add to the heartiness of this dish so beautifully.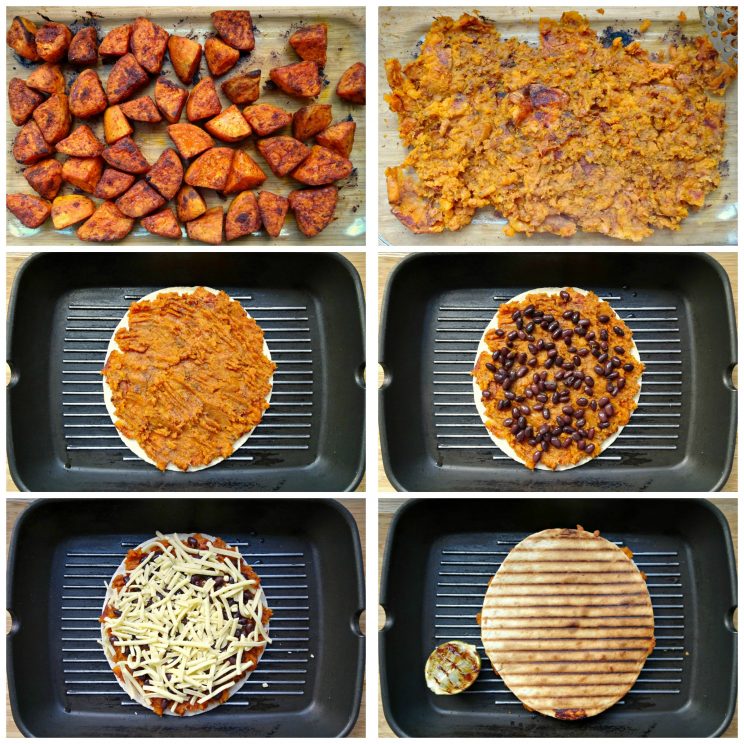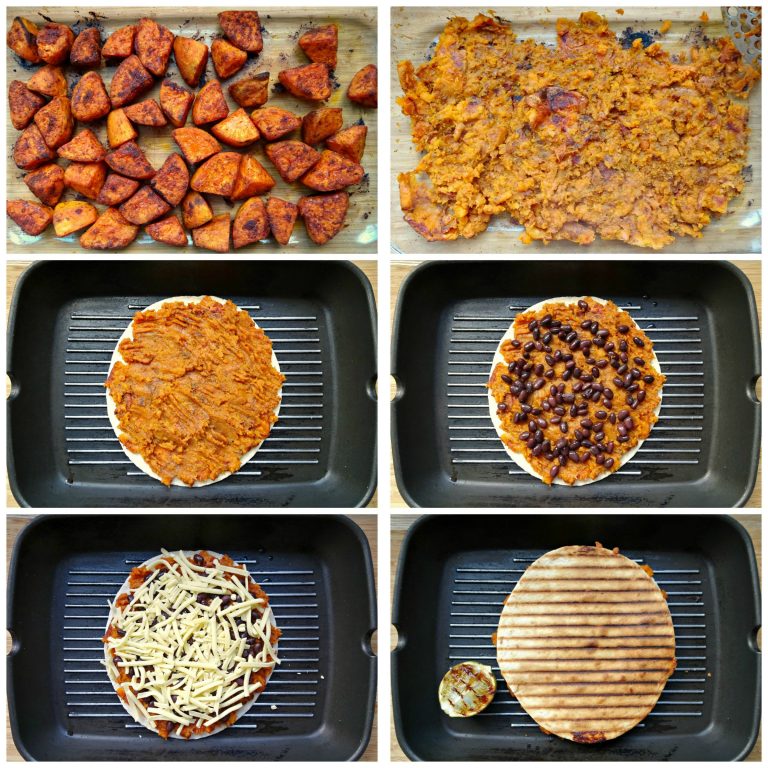 Hold up, so why roast the sweet potatoes I hear you cry?
Personally, I love the texture of them roasted – moist but not soggy on the inside with a slight crunch on the outside. When they're roasted and smashed, in contrast to boiled and mashed, they help hold the quesadillas together more firmly. That beautiful caramelization from the oven will enhance the spices and like I said, give a nice little crunch in the center of the quesadilla.
This little crunch, PLUS the crispy quesadilla casing is just too much to bare sometimes.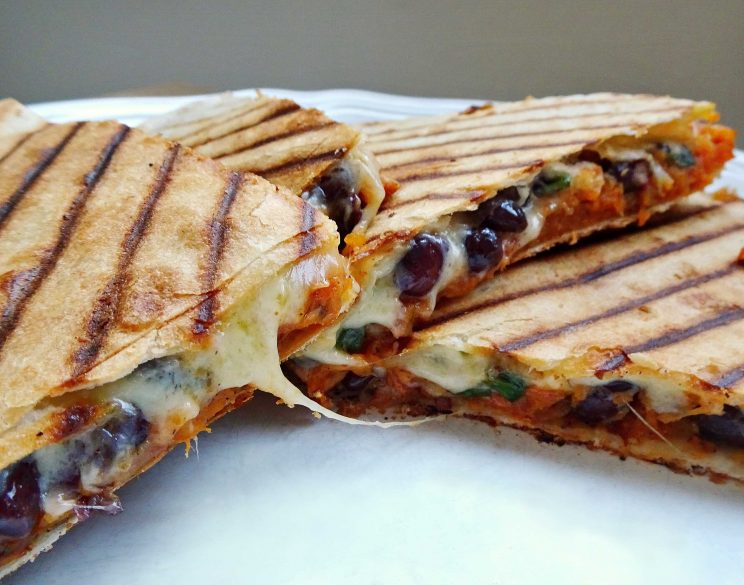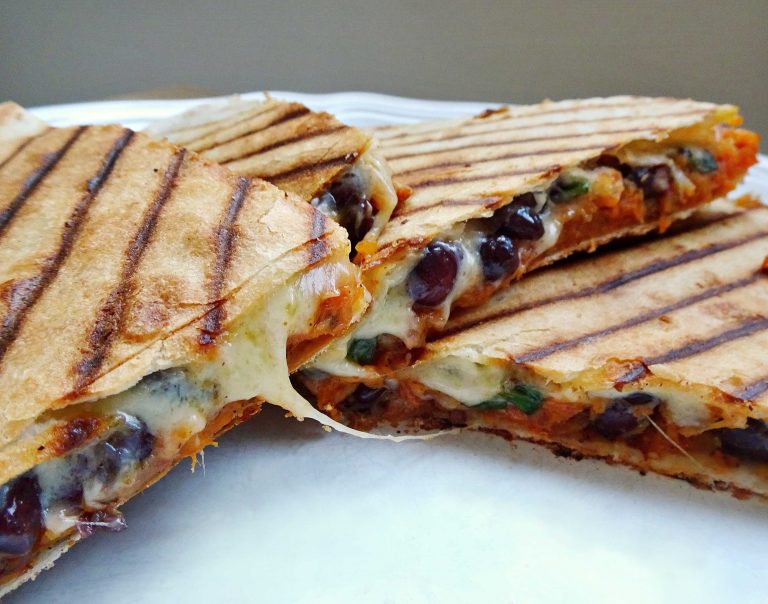 These are deceivingly filling aswell ya'll. Originally I had offered them as a serving between two, forgetting that not everyone has 5 stomachs like me and my partner. So feel free to split between 4, two hearty slices of these carb frenzy quesadillas, especially with a few extra sides, will definitely get the party going.
Okay, let's chuck on some tasty extras.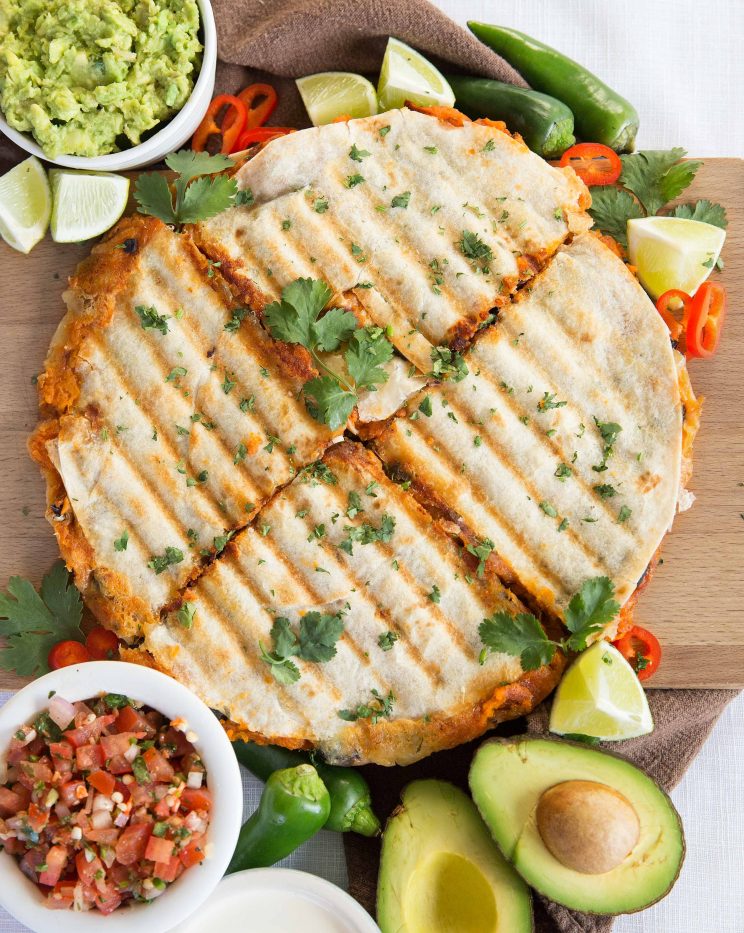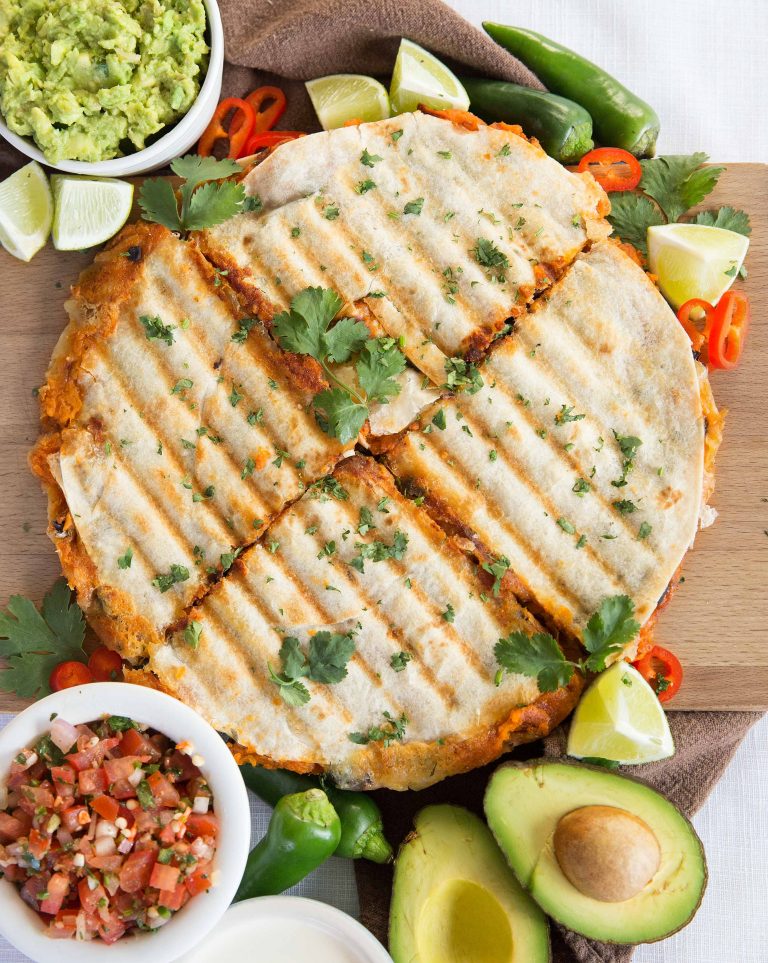 All in all this recipe is such a good time. Super flavoursome and really fun to play around with. Perfect for the vegetarians among us and easy to adapt to our vegan friends.
A really hearty dish that's gonna work great as a lunch or dinner and most importantly, a really delicious dish that I'm confident you're going to fall in love with. Enjoy the recipe folks, let me know how you get on and I'll catch you on the next post! Happy Quesadillas cooking 🙂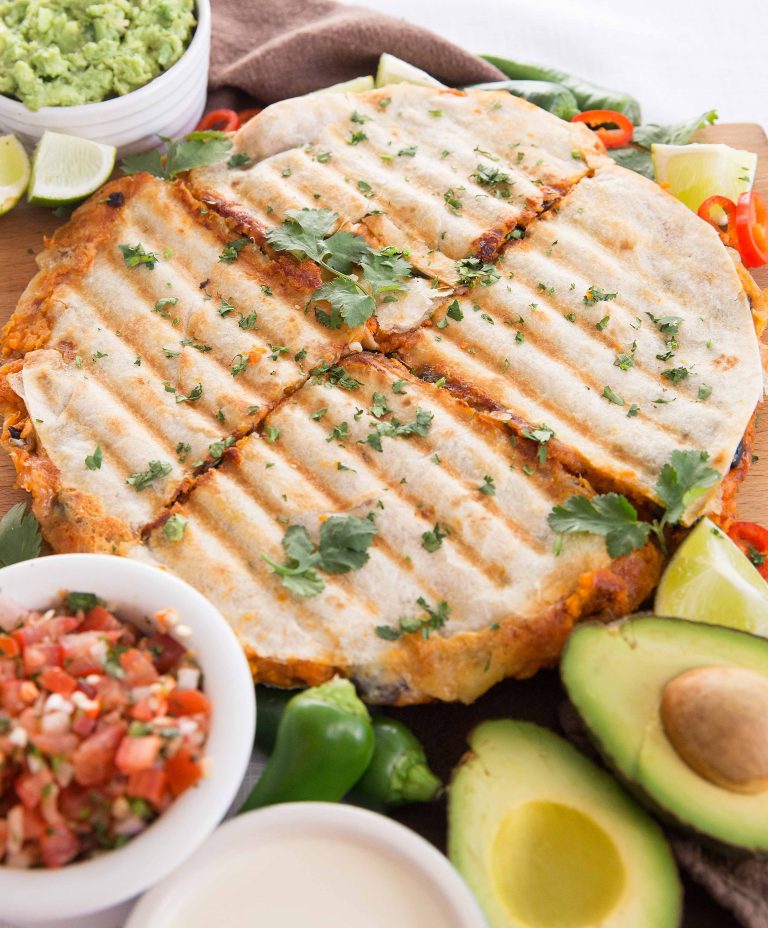 Roasted Sweet Potato and Black Bean Quesadillas
'Roasted Sweet Potato and Black Bean Quesadillas are the best vegetarian Quesadillas you'll ever make. So easy and most importantly really delicious and filling!'
Cuisine:
Mexican, Vegetarian
Ingredients
2

Large Sweet Potatoes, peeled and sliced into chunks

4

Large White Tortilla Wraps

1

tsp

Smoked Paprika

1

tsp

Cumin

1/2

tsp

Ground Coriander

1/4

tsp

Cayenne Pepper (or to preference)

1/2

can of Black Beans, rinsed

2

Large handfuls of Cheddar

Juice from 1/2 a Lime

Salt & Black Pepper, to taste

Olive Oil

(see note A)
Extras 'n' optionals:
Avocado

Jalapeno

Fresh Coriander

Sour Cream

Salsa

Guac

Extra Limes
Method
Preheat oven to 220c (430f).

Place your spuds in a suitably sized oven dish and give them a good drizzle of Oil. Add in your Smoked Paprika, Cumin, Ground Coriander, Cayenne Pepper, Salt & Pepper and give them a mix to completely coat them. Pop in the oven for a good 30-40mins or until softened with a caramelized outing.

When the dish has cooled down a little, grab a potato masher and roughly smash your Sweet Potatoes. Place to one side.

Take a Tortilla and lightly brush one side of it with Oil. Place on a griddle pan (see note B) oiled side face down, making sure the hob is turned off. Spread on half of your Sweet Potato mash, top with half your Black Beans, 1 Handful of Cheese, a squeeze of Lime Juice and Seasoning if needed. Place a second Tortilla on top, press down to contain the filling and lightly brush the top with Oil.

At this point turn the hob onto a medium heat and fry for around 6-8 mins on each side, or until griddle marks appear with a golden surrounding. If you tap on the Quesadillas it should sound slightly hollow and crunchy.

Serve with any additional toppings and sides (suggestions in ingredients). Enjoy!
Recipe Notes
a) Other oils such as Avocado, Sunflower and Canola Oil also work great for this recipe. They have a much higher smoking point so should caramelize the sweet potato more effectively in the oven. However, for convenience reasons Olive Oil works just fine.

b) If you don't own a griddle pan, a standard pan will be fine. If the Tortilla doesn't fit, then simply 1/2 or 1/4 and fry individually. Alternatively feel free to use a panini grill if you have one.
c) To make this Sweet Potato Bean Quesadilla vegan, simply use vegan cheese or leave it out all together.
---
Can't get enough of these roasted sweet potato and black bean quesadillas ? Check out my Loaded Sweet Potatoes with Pomegranate and Feta for some more Sweet Potato goodness! Or for the PERFECT addition to this recipe be sure to add some Guacamole or Homemade Fresh Salsa!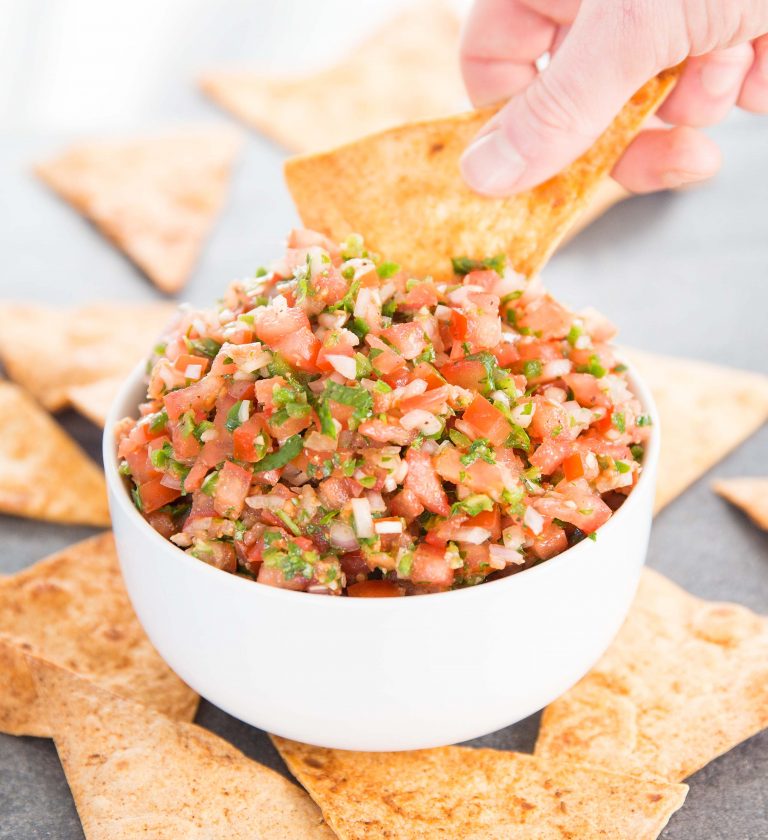 ---

---
Cheers guys, this has been ' Roasted Sweet Potato and Black Bean Quesadillas '. Comment, share, do whatever you fancy but for crying out loud don't go bacon my heart. See you next time 🙂