Roasted Sweet Potato and Black Bean Quesadillas are the best sweet potato quesadillas you'll ever taste. So easy to make and most importantly incredibly delicious and filling!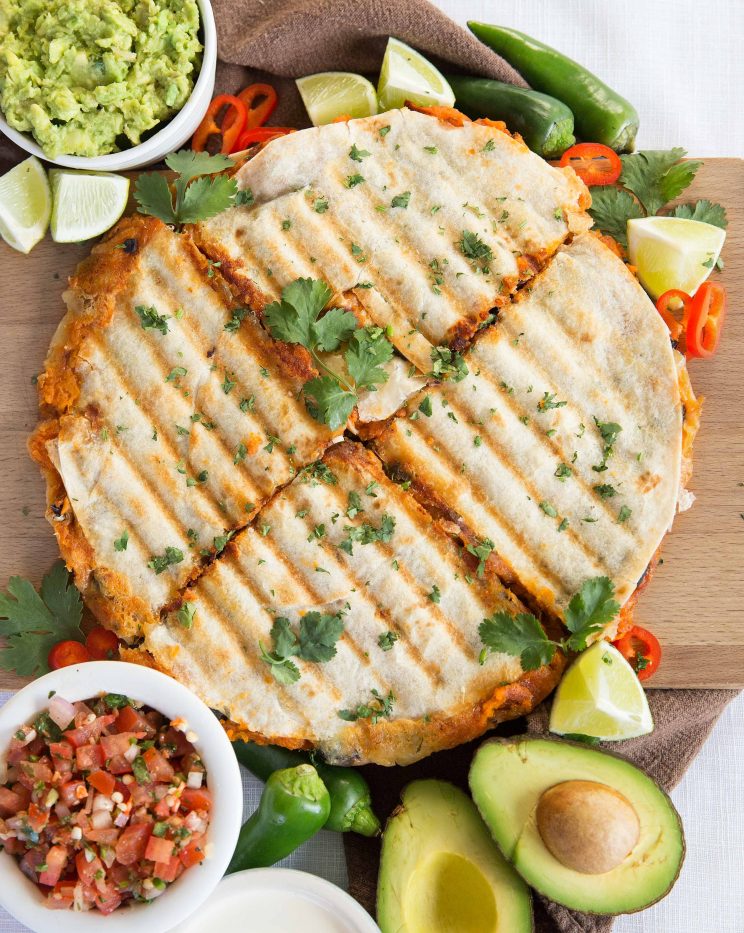 Sweet Potato Quesadillas
To be honest with you, it was only until I stood back (cheese all over my face) and stared at the crumbs on my plate, when I came to the realisation that there was zero meat involved in this dish. In fact, as I was developing this recipe it never even crossed my mind to add any. Traditional quesadillas call for chicken, sometimes steak. But for me, the heartiness from the sweet potato was everything these quesadillas called for.
I mean if you really think about it, this recipe is hardly a surprising appearance on my blog. Carbs between carbs wrapped in melted cheese? C'mon, we all saw this coming 🤣
Sweet Potato and Black Beans
Black beans and sweet potato are a marriage made in heaven. Not only because you're essentially eating carbs with carbs, but the way they take on flavour and add such a gorgeous texture to these quesadillas is almost too much to bare sometimes. As a result, you get these big, bold and hearty quesadillas which in all honesty are to die for.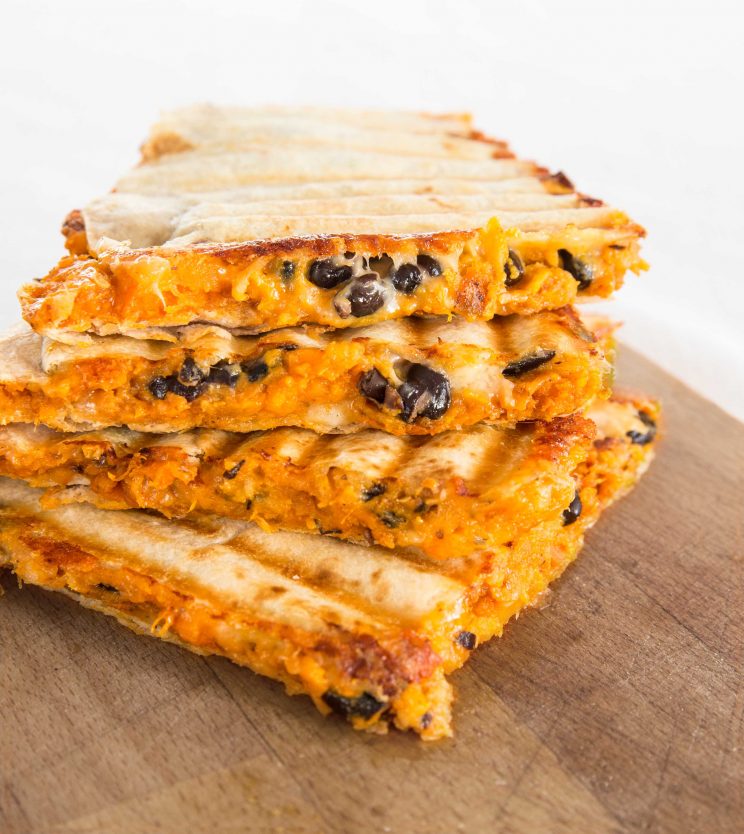 How to make Sweet Potato Quesadillas
The absolute key to making perfect sweet potato quesadillas is roasting the potato. You know, there are a fair few recipes out there that boil the sweet potato, or simply roast it whole and scoop out the centre. I have actually tried both of these, but both fell short. Apart from obviously cooking the potato, roasting serves two important functions:
Flavour – You get a beautiful caramelised casing to the potato with far more developed flavours from the spices, something unfortunately boiling can't compete with.
Texture – Roasting the sweet potatoes offers a firmer and slightly crunchier texture, which works PERFECTLY in the centre of a quesadilla. Boiling offers a much weaker texture than roasting, for the pure reason that you're adding water to the potatoes, causing them to fall soggy in the centre.
What spice to use?
Smoked Paprika
Cumin
Ground Coriander
Cayenne Pepper
Keep it simple! Hopefully all of the above should be knocking about in your cupboards.
Pan fried vs baked
Since the potatoes have already been baked, you'll want to pan fry these quesadillas. Not only will this reduce time, but I find that baking them dries the quesadillas out too much.
To pan fry the quesadillas: Just lightly smash the roasted potato, spread over an oiled tortilla, top with black beans, cheese and lime juice, finish with another tortilla and fry both sides!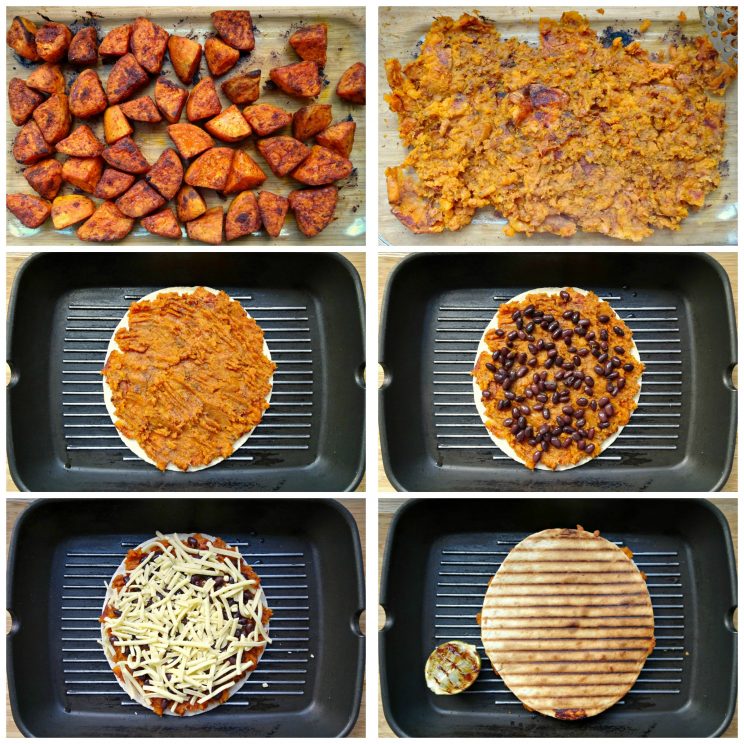 Tips for Sweet Potato Quesadillas
1. Cheese
I recommend a nice strong cheddar, or something with a good punch of flavour. You want something to counteract the sweetness of the potato. Monterey Jack is also a popular choice.
2. Lightly Smash
Because you've got that nice little crunch from roasting in the oven, it's important to not mash the sweet potatoes to oblivion, else you'll lose that gorgeous texture the oven worked so hard to get. My experience in life has taught me not to annoy the oven, it does good things for you.
3. Lime Juice
The lime juice is actually quite an important ingredient in this recipe. You've got the sweet vibes from the potato, the saltiness from the cheese and the heat from the spices. Therefore I find a gentle squeeze of lime juice not only helps balance everything out, but also compliments the flavours of the dish in general.
Ugh, just look at that centre!
*drools uncontrollably*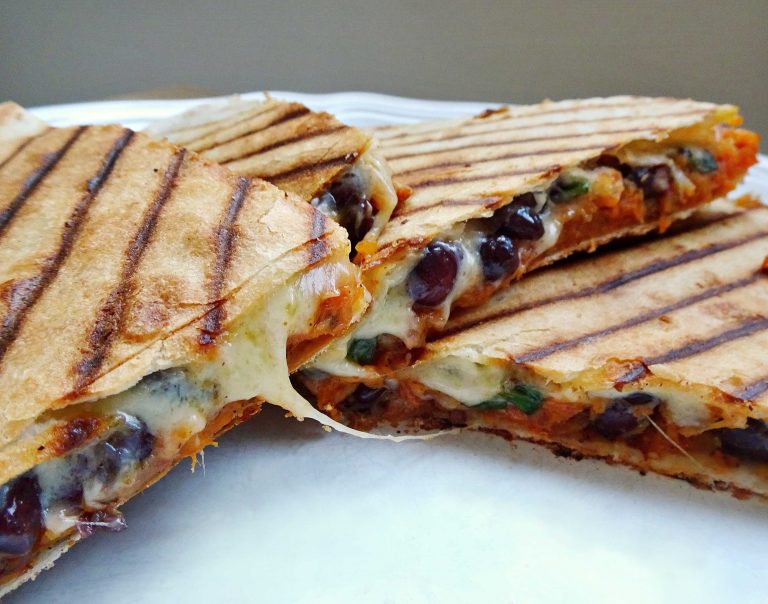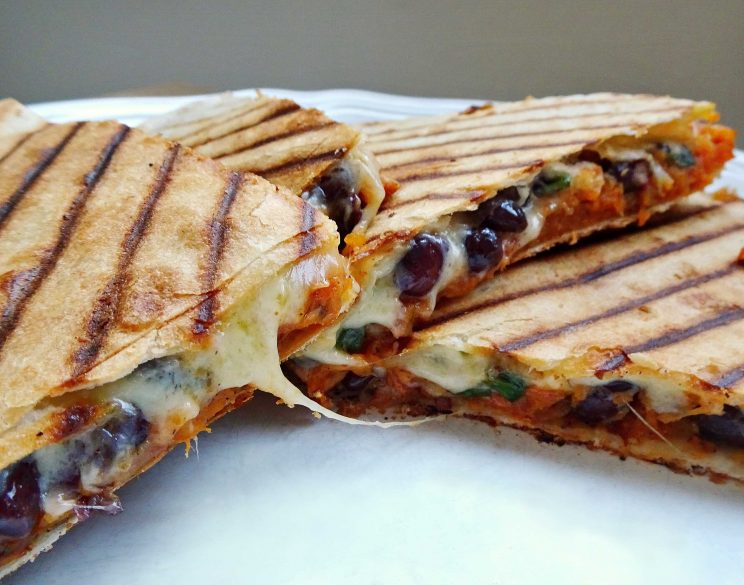 How to serve Quesadillas
One thing to note is these quesadillas are deceivingly filling.
Originally I had offered them as a serving between two, forgetting that not everyone has 5 stomachs like me. So feel free to split between 4, two hearty slices of these carb frenzy sweet potato quesadillas, especially with a few extra sides, will definitely get the party going. Because there's only so much carbs with carbs squashed between carbs someone can take.
Lol just kidding there's literally no limit.
Quesadilla Toppings
What to serve with Sweet Potato Quesadillas?
My favourite options are Crispy Baked Jalapeño Poppers and Crispy Baked Avocado Fries, but do check out my Quesadilla Sides Dish and Main Sides for more inspo!
Alrighty, let's tuck into the full recipe for these sweet potato quesadillas shall we?!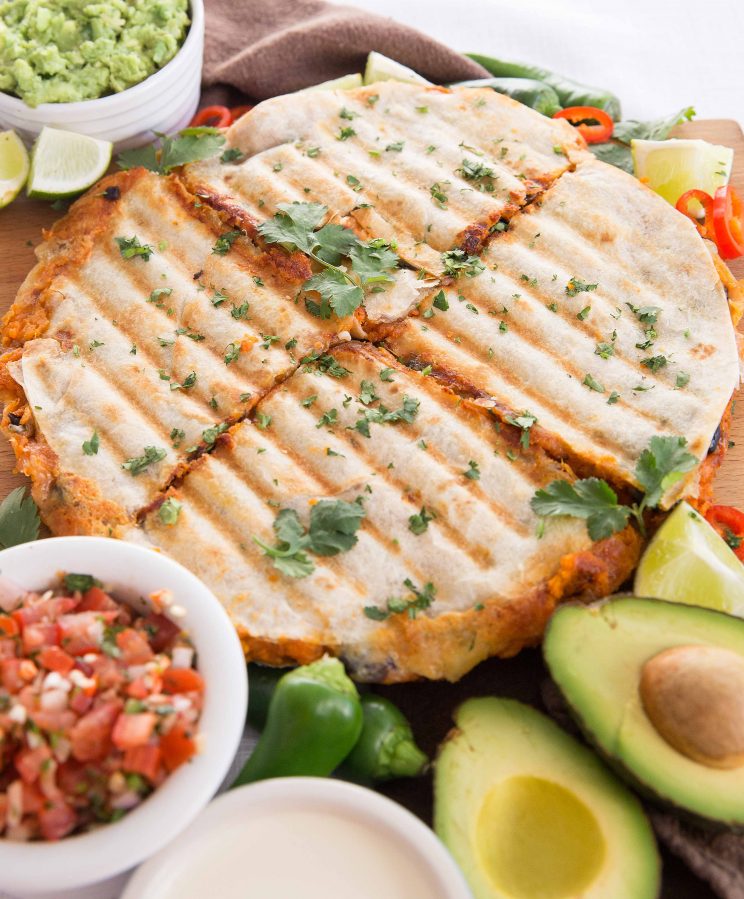 How to make Roasted Sweet Potato and Black Bean Quesadillas

(Full Recipe & Video)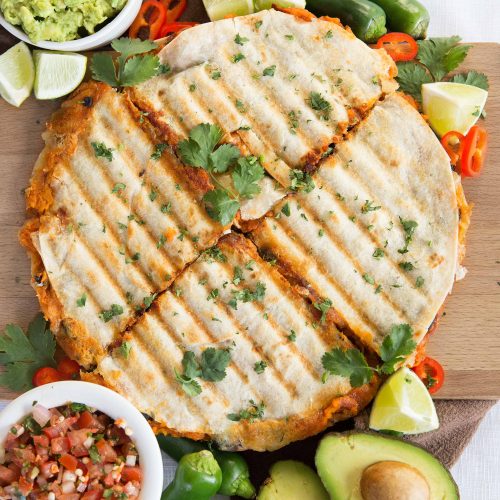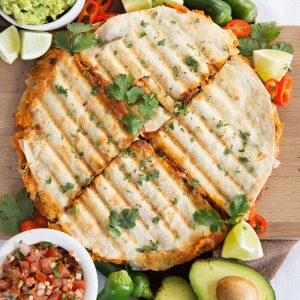 Roasted Sweet Potato and Black Bean Quesadillas
Roasted Sweet Potato and Black Bean Quesadillas are the best sweet potato quesadillas you'll ever taste. So easy to make and most importantly incredibly delicious and filling!
Print
Pin
Rate
Share by Text
Servings (click & slide):
4
Calories per serving:
488
kcal
Cost per serving:
£2 / $2.50
Equipment:
Large Frying Pan or Griddle Pan

Sharp Knife & Chopping Board

Baking Dish

Potato Masher

Sieve/Colander (to drain beans)

Cheese Grater

Brush (for oil)
Ingredients (check list):
Quesadillas
2

Large Sweet Potatoes, peeled and sliced into chunks

4

White Flour Tortilla Wraps

1

tsp

Smoked Paprika

1

tsp

Cumin

1/2

tsp

Ground Coriander

1/4

tsp

Cayenne Pepper (or to preference)

1/2

can of

Black Beans, drained & rinsed

2

large handfuls of

Cheddar, grated

1/2

Lime, juice only
Salt & Black Pepper, to taste
Olive Oil, as needed
Instructions:
Place your potatoes in a suitably sized oven dish and give them a good drizzle of Oil. Add in 1 tsp Smoked Paprika and Cumin, 1/2 tsp Ground Coriander, 1/4 tsp Cayenne Pepper and a hefty pinch of Salt & Pepper. Give them a mix to completely coat them. Pop in the oven at 200C/390F for a good 25-30mins or until softened with a caramelized outing (timings will depend on the size of your potatoes, so just be vigilant).

When the dish has cooled down a little, grab a potato masher and roughly smash your sweet potatoes. Don't mash it into oblivion, you want to keep some of the crispy parts of the potato. Place to one side.

Take a Tortilla and lightly brush one side of it with Oil. Place on a griddle or regular pan oiled side face down, making sure the gas is turned OFF. Spread on half of your Sweet Potato mash, top with half your Black Beans, 1 Handful of Cheese and finish with a squeeze of Lime Juice. Place a second Tortilla on top, press down to contain the filling and lightly brush the top with Oil.

At this point turn the hob onto a medium heat and fry for around 6-8 mins on each side, or until nice and golden. If you tap on the Quesadillas it should sound slightly hollow and crunchy.

Serve with any additional toppings and sides (suggestions in ingredients). Enjoy!
Notes:
a) Oil - Other oils such as Avocado, Sunflower and Canola Oil also work great for this recipe. They have a much higher smoking point so should caramelize the sweet potato more effectively in the oven. However, for convenience reasons Olive Oil works absolutely fine.
b) Size - If you don't own a griddle pan, a standard pan will be fine As you can see in the photos I have grill marks and in the video I use a regular. Just comes down to whether you want fancy grill marks or not! Also if the Tortilla doesn't fit, then simply spread the ingredients over one half and fold it over.
c) Flipping - I find the easiest way to flip the quesadillas is to place a plate over the top, flip the pan over so the quesadilla is on the plate, then slide it back on the griddle to fry the other side.
d) Dryness - I've eaten these quesadillas many a time by themselves and they taste fantastic. However, sometimes it's a good idea to pair them with a sauce or dip to reduce any risk of you finding them dry. My recommendations are Homemade Fresh Salsa and Guac!
e) Notes from readers - Sautéed onions and peppers go perfectly if you add them in the filling. If you're adapting to vegan and adding vegan cheese, be sure to use a brand you know and love. Also: Warning - they are filling.
f) Calories - Based between 4 people with no sides or dips.
Your Private Notes:
Nutrition:
Nutrition Facts
Roasted Sweet Potato and Black Bean Quesadillas
Amount Per Serving
Calories 488
Calories from Fat 169
% Daily Value*
Fat 18.75g29%
Polyunsaturated Fat 1.969g
Monounsaturated Fat 5.554g
Cholesterol 43mg14%
Sodium 672mg28%
Potassium 918mg26%
Carbohydrates 59.97g20%
Protein 21.41g43%
Vitamin A 38750IU775%
Vitamin C 22.3mg27%
Calcium 440mg44%
Iron 4.1mg23%
* Percent Daily Values are based on a 2000 calorie diet.
Nutrition is based on the absence of salt unless stated as a measurement in the ingredients. Cost is worked out based on ingredients bought from UK supermarkets, then divided by the number of servings. In both instances these values are just for guidance. Please check out my FAQ Page for more info.
---
For more similar recipes check out these beauties:
Easy Quesadilla Recipes
---