This Egg in a Hole Breakfast Bagel ain't just a pretty face, it's absolutely delicious! Better still it's so incredibly easy to make!
Hello and welcome to today's edition of 'what the hell am I looking at and why am I drooling?'. You my dear friend are looking at an egg cooked inside the top of a breakfast bagel AKA your new favourite weekend breaky.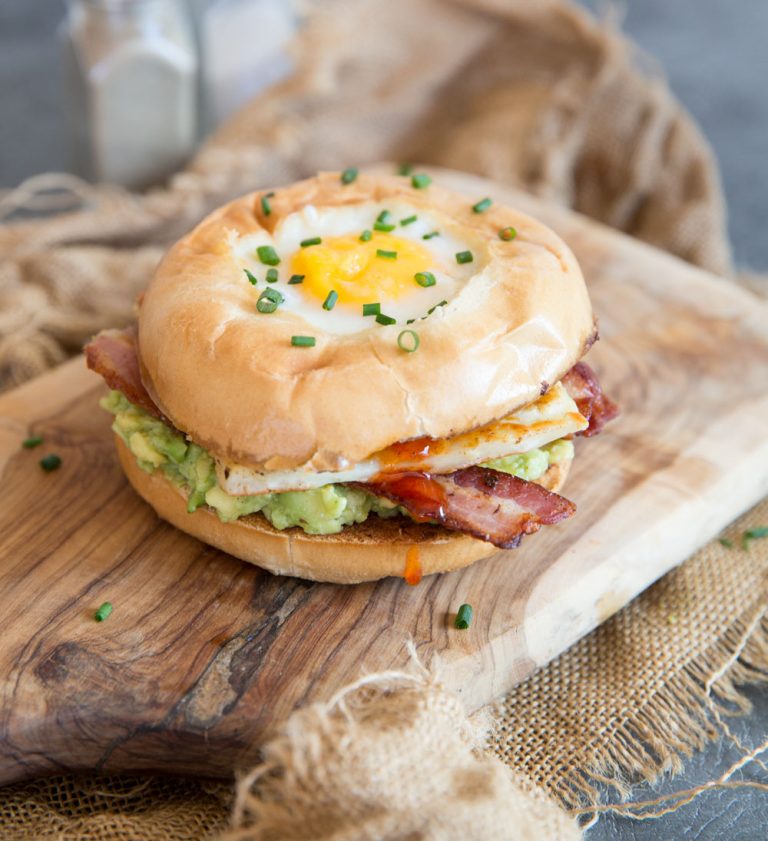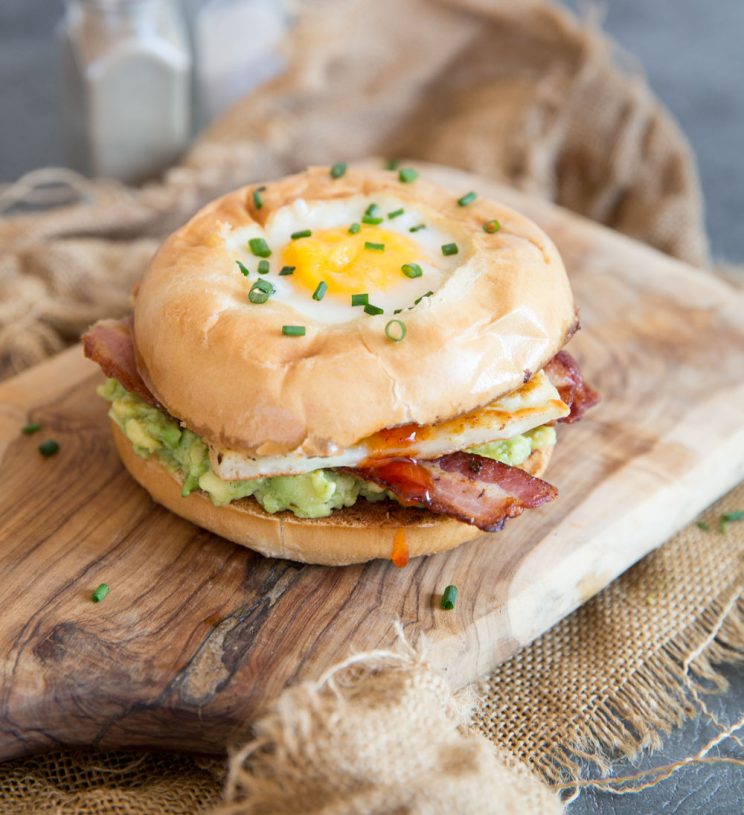 Because if you're not eating your egg inside a bagel is there any point in eating it??
I mean yes, the answer is always yes, but god damn it tastes so good slotted in the hole of a bagel.
Plus, it looks so neat! You know, eating with your eyes and all that.
Regular egg in a hole recipes often call for toast and most just leave it at that. Sure, egg in a hole toast is great, but if you've been a reader of mine for a while you know I like to take things to the extreme.
Like I said at the beginning, this breakfast bagel isn't just a pretty face and before we dissect it to see just how delicious it is, let's firstly see how easy it is to make.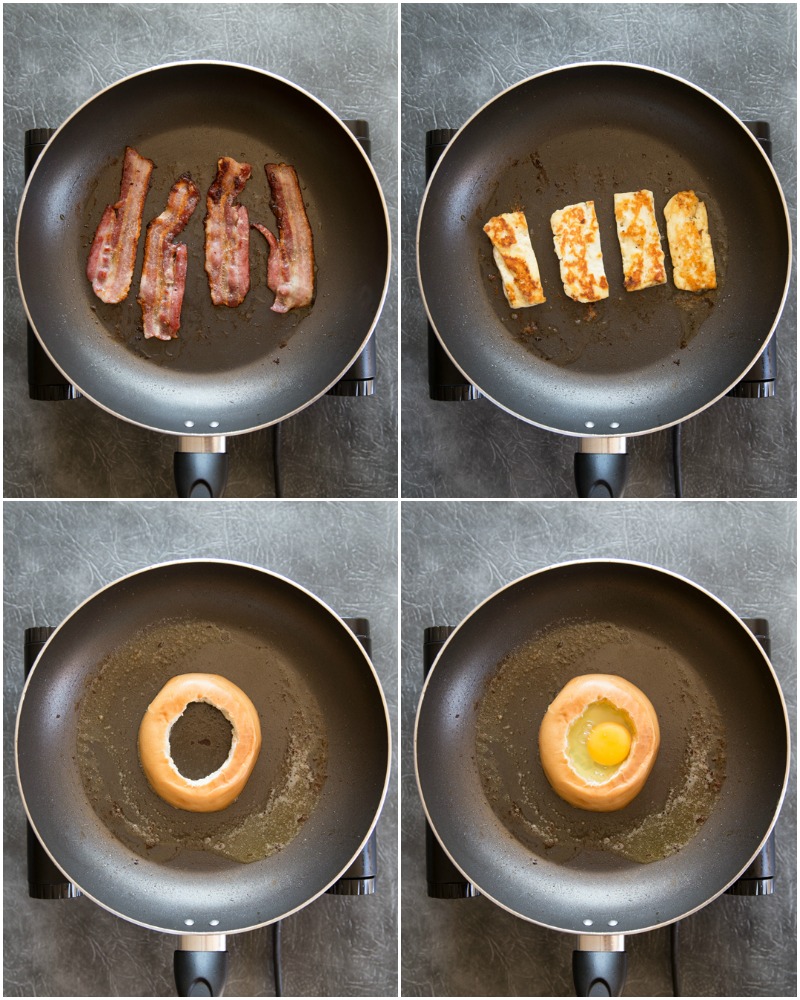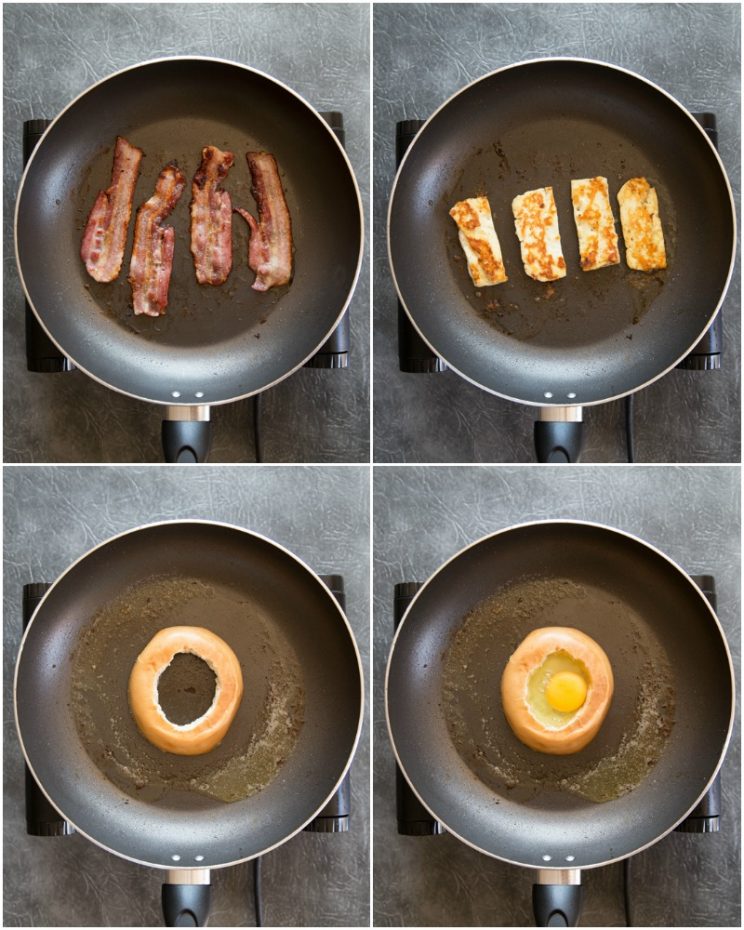 How to make Egg in a Hole Bagel
Slice your bagel in half and toast the bottom half either in a toaster or under the grill.
Cut a hole in the top half large enough to crack an egg in.
Melt a little butter in the pan, place your top bagel cut side down and crack and egg in the centre.
Pop under the grill until just cooked throughout.
Yup, simple as that! And here's some tips just to make sure you get it perfect!
Tips for making an Egg in a Hole
You want the pan temperature at medium when you crack the egg in. Too low and the egg will seep from underneath the bagel and too high and it will burn before you've cooked the top.
Grilling is your best option to finish cooking if you have a 'deep' bagel. There are recipes that suggest putting a lid on the pan, but through doing this you are steaming the bagel. Personally I prefer it crispy like the bottom half.
Just like you would any egg, season with a little salt & pepper. I also like to garnish with a sprinkle of fresh chives!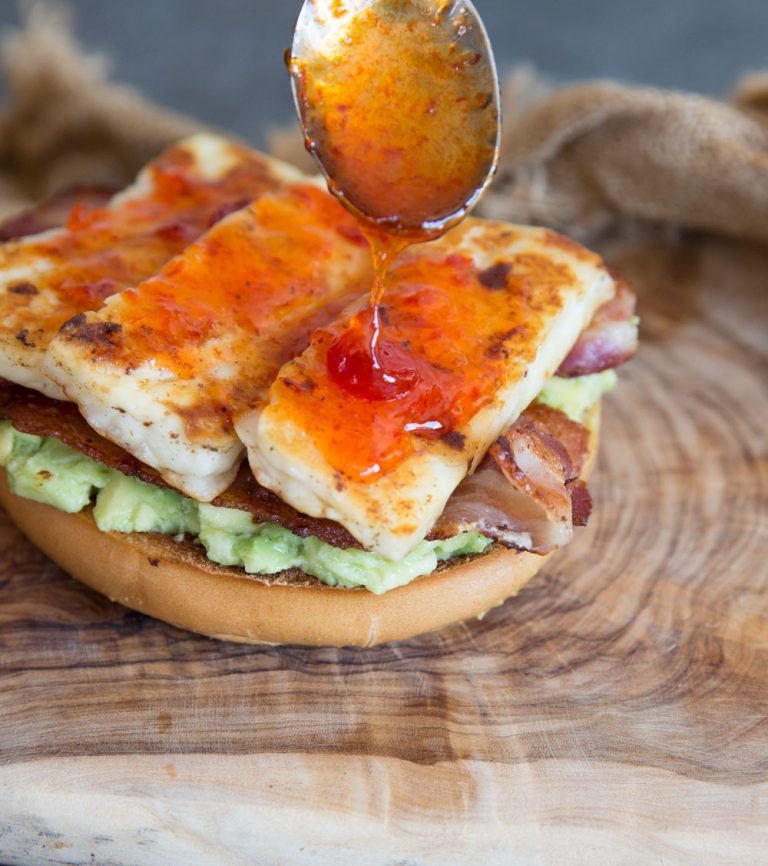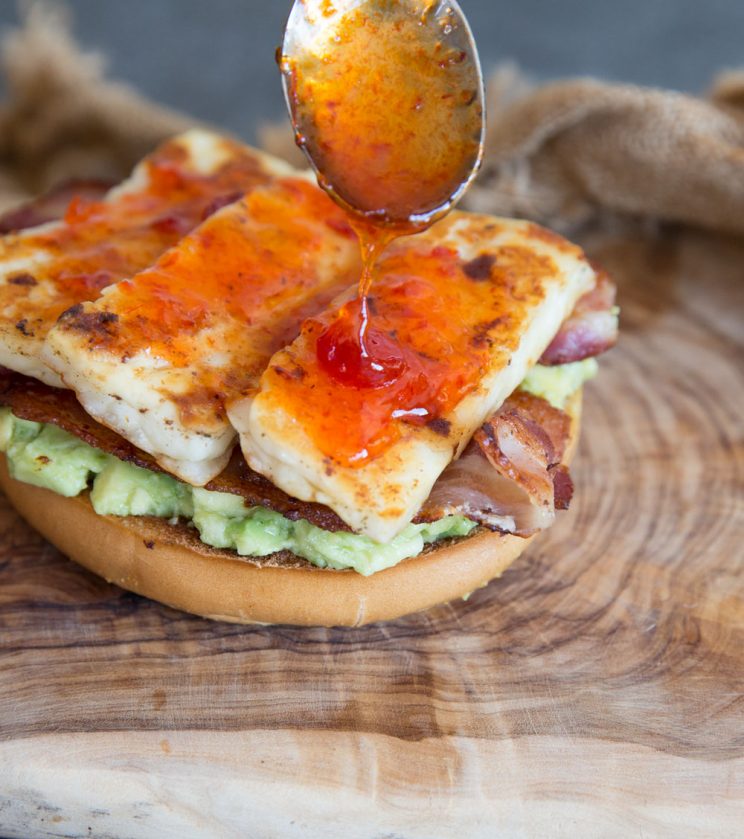 So, you've got the egg in a hole to go on top, let's talk breakfast bagel.
This really is an opportunity to stuff all your fav breaky ingredients between two buns and live your dreams. Seriously, i've seen breakfast bagels with baked beans in them and I was absolutely not judging. Here's what I like in mine…
Breakfast Bagel Fillings
Smashed Avocado
Streaky Bacon
Halloumi
Chilli Jam
Chives (to garnish)
Tips for the best Breakfast Bagel
My best advice for you would to be make sure you balance the flavours. Here i've got the saltiness from the bacon and halloumi, balanced out with a little sweet and spice from the jam and wrapped in the richness from the yolk and avocado. You've also got a nice hit of acidity from the lemon juice in the smashed avocado.
Also, runny egg. It's just the rules.
Join the foodie family! – Get awesome recipes sent straight to your inbox by signing up to my Weekly Mailing List (where you'll receive your FREE ECOOKBOOK) and stay in touch on Instagram, Facebook and Pinterest! 🧡
How to make an Egg in a Hole Breakfast Bagel

(Full Recipe & Video)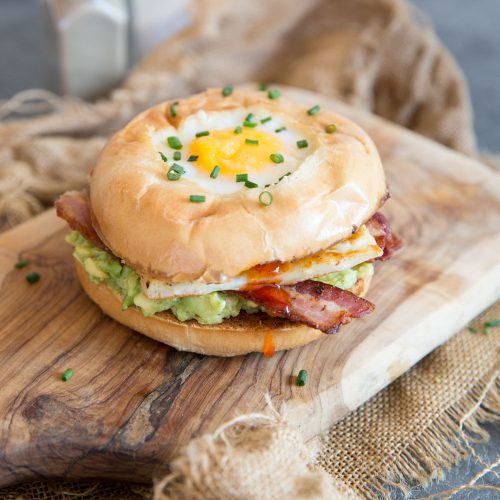 Egg in a Hole Breakfast Bagel
This Egg in a Hole Breakfast Bagel ain't just a pretty face, it's absolutely delicious! Better still it's so incredibly easy to make!
Print
Pin
Rate
Servings (click & slide):
2
Ingredients (check list):
2

Bagels

4

rashers of Bacon

2

small

Avocados, peeled & destoned

2

tsp

Chilli Jam

2

Eggs

1

block

Halloumi, divided into 6

1

tsp

Butter

Lemon Juice, to taste

Extra Virgin Olive Oil

Salt & Black Pepper, to taste

Chives, to garnish
Instructions:
Begin by lightly smashing your avocado with a squeeze of lemon juice, a drizzle of extra virgin olive oil and salt & pepper to taste. Place to one side.

Slice your bagels in half so you have a 'top' and 'base' slice. Toast your base slice either under the grill or in the toaster. Slice a hole large enough to fit an egg in the top half. Place both to one side.

Fry your bacon until desired crispiness, then fry your halloumi in the bacon fat until golden both sides.

Melt your butter in the pan, place the top bagel in the pan and crack an egg in the centre. Leave to fry for a few mins, then pop under the grill until just cooked throughout.

Stack in the following order: base bagel, smashed avo, bacon, halloumi, chilli jam, top bagel with egg. Garnish will a sprinkle of finely diced chives.
Notes:
a) Chilli Jam Sub - Chilli jam is in the recipe to balance out the saltiness of the bacon & halloumi with a touch of sweetness and spice. You can find chilli jam (or something similar) in most regular grocery stores. If you can't just sub something sweet like caramelized onions or a chutney of some sort. Then add a touch of chilli flakes if desired.
b) Calories - Based on using 1 tbsp extra virgin olive oil.
Nutrition:
Nutrition Facts
Egg in a Hole Breakfast Bagel
Amount Per Serving
Calories 892
Calories from Fat 465
% Daily Value*
Fat 51.7g80%
Monounsaturated Fat 26.5g
Cholesterol 675mg225%
Sodium 949mg40%
Potassium 982mg28%
Carbohydrates 64.4g21%
Protein 44.4g89%
Vitamin A 2050IU41%
Vitamin C 12.4mg15%
Calcium 500mg50%
Iron 6.3mg35%
* Percent Daily Values are based on a 2000 calorie diet.
Nutrition is based on the absence of salt unless stated as a measurement in the ingredients. Cost is worked out based on ingredients bought from UK supermarkets, then divided by the number of servings. In both instances these values are just for guidance. Please check out my FAQ Page for more info.
---
If you loved this Breakfast Bagel recipe you'll LOVE my Cranberry Bacon Brie Grilled Cheese!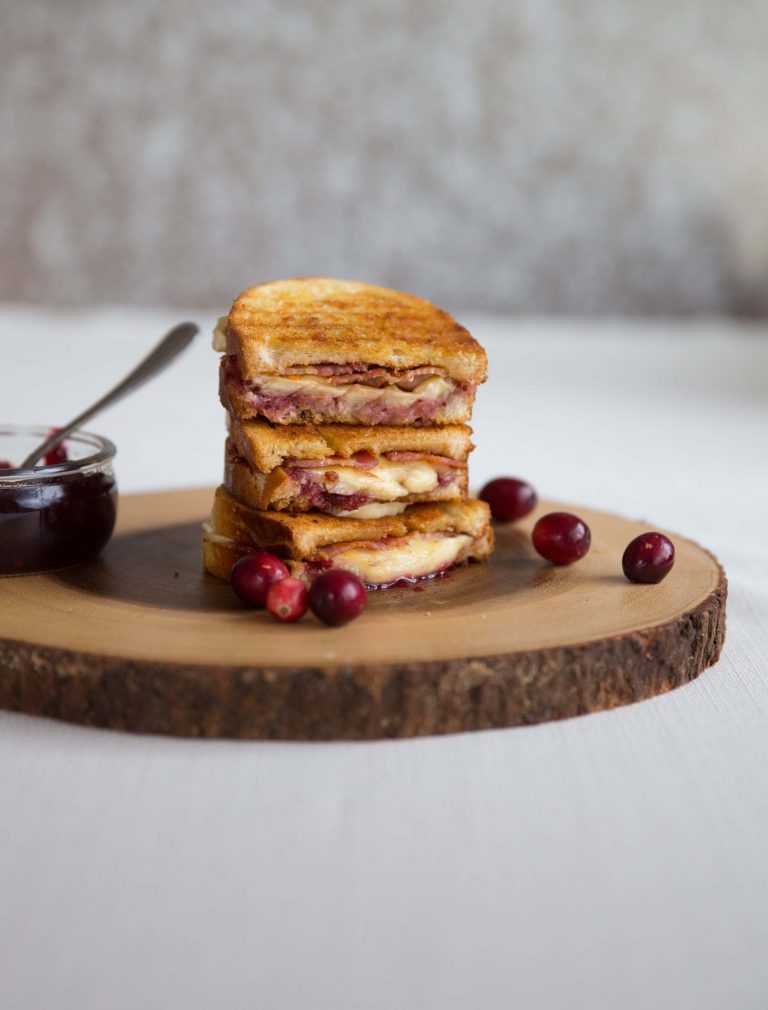 Be sure to pin this recipe for later if you fancy giving it a go! Got a question or already made it? Let me know in the comments below and pick up your free ecookbook along the way!