Cheesy mustard mashed potato resting on a layer of sausage and onions in a rich gravy – this truly is the ULTIMATE sausage pie!
As one of my most loved and most popular recipes, I had to include this in my Debut Cookbook 'Comfy'!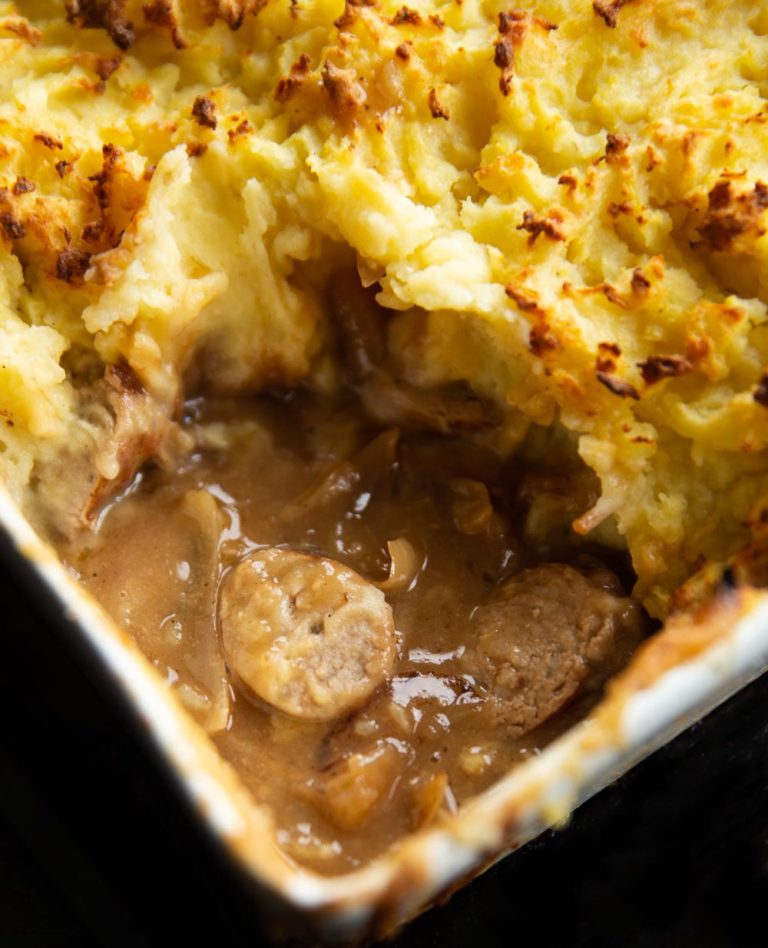 The ULTIMATE Sausage and Mash
I mean standard bangers 'n' mash is great, but in the form of a pie? Yep, we're going there.
This recipe is a mash-up (pun fully intended) of my Red Wine Onion Gravy, Bangers & Mash, Cottage Pie and Mustard Mash. It's insanely delicious, you're gonna love it. First things first –
Sausages
I recommend investing in some good quality sausages, as they are one of the stars of the show here. Pork for this recipe, chicken or beef will not cut the mustard (again, pun fully intended).
Once you've fried them off, remove them from pan and leave the fat in the pan. This will be used not only for extra flavour but to kick off frying the onions.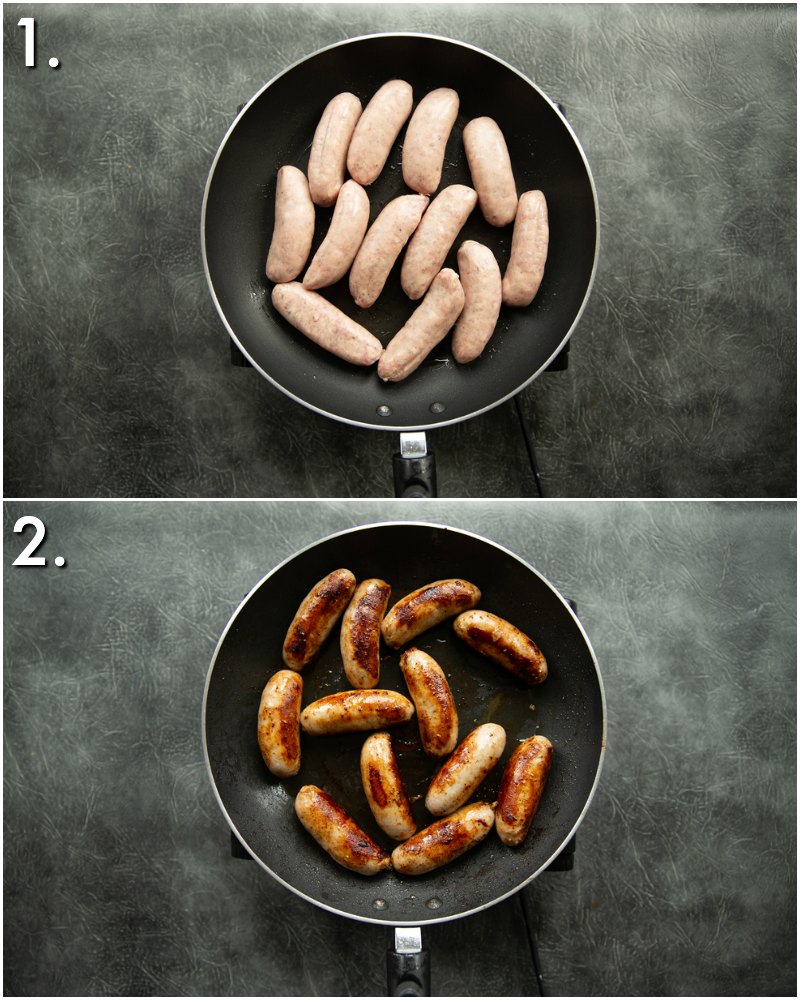 Onion Gravy
Because really, what's sausage and mash without an onion gravy?
Caramelizing the onions is key!
The base of all good onion gravy is nicely caramelized onions. To achieve this you'll need to cook them low and slow until they turn golden and sticky. Starting in sausage fat is going to add an insane amount of flavour too. The sweetness of the onions helps balance out the deeper, saltier flavours of the stock.
Red Wine, of course.
Once the onions are cooked down, melt in the butter and stir in flour (photos 3 & 4) to form a paste. From there it's all about the wine. Adding wine gives the gravy a gorgeous depth of flavour and pairs beautifully with beef stock. Just stir through the wine then begin pouring in the beef stock (photos 5 & 6).
Top Tip – Add in Worcestershire sauce and thyme for extra flavour (photo 7). Worcestershire sauce deepens the beef flavour of the stock and the thyme pairs beautifully with pork and onions.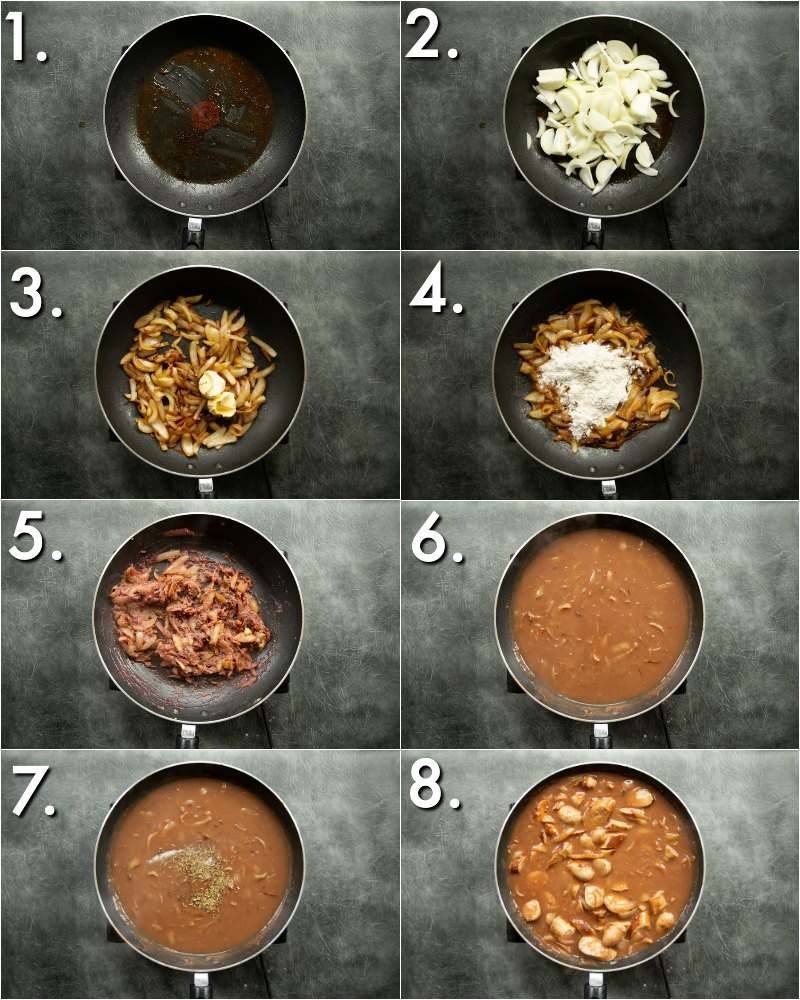 Cheesy Mustard Mash
Oh c'mon, did you really expect me to plonk regular mash on this pie? 😂Adding cheddar and a good dollop of dijon really brings not only the mash but the pie as a whole to life. Two things to consider:
Steam Dry – After you've boiled them, allow the potatoes to steam dry for a little while to remove some moisture. You want the mash fairly firm otherwise it'll sink into the gravy when baked.
Seasoning – Season the mash well, then season some more. Potatoes are notorious for sucking up salt into oblivion and nobody enjoys unseasoned mash on their pie.
To make the mash simply mash in butter and milk (or cream 😈), then stir in cheese, mustard and seasoning.
Sausage and Mash Pie
Just like the the mash, you want the sausage gravy to firm up slightly before combining and baking. Do you know that layer that firms up over gravy that you usually try and avoid? That's a good thing in this case because it helps prevent the pie from collapsing.
It's hugely important to place the baking dish on a tray because the pie will leak out gravy.
Can I prepare this in advance?
Absolutely! You can make the sausage or mash layers in advance and store them in the fridge until ready to assemble/make the other half. Or, assemble the whole thing, cool, cover and pop it in the fridge for 2-3 days. If you're doing this I recommend cooling the gravy layer in the fridge first so it builds up a barrier, then spread the mash on top. You can also freeze, then thaw in the fridge and bake.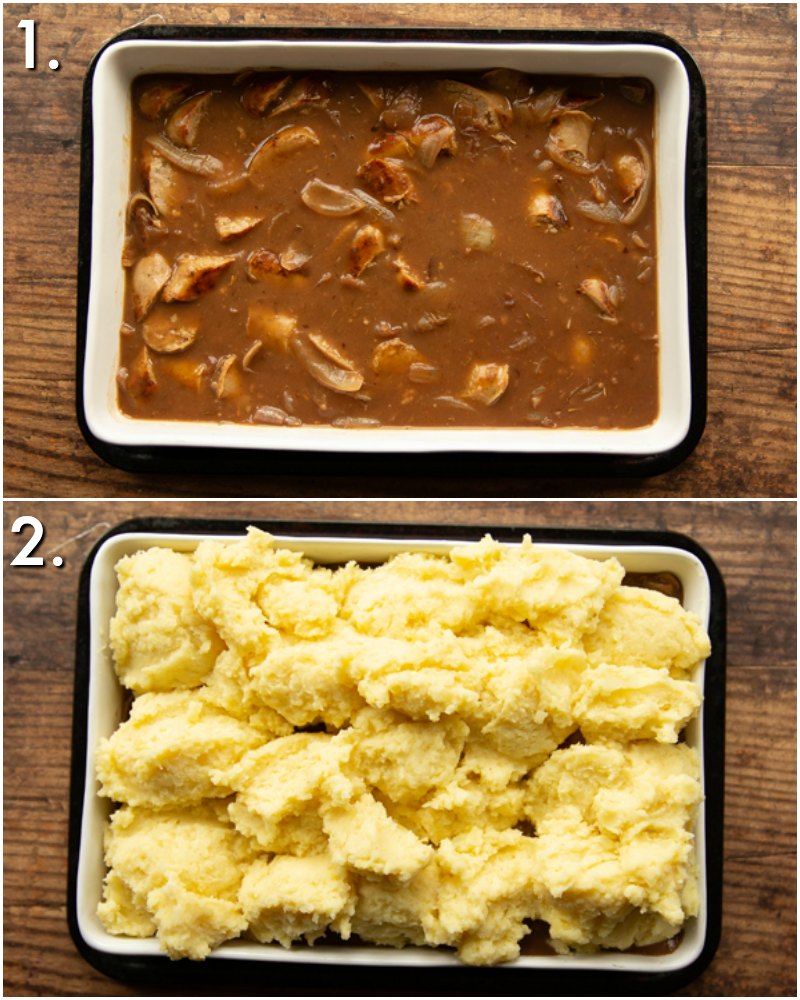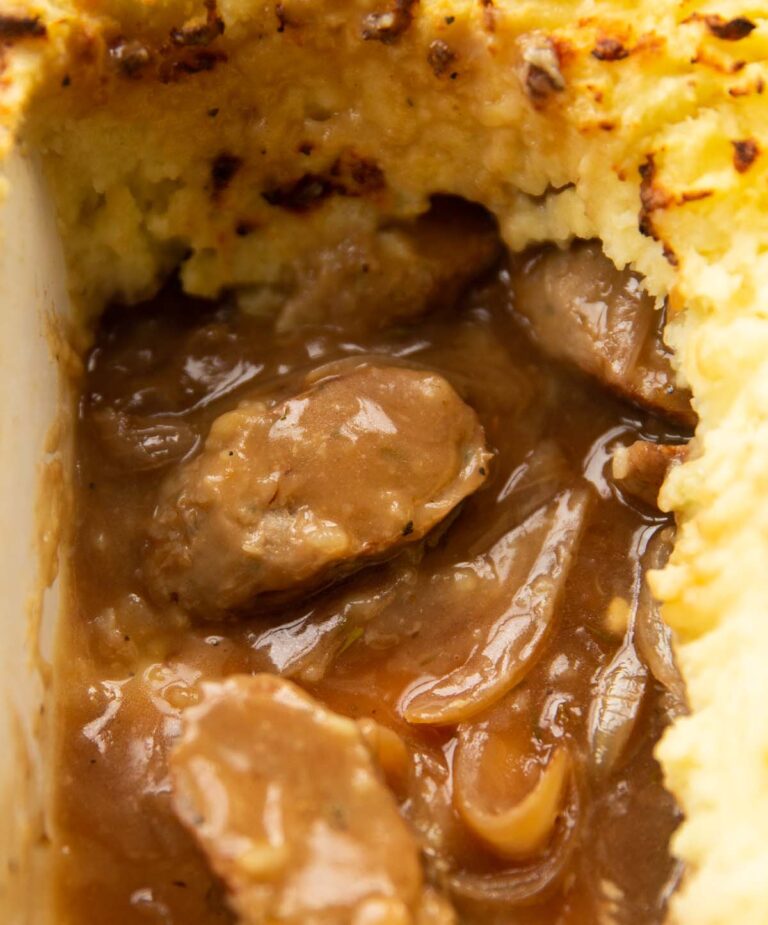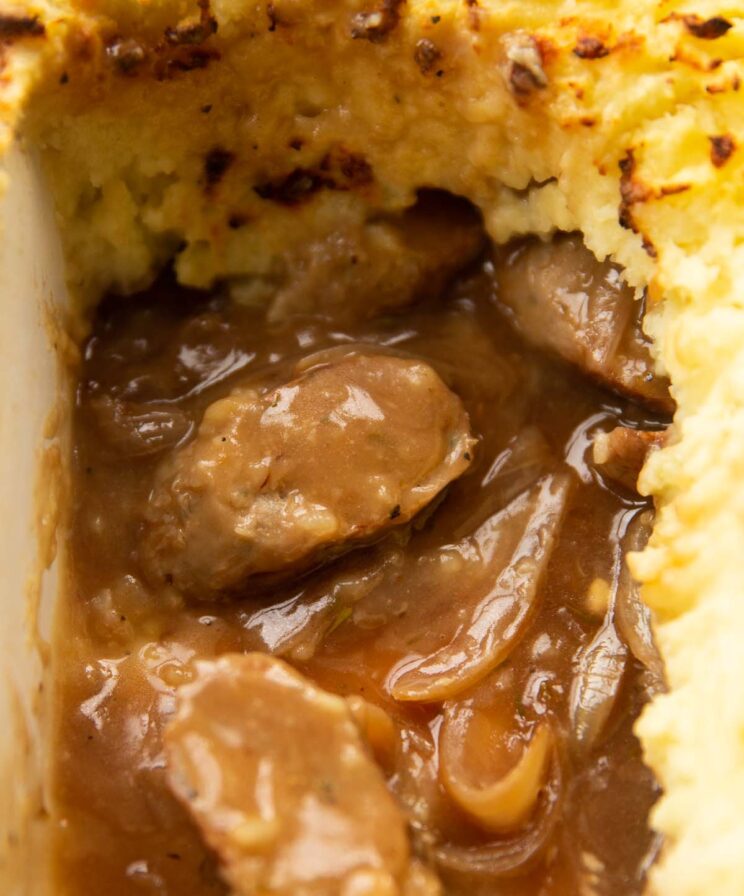 Serving Sausage and Mash Pie
Can I make this recipe as just sausage and mash?
This recipe of course works just as well without making it into a pie. In which case I recommend using less flour in the gravy, just so it's not so thick. Then prep as per recipe.
What to serve with Sausage Pie?
I always go for green beans, but any veg is great! (cauliflower, carrots etc).
Alrighty, let's tuck into the full recipe for this sausage and mash pie shall we?!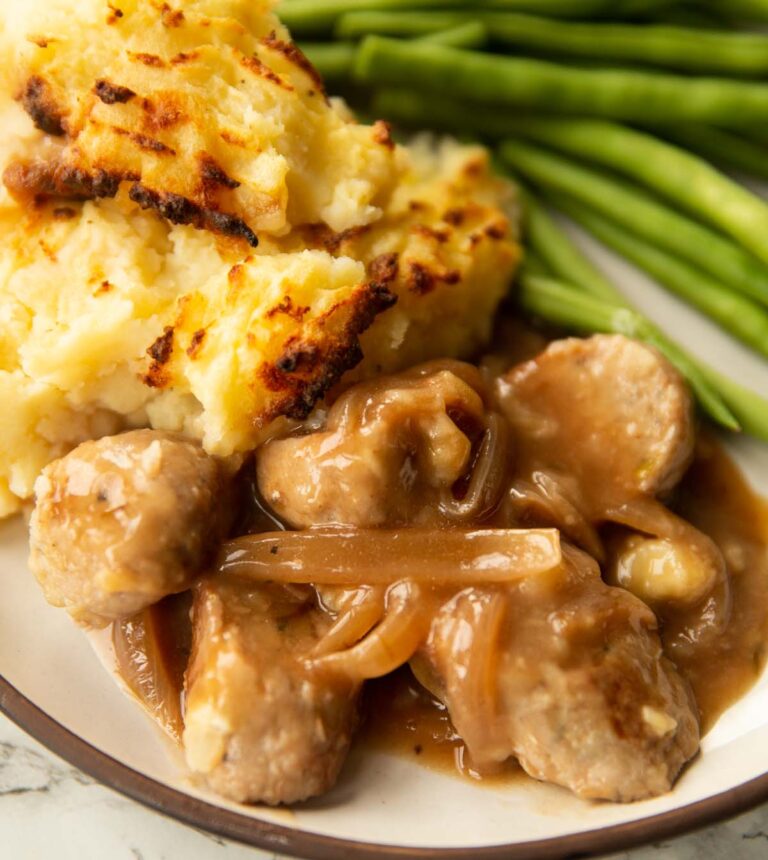 How to make Sausage and Mash Pie

 (Full Recipe & Video)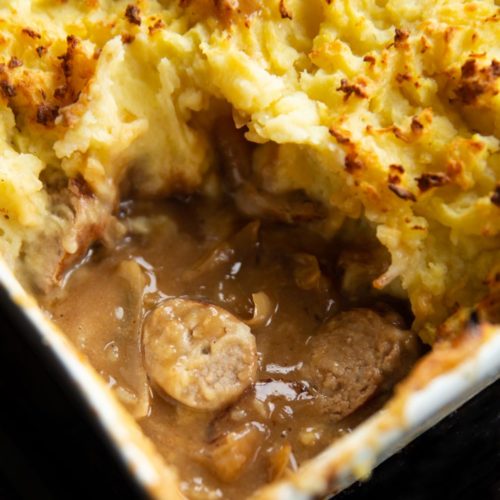 Sausage and Mash Pie
Cheesy mustard mashed potato resting on a layer of sausage and onions in a rich gravy - this truly is the ULTIMATE sausage pie!
Print
Pin
Rate
Share by Text
Servings (click & slide):
6
Calories per serving:
987
kcal
Cost per serving:
£2.50 / $3
Equipment:
Large Pot & Colander

Large Deep Pan & Wooden Spoon

Potato Masher & Potato Peeler

Sharp Knife & Chopping Board

Large Baking Dish & Baking Tray

(minimum size 8" x 12")

Jug (for stock)

Cheese Grater

Serving Spoon
Ingredients (check list):
Sausage & Gravy
28oz / 800g

Pork Sausages (approx 12)

3 cups / 750ml

Beef Stock

1/2 cup / 125ml

Red Wine (see notes)

14oz / 400g

Onion peeled & sliced into strips (weight of onions BEFORE peeled. 14oz/400g is approx 2 large onions or 4 small/medium)

4

tbsp

Plain Flour

3

tbsp

Butter

2

tbsp

Worcestershire Sauce

1/4 - 1/2 tsp

Dried Thyme
Salt & Black Pepper, to taste
Olive Oil, as needed
Mashed Potato
4.4lb / 2kg

White Potatoes, peeled & diced into chunks (i.e Maris Pipers)

1.5 cups / 150g

Cheddar, grated

1/2 cup / 125ml

Milk or Cream

4

tbsp

Butter

1

heaped tbsp

Dijon Mustard (can reduce slightly if you're not keen on mustard)
Salt & Black Pepper to taste
Instructions:
Add potato chunks to a large pot of cold water with 2 tsp salt and bring to a boil. Once boiling, cook for around 10mins until knife tender, then drain in a colander. Let them sit and steam for 5 or so mins before mashing, just to allow some moisture to escape.

Mash the potatoes with butter and milk. Stir in the cheese and mustard then generously season, mashing a little more if needed (I typically end up with 3/4 tsp salt & 1/4 tsp pepper, but work to taste).

Meanwhile, at the same time, in a large pan over medium heat add a drizzle of oil and add the sausages. Fry until browned all over and cooked all the way through. Remove from pan and leave the fat. Diagonally slice the sausages into chunks of 4 when ready.

Add the onions to the leftover sausage fat and fry until they begin to soften and pick up colour. Lower heat slightly and gently caramelize until golden, stirring occasionally so they don't stick to the pan (15mins or so). Season with salt and pepper.

Melt in 3 tbsp butter and bring the heat back up to medium. Stir in 4 tbsp flour until a paste forms. Pour in the red wine and stir until the paste reforms. Gradually add in the beef stock, stirring as you go to ensure no lumps form.

Add Worcestershire sauce, thyme and salt & pepper to taste. Allow to simmer for 15mins until it's nice and thick, then stir through the sliced sausages. Pour into a 20x30 baking dish and allow to rest for 5-10mins so a 'skin' forms over top.

Dollop by dollop add the mash on top of the sausages. I recommend working from the outside and not pushing down too hard or the gravy layer will become uneven. Use a fork to rough the top, then place it on a baking tray (important because gravy will leak out!)

Pop in the oven at 200C/390F for 20mins, or until nice and golden on top. Allow to rest for 5 minutes (important for keeping shape) then serve up and enjoy!
Quick 1 min demo!
Notes:
a) Wine - I highly recommend adding this. It adds a gorgeous depth of flavour and pairs beautifully with the beef and sausages. I'm no wine expert, but you'll need a dry red (nothing OTT), something like Cabernet Sauvignon or Merlot works well. If you don't want to add wine just add more beef stock. b) Consistency - Important to allow the potatoes to steam dry a little to get some of the moisture out. Same with the sausage layer, you don't want either too sloppy otherwise it'll all collapse in the oven. c) Baking Tray - Just another reminder to make sure you place the dish on a tray, leaked gravy stuck to the bottom of your oven isn't fun!  d) Can I make this just as sausage and mash? - Sure thing! Just obviously don't slice up the sausages. Also, consider 1 less tbsp flour in the gravy or it'll be too thick. Just adjust with beef stock as necessary to thin out. e) Can I make this in advance? - Sure! You can either make the mash and/or sausages and gravy in advance and store in the fridge before stacking and baking. Or, make the whole thing, then cool, cover and store in the fridge overnight until needed. If you're doing this I recommend cooling the gravy layer in the fridge before spreading the mash, just so it can build up a barrier and stop the mash from sinking in. I recommend baking at a slightly lower temp for a little longer to make sure it completely cooks through if cooking straight from fridge. You can also freeze then thaw in the fridge and bake. f) Calories - based on using 1 tsp oil to fry, milk instead of cream and Italian Pork Sausages (28oz/800g) then divided by 6.
Your Private Notes:
Nutrition:
Nutrition Facts
Sausage and Mash Pie
Amount Per Serving
Calories 987
Calories from Fat 513
% Daily Value*
Fat 57.03g88%
Saturated Fat 23.346g
117%
Polyunsaturated Fat 6.18g
Monounsaturated Fat 23.345g
Cholesterol 139mg46%
Sodium 1311mg55%
Potassium 2335mg67%
Carbohydrates 82.55g28%
Protein 34.84g70%
Vitamin A 480IU10%
Vitamin C 48.5mg59%
Calcium 297mg30%
Iron 4.59mg26%
* Percent Daily Values are based on a 2000 calorie diet.
Nutrition is based on the absence of salt unless stated as a measurement in the ingredients. Cost is worked out based on ingredients bought from UK supermarkets, then divided by the number of servings. In both instances these values are just for guidance. Please check out my FAQ Page for more info.
---
If you're looking for more glorious mashed potato pie recipes then check out my Shepherd's Pie, Chicken & Bacon Pie and Cottage Pie recipes!
For more similar recipes check out these beauties too:
Easy Sausage Dinners
---