These Honey Balsamic Roasted Carrots are beautifully caramelized in a sweet and sticky glaze. The perfect side dish for your Sunday roast – Hungry now? Jump to Recipe
For someone without a prominent sweet tooth, the sight of honey usually gives me fear. But when it's balanced out with some acidity and glazed over my FAV vegetable of all time ever ever ever, I think I can manage. And by manage I mean give me a whole tray of these please.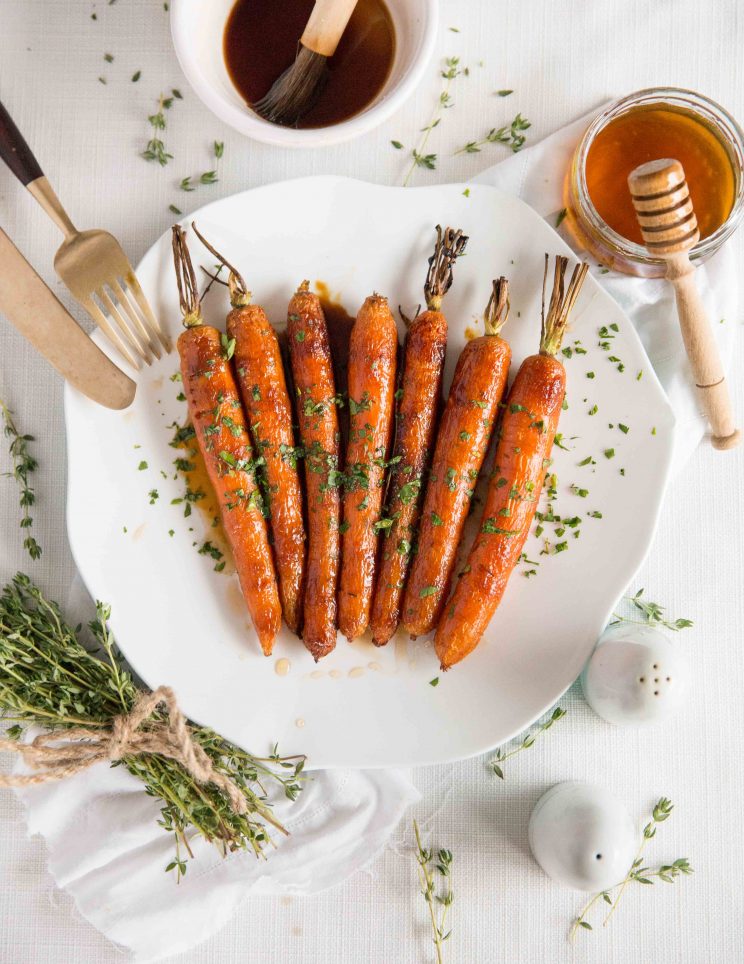 There's something special about these carrots I'm telling you. The sweet and sticky glaze, with the fresh blasts of thyme and parsley. UGH. So good.
Besides the mouthwatering taste of these carrots, the other great thing is the simplicity of them. For real, chuck 'em in the oven with some olive oil & thyme, whip up a 2 ingredient glaze, take them out and coat them & roast further until caramelized. That's it!
Such little prep as well. Although that does bring me neatly on to my next point.
Should you peel carrots?
 In short, it doesn't make a huge difference. Certainly not in this instance anyway.
Peeled carrots gives off a brighter glow, so if you're throwing them in a salad they do look a bit gnarly with the skins left on. But in this case i.e roasting, visually it won't make a huge difference if they're peeled or not. When it comes to taste, some people claim the skin can taste bitter and slightly earthy. Personally I see very little difference, especially when roasting and glazed to the high heavens.
Finally, usually when I'm cooking carrots it's with a roast dinner or a nice bit of meat that needs some tlc. So in this instance I never peel them, work smarter not harder and all that.
In the end it's totally up to you! Either way give those dang things a good scrub in hot water.
Seriously, who knew how therapeutic it was to glaze a carrot. So I guess there's one more question to answer before we tuck in, and that's why don't you glaze the carrots at the start?
And it's a good question. Here, I roast the carrots first in olive oil, thyme, salt & pepper until just cooked and slightly caramelized, then I take them out and glaze the heck out of them & pop them back in.
From past experience I find that throwing on all the glaze at the beginning simply steams the carrots because there's so much moisture. They end up quite soft, especially because the balsamic vinegar thins out the honey. Roasting carrots without the glaze results in a natural caramelization which is perfect. I find that glazing them near the end and cranking up the heat results in the perfect sticky texture, without them being too soft. Plus the honey and balsamic vinegar is far less likely to burn this way.
And seriously ya'll, sometimes I just get carried away okay. Like do I really need an extra layer when they're done? Potentially not, but there's something about honey and balsamic vinegar that just does something to me.
Plus I love using honey dippers.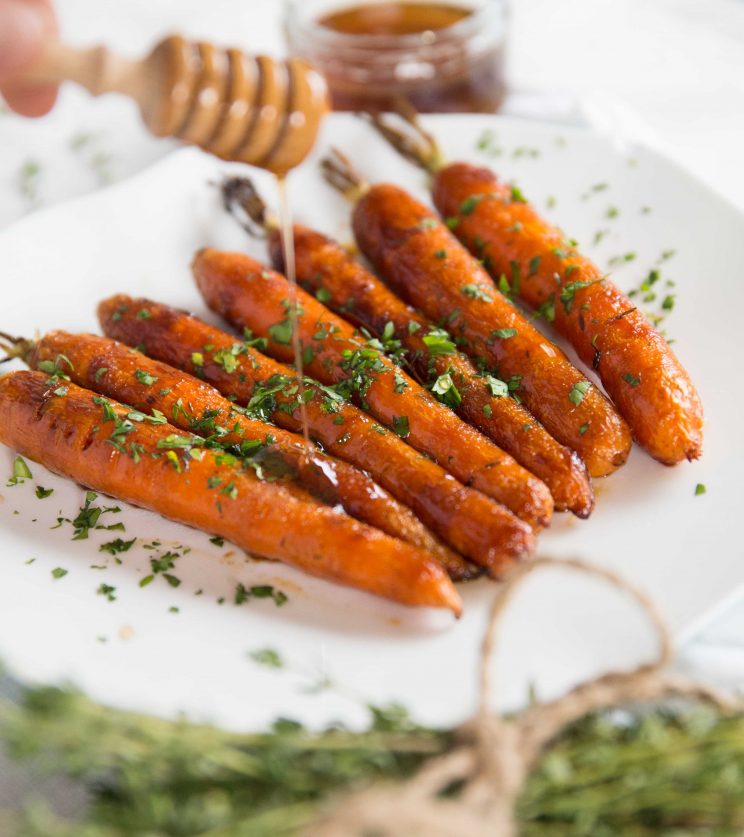 All in all these honey balsamic roasted carrots are the perfect way to jazz what could potentially be an average side dish. Sweet and sticky, yet fresh and flavoursome, these are sure to be the best dang carrots you've ever had. Just beware of the honey dipper.
How to make Honey Balsamic Roasted Carrots

(Full Recipe & Video)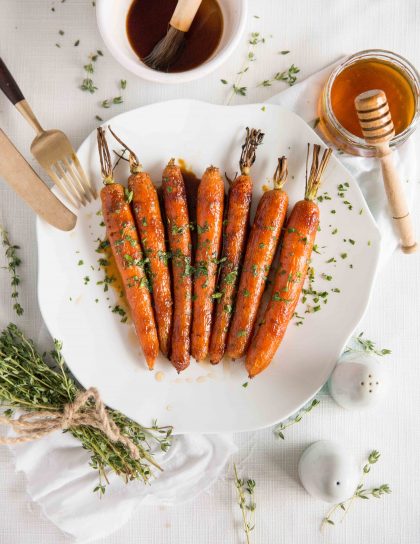 Honey Balsamic Roasted Carrots
'These Honey Balsamic Roasted Carrots are beautifully caramelized in a sweet and sticky glaze. The perfect side dish for your Sunday roast.'
Course:
Main Course, Side Dish
Ingredients
8

Medium

Carrots (scrubbed, trimmed & peeled if desired)

Few

sprigs

Fresh Thyme

2

tbsp

Honey

2

tbsp

Balsamic Vinegar

drizzle

Olive Oil

spinkle

Fresh Parsley, finely diced

Salt & Pepper, to taste
Method
Preheat oven to 200c (390f).

In a side bowl mix your Honey, Balsamic Vinegar and Seasoning to taste. Place to one side.

Coat your Carrots with Oil, Salt and Pepper and place with Thyme in a suitable sized oven dish.

Roast for 25-30 mins until you can comfortably slice with a knife.

With a brush, coat your Carrots with your Honey-Balsamic glaze, ensuring full coverage. Place back in the oven at 220c (425f) for around 10 minutes or until sticky and caramelized. Turn and reglaze once throughout.

Serve by pouring over any leftover glaze in the pan and a sprinkle of Parsley and seasoning if required.
Recipe Notes
a) After scrubbing ensure you dry well - you want to dry roast the carrots in the first instance, excess moisture will make caramelization more difficult.
b) If your carrots a large, consider slice them in half (vertically).
c) Make sure your carrots are evenly spaced apart, you want to allow the heat to circulate around the carrots as much as possible.
d) Timings may vary depending on texture preference.
e) Calories based on serving of 2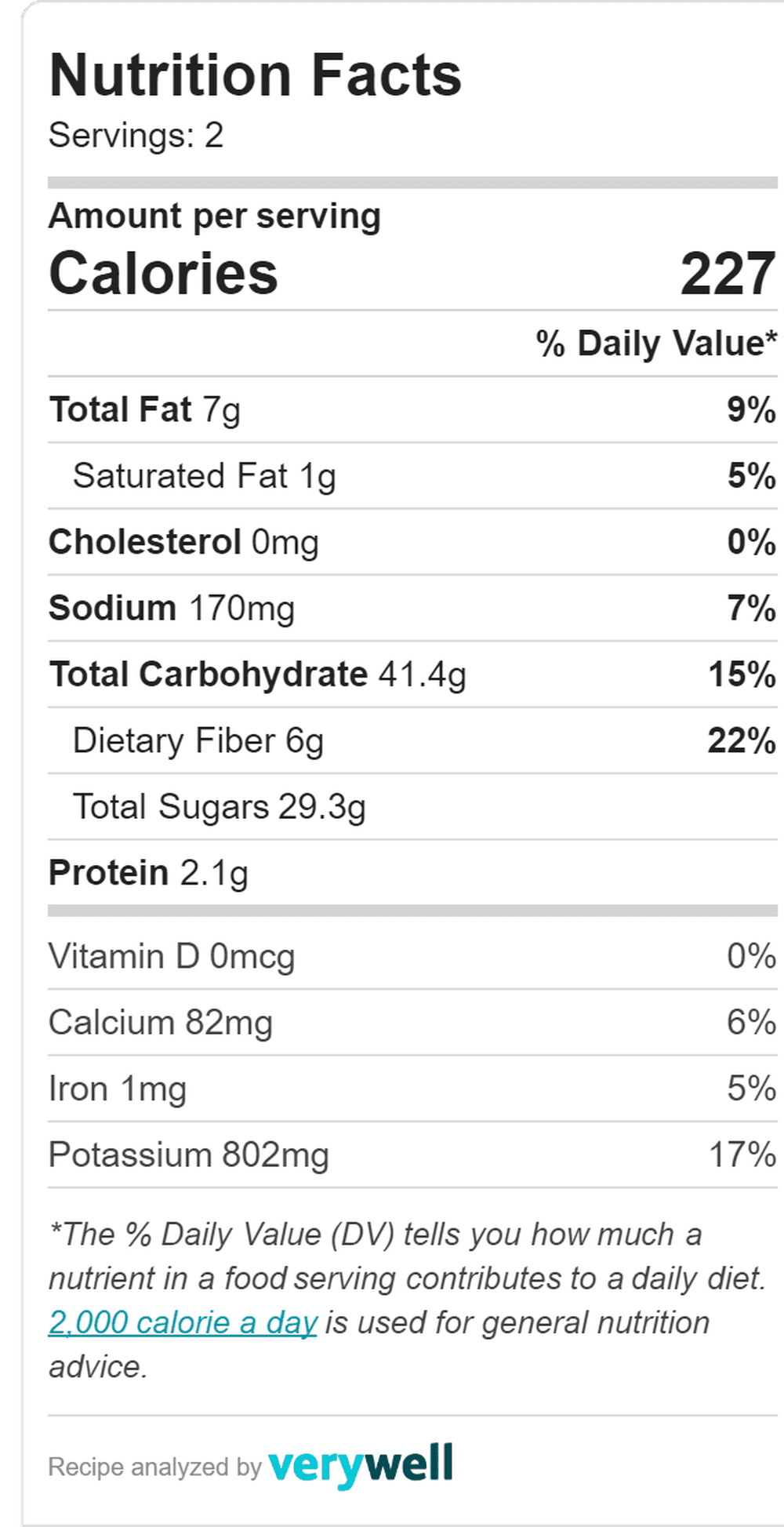 Nutrition Facts
Honey Balsamic Roasted Carrots
Amount Per Serving
Calories 227
* Percent Daily Values are based on a 2000 calorie diet.
---
Carry on building that Roast Dinner with these Goose Fat Roast Potatoes!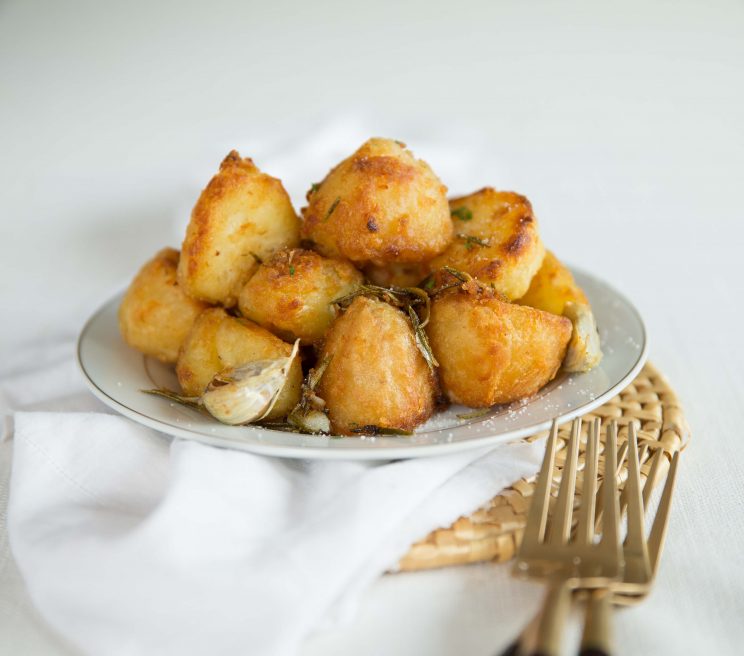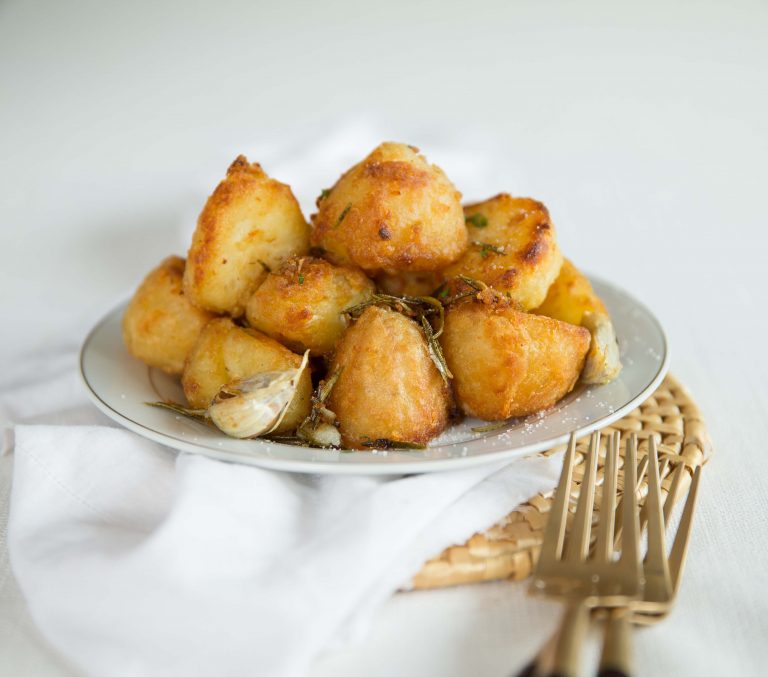 If you loved the Honey Balsamic Roasted Carrots be sure to pin the recipe for later! Already made them or got a question? Give me a shout in the comments below!