These Honey Balsamic Roasted Carrots are beautifully caramelized in a sweet and sticky glaze. The perfect side dish for your Sunday roast.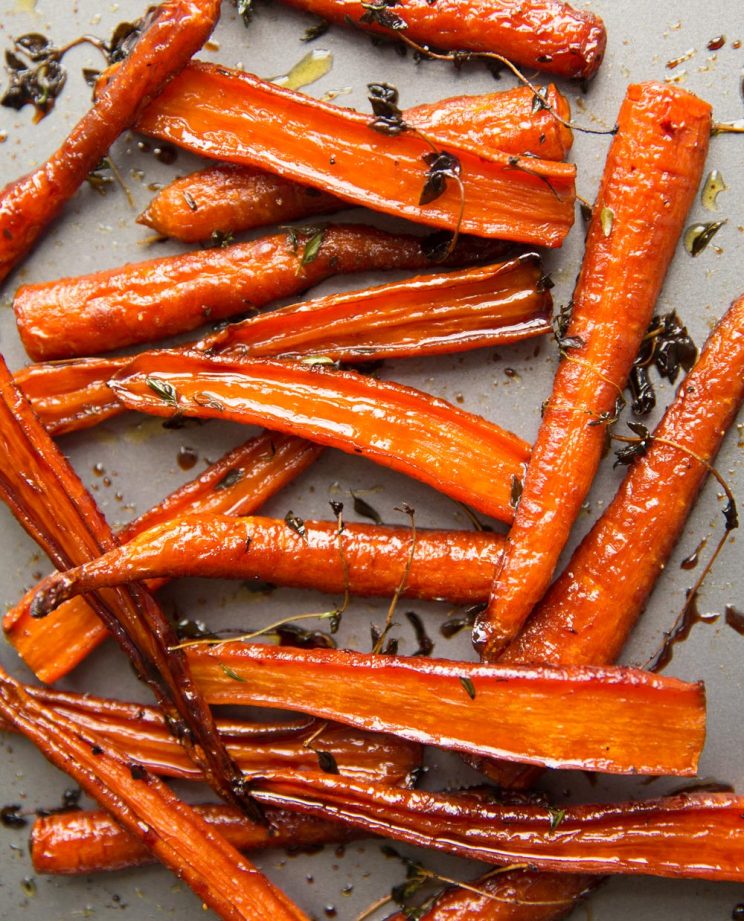 Balsamic Roasted Carrots with Honey
For someone without a prominent sweet tooth, the sight of honey usually gives me fear. But when it's balanced out with some acidity and glazed over my FAVE vegetable of all time ever ever ever, I think I can manage. And by manage I mean give me the whole tray please.
How to prep your carrots
Should you peel your carrots?
In short, it doesn't make a huge difference. Certainly not in this instance anyway.
Peeled carrots give off a brighter glow, so if you're throwing them in a salad they do look a bit gnarly with the skins left on. But in this case i.e roasting, visually it won't make a huge difference if they're peeled or not. When it comes to taste, some people claim the skin can taste bitter and slightly earthy. Personally I see very little difference, especially when roasting and glazed to the high heavens.
Finally, usually when I'm cooking carrots it's with a roast dinner or a nice bit of meat that needs some tlc. So in this instance I never peel them, work smarter not harder and all that.
In the end it's totally up to you! However, either way give those dang things a good scrub in hot water.
To slice or not to slice?
I do highly recommend slicing your carrots, at least in half. If they're particularly large then consider quartering them. The reason being you want the carrots to cook through the centre before the glaze fully caramelizes. If they're too big the glaze will burn by the time they're completely softened. Slightly thinner carrots work best for this recipe.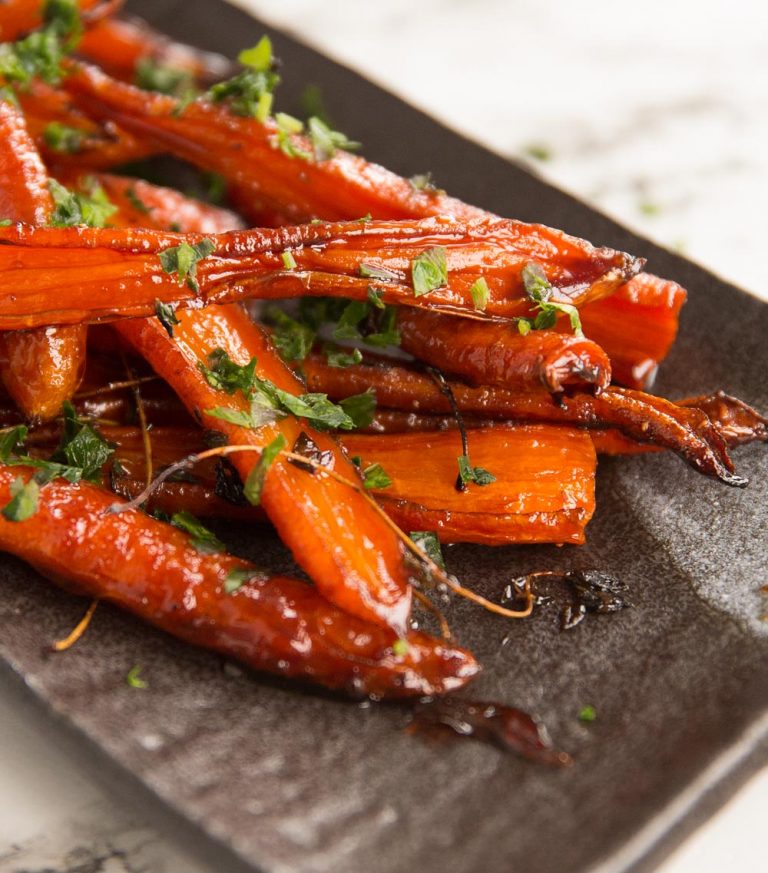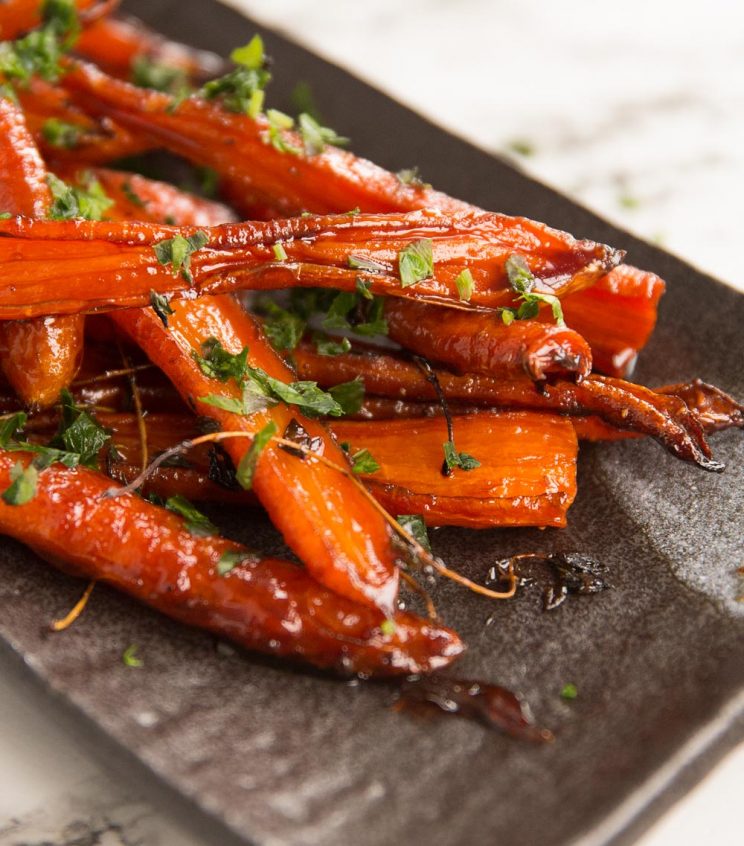 Top Tip #1 – Ensure your carrots are all the same size, more specifically the same thickness. This will ensure the carrots all cook at an even rate.
How to Roast Carrots in Honey Balsamic Glaze
Okay, so you've prepped your carrots, let's talk glaze. The honey balsamic glaze itself is actually really simple, and consists of honey, balsamic vinegar, olive oil and salt & pepper. It's a fairly runny consistency in the first instance, but it will caramelize and go sticky as the carrots roast.
I also like to throw in a few sprigs of fresh thyme, because carrots and thyme are a match made in heaven. I highly recommend using fresh thyme for this recipe, just pluck out the stalks at the end.
How to make honey balsamic roasted carrots (quick summary)
Scrub your carrots.
Slice the tip off.
Slice vertically.
Add to a baking tray with fresh thyme.
Pour over glaze and roast.
Take out, flip carrots and pour over leftover glaze. Roast until caramelized.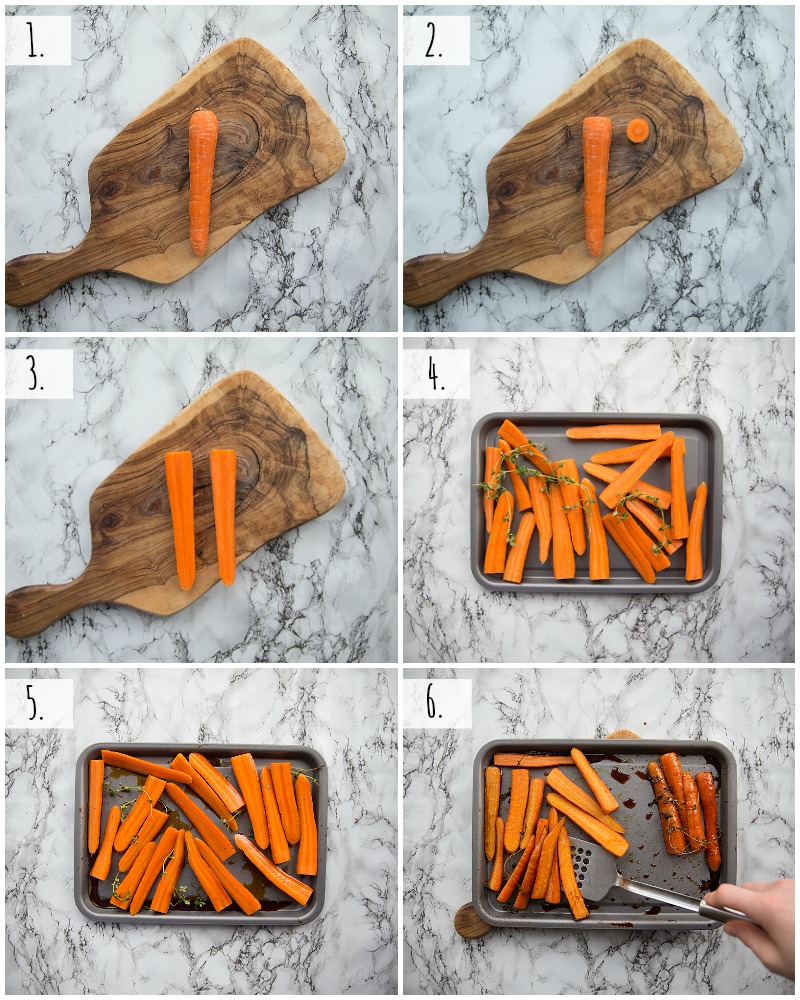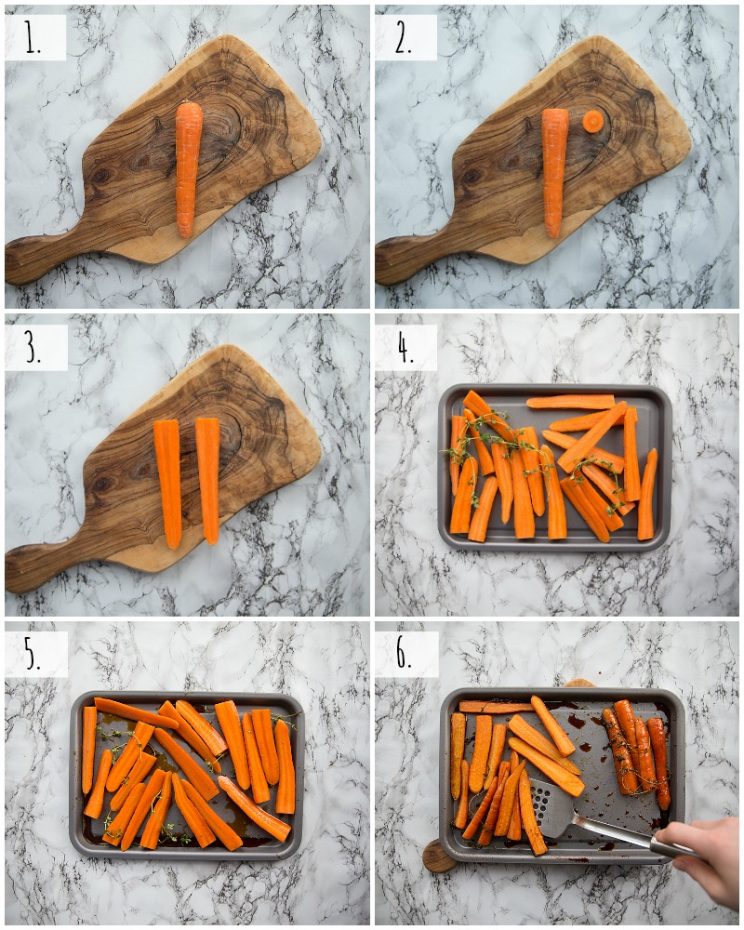 Don't crank up the heat – Or at least if you do, I don't recommend go higher than 390f/200c. Any more and you risk burning the glaze. Carrots will take varying times to cook through and could take up to 50mins, depending on the size.
When they come out the oven, it's time to serve up! I love to sprinkle over fresh parsley and if I think it needs it, I'll give the carrots a final drizzle of honey and/or splash of balsamic vinegar. I also recommend another pinch of salt, just to balance out the sweetness from the honey glaze.
All in all these honey balsamic roasted carrots are the perfect way to jazz what could potentially be an average side dish. Sweet and sticky, yet fresh and flavoursome, these are sure to be the best dang carrots you've ever had.
Hey, whilst you're here why not check out my other recipes?
Roast Dinner Sides
Alrighty, let's tuck into these sweet roasted carrots shall we?!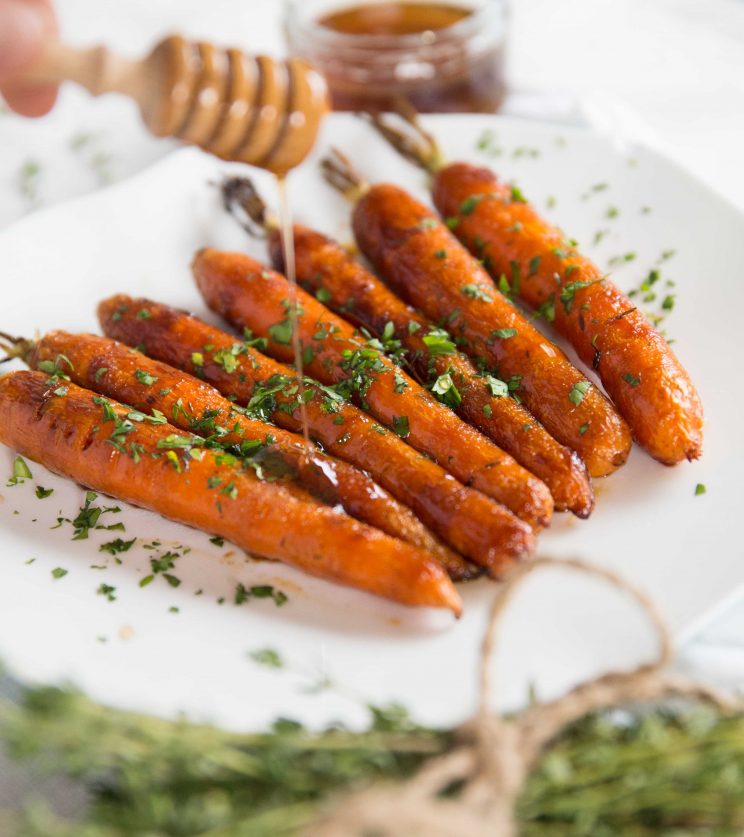 How to make Honey Balsamic Roasted Carrots

(Full Recipe & Video)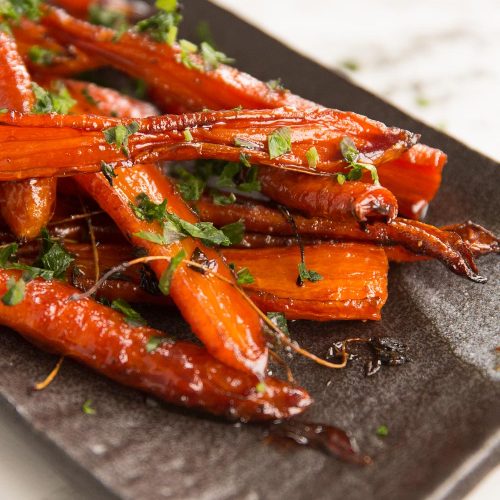 Honey Balsamic Roasted Carrots
These Honey Balsamic Roasted Carrots are beautifully caramelized in a sweet and sticky glaze. The perfect side dish for your Sunday roast!
Print
Pin
Rate
Servings (click & slide):
4
Calories per serving:
132
kcal
Cost per serving:
£1 / $1
Equipment:
Baking Tray

Spatula/Turner

Small Bowl (for glaze)

Peeler (optional)

Sharp Knife & Chopping Board (for parsley)
Ingredients (check list):
1lb / 500g

medium sized

Carrots (see notes)

2

tbsp

Honey

2

tbsp

Balsamic Vinegar

1

tbsp

Olive Oil

few sprigs of

Fresh Thyme

sprinkle of

Fresh Parsley, finely diced
Salt & Pepper, to taste
Instructions:
Preheat oven to 375/190c. In a small bowl, mix 2 tbsp honey, 2 tbsp balsamic vinegar, 1 tbsp olive oil and a pinch of salt and pepper.

Trim the tips off your carrots and slice in half lengthways, to make 2 even and thinner carrots. If your carrots are large then quarter them. If your carrots are very thin/small then you can leave them whole. It's important that all the carrots are similar size/thickness. (see notes)

In a suitably sized tray, combine your carrots, a few sprigs of thyme and 3/4 of your glaze, ensuring you coat the carrots as evenly as possible. Roast for 15-20 mins or until the carrots start to caramelize. If at any point you see the vinegar beginning to char on the baking tray, mix the carrots and nudge down the heat.

Take the tray out the oven, flip the carrots and pour over the rest of your glaze. Pop back in the oven until fully caramelized and sticky. This can take up to another 20-25mins depending on the size of your carrots. Please be vigilant and don't be tempted to whack up the heat. Anything over 390f/200c risks burning the glaze.

Serve by removing the thyme stalks and sprinkle with fresh parsley. I also recommend another pinch of salt at the end, just the balance out the sweetness. If you particularly love balsamic vinegar then use a brush to flick over some at serving, or if you particularly love honey then feel free to give them a tiny drizzle.
Notes:
a) Size - 1lb/500g is about 10 medium carrots. Thinner carrots do work slightly better with this recipe as they'll go nice and caramelized, whilst still coming out soft through the centre. As such I do definitely recommend at least halving medium sized carrots. You'll find that larger carrots will cook too much on the outside and stay slightly al dente on the inside. b) Timing - Carrots are one of those veg that tend to differ in cooking times, and obviously different sized carrots will take varying different times to cook. I have in the past been tempted to crank up the heat, and as a result have burnt the glaze. 390f/200c max if your carrots are struggling to cook through. c) Caramelized - Dark patches around the edges of the carrots are great, that's the glaze caramelizing. What you don't want is the glaze to be charring on the pan. If you see this starting to happen just give the carrots are a stir and slightly lower the temp. d) Dried Herbs - I don't recommend subbing dried herbs for this recipe, fresh works so much better! I find dried thyme is slightly overpowering and tends to go more crispy in the oven. Fresh thyme infuses the carrots nicely without being all up in your face. Just pluck the stalks out at the end! e) Calories - Based on sharing between 4 people, with no extra honey/balsamic added at the end. f) Updated - Updated the method with more in depth detail, recipe still the same!
Your Private Notes:
Nutrition:
Nutrition Facts
Honey Balsamic Roasted Carrots
Amount Per Serving
Calories 132
Calories from Fat 34
% Daily Value*
Fat 3.75g6%
Polyunsaturated Fat 0.537g
Monounsaturated Fat 2.484g
Sodium 108mg5%
Potassium 506mg14%
Carbohydrates 24.77g8%
Protein 1.52g3%
Vitamin A 54650IU1093%
Vitamin C 10.7mg13%
Calcium 60mg6%
Iron 0.7mg4%
* Percent Daily Values are based on a 2000 calorie diet.
Nutrition is based on the absence of salt unless stated as a measurement in the ingredients. Cost is worked out based on ingredients bought from UK supermarkets, then divided by the number of servings. In both instances these values are just for guidance. Please check out my FAQ Page for more info.
---
If you loved these Honey Balsamic Roasted Carrots be sure to pin the recipe for later! Already made them or got a question? Give me a shout in the comments below and pick up your free ecookbook along the way!