These Chicken Quesadillas are easy, cheesy and packed full of flavour. Here I'll show you just a few tips & tricks to make the best chicken quesadillas imaginable!
Chicken quesadillas are perfect for literally any occasion. Dinner? Quesadillas. Parties? Quesadillas. Not even hungry but gonna eat anyway and enjoy it because you've worked hard today and you deserve a damn good meal? Quesadillas. You get my drift. So essentially if you're gonna live off quesadillas, which isn't the worst thing in the world, you're gonna want to live off the best quesadillas in the world right? So let's cut right to the chase, I've eaten enough chicken quesadillas to last me a life time, and along the way I've picked up some tips that'll enhance your quesadilla experience. So let's tuck right in.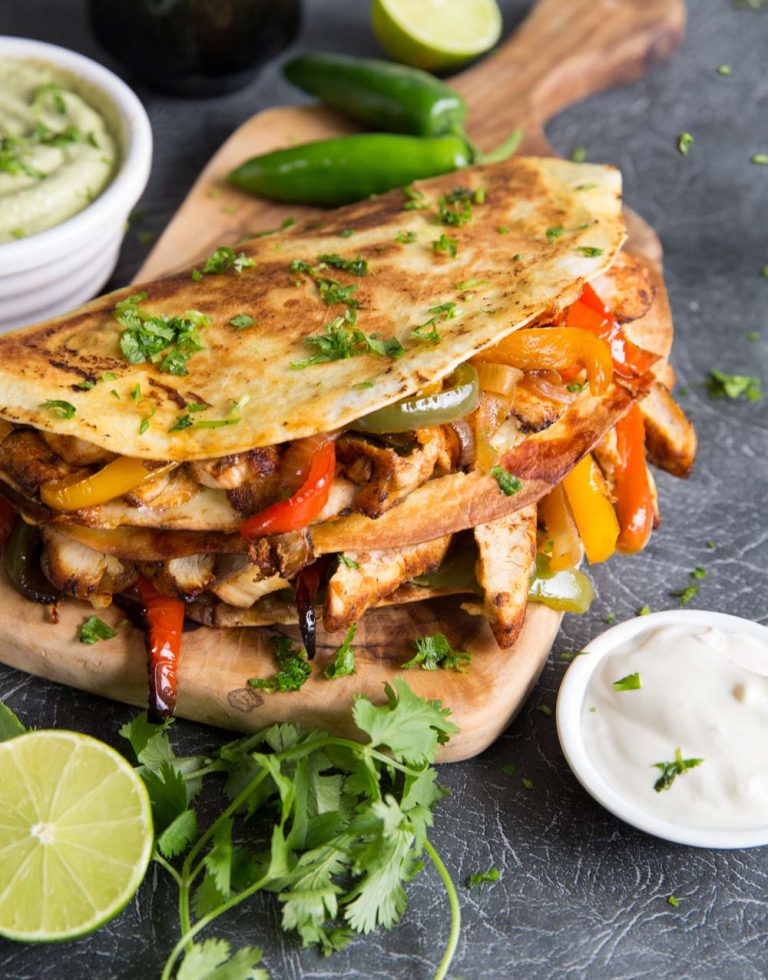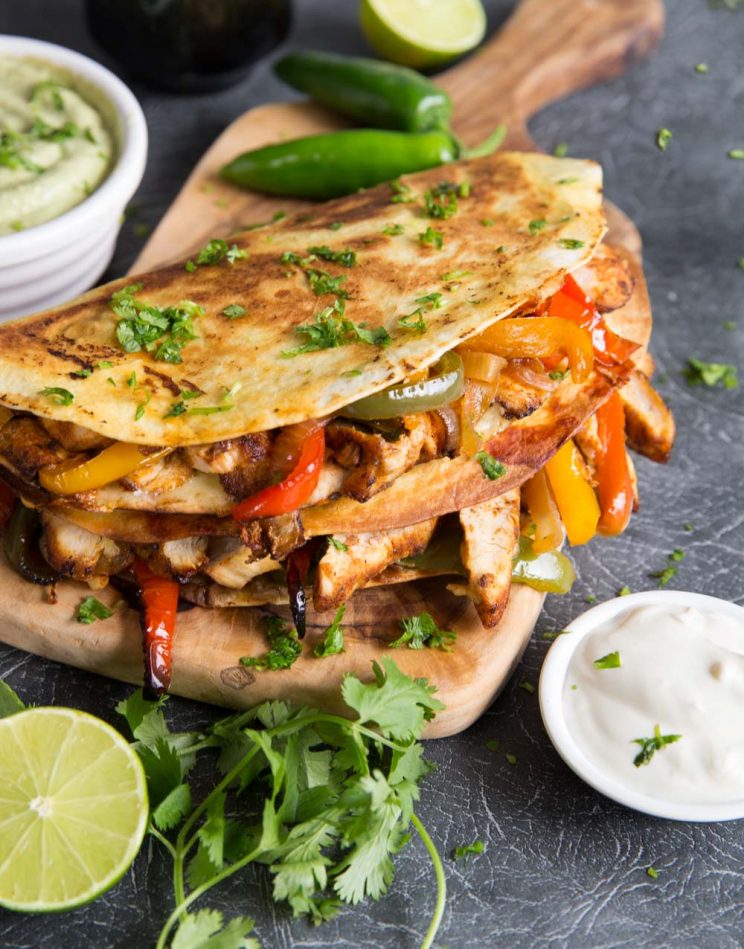 How to prepare Chicken Quesadillas
What cut of chicken should I use?
Personally I always go for breast, but you could use boneless/skinless thigh or ready cooked rotisserie chicken. If using breast then butterfly it right through to produce two thinner breasts, which in turn will be easier to fry. In all cases generously coat with fajita seasoning.
How to cook chicken for quesadillas?
For breast, you're gonna want to pan fry it in a little oil over medium-hight heat. Because they are now thin, you want to get a nice colour on the outside and only just have it cooked through the centre. Then take out the pan and allow to rest. This will not only continue cooking the chicken but will also allow it to stay moist. If the thighs are thin it's the same process and rotisserie chicken won't need further frying.
How to cut chicken for quesadillas?
For maximum tenderness I like to slice the breast into strips. After they've rested, begin slicing thin strips, at an angle, and against the grain. You could also cube the chicken or shred it with two forks.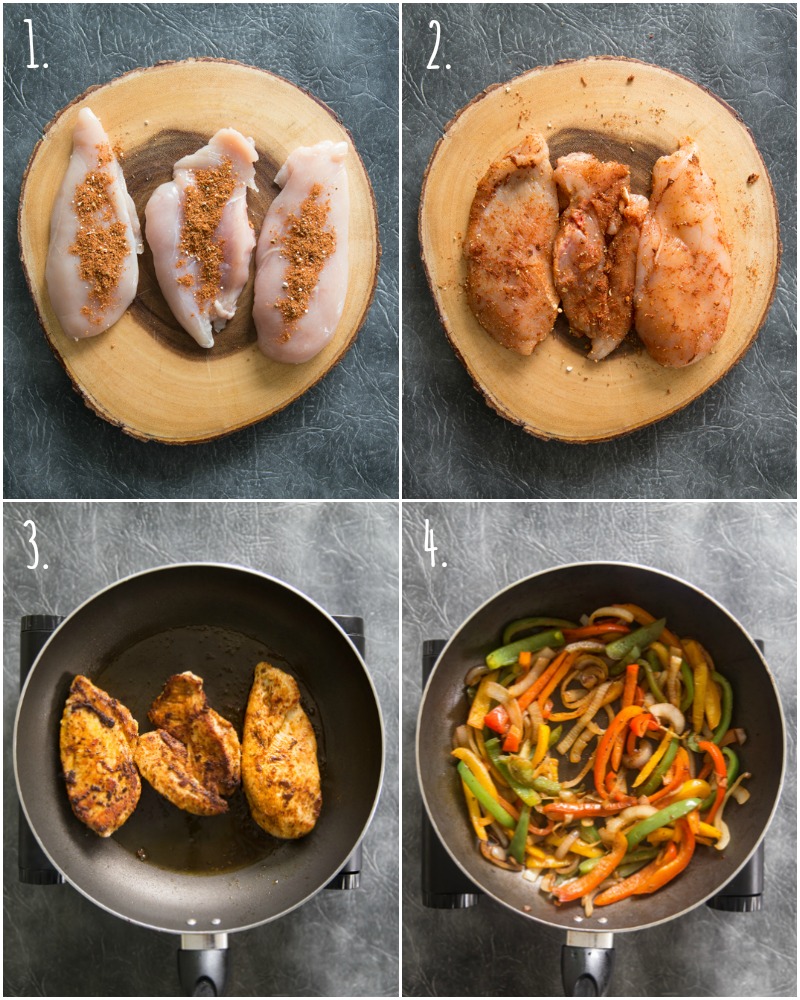 Chicken Quesadilla Fillings
I like to keep it simple and just use cheese, peppers and onion. I tend to stay away from adding salsa/guac inside as it makes the quesadilla go soggy.
What cheese to use in quesadillas?
I usually go for a classic cheddar. Monterey Jack cheese is also another popular choice for quesadillas. I tend to stay away from mozzarella for the simple fact it's not as flavoursome as other cheeses, and quesadillas are all about big flavour.
How to fold a quesadilla
First of all, you can stack a quesadilla like a pizza without folding the tortilla, which I do for my sweet potato quesadillas, but for chicken it's much better to fold. Just for the simple reason that it stays intact better. Either way, start and end with a pinch of cheese. It's like edible glue for quesadillas.
How to how to cook Chicken Quesadillas
Option 1: Pan Frying
Spray both sides of your quesadilla and fry for around 3-4mins on each side, or until golden brown with the cheese melted. I find the best way to flip the quesadillas is to grab a plate, lay it over the top and flip the pan. Then slide them back into the pan.
Option 2: Oven Bake
Spray both sides of your quesadilla with oil and pop in the oven at 220c/430f for 6-8mins. Take out, flip over and pop back in until dark golden (approx another 6-8mins).
How to make crispy quesadillas
It doesn't matter so much for pan frying because you've got more direct heat, but for oven baking make sure you cool the filling. I find that using hot fillings and baking causes too much steam and tends to steam the tortilla instead of baking it.
Make sure you've got a fairly high heat for either method. If the heat's too low the tortilla is going to go too soft, and with the melted cheese is going to be way too sloppy.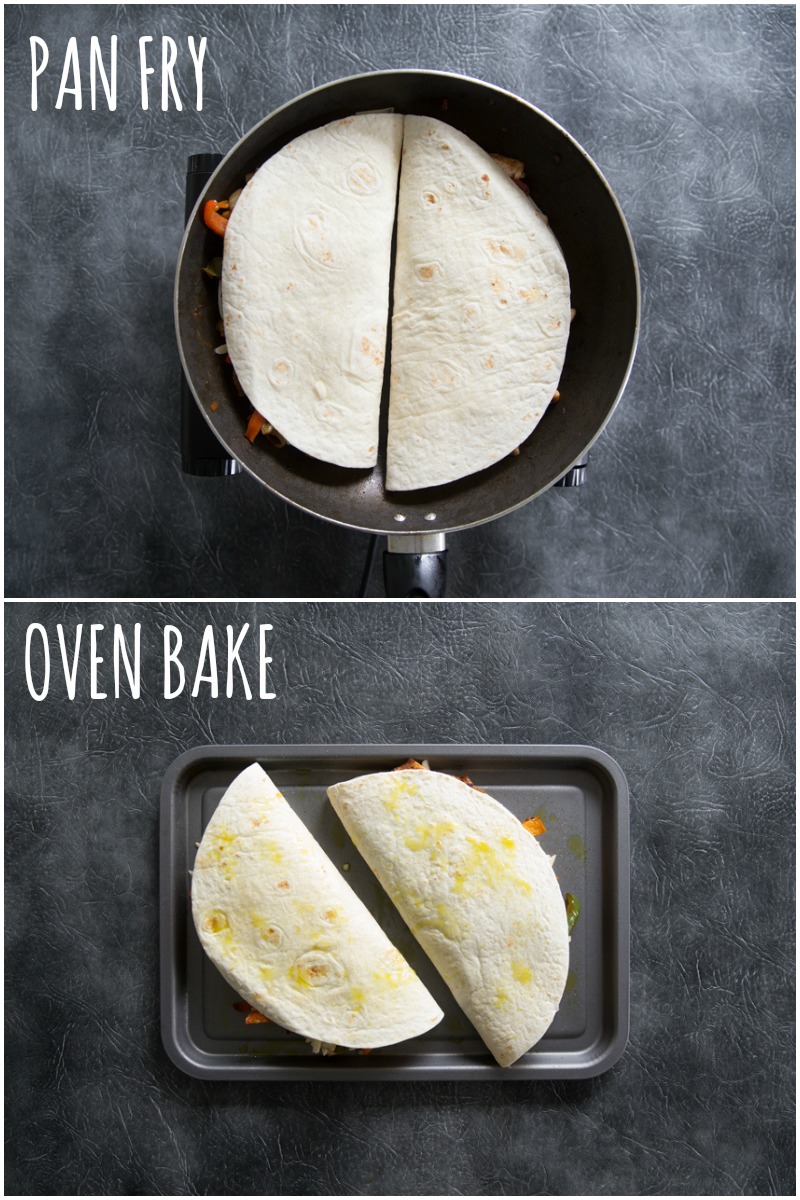 What to serve with quesadillas?
Well, as a self-appointed quesadilla connoisseur I actually have an entire page dedicated Easy Quesadilla Side Dishes, so do check that out. But when it comes to chicken quesadillas specifically, I like to top with:
Sour Cream
Jalapeños
Coriander/Cilantro
Lime Juice
Like I said earlier, any sauces or dips I recommend chucking on after, otherwise you'll be compromising the crispiness of the quesadilla. He says whilst pouring an entire tub of sour cream of the top 🤭
Okay so just to summarise before we tuck into the full recipe:
Use chicken breasts, slice in half and fry over medium-high heat. Let them rest then cut at an angle and against the grain.
Keep sauces/salsas out of the filling and use to top at the end.
Cool the fillings beforehand if you're baking in the oven.
Use cheese on the top and bottom to use and glue to keep the quesadillas in tact.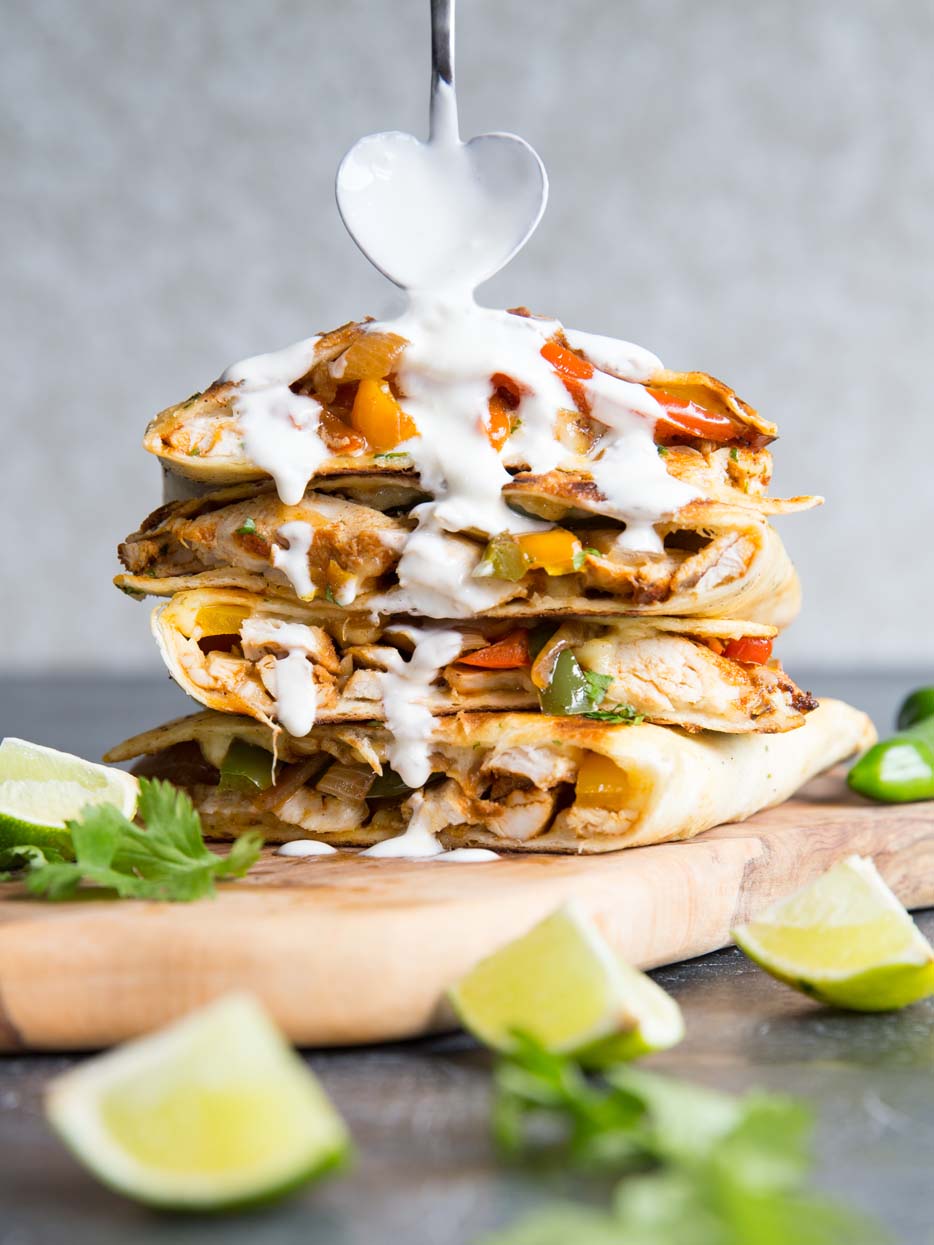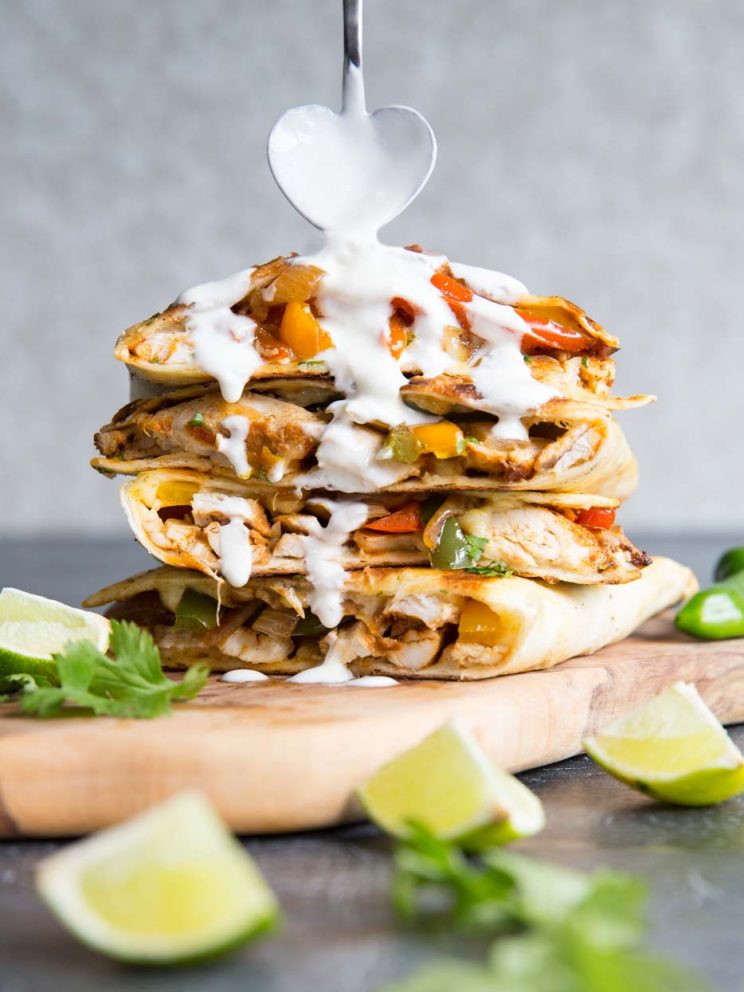 How to make the Best Chicken Quesadillas (Full Recipe & Video)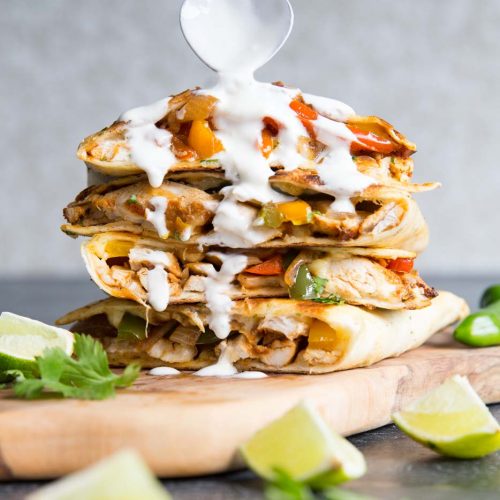 Best Ever Chicken Quesadillas
These Chicken Quesadillas are easy, cheesy and packed full of flavour. Here I'll show you just a few tips & tricks to make the best chicken quesadillas imaginable!
Print
Pin
Rate
Share by Text
Servings (click & slide):
4
Calories per serving:
618
kcal
Cost per serving:
£2 / $2.50
Equipment:
Large Frying Pan & Wooden Spoon

Sharp Knife & Chopping Board

Tongs

Cheese Grater
Ingredients (check list):
Quesadillas
4

Flour Tortilla Wraps

3

Chicken Breasts

3 tbsp

Fajita Seasoning (save 1 tsp)

3

Peppers (red, yellow & green), cored & sliced

2 cups / 200g

Cheese (here I use cheddar)

1

White Onion, peeled & sliced

1

tbsp

Olive Oil, plus more as needed
Oil Spray
Instructions:
Begin by butterflying your chicken and slicing right through the centre to create 6 even breasts. Fully coat with your seasoning, sparing 1 tsp for later.

Heat your oil over medium/high heat and fry your breasts for a few minutes each side until they begin to char and are just cooked through the centre. Place to one side to rest. When ready to use, slice into thin strips, ensuring you cut at an angle and against the grain.

In the same pan, lower to a medium heat, add your onions & peppers and fry until they begin to brown. Add your 1 tsp of seasoning and fry for a few minutes longer until fully coat and softened.

Top half of your tortilla wrap with a pinch of cheese, 1/4 of your chicken strips, 1/4 of your onion/pepper mix and finish with another pinch of cheese. Fold over and press down to secure. Repeat for the 3 other wraps.
Pan Fry
Spray each side with oil and fry for 3-4mins over medium heat, flipping once.
Oven Bake
Spray each side with oil and place in the oven at 220C/430F for 6-8 minutes, then take out and flip until the second side turns deep golden (another 8mins or so depending on size). With this method it is better to allow the filling to cool before you build the quesadillas, to prevent them from steaming in the oven, which in turn would turn them soggy.

Serve with your favourite toppings!
Notes:
a) What to serve with quesadillas? - Here I topped with fresh jalapeño, coriander/cilantro, lime, sour cream and creamy avocado dip. Check out my Easy Quesadilla Side Dishes for more inspiration!
b) What cheese to use in quesadillas? - Beside cheddar, Monterey Jack is a popular option. I tend not to use mozzarella because it lacks in flavour, and quesadillas are all about big flavour!
c) Marinade for chicken quesadillas - Just mix your fajita seasoning with a drizzle of olive oil and a good squeeze of lime juice, then coat your chicken and leave to marinade. If you have the time of course 🙂
d) Calories - Based with no additional toppings.
Your Private Notes:
Nutrition:
Nutrition Facts
Best Ever Chicken Quesadillas
Amount Per Serving
Calories 618
Calories from Fat 250
% Daily Value*
Fat 27.8g43%
Polyunsaturated Fat 2.71g
Monounsaturated Fat 9.671g
Cholesterol 161mg54%
Sodium 1217mg51%
Potassium 613mg18%
Carbohydrates 31.63g11%
Protein 56.71g113%
Vitamin A 2350IU47%
Vitamin C 53.6mg65%
Calcium 420mg42%
Iron 3.8mg21%
* Percent Daily Values are based on a 2000 calorie diet.
Nutrition is based on the absence of salt unless stated as a measurement in the ingredients. Cost is worked out based on ingredients bought from UK supermarkets, then divided by the number of servings. In both instances these values are just for guidance. Please check out my FAQ Page for more info.
---
For more similar recipes check out these beauties:
Easy Quesadilla Recipes
---