A delicious twist on the classic Alfredo. Penne Alfredo with Bacon and Sundried Tomato will change your 'go to' quick dinner forever – Hungry now? Jump to Recipe
Sometimes your belly just calls for the simple things in life. The simply gorgeously, creamy and flavoursome things that is. Pasta alfredo is one of those dishes that you won't see being made the same way twice; an ambassador of variation if you will. For me? I like a classic penne with some very 'non classic' additions.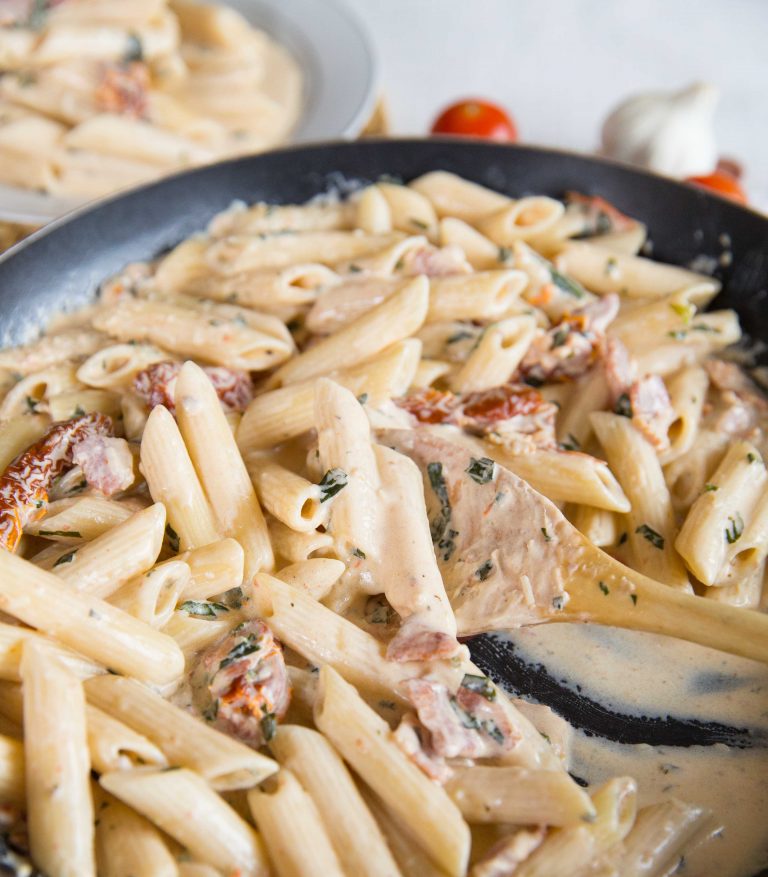 Alfredo sauce is traditionally made using butter and parmesan, but in more recent times has taken on a far more creamier character.
If you hadn't already guessed from this recipe, or by the fact that 90% of my recipes start with the word 'creamy' I'm definitely one for having my pasta drowning in a creamy sauce
#guilty
But this particular recipe has a far more complex flavour than just 'creamy'. By adding in some crispy bacon, some gorgeously rich sundried tomatoes, a blast of garlic and a sprinkle of fresh basil, you end up with something that's truly bursting with flavour.
So forget what you knew about penne alfredo and follow me on a journey of deliciousness!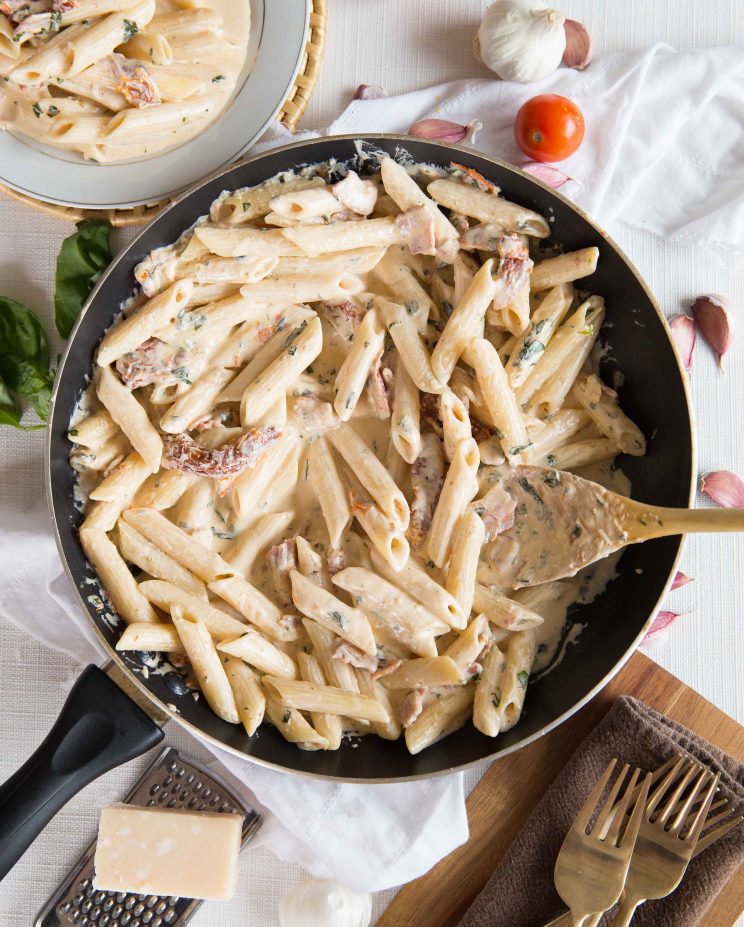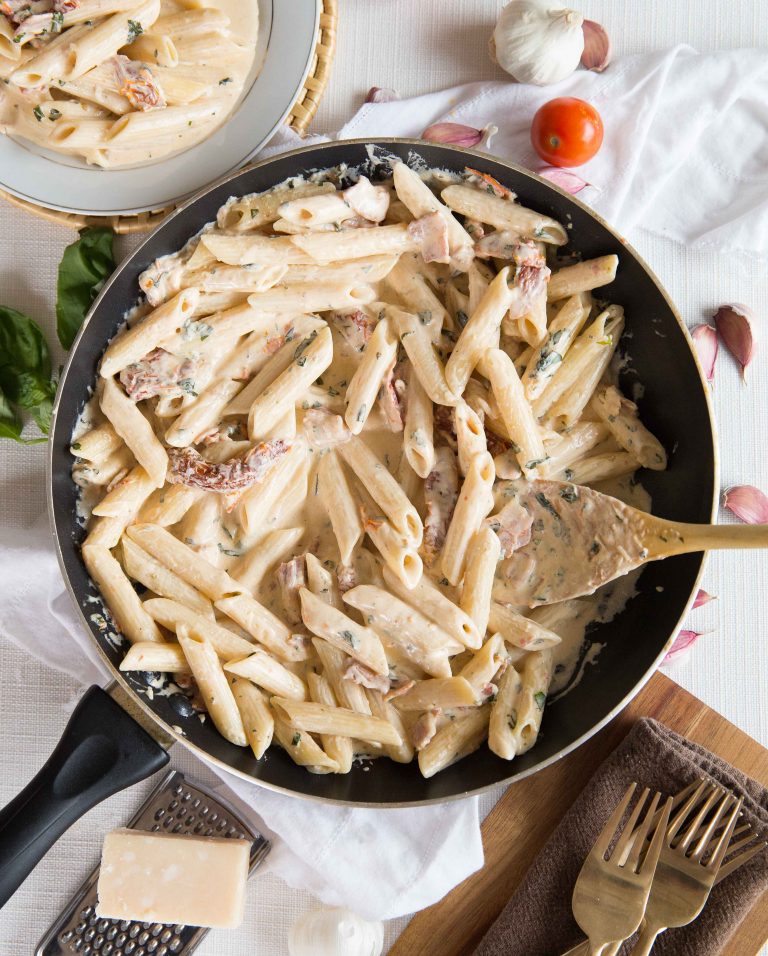 People are always so surprised when I show them the recipe for this because it really does taste like so much more effort has gone into it than actually has.
Okay, that makes me sound lazy.
But it's kinda true. This recipe is SO simple and requires such little ingredients; which is quite hard to believe after how beautiful it tastes. So smooth and silky, yet tangy and bursting with flavour.
The other fantastic thing about this recipe is the definition of a quick dinner. You know, there really is nothing worse than getting back from work and having to slave away in the kitchen when you don't have the energy.
On average it takes me around 20-25 mins to knock up this dish from start to finish, prep included. The perfect dinner to add to your meal rotations.
I'll have to assume by now that if you've made it this far you're not on a low-cal diet. Yep, this alfredo sauce is rather indulgent. But hey, treat yourself. You deserve it 🙂
How to make Penne Alfredo with Bacon and Sundried Tomato

(Full Recipe & Video)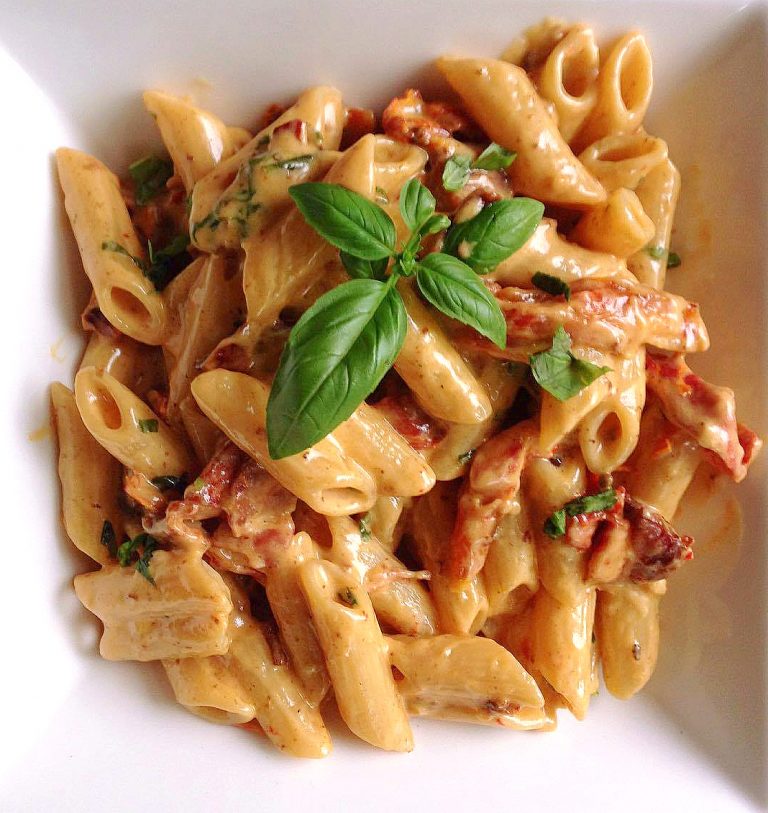 Penne Alfredo with Bacon and Sundried Tomato
A delicious twist on the classic Alfredo. Penne Alfredo with Bacon and Sundried Tomato will change your 'go to' quick dinner forever.
Course:
Dinner, Main Course
Ingredients
10.6

oz

(300g) Penne Pasta

1 1/4

cups

(300ml) Heavy Cream

2

tbsp

Unsalted Butter

5

oz

(150g) Streaky Bacon, chopped

1/2

cup

(50g) Parmesan, grated (save some to sprinkle on top)

3/4

cup

(75g) Sundried Tomato, sliced

1

tsp

Garlic, minced

Handful of Fresh Basil, chopped (save some to sprinkle on top)

Salt & Cracked Black Pepper, to taste
Method
Pop your pasta in a pot of boiling water and cook until al dente. Retain a cup of starchy pasta water.

Meanwhile, fry your Bacon over medium heat until it begins to crisp, then add your Tomatoes and fry a little longer until they soften. Drain excess fat/oil if there's too much, add the Garlic and fry for a minute until fragrant, then add the Butter and stir until melted.

Pour in your Cream and sprinkle in your Basil. Stir to a smooth consistency, leaving to simmer on a low heat. When it just starts to thicken add in your Parmesan.

Once the sauce has fully thickened (8-10 mins) taste for seasoning, then add in your pasta and toss until coated. Simmer for a few minutes to soak up the sauce, stirring throughout and using your pasta water to thin out if it becomes too thick and gloopy.

Serve with and extra sprinkle of Parmesan and Basil!
Watch how to make it!
Recipe Notes
a) Salt - Whilst Black Pepper is encouraged, be careful with the Salt seasoning. Bacon, Sundried Tomato and Parmesan are all fairly salty ingredients. Taste test throughout to ensure the dish doesn't end up too salty.
b) Pasta Water - This dish thickens quite quickly and can become gloopy in a short space of time, adding a few splashes of water will help thin the sauce out again. With the same token however do not feel like you have to add any extra fluid, this is merely preference and in the instruction to collect a cup of water just in case.
c) Leftovers - I have actually tell me that they have reheated this recipe and tastes glorious. However in my experience, with the recipe and most creamy pasta dishes, when it's reheated it ends up very oily. Same great flavours, just none of the original creamy texture. I'll leave leftover (if there is any) to your best judgement!
d) Readers notes - Although I have never tried myself, it sounds that grilled chicken and spinach are great additions to this recipe!
Nutrition Facts
Penne Alfredo with Bacon and Sundried Tomato
Amount Per Serving
Calories 491
* Percent Daily Values are based on a 2000 calorie diet.
---
Looking for more quick and easy hearty dinners to add to your family meal rotation? Step up to the challenge of The Ultimate 10 Minute Pesto Pasta!
If you loved this Penne Alfredo recipe be sure to pin it for later! Already made it or got a burning question? Give me a shout in the comments and pick up for free ecookbook on the way!