This Salmon Pasta couldn't easier to make! Served with a Creamy Dill Sauce, quick date night dinners have never been so delicious!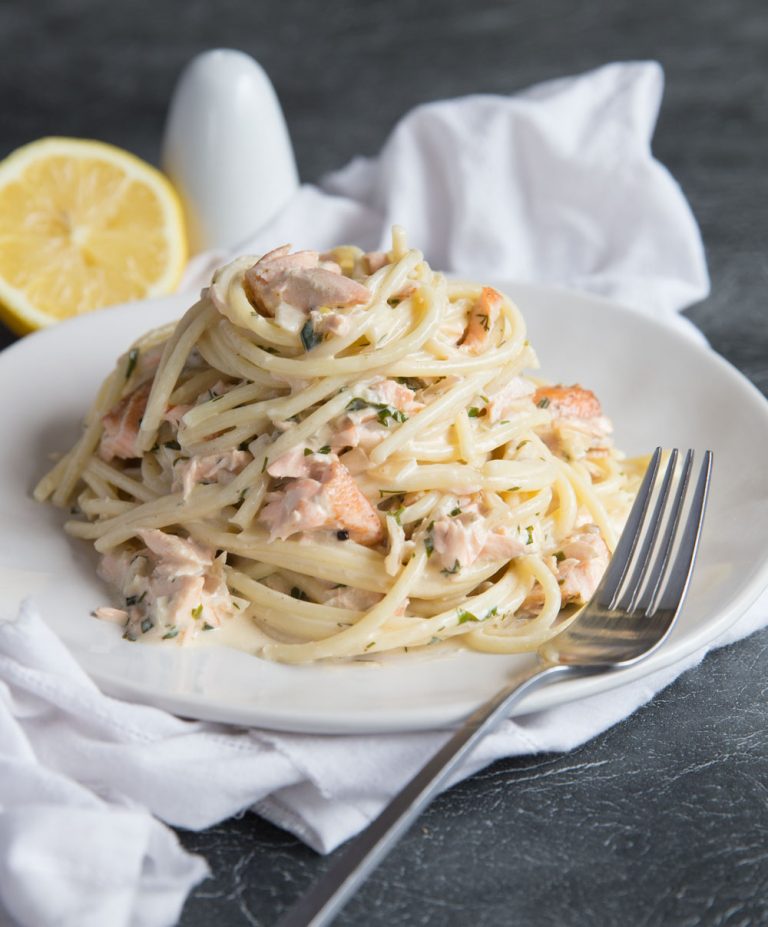 Creamy Salmon Pasta
When I say the flavours in this dish are a marriage made in heaven, I truly mean it. That gorgeous creamy sauce with chunks of buttery salmon is just to die for. This salmon pasta is incredible for so many different reasons, but here's why you're going to fall in love with it:
Perfect Salmon – Here I'll give you some tips and tricks perfectly perfectly cooked salmon.
Creamy, but not crazy rich – Some creamy pasta recipes can often be heavy and too rich. Here I add white wine and a dash of lemon juice to balance out the flavours.
Flavoursome – Bursting with flavour! Including fresh blasts of dill and parsley, nutty browned butter and tasty shallots & garlic.
The other great thing about this creamy salmon pasta is that it makes THE perfect Date Night Dinner! I mean, anything with wine in the recipe is a winning dinner for two right?
Okay, let's talk salmon…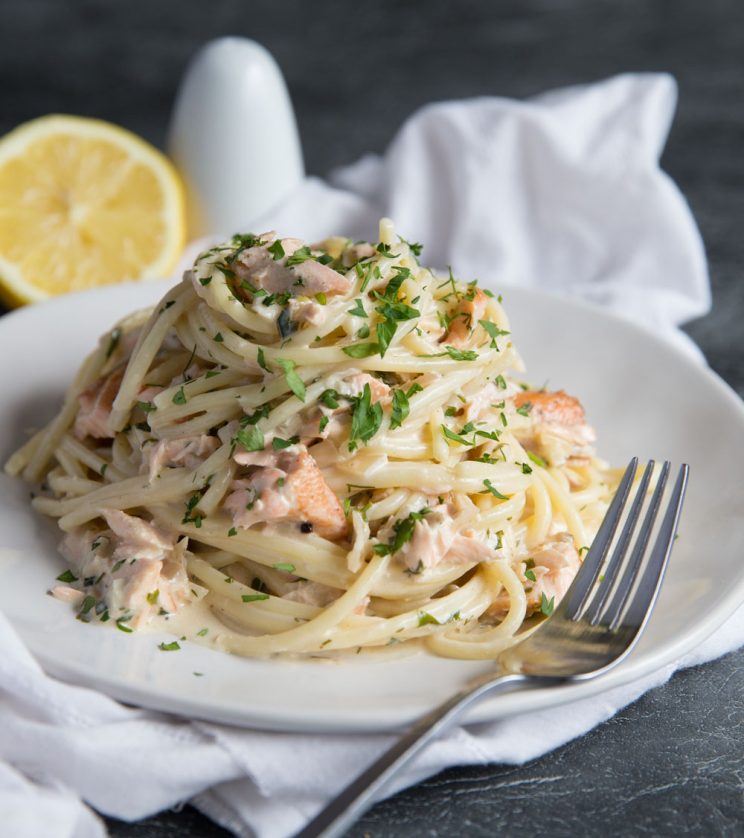 Pan Fried Salmon
The hero ingredient in this dish is the salmon, so naturally you want to bring out the best in it. Many similar recipes to this actually poach the salmon in the sauce, or dice it before frying. Personally I feel the best way to cook salmon, not only in the context of this creamy pasta but in general, is to pan fry it.
By pan frying the salmon you get a gorgeous golden crust, which translates to extra gorgeous flavour. You also get the leftover flavour from the salmon in the pan to start off the sauce.
For this salmon pasta, I opt for using salmon without skin. Salmon skin has no place in pasta 😳
Top tips for How to Pan Fry Salmon Without Skin
Prep – Ensure you bring the salmon up to room temp before you fry. This will help the salmon cook evenly and prevent it from drying out.
Season – Like any meat or fish, generously season with salt and pepper before it hits the pan.
Pan – Using a non-stick pan will prevent the salmon from falling apart when you flip it.
Heat – Keep the heat medium/high to get a nice golden crust.
Butter – Once you flip, baste in butter to add a gorgeous rich flavour.
Rest – Allowing the salmon to rest will ensure it fully cooks through without sacrificing juiciness.
How to Pan Fry Salmon (quick summary)
Add salmon to pan with oil over medium/high heat.
Once brown, flip, then add dill and butter.
Baste until cooked through.
From there, I simply shred with two forks. However you can just dice it into bite sized chunks if you fancy!
Creamy Dill Sauce
So, you've got some yummy buttery salmon ready and waiting for you. Let's talk creamy dill sauce. After you've basted the salmon with butter, it will start to turn brown. Once it's foamed and begins to settle, it turns a deeper shade of brown and releases a gorgeous scent. This sweet and nutty flavour is going to be the start of your sauce. Here's what else you're gonna need:
Creamy Dill Sauce Ingredients
Leftover Browned Butter
Shallots & Garlic
Dill & Parsley
White Wine
Heavy Cream
Lemon Juice
Chilli Flakes (optional)
What can I substitute the Chilli Flakes with?
I add a teeny weeny amount of spice to this dish to help balance out the richness. Cayenne pepper is a great substitute, but if you don't like spice leave it out. Add a pinch more black pepper instead.
Can I substitute Creme Fraiche?
Many similar recipes use creme fraiche instead of heavy cream. I have actually tried this recipe with creme fraiche instead of cream and personally felt the dish ended up lighter, but much too sour. If you are keen on adding it, then just add a couple of tbsp and consider lowering the amount of lemon juice you use.
Top tips for the best Creamy Dill Sauce for Salmon
White wine – This is great for two reasons: Adds a nice bit of acidity to cut through the richness of the cream. Also helps deglaze the pan to collect up all that flavour.
Dill – It's actually quite a strong herb, so I find as little as 1 tsp of fresh dill does the job. The browned butter will also already be infused with dill from pan frying the salmon.
Pasta Water – You'll find that the cream thickens almost as soon as it hits the pan, so use some starchy pasta water to thin out as needed.
How to make Creamy Dill Sauce for Salmon (quick summary)
Fry shallots & garlic in leftover butter then add white wine.
Reduce wine and stir in cream.
Add herbs and seasoning.
Stir in shredded salmon.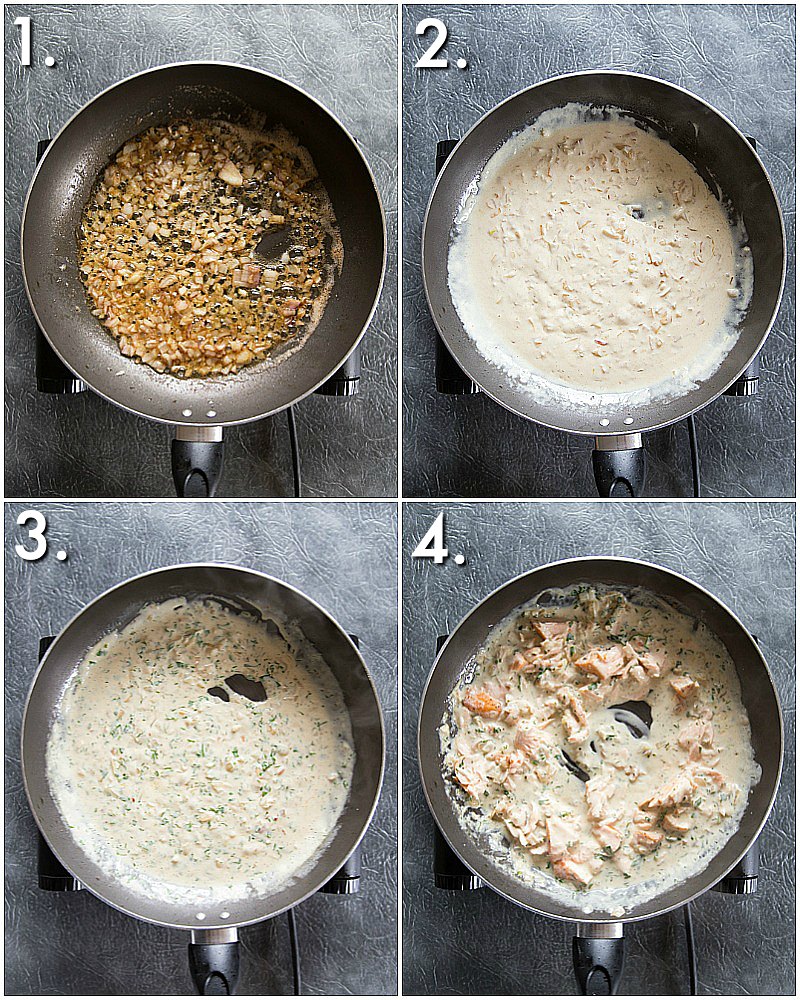 Serving Creamy Salmon Pasta
Once you've stirred through your pasta, I usually plate up with an extra sprinkling of parsley, a pinch of chilli flakes and a good helping of parmesan (because is it really acceptable to eat pasta without copious amounts of parmesan?!). If you fancy you can also serve with a side of Garlic Bread too!
If you're looking for another easy fish dinner then definitely check out my Pan Fried Cod! Similar technique and ultra delicious. If you're looking for similar pasta recipes then I've also got you covered.
Delicious Creamy Pasta Recipes
And there we have it! An easy and delicious dinner for two ready and waiting. Gorgeously creamy and herby with a gentle tang, this salmon pasta is a force to be reckoned with. To the full recipe!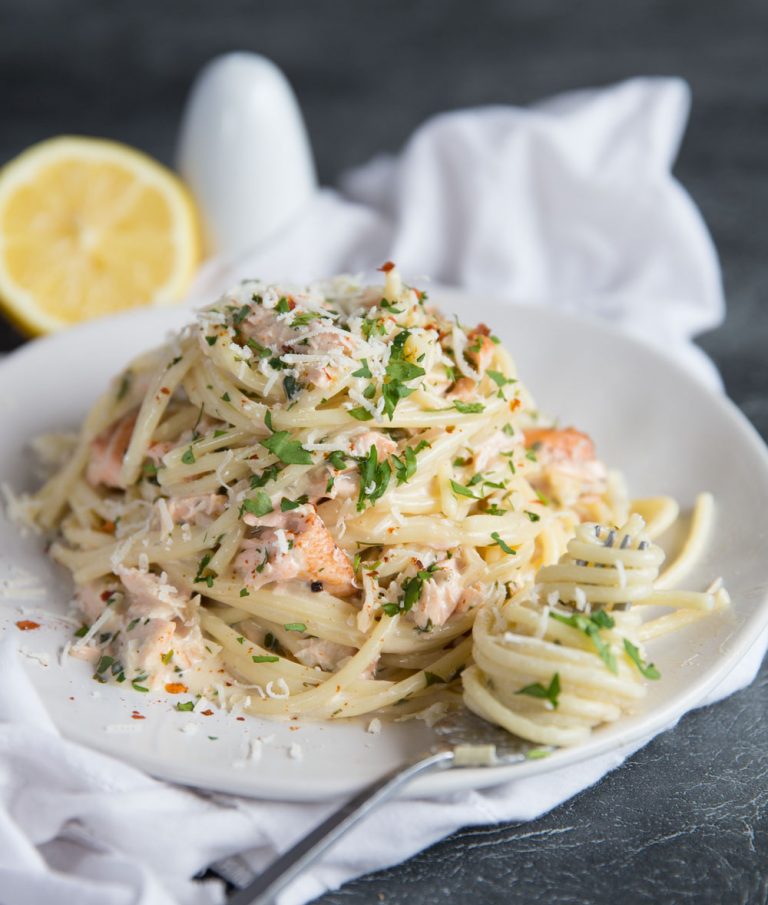 How to make Creamy Salmon Pasta

(Full Recipe & Video)
Creamy Salmon Pasta in a Dill Sauce
This Salmon Pasta couldn't easier to make! Served with a Creamy Dill Sauce, quick date night dinners have never been so delicious!
Print
Pin
Rate
Share by Text
Servings (click & slide):
2
Calories per serving:
749
kcal
Cost per serving:
£5 / $6
Equipment:
Large Pot & Colander

Large Frying Pan

Sharp Knife & Chopping Board

Pasta Tongs

Wooden Spoon
Ingredients (check list):
2

Salmon Fillets, at room temp (skinned & deboned)

7oz / 200g

Spaghetti (or long cut pasta of choice)

3/4 cup / 180ml

Heavy/Double Cream, at room temp

1/3 cup / 80ml

Dry White Wine

2

sprigs of

Fresh Dill

1

tsp

Fresh Dill, finely diced

1

heaped tbsp

Fresh Parsley, finely diced + extra for serving

2

small

Shallots, very finely diced

2

cloves

Garlic, minced

1

heaped tbsp

Unsalted Butter

small pinch of

Chilli Flakes (optional)
Lemon Juice, to taste (see notes)
Freshly Grated Parmesan, to serve
Salt & Black Pepper, to taste
Olive Oil, as needed
Instructions:
Generously season all sides of your salmon with salt and pepper.

Fry over medium-high heat in a small drizzle of olive oil. Once golden on one side, flip over and place a sprig of dill on top of each fillet. Melt 1 heaped tbsp butter into the pan and baste the salmon (see video). Fry the 2 other sides of the salmon then place to one side and rest.

Cook your pasta in salted boiling water until al dente, reserving a cup of starchy pasta water. Drain when needed.

Lower to medium heat and fry your shallots in the leftover browned butter until softened, then fry garlic for a further minute or so until lightly browned.

Pour in 1/3cup/80ml wine, deglazing the pan as necessary, and leave to simmer for a few minutes to reduce. It's important to reduce the wine so it burns off the alcohol and doesn't end up too bitter. Once reduced by at least half, stir in 3/4cup/180ml heavy/double cream.

Add 1 tsp finely diced dill, 1 heaped tbsp finely diced parsley (or to preference), a small pinch of chilli flakes (optional) and a small squeeze of lemon juice to taste (careful, you won't need much). Season with salt and pepper.

Shred your salmon or cut to bite sized chunks then add to your sauce. Use a splash of starchy pasta water to thin out the sauce if you need to. 

Toss through your pasta then serve with an extra sprinkle of parsley and a good grating of parmesan. 
Notes:
Tips for the best Creamy Salmon Pasta
a) Pan Frying Salmon - Try to use a non-stick pan. Ensure the salmon is at room temp before frying so it cooks evenly and doesn't dry out. Don't worry about getting it completely cooked throughout, it'll finish cooking when resting and adding back into the pan. It's mostly important to get that golden crust.
b) Lemon Juice - The white wine will add a good amount of acidity to balance out the richness of the cream, so don't go squeezing an entire lemon in as well, the dish will end up too sour. I find around 1 tsp works well, but work to preference.
c) Chilli Flakes sub - A tiny amount of heat works nicely with the dish, again to balance out the richness. If you don't have chilli flakes, cayenne pepper works well. Either way, only a tiny amount is needed. If you don't like spice then leave it out all together, will still taste great.
d) Browned Butter - You want to cook down the butter until it turns a dark brown colour, so if you haven't achieved this by the time you remove the salmon, then spend a few minutes cooking it out until it browns. Browned butter adds a gorgeous sweet nutty flavour to the sauce. 
e) Parsley/Dill - I love a fresh blast of parsley through the sauce and sprinkled at the end, but work to preference with this. Dill is also quite strong, and since you've already basted the salmon in buttered dill, I find around a tsp works great in the sauce. Same again though, just work to preference. If you want more just sprinkle through at the end.
f) Calories - Based on using 1 tsp olive oil for frying and 1 tbsp parmesan per serving.
Your Private Notes:
Nutrition:
Nutrition Facts
Creamy Salmon Pasta in a Dill Sauce
Amount Per Serving
Calories 749
Calories from Fat 425
% Daily Value*
Fat 47.17g73%
Saturated Fat 25.244g
126%
Polyunsaturated Fat 3.033g
Monounsaturated Fat 14.574g
Cholesterol 191mg64%
Sodium 385mg16%
Potassium 692mg20%
Carbohydrates 38.77g13%
Protein 35.6g71%
Vitamin A 3850IU77%
Vitamin C 10.7mg13%
Calcium 150mg15%
Iron 2.5mg14%
* Percent Daily Values are based on a 2000 calorie diet.
Nutrition is based on the absence of salt unless stated as a measurement in the ingredients. Cost is worked out based on ingredients bought from UK supermarkets, then divided by the number of servings. In both instances these values are just for guidance. Please check out my FAQ Page for more info.
---
If you loved this Creamy Salmon Pasta Recipe then be sure to Pin it for later! Already made it or got a burning question? Give me a shout in the comments below and pick up your free ecookbook along the way!