This Creamy Mushroom Pasta is the perfect easy dinner to feed a family of four. Hidden in this smooth and silky mushroom sauce is an absolute explosion of deliciousness just waiting to be devoured!
Seriously, is there anything more comforting than a pan full of pasta coated in a creamy mushroom sauce? Like, if I died and went to heaven, I'd hope that heaven would involve me burying my face into a black hole of creamy garlicky herby mushroom pasta. If you're the same then you've arrived at the right place. Follow me…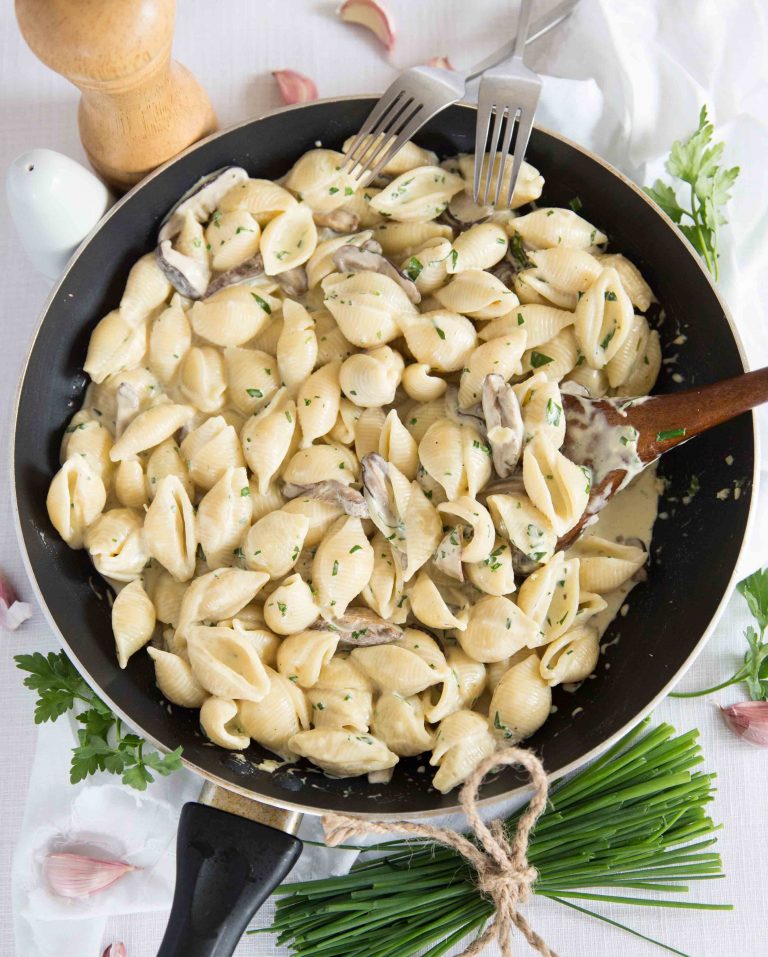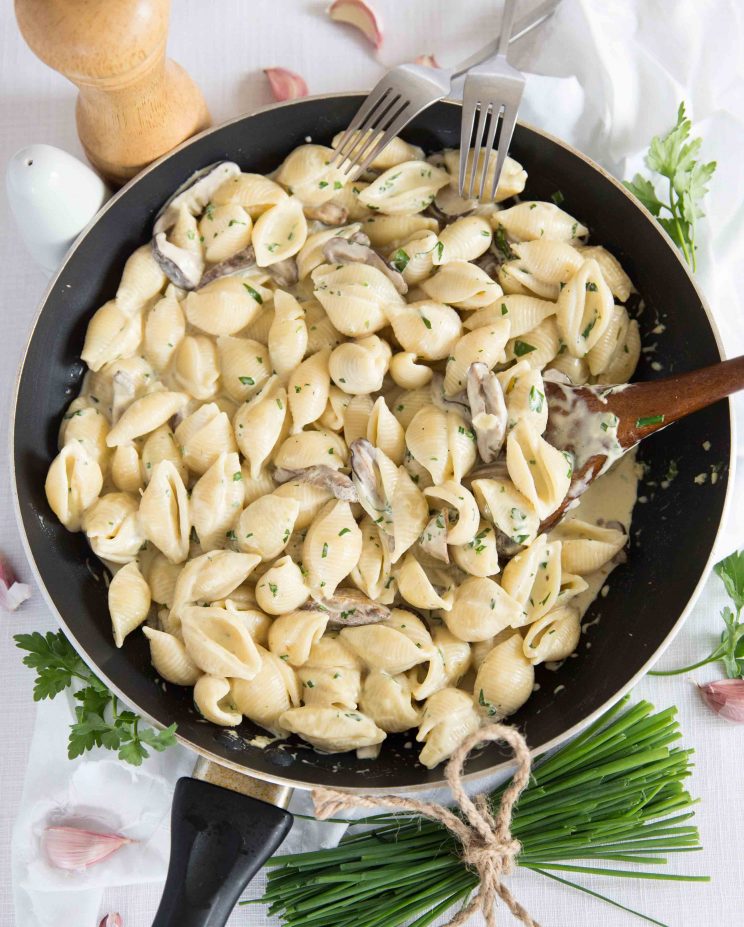 Perfect Mushrooms!
So, of course, the mushrooms are the star of the show in this recipe, so let's treat them like the star.
You see it quite a bit with mushrooms, just chopped and chucked in the pan, and I'm often guilty of this in recipes where mushrooms aren't the star ingredient. But here there are no excuses. The two most important tips I've learnt with regards to preparing mushrooms are as follows:
How to Prepare Mushrooms (2 important steps)
Clean with a damp cloth – Mushrooms are packed with water, around 90-92% in most cases, so the last thing you want to do is wash them under a tap. This will only allow the mushrooms to absorb more unwanted water. As tedious as it may seem, the benefits are huge.
Uniformed Size – Slicing the mushrooms the same size, and more specifically the same thickness, will ensure everything cooks at an even rate. In general, you want the slices on the thicker side of life, purely for the reason that mushrooms shrink quite considerably. Keeping them thick will help them keep the shape.
Best Mushrooms for Pasta?
Personally, I always go for Chestnut Mushrooms. They tend to have a deeper, 'meatier' kind of flavour in comparison to say regular white mushrooms. I also quite like using Shiitake or Baby Portobello Mushrooms. Shiitake mushrooms have a gorgeous smoky and almost quite a meaty flavour to them as well. However, if you are using Shiitake mushrooms then remove the stalk as it's incredibly tough. In reality, you can use whatever mushroom you'd fancy though!
3 Tips for Perfectly Fried Mushrooms
Don't overcrowd the pan – putting too many mushrooms in the pan at once will cause the mushrooms to steam instead of fry. The amount I've used in this recipe (photo below) is just at the limit of what I recommend a good amount to fry at once. If you find yourself with too many mushrooms then simply fry in batches.
Don't annoy them – they're probably annoyed that they've been sliced and thrown in a hot pan already, once they're in there don't shake them about every 2 seconds. Plonk them in, spread them out and leave them to brown on one side. Then stir them to brown the other side.
Salt – adding salt to the mushrooms will draw out moisture, so do it after they've browned. I find that adding salt at the beginning allows too much moisture to come out, which again encourages steaming instead of frying.
Dang, who knew frying mushrooms was so intricate!? Or maybe I'm just a mushroom snob… Yeah, probably the latter.
How to make Creamy Mushroom Pasta
I tested so many versions of this sauce I can't even begin to tell you. Mainly just as an excuse to eat more of it, but also in the name of science.. Or something like that. My initial instinct for a creamy mushroom pasta was of course to pile in as much cream as possible and be done with it. (lol)
There was indeed more thought that went into the testing than that, but I did find that the consistencies that were heavily cream-based, apart from being too rich, also fell a little bland. An even ratio of cream/chicken stock gave a perfect consistency and a gorgeous depth of flavour, emphasising the 'meatiness' of the Chestnut/Shiitake mushrooms.
Reducing the Sauce
It's important to pour in the stock first and let it reduce. Not only will this help the sauce thicken quicker, but will also intensify the flavour of the sauce. The simmering stock will extract some of that gorgeous flavour from the mushrooms.
Best Cream for Pasta Sauce
Always double (UK) or Heavy (US). I don't mess around with milk or half & half; doesn't thicken as well and lacks flavour. In all cases make sure the cream is at room temp or it might curdle when it hits the hot stock in the pan.
Process shots: fry mushrooms (photo 1), add garlic (photo 2), melt in butter then pour in chicken stock & simmer to reduce (photo 3), pour in cream and add seasoning/herbs (photo 4), once thickened, stir in parmesan then add pasta (photo 5).
Creamy Mushroom Pasta FAQ
What pasta to use?
I ALWAYS go with Conchiglie for the pure reason its shape works so perfectly in this recipe. The way it collects the sauce in its shell is almost like a gift from the heavens above. But heck, use whatever pasta your heart desires!
What herbs go with Mushroom Sauce?
As you can see, I keep it simple with parsley and chives. I tend to keep this a simple creamy mushroom pasta recipe and steer away from other herbs that might overpower the dish. However, if you did want to branch out Thyme or Tarragon both work great. But don't use too much!
What else could I add to this pasta?
Bacon goes nicely, as does some shredded chicken. Great veg options are spinach, asparagus or peas!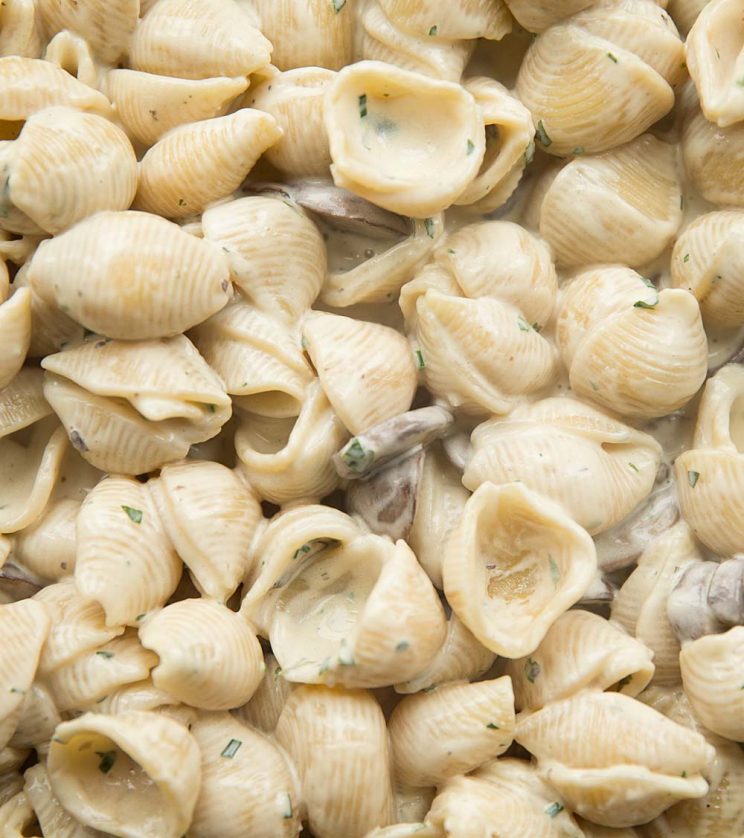 Serving Creamy Mushroom Pasta
As you toss the pasta in the sauce, the excess starchy water will help emulsify the sauce, and in turn help it cling to the pasta. I always save a cup of starchy pasta water to thin out the sauce as needed. If the sauce is still a little thin, just gently simmer and stir until it clings to the pasta. Serve up hot with extra parsley! (garlic bread/cheesy garlic bread always welcome 😛).
Can I store leftovers?
If you've got leftovers just allow to completely cool then tightly store in the fridge for up to a few days. To reheat, add to a low heat on the stove and stir in a splash of milk or cream to loosen up the sauce.
Alrighty, let's tuck into the full creamy mushroom pasta recipe shall we?!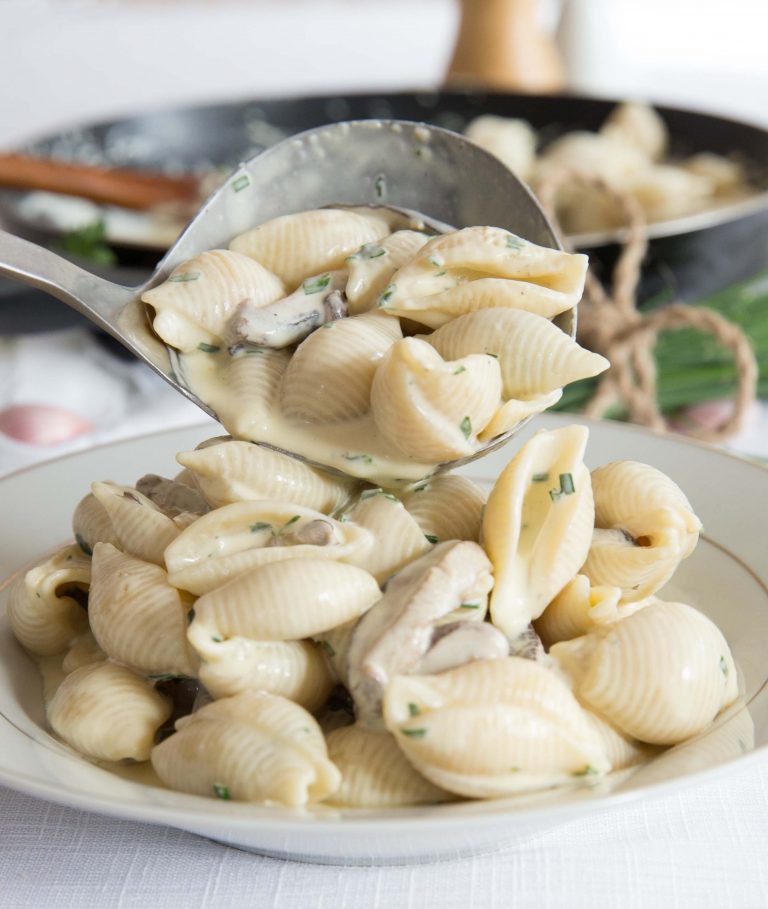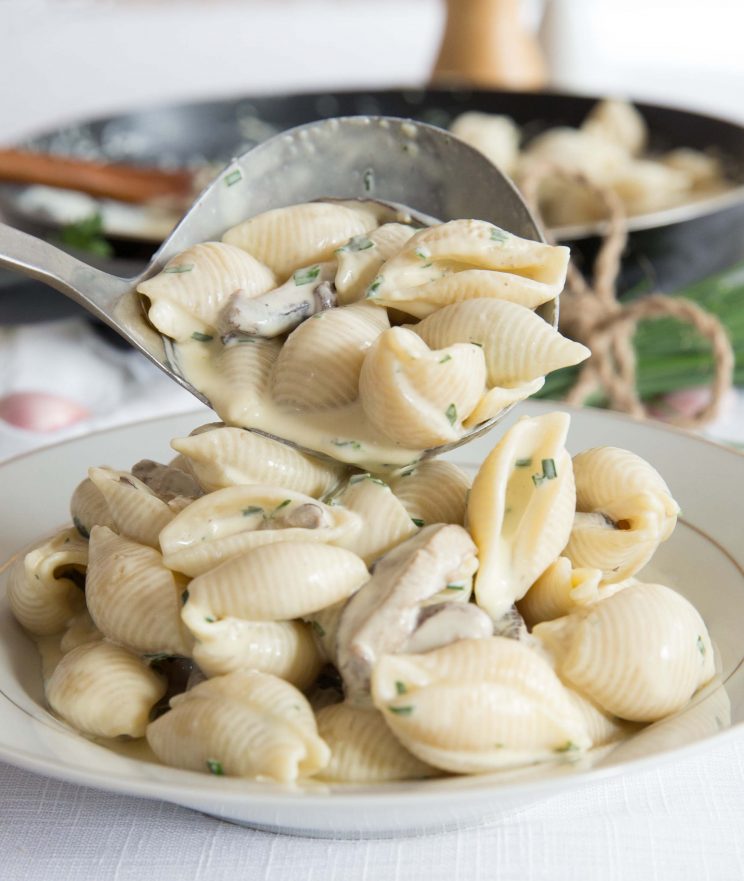 How to make Creamy Mushroom Pasta

(Full Recipe & Video)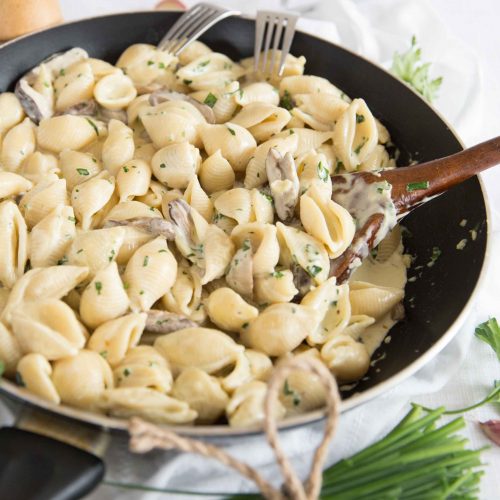 Creamy Mushroom Pasta
This Creamy Mushroom Pasta is the perfect easy dinner to feed a family of four. Hidden in this smooth and silky mushroom sauce is an absolute explosion of flavour just waiting to be devoured!
Print
Pin
Rate
Share by Text
Servings (click & slide):
4
Calories per serving:
325
kcal
Cost per serving:
£2.50 / $3
Equipment:
12" Skillet

Large Pot (to cook pasta)

Colander

Sharp Knife & Chopping Board

Wooden Spoon

Jug (for stock)
Ingredients (check list):
12.3oz / 350g

Conchiglie (or pasta of choice)

10.5oz / 300g

Mushrooms of choice, sliced (see notes)

2

tbsp

Butter

1 cup / 250ml

Heavy Cream, at room temp

1 cup / 250ml

Chicken Stock

1/2 cup / 40g

freshly grated

Parmesan, (plus extra to serve)

2

tbsp finely diced

Fresh Parsley, plus extra to serve

2

tbsp finely diced

Fresh Chives

2

cloves of

Garlic, finely diced
Salt & Black Pepper, to taste
Olive Oil, as needed
Instructions:
Add a drizzle of oil to a suitably sized pan and begin frying mushrooms over medium heat. Once they brown on one side, flip them over until they get nice and brown on the other. It's important to get a nice char on each side of the mushroom to intensify the mushroom flavour. Don't just chuck them in a stir around, this will steam them and leave you with weak flavour. If you need to fry in 2 batches, do so (see notes).

Season the mushrooms with a pinch of salt and pepper, then push to the outside of the pan. Melt in butter and add garlic. Fry for a minute or so, then incorporate everything and pour in chicken stock.

Allow the stock to simmer until it's reduced by nearly half, then pour in your cream. Stir to fully incorporate, then add chives, parsley and a heavy pinch of salt & pepper (season well to bring out the best in this simple sauce). Allow to simmer a little longer until it begins to thicken (it will thicken, just keep it simmering).

Meanwhile, pop your pasta in salted boiling water and cook until al dente. Retain a cup of starchy pasta water.

When the sauce begins to thicken, stir in parmesan, then stir in the pasta. If the sauce thickens too much, add a splash of pasta water to thin out slightly. You might not need to do this. If the sauce is still quite thin, continue to simmer and stir until it thickens and wraps around the pasta.

Serve with a heavy sprinkling of parmesan and parsley!
Notes:
a) Mushrooms - For this recipe I usually use Chestnut Mushrooms. Shiitake Mushrooms (with the stalks removed) also go really well. But you can really add any variety you like.
b) Browning the mushrooms - In order to get the most flavour out of your mushrooms, it's important to get a nice browning on them.
-

Firstly

, make sure the pan isn't overcrowded, this will cause the mushrooms to steam instead of fry, reducing their ability to take on colour. Fry in batches if needed.
-

Secondly

, ensure you don't keep moving them about. Allow the mushrooms to keep contact with the pan for a good amount of time before you stir them about.
-

Thirdly

, only add salt after they've browned. Adding salt to the mushrooms will extract moisture and again encourages steaming instead of browning.
c) Herbs - I did actually play around with different herbs in this recipe and both Thyme and/or Tarragon work really well. I've kept this recipe without either because I find chives and parsley add enough flavour, without overpowering the dish. Adding thyme or tarragon will change the taste quite considerably, but feel free to add if you're confident you'll enjoy the addition. In both instances, just a small amount will work fine.
d) Parmesan - Ensure it's freshly grated (or grated in the bag) the powdery stuff will turn the sauce grainy.
e) Calories - Based on using 1 tbsp Olive Oil for frying and divided by 4.
Your Private Notes:
Nutrition:
Nutrition Facts
Creamy Mushroom Pasta
Amount Per Serving
Calories 325
Calories from Fat 146
% Daily Value*
Fat 16.27g25%
Polyunsaturated Fat 0.89g
Monounsaturated Fat 4.69g
Cholesterol 51mg17%
Sodium 163mg7%
Potassium 216mg6%
Carbohydrates 38.91g13%
Protein 8.34g17%
Vitamin A 2100IU42%
Vitamin C 6.6mg8%
Calcium 110mg11%
Iron 1.4mg8%
* Percent Daily Values are based on a 2000 calorie diet.
Nutrition is based on the absence of salt unless stated as a measurement in the ingredients. Cost is worked out based on ingredients bought from UK supermarkets, then divided by the number of servings. In both instances these values are just for guidance. Please check out my FAQ Page for more info.
---
For more mushroom pasta recipes check out my Tomato Mushroom Pasta and Mushroom Tagliatelle!
For more similar recipes check out these beauties:
Mushroom Pasta Recipes
Creamy Pasta Recipes
---
If you plan on making this Creamy Mushroom Pasta recipe be sure to pin it for later! Already made it? Let me know how you got on in the comments and pick up your free ecookbook along the way!