This Creamy Mushroom Pasta is the perfect quick dinner to feed a family of four. Hidden in this smooth and silky mushroom sauce is an absolute explosion of flavour just waiting to be devoured! – Hungry now? Jump to Recipe
Seriously, is there anything more comforting than a skillet full of pasta coated in a creamy mushroom sauce? Like, if I died and went to heaven, I'd hope that heaven would involve me burying my face into a black hole of creamy garlicy herby mushroom pasta. UGH. I'm weeping just at the thought.
Anywho, enough of my uncontrollable love for calories, let's see what all the fuss is about.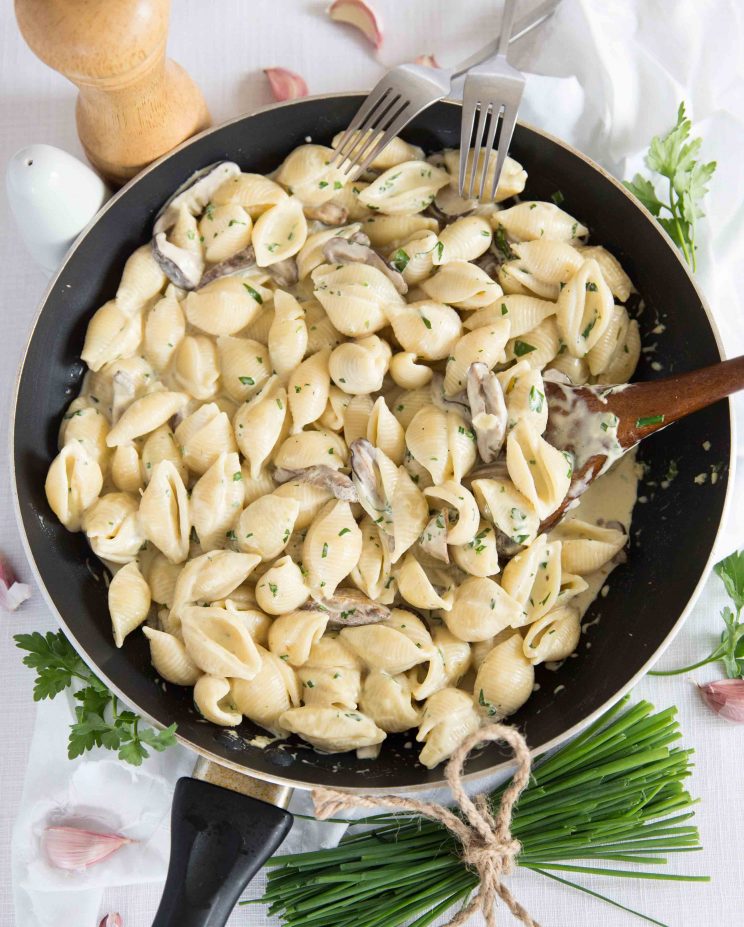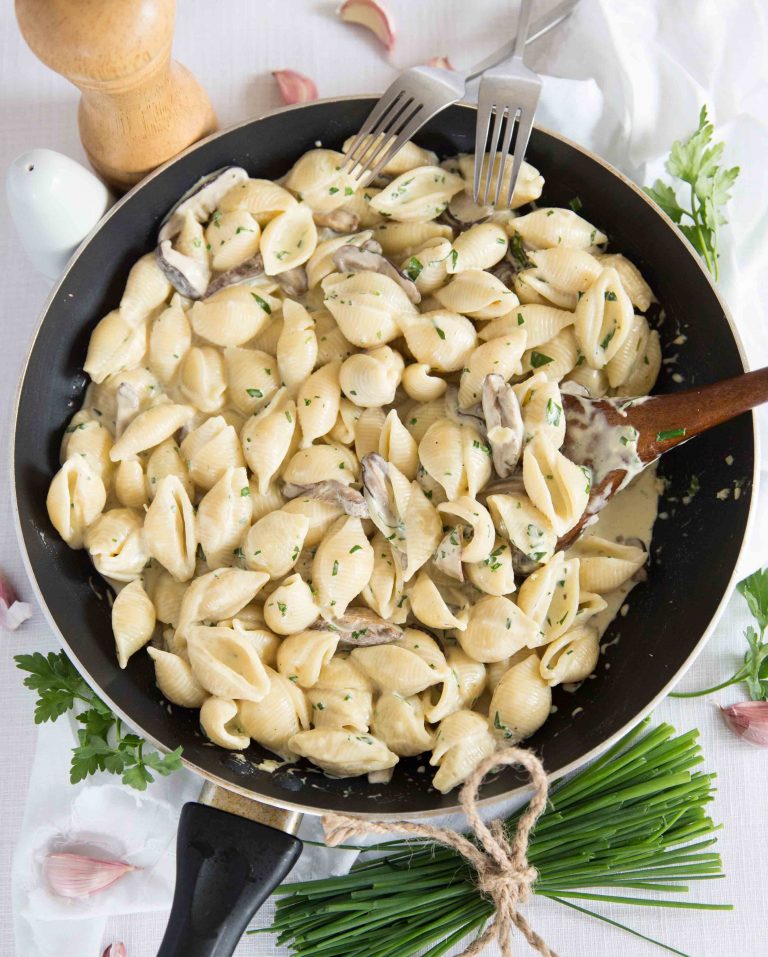 So, of course the mushrooms are the star of the show in this recipe, so let's treat them like the star.
You see it quite a bit with mushrooms, just chopped and chucked in the pan, and I'm often guilty of this in recipes where mushrooms aren't the star ingredient. But here there's no excuses. The two most important tips I've learnt with regards to preparing mushrooms are as follows:
Clean with a damp cloth – Mushrooms are packed with water, around 90-92% in most cases, so the last thing you want to do is wash them under a tap. This will only allow the mushrooms to absorb more unwanted water. As tedious as it may seem, the benefits are huge.
Uniformed Size – Slicing the mushrooms the same size, and more specifically the same thickness, will ensure everything cooks at an even rate. In general you want the slices on the thicker side of life, purely for the reason that mushrooms shrink quite considerably. Keeping them thick will help them keep shape.
Any mushrooms will work well with this recipe, however a personal favourite of mine are Shiitake Mushrooms. Shiitake mushrooms have a gorgeous smoky and almost quite meaty flavour to them. If you are using Shiitake mushrooms then remove the stalk as it's incredibly tough.
Now on to the important stuff.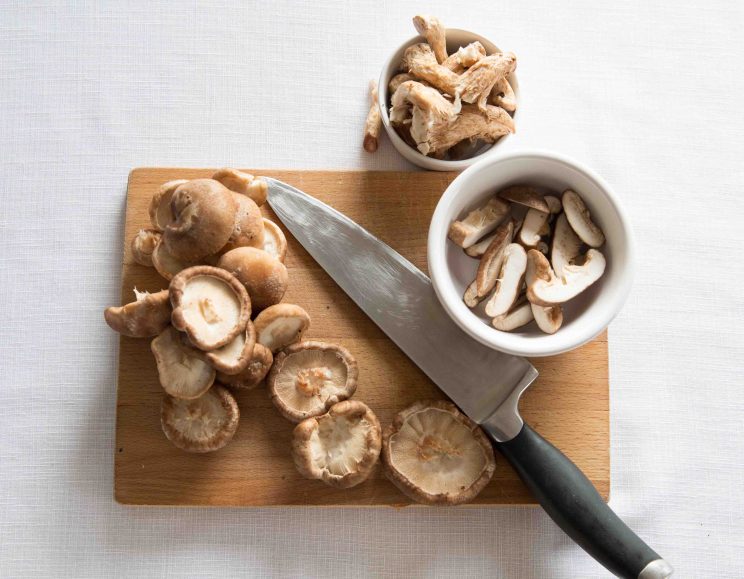 3 Tips for Perfectly Fried Mushrooms
Don't overcrowd the pan – putting too many mushrooms in the pan at once will cause the mushrooms to steam instead of fry. The amount I've used in this recipe (photo below) is just at the limit of what I recommend a good amount to fry at once. If you find yourself with too many mushrooms then simply fry in batches.
Don't annoy them – they're probably annoyed that they've been sliced and thrown in a hot pan already, once they're in there don't shake them about every 2 seconds. Plonk them in, spread them out and leave them to brown on one side. Then give them a stir to brown the other side.
Salt – adding salt to the mushrooms will draw out moisture, so do it after they've browned. I find that adding salt at the beginning allows too much moisture to come out, which again encourages steaming instead of frying.
Dang, who knew frying mushrooms was so intricate!? Or maybe I'm just a mushroom snob.. Yeah probably the latter.
Anywho, onto the sauce!
I tested so many versions of this sauce I can't even begin to tell you. Mainly just as an excuse to eat more of it, but also in the name of science.. Or something like that.
My initial instinct for a creamy mushroom pasta was of course to pile in as much cream as possible and be done with in. (lol)
There was indeed more thought that went into the testing than that, but I did find that the consistencies that were heavily cream based, apart from being too rich, also fell a little bland. An even ratio of cream/chicken stock gave the perfect consistency and a gorgeous depth of flavour, emphasising the 'meatiness' of the Shiitake mushrooms.
Creamy Mushroom Sauce
Cream
Chicken Stock
Garlic
Chives
Parsley
Parmesan
Butter
Salt & Pepper
I know, simple right?
With regards to the pasta it was a no brainer to go with Conchiglie for the pure reason it's shape works so perfectly in this recipe.
The way it collects the sauce in its shell is almost like a gift from the heavens above. But heck, use whatever pasta your heart desires!
All in all this creamy mushroom pasta is THE perfect comfort food. Most importantly it's quick, easy and ready to be made for a quick midweek dinner!
So really, what are you waiting for!?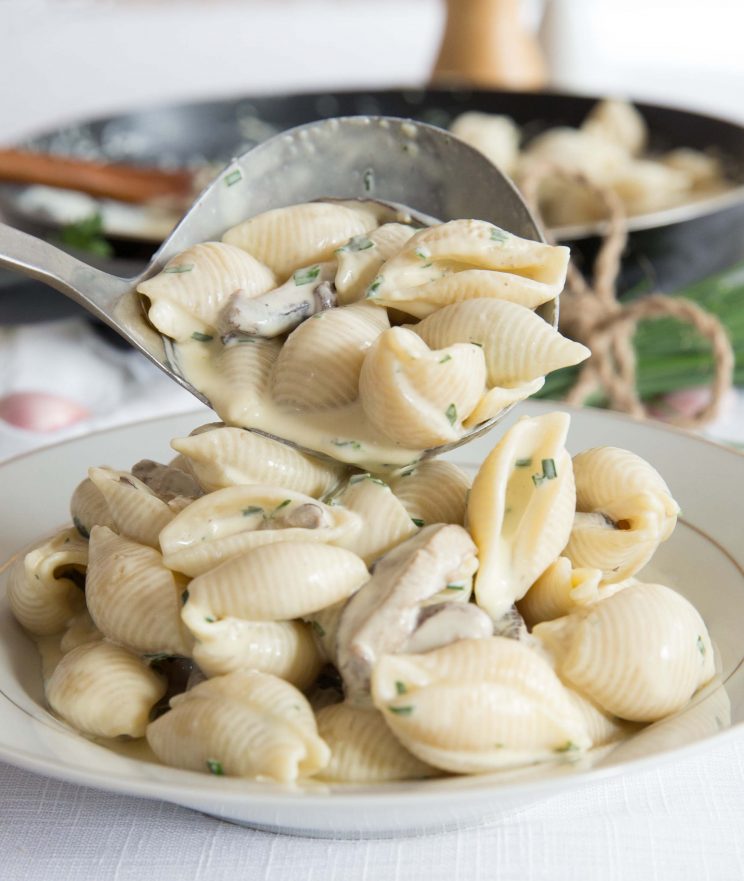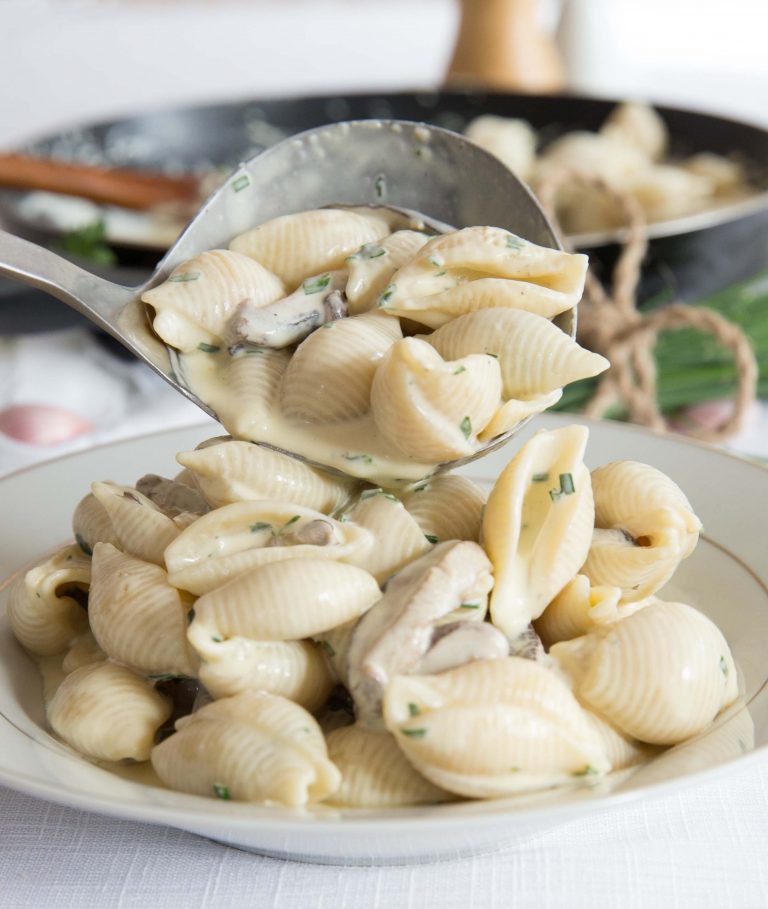 Join the foodie family! – Get awesome recipes sent straight to your inbox by signing up to my Weekly Mailing List (where you'll receive your FREE ECOOKBOOK) and stay in touch on Instagram, Facebook and Pinterest! 🧡
How to make Dreamy Creamy Mushroom Pasta

(Full Recipe & Video)
Creamy Mushroom Pasta
This Creamy Mushroom Pasta is the perfect quick dinner to feed a family of four. Hidden in this smooth and silky mushroom sauce is an absolute explosion of flavour just waiting to be devoured!
Course:
Dinner, Main Course
Keyword:
Creamy Mushroom Pasta
Ingredients
12.3oz / 350g

Conchiglie (or pasta of choice)

8.8oz / 250g

Shiitake Mushrooms, stalks removed & sliced (or sub mushroom of choice)

2

tbsp

Unsalted Butter

1 cup / 250ml

Heavy Cream

1 cup / 250ml

Chicken Stock

2/3 cup / 50g

Parmesan, finely grated (save some to garnish)

1/4 cup / 2 heaped tbsp

finely diced Fresh Parsley (save some to garnish)

2

cloves

Garlic, finely diced

1

tbsp

finely diced Fresh Chives

Salt & Black Pepper, to taste

Olive Oil for frying
Method
Heat up a drizzle of Oil in a suitably sized pan and begin frying your Mushrooms over medium/high heat. Once they begin to brown, add in your Garlic and frying for a minute or so longer until it just begins to brown. Season with Salt & Pepper.

Melt in your Butter, then stir in your Chicken Stock and allow to simmer for a few minutes.

Pour in your Cream, give it a good stir, then add your Chives and Parsley. Allow to simmer for a few more minutes until the sauce begins to thicken.

Meanwhile, pop your Pasta in salted boiling water and cook until al dente. Retain a cup of pasta water.

Stir in your Parmesan, taste for seasoning, then drain and stir in your pasta. Thin out the sauce if you need to with some leftover pasta water.

Serve with an extra sprinkle of Parmesan and Parsley!
Watch how to make it!
Recipe Notes
a) Mushroom Stalks - If you are using Shiitake Mushrooms I definitely recommend removing the stalks as they are quite tough and chewy. Most other mushrooms I'd keep the stalk on to bulk out the pasta and reduce waste.
b) Browning the mushrooms - In order to get the most flavour out of your mushrooms, it's important to get a nice browning on them.
- Firstly, make sure the pan isn't overcrowded, this will cause the mushrooms to steam instead of fry, reducing their ability to take on colour. Fry in batches if needed.
- Secondly, ensure you don't keep moving them about. Allow the mushrooms to keep contact with the pan for a good amount of time before you stir them about.
- Thirdly, only add salt after they're browned. Adding salt to the mushrooms will extract moisture and again encourages steaming instead of browning.
c) Herbs - I did actually play around with different herbs in this recipe and both Thyme and/or Tarragon work really well. I've kept this recipe without either because it's a great base recipe and tastes delicious as it is. Adding either of these herbs do change the taste quite considerably, but feel free to add if you're confident you'll enjoy the addition. In both instances, just a small amount will work fine.
d) Calories - Based on using 1 tbsp Olive Oil for frying
Nutrition Facts
Creamy Mushroom Pasta
Amount Per Serving
Calories 325
Calories from Fat 146
% Daily Value*
Total Fat 16.27g 25%
Polyunsaturated Fat 0.89g
Monounsaturated Fat 4.69g
Cholesterol 51mg 17%
Sodium 163mg 7%
Potassium 216mg 6%
Total Carbohydrates 38.91g 13%
Protein 8.34g 17%
* Percent Daily Values are based on a 2000 calorie diet.
---
If you loved this quick pasta dinner, you'll love my Penne Alfredo with Bacon and Sundried Tomato!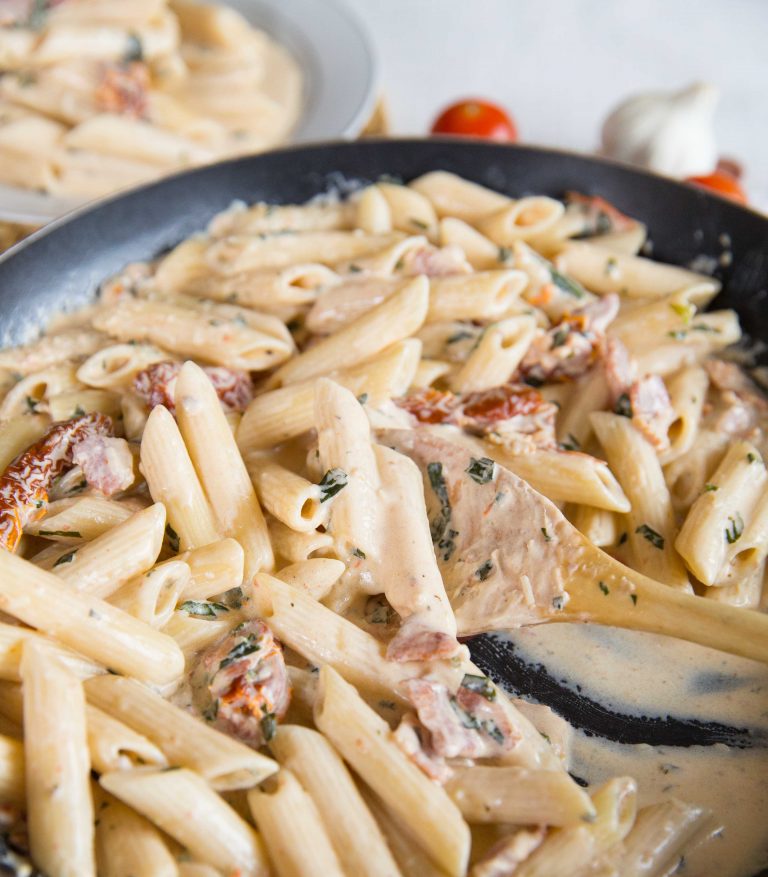 If you plan on making this Creamy Mushroom Pasta recipe be sure to pin it for later! Already made it? Let me know how you got on in the comments and pick up your free ecookbook along the way!