This Creamy Chicken and Mushroom Pasta is so simple to make, yet absolutely bursting with flavour. Say hello to your new go-to creamy pasta recipe!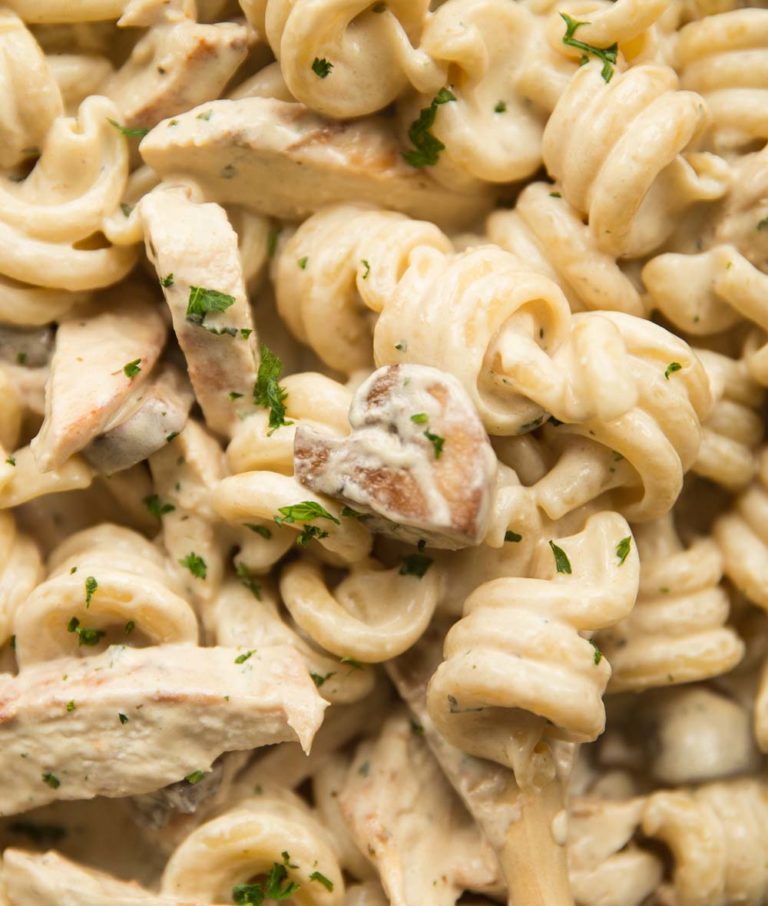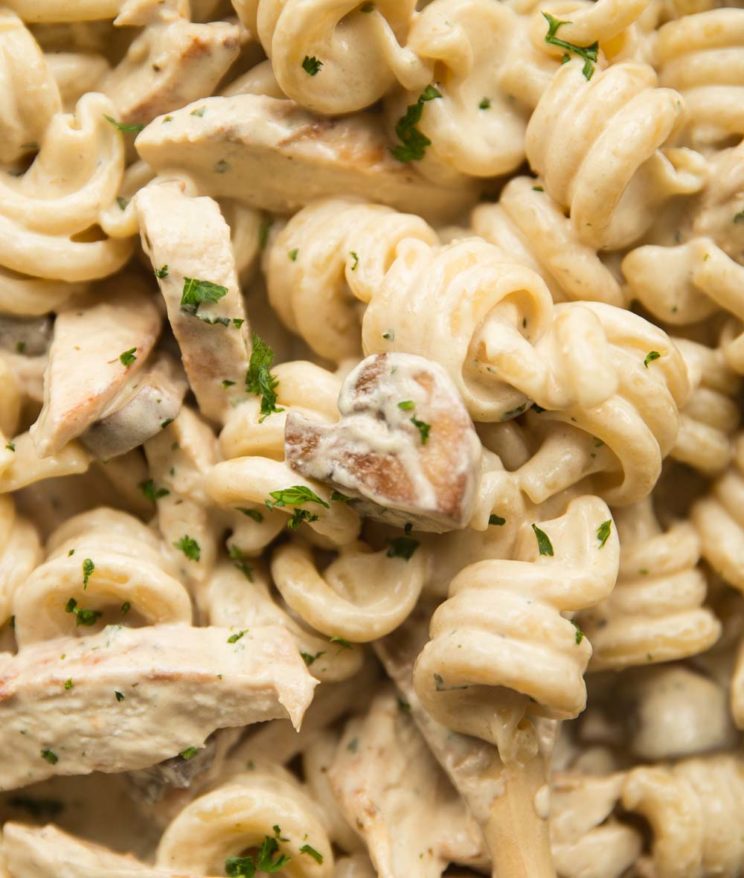 Creamy Chicken Mushroom Pasta
Literally, is there any better combo than cream, pasta, chicken and mushroom? The answer's absolutely not, in case you were wondering. I love this recipe for so many reasons, here's why I'm confident you'll love it too:
Flavourful – I find lot of creamy pasta recipes out there lacking in flavour. With a few simple tips and carefully tested ingredients, this creamy pasta will not disappoint your palate!
Soft and Juicy Chicken – Instead of dicing up chicken and frying it, I'll show you in just a sec how to get mouthwateringly juicy chicken in the pasta.
EASY! – Yup, this chicken mushroom pasta couldn't be easier to make.
The chicken is one of the stars of the show here, so it's important to treat it right. No dicing, chopping and frying right away. Here's how to get perfectly cooked chicken for your pasta:
How to cook chicken for pasta (quick summary)
Bring your chicken to room temp.
Slice through the centre to make 4 even sized breasts.
Drizzle with olive oil, then coat with garlic powder, thyme, salt and pepper.
Fry over medium heat for a few mins on each side until golden and just cooked through the centre.
Remove from pan and rest, don't slice until you need to.
Bringing the chicken to room temp ensures it doesn't seize up when it hits the heat, you only need it just cooked through as it will continue cooking whilst resting, and resting ensures the juices are retained before slicing.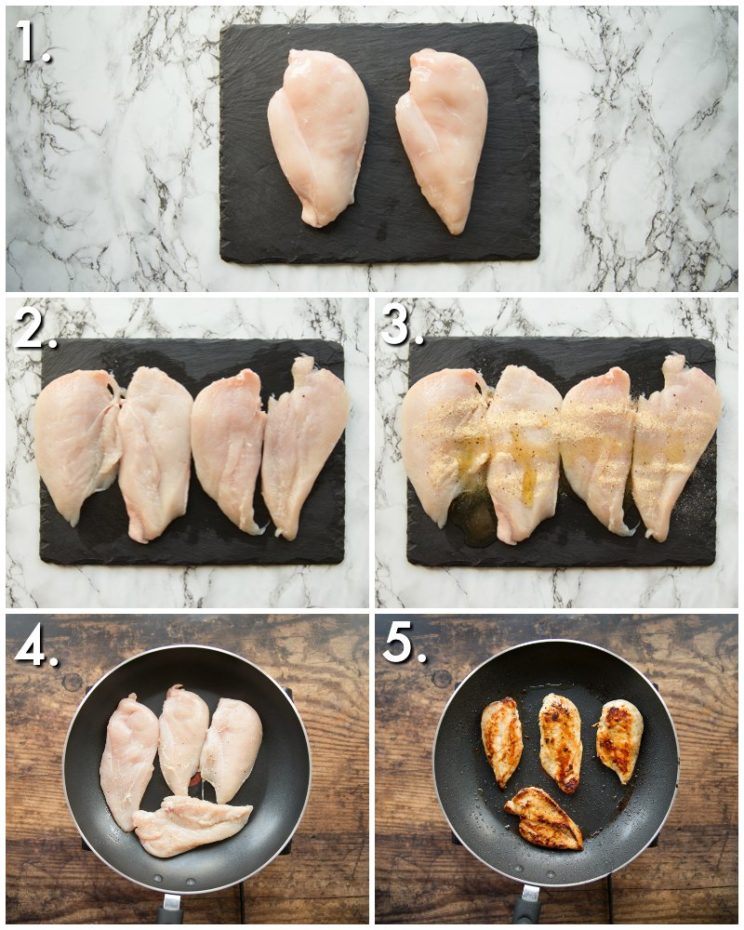 Top Tip #1 – When it comes to slicing, ensure you slice at a slight angle and make sure you slice against the natural grain of the chicken. This will ensure your chicken is as soft as possible!
Creamy Chicken Mushroom Sauce
When it comes to the sauce itself, there's a couple of nifty tricks to consider.
The first is using a small amount of white wine. This will cut through the richness of the sauce and once reduced down, adds a gorgeous background flavour to the sauce. It's also great to help scrape the flavour off the pan! Just ensure it's a dry white wine, not sweet.
The second is of course using parmesan, but add it once the sauce has thickened, not to thicken the sauce. I find that when you add the parmesan too soon it just gets lost in the sauce and the flavour slightly lacks. Add it just before adding the pasta for best results! Also ensure it's freshly grated, not the powdered stuff you can get. The powdered stuff can leave the sauce with a grainy texture.
Finally, creamy pasta sauces do dry up very quickly. I recommend scooping out some starchy pasta water and using it to thin out as needed. The starch molecules help emulsify the sauce.
How to make Chicken Mushroom Pasta (quick summary)
Melt butter in pan.
Add mushrooms.
Fry until golden.
Add wine, reduce down, then pour in chicken stock.
Pour in cream and simmer to thicken.
Add parmesan, parsley and seasoning.
Stir in pasta.
Add chicken strips.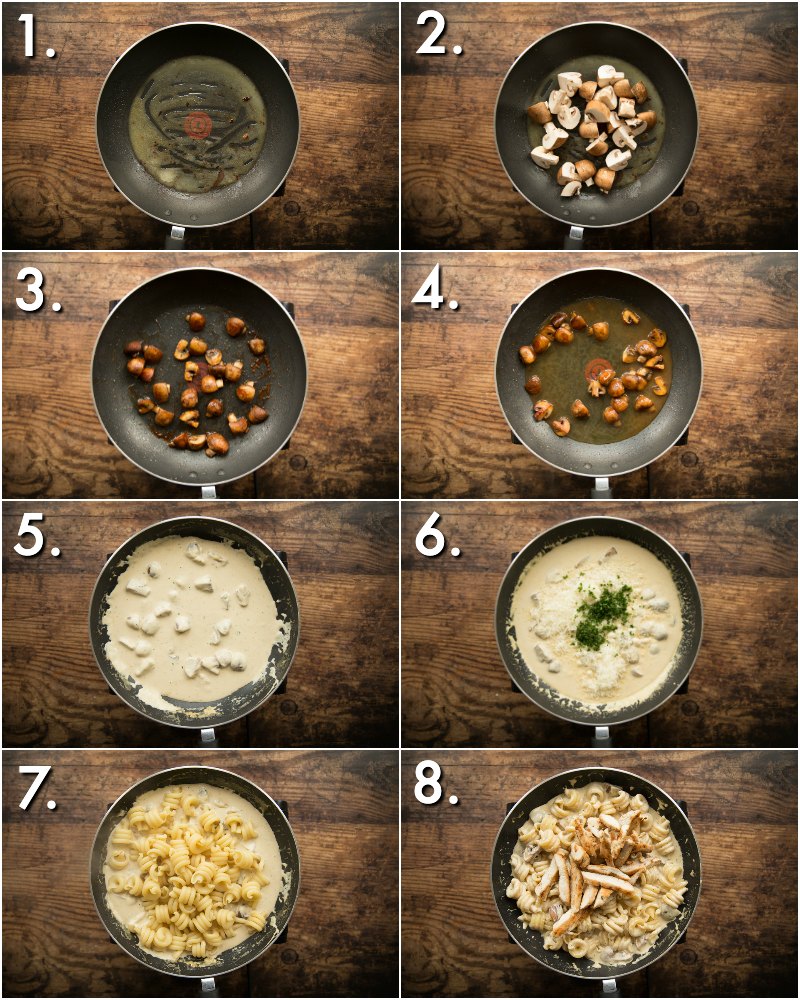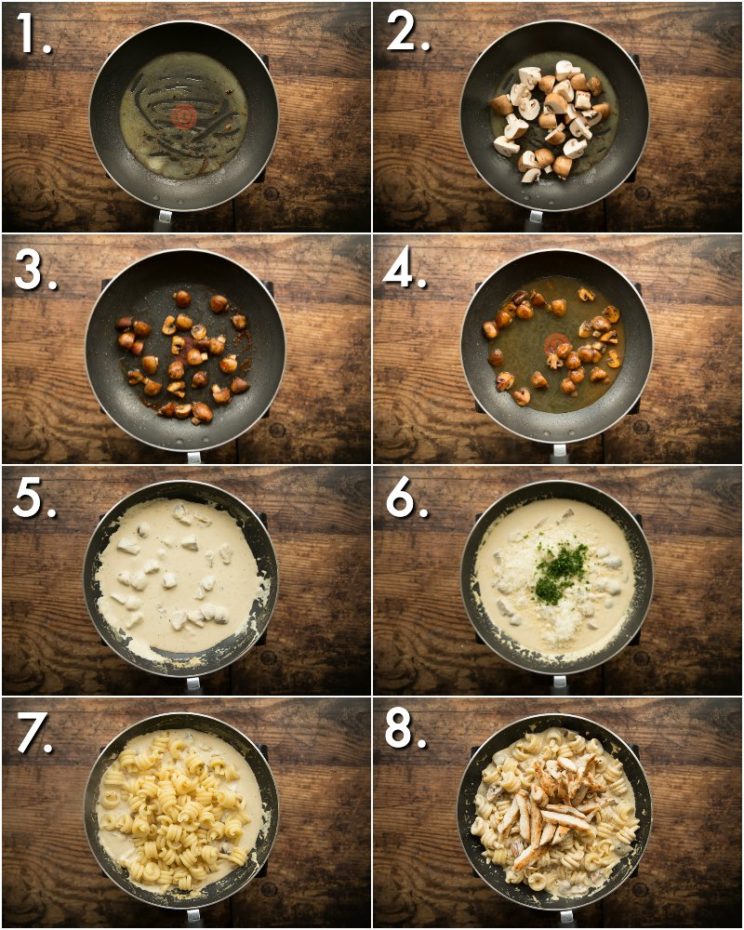 Perfect Mushrooms!
Right, we've discussed chicken, we've talked about the creamy sauce, now let's talk mushrooms. I go into how to perfectly pan fry mushrooms in my creamy mushroom pasta recipe in a lot more detail, but for now here's a quick summary:
Tips for how to pan fry mushrooms
Don't overcrowd – space out the mushrooms in the pan so they don't steam.
Leave to brown – try not to frequently move the mushrooms around, you want them to caramelize on both sides. Constant contact with the pan will encourage this.
Salt after – season them when they're nearly cooked. Adding salt at the start will pull out water and prevent the mushrooms from browning efficiently.
What mushrooms to use – I personally like Chestnut Mushrooms for this recipe. I like their 'meaty' texture/taste. However you can use any mushroom you fancy, I've personally used button, shiitake and diced portobello for this recipe and all work great!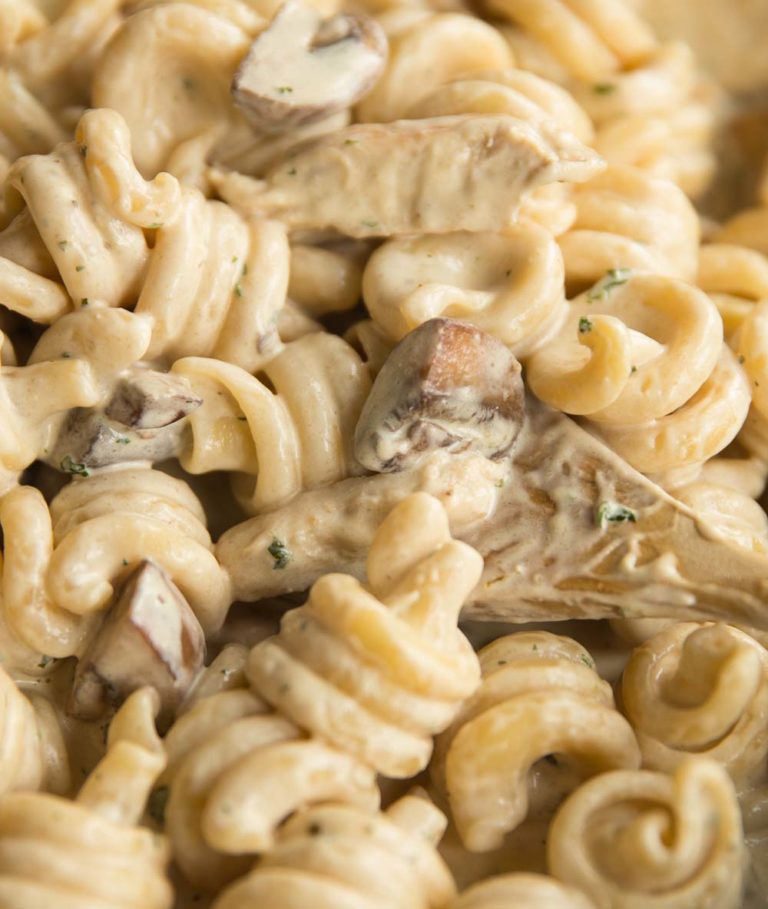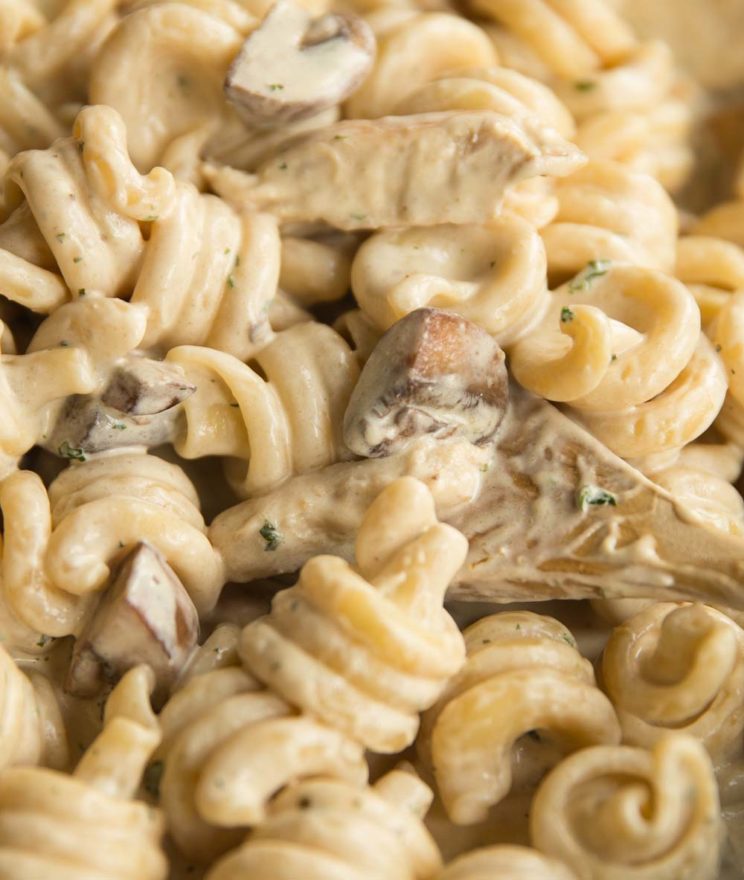 And there we have it! Perfectly cooked chicken and mushroom pasta is yours for the taking. Just a quick summary before we tuck in:
Tips for the best chicken mushroom pasta (quick summary)
Chicken – fry at room temp, until just cooked through, then allow to rest before slicing at an angle.
Sauce – reduce down white wine, add parmesan once thickened and use starchy pasta water to thin out as needed.
Mushrooms – give them space, don't move them around and season once nearly cooked.
Hey, whilst you're here why not check out my other recipes?
Creamy Pasta Recipes
Alrighty, let's tuck into this creamy chicken mushroom pasta recipe shall we?!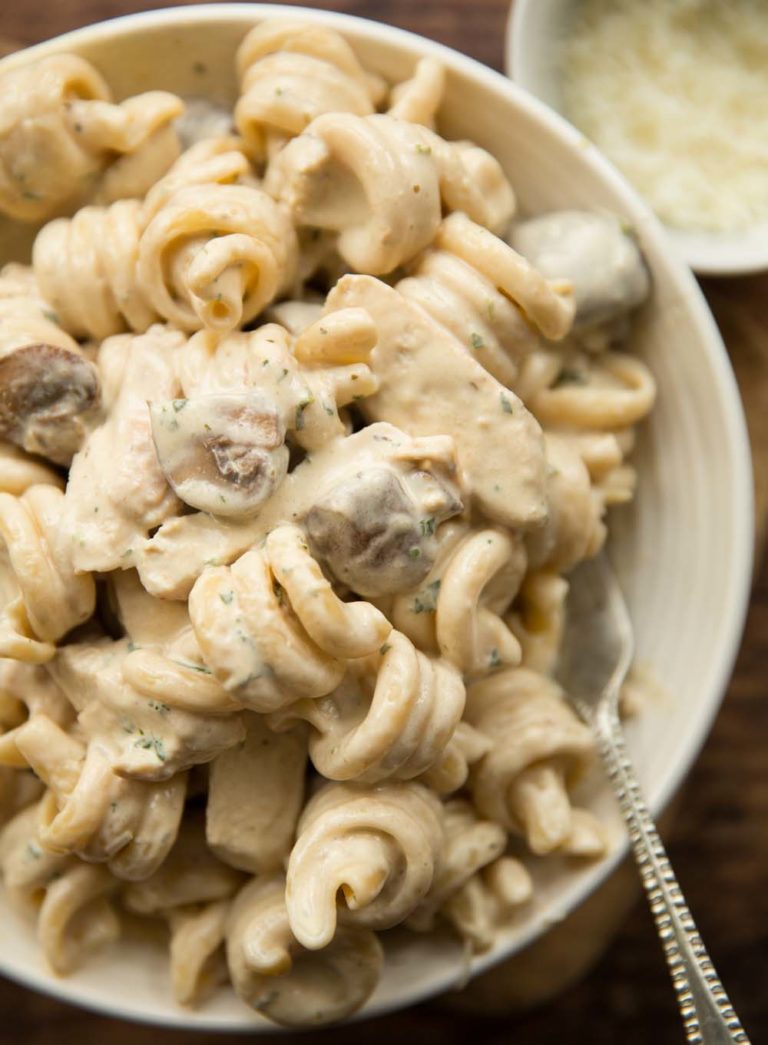 How to make Chicken and Mushroom Pasta (Full Recipe & Video)
Creamy Chicken and Mushroom Pasta
This Creamy Chicken and Mushroom Pasta is so simple to make, yet absolutely bursting with flavour! Say hello to your new go-to creamy pasta recipe!
Print
Pin
Rate
Servings (click & slide):
4
Calories per serving:
600
kcal
Cost per serving:
£3 / $4
Equipment:
Sharp Knife & Chopping Board

Large Pan & Wooden Spoon

Large Pot & Colander

(for pasta)

Fine Grater

(for parmesan)
Ingredients (check list):
2x

200g/7oz

Chicken Breasts, brought close to room temp

1

tbsp

Olive Oil

1

tsp

Garlic Powder

1/2

tsp EACH:

Dried Thyme, Salt (plus more to taste)

1/4

tsp

Black Pepper (plus more to taste)

2

tbsp

Unsalted Butter

250g / 9oz

Chestnut Mushrooms, quartered (or variety of choice)

60ml / 1/4 cup

Dry White Wine

120ml / 1/2 cup

Chicken Stock

300ml / 1 1/4 cups

Heavy/Double Cream, at room temp

300g / 10.5oz

Short-Cut Pasta of choice

60g / 2oz

freshly grated

Parmesan, plus more to serve if desired

1

tbsp

Fresh Parsley, plus extra to serve is desired
Instructions:
Horizontally slice each chicken breast right through the centre to make 4 equal sized breasts. Coat in olive oil, garlic powder, thyme, salt and black pepper.

Fry over medium-high heat for a few mins each side until golden and just cooked through the centre. Remove from pan and allow to rest. Just before needed, slice your chicken into thin strips, ensuring you cut at a slight angle and against the natural grain of the chicken.

Melt in the butter then add the mushrooms. Fry until they build up a nice golden crust. Try not to move them about too much, you want them caramelised on all sides. Season with a pinch of salt and pepper towards the end.

Pour in the wine and let it reduce until mostly evaporated. This is important so it doesn't overpower the sauce. Pour in the chicken stock, then stir in the cream. If the stock is rapidly bubbling lower the heat before you pour in the cream, otherwise it may curdle.

Bring to a simmer then reduce heat to medium-low and allow to thicken for around 7-10mins. Meanwhile, cook the pasta in salted boiling water until al dente. Retain a cup of starchy pasta water before draining.

Stir the parmesan and parsley into the sauce until well-blended. Season to taste, then stir in the drained pasta. Add the chicken (alongside any resting juices) and stir until the sauce thickens around and clings to the pasta. Stir in some pasta water to loosen it up if you need to. Serve with more parmesan & parsley and enjoy!
Quick 1 min demo!
Notes:
a) Pasta - You can really use any pasta you want. I quite like the shorter, chunky pasta with the big chunks of chicken/mushrooms. But a longer cut pasta would also work great. b) Mushrooms - Again, feel free to use any variety you like. I like the 'meaty' taste of the chestnut mushroom, but others work fine. Whatever you do make sure you don't overcrowd the pan and move them about too much. Both of these things will steam the mushrooms instead of browning them. c) Wine - I highly recommend using this. They sell mini bottles in most grocery stores for next to nothing. The alcohol will burn off, but if you don't want to use it just sub more chicken stock. d) Consistency - Ensure you thicken the sauce before adding the parmesan, don't use the parmesan to thicken the sauce. The sauce will thicken, so just keep simmering until it does. With the same token it does dry up very quickly, so use your starchy pasta water to thin out when this happens (important the pasta water is starchy and seasoned, otherwise will dilute the flavour). e) Leftovers - Creamy pastas are notorious for not reheating well as they often go greasy. So don't use the microwave. Heat it up in a pan with a splash of cream or milk to retain it's 'sauciness' f) Calories - based on sharing between 4 people.
Your Private Notes:
Nutrition:
Nutrition Facts
Creamy Chicken and Mushroom Pasta
Amount Per Serving
Calories 600
Calories from Fat 376
% Daily Value*
Fat 41.77g64%
Saturated Fat 22.936g
115%
Polyunsaturated Fat 2.528g
Monounsaturated Fat 13.385g
Cholesterol 196mg65%
Sodium 737mg31%
Potassium 496mg14%
Carbohydrates 25.27g8%
Protein 29.58g59%
Vitamin A 1499IU30%
Vitamin C 3mg4%
Calcium 195mg20%
Iron 2.07mg12%
* Percent Daily Values are based on a 2000 calorie diet.
Nutrition is based on the absence of salt unless stated as a measurement in the ingredients. Cost is worked out based on ingredients bought from UK supermarkets, then divided by the number of servings. In both instances these values are just for guidance. Please check out my FAQ Page for more info.
---
If you loved this Chicken and Mushroom Pasta recipe be sure to pin it for later! Already made it or got a burning question? Give me a shout in the comments and pick up your free ecookbook along the way!