This Creamy Roasted Red Pepper Pasta is super quick and seriously delicious. The perfect meal to add to your family rotation dinners! – Hungry now? Jump to Recipe
I'm all about a quick and easy dinner these days. Don't get me wrong, sometimes I'm up for a kitchen marathon to make a fancy dinner, but usually I'm more up for a 15min or less kinda deal. Creamy roasted red pepper pasta embodies everything a quick family dinner should be. Simple to make and packed with flavour.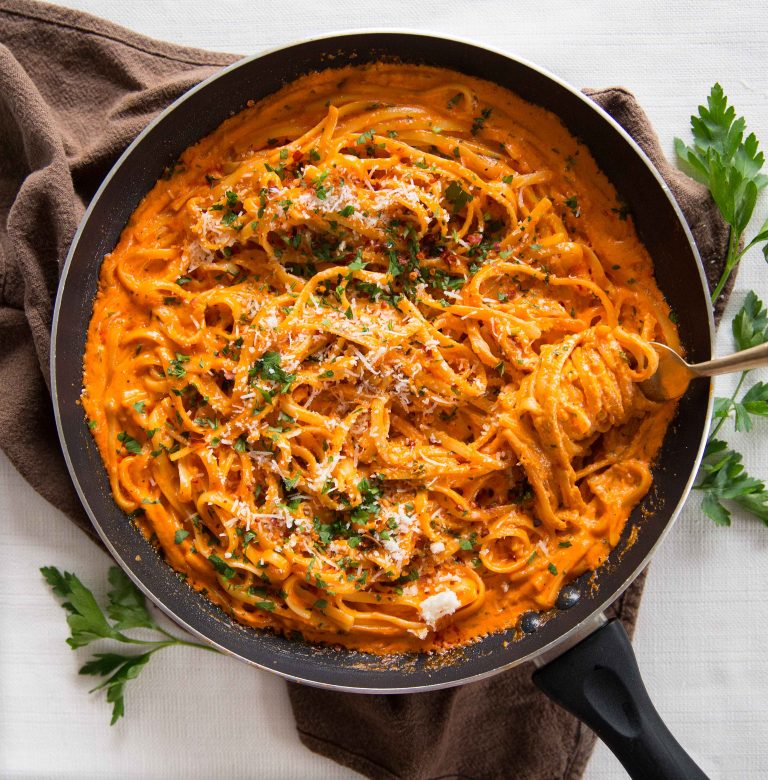 As a regular midweek appearance, it's important to me that this recipe is convenient. Don't be put off by the roasted red pepper part of this recipe. Roasting your own peppers is optional and I've added a note in the recipe on how to do that. However, keeping in line with the quick and easy rotation dinner I use a jar of these bad boys.
You'll find a jar of these at your local supermarket fo' shizzle. Prepped and ready to go, the bulk ingredient is done and dusted. Let's take a quick look at what else you're gonna need.
Creamy Roasted Red Pepper Pasta Ingredients List
Roasted Red Peppers
Pasta of choice
Cream
Parmesan
Butter
Onion
Garlic
Smoked Paprika
Fresh Parsley
Just 9 ingredients!
*victory dances all the way to the kitchen then questions if 9 is actually that good or not*
When I first developed this recipe I was working towards a 5-ingredient kinda deal, but I knew something was missing. I've seen a few recipes similar to this and none of them use smoked paprika. For me, smoked paprika is what takes this recipe to new levels. The way that smokey twang enhances the roasted char from the peppers is almost too much to bare.
I'm also a big fan of using garlic in this recipe. Cream and garlic is already a match made in heaven, but when combined with parsley, parmesan and butter it just makes so much sense. Sure, 5-ingredient pasta has more of a ring to it, but every ingredient in this recipe is adding something special to the dish which results in something truly quite special.
How to make a Roasted Red Pepper Sauce
Fry up your onion & garlic in some butter until they just begin to brown.
Scrape all the contents (with as much melted butter as possible) into a food processor with your ready roasted red peppers. Pulse until smooth.
Pop that back into the pan, stir in your cream & parmesan and hello creamy dreamy goodness.
The sauce itself is incredibly simple. In fact, probably one of the easiest pasta sauces you'll ever make. I know, quite the claim.
When it comes to choosing the pasta just follow your heart. I personally prefer a linguine/fettuccine as it takes on this sauce so well. The way the noodle oozes in and out of the creamy sauce is a dream. Also because I have a strange obsession with stirring long noodles into pasta sauce.
Okay somebody give me a freakin' fork so we can get this party started.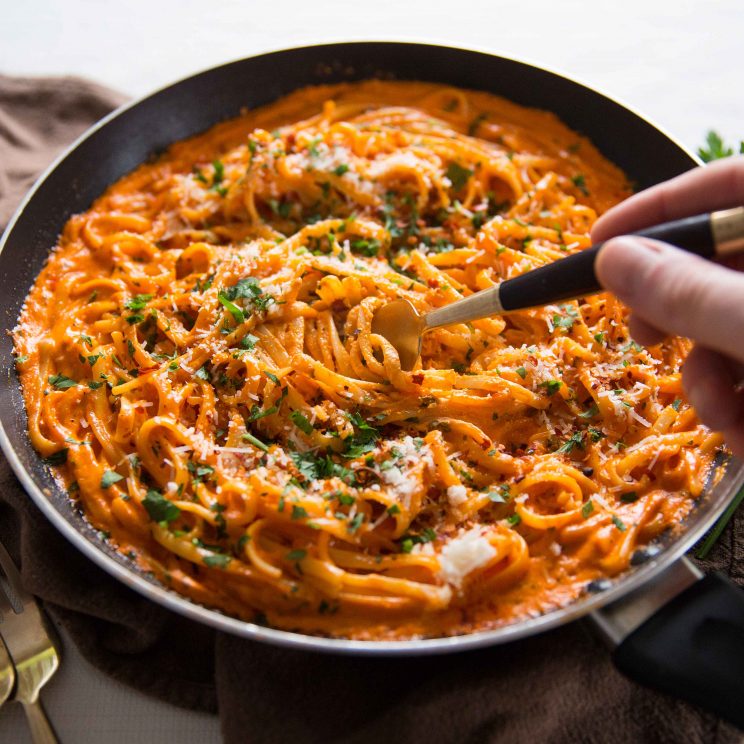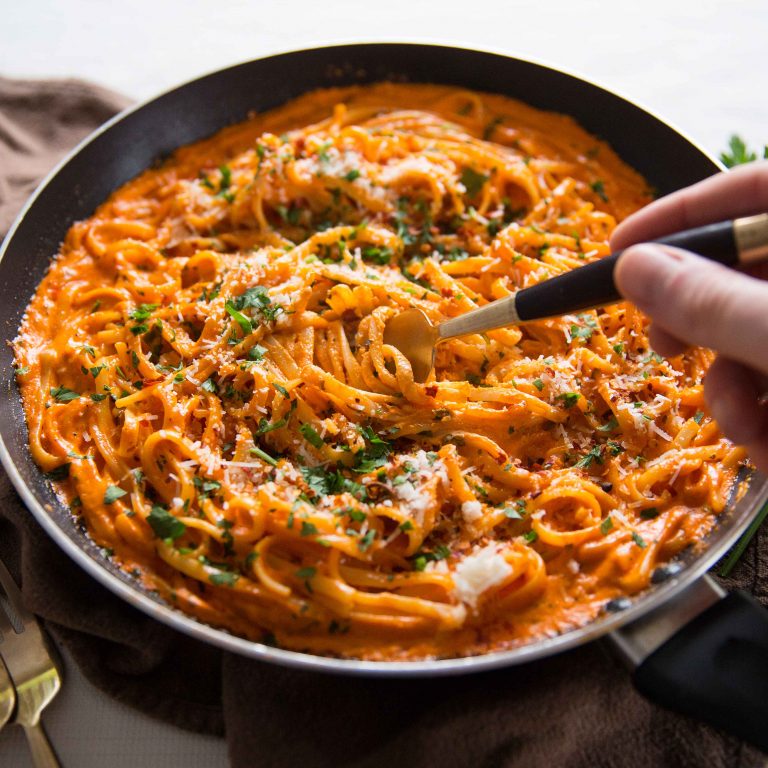 Much better.
All in all this quick dinner is the perfect midweek meal to add some heartiness to the table. Thick and creamy yet vibrant and flavoursome, you'd be a fool to not get this foolproof dish a go.
How to make Creamy Roasted Red Pepper Pasta

(Full Recipe & Video)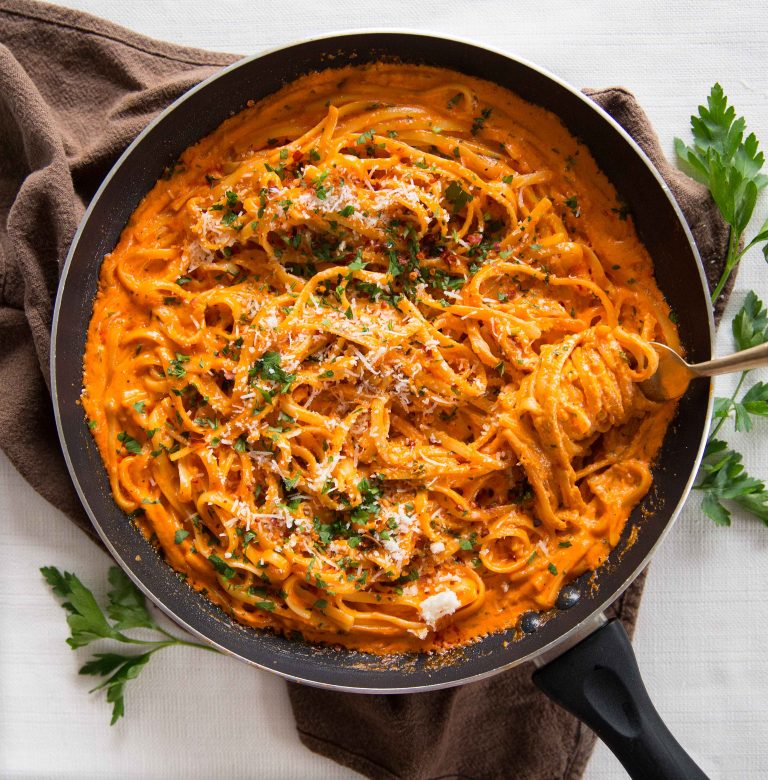 Creamy Roasted Red Pepper Pasta
'This Creamy Roasted Red Pepper Pasta is super quick and seriously delicious. The perfect meal to add to your family rotation dinners'
Course:
Dinner, Main Course
Cuisine:
Original, Quick Meal
Keyword:
Roasted Red Pepper Pasta
Ingredients
16

oz

(460g) Jar of Roasted Red Peppers/4 Large Fresh Red Peppers

(See Note A)

12.2

oz

(350g) Pasta

1

cup

(250ml) Heavy Cream

1

tbsp

Butter

1

medium-large

White Onion, diced

2

cloves of

Garlic, minced

1/2

cup

(50g) Parmesan, finely grated

save some to serve

1

tbsp

Fresh Parsley

plus extra to serve

1

tsp

Smoked Paprika

Salt & Black Pepper

to taste
Extras 'n' Optionals
Chilli Flakes

to preference
Method
Pop your Pasta in salted boiling water and cook until al dente.

Meanwhile drain and dice your Peppers, then pop in the blender.

Fry up your Onions and Garlic in Butter until translucent and fragrant. Place in blender with the peppers and pulse until a smooth consistency.


Pour back into the pan and keep on a simmer. Pour in your Cream and stir until completely blended. Add your Parmesan, Parsley, Smoked Paprika and Seasoning.

Stir until thickened then toss in your Pasta and stir until completely coated.

Serve hot with an extra sprinkling of Parmesan, Parsley and Chilli Flakes if you're using them.
Watch how to make it!
Recipe Notes
a) Homemade Roasted Red Peppers - I use jarred roasted red peppers for this recipe to keep it a speedy 15min meal. However if you only have fresh simply broil (grill) skin side up until black on the outside, turning throughout to keep an even char. Place in a bowl with cling film over it and allow to cool. After peel off the skin, deseeded and slice. 
b) Brine - Jarred roasted red peppers usually come in a vinegary brine. Although you should drain them, don't wash them. The brine will actually help blend with the onion & garlic in the first instance. It will also add a touch of acidity which will help balance out the richness of the dish.
c) Liquid - Try and scrape as much of the melted butter into the blender after you've fried your onions & garlic. This will help to blend into a smooth consistency. If for whatever reason your blender is struggling to blend, consider adding a small amount of chicken stock or water to get things going.
Nutrition Facts
Creamy Roasted Red Pepper Pasta
Amount Per Serving
Calories 318
* Percent Daily Values are based on a 2000 calorie diet.
---
After another super speedy pasta dinner? Be sure to pop over to the Ultimate 10 Minute Pesto Pasta!
If you loved this recipe using Roasted Red Peppers be sure to Pin it for later! Already made it or got a question? Give me a shout in the comments and pick up your free ecookbook along the way!