These Greek style fries are baked until crispy perfection, then loaded with oregano and feta!
I saw a meme the other day which simply said 'I need less stress and more fries' and I've never related to a meme more in my entire life. Quite frankly that's all the inspiration I needed for today's post. Follow me…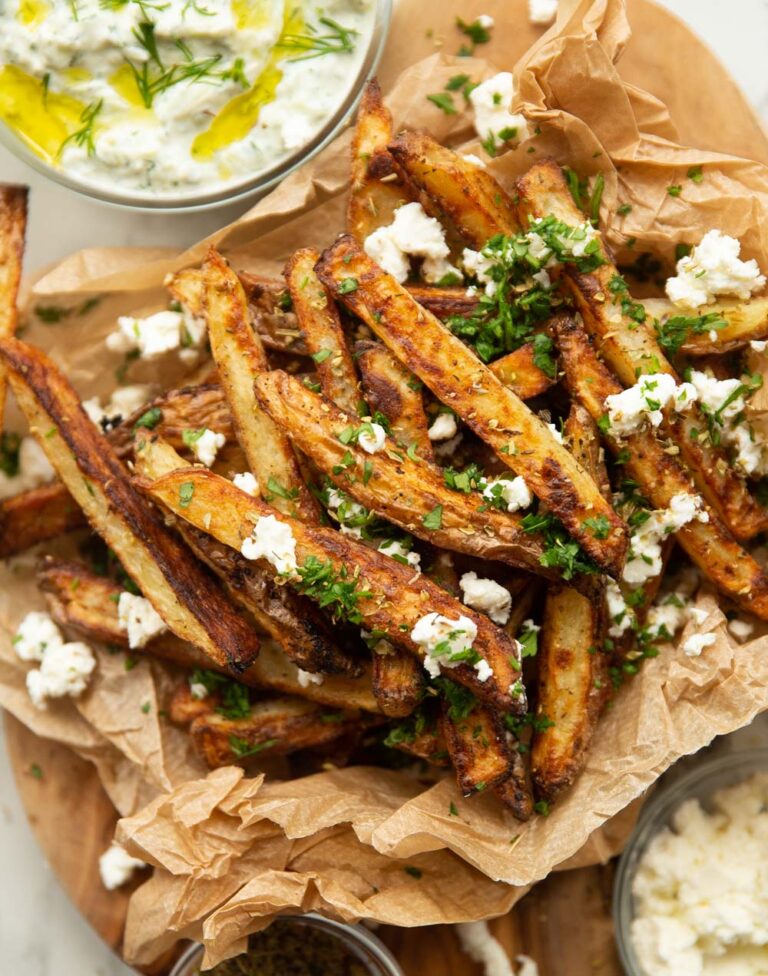 Greek Fries
I'm probably better using the term Greek style fries, as I'm sure there's someone out there screaming 'THESE AREN'T GREEK FRIES' at their screen. To be honest it's quite tricky to pin point the most authentic way to make Greek fries (aka 'Patates Tiganites'), so my take here is inspired by my personal experience eating Greek food and my few trips to Greece.
What are Greek Fries made of?
At their heart, Greek fries consist of potatoes, olive oil, salt and very commonly oregano. A lot of recipes also serve with crumbled feta on top. Today we're adding both oregano and feta 😛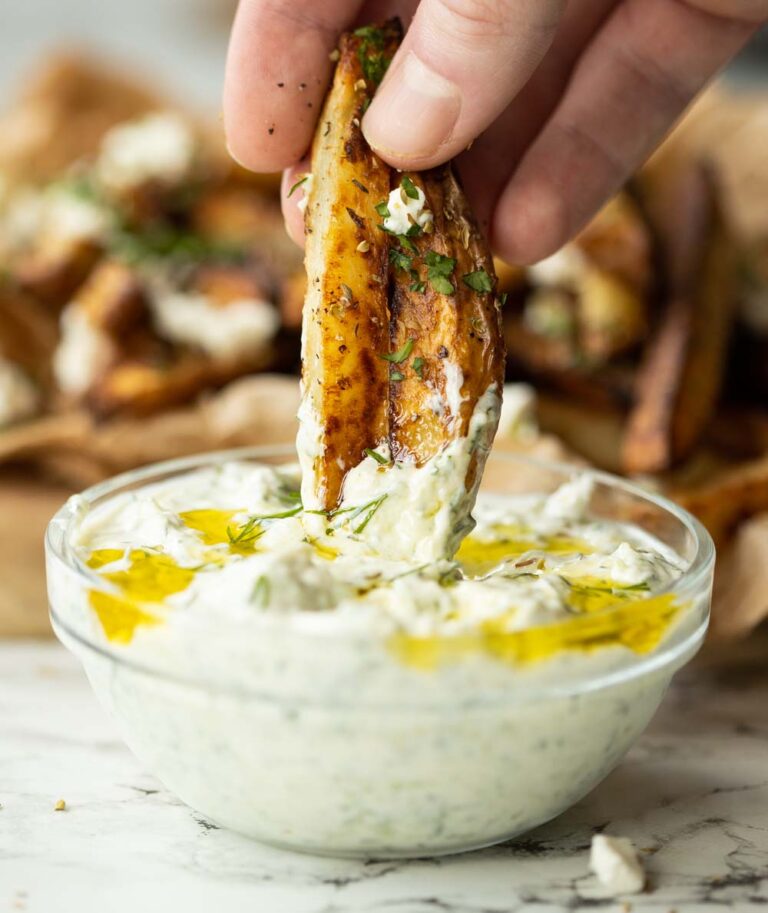 How to cut potatoes into fries
Typically Greek fries are fairly thick cut, however I prefer my fries skinnier. Mainly because they crisp up easier, but also because the thicker they get the more my English mind wants to call them chips or wedges!
What kind of Potato to use?
Baking potatoes such as Maris Pipers and Russets are great because their shape allows you to slice nice long fries. They've also got a floury interior, which means they tend to hold less water than waxy potatoes. This makes them nice and fluffy when cooked!
To slice the fries I find it easiest to cut the potato into disks around 1/4″ thick. From there you can easily slice the disks into fries. Also, keep the skins on! The skin adds flavour and crisps up nicely. Just give the spuds a scrub beforehand if they need it!
Process shots: scrub potato if needed (photo 1), slice off the very ends (photo 2), slice into disks (photo 3), slice into fries (photo 4).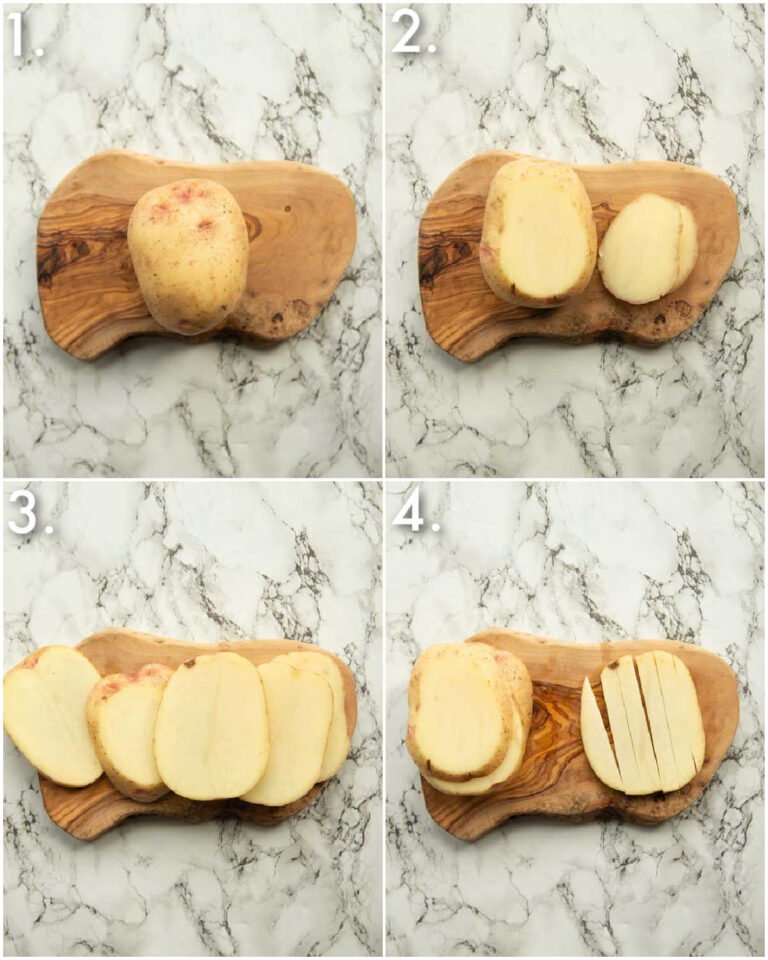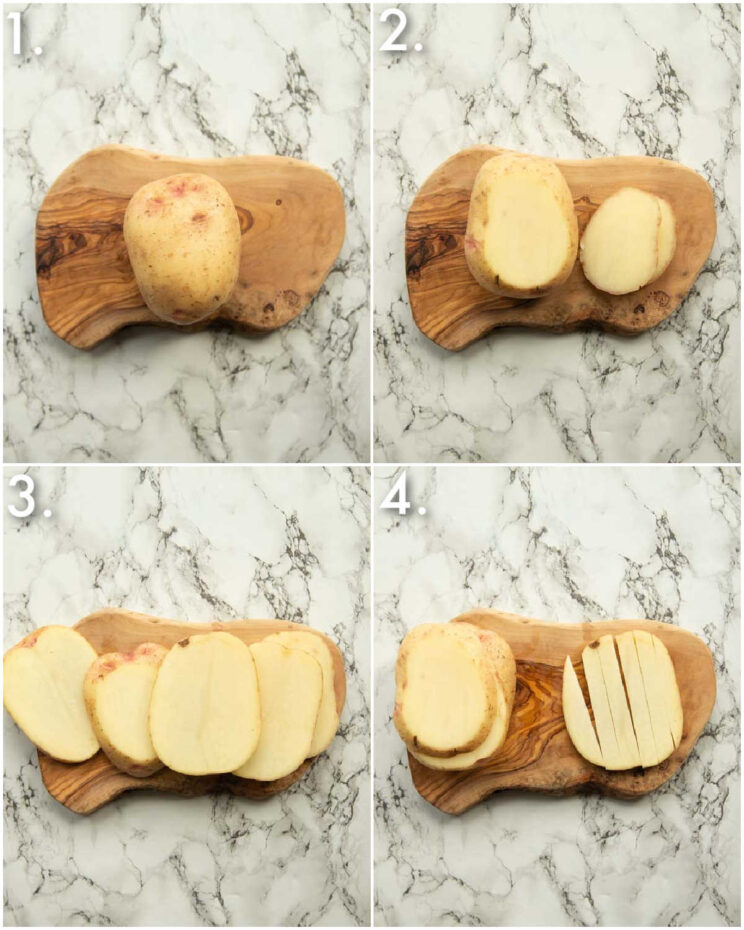 Preparing Fries
Soaking the fries
I know it's an extra step, but I truly believe it makes the difference, and that's soaking the fries in cold water before cooking. By soaking the fries you remove a lot of the starch, which is what can make the fries go soft and limp as they cook. 30mins is great, but even just 5-10mins will help.
Removing Moisture
Once you've soaked the fries, they'll obviously be very wet. We want to remove as much moisture as possible to prevent them steaming as they cook. As such, you'll want to thoroughly dry them before you season and cook them.
Seasoning the fries
We're keeping it simple and going in with oregano, garlic powder, salt and pepper. I recommend working fairly quickly because the longer the fries sit before cooking, the more the salt will draw out moisture.
Process shots: soak fries (photo 1), drain water and add to clean towel (photo 2), thoroughly dry (photo 3), season and mix in olive oil (photo 4).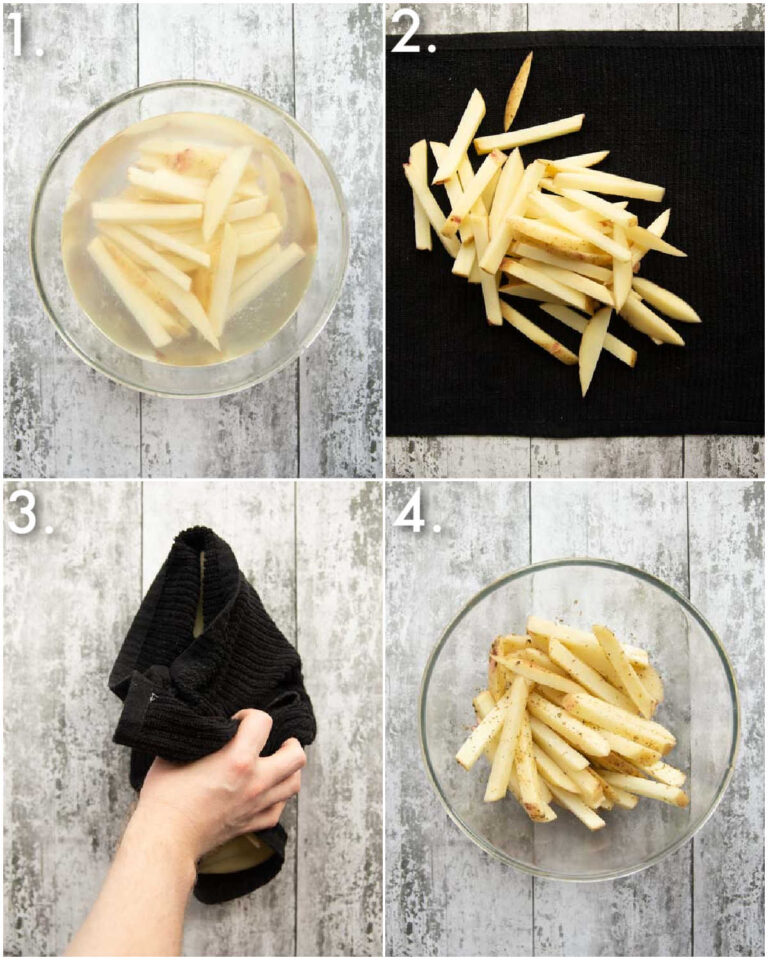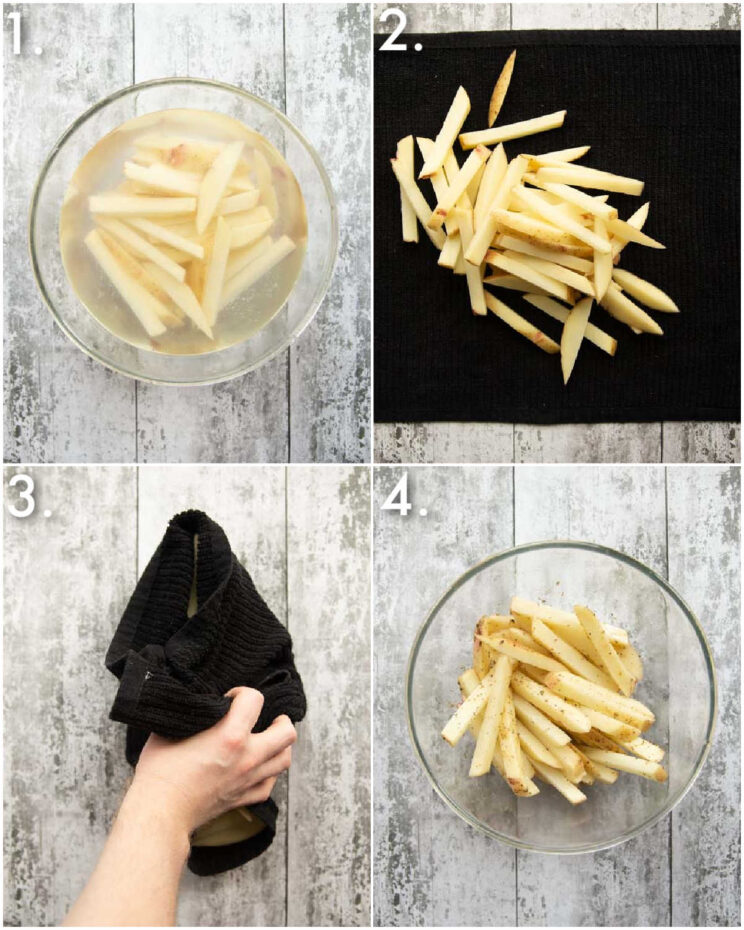 Crispy Baked Fries
Some recipes fry the fries in olive oil. However today we're going to bake them, simply because I find you can get them just as crispy. Plus olive oil is expensive 😂 Just a few tips for baking:
Tips for baking fries
Space them out – really important to space out the fries. Give them room to roast and prevent them from steaming and going soggy. Use two trays if you need!
Greaseproof – Try and use a decent greaseproof tray (or use greaseproof paper) just so the fries don't stick.
Flip – I usually flip them once or twice as they bake, and also rotate the tray. Just to get an even roast.
Process shots: space fries out on tray (photo 1), roast until golden (photo 2).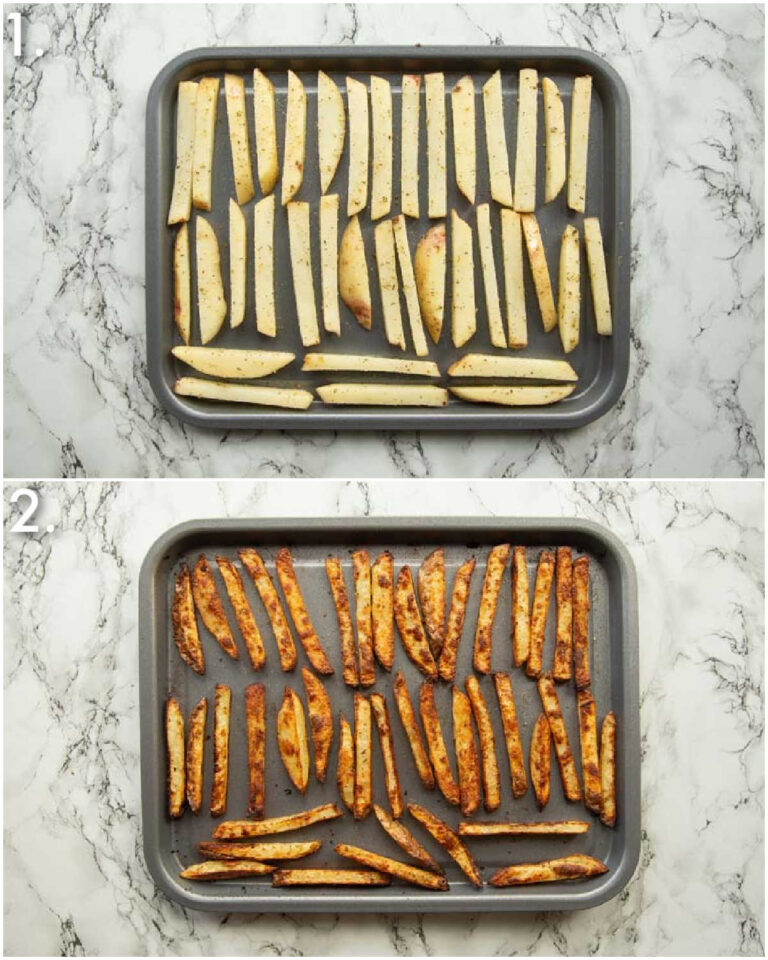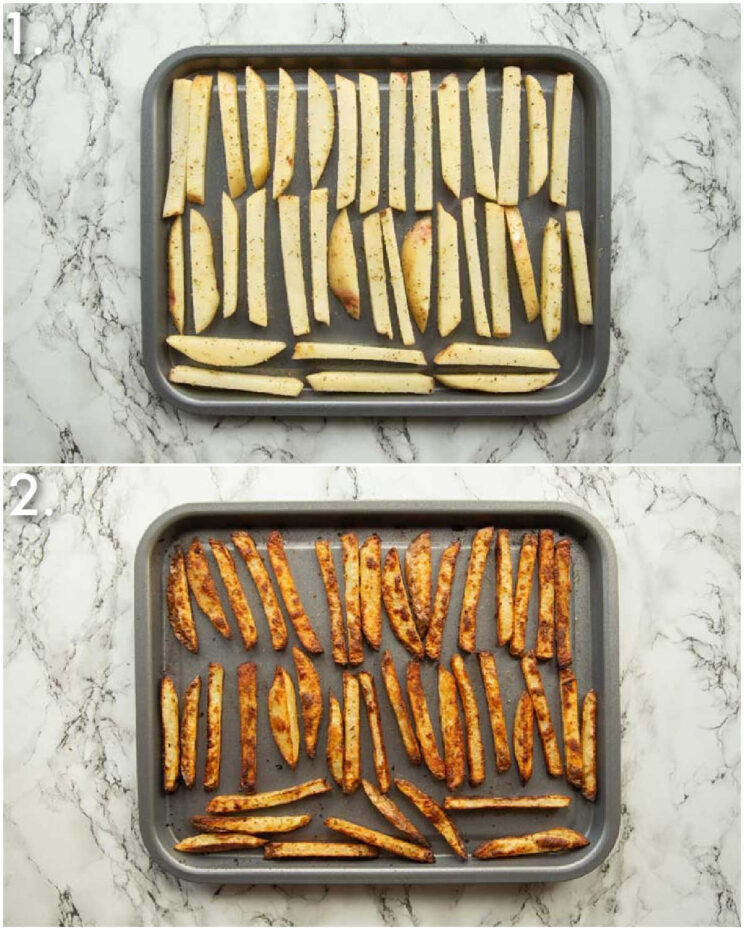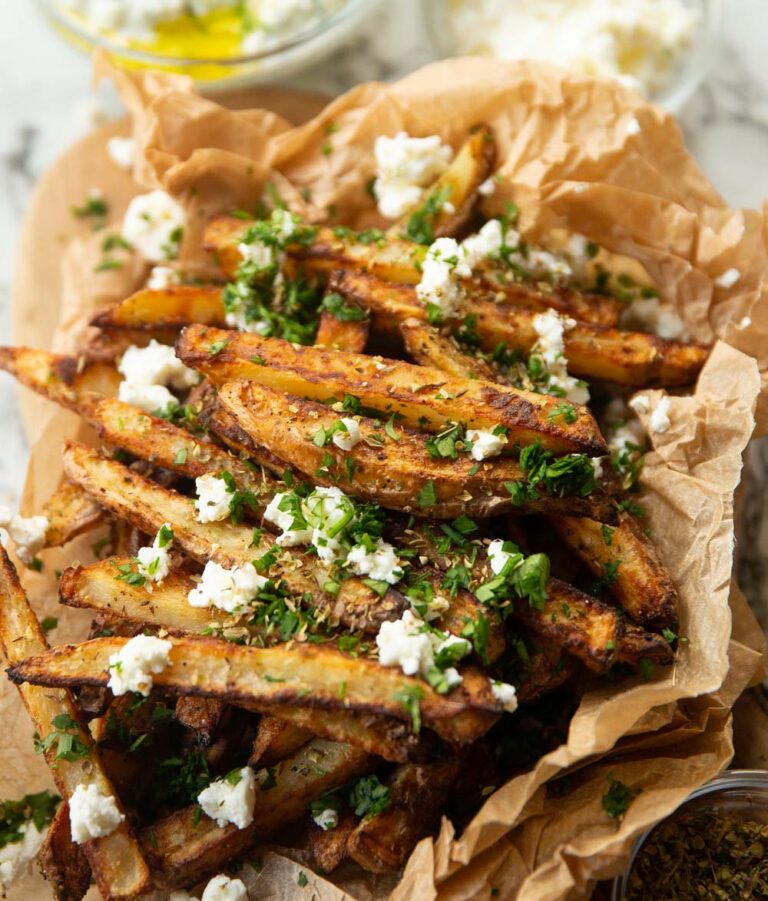 Serving Greek Fries
Once they're out the oven, hit 'em with a few more pinches of oregano, a good crumbling of feta and some fresh parsley!
Honestly? These are delicious as they are. However they're just as good dunked into a dip like Tzatziki. They're perfect as finger food, or as a side to a main. But above all, my favourite way to serve them is in a Chicken Gyro (photo below).
Alrighty, let's tuck into the full recipe for these Greek Fries shall we?!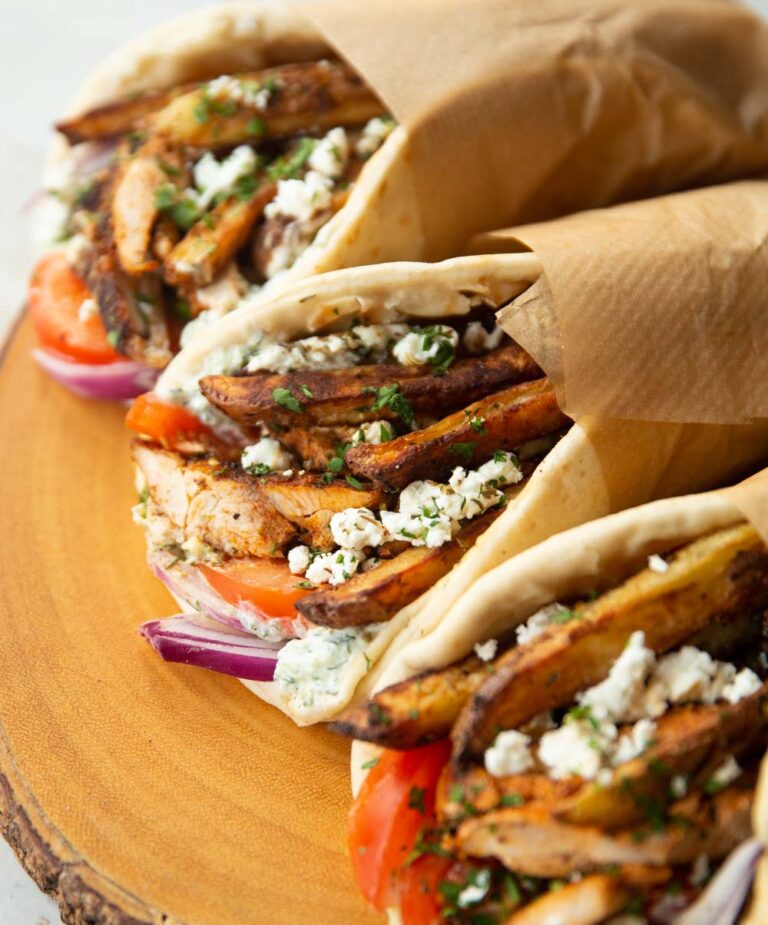 How to make Greek Fries

(Full Recipe & Video)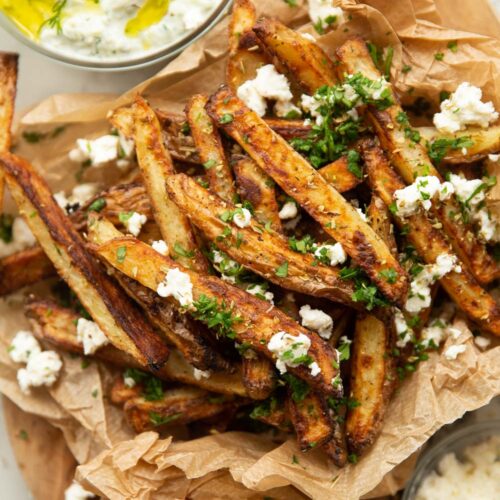 Crispy Greek Feta Fries
These Greek style fries are baked until crispy perfection, then loaded with oregano and feta!
Print
Pin
Rate
Share by Text
Servings (click & slide):
4
Calories per serving:
238
kcal
Cost per serving:
£2 / $2.50
Equipment:
1 Large Greaseproof Baking Tray (use 2 if needed)

Large Bowl & Spatula

Clean Towel

Sharp Knife & Chopping Board
Ingredients (check list):
Fries
1.6lb / 750g

(approx 2-3 large)

Baking Potatoes, Russets/Maris Pipers work great

2

tbsp

Olive Oil

1

tsp

Dried Oregano

1/2

tsp EACH:

Garlic Powder, Salt

1/4

tsp

Black Pepper
To Serve
few pinches of

Oregano

crumbled

Feta, to preference

finely diced

Fresh Parsley (optional)
Instructions:
Slice the potatoes into disks around 1/4" thick, then slice those disks into fries. Try and make sure all the fries are similar size so they cook at an even rate.

Add the fries to a bowl of cold water and allow to soak for at least 20mins. This will draw out the starch from the fries (you'll see the water go cloudy). Drain and THOROUGHLY dry the fries. Any moisture left will steam them in the oven and prevent them from going crispy.

Place the fries back in the (dry) bowl and combine with 2 tbsp olive oil, 1 tsp garlic powder, 1 tsp oregano, 1/2 tsp salt and 1/4 tsp black pepper.

Space out on 1 -2 baking trays and bake in the oven at 200C/390F for 25-35mins, or until visibly golden and crispy. I recommend flipping them a couple of times and turning the tray around, just to get an even roasting. Timings will vary so just be vigilant.

Serve with extra oregano, a good crumbling of feta and some fresh parsley. Enjoy!
Notes:
a) Baking Tray(s) - Important you space the fries out so they can roast properly and crisp up. If they're crammed together they'll just steam and go soggy.

 Also make sure they're decent greaseproof trays (or use greaseproof paper/foil) otherwise they'll stick.
b) Salt - I recommend working fairly quickly after you've seasoned the fries. The longer they sit there before they go in the oven, the more the salt will draw out moisture. I find 1/2 tsp works great, especially with the salty feta, but you can add more once they're cooked if you'd like.
c) To Serve - These are great as they are, or awesome with a Dip like Tzatziki. Also perfect to load up in some Chicken Gyros!
d) Serving Size - This recipe will offer 4 small portions which would work better as a side, or 3 large offerings.
e) Calories - Based on sharing between 4 people with 1/3 cup feta to top:
Your Private Notes:
Nutrition:
Nutrition Facts
Crispy Greek Feta Fries
Amount Per Serving
Calories 238
Calories from Fat 86
% Daily Value*
Fat 9.54g15%
Polyunsaturated Fat 0.866g
Monounsaturated Fat 5.503g
Cholesterol 11mg4%
Sodium 414mg17%
Potassium 772mg22%
Carbohydrates 33.76g11%
Protein 5.73g11%
Vitamin A 58IU1%
Vitamin C 10.4mg13%
Calcium 89mg9%
Iron 1.8mg10%
* Percent Daily Values are based on a 2000 calorie diet.
Nutrition is based on the absence of salt unless stated as a measurement in the ingredients. Cost is worked out based on ingredients bought from UK supermarkets, then divided by the number of servings. In both instances these values are just for guidance. Please check out my FAQ Page for more info.
For more delicious Greek goodness check out my Homemade Moussaka or Greek Feta Potatoes!
For more similar recipes check out these beauties:
Homemade Fries Recipes
If you plan on making the Greek Fries recipe then be sure to Pin it for later! Already made it or got a burning question? Give me a shout in the comments below and pick up your free ecookbook along the way!