Cranberry Bacon Brie Grilled Cheese – The perfect combination celebrating the beauty of salty and sweet. The only way you'll ever want to use up leftover cranberry sauce! – Hungry now? Jump to Recipe
Ya'll, I've cracked the code, I've found THE best grilled cheese combo. Cranberry, Bacon and Brie. If you haven't heard of or tried this combo before, your grilled cheese game is about to get real intense, real quick.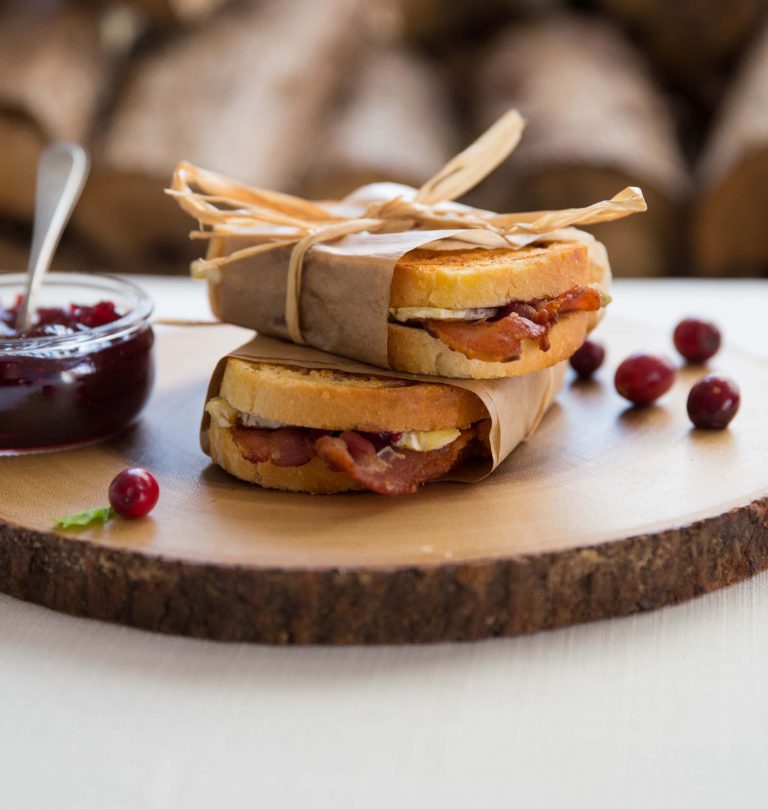 We all know sweet and salt go together perfectly and this combo illustrates that to a tee.
The sweetness and slight tartness of the cranberry sauce takes on the flavours of the salty, streaky bacon so well. Then you chuck in some thick wedges a Brie and the whole thing just takes off. Subtle and creamy, the Brie completely marries the flavours together beautifully.
Ingredients for the perfect Brie Grilled Cheese
Thick White Bread
Streak Bacon
Brie
Cranberry Sauce
Butter
Chilli Flakes
I know you're probably thinking 'huh, chilli flakes!?'
Yup! Lemme explain..
When I first tested this recipe I didn't add any spice and instantly knew something was missing. The cranberry sauce almost became overpowering and was a little too sweet for a grilled cheese. The chilli gives a much needed kick to the whole thing and balances out the sweetness of the cranberry perfectly. In fact, it goes further than just balancing the flavours, it's adds a beautiful warmth that the cranberry takes on so well.
Even if you don't do spice, just an incy sprinkle will do wonders. Give it a go, you'll see what I mean.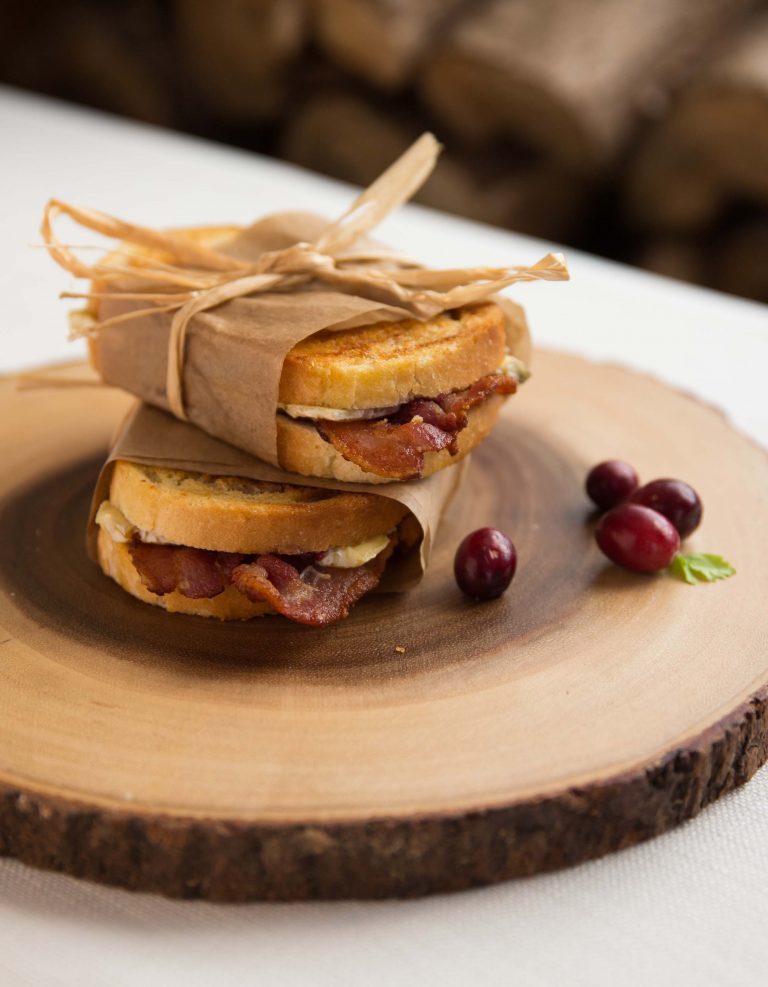 How to make a Grilled Cheese in a pan
Spread one side of your bread with butter and place it butter side down on a griddle or pan, with the heat OFF.
Start stacking your ingredients. In this case I've got cranberry, brie, chilli flakes, bacon then finished with a second buttered slice off bread on top.
Switch on the heat and fry each side until golden brown and the centre is ooey gooey.
Faceplant.
The great thing about grilled cheese recipes is that they're so quick and easy to whip up. I've never owned a toastie machine, frying them up in a griddle or regular pan works just perfectly.
The other thing about this cranberry bacon brie grilled cheese recipe is that it's a perfect opportunity to use up any leftover cranberry sauce.
If you're anything like me then you've always got a pot of cranberry sauce in the fridge just screaming to be used, but can never find the opportunity.
Well, here's your solution. And a delicious solution at that.
 
Tips for the perfect Grilled Cheese
Bread – Every great grilled cheese recipe starts with a great loaf of bread. So pick your favourite bread! Most grilled cheese recipes suggest avoiding thick slices of bread, but I find that if you grill it low and slow the cheese melts perfectly. Just stay away from bread with holes in it like Ciabatta, for obvious reasons.
Butter – Ditch the mayo and always go with butter. Let this fillings do the talking with the neutral taste of butter on the outside.
Low 'n' Slow – Grill over a medium or low-medium heat to allow the bread to toast at the same rate the cheese melts in the centre.
Okay, let's tuck into the recipe shall we?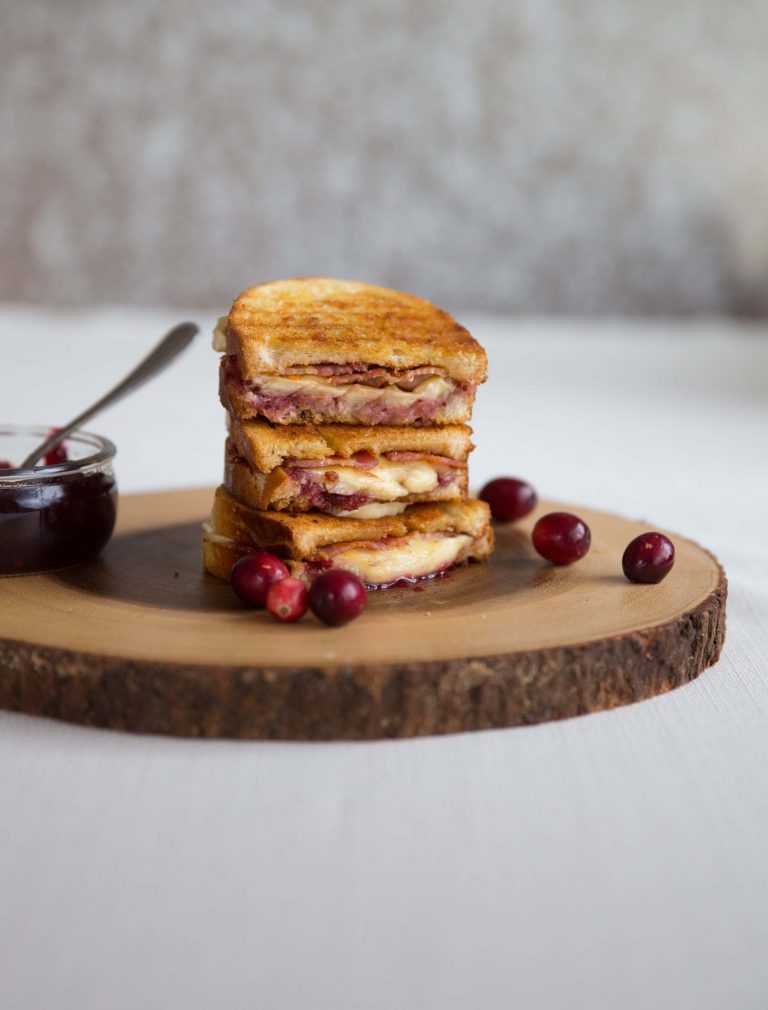 Whether it's for lunch, thanksgiving or just a heavenly snack, the Cranberry Brie Bacon grilled cheese has you sorted. The perfect balance of flavours to warm your soul in the colder months.
How to make a Cranberry Bacon Brie Grilled Cheese

(Full Recipe & Video)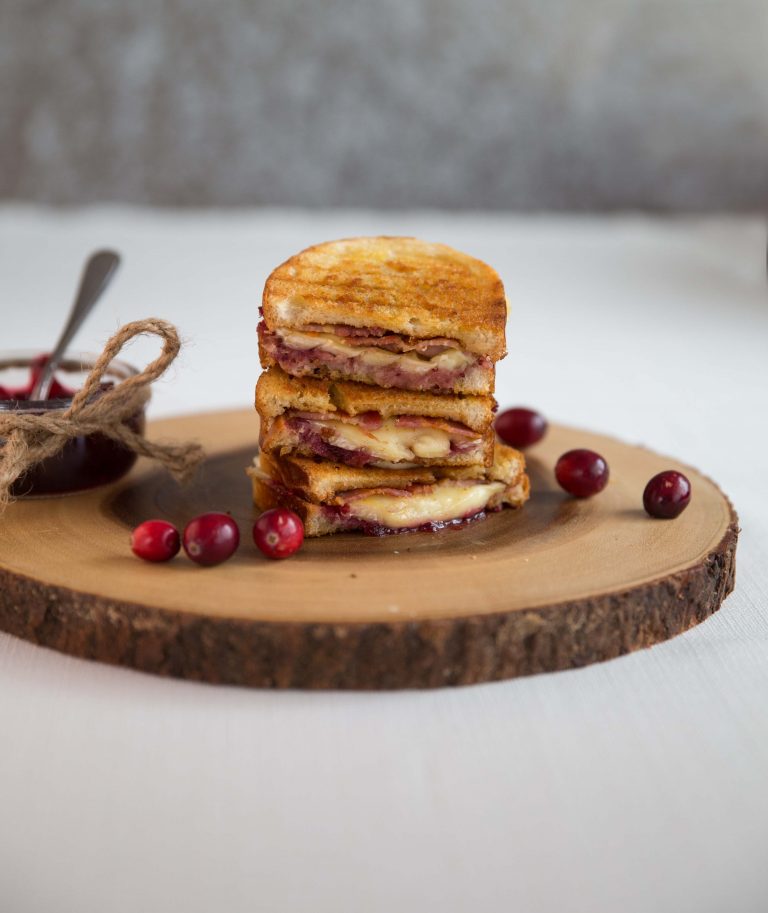 Cranberry Bacon Brie Grilled Cheese
'Cranberry Bacon Brie Grilled Cheese - The perfect combination celebrating the beauty of salty and sweet. The only way you'll ever want to use up leftover cranberry sauce!'

Ingredients
4

slices

thick White Bread

4

rashers of Streaky Bacon

4oz / 125g

Brie, sliced

2

tbsp

Cranberry Sauce

2

pinches

Chilli Flakes

4

'spreads'

Butter

Salt & Black Pepper

to taste
Method
Fry up your Bacon to desired texture and place to one side, using paper towels to soak up excess fat as needed.

Lightly spread butter over one side of each slice of bread. Place them (butter side down) onto a griddle pan, making sure it is switched off at this point.

Spread your Cranberry sauce first, then place your Brie, followed by Bacon topped with Chilli Flakes and seasoning to taste. Top with your final two slices of bread, butter side up this time.

Fry for around 4-5mins over medium heat on each side, or until golden brown on the outside and gooey in the middle.
Watch how to make it!
Recipe Notes
a) Feel free to use a toastie machine as necessary.
b) You can trade out the Brie for Camembert if you fancy!
c) Spice - Even if you're not a fan of spice, I do encourage just a pinch of chilli flakes. The spice helps balance out the sweet and salty components of this recipe and adds a gorgeous heat to the cranberry sauce.
Nutrition Facts
Cranberry Bacon Brie Grilled Cheese
Amount Per Serving
Calories 613
Calories from Fat 367
% Daily Value*
Total Fat 40.8g 63%
Saturated Fat 11.983g
60%
Polyunsaturated Fat 1.409g
Monounsaturated Fat 5.775g
Cholesterol 62mg 21%
Sodium 995mg 41%
Potassium 423mg 12%
Total Carbohydrates 37.42g 12%
Protein 23.75g 48%
* Percent Daily Values are based on a 2000 calorie diet.
---
For more inspiration to fix your bacon brunch craving, check out my Cafe Style Smashed Avocado on Toast!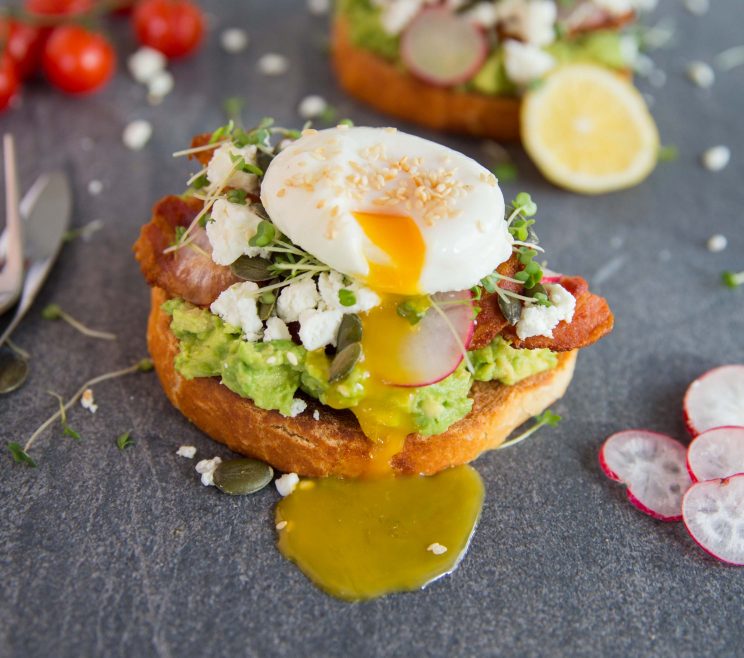 If you loved this Brie Grilled Cheese recipe then be sure to Pin it for later! Already made it or got a question? Give me a shout in the comments and pick up your free ecookbook along the way!